Last updated on March 2, 2020
Do you have a lot of jewelry? How's that going for you? Check out the best jewelry armoires that will help you organize everything and decorate at the same time.
All ladies have this problem (it's a good problem to have.) There's so much jewelry in the house that you can't possibly manage it all in an organized way. Worse yet if it gets in the way of keeping your home tidy and well decorated. What if we told you there's a solution to that? We strongly believe that every lady must have not just any organizer but a jewelry armoire in her home.
What is the jewelry armoire anyway? Unlike a simple organizer, it's a small (to large) cabinet that keeps your jewelry. Armoires come in several different configurations and sizes. They can take up very little space or make a statement piece of furniture in the room. The goal of this article is to pinpoint the best jewelry armoires of all types.
How do you choose your jewelry armoire?
Here are things to consider:
How much jewelry do you have?
How big an armoire you will need?
Is it going to be wall/door-mounted or freestanding?
Are you interested in a separate piece of furniture (a cabinet) at all?
Decor considerations (for example, a vintage armoire can bring a ton of charm to your decor.)
There are more questions than answers. Do you need help with that? Our bet is that you do. That's why we've used all our resources to makes the top 10 picks for the best jewelry armoires all things considered. We've looked at their price, their storage room, their size, their additional features and made the following list. Do note that we get compensated for qualifying purchases on Amazon which is at no expense to you (links marked with #ad).
Without further ado, you'll do great choosing from these excellent armoires for your jewelry.
What's Inside?
Jewelry Cabinet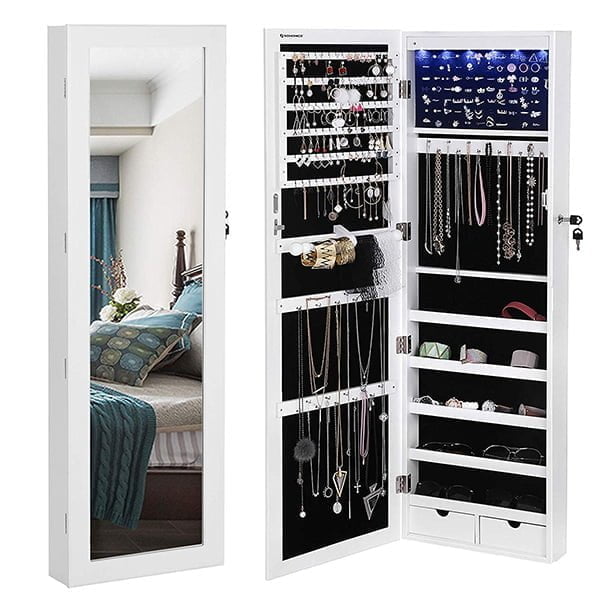 This jewelry cabinet is designed for you to put all your pieces in one place. It includes a long bracelet rod, large ring cushion, 5 shelves, and 2 bottom drawers. It also has 48 holes for stud earrings, 32 necklace hooks and 90 slots for earrings. Its optimal structure is meant to boost the space utilization rate. To save floor space, this jewelry armoire can be mounted on the wall with the screws and paper included for use in the drilled holes. In addition, when hanging the cabinet, there are 3 adjustable heights available.
Pros: Ample storage; attractive and sturdy construction; impressive mirror quality.
Cons: The drawers are not very sturdy; there is extra fabric on the door which is awkward.
Mirror Jewelry Armoire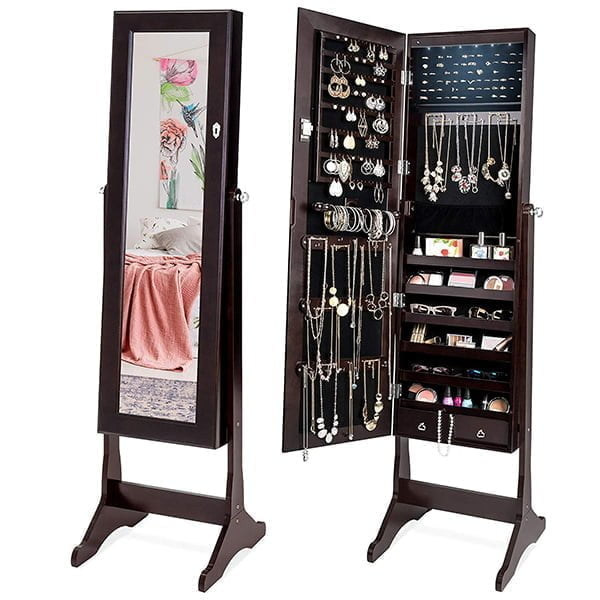 This versatile, convenient and functional jewelry armoire is designed with sufficient storage space. This makes it easy to find and view jewelry pieces while it simultaneously keeps the space free of clutter. It has a user-friendly design and as the door opens, 6 LED lights turn on automatically. It also has a full-length mirror that can be tilted to 3 different positions and for safe storage, this helpful accessory has a lock and key.
Pros: Large storage capacity; plenty of earring storage; it looks great.
Cons: Narrow drawers and shelves.
Stand Up Jewelry Box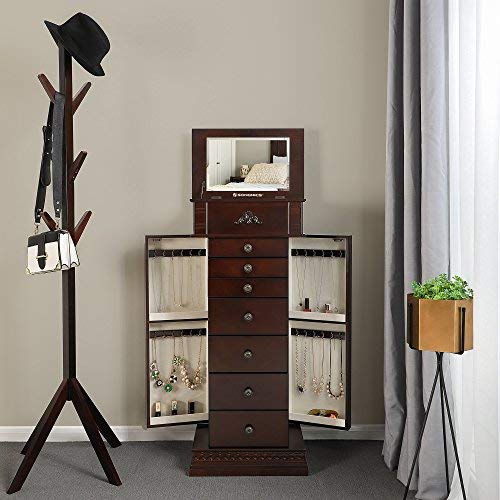 This is an extra-large jewelry armoire that is designed especially for individuals who love organization. Delicate in details and chic in design, it is equipped with different sections and two drawer sizes to satisfy your storage demands. There is sufficient space for your earrings, rings, bracelets, watches, necklaces, hairbands, sunglasses and those big jewelry organizer cases. Its lift top has a mirrored lid designed to make it easier to adorn yourself in jewelry.
Pros: Solid and well made; air proof to prevent tarnishing.
Con: Some of the drawers could be partitioned better.
Large Jewelry Armoire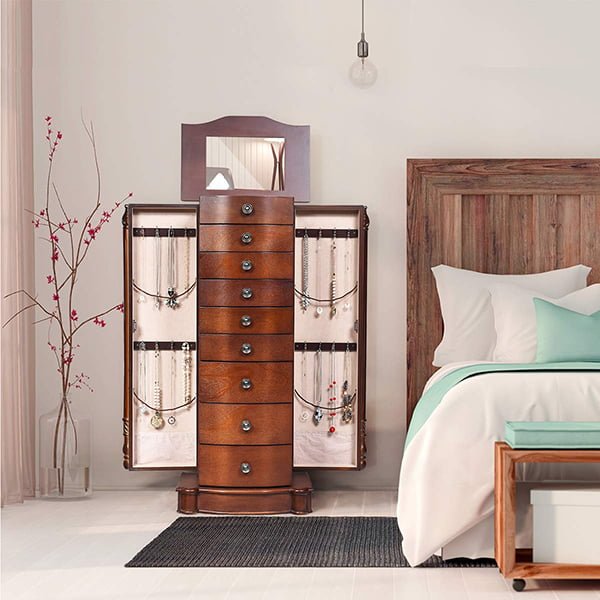 Made from thick MDF material with remarkable wood texture, this jewelry cabinet has 8 drawers with 2 different heights to maximize storage. It also features a partitioned top storage space that has a soft lining ring and another 4 partitions for a variety of jewelry displays. The top lid is designed to prevent the accumulation of dust and its venting hole on back prevents odor.
Pros: Very sturdy and durable; stunning; adequate storage space.
Cons: Could use drawer runner hardware to prevent extreme slanting.
Locking Jewelry Armoire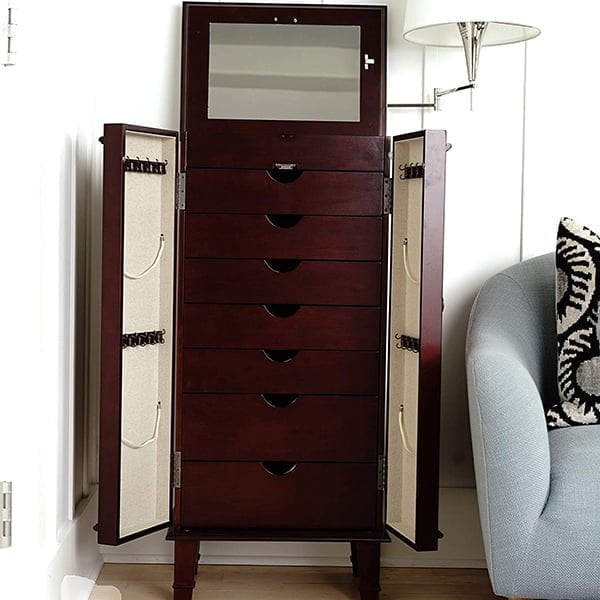 This fully-locking armoire is assembled easily and is quite functional. It offers a variety of ways for organizing your jewelry and other accessories. The storage options include 7 drawers; 3 divided compartments and 4 with open storage space. There are also 20 jewelry hooks to keep necklaces tangle-free and neat. Additional storage space and a vanity mirror are featured on the top compartment. Additionally, its rich cherry finish adds elegance and sophistication to the armoire.
Pros: Impressive storage space; drawers are hidden behind cabinet doors for a cleaner look.
Cons: The drawers have excessive slant.
Modern Jewelry Armoire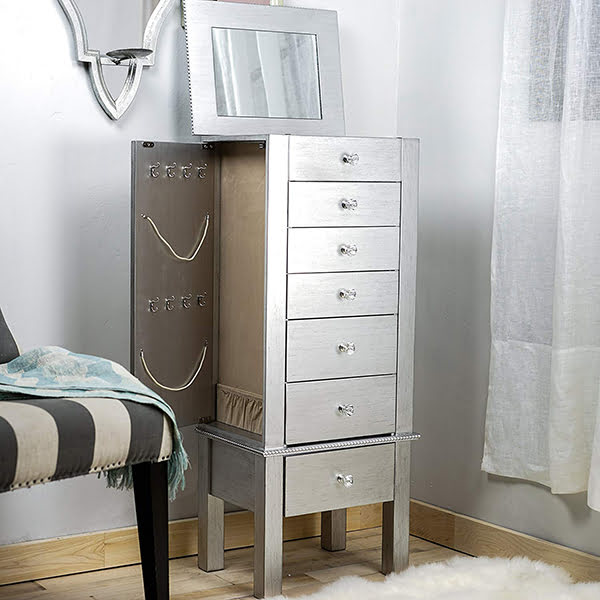 With its silver leaf finish and unique beaded trimming, this armoire is nothing short of fabulous. It features spectacular faceted drawer pulls that provide it with a French-like, contemporary feel. Inside this storage solution are 6 necklace hooks, a vanity mirror, and 7 roomy pull-out drawers; three of which have partitioned compartments. The piece is as beautiful as it is functional. It is ideal for your bedroom, closet or bathroom. It will literally bring shine to your entryway or living room as well.
Pros: Well made; very easy to assemble; plenty of storage room.
Cons: Has no locking system.
Wall Mounted Jewelry Cabinet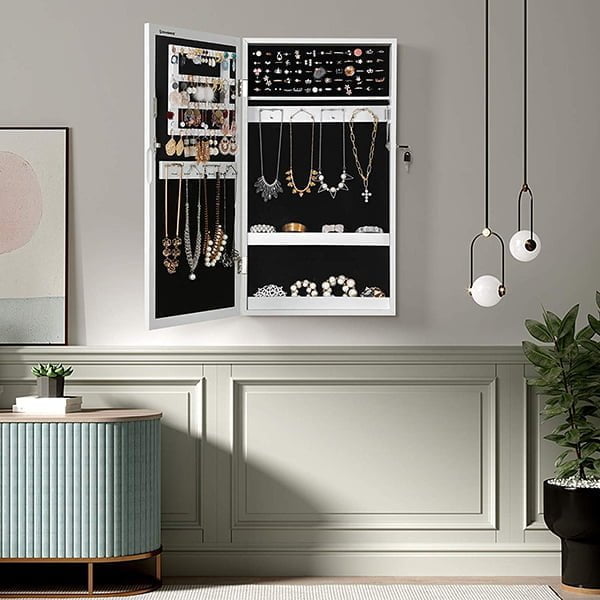 When the mirrored door of this armoire is opened, it will reveal a large area to store and display your jewels and gems. Made from high-quality MDF, this jewelry storage solution is outfitted with a clear partition that allows you to easily see your frequently-used jewelry pieces at a glance. This helps to make the process of daily dressing quick and easy. It is also designed to ensure your necklaces will remain tangle-free.
Pros: Has a locking system; very spacious; lightweight.
Cons: Doesn't have an interior light.
Antique Jewelry Armoire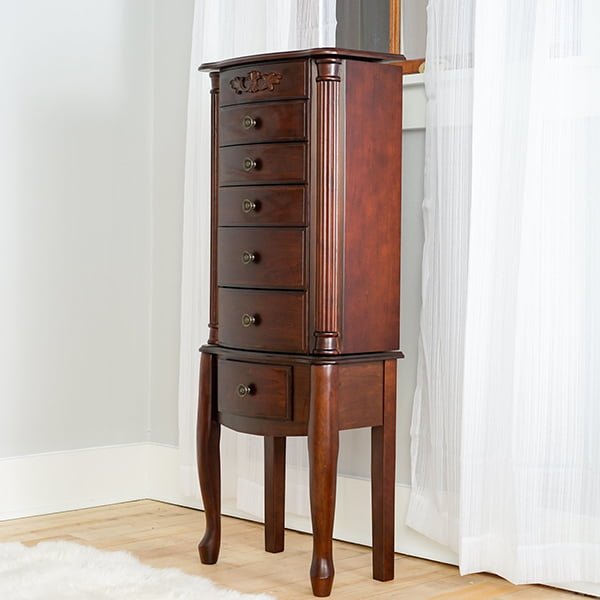 This 6-drawer jewelry armoire will bring a Neoclassical feel to any space you place it in. it has a dark walnut wood veneer and it has a technology hole underneath the top lid for cord management and convenience. The 6 drawers are vertically placed down the front of the piece. There are also vertically-grooved 'columns' carved into the corners on both sides of the first five drawers. This aspect of the design is responsible for its Neoclassical flair.
Pros: Phenomenal quality; rich color; easy to assemble.
Con: The hinges cause slight misalignment.
Over the Door Jewelry Armoire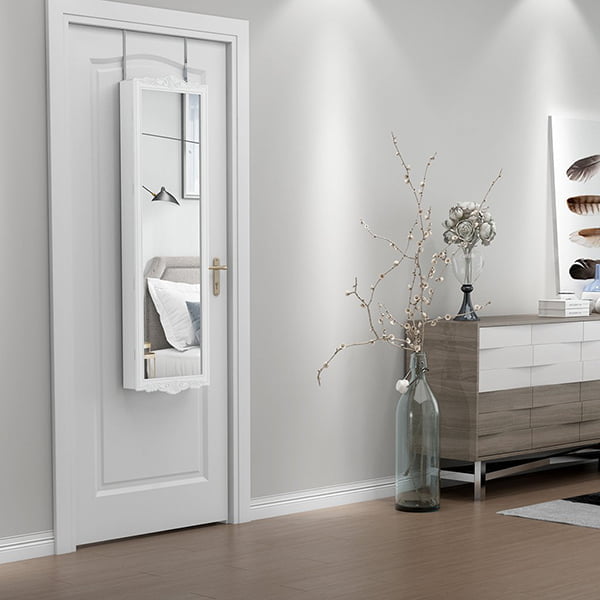 This beautiful and spacious mirrored jewelry armoire is designed to store your favorite jewelry pieces. It can accommodate a variety of necklaces, rings, bracelets, earrings and much more. Its full-body mirror allows you to check the full detail of your outfit before you leave home. Additionally, its rectangular shape, classic rustic look, and carved design provide a chic cabinet.
Pros: Well built; stunning finish; easy to install.
Cons: Doesn't have an interior light.
Small Jewelry Armoire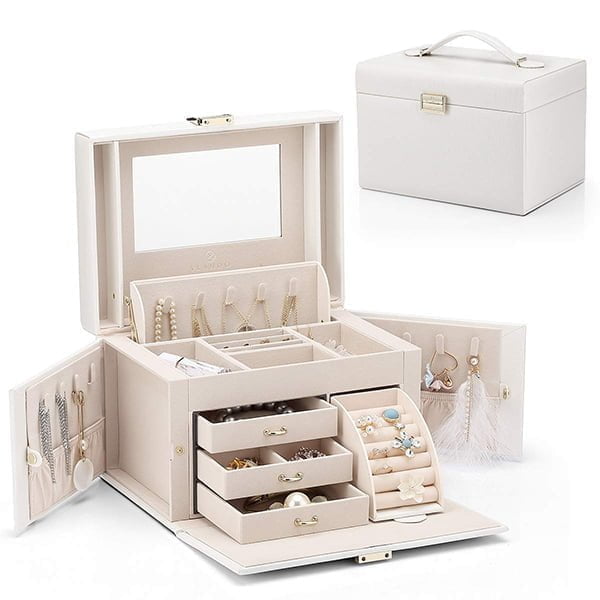 Available in 6 color options, this jewelry box has a unique and original style that offers both function and aesthetic appeal. It features a special design with an automatic pull-out compartment for hanging your necklaces. The box is made from deluxe synthetic leather, has a high-quality flannel interior and is lined with velvet. The jewelry box is quite durable and its exquisite workmanship is evident in the stitching. It is made with lead-free glue; therefore, you don't have to be concerned about harmful toxins when you use your box daily.
Pros: Well-constructed; looks stunning and luxurious; spacious.
Cons: Ring holder is not detachable.
Liked this article? Here's what you can read next:
---
Disclosure: As an Amazon Associate we earn from qualifying purchases.