Last updated on February 6, 2022
These are the best chunky knit blankets for warm and cozy cuddling up. Be it for your nook, warm sleeping, or a decor accent — you will find the perfect blanket or a throw here.
Which one did you pick as the best? This Chunky Knit Blanket Chenille Throw.
Knit blankets have become super popular in the last couple of years for a couple of reasons. Some people are even knitting blankets themselves. First, they are a great way to keep warm, and second, they make great decorative pieces if you want to use them as a throw. Chunky knit blankets tend to be more durable than other types of blankets, and they can handle the wear and tear of kids, pets, and everyday use.
The best chunky knit blankets are those that you personally love. We can't tell you what you'll like, so this guide will help you determine what features the best blankets have. We've provided a list of the features to look for and a list of our favorite blankets, and then we let you decide what you want from your blanket. Hopefully, this helps you find the perfect blanket or a throw for you.
This is our top list with shopping links (they earn as a commission at no expense to you.)
What's Inside?
Abound Chunky Knit Throw Blanket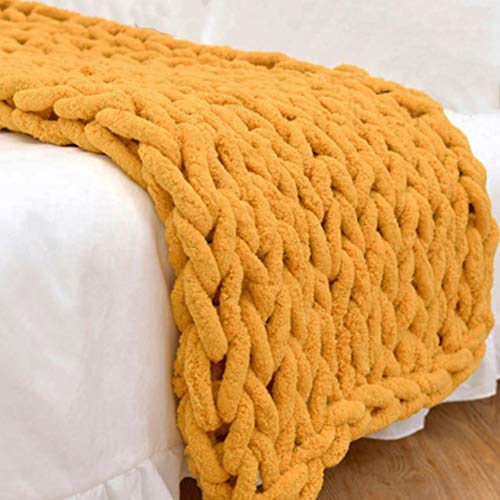 This is a large, classic chunky weave blanket that creates a distinguished presence in any room. It can be used for sunny afternoons on the living room sofa or wrapped up like a cocoon so you can hunker down for hours of reading in your favorite armchair. Made from mill dyed vegan chinchilla, it is just as beautiful as soft and durable–making this an excellent gift for anyone appreciating both style and practicality.
The blanket is made of a thick and durable fabric that is both so soft and comfy. The blanket's size is 50 by 60 inches, just enough for draping across a bed or sofa as an expressive home accessory.
It is made in a unique color that gives off a modernistic feeling. You can take this around with you because it folds down to be about my laptop's size. It feels super soft and durable, so you do not have to worry about breaking it anytime soon.
Quick facts:
Size 50"x60".
Made of chenille yarn.
A few colors are available.
Machine washable.
Heart and Stone Chunky Knit Blanket Chenille Throw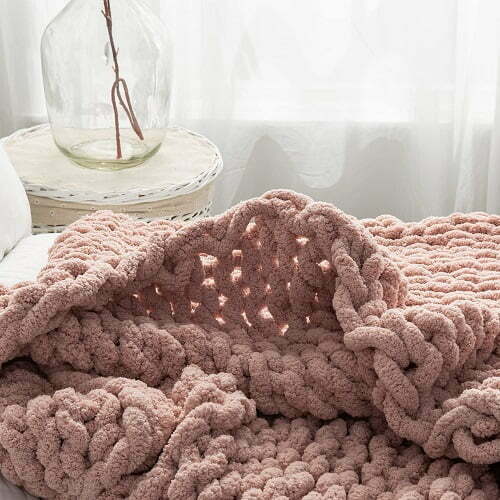 This fantastic blanket is made of thick, soft, and durable polyester chenille. It measures approximately 60″ x 50″. There is absolutely no shedding or linings from the blanket.
This blanket is made of a special type of yarn, making it easier to keep clean and not susceptible to pilling. It is warm, soft, and durable – perfect for decorating a living room, festive atmosphere, photo background, or practical bed warming supplies. Customers can choose the size they need with many options – it will arrive earlier than expected.
The Chenille Chunky Knit Blanket will provide your body with warmth and comfort while also creating a cozy feeling for your living room. Made with creative craftsmanship, this blanket provides beauty and functionality, making it a versatile product.
Quick facts:
Made of chenille yarn.
Airy weave.
Available in six colors.
Machine-washable.
Trunkor Chunky Knit Blanket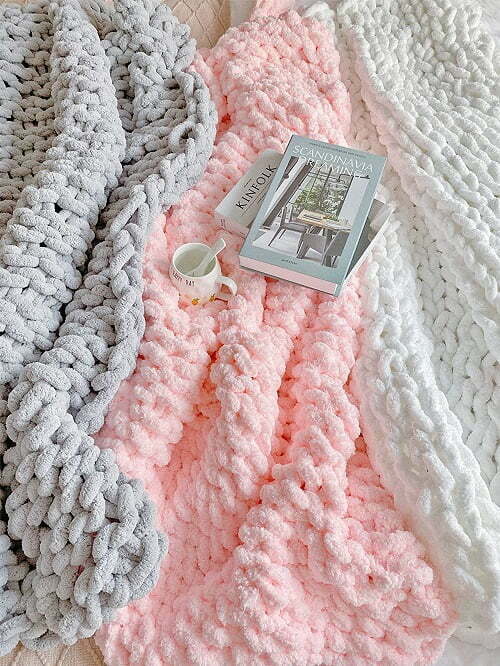 It is a sweet, chunky blanket that is perfect for all seasons. The blanket will drape over the couch or chair and look visually appealing. In warm climates, this will be used as a neutral layer over any other blankets to stay cool and comfortable on those humid evenings. The size of this beautiful chunky knit blanket measures 50×60 (inches).
We recommend this blanket draped over a couch, chair, sofa, love seat, or bed.
Quick facts:
Size 50"x60".
Three colors are available — light grey, pink, and white.
Dry clean or hand-wash cleaning.
Chunky Knit Taupe By Donna Sharp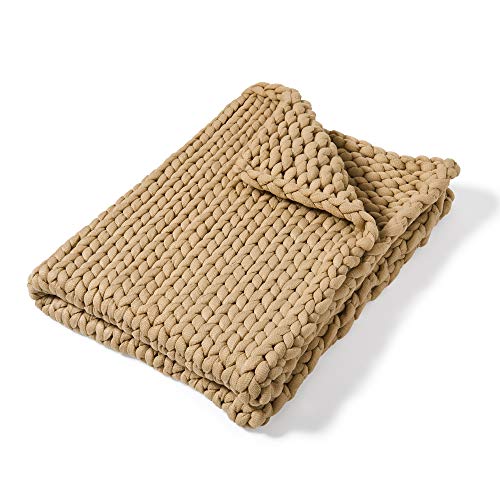 This chunky knit blanket is a medium-large size, taupe-colored, and made of acrylic. The blanket is perfect for beds, chairs, or sofas and can add dimension to any room. When running your fingers through the thickness of the yarn creates a pleasant feeling.
This is a warm and cozy blanket, perfect for chilly winter nights. It is the right size for beds and couches and offers the perfect amount of comfort. The knit makes it both durable and strong. You won't regret spending this small amount on something so useful. This blanket has a taupe color that will complement any room in your home. It measures fifty inches by forty inches with its acrylic material, making it both warm and durable while adding some dimension to any room.
This blanket is so soft and warm. The acrylic material is great for cold winter nights. This blanket covers more than one person for a lower price—the perfect gift for coworkers, family members, or friends who live in cold climates.
Quick facts:
Size 50"x40".
Made from acrylic fibers.
Warm textured design.
Spot clean only.
Eastsure Chunky Knit Bulky Throw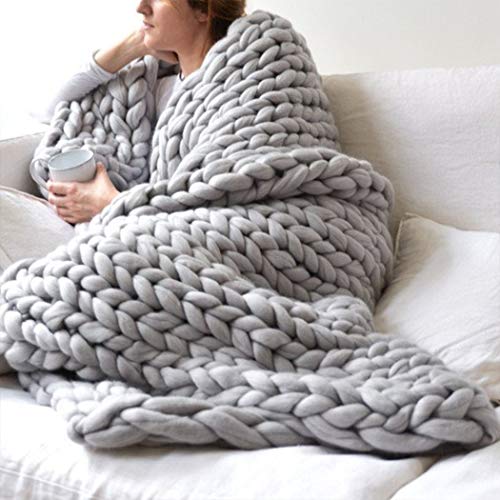 This bedspread blanket is very compact. As one reviewer has said, the loft on this blanket is not excessively high. It's chunky and compact enough for my bed. The loft might be a little more wonderful if it were about an inch fuller and thicker, but that's alright too because the chunky knit weight makes this lightweight blanket perfect for activities like camping or watching tv in cold months. I love that this blanket is made of a hypoallergenic synthetic wool blend.
This blanket's texture can provide warmth and comfort with a sophisticated touch when combined with bedding that coordinates seamlessly for elegant style.
It's made of beautiful, fluffy sheared sheep wool, and the fabric feels so delicate and beautiful. The cozy fringe at the outer edges gives it a very chic touch.
Quick facts:
Size 40"x40".
Made of soft Merino wool.
Sahyo Large Soft Chenille Blanket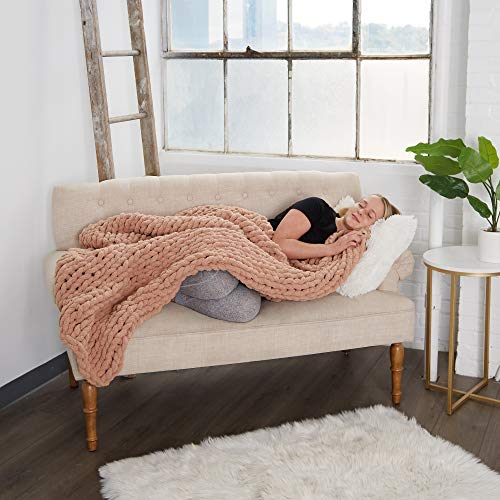 Chenille is considered the softest and highest quality material. Blankets made of it are great for relaxing nights and home decor. This braided blanket is lightweight and breathable. As a medium-sized woven blanket, this item is great for weekdays or weekends to enhance every space in your home or office with style! Fill your couch with color, make it an easy statement in any room,
The chunky knit blanket, made of cotton, a great accent to any room in your home measuring 50×60 inches. The blanket is machine washable and easy to store, best for all seasons.
Quick facts:
Size 50"x60".
Made of chenille yarn.
Handmade Soft Chunky Knit Blanket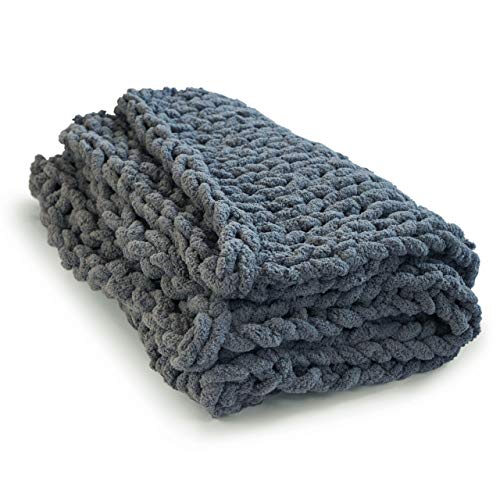 Luxury quality chenille blankets have dominating decor value. They are made of a mix of acrylic, nylon, and polyamide, which is why they never have shed and are much softer than conventional wool materials. This is the perfect size for all occasions, which leaves one feeling great satisfaction and warmth from its heavy texture.
This blanket is made of luxurious, comfortable chenille material that feels soft and fluffy like a cloud. The size is perfect; at 50×60 inches, this blanket can be used for different occasions, no matter if it's a children's nap time or adults' bedtime needs. It comes without any shedding, so you never have to worry about the secondhand mess again, and be sure that it is hypoallergenic so that everyone in your home will enjoy its warmth and comfort.
Quick facts:
Size 50"x60".
Handmade of chenille yarn.
Coleybear Weighted Chunky Knit Blanket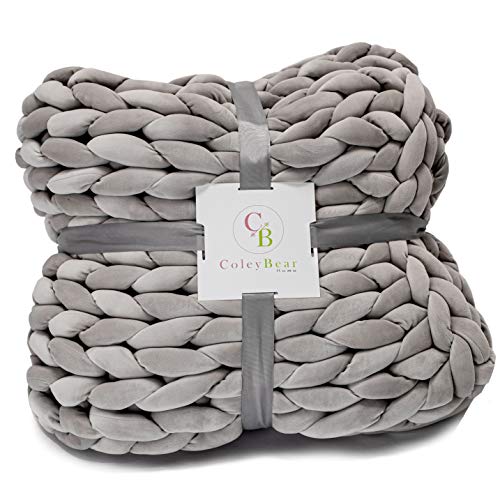 This weighted blanket is soft, comfy, and easy to clean! We love that this is a large product – perfect for the cold and frigid days. This blanket has big cables which make it warm. The texture of the chunky knit itself is smooth and not too scratchy. I am pleased with my purchase!
The chunky knit blanket is made from heavy cable-knit woven yarn and is extremely large. The customer receives a 14 lbs blanket that will not shed. It's perfect for a great night's sleep because it is 60 inches by 80 inches.
This blanket is so thick and soft. You are going to sleep under it without having to get out of bed. This blanket is machine wash compatible which makes it easy for me to give my old blankets away. The best thing about this chunky knit blanket is that it has fashionable beige and ochre tones alongside black and charcoal ones, which means that you will always look elegant while snuggling up with your favorite
Quick facts:
Size 60"x80".
Weight 14 lbs.
Made with cotton shell.
Kaffrey Luxury Chenille Chunky Knit Blanket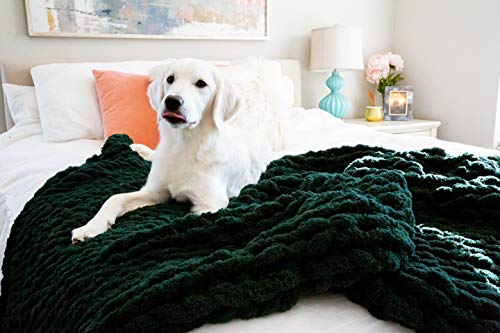 This product chunky knit blanket in cable pattern is one of the most durable blankets any living room can have. Its size of 50"x60" is 100% no shed, will NOT make you feel anything on your clothes or furniture like a throw blanket wrapped around your couch might. This blanket also features quality craftsmanship at a great price.
This blanket is great for just cuddling up on your couch with your pet, and all of a sudden — you're dozing off! It's very soft, and it's the perfect thickness. I love this blanket so much. It can't really wash out its coziness.
Quick facts:
Size 50"x60".
Made of chenille yarn.
Inshere Luxury Chunky Knit Throw Blanket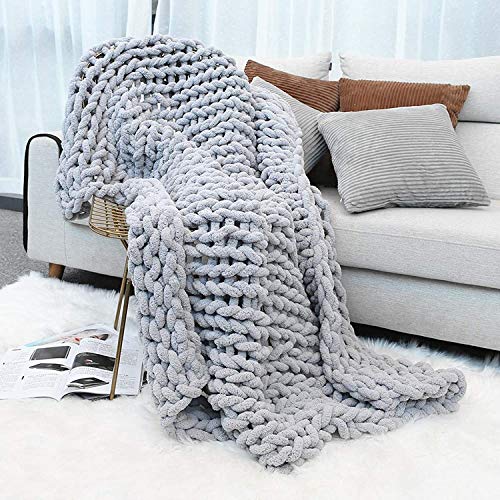 These long, chunky woven blankets are made from high-quality 100% polyester and can be perfect for many purposes. They are an ideal ordinary bedding blanket that is both soft and thick. They are also pretty good at cleaning rugs, area rugs, or seat covers because they can absorb spills easily. One advantage of these blankets is they don't itch as wool and fleece do! These blankets are very durable and resist wearing out no matter how often they're used.
The chunky knit blanket is cozy and soft, thick and large. The texture of this blanket is as soft as wool yet still durable. The best chunky knit blanket measures 48 x 60 inches and contains a smooth Polyester material that is no-shed, hypoallergenic. The color may vary if the actual blanket does not match your expectations compared to what you see from the computer screen.
It feels so soft and nice against the skin since it's made of Chenille yarns for its 100% no-shed quality. This makes the perfect gift because it will give your friend or family member a hug from afar through your thoughtful gift giving!
Quick facts:
Size 48"x60".
Made of chenille yarn and polyester.
FAQ
Are chunky knit blankets warm?
Chunky knit blankets are large and thick, which makes them naturally warm. Think of them as a hand-knit sweater or hat.
What is the best chunky yarn?
Two of them most popular chunky yarns for blankets are Merino wool and Chenille yarn.
Do chunky knit blankets fall apart?
High-quality chunky knit blankets don't fall apart or shed. In fact, it's a very durable type of a blanket.
Can you wash a chunky knit blanket?
Washing a chunky knit blanket depends on the product, so always check the manufacturer's description. Many blankets can only be spot-cleaned, but some products are machine washable.
Liked this article? Here's what you can read next:
---
Disclosure: As an Amazon Associate we earn from qualifying purchases.