Last updated on July 27, 2020
Looking for the best bathroom vanities? We've checked out some of the most popular bathroom vanities on the market and have chosen what we think are the top 10 for 2020.
► Our top choice: IKEA HEMNES Bathroom Vanity
What makes a bathroom vanity great? Aside from its primary function (it needs to have a properly functioning sink and faucet), the rest of the qualities are mainly aesthetic. It needs to look darn good in a bathroom. So we've taken function as a given and have sought out the prettiest vanities on the market. These won't disappoint.
Oh, and yes, extra storage space won't hurt (especially if we're talking small bathroom).
So, with that said, what you need to consider:
The appearance – it must look perfect in your bathroom. For example, you may not want an antique-looking unit in a modern bathroom (or maybe you do?)
The room for storage – some vanities can provide plenty of drawers and cabinets while smaller units are lacking. You need to set your priorities.
Most of them also have a soft-close mechanism that prevents noisy slamming and protects the drawers and cabinets from damage.
Longevity is also important as vanities will be exposed to water elements every day, you might want something that is water-resistant.
All good things considered, here's our top 3 of the pet peeves:
Weight – many units are really heavy and it might be hard to bring them to the bathroom in the first place.
The difficulty of installation, especially if you're alone and might need a professional to install it.
Durability is also important to check because some units can get scratched easily.
Ready to see our picks? Before you do, please note that we're being transparent about compensation. Links tagged with #ad mean that we might get compensated for some purchases. There's no extra cost to you.
Which one of these vanities would look great in your bathroom?
What's Inside?
Modern Bathroom Vanity
This vanity is perfectly created for guest bathrooms because of its beauty that would surprise them. It is heavy and expensive but it's because it's made of quality materials and has plenty of drawers to offer for all the extra storage you need.
Pros: Plenty of drawers; elegant looking; quality constructed; perfect for guest bathrooms.
Cons: Expensive; some drawers are shallow and stiff; heavy.
Vanity Cabinet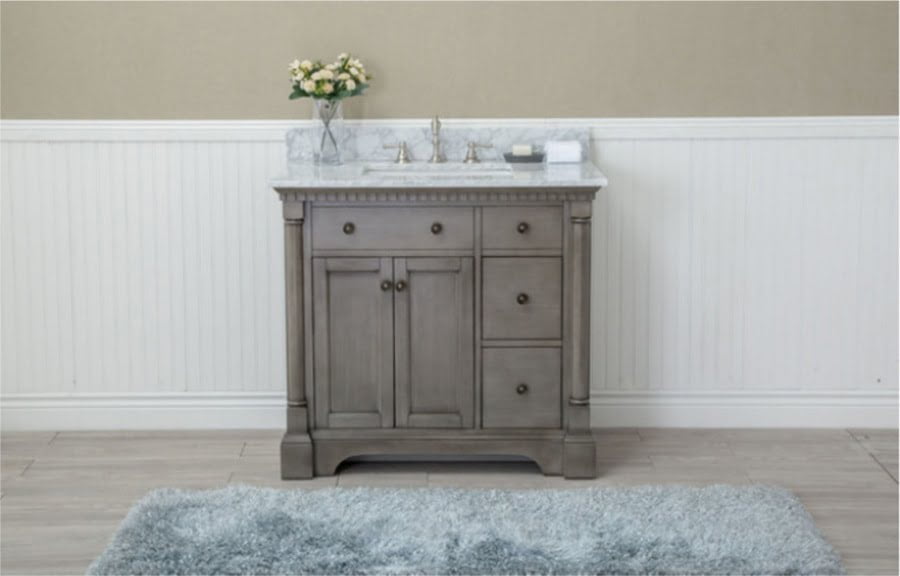 It may look small but this antique looking bathroom vanity is quite heavy and difficult to install. Nevertheless, it's made of top quality materials for long-lasting use and the drawers have soft-close mechanisms, the sink is bigger than it looks.
Pros: Antique looking; top quality; durable; soft close drawers; thick marble, big sink.
Cons: Really heavy; hard to install; bottom gets damaged easily.
Small Bathroom Vanity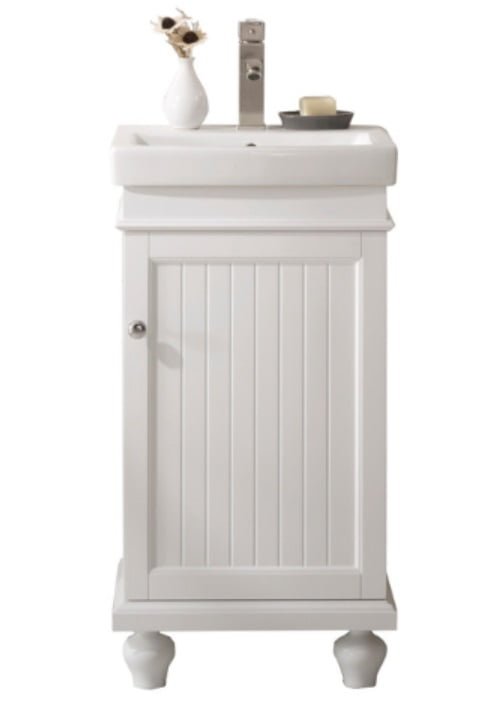 It is affordable due to its size which makes it fit in any bathroom, especially smaller spaces. It's easy to install and its single cabinet is water resistant. Extra care is needed as it can get scratched easily.
Pros: Compact; fits even small bathrooms; water-resistant cabinet; affordable; easy to install.
Cons: Less storage compared to others; easily gets scratch; smaller compared to others.
Farmhouse Bathroom Vanity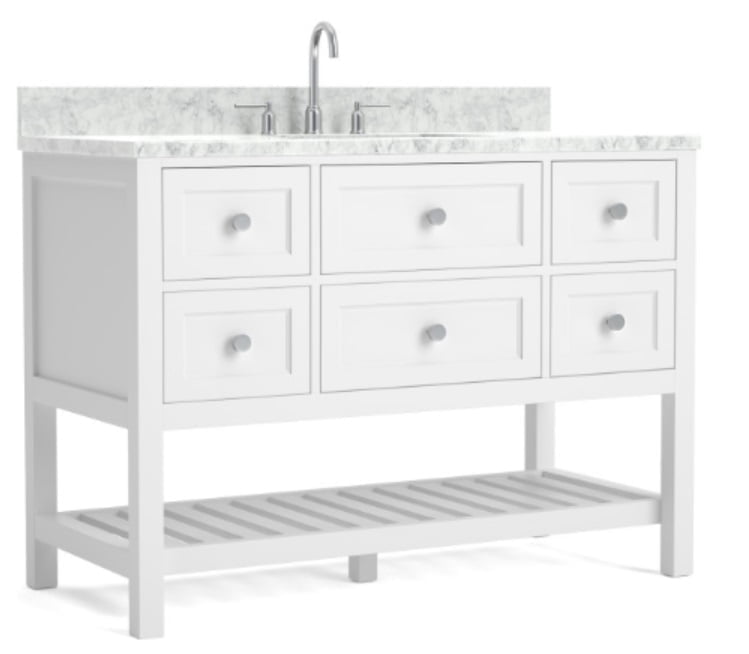 This expensive vanity gets damaged easily so real care is needed, plus you need a professional to install it. It has a lot of features like a soft-close mechanism for the drawers some of which even have dividers. It has a rack underneath for towels, etc. A clean and beautiful looking piece of furniture overall.
Pros: Soft close drawers, rack underneath; drawers with dividers; clean and minimalist looking.
Cons: Expensive; needs professional installation; easily damaged.
Solid Wood Bathroom Vanity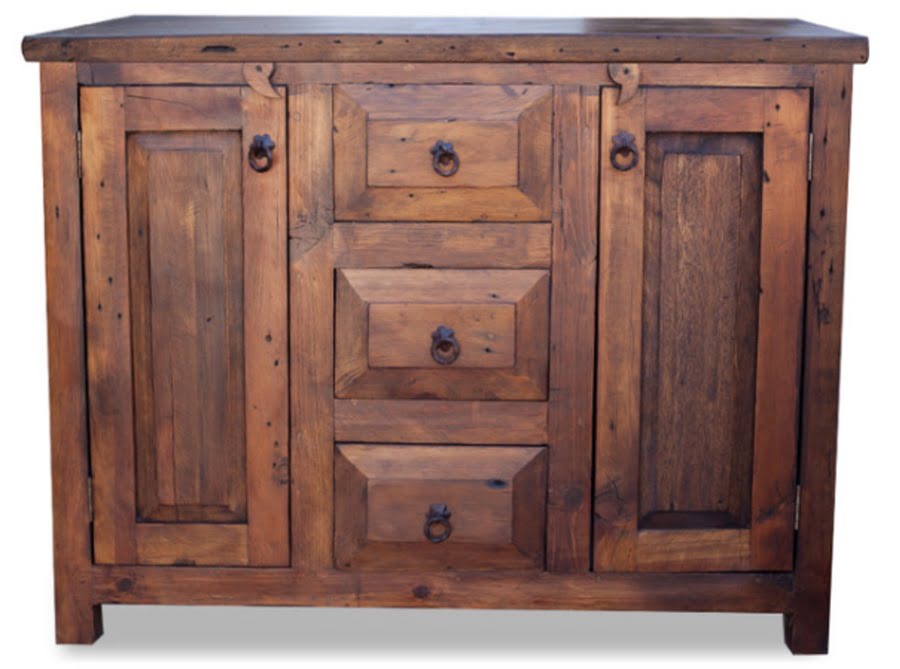 If you're looking for a reclaimed look, then this one would suit your needs. It has a rough surface and the drawers and cabinets are kind of hard to close or open. But it is water-resistant, easy to install, and can last a really long time.
Pros: Water resistant; easy to assemble; affordable; antique looking; sturdy.
Cons: rough surface; crooked drawers; hard to close door.
Bathroom Vanity Set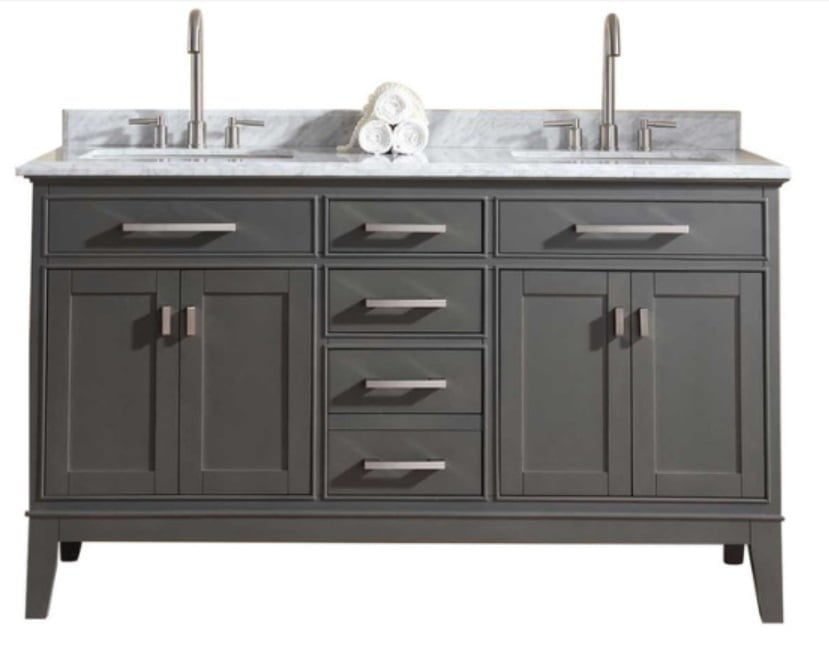 This heavy, classic looking vanity has a dual sink with plenty of cabinets and drawers for all the extra space you need. It has a soft-closer mechanism too though some drawers are too shallow. It won't scratch your floors so that's one less thing to worry about.
Pros: Dual sink; cabinets and drawers; soft closer; safe for floors; classic look.
Cons: Heavy; shallow drawers; thinner than it looks.
White Bathroom Vanity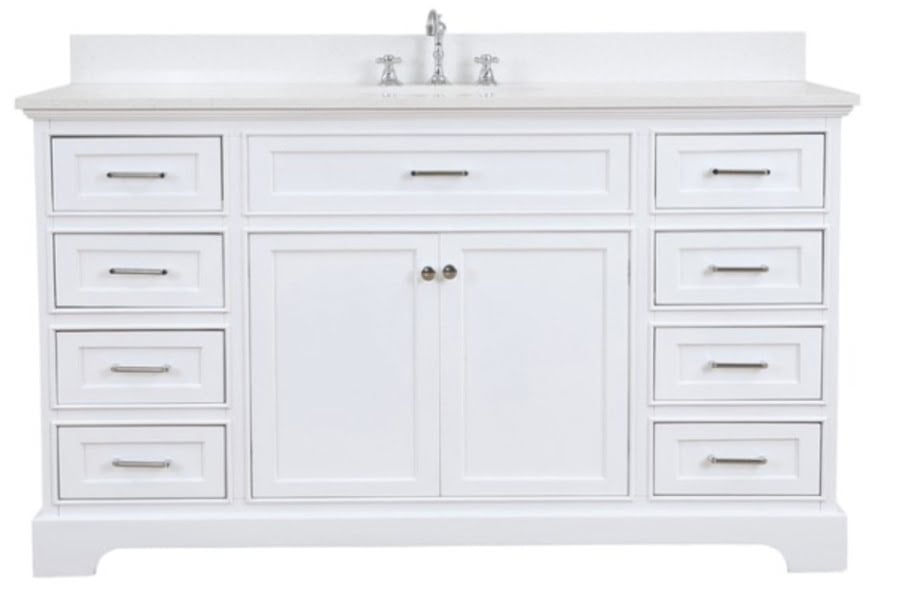 It's not recommended for tall people as it's a bit lower than most bathroom vanities and the sink is small too. It's also really heavy that you need plenty of manpower to move and install it. It provides plenty of storage space and has soft close mechanism to prevent drawers and cabinets from damage. It is easy to install though and the materials are top notch.
Pros: Plenty of storage space; soft-close mechanism; quick and easy to install; quality made.
Cons: Small sink; really heavy; drain can get rust easily; a bit low.
IKEA Bathroom Vanity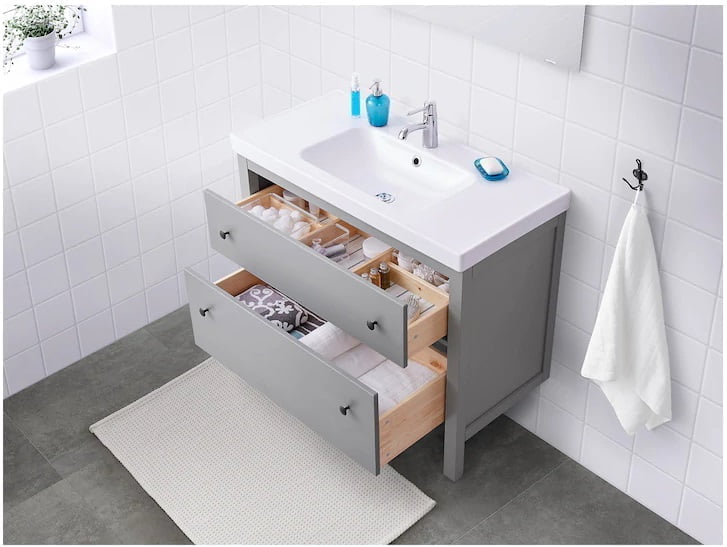 Of all the expensive options available for a bathroom vanity, we actually choose IKEA Hemnes as the best choice. It's the balance between the quality and price that we like the most about it. Now only to assemble it…
It is a bit complicated to assemble and the drawers can get scratched easily if not properly used. However, it is affordable and chemical resistant making it last longer compared to other bathroom vanities. Flexible water trap to easily connect to the drain, washing machine, or dryer.
Pros: Unique and flexible water trap; drawers; chemical resistant; affordable.
Cons: Difficult to assemble; drawers get damaged easily; sink easily gets scratch.
Single Bathroom Vanity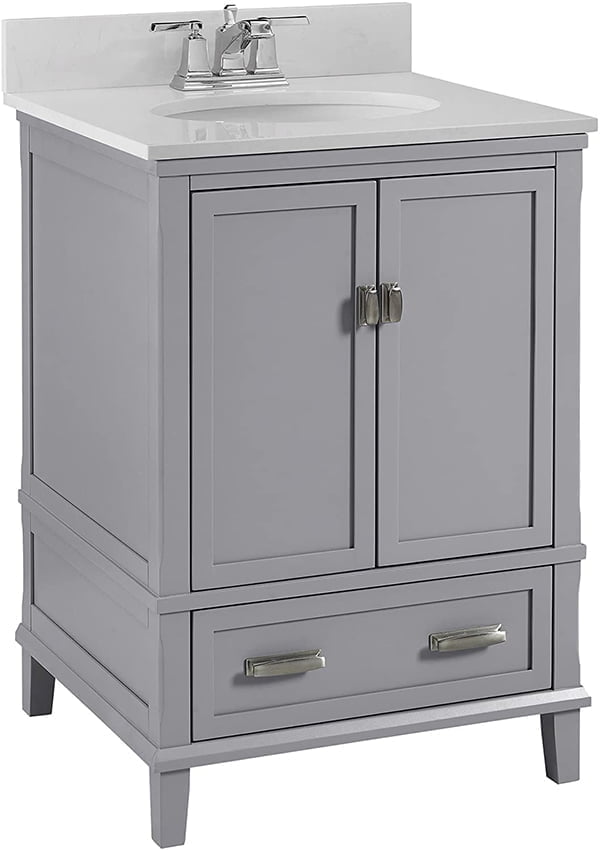 This compact bathroom vanity gets damaged easily and it is heavier than it looks but its purpose is for smaller bathrooms. It's easy to clean, quick to install and has a soft-close mechanism even though it only has two drawers and a single cabinet.
Pros: Affordable; compact; easy to clean; soft close; quick to install.
Cons: Less storage space; heavy than it looks; easily damaged.
Narrow Bathroom Vanity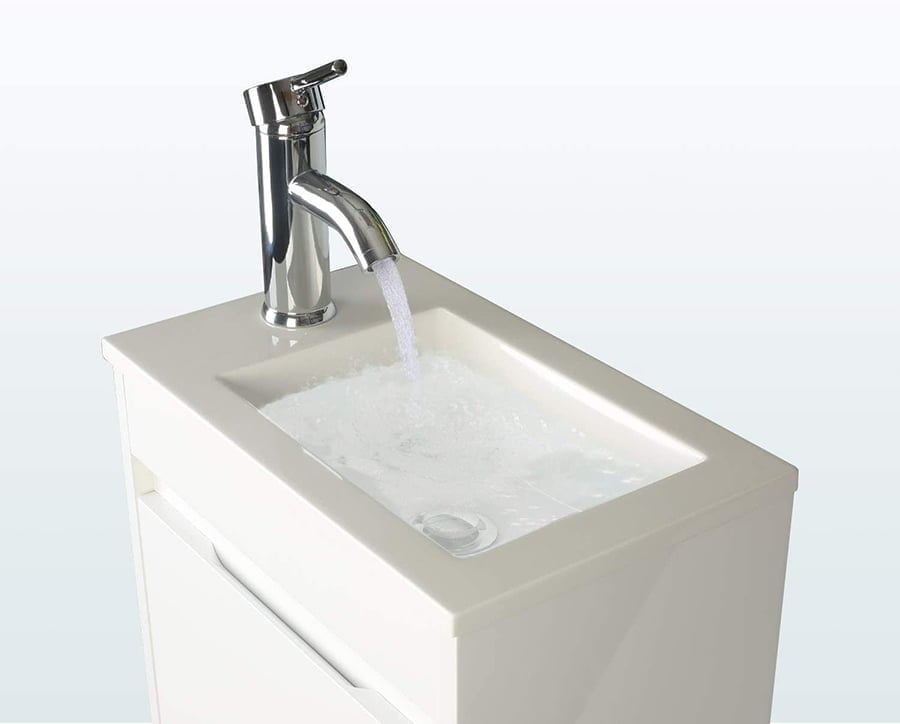 Perfect for small diners that need the extra sink, this unit is eco-friendly, conserves water and is element proof so it can last longer. It's also affordable, quick to install, and easy to move – you don't need a professional to assemble it for you. The faucet is a bit low quality though as it leaks easily.
Pros: Water saver; eco-friendly; moisture-proof; easy and self assemble; really affordable; compact.
Cons: Limited storage space; really small sink; faucet might leak; really small.
Liked this article? Here's what you can read next:
---
Disclosure: As an Amazon Associate we earn from qualifying purchases.