Last updated on September 19, 2021
Many craft-loving individuals are fascinated by the potential of a Cricut die-cutting machine. It can produce the most flawless, industrial quality letters and designs. Even better, it can do so to your own personal specifications. Rather than hunting in the craft stores for items that are close enough to what you really want, or that will have to do since you can't find what you want, you can produce Cricut projects that allow you to have the exact thing you actually want for your project.
While many people understand the concept well enough, they may not have fully appreciated the wide range of capabilities which can be brought to their home décor projects. With that thought in mind, here are 30 cool Cricut projects that you can use in home décor.
Sweet Home Alabama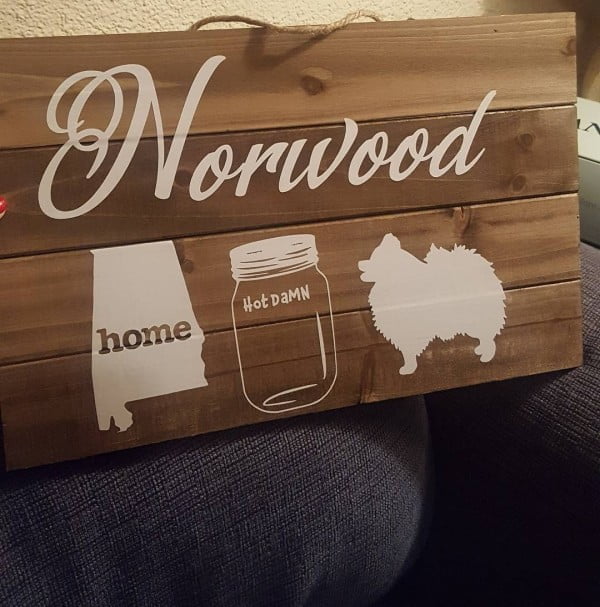 Southern pride and sensibilities are on full display in this example of what you can do with a Cricut. It's about a lot more than just cool-looking letters.
Call Me Old Fashioned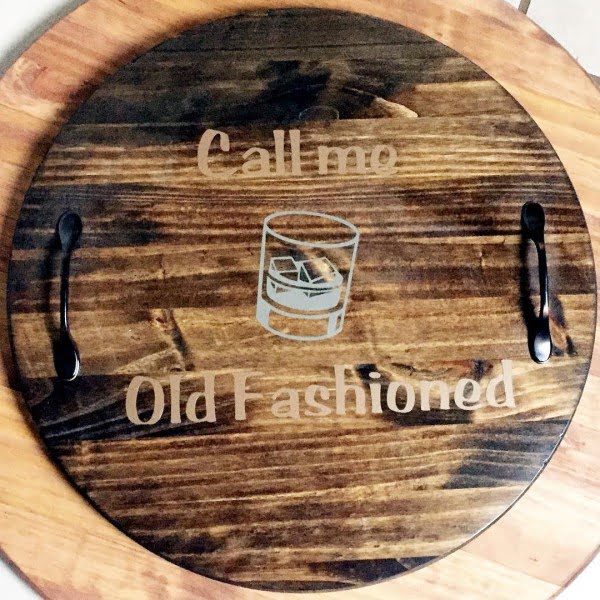 This cute little serving tray displays the ultimate in double entendre word play to get is point across with wit and creativity.
Personalized Wash Tubs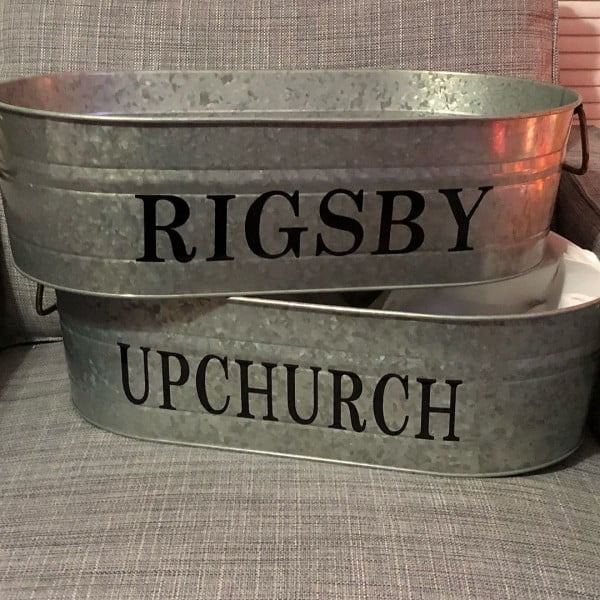 The ability to provide perfect die-cut lettering in a plethora of sizes, fonts, and colors means that you can turn all sorts of everyday items into ones that are suitable for display, gift-giving, or just as art for art's sake.
Pastel Wreath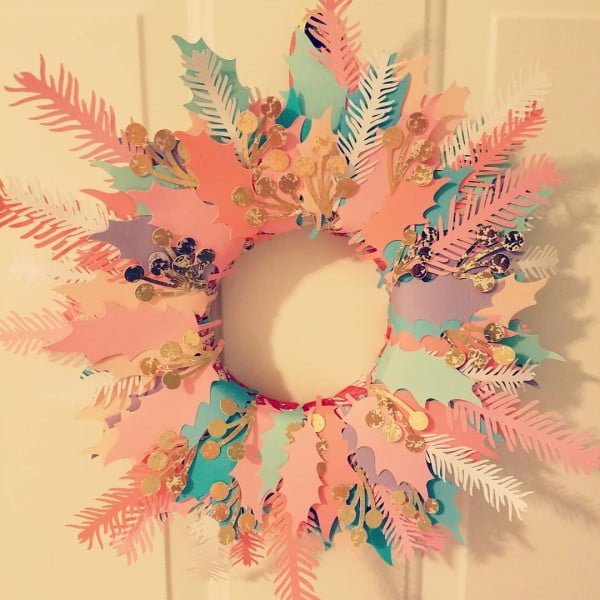 Now here's a little something that is both extremely well-crafted from a traditional standpoint yet daringly different in its choice of pastel autumn hues as a substitute for normal cheery Christmas colors.
Welcome to Our Home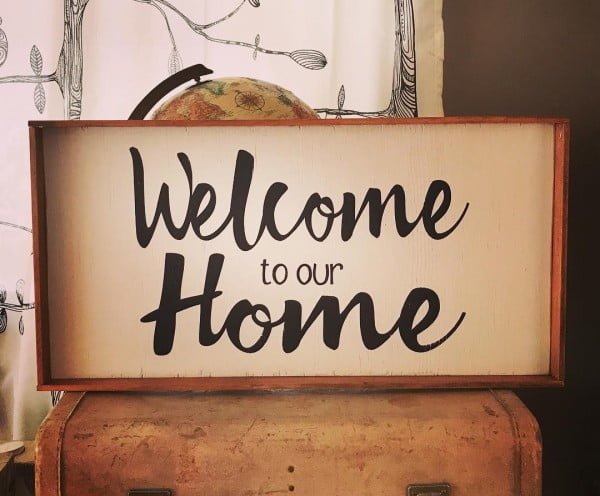 Sometimes, simplest says it best and this welcoming little box would look great on the porch or in the foyer. Simple to make and so obviously heartfelt since it isn't a store-bought product.
Wine Together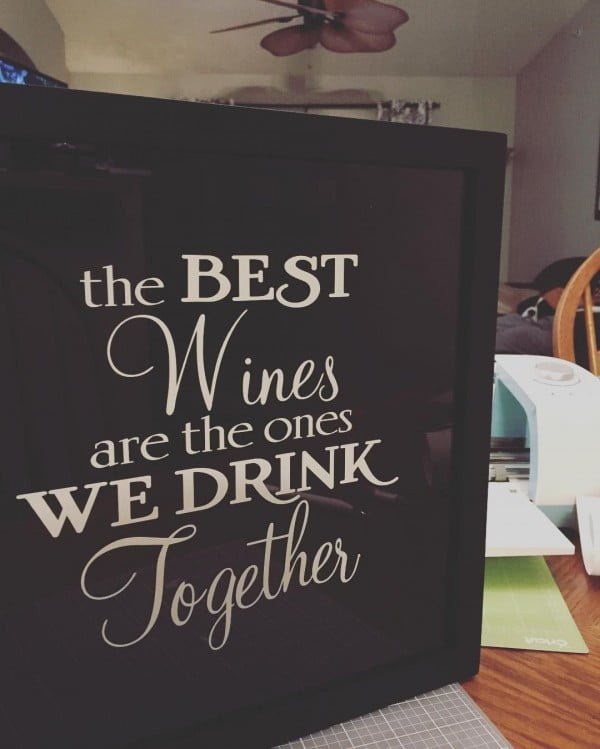 This is a wonderful example of turning a craft-making hobby into a profitable business. In this case, the use of three separate fonts installed on a smoked glass background produces something that will look perfect in a modernistic setting.
Fresh Baked Pies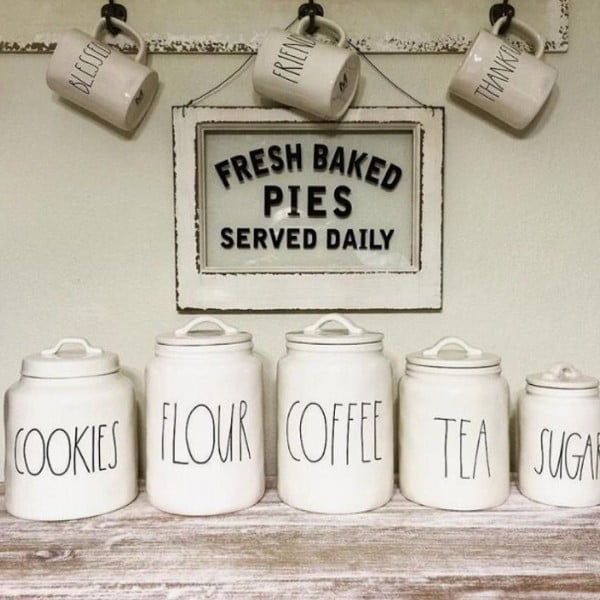 Here's a nice illustration of versatility, where you can plainly see how to make perfect lettering as well as something a little more deliberately artistic to dress up your kitchen.
Coffee Kitsch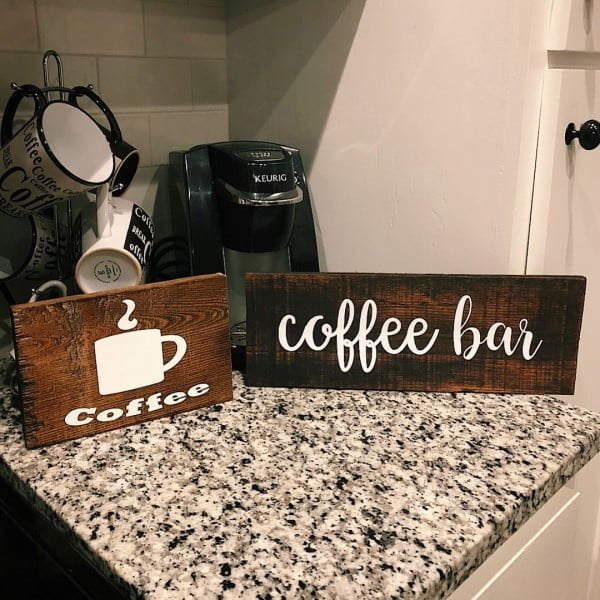 You can create your own kitschy DIY wall art to order, such as these cute little signs to hang above your coffee maker. All it takes is a little bit of lumber, some stain, and a Cricut to give you the artwork.
Counter Top Art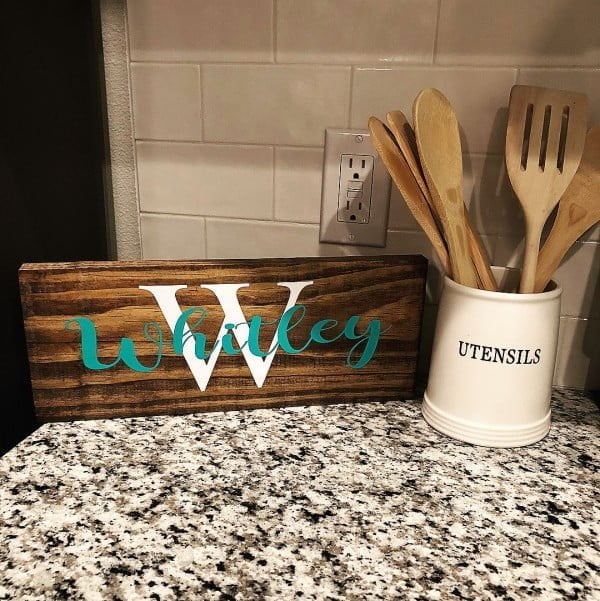 So many times, it's the little things that offer loving contrast to their surroundings. Here, a piece of distressed lumber is used to set off the spotless perfection of everything around it.
Family Says It All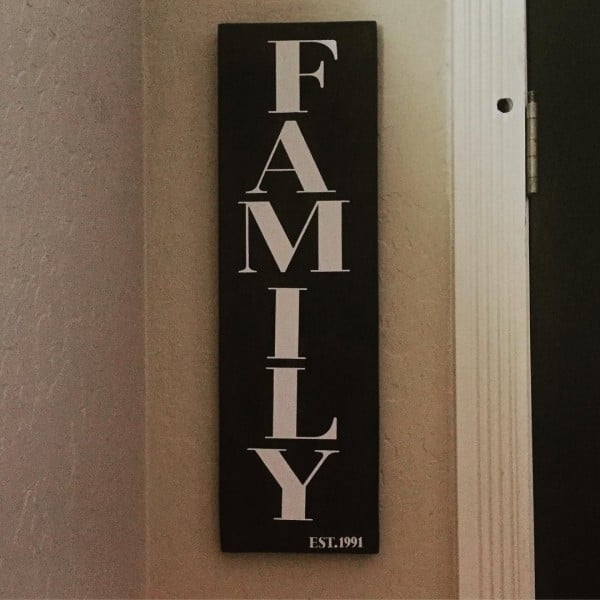 Here's a clever enunciation of the timeless principles of belonging together as a group and not as a mere collection of individuals. This sign manages to be understated and yet packed with emotional impact at the same time.
T-shirt Factory Extravaganza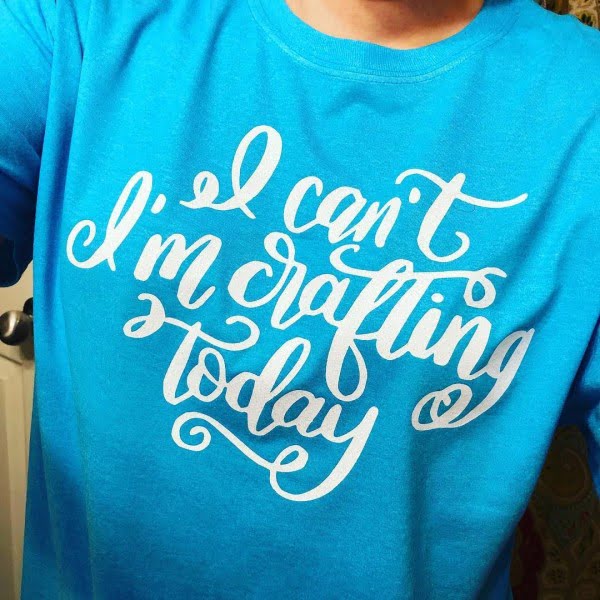 Custom T-shirts are another way in which the Cricut can be employed to create amazing and unique items that nobody else will ever have.
Welcome If You Want It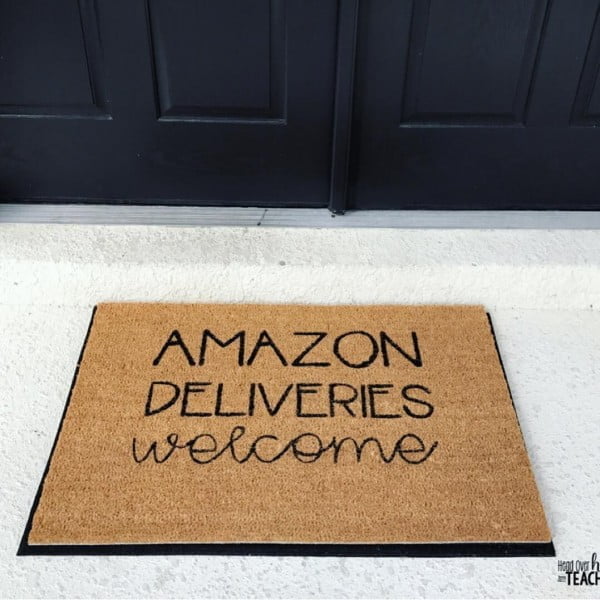 Have you ever wanted to have a Welcome mat that would say what you really wanted to say? Well, now is your chance to put it in writing in a place that won't be soon forgotten.
The Cricut machine is highly versatile and can provide some great possibilities for mats in general. However, it's important to note that if you are looking for more of a professional look for your home or business, then this is where you may want to look to invest in a quality logo mat.
Giving Thanks for Holiday Decoration Magic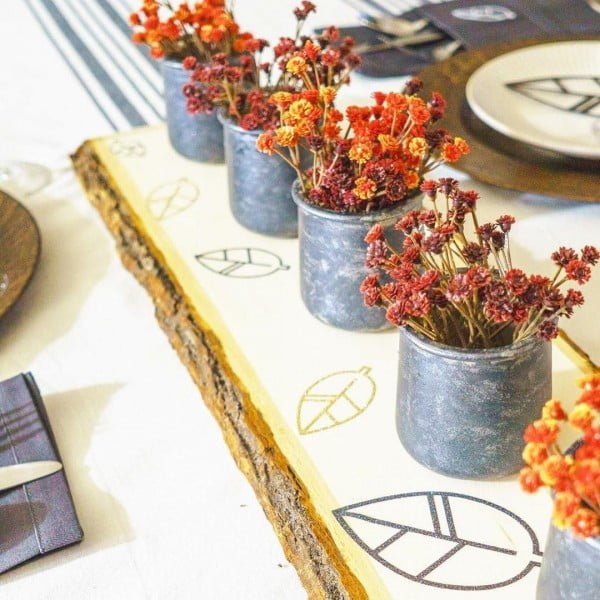 Everyone loves decorating for the holidays, which means doing something more than putting cardboard turkeys on the wall. The idea is not just to celebrate but to incorporate those holidays into your own personal identity.
A Gypsy's Best Friend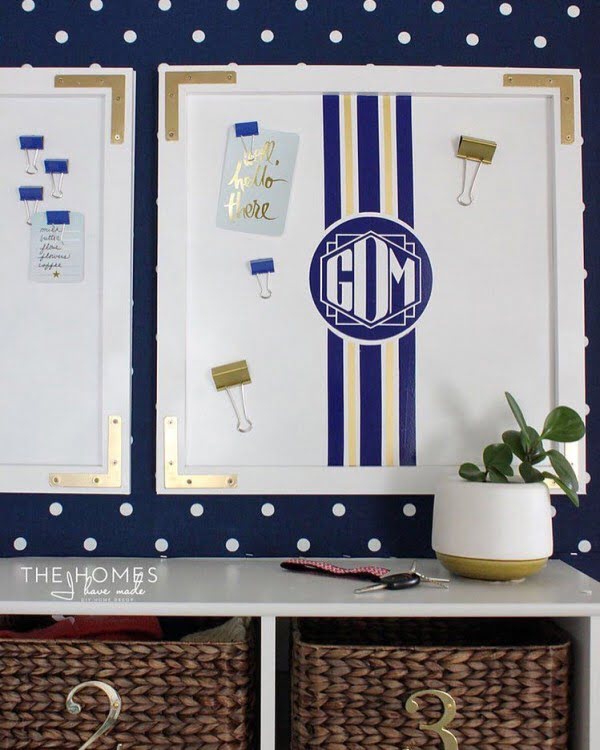 One of the great appeals of the Cricut system is that you can produce high quality goods to order at a very low cost in both time and money. For people who have to move a lot, this can really make the difference between house and home.
The Rubber Stamp Solution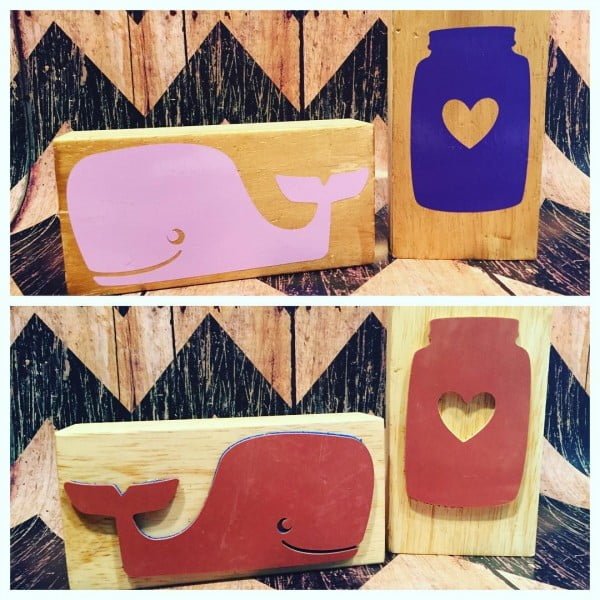 By producing your own designs for rubber stamps large or small, the vista of decorative possibilities becomes almost too staggering to behold. Just the idea of what you could do to your children's bedroom walls is enough to get you started.
Happy Tears Only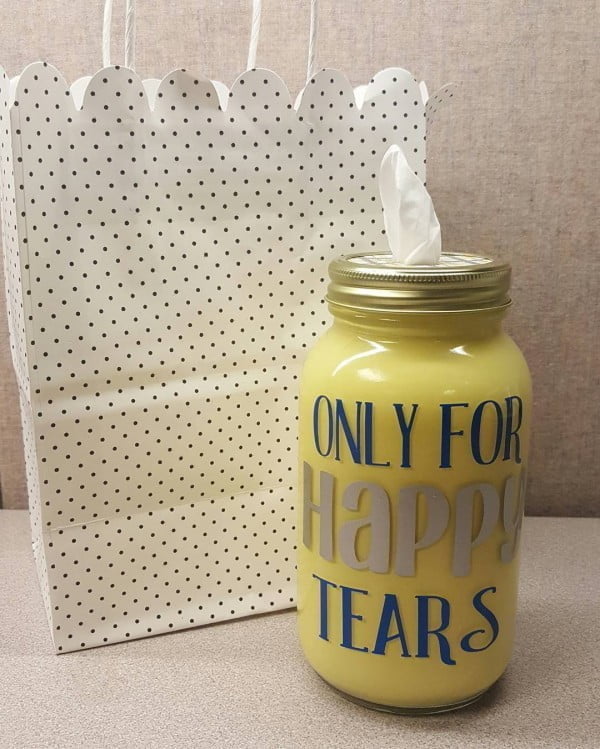 Now here's a little something that will really catch the eye– as well as the tears they produce. So much better than a dusty old box of kleenex, and it takes up much less space as a bonus.
Bookshelf Whimsy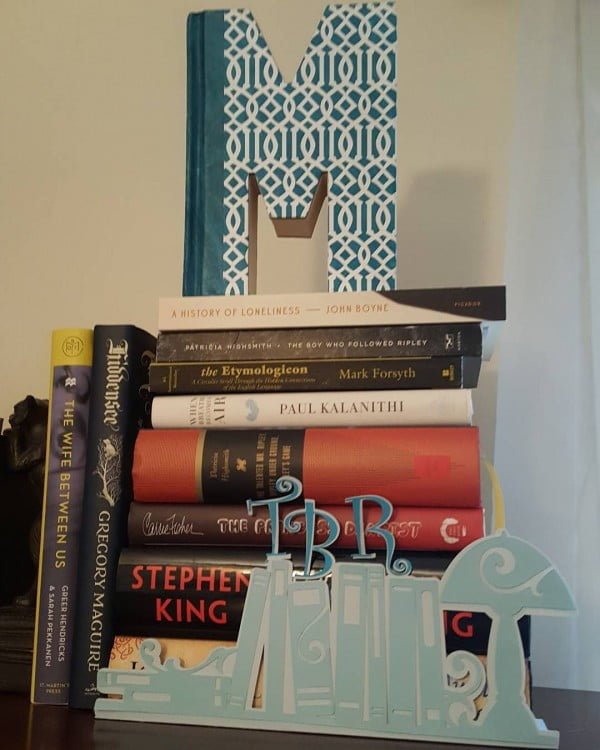 This scratch-built little accent piece turns an ungainly stack of books into an attention getting excursion into interior design whimsy.
Pillow Monograms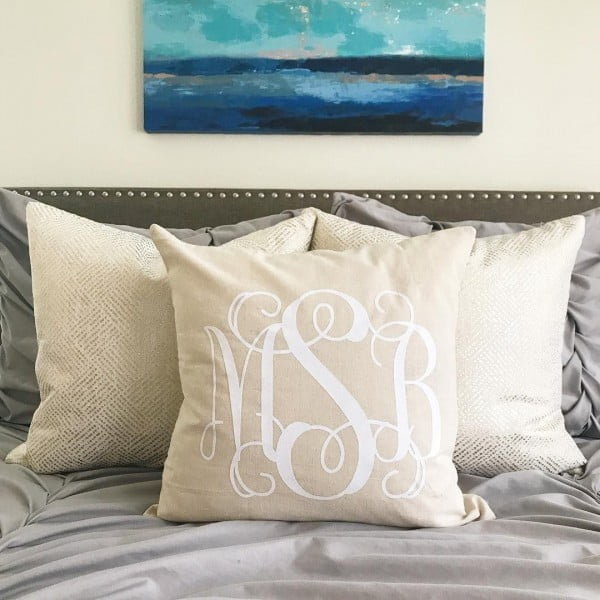 This intricate example of a monogrammed pillow shows how anyone can produce top line custom goods at a mere fraction of the cost.
Merry and Bright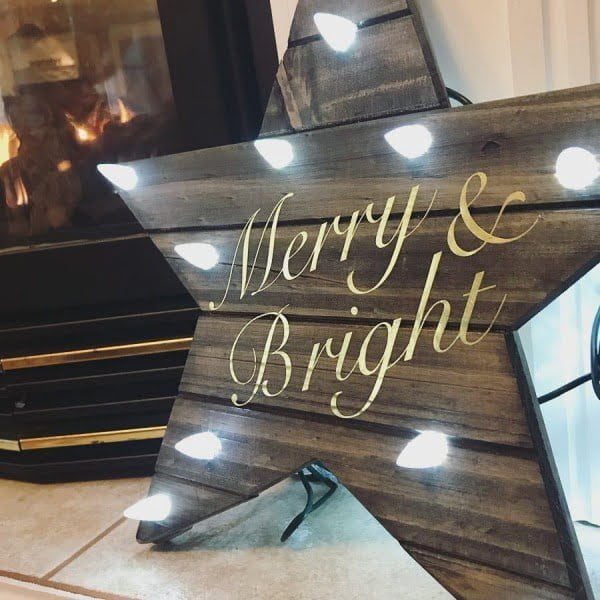 Taking an element from a craft shop and pairing it with the customization that comes from having a Cricut produces this one-of-a-kind Christmas star.
Kitchen Canisters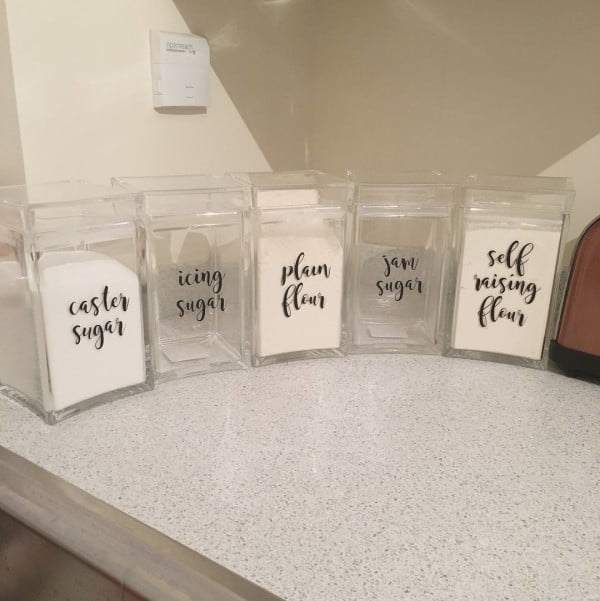 In the home, the basic display of some things is not always a self-evident way of differentiating them from others of similar appearance. Yet labels can be artistic as well as functional– as these canisters prove.
Days of Wine and Laughter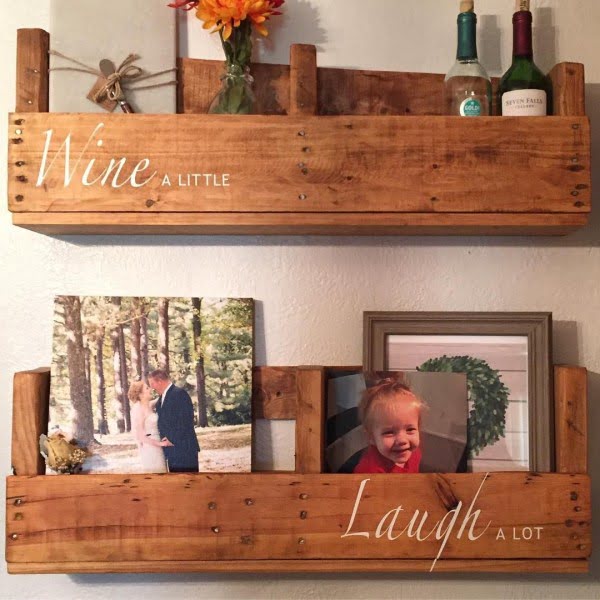 Here's a cute little project that both serves a purpose as a wine rack and yet also manages to make a point about the really important things in life.
Simply Delicious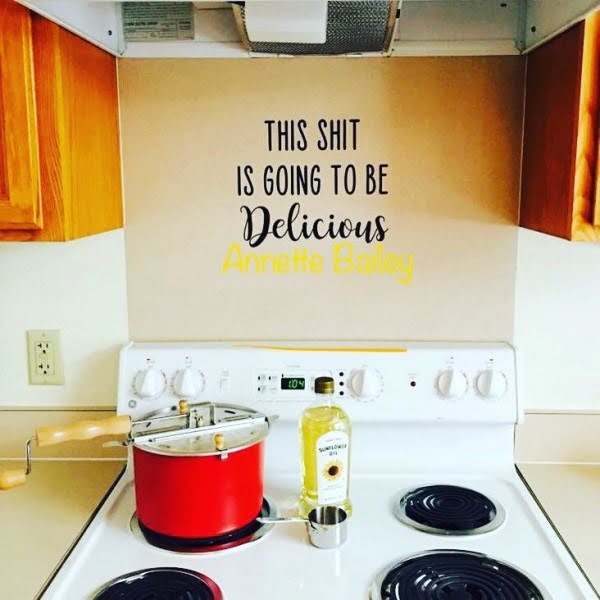 Personal statements come easily to those who have a Cricut in their home. You can be bold and assertive one day and then introspective and caring the next– and the whole world will know it.
Flowerbox Magic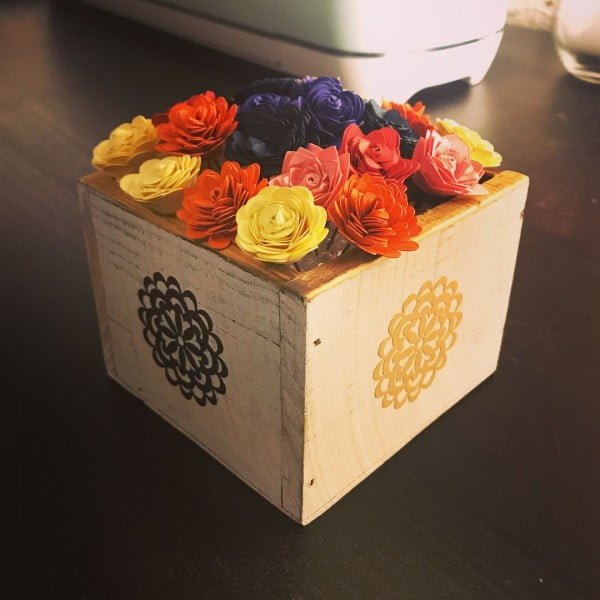 It is sometimes astounding to see what can be created with a Cricut. The precise edges which make items seem to be of commercial manufacture are well-displayed in this lovely box of paper flowers.
Custom Labels for Storage Bins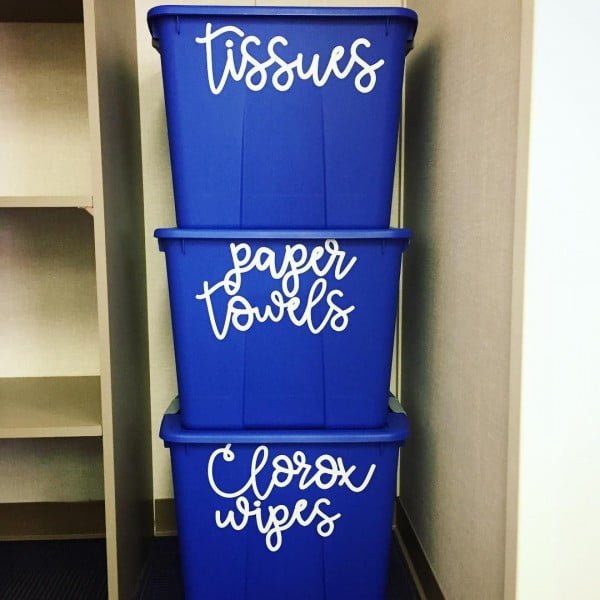 Getting organized, and staying that way, is a snap with these Cricut-produced labels for storage bins. Say goodbye to those ugly magic markers and taped-on paper labels.
A Pineapple Welcome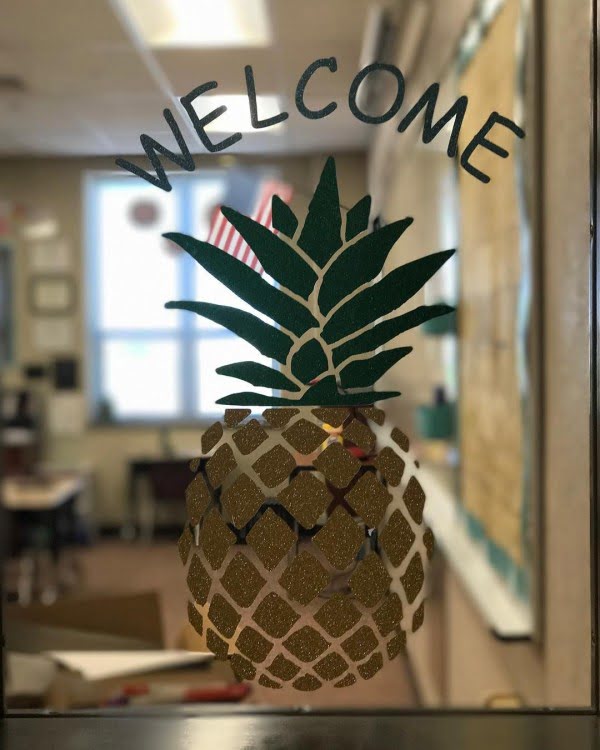 This combination of an invitingly-placed glass panel and the designs produced with a Cricut is one of those matches that simply screams destiny. Witness this sweet welcoming panel on the door of a class room.
Savings on Wall Art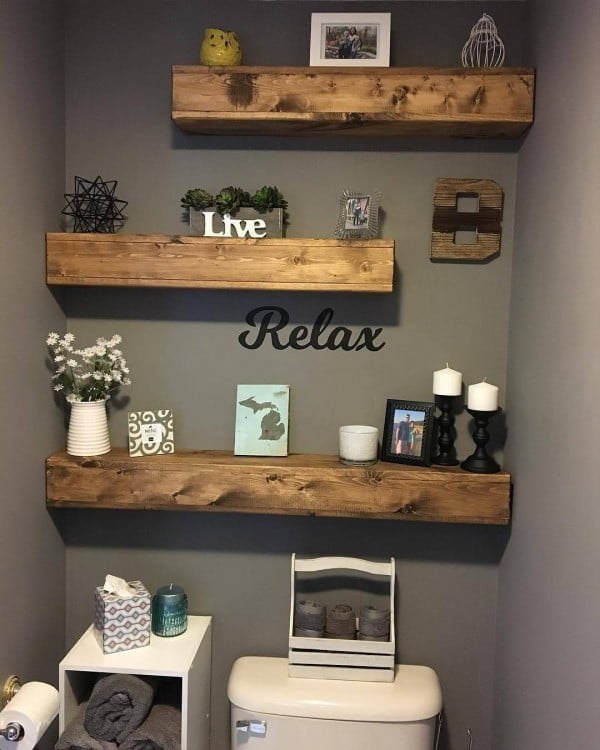 Minimalist wall art philosophy has been very much on trend for quite some time. Given the high cost and limited selection of commercial offerings, being able to create your own at a substantial savings is a philosophy all your own.
Vinyl Love for Coffee Maker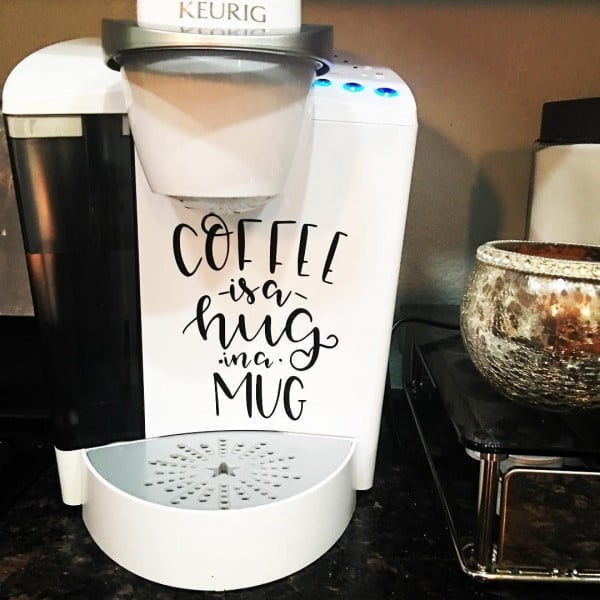 Personalizing mass-produced items such as this whimsical coffee maker turns them into something more than just an everyday appliance. Instead, they become a vivid expression of individuality.
The Mountains Are Calling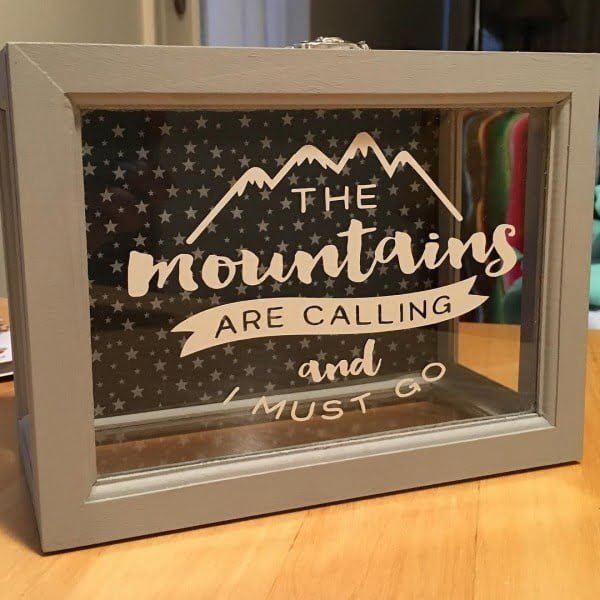 Conversely, the ability to produce freestyle designs meshes quite nicely with its capabilities in turning out art studio-grade lettering. Quite interesting take on shadow box design.
Kitchen Wall Art
One of the real strengths of a Cricut lies in its ability to produce items such as these bold letters which are normally not available on a consumer level except through purchase of an already existing design.
Butterflies and Dragonflies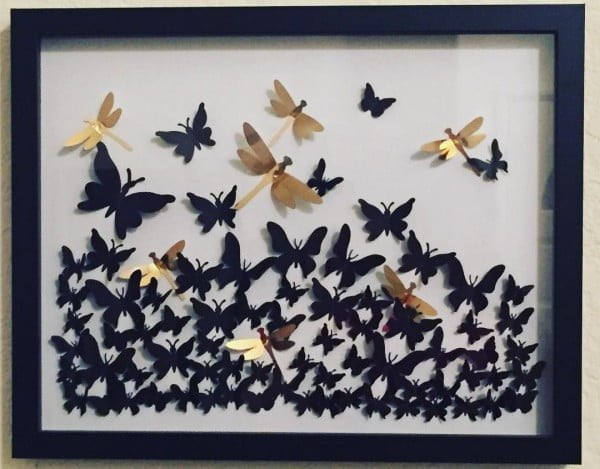 This well-imagined project is a beautifully framed wall art design featuring sable butterflies and lovely contrasting golden dragonflies taking to flight. Like much art, the untold story comes from the unseen reason for their flight.
Recap
Liked this article? Here's what you can read next: