Last updated on October 20, 2022
Here's how to organize your garage properly so that you have a tidy and secure garage space. Use these three essential tips. Read on!
How many garages have you seen that looked like a tsunami? They have everything thrown inside and look like the owners don't use them as a garage but a personal dumpster for stuff they don't want to throw away.
It's a common practice for many families. If you look into the problem thoroughly and come up with a different solution, your garage can look a lot better and be highly useful for the entire home and the people living in it.
Garages are not places where you'll only park your car and store items you're not using frequently. It is also where men love spending time working on personal projects. Many men across the globe turn their garages into man caves that look spectacular.
If you don't aim to turn your garage into a magazine-looking place, and you're somewhere in-between these two ideas, you need only to clean up the mess and practice regular maintenance. We're here to help you with a few thoughts on doing this. Follow up and learn more about it.
Get Toolbox Cabinets and Store Everything Inside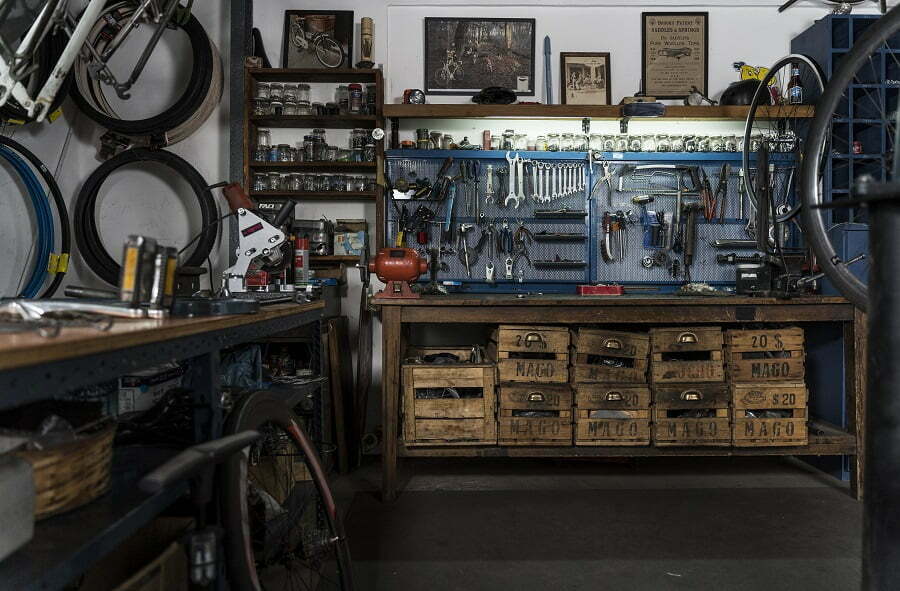 After taking everything out of the garage, you'll want to buy or build yourself a few big oversized garage cabinets, which will act as closets we use inside the house for clothes. The only difference – is you'll use these for tools and all the other items you usually have in the garage.
Make sure they are made of steel, aluminum, or titanium. You want them to be waterproof, so aluminum is the best option because it's the best value for money, yet, it won't rust as steel would. You'll be able to turn on the hose and wash them from the outside without damaging them.
All the tools and machines you use for the car, house, or yard, can be stored inside these cabinets, after which the garage will look spotlessly clean. Simultaneously, you can take the rest of the items that don't fit in the house but are not yet ready to go into the garbage. Find them a place just like everything else.
We're talking about rewards from competitions, old pictures, kids' toys, and everything you have nowhere to put. Arrange them carefully, and enjoy the free space in the garage while knowing where you placed everything in case you need them someday.
Hand Things on Walls
Instead of wondering where you placed the pliers every time you try to fix something, you should arrange them perfectly, never losing anything again. Set a big corkboard or some other wooden solution and hand the most frequently used tools, nails, screws, and other stuff.
This is a great idea for small garages because you can store all kinds of other items this way. For example, there's no better way than hanging your bike and saving some room and other stuff like your ladder. Like installing a canopy ladder on your UTE, you can do the same for your garage.
Wonderfully arranged garages will have a hanging place for everything. When you use your garage's entire potential, you end up with so much unused space that you can turn into a useful one. Even the ceiling is used for a lot of stuff, so keep this in mind.
Install a Linoleum Flooring
The flooring in a garage is often impossible to maintain. The oil that suddenly drips from your vehicle is hard to clean up, and the many tools you own will get in contact with a lot of dirty stuff that's tough to clean and leave the place as it was before you walked in the garage.
A wise thing most pro-garage owners do is install linoleum flooring. This type of flooring is affordable yet so easy to maintain. All you need to do is go over it with a wet wipe, and everything on top is easily cleaned. At the same time, it provides enough comfort, and it's not as cold as plain concrete.
Some people will install tiles, but tiles are fragile and will easily break under pressure. Imagine a heavy hammer falling down on them; they'll instantly break apart. The same will happen under the weight of your vehicle, but linoleum will stay untouched.
The Takeaway
When remodeling and redecorating your home, paying attention to the garage is mandatory. If you do things right, your garage will be a great place to spend time inside. Use these three tricks to create perfection out of it, just like you will with the rest of your home.
Get yourself a few aluminum toolbox cabinets, hang most of the stuff that has nowhere to go on the walls, and install a linoleum flooring to maintain the floor's cleanliness easily. These few things are everything you need always to have a fantastic-looking garage.
Liked this article? Here's what you can read next: