Last updated on May 2, 2019
Want to make something different for your Holiday decorations this year with DIY wooden pallet Christmas trees? Here are some of the most creative ideas for your inspiration.
If you choose to make a statement with your Christmas decor, there's no better way to do that than by setting up a pallet tree. It's a very creative and crafty idea that makes use of repurposed material and helps you save a tree this year. You can be very creative with your pallet trees as well, by making not only decorative but functional pieces.
Check out these creative ideas and get inspired to do something new this Christmas. From painted pallets to weathered, rustic style, from lighted trees to display shelves. There's everything on this list, and you can choose any of these ideas to mix and match. Most importantly have fun with your project and create something unique to get into the festive mood!
How to Make a Wooden Pallet Christmas Tree
Here are the steps to make a pallet Christmas tree:
Get your pallet (fully intact, not disassembled);
Use painter's tape to draw diagonal lines across the pallet in the shape of a triangle (refer to the image below);
Cut the pallet;
Sand it and apply wood finish or paint it;
Add Christmas ornaments and embellishments;
It's the most basic variation of a pallet Christmas tree and it's the most straightforward to make. There are other variations and you can find them in our list below. Some of them include tutorials too.
DIY Pallet Christmas Trees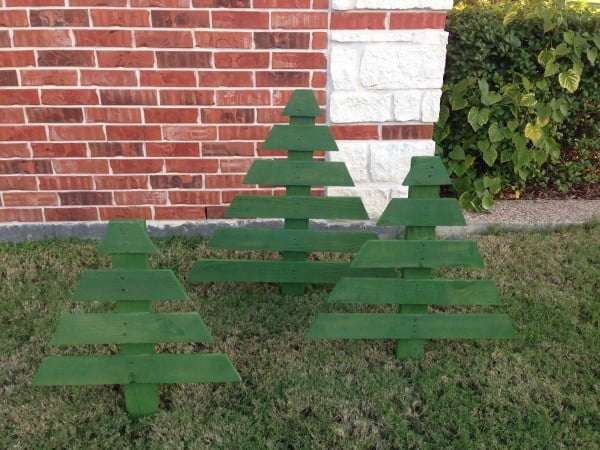 With all the ideas for pallet Christmas trees present, it would be a sin not to try and make one yourself. After all, pallet wood is all you need for this type of project. This tutorial will show you how you can take any old pallet wood and paint to make these beautiful small Christmas trees. If you're up for it, you can even make a pallet tree as your main Christmas tree (and save one fir tree). Check out the tutorial for complete instructions and step-by-step guidance.
DIY Pallet Shelving Christmas Tree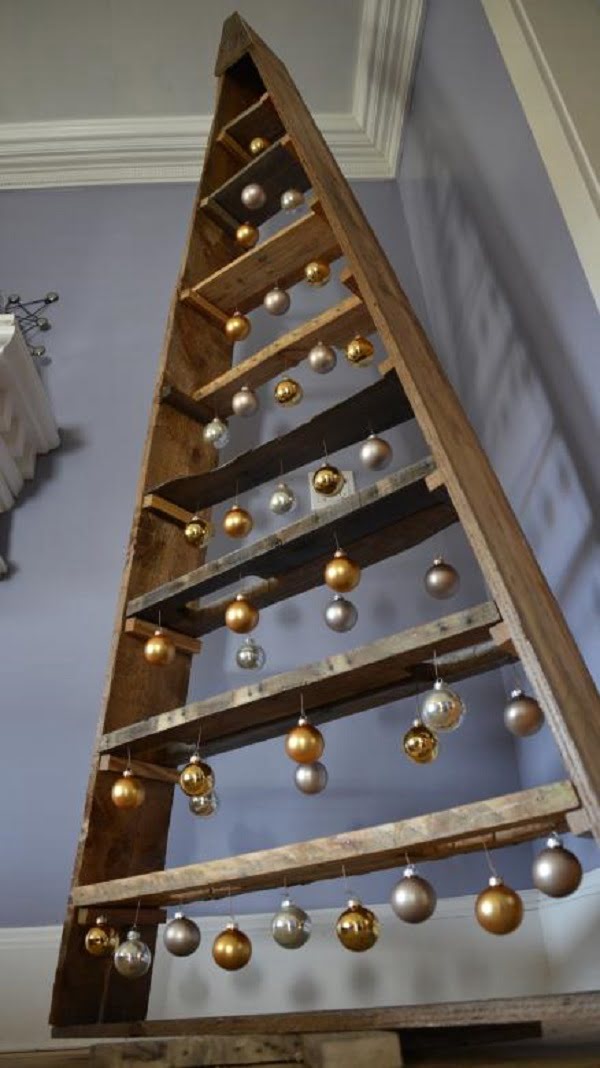 This pallet Christmas tree idea shows you how to make a tree in the shape of shelves. This gives you a fantastic opportunity not only to hang Christmas ornaments like on a real tree but use the shelves for display as well. Imagine putting small gifts, collectibles, and other little decorations on those shelves to create a fantastic scene. Check out this tutorial and make your pallet shelving tree from the plans provided.
DIY Pallet Christmas Tree with Marquee Lights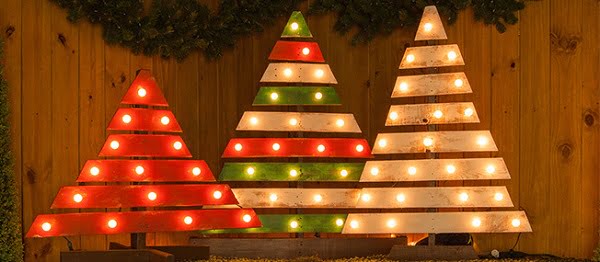 What Christmas decor is without the lights. And your pallet tree is no exception. You can make a magnificent marquee using this tutorial. It will surprise your family and guests. All you have to do is follow these instructions to make something like this at home. Get ready for the festive mood in the crafty style!
Rustic Pallet Wood Christmas Tree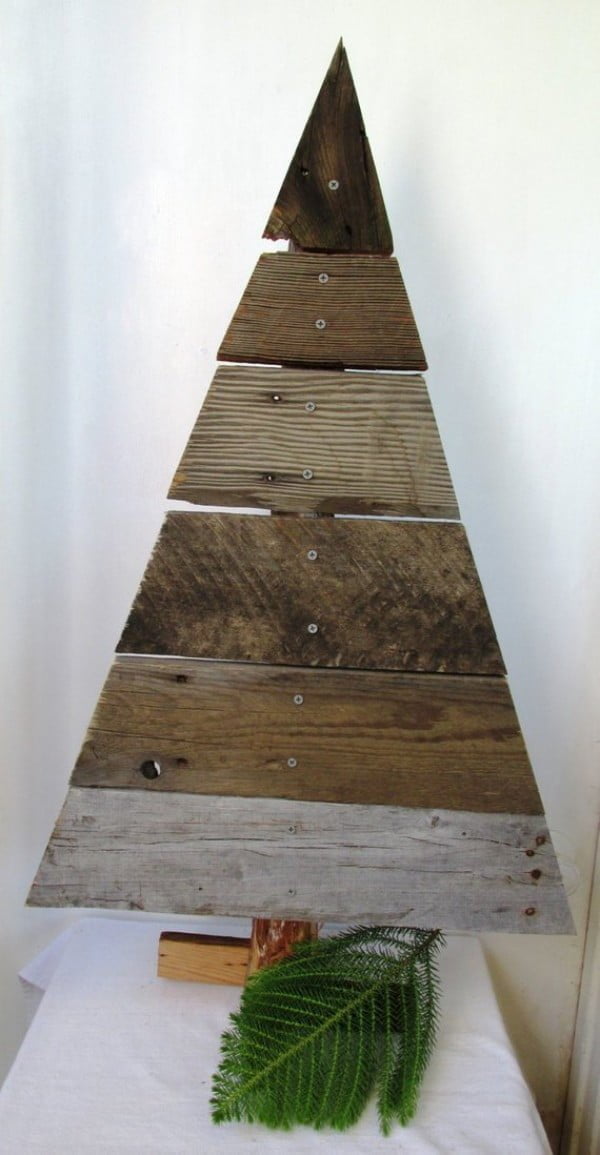 This is a simple but adorable rustic Christmas tree made from pallet wood. It's the real spirit of pallet trees, and it shows that you don't have to go all fancy about the festivities. Some recycled timber and a small branch of a fir tree bring the message across.
Coastal Beach Themed Pallet Christmas Tree with Shelves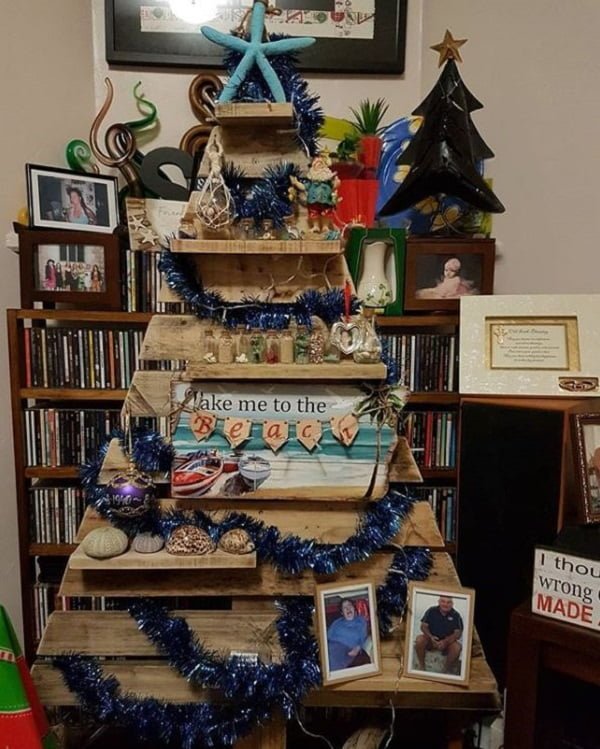 Pallet Christmas trees can be in any theme, coastal beach style included. Of course, it's still rustic and earthy with all the charm that pallet wood brings. But you can very well experiment and be creative with your crafts.
Spiral Pallet Christmas Trees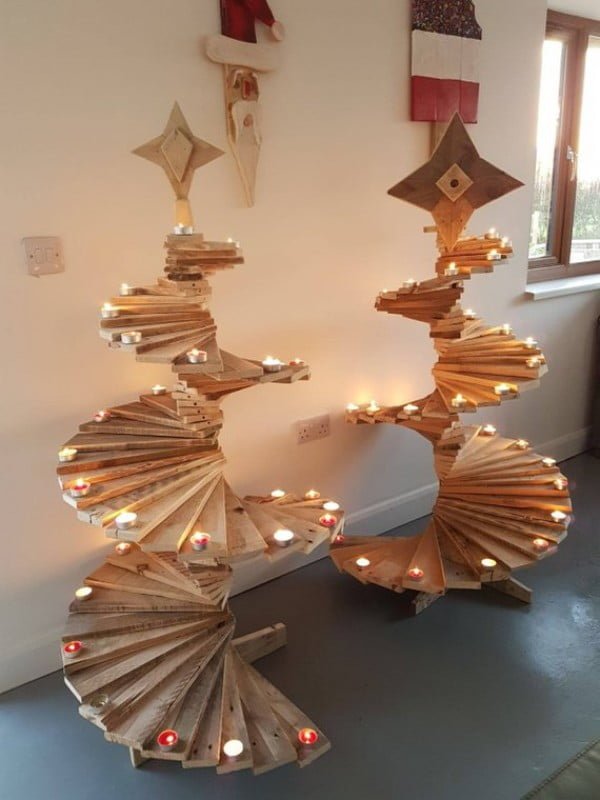 These spiral pallet Christmas trees are great for bringing the festive spirit into space, without the mess and size of a real Christmas tree. The pallet edges make the perfect homes for flickering tea lights that mimic the look of Christmas tree lights.
Pallet Wood Clothespin Christmas Tree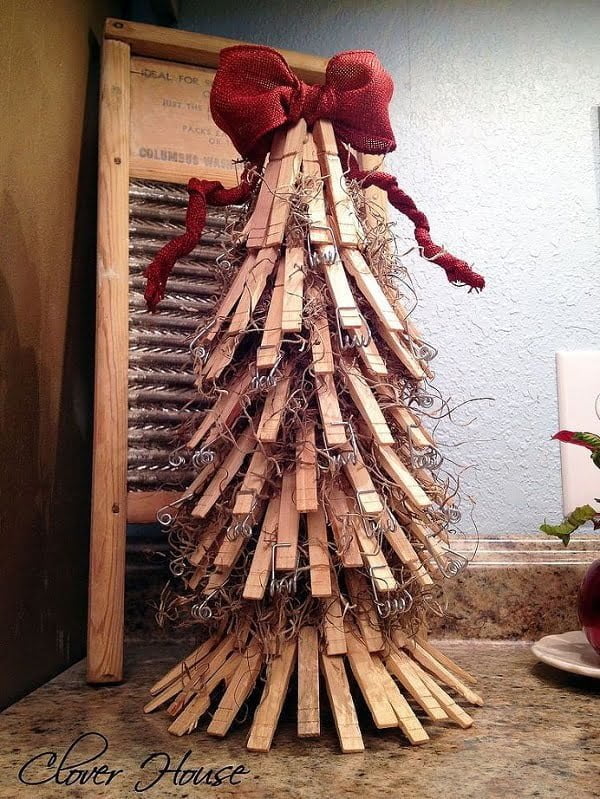 Some wooden clothespins, a bow and some greenery, and you have a one-of-a-kind Christmas decoration that brings some fun and whimsy to its space.
Chevron Ornament Pallet Christmas Tree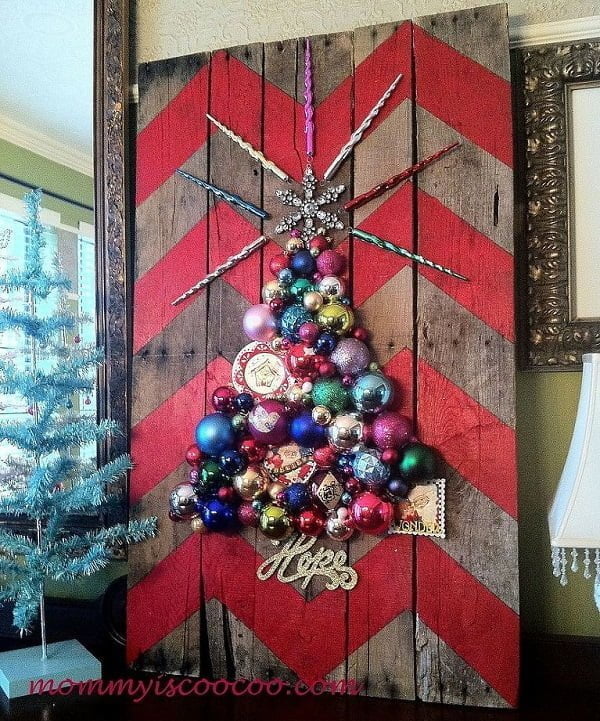 This chevron pallet Christmas tree is fully customizable. With a chevron pattern painted on an old pallet, it makes the perfect background upon which to glue some Christmas decorations in the shape of a Christmas tree.
DIY Rustic Pallet Christmas Tree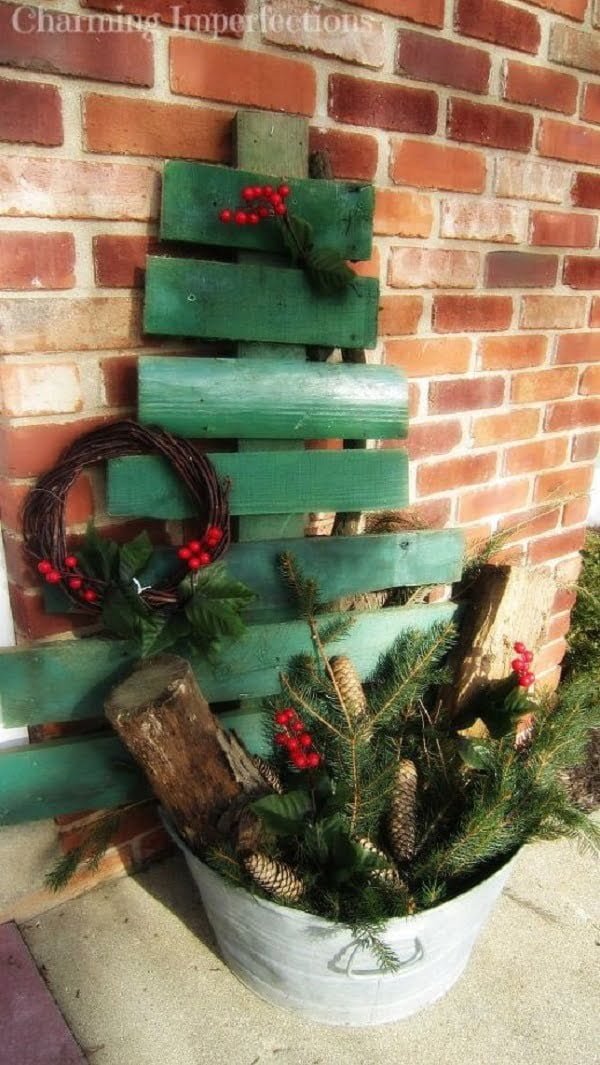 Pallets are an excellent source of cheap wood, and taking one apart to make a tree trunk and branches of varying widths tapering up to a point like a tree is creative and fun. Painting the wood green brings the tree spirit that much more alive.
Reclaimed Wood Pallet Christmas Tree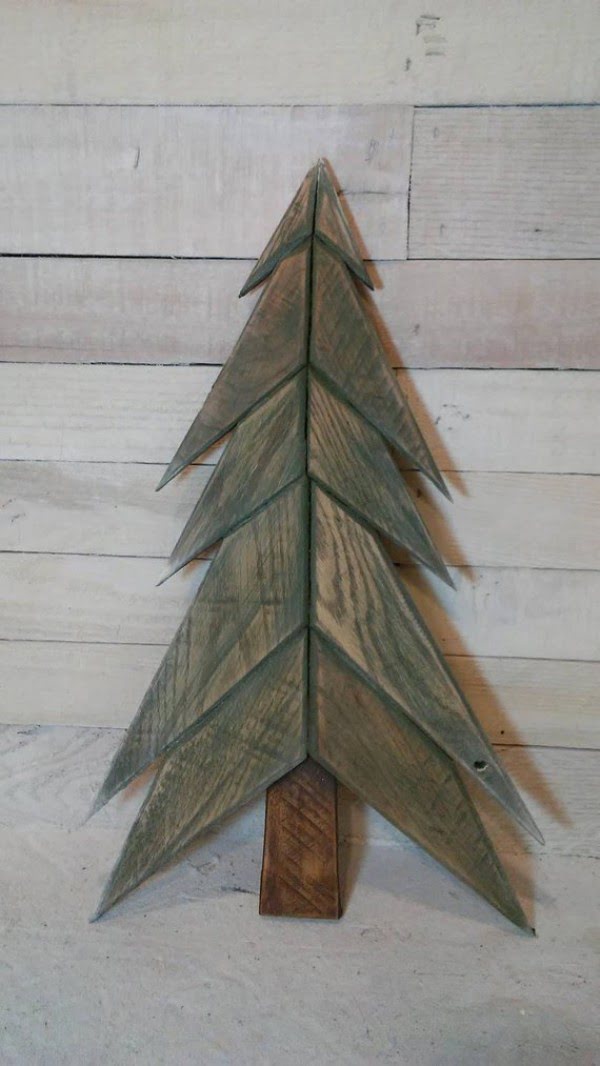 This rustic pallet Christmas tree is a minimalist approach to a Christmas decoration. Cutting the pallet pieces to form the triangles of a tree make a perfect understated farmhouse-style festive decoration.
Lighted Pallet Christmas Trees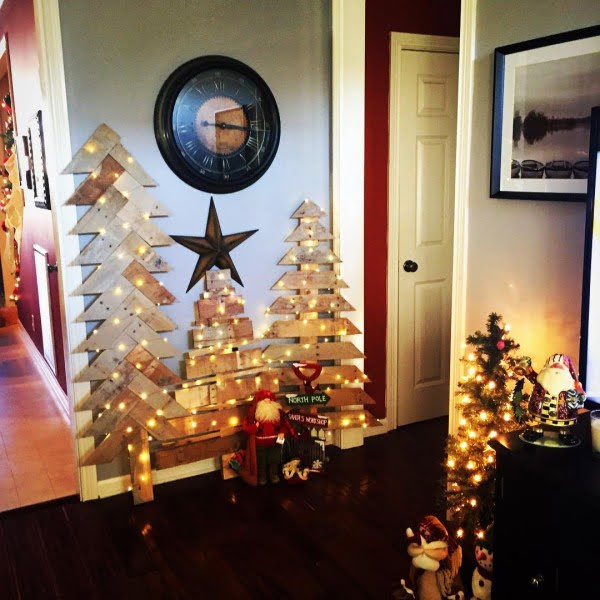 Who says Christmas trees have to be green? Plain unfinished pallet wood cut into various tree shapes are adorned by pretty lights that poke through holes in the wood.
Pallet Backdrop Christmas Tree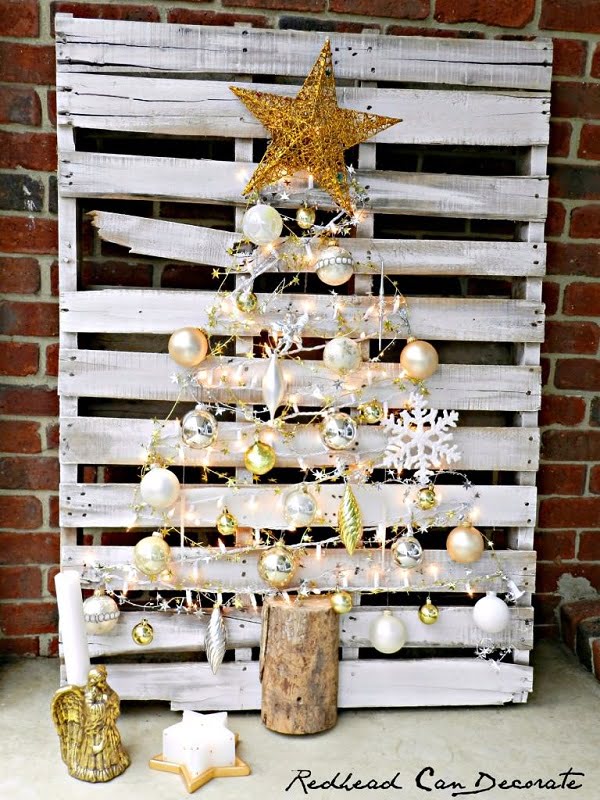 Using a pallet that's painted white for the backdrop and using lights and decorations to make a tree shape on the pallet is the ideal way to customize your crafty Christmas tree.
Shabby Chic Pallet Christmas Trees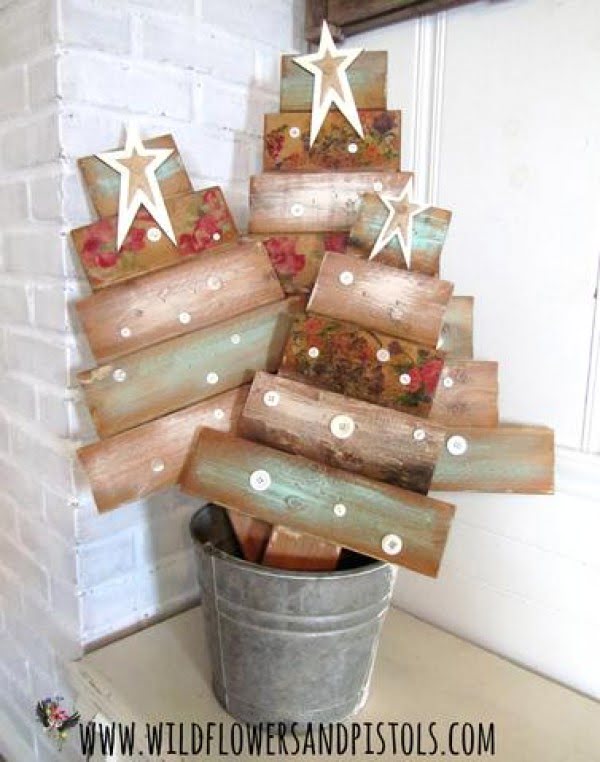 Pallet wood pieces cut into Christmas tree shapes are decorated with stencil patterns, buttons, and stars. You can make these small adorable Christmas trees yourself if you follow the tutorial that is provided.
Side-Lighted Carved Pallet Wood Christmas Tree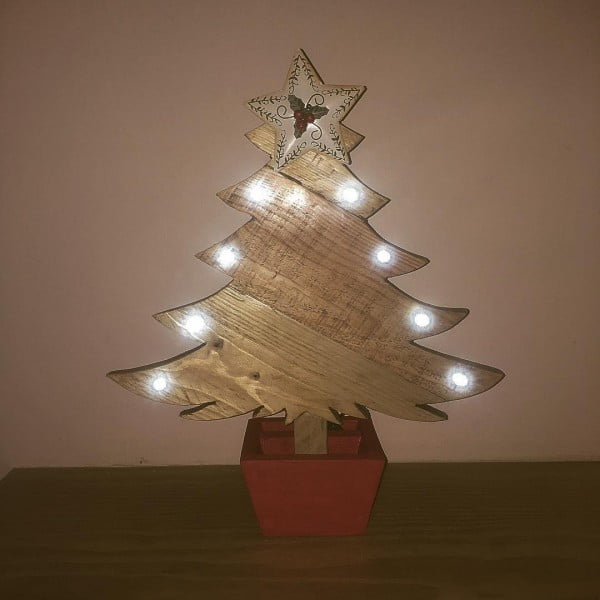 A pallet tree cut to mimic the curves of pine tree branches are lit from behind for a magical look. It's a small decoration that can go well together with your entire Christmas scene.
Painted Reclaimed Wood Christmas Tree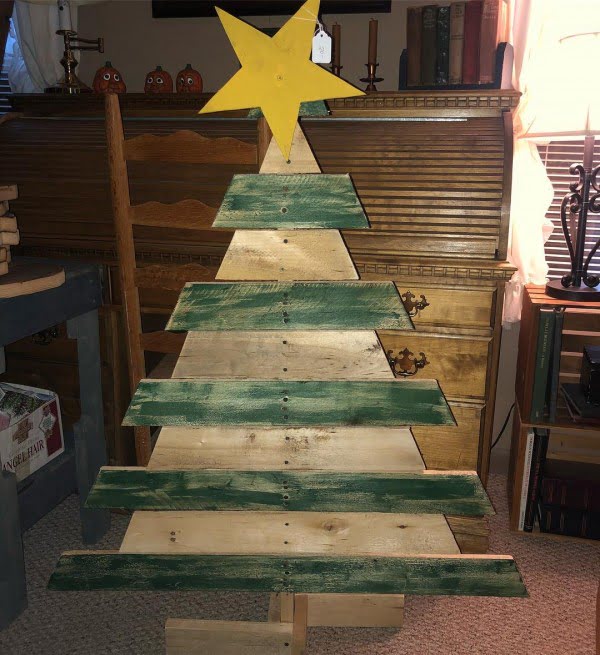 Reclaimed wood is the way to go when it comes to DIY Christmas trees. For a rustic supply of wood pieces, pallets can bring the warmth and charm of the crafty DIY look.
White-Washed Pallet Christmas Tree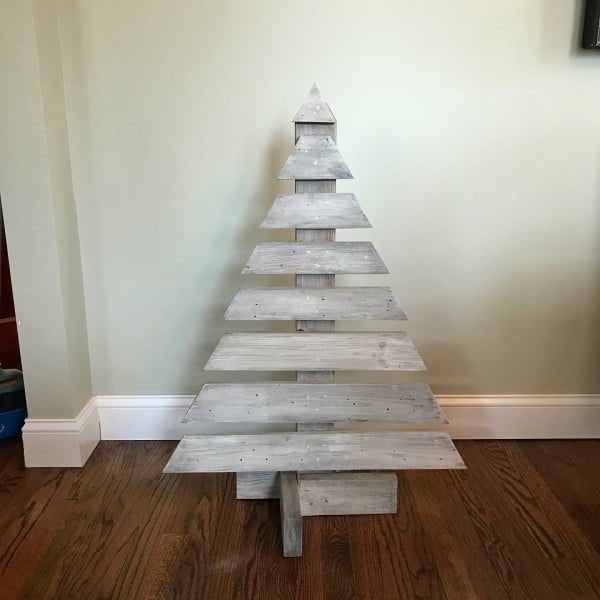 Whitewashing is an excellent addition to wood salvaged from pallets to make a Christmas tree that channels the rustic-cottage vibe.
Lighted Outdoor Pallet Christmas Tree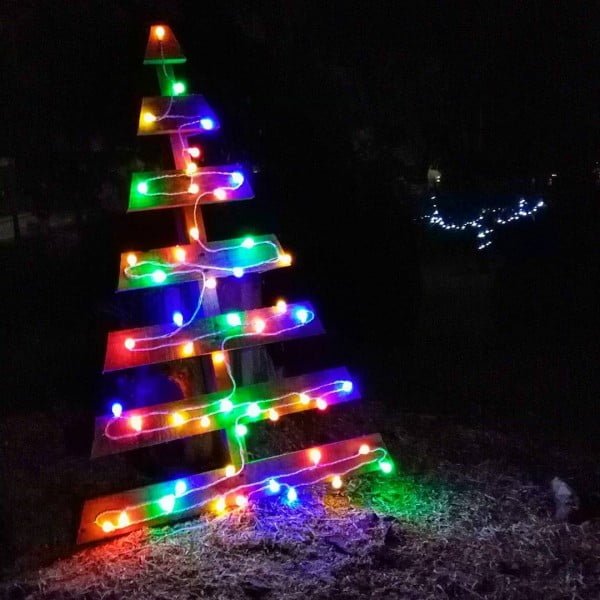 This outdoor pallet Christmas tree will spruce up the look of any property from the outside with a colorful strand of Christmas lights attached to the wood. Solar rope lights or string lights are perfect for this project.
White Pallet Christmas Tree with Shelves
This pallet Christmas tree cut in a solid-edged triangular shape uses tiny shelves to display ornaments and decorations. You can use the shelves to put small gifts as well for even more holiday whimsy.
Double-Pallet Christmas Tree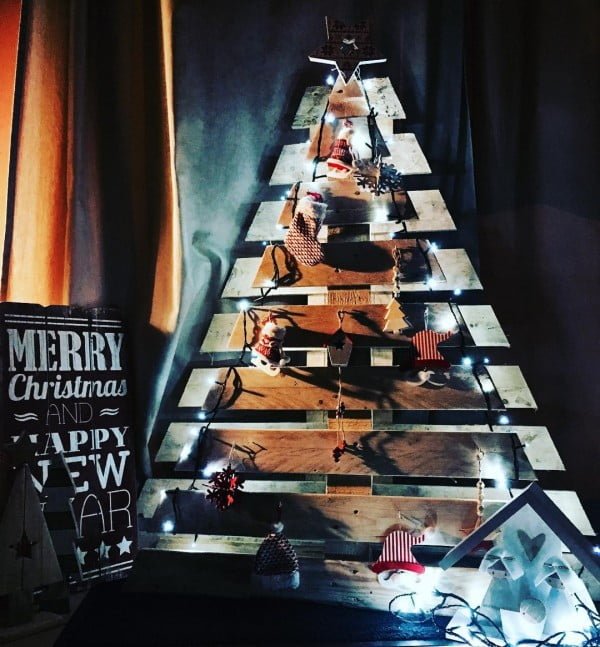 Using two pallet Christmas tree shapes, one smaller mounted onto the larger one is ideal for creating a Christmas tree with a layered look. Make sure you pick the right lighting too for a dramatic effect like this.
Unpainted Pallet Christmas Tree with Decorations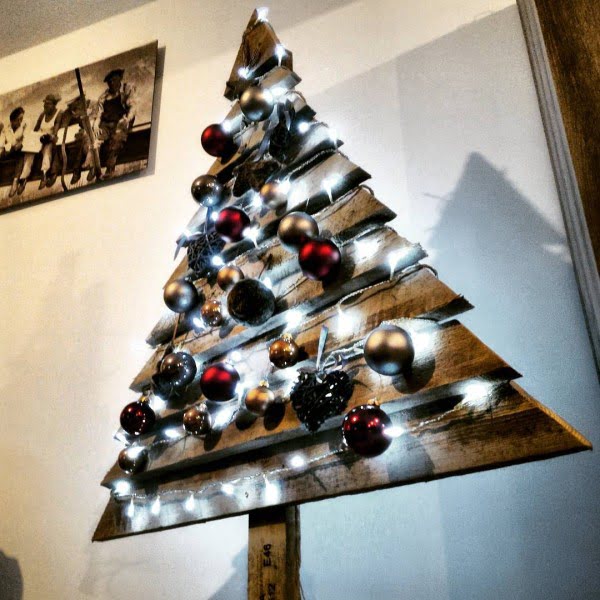 Some plain unpainted cut pallet pieces make the perfect rustic Christmas tree decoration with nails hammered in to hang festive decorations from. This tree makes a really strong statement about repurposing materials and the Holiday spirit.
Recap
Liked this article? Here's what you can read next: