Last updated on March 25, 2022
Here's how to choose the right executive hutch for you and how you can use it to its full potential to organize your workspace at home. Read on!
You probably spend a lot of time at your desk these days. Whether it's for work or personal reasons, many of us are on our computers completing tasks. In fact, we may spend more time on the computer than we do in front of a TV. 
Since so many hours are spent with one piece of furniture, keeping the space organized can fall to the wayside. That can be particularly true when we are busy with work and chores. What starts as one or two unfiled printouts quickly turns into clutter with post-it notes stuck to any free surface, reports disorganized and scattered, and pens and pencils everywhere but their designated holder.
Don't Look Frustrated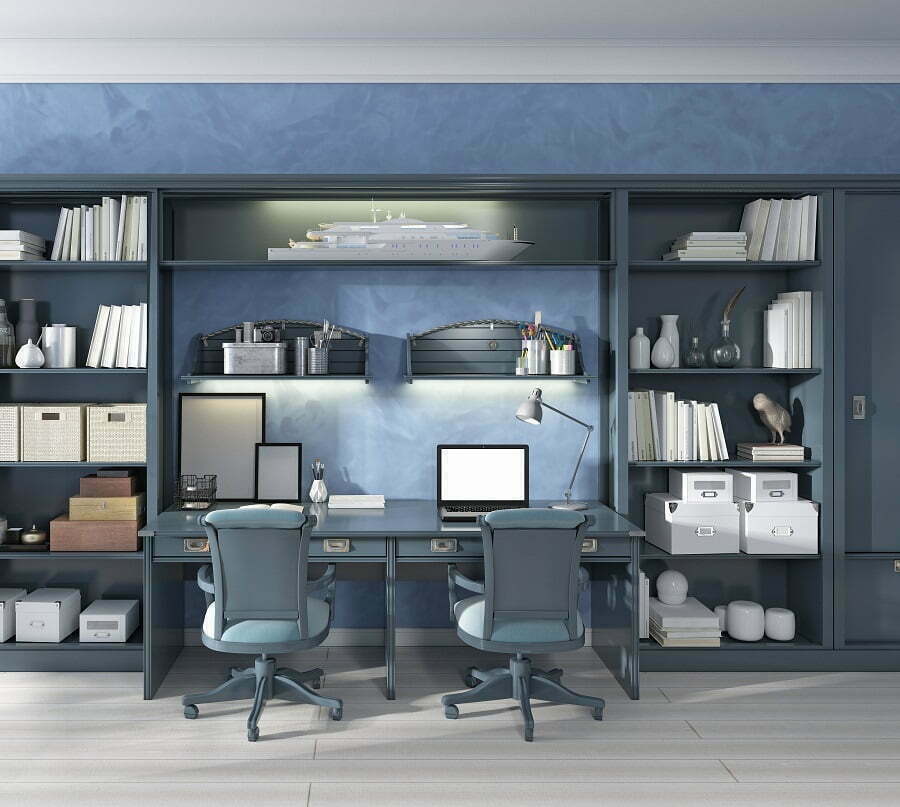 If you've ever tried looking for something important on a messy desk, you've likely been frustrated. But the consequences it can have on your career are greater. A cluttered desk can adversely affect your job performance and how others see you. You don't want to be on a Zoom call and asked to retrieve a report only to spend a significant amount of time sifting through papers and files. Your boss and coworkers will notice and may not trust you with bigger projects that require organization.
Desks with Hutches
One time and space-saving way to de-clutter your office space is to invest in a hutch. A desk hutch's vertical storage removes the mess from your desk and gives you room to organize. In this article, we'll get acquainted with the different options and share some tips on buying the right hutch for your desk.
A hutch is a storage add-on that sits right on top of your desk. It may appear that the desk and hutch are one solid piece, but they are separate and come in a wide range of sizes and styles. It keeps your desk tidy and helps out in small spaces.
Hutches use vertical space to maximize storage. The different designs permit you to keep everything organized and neat or let you hide your clutter behind cabinet doors. You can choose an open shelf design or one with paper slots. Drawers and cabinets with shelves hidden behind them are useful for the information you don't want to keep out in the open.
For those who don't need a lot of storage space, some hutches are small with compartments big enough to hold your pens, post-its, notepads, and other supplies you need to keep nearby. Consider the items you have now that are keeping your space littered and that will help you decide what style of the hutch is needed.
Organize Your Workspace
There's plenty that suffers when your desk is disorganized. For one, your productivity decreases. You've experienced this if you've ever searched your desk looking for a crucial billing statement or important memo that's gone missing. That time can be better spent getting work completed.
Having a cluttered work environment in your home may also reduce your overall productivity. That's because is because our brains naturally like order. When we have to process lots of disorder in our background, it is harder for our brain to focus. Once the clutter is cleared, focusing and processing information becomes easier and leads to better productivity.

Executive desks with hutch attachments can assist in alleviating the mess while providing plenty of room for your computer and resources. A desk hutch has quite a few organizational and storage benefits, but they also help with cord management. Many hutches have cord cutouts in the back, allowing your electronics to be seen without the annoying cords making an appearance.
A hutch can completely transform your workspace if you choose the right one for your needs. Start by taking measurements of the space and the desk if you already have one. Measure carefully before settling on a desk hutch. You want to ensure the hutch fits over or around the desk and doesn't touch the ceiling. Make sure your ceiling height is enough to fit the hutch you've chosen.
Also, place the hutch in an area where you can freely open the cabinet doors if you pick that style. If the room gets a lot of natural light, don't place the hutch in front of a window where it will block the sun from lighting the room.
Consider the layout of the storage slots. With all of the options out there, many hutches can fulfill any and all of your organizational needs. Before making a purchase, think about what items you need the most help with organizing. If you have mounds of papers that need storage, choose a hutch with smaller paper slots. If you have books, thick or thin, choose a hutch with large shelf compartments. Check the depth of the shelves as well to be sure your books will fit snugly. Spend some time browsing the different styles of hutches and pick one that will fit your specific organizational needs.
What Kind of Shelves Do You Need?
Do you want open shelving, or would closed shelves be more appropriate? Both options have their own benefits. You can easily see and grab what you need with open shelving. Closed shelving gives you a more streamlined appearance and keeps those items you haven't developed a system for out of view. Why not mix it up and choose a hutch that gives you both open and closed shelving. That would inspire you to keep the open shelves organized while giving you a few closed spaces to conceal those items you can't find a space for.
How About Lightning?
Lastly, don't forget about lighting. Several hutches are equipped with underside lighting for your workspace. You'll need to plug these options into a nearby outlet or use an extension cord to lengthen the reach. Consider a desk or floor lamp for your new workspace if you don't want underside lighting. Don't forget about cord management. Can the cords be hidden behind your desk and hutch? Make sure the cut-outs are there to keep everything tucked away neatly. Follow these tips, and you'll be sure to choose the best desk and hutch combo for you.
Recap
Liked this article? Here's what you can read next: