Last updated on March 14, 2021
These are the top 10 best potting benches that will serve all your gardening and backyard maintenance needs. Some will look pretty too. Read on!
If you're looking for gardening tables or potting benches but don't know which one to choose from, don't worry, here's a list composed of the best out there on the market. These potting benches offer different features for different types of gardeners.
A potting bench must be comfortable for a standing person and it's often used for small tasks like transferring seedlings. It can also be used for the storage of potting soil, pots, and tools. You can use it to display potted plants too.
How do you choose the best potting bench?
Here's a quick checklist before buying one:
Is it weather resistant? This is important because most often than not, you're going to use it outdoors.
Storage, because the amount of gardening work differs from one person to another.
Mobility, some gardening tables might be hard to move from one place to another especially bigger ones.
While researching our picks we have noticed that a lot of benches have some common caveats. You should know about these and here they are.
Here are some of the things that might throw you off the balance if not considered properly:
Storage capacity as some bench can't accommodate bigger, bulkier tools.
Assembly time, because some gardening tables need more time to build.
Ready to pick the potting bench that will accommodate all your gardening and backyard chore needs? Here are our top picks. Note that some links that we provide for convenience at tagged #ad. This means we may be compensated for purchases as an affiliate site. This, however, comes at no extra cost to you.
Which one of the following will find a new home in your backyard or garden?
What's Inside?
Gardening Bench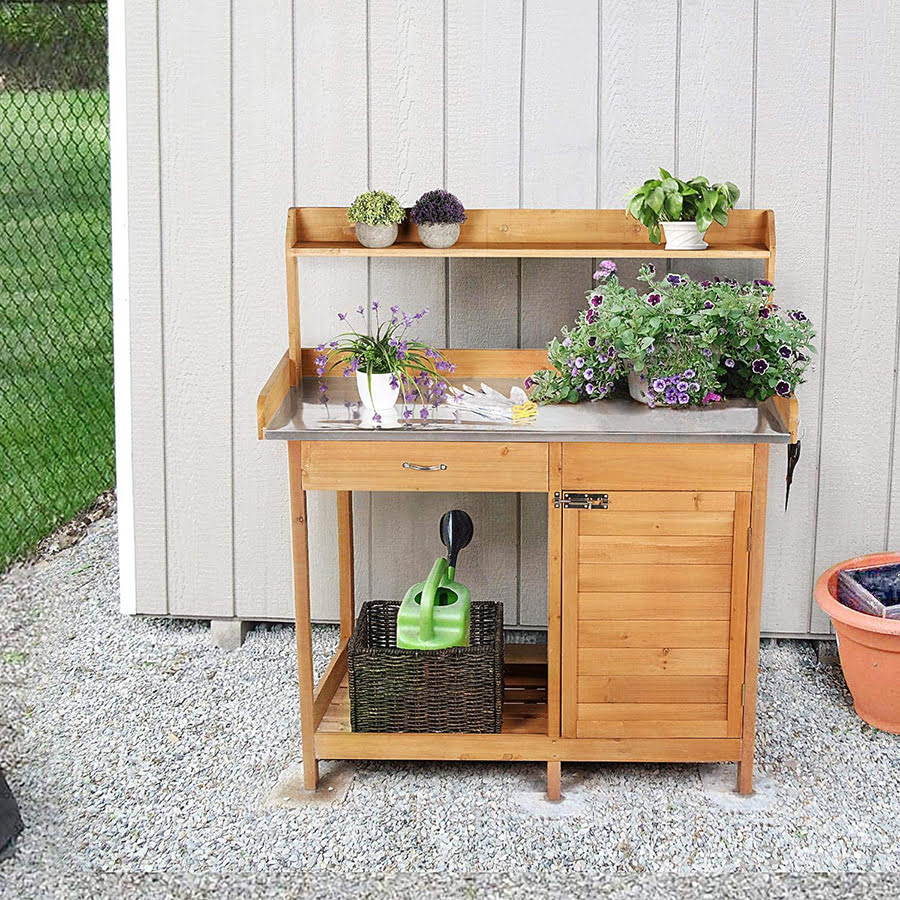 A potting bench that's made of 100% fir wood, it has a big working space and the tabletop has a metal sheet cover that's resistant against corrosion and even has handy side hooks. A great assistant for a great gardener.
Pros: made of weather-resistant wood; has a lot of storage; metal countertop that's more durable than just wood; lightweight yet very sturdy; very easy to assemble.
Cons: has no finish when it arrives; the tabletop is narrow.
Garden Work Bench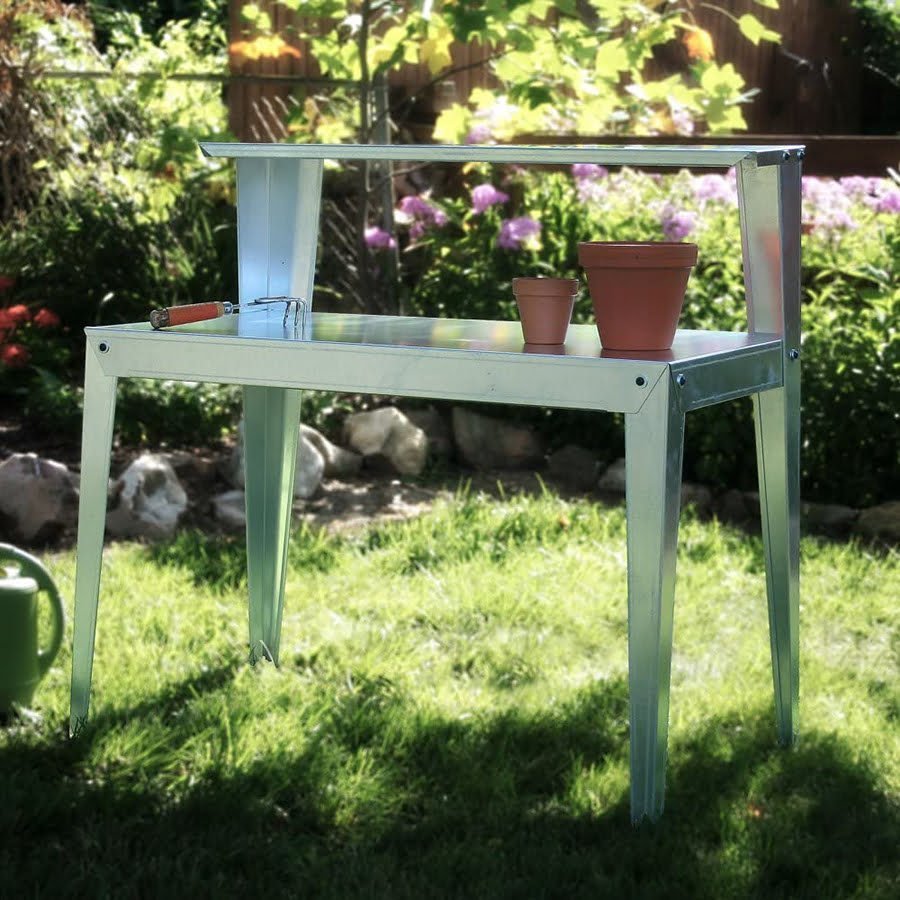 This potting bench is really perfect for commercial use. It can be a potting bench in the garden or as a workbench for your workshop. It's weather-resistant with plenty of space to work on.
Pros: easy to put together; the steel is holding up well outside; great light-duty bench for its price; it has a lot of space to hold things; no sharp edges.
Cons: Not intended for use in heavy-duty projects.
Cedar Potting Bench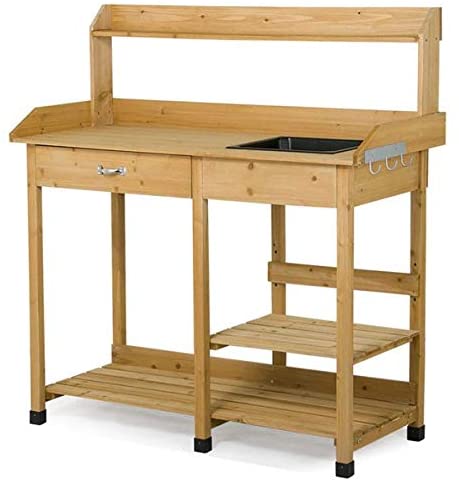 This potting bench can help you tend to your plants without causing much pain which makes this perfect for people with chronic pain and the bucket comes out easily. Excellent for outdoor work.
Pros: practical for the garden, backyard, home lawn soiling; made of cedarwood board that is very durable; has a plastic sink and a metal hook on the side; large tabletop space.
Cons: assembly directions are a bit unclear; the holes were not drilled well.
Best Outdoor Potting Bench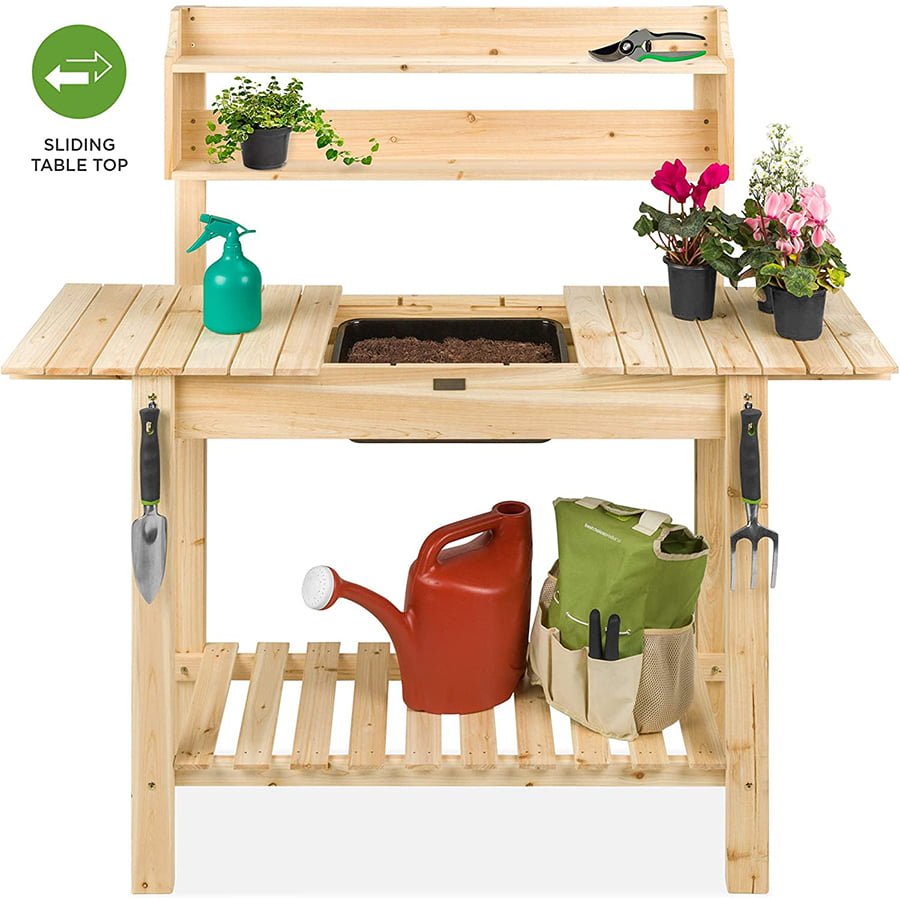 This potting table can extend the work surface by splitting apart the tabletop. Gardening tools can be organized neatly because of its storage space and it's made of Chinese fir wood to withstand any weather conditions.
Pros: expandable sliding tabletop; comes in handy for hiding clutter when there's not enough time to clean up; it has a lot of storage room; very easy to assemble; has a bin underneath the tabletop that can be used to pot plants and catch dirt.
Cons: the bin underneath the tabletop is made of plastic.
Metal Potting Bench
An easy to assemble potting bench, though very heavy, bulkier items are not suitable especially on the top and on windy days. The bottom shelf is adjustable to accommodate any use and is perfect for balconies, patios, decks, porches or backyards.
Pros: heavy-duty metal frame and a bottom shelf; lightweight but sturdy; top is weather-proof and easy to wash off; the bottom shelf can be set to any height; heavy items can be placed on it without fear of toppling.
Cons: since they are lightweight, they are not suitable for very heavy items on the top shelf in windy areas.
Potting Bench with Sink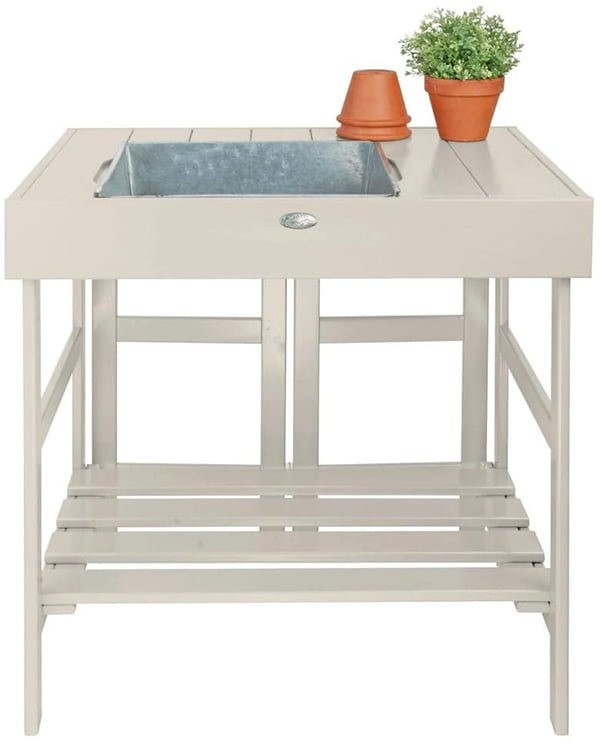 This unit doesn't need assembly at all, as in no tools required to build it. It's very handy and stable and is made of painted pine wood. The tray is not watertight as it is designed to hold soil.
Pros: made of painted pine wood with a galvanized tray; has a comfortable working height for the potting and repotting of plants; the zinc bucket provides plenty of room to hold soil and the shelf underneath allows for easy storage.
Cons: it would not be good sitting outside in the weather.
Outdoor Potting Bench with Storage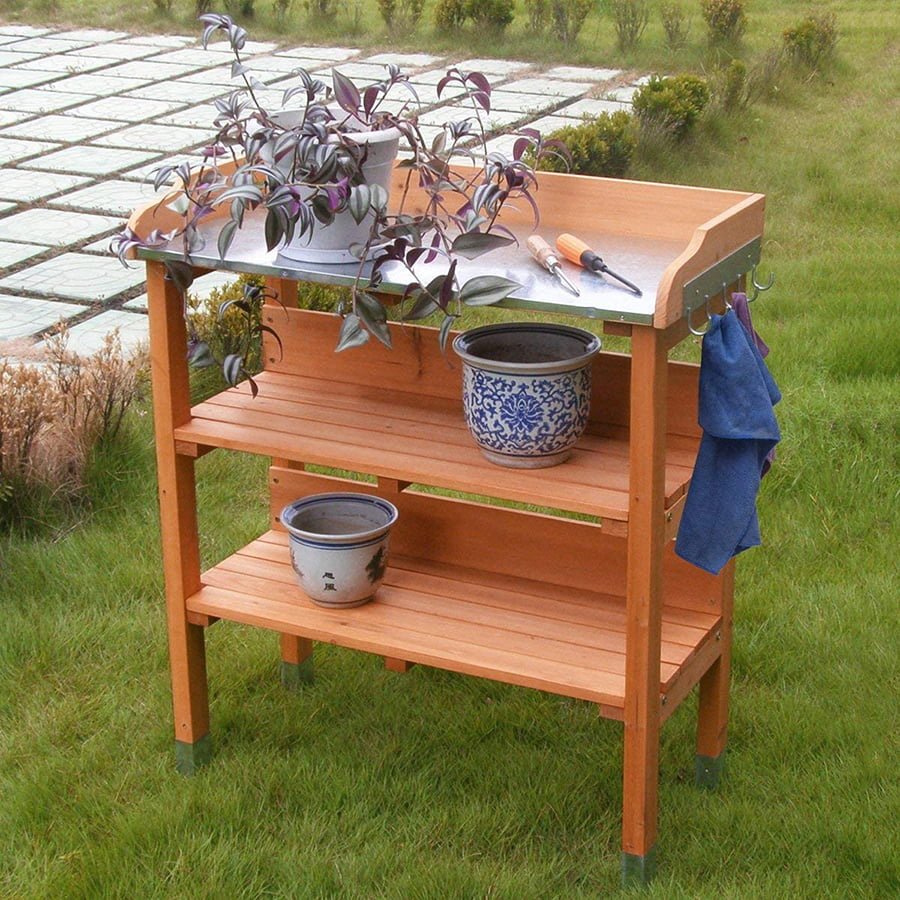 It might regularly produce splinter so you have to be careful about using it. It has plenty of storage because it has 3 shelves and is built to last. The perfect bench for planting flowers, vegetables,or herbs.
Pros: solid wood construction, durable and sturdy; has a spacious work surface capable of various garden tasks; the hooks on the side are useful for storing small tools; easy and relatively quick to set up, and it doesn't rock around while you're working on it.
Cons: the wood is not properly finished, it constantly produces splinters and it chips.
Potting Station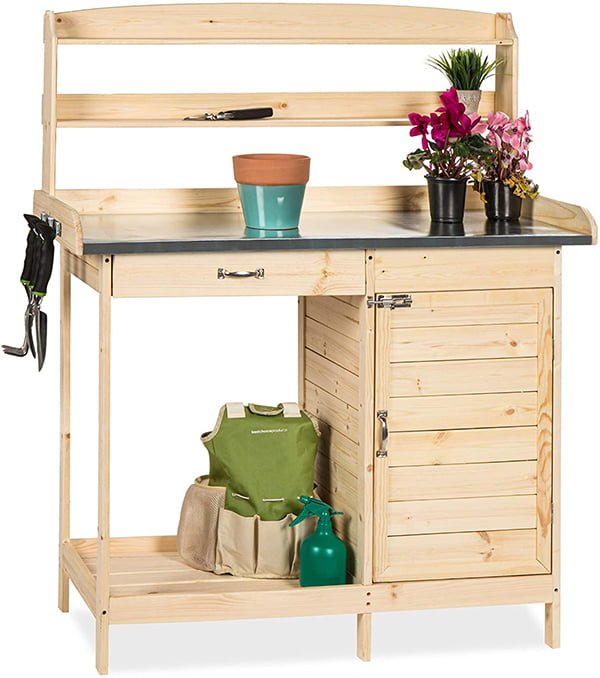 This unit has a convenient upper shelf to organize your supplies and has a storage cabinet to keep your extra tools close at hand. It also has handtool storage on the side plus it's easy to clean and weather resistant.
Pros: the metal tabletop is easy to clean; the door enclosure serves well as a small maintaining supplies cabinet; the storage space is large.
Cons: don't over tighten the screws otherwise they will split the wood.
Potting Table with Wheels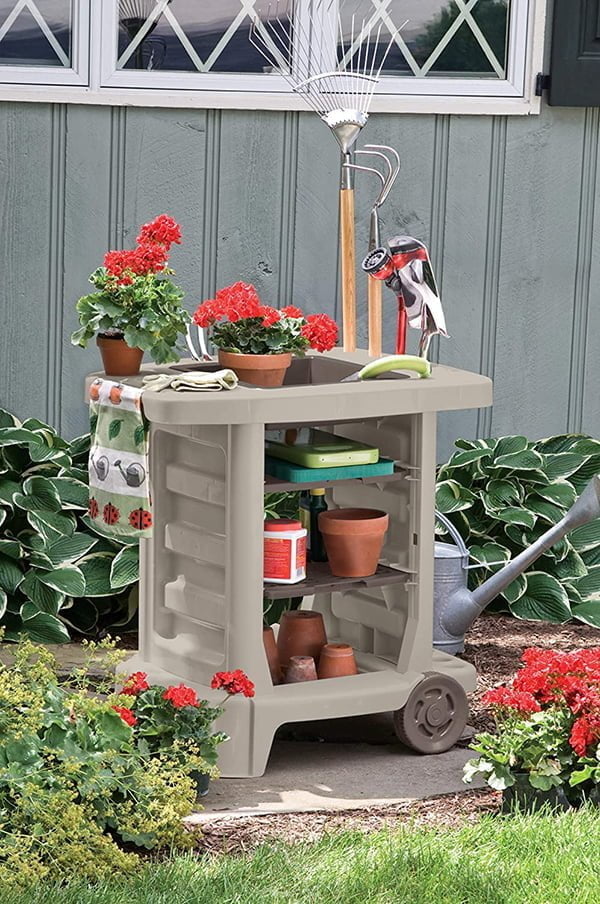 This potting bench is designed for mobility as it has wheels included. It comes with interchangeable shelves and bins so you can arrange them however you want. There are slots around the cart to organize your equipment.
Pros: interchangeable shelves and bins and you can arrange them to fit your needs; it has wheels that allow you to easily move the cart around the yard; great for storage; lightweight, portable, and sturdy.
Cons: it has only two wheels so you need to lift using the handles to move it.
Foldable Potting Bench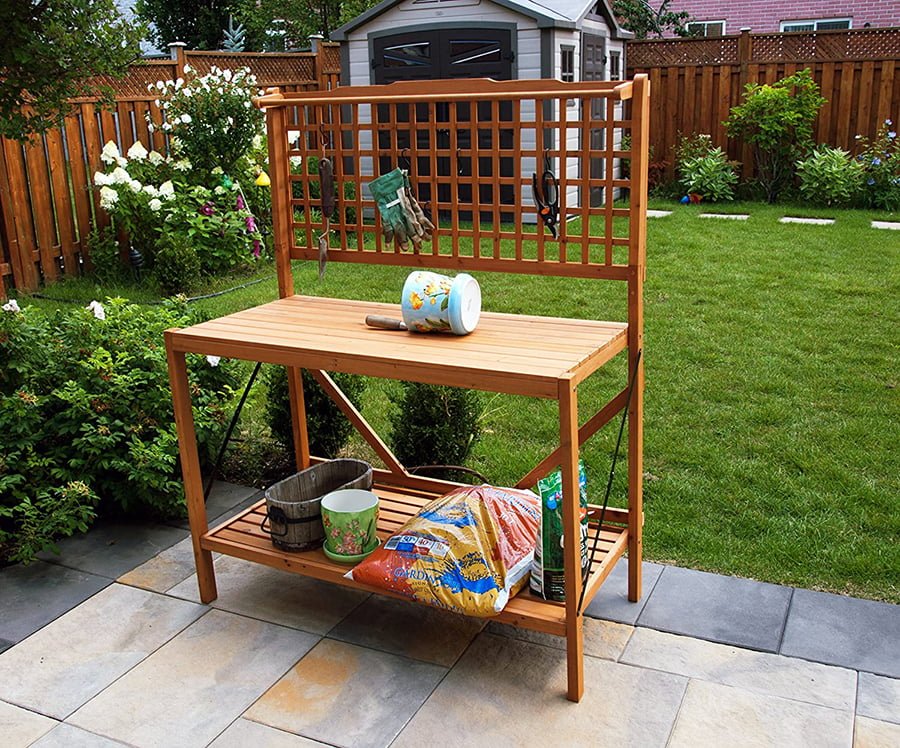 Built with natural color stain to enhance the appearance, this foldable potting bench comes with two tiers of shelf space and a hanging bar for hanging tools. It has many uses not just for gardening but can be for workshop or garage as well.
Pros: large work surface; plenty of storage space for pots underneath; folds up flat for easy storage during the off seasons; quick and easy to assemble.
Cons: very soft unsealed wood; pre-drilled holes didn't always line up; weak hinge.
Liked this article? Here's what you can read next:
---
Disclosure: As an Amazon Associate we earn from qualifying purchases.