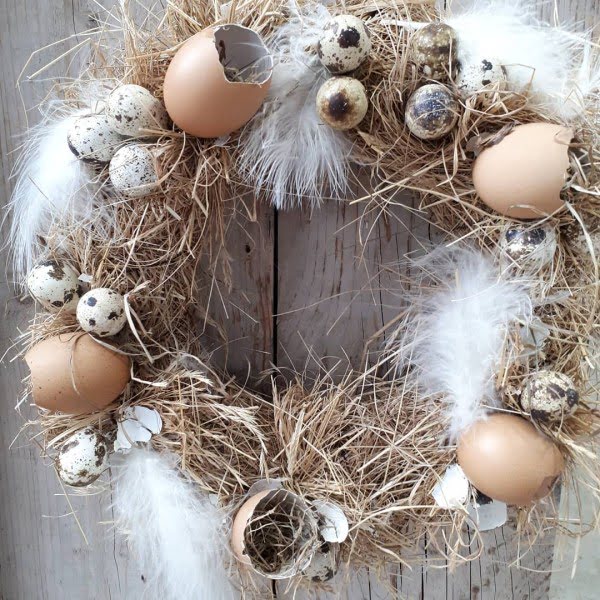 Getting ready for Easter and want to decorate your home for the occasion? It all starts with an Easter wreath – here are 20 ideas to get you started!
For many, Easter and the season in which it falls represent a period of hope, renewal, and cheer. After a long winter, we are ready to see beautiful flowers and other manifestations of nature that cheerfully announce that spring has sprung. Home decor also plays a vital role in the celebration of the period. A DIY Easter wreath provides a great way to greet individuals entering your home and help to get them into the spirit of the holiday.
One of the best things about wreaths is that you can make an inexpensive one that reflects your personal preference and fits in with the overall Easter decor of your home. Below are 20 DIY Easter wreath ideas that can be used to beautify your home and inject some festivity into your decor.
Check out the most beautiful Easter centerpiece ideas.
Easter Egg-cellence
This Easter wreath brings a rustic element to the décor, with part of its material being reminiscent of burlap.  The two-toned eggs add beauty and interest to the door.
Floral Fabulousness
This gorgeous DIY Easter wreath is filled with beautiful colors reflecting the hues of spring.  The beautiful pastel eggs inject elements of the period into the décor.
Awesome Arrangement
This fantastic arrangement exudes the look and feel of spring and Easter all rolled into one.  The colors and other elements of the design combine to create visual awesomeness.
Perfectly Pastel
This pastel work of art is understated in its beauty and will add exquisiteness to your door.  The flowers and eggs perfectly complement the texture of the fabric used.
Warm and Welcoming
Everything about this wreath screams welcome; from the actual word to its colors and overall design.  Springtime is personified in this work of art.
Hippity Hoppity Delight
Having this visually stimulating wreath on your door is sure to fill all who enter your home with lots of hippity hoppity happiness.
Easy-going Easter Chick
This intricately designed grapevine wreath is the perfect nesting place for this laid-back Easter chick.  The delicate bows and flowers perfectly complement the firmness of the wreath.
Beautiful Bounding Bunny
For many, there is nothing that says Easter quite as effortlessly as a bunny hopping over eggs.  This creatively designed wreath truly reflects the spirit of the season.
Elements of Easter
This exciting wreath is chock full of details that exude all things Easter.  Its intricate features include a bunny and a wagon overflowing with great elements.
Simply Superb
This wreath is simply designed and yet rather superb in its elegance.  Its purple elements provide the wreath with a regal look and feel and add much sparkle to the door.
Bow, Bunny, and Blossoms
This bunny wreath provides an inexpensive way to beautify your door and provide your home with some welcoming Easter vibes.   A bow and a few beautiful blooms combine to tie everything together perfectly.
Wonderfully-designed Wreath
The eggs surrounding this wreath add depth and beauty to the door.  The floral elements add a whimsical touch, and the white blooms add visual impact.
Nest-like Novelty
The exciting and innovating design of the Easter wreath is attention-grabbing and is a beautiful conversation piece.   Creativity is wonderfully displayed in the single egg in the nest.
Fantastic Feathery Design
The cracked egg shells, speckled eggs and fluffy white feathers on this wreath come together for a fantastic creation that is sure to stimulate the senses.
Bold, Beautiful Burlap
With just a bunch of carrots and two complementary bows, this burlap wreath is a testament to the fact that less is more.  Its visual appeal is indisputable.
Fantastic Family Fun
This beautiful Easter wreath is fun to create.  You can make it an enjoyable project for you and your children or your nieces and nephews.
Blossoming Blooms
A bit of burlap, floral fabric, flowering blooms, and Easter eggs have transformed this wreath into a thing of undeniable beauty.  Your door will benefit significantly from this addition.
Fun and Festive
This super cute Easter wreath will instantly transform your door into a fun and festive vision of awesomeness.  There is no denying the wondrousness of this wreath.
Cunningly Crafted
This cunningly crafted Easter wreath is the perfect complement for your front door and will provide an excellent way to welcome your guests.
Stunningly Splendid
This stunning Easter wreath is sure to erase the memories of the drab weather of a season almost past and nurtures thoughts of warmer weather.