Last updated on August 27, 2021
Looking to choose a new vanity for your bathroom? Here's a detailed guide that will help you transform your space with minimal effort. Read on!
Taking the bathroom's hygienic and health-related benefits, it's understandable why it's always been an important part of the home. Over the years, however, it's also surpassed this mere utilitarian role to become what's now known as one's personal sanctuary, as the recent décor trends covered on the pages of interior design magazines would tell you.
This especially turned into its emphasis during times of lockdowns as we experienced since 2020. While we're all happy to see the year behind us, bathroom comfort is certainly something we won't grow tired of for long. When it comes to turning the room into a relaxing retreat, your own spa if you will, meant for both cleanliness and recuperation, you may have all sorts of plans on remodeling, yet the budget could get in the way of realizing them.
In this case, instead of giving up the transformation altogether, the simple and cost-efficient solution lies in choosing the one area or fitting, that would work wonders. Out of all the furniture pieces and accessories that find their place in the bathroom, when trying to freshen up the interior décor in a breeze, few compare to what the stylish and spacious vanities can do.
Sure, they're not as essential as toilet suites and a bathroom can do without them, but their aesthetics and storage capacities combined make them desirable pieces for any makeover. More so considering they can easily turn into your favorite centerpieces with all the compartments they have to bring order to your chaos of toiletries, pampering cosmetics, hair styling tools, and soft Egyptian cotton towels.
Vanities Through the Years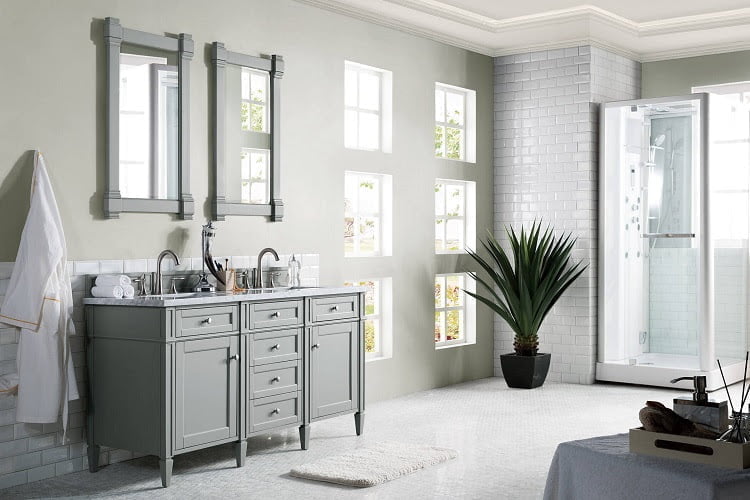 Ever since its beginnings, the vanity has served for washing up as it consisted of a table and a built-in basin. The historical records of 1762 show the renowned cabinetmaker Thomas Chippendale used to call it the "toilet table" though given that it was still a period without indoor plumbing, it was a fitting that was part of the bedroom.
As soon as plumbing became the norm, this furniture piece moved into the bathroom and it also got the name of "dressing table", before it was called "vanity table" as we know it today. Unlike the tables in the past, it's now considerably more spacious with plenty of countertop space around the sink, as well as drawers and compartments.
In addition to this change in design, there have also been various transformations in terms of style too. It doesn't matter if you're looking for something more ornate with vintage appeal, or simpler bathroom vanities with modern utilitarian charm in the form of sleek lines, as you're sure to find it at the homeware and bathware stores.
On the Quest for the Ideal Vanity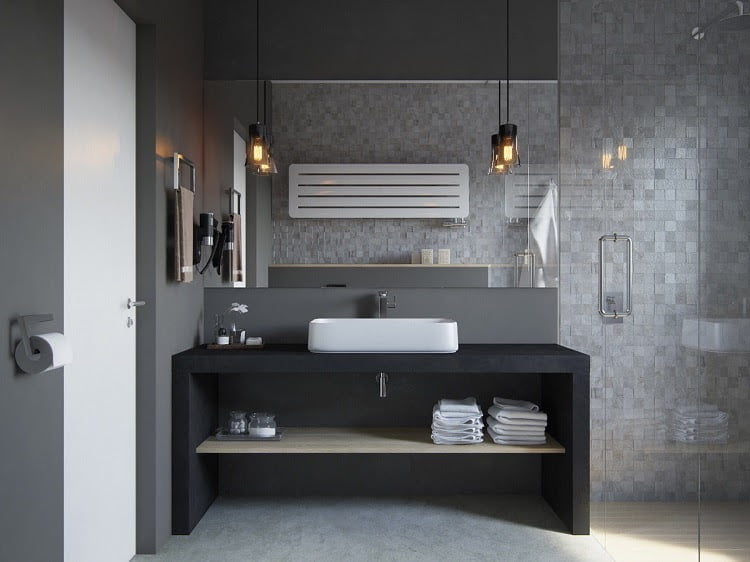 When faced with the vast array of options, shopping might turn out to be more of an ordeal rather than a pleasant experience it ought to be. That is when you don't know what exactly you're looking for. As mistakes can easily happen, especially when you shop online, it's advisable to avoid unnecessary headaches by first having your bathroom layout in mind, and only then focusing on the design and style of the vanity.
The Layout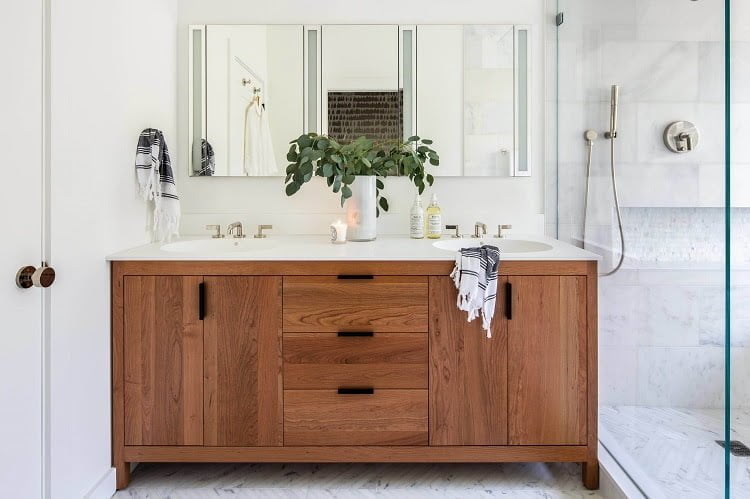 This is a crucial step because it would help you ensure the vanities you choose would fit in the spaces seamlessly, instead of cramming the rooms or requiring extra work and money with the piping. The simplest way to avoid getting the wrong model is by measuring up your existing vanity, specifically focusing on the width, height, as well as depth.
All three are important for the vanity's functionality which is a significant aspect for a fixture that gets used on a regular basis, be it for handwashing, tooth brushing, shaving, or face-washing. It's also your job to take the traffic area into account and consider whether the vanity doors and drawers would get in the way should you choose to acquire a bigger design than the one you already have. The same applies to adding the luxury of the double vanity.
Now, in case of an insufficient amount of space, if you're simply dead set on introducing a commodious model and nothing else can compare, be aware you'd have to change the layout to accommodate this new element. And for those homes without such furniture pieces, it comes down to measuring up the space where you intend to fit them.
The Design and Style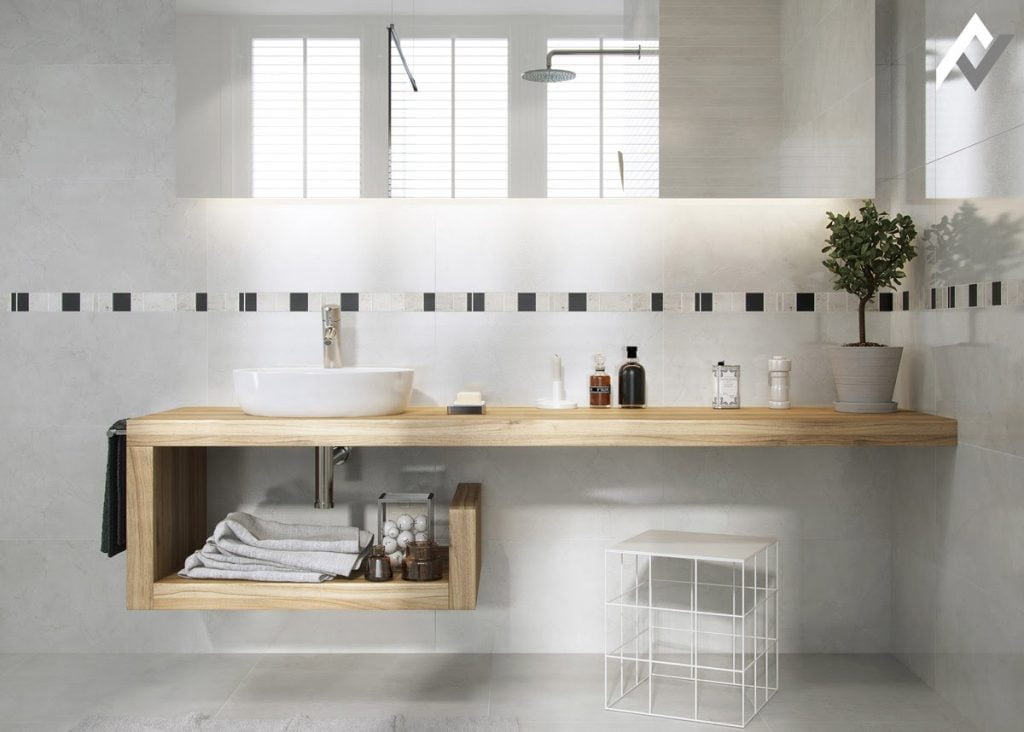 Once you've covered the basics of size and location, it's time to move on to these two essential aspects of bathroom vanity units to finish off your quest for the ideal fixture with success.
Design
When choosing from the freestanding and wall-mount options, besides including the matter of space in your decision-making process, this is also where you get to add your preference into the equation. As both come with their pros and cons, the key to making the right purchase is to weigh them.
The first fashions a more traditional appeal as the independent structure it is, and as such makes for a piece of cake installation which is perfect if you've got a busy schedule and don't have that much time for drilling and adding screws. Another property that many consider being its advantage is the storage though it's at the expense of floor space.
The latter alternative is more compact, saves up floor space, and offers a distinctly modern vibe. There might be less storage than the counterpart, however, the fact you won't get to have that much trouble with the cleaning underneath sure compensates for it.
Style
If you want to get the fine furniture look, shop for vanities of quality. They're available in a wide range of styles, and the fact they're durable and strong means they also offer value for your bathroom as a whole. So, the investment you make would certainly pay off in the years to come regardless of whether you sell the property.
Gone are the days when each and every fixture had to be in the same style – nowadays when creating your own spa, you have the flexibility to express your personality with a mix of styles. Don't be afraid to be daring, and opt for a dramatic outcome combining modern, rustic, and high tech.
The Extras
There are other ways you can make a statement, like using the color and finish to your advantage too. Anything striking that stands out from the rest is more than welcome if you don't like monochromatic or subtle looks. Some of the popular choices of all time include white, grey, deep blue, black, brown, and wood finish, whereas with the countertop it's white, grey and tan.
Still, sounds rather plain and boring? Take customization to another level by choosing your own countertop material to get the ultimate centerpiece created to your liking. In addition to rattan, moisture-resistant 2pac is another great pick for the base and drawers, as are quartz, granite, marble and soapstone for the countertop.
Lastly, you might want to also pay attention to the ease of maintenance. After all, you're choosing fixtures for the oasis where you go to relax, not the room where you'd have to spend most of the time cleaning. This applies to all the elements, down to the smallest of details, from the basin and tapware to the drawer hardware.
Recap
Liked this article? Here's what you can read next: