Last Updated on
Want to add a unique twist to your bedroom decor? Do just one of these three upgrades to completely transform the place. Read on!
At the end of a long day, a bedroom becomes a private getaway to hide from the rest of the world and rest. You deserve more than just a bed in a room to sleep on: this room should be your personal oasis. There are many attributes that set the scene for a restful space, like blockout curtains, soft colors, and welcoming textures.
Fortunately, there are a lot of awesome DIY projects you can do to enhance your room and make it a haven. Here are three cool and unique DIY bedroom upgrades.
What's Inside?
Create a Canopy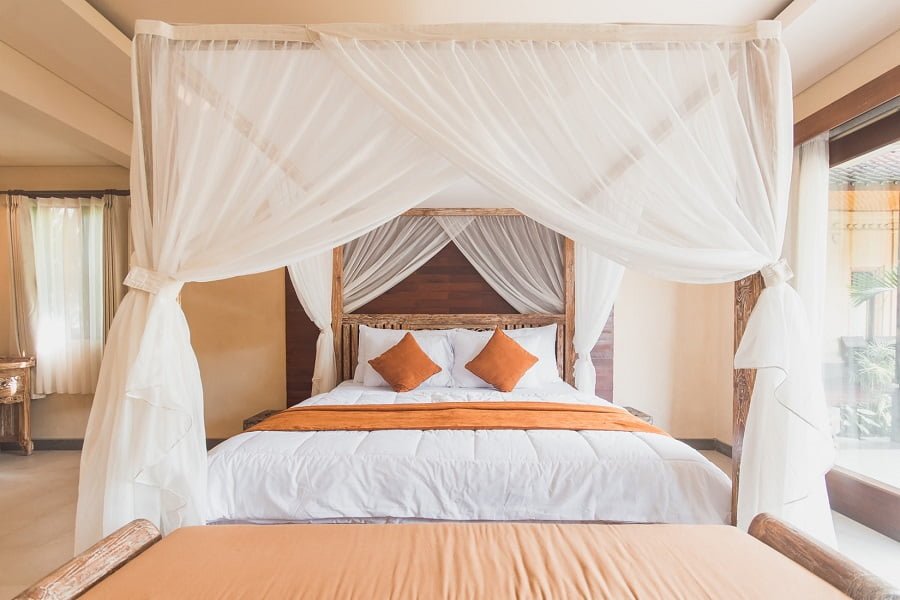 Canopy beds are the epitome of coziness and luxury. They invoke feelings of fairy tale castles and royal chambers that are beyond the reach of modern day citizens. Fortunately, you can create your own version of a canopy bed without having to purchase an expensive custom frame. You can build one around your bed, whether you have a luxurious adjustable king mattress or a simple twin mattress on a DIY pallet platform, with minimal work.
For a simple approach, install hooks in the ceiling and hang curtain rods for an easy-to-remove canopy. Alternatively, installing spray-painted pipes connected with a street elbow can be used to mount the drapes from the ceiling at the corners of the bed. To keep things really easy, get a dollar store hula hoop and sew curtains around for a princess-style canopy.
Finally, if you're feeling really crafty, procure and treat some small birch trees to stand guard at the corners of your bed and hang canvas for an epic, outdoor-themed room.
Built-in Nightstands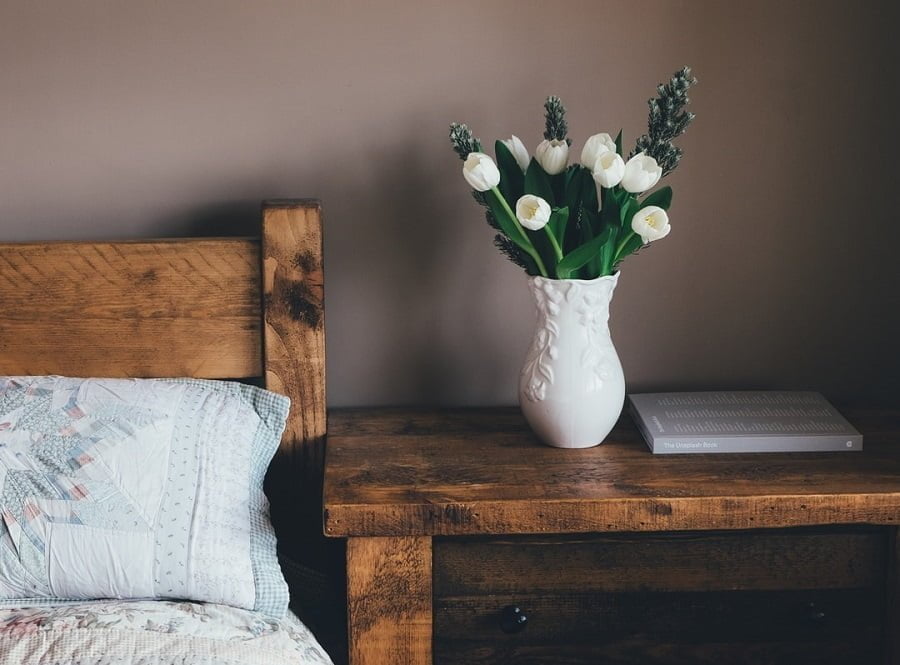 Forget the Ikea nightstands and add a DIY element that will set your bedroom apart from the rest. Create DIY nightstands using refurbished thin bookshelves or wooden crates from the local craft store.
For the bookshelves, choose an option that can fit between the wall and the sides of the bed. Mount these to the walls for safety purposes. You can then string lights over the bed from one shelf to the other or put up some custom DIY art on a canvas between for an elegant, boutique hotel look.
When using wooden crates, finish the wood with high-gloss white paint for a modern, fresh look or a rich wood stain for a rustic effect. Mount the crates on the wall for a floating shelf that can hold your favorite book, a lamp, and your other necessities. Add a leather pocket on the side or repurpose a dollar store pencil holder to mount on the side to hold your phone.
Build a Green Wall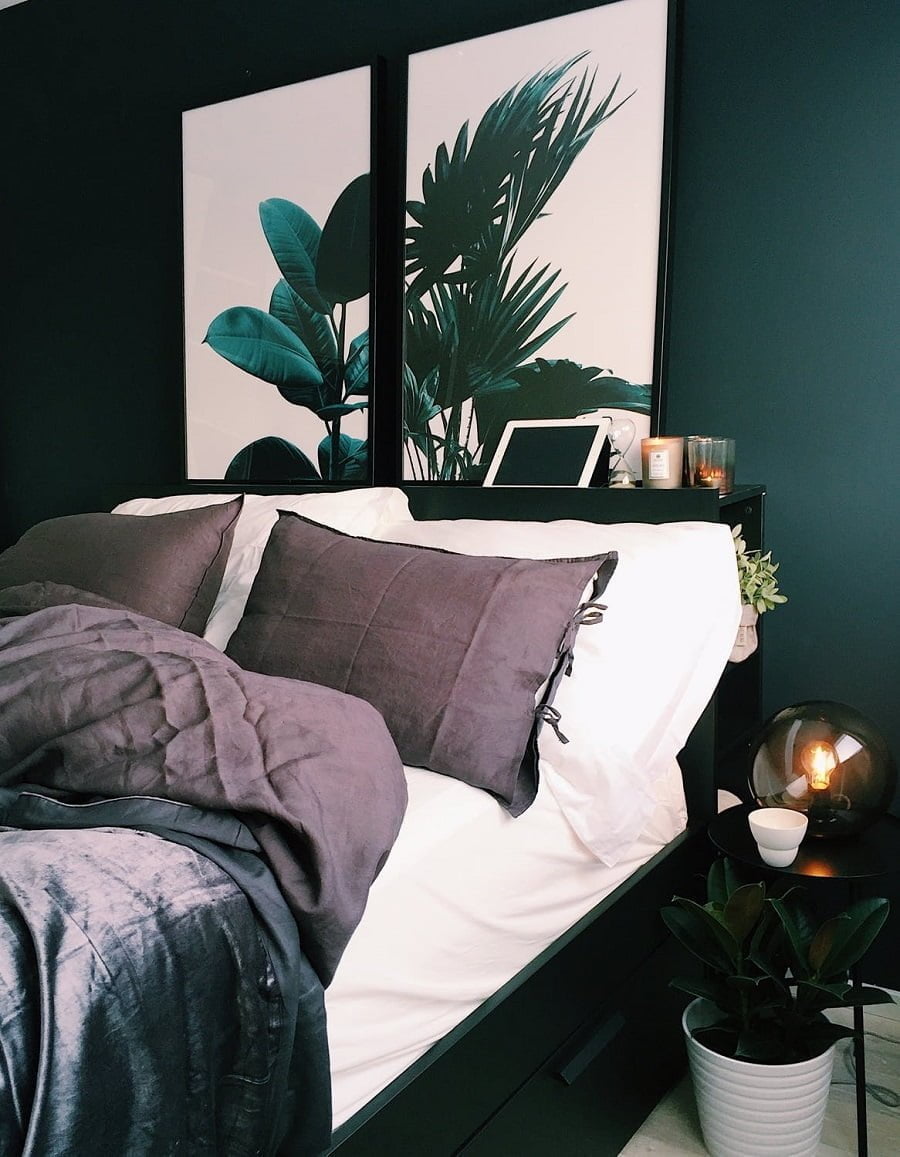 An accent wall can bring your room from shabby to chic, creating a high-end designer effect that can change the look of your room. Bring this to the next level with a green wall made from living plants for an exotic, tropical feeling. Not only will your green wall look cool, but it also helps with air purification and acts as a sound barrier, ensuring you get the rest you deserve.
When building a green wall, you'll need to put up a moisture barrier between the wall and the apparatus. Build a frame that can hold trays of plants purchase a pre-made frame. Choose plants that suit the lighting environment and require watering infrequently. If a full wall seems out of reach at this point, opt for a smaller frame that suits your decor. For this feature, you can upcycle a thrift store photo frame or build a wooden shadow box painted to match your decor.
Green walls are a fun DIY project for plant lovers, but take some work and research to do properly. Try and place your green wall in a place that gets some natural light.
With some strategic upgrades, walking into your room will feel like walking into a private castle or tropical getaway. Close the door, kick off your shoes, and take a vacation in your own home.
Related reading: