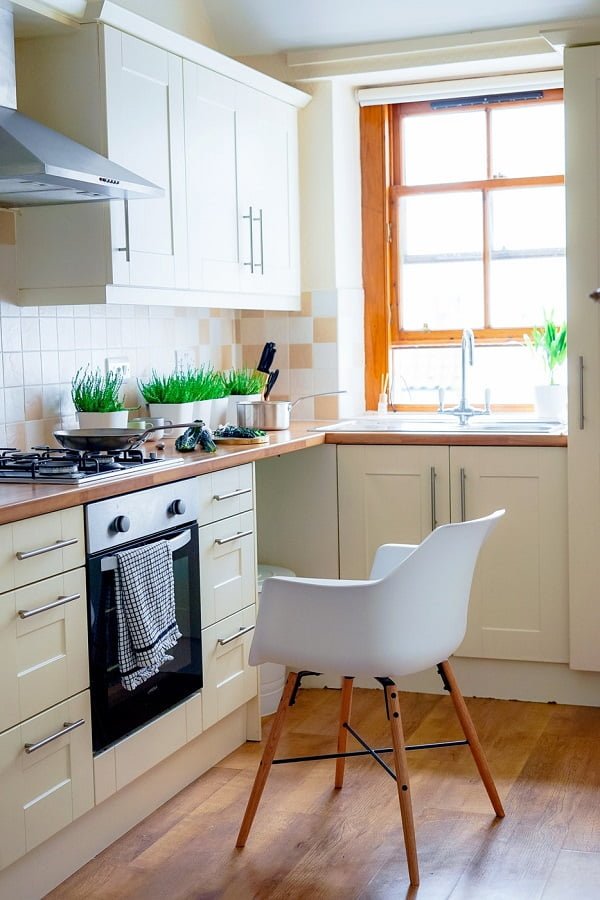 Last Updated on
Want to know what are shaker style cabinets? These 20 ideas of kitchens with shaker cabinets show and explain what they are and how they work.
Shaker cabinets are defined by their simple look made with flat panel crown moldings. This look is timeless, and despite being traditional, cabinets in this design can be used in contemporary interiors. It's the go-to choice when it comes to kitchen remodeling, and you can hardly go wrong with your cabinets.
Yet, simple design doesn't mean you can't be creative with your decor. Shaker cabinets can create very diverse looks in very different decor styles. Be it a luxurious modern or traditional and rustic look. You can use them anywhere, and you can customize in many ways. Our goal here is to inspire you to be unique with your new cabinets.
What Are Shaker Style Cabinets Exactly?
Shaker style cabinets are defined by their door style. Shaker cabinet doors have simple flat recessed panels with no bevels. This simple and clean construction is what makes them so attractive.
Check out the following 20 creative ideas of shaker cabinets and get inspired.
White Wood Board Panel Shaker Cabinets
White cabinets are classic, they have a lot of rustic charm, and this design adds even more of it. The wood board panels add a pattern to the kitchen decor that is most welcome. It makes an otherwise luxurious decor (metallic light fixtures and handles, marble backsplash, open glass shelving) cozier. It's the accent that gives this kitchen some personality and character.
White Shaker Cabinets with Wide Crown Molding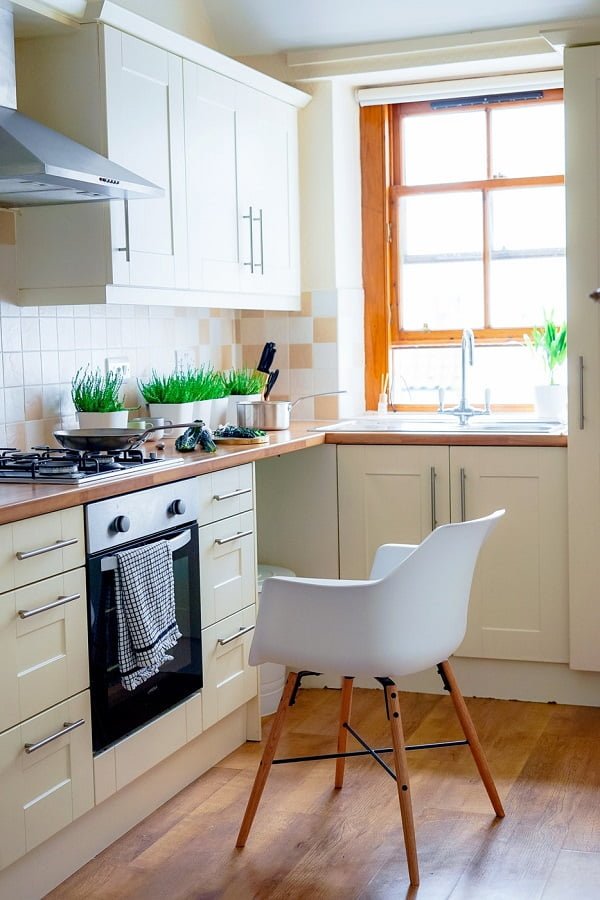 These white cabinets have wider than usual crown molding which makes the more interesting. It makes a decor accent that is so fitting in this small kitchen design. The crown molding makes the cabinet doors look oversize (while being small) and in turn, makes space look visually bigger. It's a unique way to get more value from shaker cabinets which are known for their simplicity.
White Shaker Cabinets Against a Mosaic Backsplash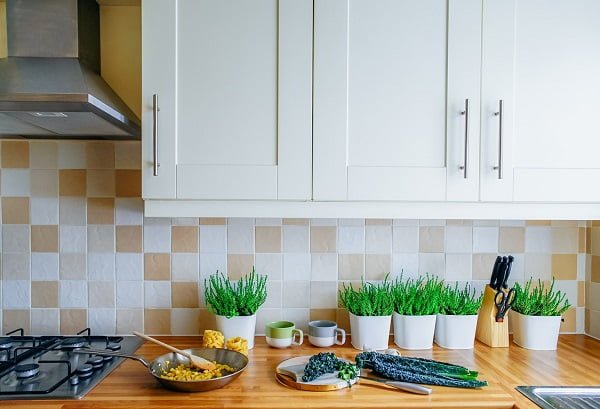 What makes shaker cabinets classic is their way to blend into any design, be it modern or traditional. In this case, they work well against a mosaic backsplash making it stand out as a decor accent. The overall look is cozy traditional with modern accents.
White Shaker Cabinets with Metallic Handles
Metallic handles make great accents on white cabinets. It's a mix and match of traditional and modern design. The whole design of this kitchen is a mix of classic, modern and rustic elements which work harmoniously to create a unique look.
Rustic Shaker Cabinets
These cabinets with wood board door panels are made even more rustic by a butcher block countertop and a farmhouse sink. The vintage wooden upper cabinets complement the look very well too. Add a unique blue mosaic backsplash for a little drama to the mix, and you have a kitchen design with a lot of character.
Bespoke Shaker Cabinets
Bespoke cabinets have the shaker charm and character with the option of coming painted in any color you choose, plus adding any hardware you select.
Natural Wood with Shaker Cabinets
Few things warm up space more than dark wood tones. These natural wood cabinets feature a rich dark stain that when paired with bright white cabinets makes for an appealing contrast.
Medium-Tone Wood Shaker Cabinets
These medium-toned wood cabinets create clean lines that pop against the black hardware. The warmth is kindled with the pairing of green countertops and backsplash.
Beach Style White Shaker Cabinets
For those master bathrooms large enough to warrant adding cabinetry, the clean lines of white cabinets create a coastal look while adding loads of practical storage.
Shaker Cabinets in a Farmhouse-Inspired Kitchen
Shaker cabinets are incredibly versatile and can work with some décor styles. In a farmhouse-inspired kitchen with shiplap ceiling above, they blend with the oversized sink and draw people in with that fresh farmhouse white.
White Shaker Cabinets with a Red Kitchen Island
White cabinets play off a bright red center kitchen island to break up space and create visual interest.
DIY Shaker Kitchen Cabinets
DIY is all the rage these days. Plain old kitchen cabinets have new life breathed into them by adding the trim characteristic of the shaker style and painting them a bright clean white and adding new hardware.
Contemporary Kitchen Shaker Cabinets
The shaker style works in some décor trends, and with a little tweaking with color and hardware, the cabinets in this kitchen make it a contemporary wonder.
Shaker Cabinets in a Brownstone Kitchen Remodel
Brownstones are all about history and charm, and adding cabinets to a kitchen that is all about natural light and clean lines makes this kitchen remodel bespoke to the rest of the home's history.
Turquoise Shaker Cabinets
Shaker cabinets work in some colors, which helps define a space and décor style. Painted in turquoise and set against a warm wood floor, the cabinets help create a lovely farmhouse kitchen that both practical and inviting.
Coastal Kitchen Shaker Cabinets
The coastal look has staying power and works perfectly in a kitchen to make that cool beachy look getaway dreams are made of. The clean lines of these cabinets work well paired with dark hardware and a whole lot of white.
Modern Farmhouse Kitchen Shaker Cabinets
Some of the most exciting décor looks are achieved by pairing two seemingly contrasting styles. Farmhouse and modern are the perfect pairing to exemplify this as shaker style cabinets with silver hardware add the contemporary element into the warmth of a farmhouse-inspired kitchen.
White Shaker Cabinets with Nickel Pulls
White cabinets with nickel pulls set against a warm beige tile backsplash lends this kitchen a bright, airy, clean and open feel.
Two-Tone Shaker Cabinets
Pairing white cabinets and deep-blue colored cabinets create a warm and unique look that brings the farmhouse vibe into the kitchen.
Painted Shaker Cabinets
These cabinets are painted in a warm grey for a dramatic and modern-looking kitchen. The subway tile and some rustic accents play well together to make the modern look warmer.