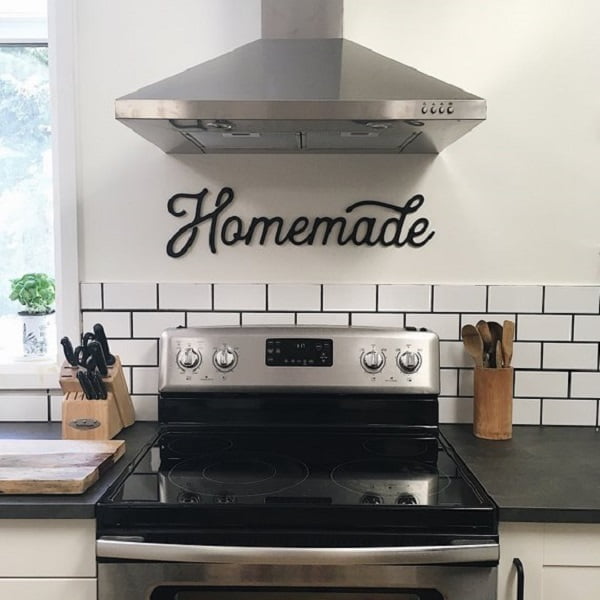 Last Updated on
Looking for some fantastic kitchen wall art to decorate your space? We have 26 most creative ideas that will get your creative juices flowing. Updated for 2019.
When it comes to kitchen decor, there are few elements having so high impact as the wall art. After all, without it, your walls are just an empty canvas and where's decor value in that? Nobody wants to get stuck with blank boring walls, so we're making sure you have something to choose from here.
There are so many ways to go about decorating your kitchen walls too. The most common is, of course, wall pictures and print art pieces. But don't forget beautiful display shelves as well. And how about the rustic farmhouse signs and even funny messages. You can be sure of one thing – you will not go home empty-handed after reading this post. So let's get started!
Vintage Shelf Kitchen Wall Art
Sometimes all it takes to decorate your kitchen walls are going out there to the thrift shops and flea markets to hunt for some unique vintage items. Granted you have a nice display shelf, to begin with, you can put up all your accent items following a single theme. This way your kitchen decor gets a lot of decorative charm, and you don't need to splurge on expensive accents.
Produce Display Kitchen Wall Art
Yes, you can decorate your walls with fresh market produce, and we're all for it. Of course, such a display vignette will be very temporary, but if you add a nice rustic sign to that, it's going to last a long time. All you have to do is refill your shelves with stuff. Hanging wire organizers work well to achieve this look.
Framed Silverware Kitchen Wall Art
Do you want to make a unique wall art to decorate your kitchen? This idea makes the best of thrift store bought things. You can get a few vintage picture frames and some silverware. Spray paint them for a stylish look and make these whimsical art pieces to hang in your kitchen. They will make conversation pieces too.
DIY Photo Clipboards Kitchen Wall Art
How to make artwork more interesting. If you're going to DIY your wall hangings, you might as well use some creativity. These rustic clipboards make a great alternative to wall pictures, and they are not that boring at all. It's all about making your kitchen decor exciting! There's a tutorial for you to follow if you want to make them yourself at home.
DIY Fake Fruit Shadowbox Kitchen Wall Art
How would you decorate your kitchen walls with shadowboxes? How about some fake fruit? It's a brilliant twist on using pops of color via fruit art in the kitchen design. Only, in this case, the shadowboxes add so much more depth and character. Enjoy this tutorial and make something like this at home.
Rustic Wooden Letter Kitchen Wall Art
Wall signs can be unusual when it comes to kitchen decor. And if you can use some recycled materials, such as reclaimed wood or pallets, it's all the better. Create this cozy, rustic look and make your kitchen look like it's professionally designed. This is a unique idea that you can easily replicate at home.
Giant Utensil Kitchen Wall Art
If you're going to create wall art yourself, go for something big. This is a brilliant project for some plywood boards and a jigsaw. Check out this tutorial with instructions to see how you can do it too.
Chalkboard Kitchen Wall Art
It's incredible what some chalk paint and an empty wall can do to your decor. Not only does it make a great accent wall, but you can create your wall art over and over again with chalk. You can use the wall to write down your day's menu for some additional family fun too!
Utensils and Signs Kitchen Wall Art
Combining some letter art and giant utensils is a classic way to decorate a kitchen wall. It's rustic and stylish. You don't need to think about it a lot too. The only thing you have to figure out is where to get these art pieces (hint: try Etsy), or how to make them.
Bohemian Hangings Kitchen Wall Art
Yes, some boho style fits accent kitchen decor very well. It's unexpectedly brilliant. It adds so much character to your space, and it makes an attractive conversation piece. All you have to do is embrace it.
Eclectic Backsplash
The backsplash is also a kitchen wall, so don't forget about it when decorating. There are so many ways to design your backsplash; the topic deserves its article. But to mention it here, we'll just leave this beautiful eclectic backsplash in a 3D panel as an idea.
Pop of Color Print Kitchen Wall Art
If you're going to decorate your kitchen walls only with print art, make it count. A vibrant popping color can do wonders to the interior. Just make sure you choose wisely. Experimenting is key in this case.
Artist Piece Kitchen Wall Art
You can definitely go with artwork from an artist, and there are so many great pieces to choose from. Try Etsy for some fantastic unique works at low prices. This way you won't have to go on a splurge just to get some art for your kitchen decor.
Geometric Kitchen Wall Art
When it comes to wall paint, nothing makes such a great accent as geometric art. It isn't too complicated, it's not in-your-face, but it's not too subtle either. Geometric art can do wonders to kitchen decor, and we can see it on this tour.
Vintage Sign Kitchen Wall Art
Use vintage signs especially if you're going for the farmhouse look in your kitchen decor. It's amazing what you can do with such a simple piece. Try to find something interesting in a thrift store or a flea market, for some great decor with character. Or look for great pieces on Etsy.
Funny Signs Kitchen Wall Art
You don't have to be serious all the time in your decor. Although it is a serious matter, you can brighten up the mood with some witty signs to decorate those empty walls. Here are some great examples that you can find on Etsy and bring back home.
Wood Carved Plaque Kitchen Wall Art
Looking for something special that would become a focal point of your kitchen decor? Wood carved plaques are good enough to do the trick, and you can even get them personalized. This particular piece on Etsy has caught our attention.
Metal Posters Kitchen Wall Art
Metal posters can have a high impact on your decor, including the kitchen walls. The options are endless on what poster to get, and the metal look is very high-impact. Check out some great options on Displate.
Laser Cut Signs Kitchen Wall Art
There's no limit as to what you can get with laser cut art. Your imagination can go wild here. And all you have to do is made a design on your computer to get a sign cut out for you. How will you decorate your kitchen walls?
Paint Color
A cheery coat of color is arguably the best kitchen wall décor. The wall color can inspire the rest of the design and add modern flair.
Artwork
A kitchen is not usually the first space that leaps to mind when most people think of an area to display art. However, artwork that is showcased on kitchen walls can add personality and tremendous visual interest to space. You can choose artwork that has the themes of dining, cooking or baking. Illustrations taken from vintage cookbooks could create great decorations for the kitchen wall. This way displaying artwork on your kitchen walls is an excellent method of injecting personality into space and adding visual interest.
Shelving
Shelving can bring beauty and function to the kitchen and shelves are especially remarkable in smaller spaces. Depending on your preference, the shelves can be low profile or flamboyant. They can be used to display accessories or as storage for kitchen supplies. It is both efficient and attractive to have low profile shelves that are decorated with kitchen supplies or accent pieces. They can even be used to add pops of color to space when they are painted in bold hues.
Over-sized Lettering
These design gems are currently a significant trend for kitchen walls. Using large-format, oversize letters in eye-catching colors and fonts can add substantial interest to the kitchen walls. They are typically made out of thin, sturdy metal. This is because this type of material gives the letters a substantial feel and creates a considerable visual impact while making them light enough to hang from the walls. Some homeowners choose letters that have meaning to members of their household; letters that represent names or initials.
Contemporary Wall Art Stickers
There is also the option of adding whimsy via funny or inspirational words to your kitchen walls with contemporary wall art stickers. These vinyl stickers can be easily affixed to walls and other smooth surfaces.
Backsplashes
You can transform an otherwise subdued kitchen into a work of art by adding show-stopping backsplashes. The backsplash you use can add drama and put your personality on display.
Pot Display
You can add a pegboard and use it as an economical and fun way to display your beautiful pots and pans.