Last updated on January 5, 2023
Here's how to keep the mattress from sliding off your bed frame once and for all. We have eight actionable tips for you to follow. Read on!
The bed is a vital element in the relaxing regime and so is the sleep. A soft yet thick mattress bridges the two for a healthy body and to attain relaxation. It also plays a crucial role in pain-free joints and muscles as well. The mattress should be firm to keep your body steady during sleep time. Soft foam mattresses are not advised for people with lower back pain, and this is where side mattress comes into the picture. But here's the problem…
Most people are irritated by mattress slipping. Did your mattress slip down at midnight? If yes, don't worry there is nothing eerie about it. It just happens due to a lack of friction and there are various ways to overcome this problem. Lookout on the tips mentioned below.
How to Keep Your Mattress Stable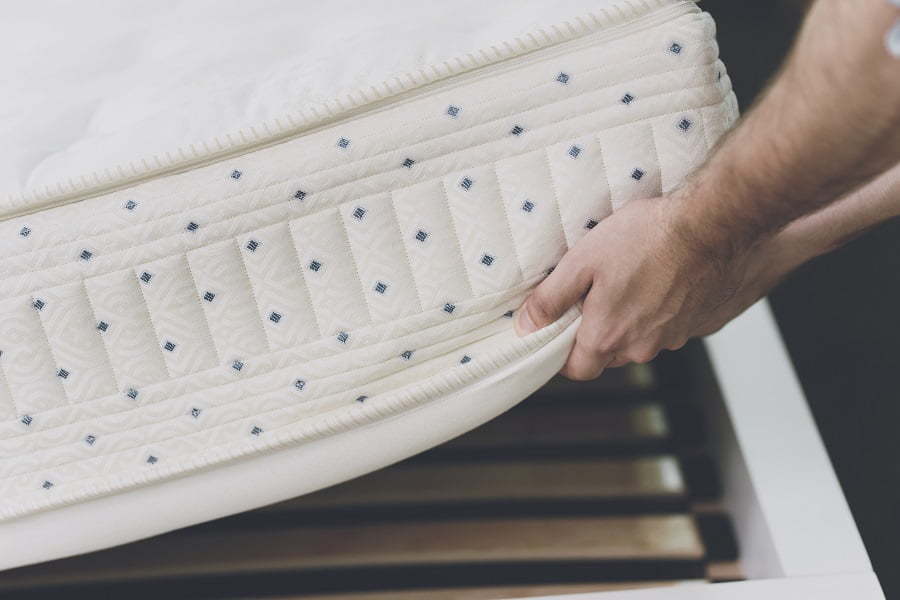 Here's how you can keep your mattress from sliding.
Velcro Adhesive
This all-rounder adhesive is one of the most used products in households all over the world. From sticking out projects to sticking your favorite wall arts, this is a ready-to-go solution. Stick the velcro tape on the surface of the frame, make sure to keep the hook parts opposite the loop parts. This small trick will keep your mattress stick to one place.
Switch Old Mattress
Comfortable mattresses are on the top priority while bed shopping. Dual side mattress is very comfortable and is also widely appreciated but these mattresses cause little or no friction. Before buying a mattress look for a trial period offer, many retailers provide these offers to attract potential clients. You can even replace your bed if it is aged more than 10 years. It is suggested to go for one side mattress as the bottom of this side mattress is flat and prevent displacement.
How to find your perfect fit?
You can check online shopping platforms or retail shops before purchasing one.
Analyze your needs and invest in something perfect. Mattresses are addressed as a long term investment.
Non-slip Pads
Non-slip pads are the most inexpensive and efficient way to prevent mattress displacement. These pads are also used to keep the carpet in place and are made up of rubber material. Another inexpensive option is to get a rubber matting, resize it according to your bed and use it as a DIY non-slip pad.
How to use it?
First, take a proper measurement of your bed frame. Use a measuring tape. If needed, use professional help.
Cut the carpet and keep the material an inch bigger than the measurement. If your bed is larger than the standard side, stitch two parts together.
Place the non-slip mat between your box spring and side mattress.
Unsupported Bed Rims
Oversized bed rims are a big no. If your bed has some space left out, this will help your mattress to move out in that space. To avoid this, you can either change your bed or perform some do it yourself tricks. 
Do it yourself tricks
First, check the length and width of the mattress and how much filling is required to set this problem.
Reuse an old set of wooden plank, cut it according to the measurement.
Fix them with the help of temporary adhesive
Easy temporary solution
If you want some short-timed solution, use towels or thick cotton material, roll it evenly, and stuff it in the extra space.
Regularly Vacuum Your Mattress
People often ignore mattress cleaning. This is unhygienic and can also cause mattress slipover. Your mattress attracts dust and grease with time and irregular clean up sessions make it worse. Consider vacuuming your mattress more often to keep the mattress in position. Clean your spring box as well to keep your comfort zone hygienic and relaxed.
Rubber Base Prevents Bed Sliding
If you are using a bed made up of wood, then this is for you. Generally, wood legs slip and slide on the floor and drop your mattress. To avoid this scenario, you can either change your bed or you can opt for an inexpensive way to deal with this problem. The most economical option is to place a rubber block beneath the base. You can even find these rubber blocks at your home.
Elastic Clasps
Elastic is a great way to keep moving things static. Use elastic straps on your mattress to stave off from slipping. This solution is not a guaranteed full-time solution but will function if done correctly.
These elastic clasps can be felt while sleeping and meddle with your comfort. To avoid this drawback, you can use a slim mattress pad. You can even revamp an old material into an efficient mattress pad.
Mattress Case
Mattress encasement is a foolproof way to keep your mattress in a good state for a long time. Mattress cases prevent unusual movement and even shields your mattress from dust and grease. You can buy mattress covers from an online as well as offline store.
Measure your mattress. Make sure to choose a slip-resistant material, avoid satin or synthetic materials.
Real Reasons for Mattress Slipover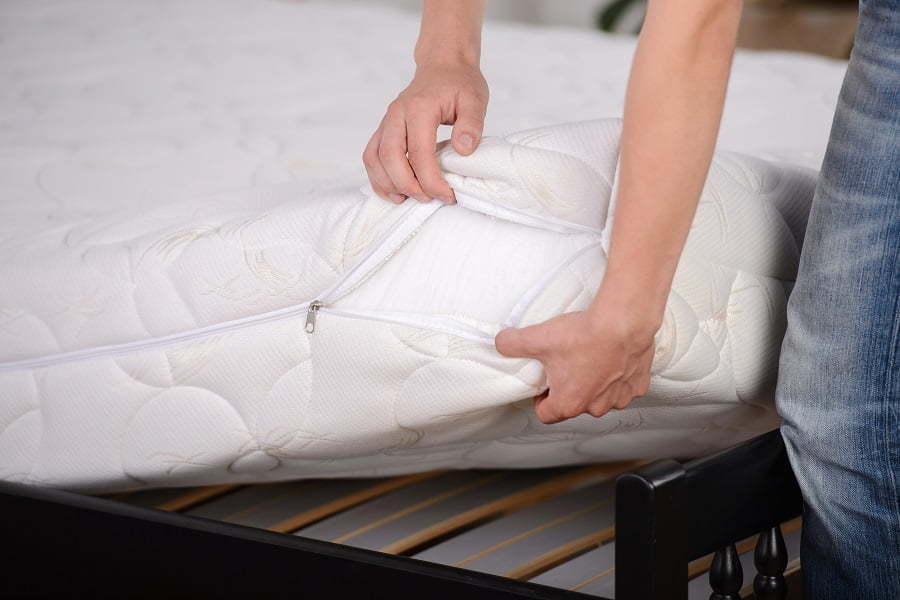 Why is the mattress slipping in the first place?
Frictionless Surface
Zero to less friction is one of the leading causes of gliding mattress. Generally, it happens if your mattress features dual foam covers. These memory foams have a hard time settling in place. The surface does not get traction and leads to mattress displacement.
Stale Mattress
If your mattress is worn out or is getting used for a long time, change it as soon as possible. Apart from wine, everything gets dull with time. Old mattresses accumulate dirt and oil with time and cause sliding. Discard your old ones and invest in a good mattress.
Incompatible Bed Frame
Another popular cause of bed slipover is an oversized or undersized bed frame. If your bed frame is bigger than your mattress, it will make your mattress move. Always buy a side mattress that fits your bed completely. Make sure to check your ground surface.
Sliding mattresses can ruin your quality time and annoy you every time you jump on the bed. The above-mentioned pointers are focused on providing solutions to eliminate discomfort. Investing in a good side mattress will lead to long-term convenience, choose wisely.
Recap
Liked this article? Here's what you can read next: