Last updated on September 11, 2023
Here's how you can choose the right dining table set for your kitchen or dining area. Follow these five steps. Read on!
The furniture in your home has a significant impact on how the space looks and feels, which is why it's important to make the right choice. Whether you're choosing a new sofa, side table, or breakfast bar, you'll want to ensure that the style, color, and finish complement your existing décor and create a cohesive environment.
When it comes to choosing a dining table set, however, there are a number of things you'll want to consider. To get started, take a look at these top tips to help you choose the right dining table set for your home:
Assess the Size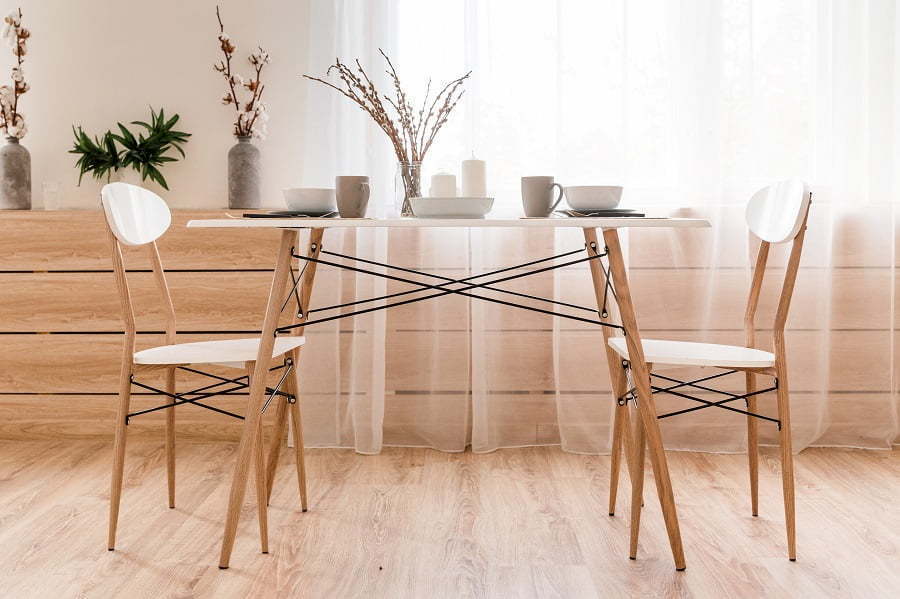 The perfect dining table set needs to sit within a specified area, so it's vital to choose a table and chairs that can be accommodated comfortably. A table that's too small can look lost in a large, formal dining room, while an oversized table or chairs can make a compact space feel cramped.
Of course, you'll need to take into account how many people will be seated at the table regularly. If you have a family of six, for example, you're naturally going to need a larger dining table set than if you're catering for a family of three.
Choose the Right Shape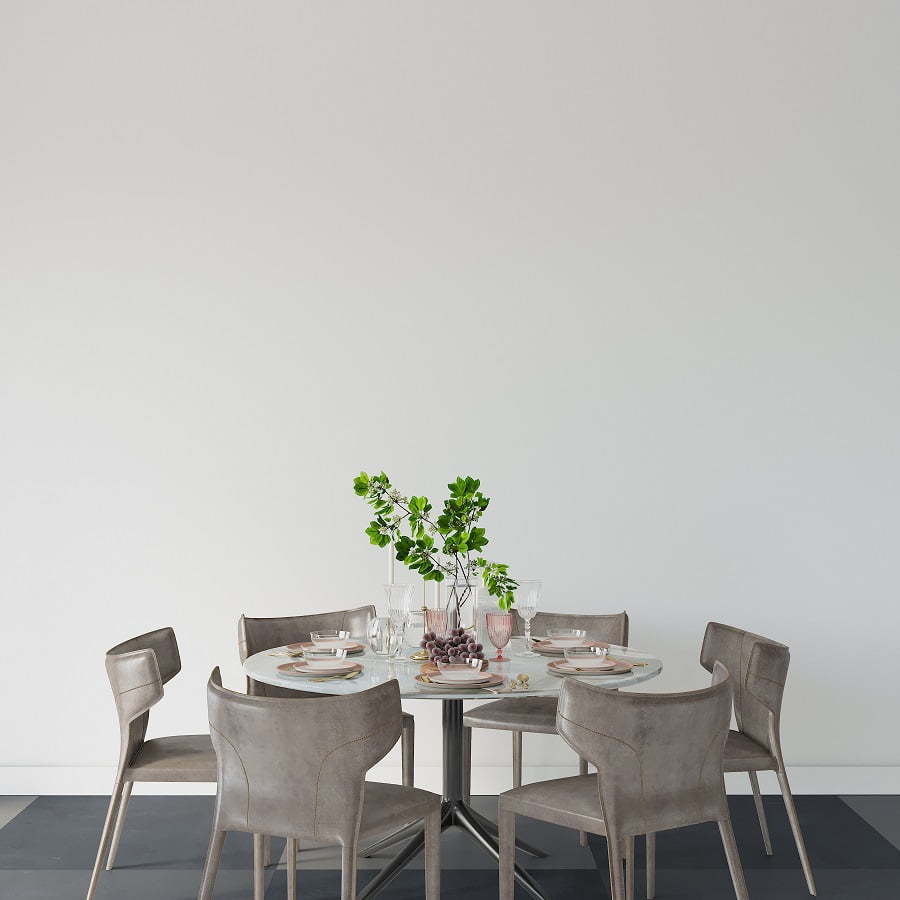 Dining tables come in a variety of shapes, which gives you extra flexibility when it comes to finding one that meets your specifications. If you have an open plan kitchen and dining area, for example, a circular table can be a great way to make the most of the space you have available. In a separate dining room, there might be additional space, which means a rectangular or oval table can be a viable option.
Identify a Focal Point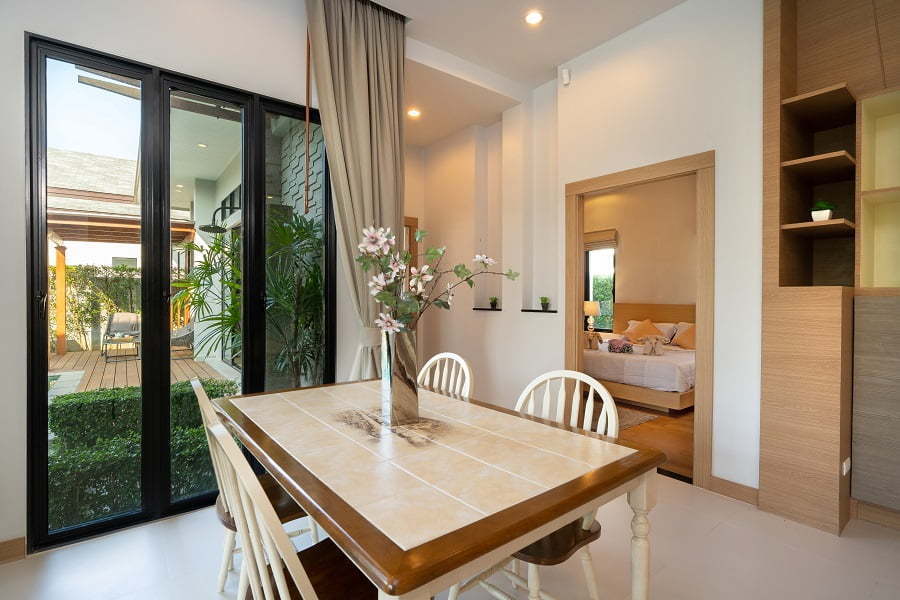 Depending on the room and your chosen décor, you may want your dining table and chairs to act as a focal point. If so, you can consider more ornate options and heavier materials. An oak table with intricate carvings and upholstered chairs is going to have more of a visual impact than a streamlined glass table with streamlined chairs, for example.
Although larger rooms can certainly have more than one focal point, you don't want statement pieces to be competing with one another. When you're working with a small space or when you already have a focal point in the room, consider a more discreet dining table set that will enhance the room without overpowering it.
Factor in Leg Room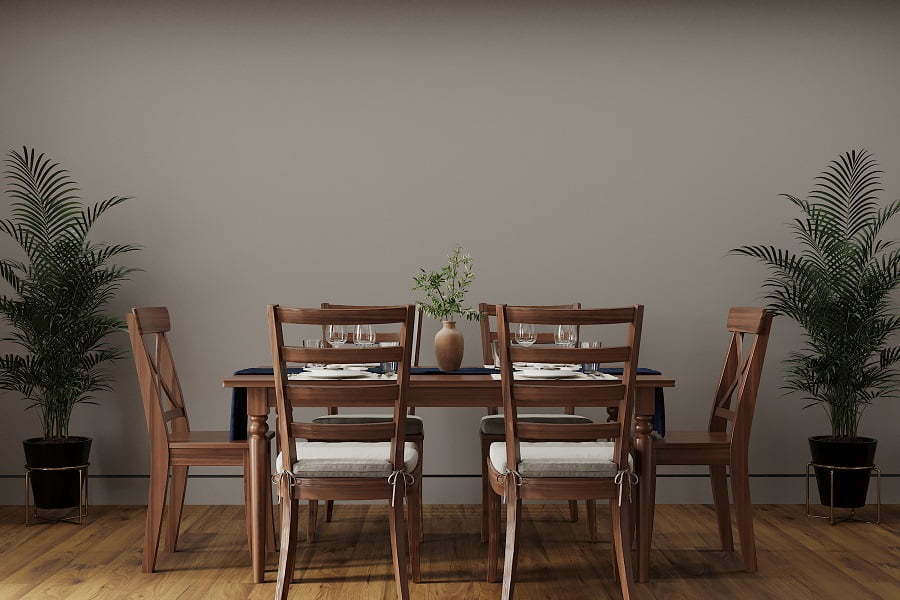 When you're determining the size, shape, or material of a potential dining table set, be sure to factor in leg room! A table might seem the perfect size when it's viewed in isolation but, when people are sitting down, it might feel more cramped than you expected. 
If you're short of space, consider a dining table with a pedestal stem, rather than four legs. This extra legroom will minimize the amount of space that's taken up, both when the table is in use and when it isn't.
Find the Right Material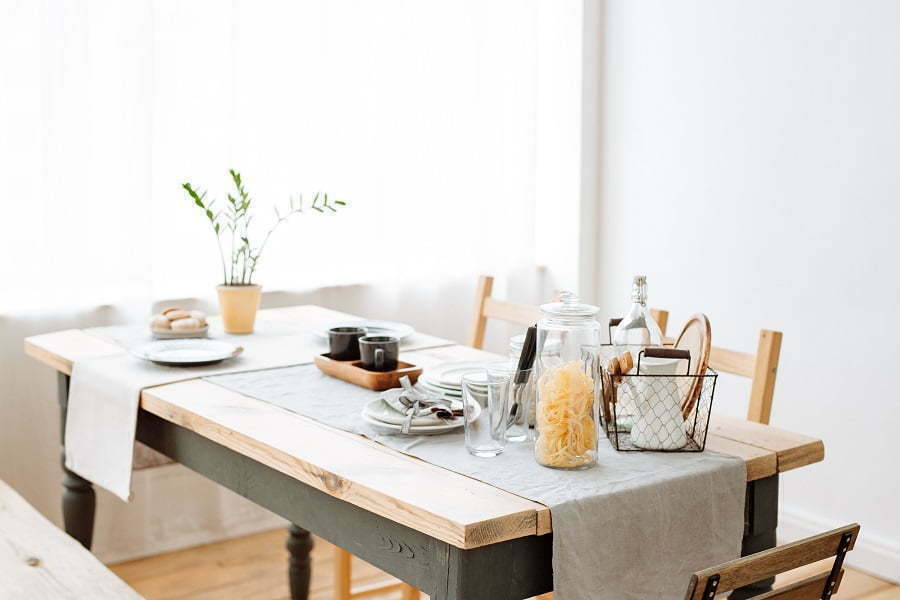 With so many options to consider, choosing the right material for your dining table set can be one of the trickiest aspects of furnishing your home and enhancing your décor. From wood and glass to acrylic and metal, there are endless materials out there. Of course, a variety of colors and finishes only increases the choice.
For contemporary rooms, a dining table in a bold, accent color, can make a statement and draw the eye, for example, while reclaimed wood can be the ideal choice for a cottagecore interior design style. Alternatively, traditional homeowners might prefer a natural wood finish, while more modern stylists may favor glass tabletops and metal frames.
Finding the Perfect Dining Table and Chairs
The right dining table set can last for years or even decades, so it's well worth investing your time to find the perfect addition to your home. Whether you're looking for a compact solution for a small space or you're creating an ornate, formal dining room, the table and chairs you choose can maximize the functionality of the space and enhance the ambiance.
As well as enjoying an evening meal with family and friends, your dining table may serve a variety of purposes throughout the years. From kid's crafts and homework to remote working and financial planning, your dining table will be an integral part of family life. By taking the time to carefully consider the size, shape, style, and material, you're sure to find the perfect dining table set for your home.
Recap
Liked this article? Here's what you can read next: