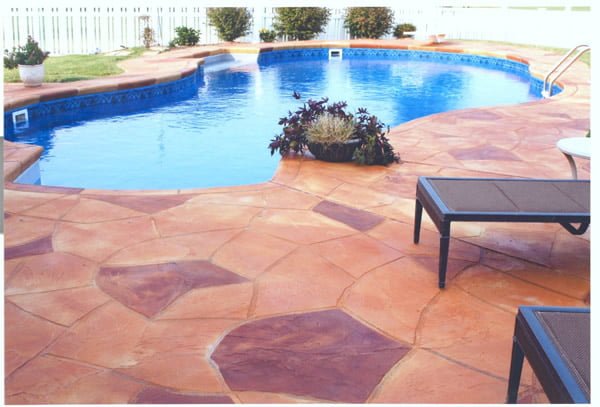 Last Updated on
We've teamed up with Bullion Coatings who make great decorative concrete pool decks to bring you this step by step guide on how to build a pool deck.
Concrete is the most common material used in building pool deck surround for both commercial and residential properties. It is versatile, durable, and highly affordable. You have the option to use it as it is or to top it off with another material to make the pool deck surface more appealing, cool to the touch, and slip-resistant. While wood can also be used, concrete is a lot easier to clean and maintain. If you are planning to build one yourself or probably just interested in how it is done, here is a step-by-step look at the process of building a concrete pool deck.
Step 1: Plan the Project First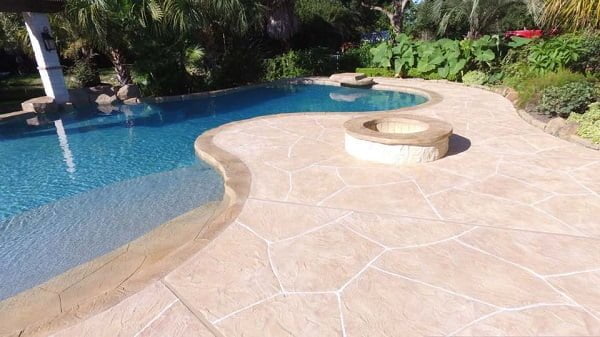 You don't just go out and pour concrete all around the swimming pool. First, make a plan. How big do you want your pool deck to be? Is there a particular shape you would want it to be? What look are you going for? Does your subgrade need to be cut or filled to accommodate the pool deck? There are so many things here that you need to be sure of so you could buy your materials and make your designs appropriately.
Step 2: Make Measurements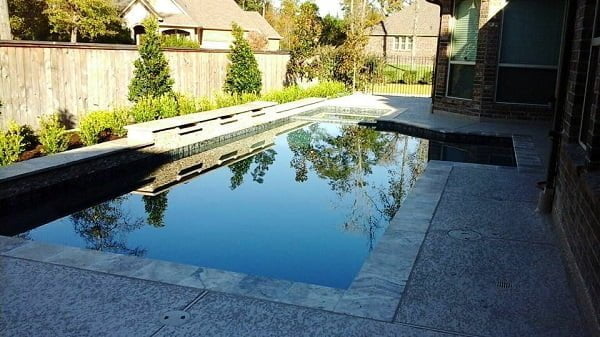 Measure the width of the pool deck and make sure that there is enough space for you to go around the pool without falling into the water. Measure the height of your deck, too. The ideal thickness for a concrete pool deck is about 5 to 6 inches. Decide whether you are doing a cantilever coping so you could purchase enough material for the edges.
Step 3: Lay the Frame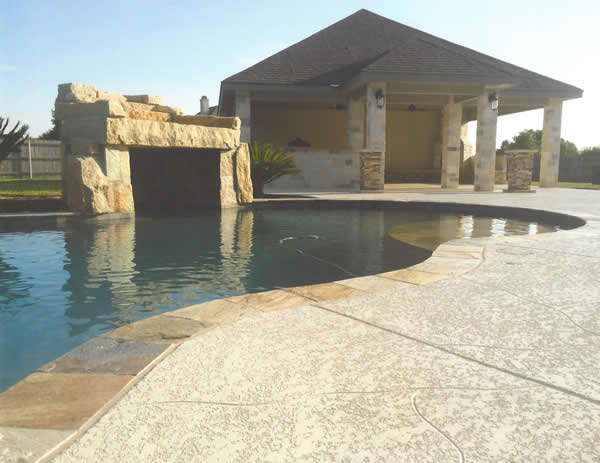 Lay out the frame on the subgrade to prepare for pouring. Use wooden planks and make sure that each one is nailed securely to make sure that the concrete mix won't push it out of alignment. Pour some sand or gravel into the frame. Make sure that it is covered well enough to a point that all you see is sand or gravel.
Step 4: Pour the Concrete Mix
Mix the concrete appropriately and pour it into the frame you have set up earlier. Make sure that you pour evenly on all areas. Using your shovel, mix the concrete a bit to release any air bubbles underneath. Tap on the wooden frame to make sure that the concrete has filled all the space within the frame. Keep doing this until all concrete has been poured. Using a trowel, level the pool deck surface.
Step 5: Finish the Concrete Pool Deck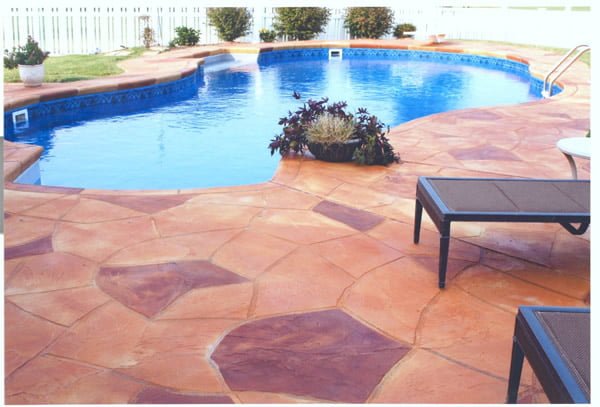 If you are using the concrete as it is, make sure to add a texture to the surface to make it slip-resistant. One thing you can do is to let a broom pass on the surface to create thin lines. You may also used stamp mats to add a pattern on the wet concrete, such as brick, natural stone, or even wood. Remove the wooden frame and sand off the edges to remove any extra concrete bits and to make it look more presentable. Once it has cured and dried completely, you can stain it to look more decorative and then top it off with concrete sealer. This will serve as a protective layer against water splashes and weather elements.
This is just a brief look at the process of building a concrete pool deck. Make sure that you schedule the job when the weather is not too hot and not too cool so that the concrete would dry properly. With the right concrete-water ratio and proper installation, a concrete pool deck is guaranteed to stay in good shape for a very long time.