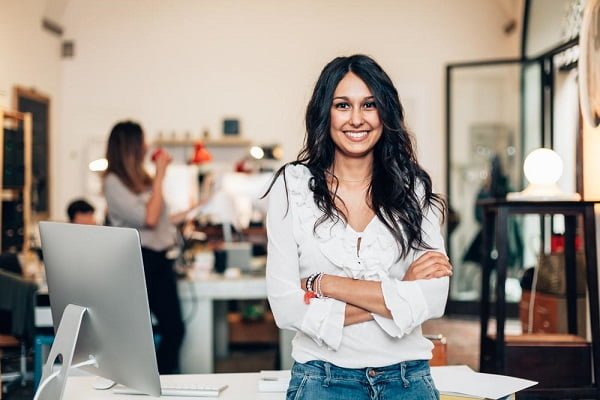 Last Updated on
If you have a small business, it's important to come up ways to streamline your day-to-day tasks so you don't get too bogged down and lose sight of your overarching goals. There are strategies you can use to help yourself and your business so you're more focused on the big ideas. Using a combination of environmental manipulation (a big desk and light, bright working areas) and software (helpful apps, for example) you can find success.
Here are some of the strategies you can use to improve your small business both in terms of surroundings and your virtual workflow:
Use an All-In-One App
An all-in-one app can assist you in your daily tasks and help you keep track of deadlines, clients, and project progress. Housecall Pro's Garage Pro software, for example, is an app that helps you schedule jobs, process payments, and message technicians out in the field. In addition, this app also allows you to automate marketing processes like following up with customers after a job is done.
Looking for an app that helps keep your errands and personal appointments straight? We get it, running a small business isn't the only thing taking up your time. Keep personal appointment information and family obligation dates all in one place with apps like the Todoist. You'll never miss your dentist appointment again!
Pay Attention to Your Desk
Your desk is important – it's where all the business happens. There's a common saying in the finance world that you should invest your money where you spend the most time. If you find yourself logging tons of hours at your desk, make sure the experience is as enjoyable as possible.
To keep distraction at bay, the décor of your office and desk should be simple. Ideally, you'll have different files for invoices, materials, and other business-critical documents.
Give Your Work Area a Fresh Coat of Paint and Add Some Plants
Choose a paint color that helps you focus. Choose lighter colors in muted tones to keep the office light and bright. Americans spend up to 90% of their time indoors, so why not make that time a little bit more enjoyable? Integrate some plant life in your day to day business.
There have been a multitude of studies showing that indoor plants can reduce the level of stress in work environments. Washington State University research, for example, found that blood pressure levels were lower when plants were around in the inside of the testing room. In fact, there's some evidence that plants even improved employee productivity.
Before you start an indoor garden, however, make sure you first assess the lighting conditions of the office. You don't want to try and keep sunflowers alive in an office with no windows.
Stay Organized
Use physical file organizers on the wall and on your desk to keep everything in its place. As for your digital space, you may want to consider using Google Drive so you can have all of your business files in one place. The great part about Google Drive is that you can set access to documents as "can view" or "can edit" based on the employee.
Market Yourself
Social media is a powerful tool you shouldn't forget about – it's a great way to build your brand, your customer base, and brand awareness. You can use apps like AgoraPulse to schedule social media posts so you don't have to worry about posting at the right time for the algorithm to work in your favor.
Join Like-Minded Business Groups
As a small business owner, it's important to reach out to others who are in a similar industry. Go to networking events, join meet-up groups, and attend conferences relevant to your business. Not only does this help build business relationships but it also gives you insight into what other companies are doing so you can stay on top of trends.
In Summary
Running a successful small business involves a lot of different working parts but one of the most important aspects of running one is being able to combine an aesthetically pleasing work environment with a streamlined digital to-do list. With the right business plan and careful implementation of a smart business strategy, you'll find success in no time.