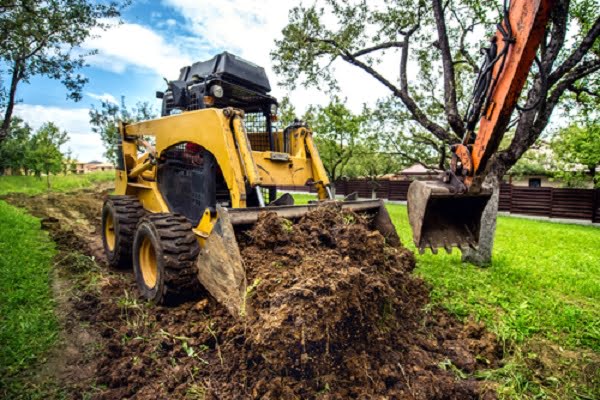 Last Updated on
House maintenance never ends, and sometimes, renovations are highly needed. Common repairs and renovation jobs that call for hard work include installing drainage, replacing your septic line, and landscaping – this is where heavy equipment can come in handy.
Heavy equipment is not only helpful for contractors; a do-it-yourself enthusiast can also take advantage of it to help finish costly maintenance. Here is a list of heavy equipment to make renovating tasks more manageable.
Skid Steers
When you need to perform heavy lifting tasks, skid steers are a great tool to consider. Here are the reasons why you need this equipment for your home renovation.
This equipment is helpful in home jobs such as moving earth and grading. It is simple enough to operate for the do-it-yourself person.

Skid steers are versatile machines that can get into narrow spaces to perform 

landscaping

jobs.

They can also be used to move building materials or pull a tree out and move it to a new location.

This equipment comes with different attachments to perform many tasks. These attachments include stump grinders, landscape rakes, tree pullers, mowers, and backhoes.
Trenchers
This equipment takes jobs after its name: to dig trenches. They come in different sizes, depending on its type. Rubber track replacement parts for this equipment are fortunately readily available.
Here are the things you can do with this heavy equipment:
It is helpful for underground plumbing because it is equipped with a conveyor system that is helpful in carrying excavated materials.

It can be used to create an irrigation system for landscaping purposes.
Excavators
For home renovations, you might want to look for a mini excavator. With full visibility of the location and a front cab, this equipment is the type a hands-on worker can easily use. Excavators come with rubber tracks, so they are easy to move around your property. Also, you can easily replace rubber tracks when the need arises.
This equipment is valuable for DIY jobs around the home including the following.
Excavating jobs in the yard for plumbing, drainage, or landscaping

Installing an irrigation system

Lifting heavy rocks and construction materials

Construction jobs, with the following attachment options

Shears to break metals

Couplers to quickly change from one job to another

Buckets to help move materials efficiently

Rippers to break up soil

Thumbs to promptly shift from digging to handling construction materials
Crawler Loaders
This equipment is a hybrid of the bucket loader and excavator. It comes in rubber tracks that provide excellent stability, and its bucket is helpful in moving debris and soil for getting material on trucks. This equipment is also used in excavating for small projects.
Backhoe Loaders
This equipment, commonly called backhoes, is equipped with a body that has a small bucket at the back and an adjustable shovel in front. This equipment can be easily driven to a job site because it comes with rubber tires. Backhoe loaders can perform jobs in limited spaces, such as the following.
Backfill excavations

Pipe installation

Digging holes or trenches of varying widths

Moving dirt
Trailers
Renovations jobs usually require moving materials and other equipment from one part of the property to another, for which trailers come essential. Trailers can help in hauling things around safely.
Submersible Pumps
If there's mud, sewerage, or sludge that should be removed from your property, this equipment will come in handy. A submersible pump makes it simpler and more efficient to move nasty materials. It can help in jobs related to drainage fixing and help improve unusable or swampy ground for construction.
Motor Graders
Usually known as road maintainers or graders, motor graders are a type of equipment that helps in creating smooth and flat surfaces. They are equipped with a long adjustable blade. Motor graders are used to set soil foundation before a renovation job such as making a large kitchen or an additional room in the house.
Bobcats
This equipment is like a small front-end loader. Because of its compact size and its ability to move around in places that a front end loader cannot get into, it is usually used in home renovations projects.
Final Thoughts
Doing home renovations yourself requires plenty of planning and it is always helpful to have some heavy equipment around. Knowing the tasks involved in your home renovation can help you choose the most useful heavy equipment for your home renovation project.