Last Updated on
The Christmas wreath is the classic festive decor item, but it can get boring quickly. Check out these unique DIY Christmas wreath ideas that are different.
Christmas is here with us, and I presume you are excited about the festivity. Besides the Christmas tree, you can have beautiful decorations, presents, and cards for the season. It's important to have the best and unique ideas for this Christmas. If you are serious about creativity and the zeal to make Christmas special, you should think of crafting your own DIY Christmas wreath.
It's beautiful to have a personalized and handmade craft this holiday. The wreath not only makes the festivities glamorous but also adds meaning to the occasion. If you don't have an idea of how to go this Christmas, below are 20 DIY Christmas wreaths that you can copy to make or buy.
Other DIY wreaths: spring wreaths, fall wreaths, Halloween wreaths.
What's Inside?
Vintage Lights Wreath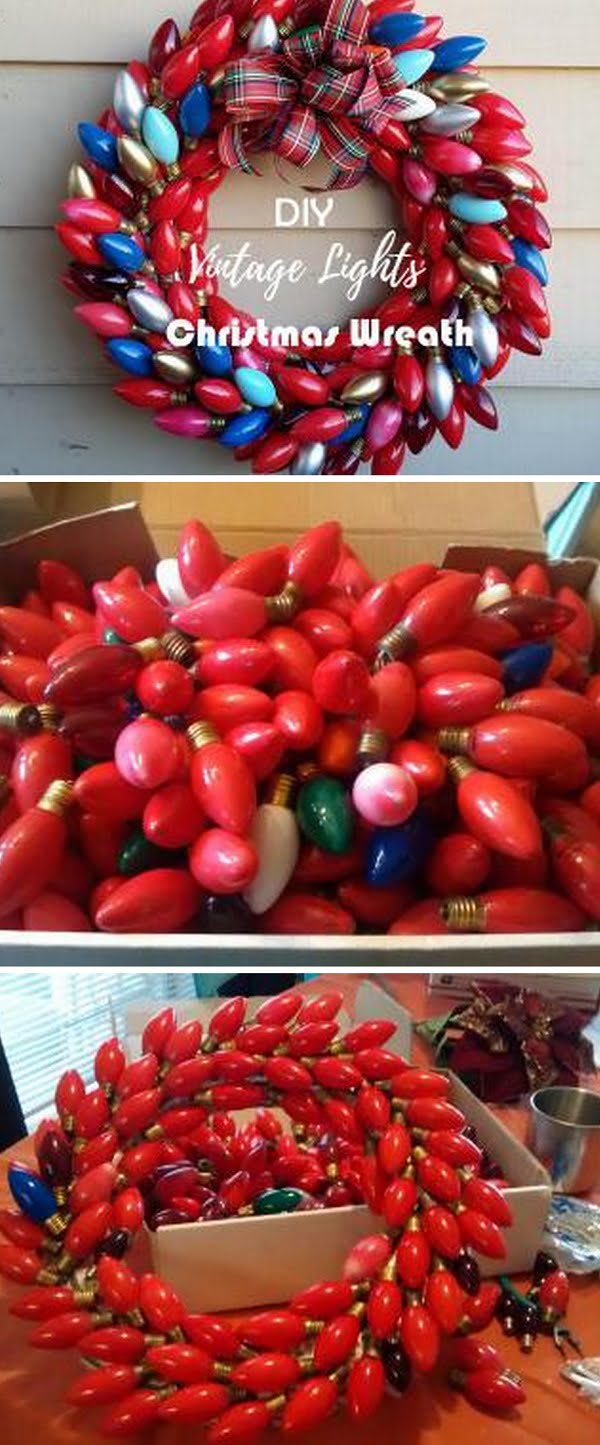 No more magnificent decoration surpasses vintage Christmas setups. You don't need a lot to make this wreath. You can use a bunch of vintage lights, a foam wreath, and ribbons from your local shop. You are required to cover the foam wreath with a ribbon and stick the colored lights using hot glue. The lights of different colors are used to make the illumination magical.
Wood Biscuit Wreath

This DIY project requires preparation but provide the most creatively designed and glamorous Christmas wreath. You'll need a 12-inch flat wood, brushes, ribbon, acrylic paints, wood stain, and wood biscuits to make the wreath. Using the hot glue, you are required to stick the wood biscuits on the flat board and make original patterns.
Yarn Ball Wreath

This Christmas wreath project is simple but provides a creative craft. You require newspapers, wreath form, hot glue, and yarn twine. To achieve the craft, you are expected to wrap the wreath form in yarn. You will then be required to cover the newspaper by wrapping the yarn around the pieces to a ball shape.
Winter White Christmas Wreath

The wreath looks excellent after finishing, and you cannot help but admire the design. The craft is easy to make and requires a foam wreath, white canvass, 350 Quinter Pins (white-headed), cutting mat, rotary cutter, and a floral wreath form. You will be required to reduce the canvass piece into three stripes. You should then wrap the foam wreath with the strips and use the pins for reinforcement and decoration.
DIY Ornament Wreath

The Christmas DIY wreath is a simple but a beautiful decoration to make. You require Styrofoam wreath (12-inch) red ribbon, gold rope, red ornaments (30-40), hot glue, red foam balls, and two boxes. To make the craft, you are expected to stick the ribbon pieces to the wreath and wrap it using the red ribbons.
Ribbon Candy Wreath

The DIY craft is a beautiful piece to make this Christmas. You require hot glue, medium gauge wire, scissors, white tape, and striped ribbon. To make the piece, you should fold over the ribbon and secure its end with the hot glue. You should then glue both ends to have a pretty crafted wreath.
DIY Gift Box Wreath

If you fancy colored decorations, this craft is an excellent set to make this Christmas. You'll need gift boxes of different sizes, metal wreath form, glue, green satin ribbon, white coordination, and bow makers. To make the wreath, you are expected to arrange the gift boxes on the wreath form to make a lovely pattern.
Gift Card Mini

This wreath is simple to make. You'll require gift cards, wire, wire cutter, greens, scissors, mini envelopes, and ribbon. You are required to mold the wire to round patterns and anchor the greens around it. You are then expected to attach the gift cards and envelope on the craft.
Rudolph Wreath

The Rudolph Wreath is a paper craft that can transform any Christmas setting into an inspirational one. To make the craft, you require gold paint, pompom trim, ribbon stripes, and red glitters.
Holiday Pompom Wreath

This handmade project is an interesting one to make. You will need a wreath form, needle, ribbons, shiny beads, scissor, pompom maker or cardboard, and yarns of various colors. You are required to make tons of the pompoms in different sizes and colors. Once the pompoms are ready, you should rap them with the yarns.
Modern Wire and Ornament Craft

The DIY wreath is a masterpiece and a great craft to hang by the Christmas tree. You'll require a wire wreath, spray paint, aluminum wire, pliers, 25 ornaments, and a box of multicolored lights. To make the craft, you should wrap the decorations around the aluminum wire and wreath.
Lighting Snowflake Craft

If you are mindful of creative decorations this Christmas, the snowflake wreath is an excellent decoration to make. The supplies that you need include a 12-inch metal frame, beads, plastic snowflakes, spray paints, glue gun, and ribbon. This craft is lovely and sends the right Christmas message.
DIY Christmas Wreath

Beauty and inspiration are the best terms to describe the craft. The wreath creates a beautiful and warm Christmas feel. To make your craft, you require a wreath form, decorative twigs, decorative ribbons, floral paints, and hot glue, greens, and wire trimmers.
Giant DIY Wreath

From the name, the Giant Christmas Wreath is an enormous and pretty decoration. To make it, you require hula loop, letters, eucalyptus, twine, and spray paint. You are expected to wrap the twine and eucalyptus branches around the hula loop. The end product is a massively stationed and pretty DIY wreath.
Traditional Christmas Wreath

If you are an old-school kind of guy or gal, the conventional Christmas craft is a good project for you. To make the wreath, you require a 16-inch foam wreath, Christmas foliage, bronze blooms, peach roses, orange slices, red apples, pine cones, cinnamon, satin ribbons, and scissors.
Striped Paper Straw

The paper straw wreath is a simple craft that creates an appealing Christmas appearance and feels. To make the wreath, you require simple supplies such as the foam wreath, ribbon, striped straws (75 pieces), and hot glue. You are expected to wrap the wreath with a wide ribbon and attach the leaves.
Clothespin Christmas Wreath

This wreath is sufficient for holding your Christmas cards. Other than this purpose, the craft creates a nice-looking home this Christmas. If you opt to make the wreath, you will require a wire hanger, ribbon yarn, pony beads, green spray, and a pack of cloth pins.
3D-Paper Star Wreath

This craft is great for decorating the staircase. To make the wreath, you require patterned papers that are cut into star shapes, hot glue, wreath form, scrolling tools, buttons, and ribbons. You are expected to stick the pins on the star-shaped pieces.
'Let it Snow' Wreath

The craft is an excellent piece for anyone who is adamant about a sweet Christmas wreath. To make the wreath, you will need form wreath, fabric stripes, bottle brush, straight pins, fabric, scissors, straight pins, hot glue, black marker, wood slices, and white yarn.
Bottle Brush Christmas Tree Wreath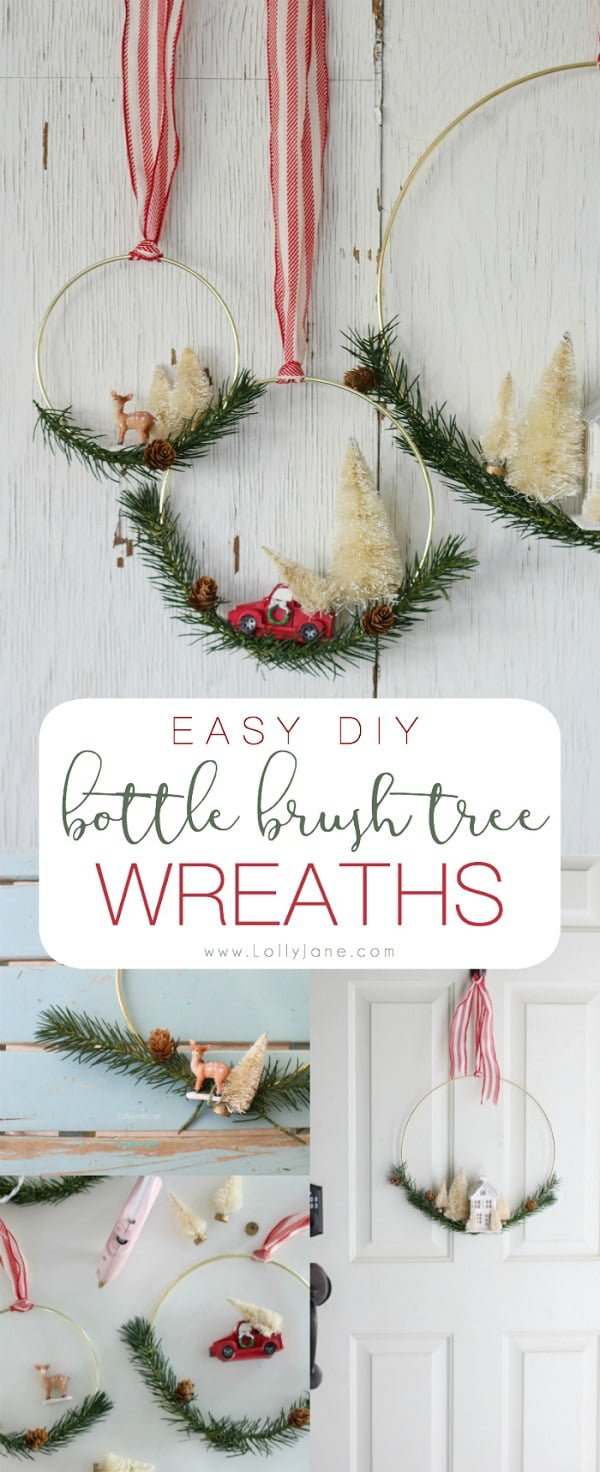 The Bottle Brush Wreath is a glamorous craft to make this Christmas. The tree is creatively designed to create a warm Christmas feel. To make the wreath, you will need gold rings, ribbon, bottle brush trees, hot glue, floral wire, wire cutter, and pinecone garland.
Related reading: