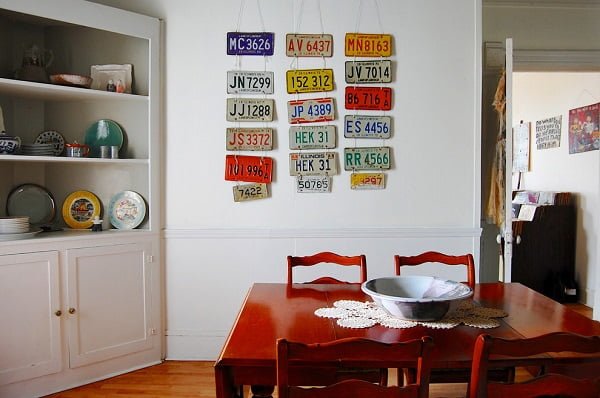 Last Updated on
Looking for modern dining room wall decor ideas? Here are 20 creative ideas that will help you transform the place for the better on a budget in 2019.
Wall decor is one of the highest-impact areas where you can transform the place. You can turn a dull room into a lively and welcoming place with the right choice of wall decor accents. And the dining room or area is no different than any other room. You can be very creative in this space.
There's no limit as to what you can do to make your decor better, and we are here only to give you some inspiration for creativity. From using artwork to rustic accents, from display shelves to whimsical pieces – the possibilities are endless. So check out these ideas and create something unique and personal at home to give your dining room character on a budget.
Oversized Art Dining Room Wall Decor
Hangin oversized artwork on a dining room wall can open up space. Usually, the dining area isn't spacious, so anything you can do to increase the visual space is most welcome. In this case, it's a full wall size art piece which creates drama in color as well as in its feature. It helps that the picture shows a kitchen which visually extends the room.
You don't have to go for artwork this exquisite, of course, any oversized art would do. Even a big print will have a very similar effect on your space. The key is experimenting to get the look you want.
Farmhouse Shutters Dining Room Wall Decor
Anytime you want to make a room cozy, welcoming and lively, try adding something farmhouse rustic. In this case, it's the farmhouse shutters which make the dining room accent wall the focal point of the place. It sits nicely on the console table and creates an illusion of a window, which in turn makes space look more prominent.
The green wreath is also a great addition which makes the decor look fresh. Adding some greenery to your decor will always give it a new lively look.
Antique Plates Small Dining Room Wall Decor
It might seem like a cliche at first, but creating a plate wall in your dining room or area is a great way to create the focal point for the place. It's both, whimsical and classy. You can pick up vintage plates from a thrift shop for a lot of character and decor value.
The plates need not be white; you can use some color and pattern too. It all depends on how much decor interest you want to add and how eclectic you want your dining area to be.
Modular Artwork Modern Dining Room Wall Decor
If you want to make your modern dining area interesting without going out of the design frame, add some statement art to your walls. Modular artwork works great because it's big enough and interesting enough to create a focal point in the room.
In this case, the playful orange tones create so much drama against the black and white backdrop. This extends from the overall theme of the room and makes the cold modern design much more welcoming.
Display Shelves for Dining Room Wall Decor
You can always setup open shelving in your dining room that will serve for display as well as some storage. Putting up your display items and collectibles is still a great way to add personality to your room decor. It's what makes the place yours. And the dining room is no different.
Simple wall-mount shelves work great; even a small bookcase would do the trick here.
Sunburst Mirror Dining Room Wall Decor
The photo features a darker gray accent wall covered in a textured fabric, surrounded by lighter gray walls and ceiling. A sunburst mirror with metal frame is hung directly in the center of the accent wall. It draws the eye and serves as a focal point. The round mirror also reflects plenty of light.
License Plates Dining Room Wall Decor
The photo depicts a formal dining room with a farmhouse flavor. Walls and built-in hutch are painted white. A feature wall displays several brightly colored license plates of the past, from different states. Three rows of plates are evenly spaced, and each plate hangs from the one above.
Exposed Brick Accent Wall Decor
This dining room wall decor isn't as much about color as it is about texture and ambiance. A tan brick accent wall has votive candle holders mounted in a random pattern throughout the wall space. The design gives the room an elegant, old world charm feel. It is both sophisticated and rustic at the same time.
Colored Prints Dining Room Wall Decor
A rounded wall painted a medium steel blue features three rows of evenly spaced color block prints. It is simple, modern, and sophisticated at the same time, against the white ceiling.
Gallery Wall Dining Room Wall Decor
This feature wall depicts a light gray paint color, with several photos and prints of horses in motion, in various sizes. It highlights the classic decor of the room.
Nature Feature Dining Room Wall Decor
Earth tones give this dining room a sophisticated, back-to-nature feel. The featured wall is painted in medium tan, with three equally sized barren birch tree paintings. The rest of the room features soft wood tones and wood branch decor, with neutral taupe upholstery and taupe walls.
Bar Shelves Dining Room Wall Decor
The wall decor in this room highlights the elegant, shabby chic decor. A light gray wall is accented with rusting framed prints of various sizes. The bar shelves make an excellent feature.
Geometric Art Small Dining Room Wall Decor
A white wall is highlighted with a multi-colored abstract painting the extends nearly from floor to ceiling, highlighting the simple, modern, yet sophisticated dining space.
Kitchen Utensil Art Dining Room Wall Decor
A white wall features black bent iron-eating utensil figures lined up vertically, to create an interesting focal point in the room which combines modern with classic styles, for simple elegance.
Farmhouse Sign Dining Room Wall Decor
A light steel blue repeating rose pattern papered wall is highlighted by a simple "gather" expression caligraphy print with a rustic wood frame. It elegantly highlights nature.
Mural Dining Room Wall Decor
Bold, black background with a wet chili pepper image in vivid color draws the eye. The rest of the room includes white walls and soft wood tones, which help highlight the feature wall.
Herb Garden Dining Room Wall Decor
A set of three 3-tiered metal planters accent a white wall. The planters feature plenty of greenery, which serves to accentuate the natural elements in the room.
A white wall is accentuated with a black framed contemporary, abstract painting in grayscale and soft rose colors. The look is modern, yet sophisticated.
The beige wall features a wood framed, handwritten message, further accentuated timber carved corbels at the upper left and lower right corners of the painting.