Last Updated on
Looking for the best dancing water speakers to spice up your home sound system? Here are the top 10 choices of 2020.
If you're looking for something unique and fancy to liven up your home decor, water speakers are one of the best ways to use technology to your advantage. They are fun to look at and to play with. Your home sound system will never be the same with this addition. And your kids will adore this type of speakers too.
Without getting too much into the details of how these speakers work, most dancing water speakers use a small motor that creates pulses based on sound and shoots mineral oil up the acrylic tubes. The multi-color LED lighting add to the visual effect. It's a simple device, but it's very appealing visually and can be used in modern decor as a striking accent.
Choosing the water speakers that would be right for you isn't straightforward, though. That's why we've examined a bunch of popular products on the market to find out which are the best and for what purpose. So here are the top 10 best-rated water speakers that will enhance your decor and home music system.
What's Inside?
SoundSOUL Dancing Water Speakers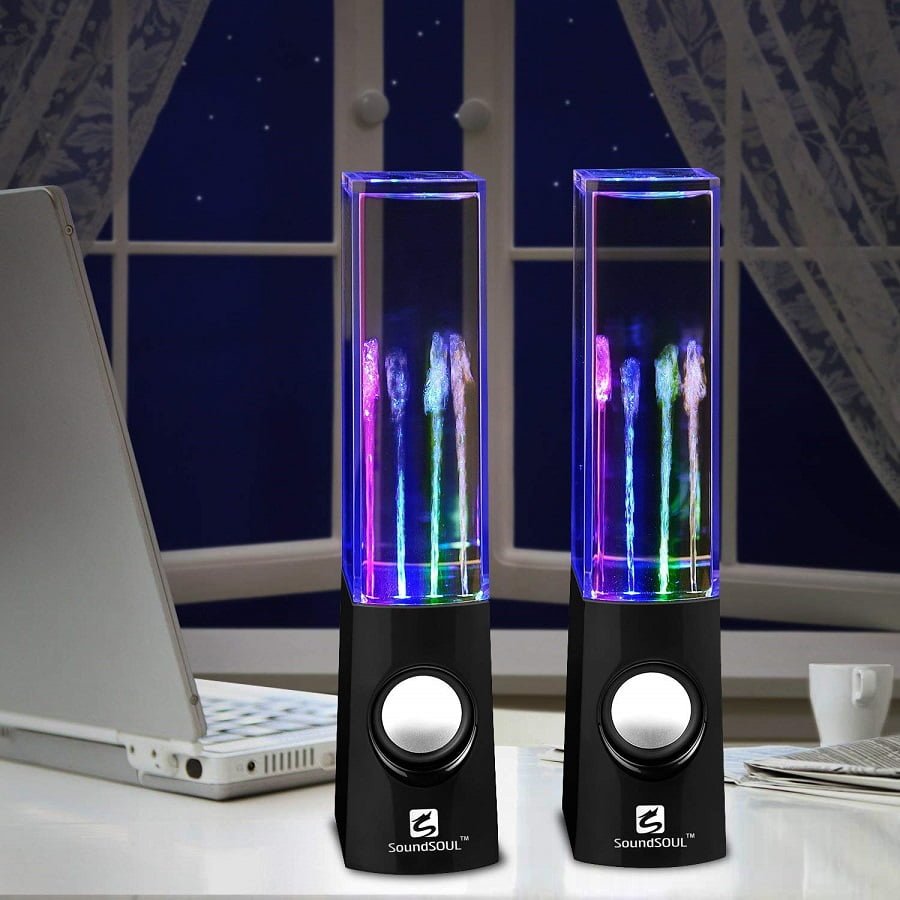 The SoundSOUL dancing water speakers are known to provide decent sound quality, along with stunning visual effects. They easily plug into your iPod, home computer, or MP3 player and are incredibly lightweight and great for portable uses.
The visual sound effects are created by acrylic tubes filled with toxic-free vegetable oil and colored LED lighting. Several tubes working together form varied and visually pleasing effects.
Why it's our pick? These dancing water speakers are a very affordable way to spice up your home music experience.
Wireless Bluetooth Dancing Water Speakers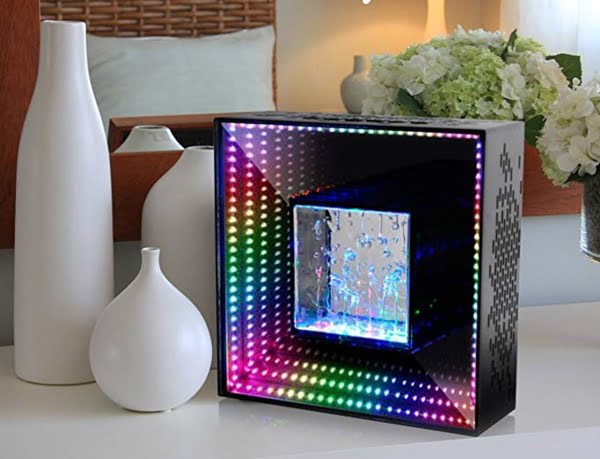 This desktop wireless Bluetooth Hi-Fi stereo speaker is the ideal party speaker with flashy lights for an impressive visual display to accompany the clean, clear, and crisp sound quality. You get a big bang for your buck with this one, and the device features a handy-dandy automatic memory for user-friendly last device pairing.
It can be used solely as light with or without the fountain enabled. The exquisite look of these speakers makes them a great home decor accent. The speakers support an Aux mode of 3.5mm and are known for their great projection.
Why it's our pick? These are very functional water speakers with a wireless option.
BeFreeSound 2.1 Dancing Water Speakers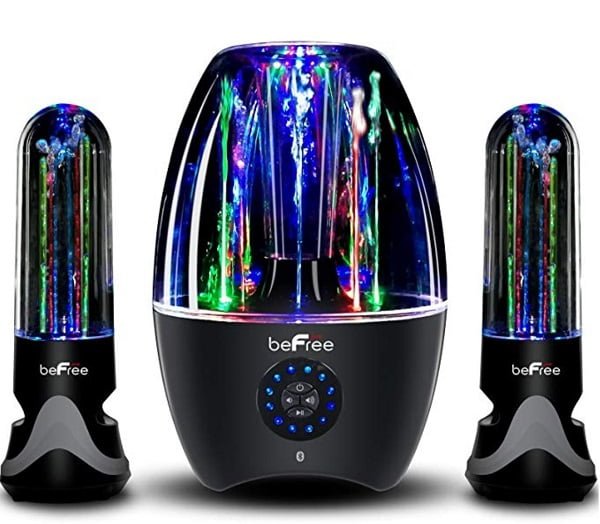 The BeFree Sound BFS-33X 2.1 dancing water Bluetooth system connects through Bluetooth and aux-in. The dancing water and vibrant lighting effects are a hit for adult and kids' parties alike. This Bluetooth system is a popular choice for event planners or those who enjoy hosting.
If you need more sound quality, this 2.1 channel option with a subwoofer is superior to other two-speaker stereo systems. This also means you get three dancing water units.
Why it's our choice? These are excellent dancing water speakers with a subwoofer.
Aolyty Dancing Water Speakers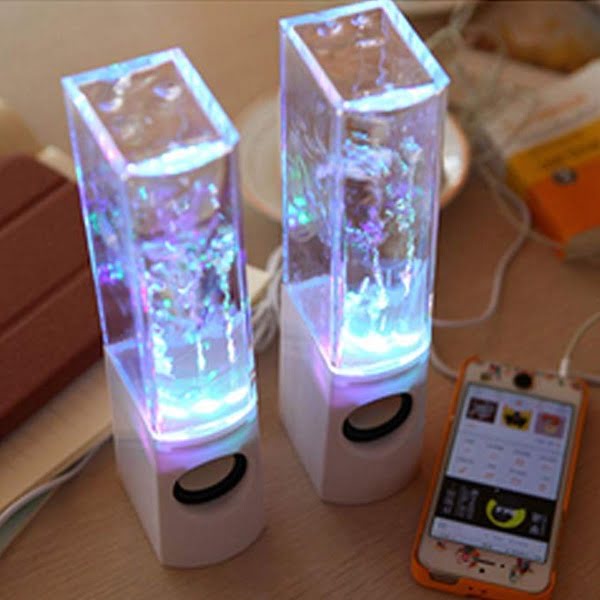 This Aolyty LED dancing water fountain sound speaker is compatible with iPhones, laptops, and Smartphones. The light show will add a festive vibe to any get-together, and the modern look in white is sure to please the aesthetic-enthusiast. The amplifier speakers deliver the very best of what speaker technology has to offer.
Why it's our pick? It's a great option and an Amazon's choice for water speakers at the lowest price.
e-Joy Speakers with Lights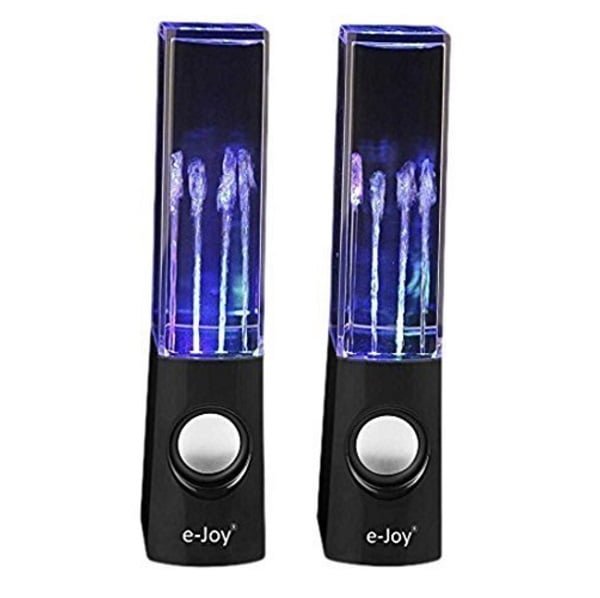 The e-Joy dancing water speakers and music box audio player stand only nine inches tall, making them ideal for a small space that wants to have a significant sound impact. The multi-colored LED lights make an impressive visual show with the water dancing along with the beat.
Why it's our choice? These are compact 9" dancing water speakers at a low price.
Bluetooth Tower Speaker with Lights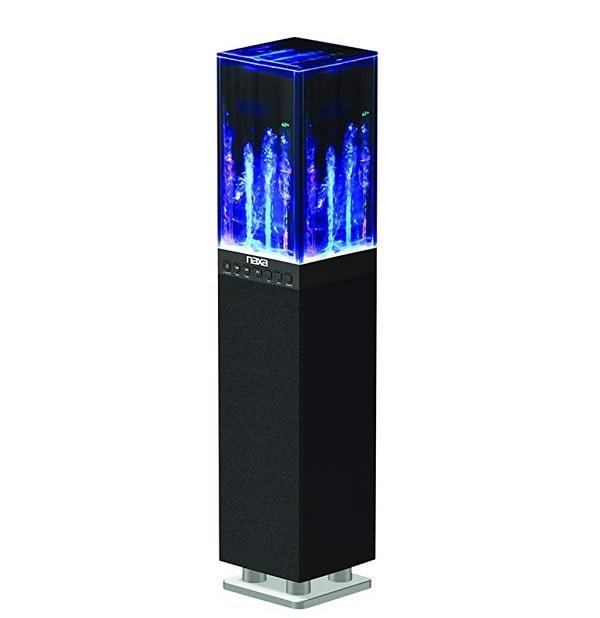 The NAXA Electronics NHS-2009 dancing water tower speaker system with Bluetooth compatibility is a modern and attractive floor speaker. It is wireless, has FM radio, and connects wirelessly to any Bluetooth device.
Why it's our pick? It's a water speaker system for those that need functionality and it delivers.
Svance Dancing Water LED Speaker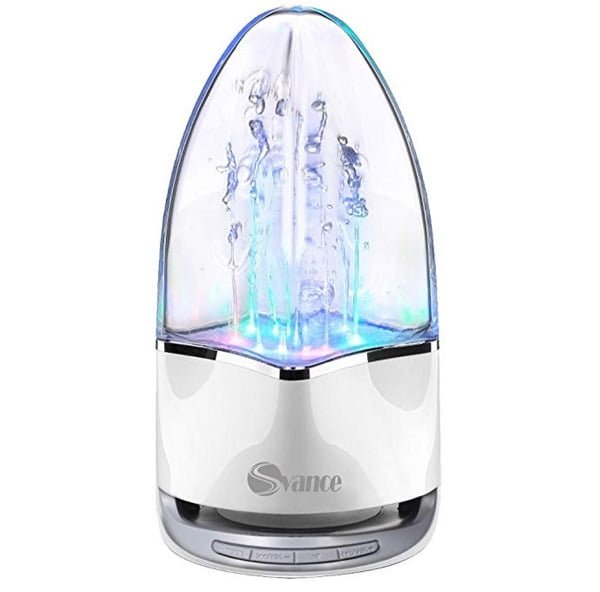 The Svance dancing water speaker is a portable wireless Bluetooth speaker. It features a powerful stereo and an impressive LED light display. It has three play modes compatible with iPhones, iPads, Smartphones, or laptops.
Why choose this water speaker? It's a great portable and compatible dancing water speaker in a unique design.
Jukebox Large Water Speakers with Aquarium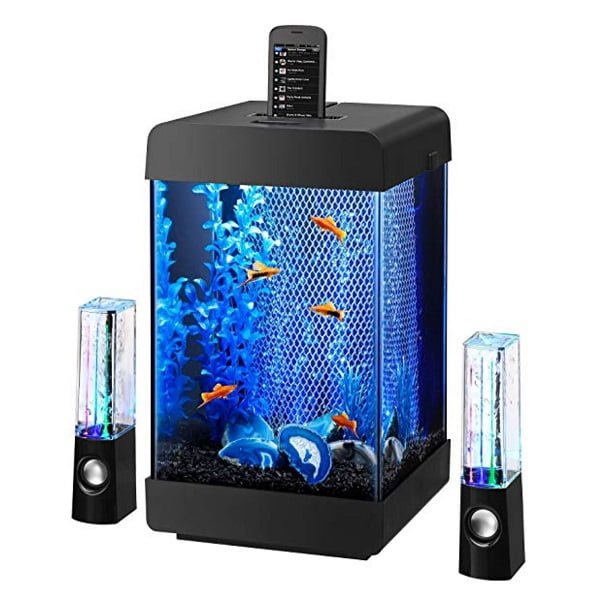 Aqueon Jukebox LED aquarium kit is a five-gallon mini fish tank with LED-equipped water speakers. The USB port allows for connection with any audio device that uses a headphone jack. Who wouldn't enjoy the calming effects of a mini aquarium, plus your favorite tunes blasting away? The hood emits dramatic LED lighting to light up the tank and is home to a Smartphone or an MP3 cradle.
Why it's our pick? It's a unique water speaker system that will make a great decor accent and a conversation piece.
uTronix Multi-Colored Water Speakers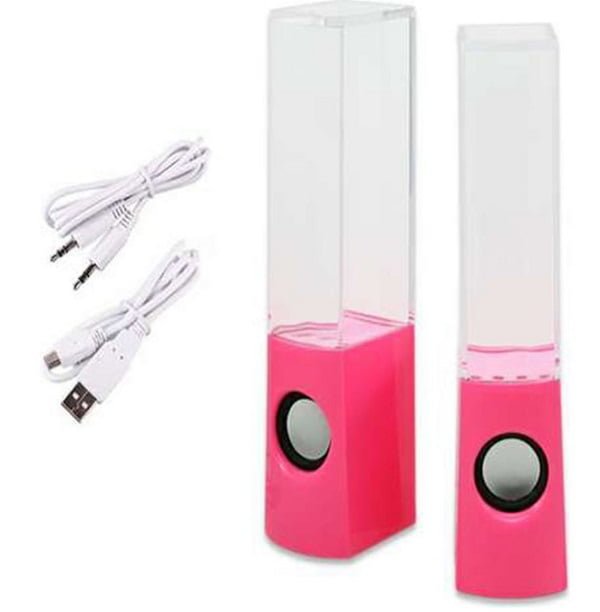 The uTronix plug-and-play multi-color dancing water speakers are compatible with tablets, Andriod Smartphones, iPods, MP3 players, iPhones, iPads, or any computer or device with a 3.5mm jack. Such a versatile speaker system makes a great gift for the person who enjoys excellent music coupled with a lively atmosphere.
Why it's our choice? These are affordable stylish water speakers that come in several color choices.
Aolyty Dancing Water Fountain Speakers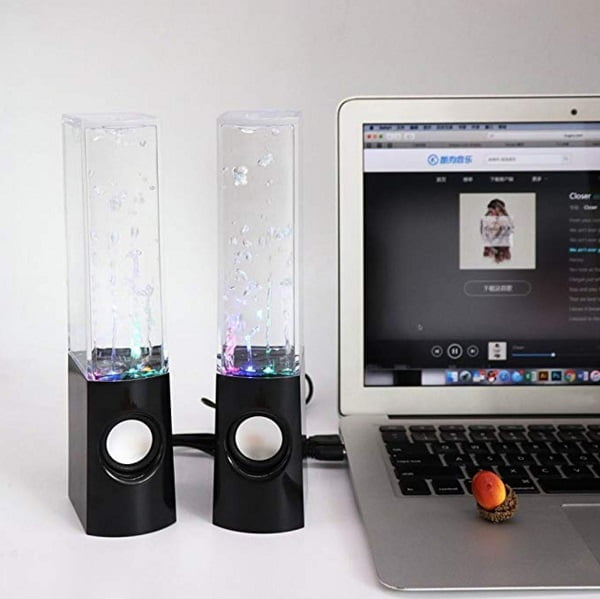 The Aolyty H2O speakers are ideal for iPhones, iPad laptops, and Smartphones. The water fountain jets adjust with the volume for an additional atmospheric feature. These amplifying speakers are incredibly versatile as they work well with a phone or computer. The speakers work with audio devices with a 3.5mm stereo audio output such as iPods, iPhone Androids, laptops, and desktops.
The only drawback to these speakers is the lack of Bluetooth connectivity option – they can only be connected with wires.
Why choose these water speakers? These are small water speakers at an affordable price – great as an entry-level product.
Related reading:
---
Disclosure: As an Amazon Associate we earn from qualifying purchases.
We are a participant in the Houzz Inc. and Etsy Inc. affiliate advertising programs designed to provide a means for us to earn fees by linking to Houzz.com, Etsy.com, and affiliated sites.