Last updated on April 13, 2021
To ensure the drinking water in your house is safe for consumption you need a water filter that removes lead. Only the best water filter for lead can do it, and here it is!
► Our top choice: BRITA Faucet Water Filter
As funny as it is, all of us on our team have used BRITA filters in their homes since childhood. One caveat — we used to always forget to fill the pitcher or replace the filter in time. That's what inspired this story.
You know very well the problems with the lead contamination that many water supply lines have (especially those that are older.) If the Flint Water Crisis has thought us anything is that a water filtration system at home is a must.
Otherwise, you'll be stuck buying bottled water, wasting not only your money but leaving a negative environmental footprint with plastic as well. We want none of that!
So you need the best water filter for lead removal (among other contaminants.) But it has to keep the beneficial minerals in it as well.
Here's how it all works. (Don't worry, we're spare you the gory details!)
Basically, you can choose from three main methods of water purifying methods. Reverse osmosis (not as effective and removes the minerals), carbon filter (cheap and effective), distillation (highly effective but very expensive.)
The best option is, you guessed it, an affordable and easy to DIY install carbon filter. They come in a few options — faucet mount, under the sink, whole house water filter, or the pitcher. We are focusing on the former three because of the convenience.
So that's how we have come down to the best type of a water filter to remove lead — a carbon filter system that's either faucet mount or hooked to the water supply line (under the sink or the main one of the house.)
What's left is to choose the specific product. Our first choice for this is BRITA because they've made the name for themselves in water filtering and the gadget actually works. Though, there are other great options which we have featured as well.
For transparency, note that we have included shopping links that may get us a commission. This costs you nothing extra.
What's Inside?
BRITA Faucet Water Filter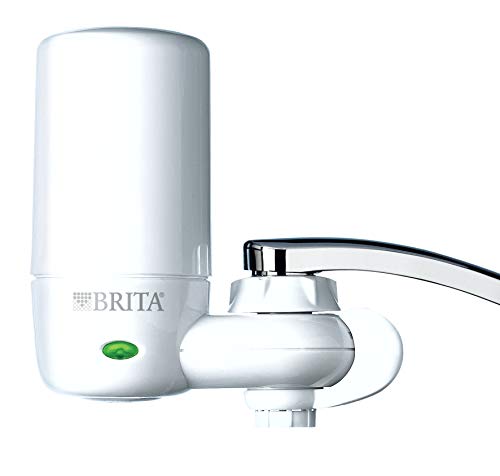 This Brita water filtration device is connected to your regular faucet, rendering tap water safer and tastier. It's simple to install the filtration system — no tools are required. The system filters 60 contaminants such as 99% lead, chlorine, benzene, and asbestic contaminants which may be contained in drinking water. The useful green-and-red light helps you to find out when your filter is functioning and to replace it with a 1-click filter replacement.
BPA Brita filter will supply up to 100 gallons of filtered tap water. It includes 3 spray options: filtered water, unfiltered water, and non-filtered spray.
Our runner-ups follow…
Under Sink Water Filter System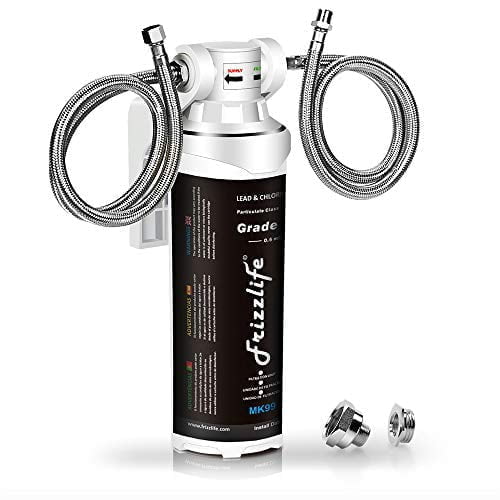 It's a two-stage advanced 0.5 micron water purifier. It features a two-stage high-precision compoud filter with a special technology that eliminates over 99.99% of pollutants while leaving all necessary minerals. The filter eliminates lead, heavy metals, chlorine, rust, volatile organic compounds, carcinogens, and other contaminants, odors, and bad tastes.
The system suits 1/2 "and 3/8" cold water lines with a simple installation. It also features an auto-shutoff design — using simple twist-in installation design makes installing the system or filter replacement less than 3 minutes without having to shut off the water supply. The high-capacity cartridge can be used for 2 years or 1,600 gallons of water (for better filtration replacement is suggested after 6-8 months.)
PUR Faucet Water Filtration System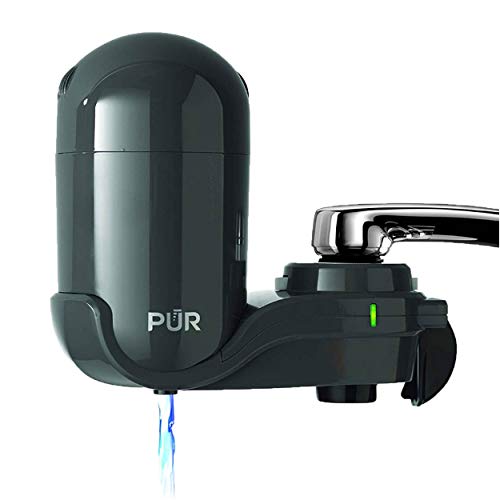 PUR is a faucet mount filter system that filters water over natural minerals for a crisp, refreshing taste. It reduces lead and over 70 pollutants. The faucet mount is simple to connect and no tools are needed. It's compatible with most faucets (though not pull-out or handheld faucets.)
PUR Faucet water filters are accredited to eliminate lead and other hazardous water pollutants. PUR has been known to develop water filtration technologies for over 30 years.
3 Stage Water Filter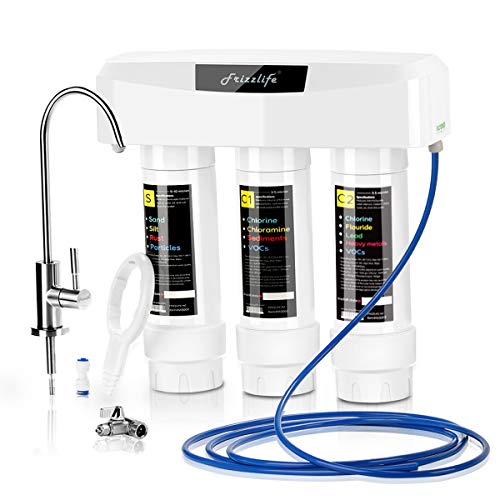 3-stage filters remove over 99.99% of the harmful contaminants commonly found in water, including lead. Any unpleasant taste or odor is completely removed, while essential minerals are kept health-benefiting. Following simple and straightforward directions, you can install the filter system on your own in a few minutes without the help of a skilled plumber. It includes a leak stop valve to double the protection against water leakage.
The system includes a lead-free nickel-brushed stainless faucet in a sleek modern style for the kitchen countertop. The dedicated faucet flow rate can reach up to 1.4 GPM (fills 330ml of water in 4 seconds.)
Carbon Based Under Sink Water Filter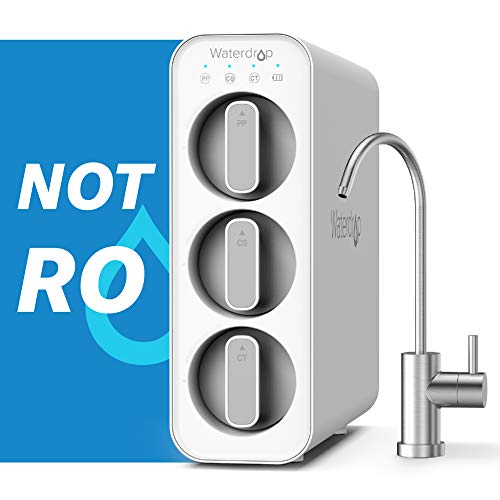 This under sink water filter device is checked against NSF requirements to effectively adsorb 99% of chlorine, lead, mercury, fluoride, arsenic, and eliminate taste and odor. Compared to the conventional separate triple-stage filter system, this system uses high-quality coconut carbon block, stimulates water molecules, greatly enhances water taste.
The battery-driven water filter system does not need an under sink electricity supply and produces premium-quality filtered water with zero water waste.
It allows you to replace filters without cutting water supply. This offers a clean, reliable water purification experience. The dual carbon block water filtration system includes a brushed nickel hose, 1/4″ inlet hose, 3/8″ outlet hose, 3/8″-1/2″ feed water adapter, and other necessary accessories.
Full Flow Under Sink Water Filter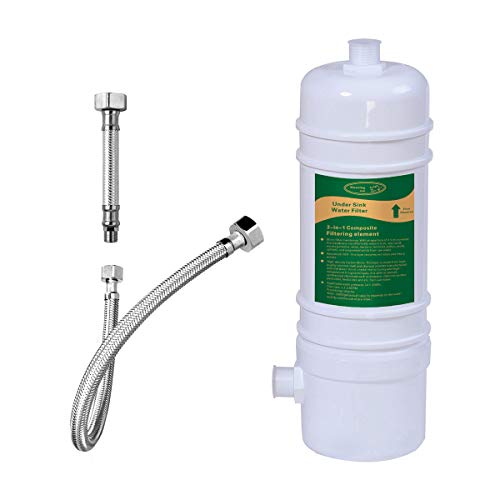 This 3 stage filtration system uses 0.5 micron, KDF-55, and a coconut shell carbon block. Eliminates sediments, chlorine (99.5 percent), chloramine (99 percent), lead (99.9 percent), chromium 6, mercury, bad tastes, odors, rust, VOCs, other heavy metals, etc.
The 0.5-micron filter membrane ensures that fresh, clean, filtered water still runs without losing pressure. It fits the regular 3/8 "and 1/2" water valves under the kitchen sink. You can mount the sink water filter directly in the existing cold water valve under your sink. The one-piece solid filter with threaded fittings can bear the pressure 30% higher than the max.
Whole House Water Filtration System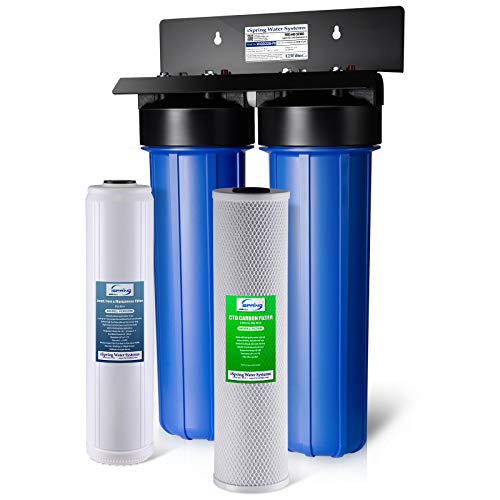 Secure your entire household appliance from lead with this whole house filtration system. The lead removal filter (FCRC25B) is specifically built to eliminate lead. This filter has a high lead capacity of 15,000 ppm, effectively reducing lead below 15 ppb (EPA drinking water standard).
The first stage CTO Carbon Block filter is made of high-quality coconut shell carbon. The filter is 100,000 gallons of water capable of providing a family of four with clean water for a full year.
This system is mounted at the main water supply line to handle all water in your house. Unlike a reverse osmosis system, this system will not minimize Total Dissolved Solids (TDS) and retain safe minerals in water instead.
Filtrete Under Sink Water Filtration System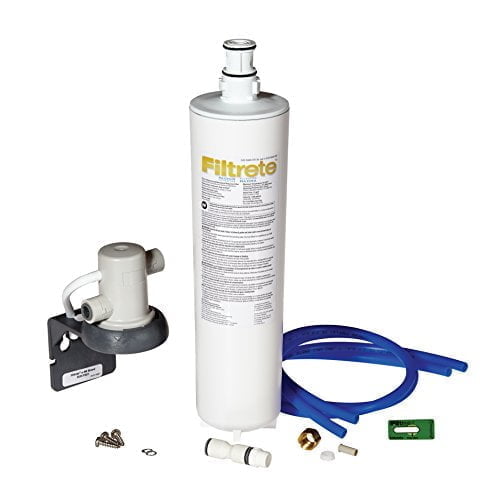 Reduces 99 percent lead, 99 percent microbial cysts, 97 percent chlorine, 0.5 microns of sand, sediment, rust, and soil. It's checked and approved by NSF. Installs within 30 minutes and provides 6-month filter life. The water flow rates are 1.5 gallons/minute.
Propur Countertop Water Filter System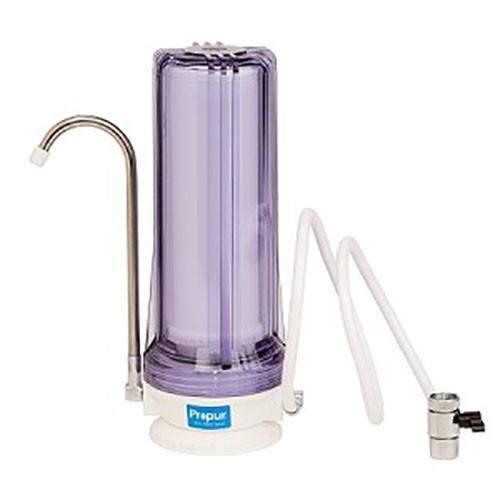 This countertop water filter system is portable, fits most faucet types, provides a flow rate of 0.2 gallons per minute, does not strip minerals. The filter lasts up to 1 year before replacement. It's made in US.
Shower Filter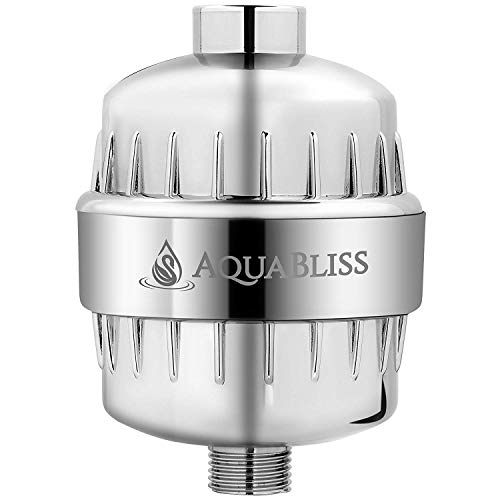 The system features multi-stage sediment filters to provide full water filtration and neutralize odors, balance pH levels, and infuse beneficial minerals. The replaceable filter is easy to remove and add. The water pressure gets low after a while so you might need to replace the filter more often.
Liked this article? Here's what you can read next:
---
Disclosure: As an Amazon Associate we earn from qualifying purchases.