Last updated on January 3, 2021
The best ottoman will give you just enough hidden storage and a lot of style. Here are the top 10 best storage ottomans for 2021.
In a hurry? You need this ottoman with legs (editor's choice.)
A small storage ottoman has saved my living room more than once across several households where I lived. I would say that an ottoman isn't complete if it doesn't have storage — its design begs for it (it's a box, after all.)
So what's the best storage ottoman? One that provides storage you need in the design style you want (quite a line for an ottoman commercial, isn't it?) We've made this list with the ideal unit in mind.
If you're not in a hurry, we encourage you to read the following list and check out the ottomans we have chosen to feature. They are all good. Only one is the best. But you can disagree (in fact, we encourage choice.)
Which one do you like the most?
Note that we have included shopping links in this article. That means we may get a commission for some purchases. It costs you nothing extra.
What's Inside?
Small Ottoman with Legs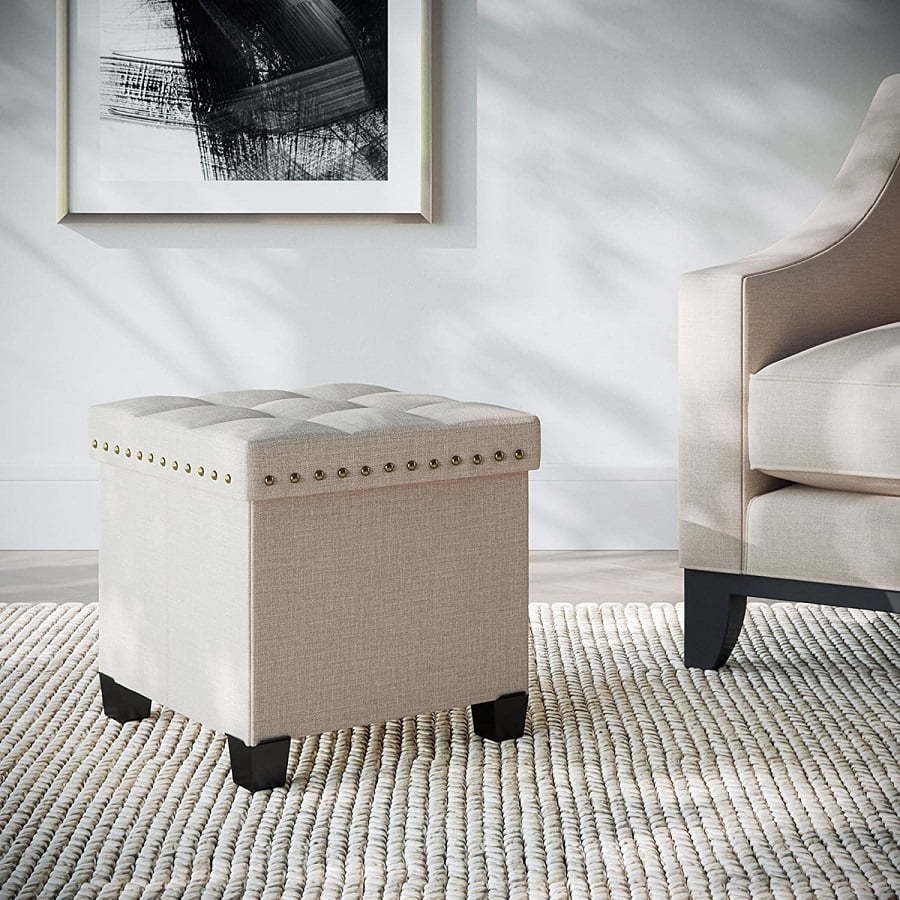 Here is a nice example of a neutral-toned storage ottoman that would blend with just about any color scheme. It offers a generous storage cubby that will securely hold your items in both safety and convenience. This ottoman is designed for use with the height of your favorite chair, couch, or love seat so that you can put your feet up at that oh-so-perfect angle that provides maximum relief and minimum stress on the joints.
Faux Leather Ottoman Trunk with Lid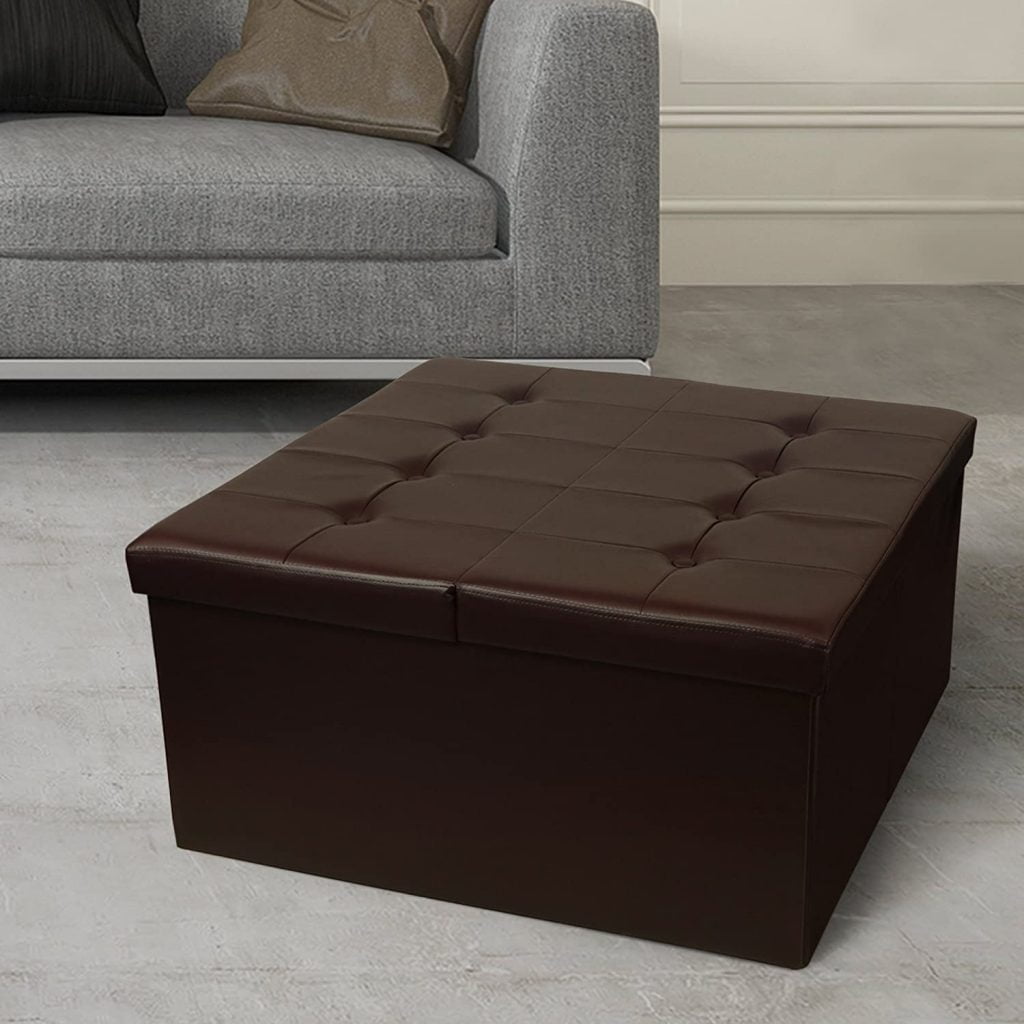 This lovely faux leather tufted ottoman has plenty of storage space. While it's a large ottoman (30-inch square), it has a double-folding lid that opens from both sides. That makes it so much easier to access the hidden storage.
The unit is easy to assemble, and it doesn't look cheap at all. There are no sharp corners, so it's great for a family with small children. It has a sturdy frame (engineered wood), but it's still light enough to move around easily.
Leather Ottoman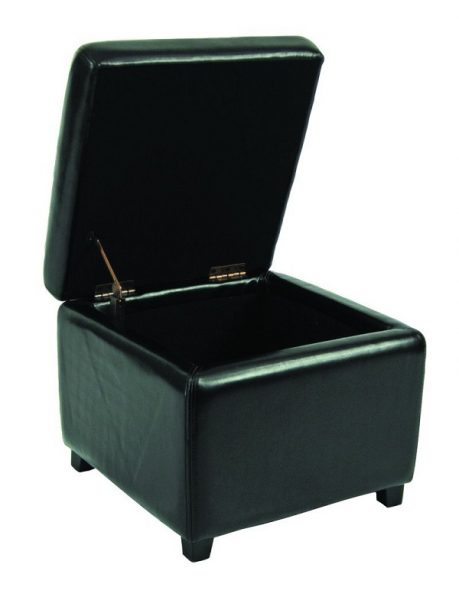 Here is a pert little leather ottoman that is boiled down to its essential ingredients and nothing else. Small enough that it can be handled easily and stored underneath many other furnishings when not in use, it still offers a generous storage compartment that makes it useful for more than just putting your feet up after a hard day on the job.
With five different colors available (black, brown, red, saddle, and white), you are certain to find the one that will mesh with your current room furnishings. Besides, its lack of extraneous decorative touches means that it will continue to blend even if you remodel everything to a different style.
Adeco Accents Rectangular Tufted Footstool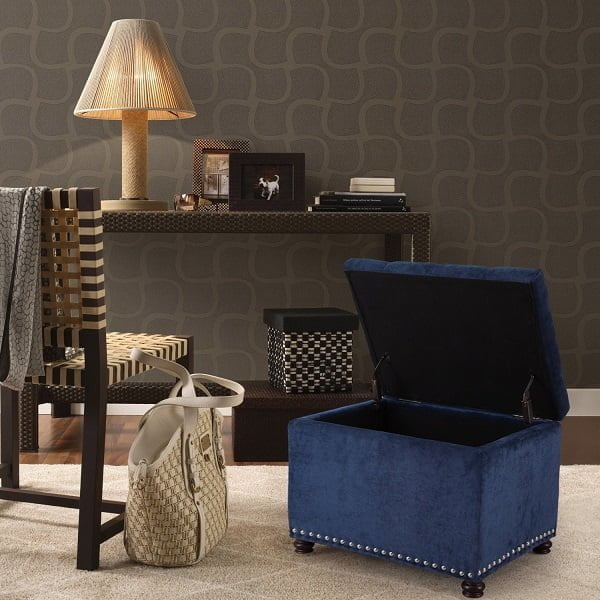 For those who are looking for something that has a little more personality in its own right, this rectangular tufted top storage ottoman is the perfect addition to your home's need for more comfort and extra storage.
Choose from a stunning royal blue or royal olive-gray fabric or an ottoman finished in durable, easy-to-care-for red PU-leather. All three feature a line of bright tack accents along the bottom of the piece, a sturdily-hinged storage compartment, and, of course, that extra comfortable and deeply padded top with the fabulous button tufting to give it that extra burst of panache.
Leather Tray Ottoman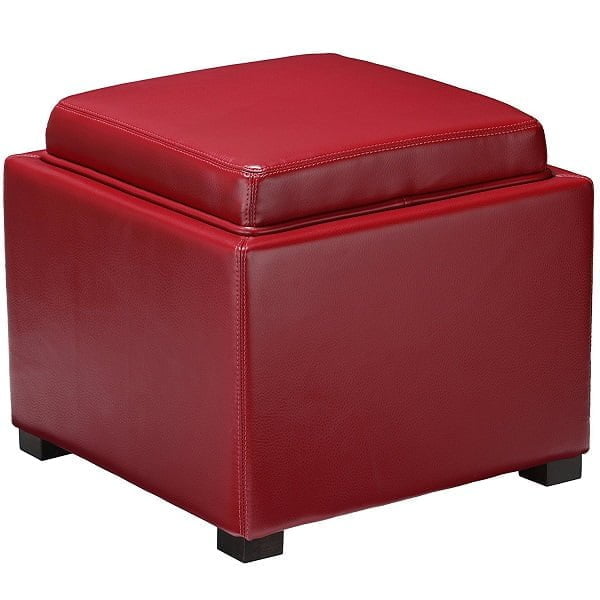 Shhh. This storage ottoman has a secret. Not only does it provide the functionality of an ottoman in combination with a nice dollop of extra storage space hidden inside, but it also offers an extra bonus. Flip the comfy padded top over and you have a surprise ottoman tray to hold drinks or food for your guests.
These ottomans also come in a quartet of fun colors — white, orange, red, or sea breeze — that will pep up any room they are placed in. Elegant bonded leather on a solid wood frame means that these ottomans are also built to last.
Rectangular Ottoman Bench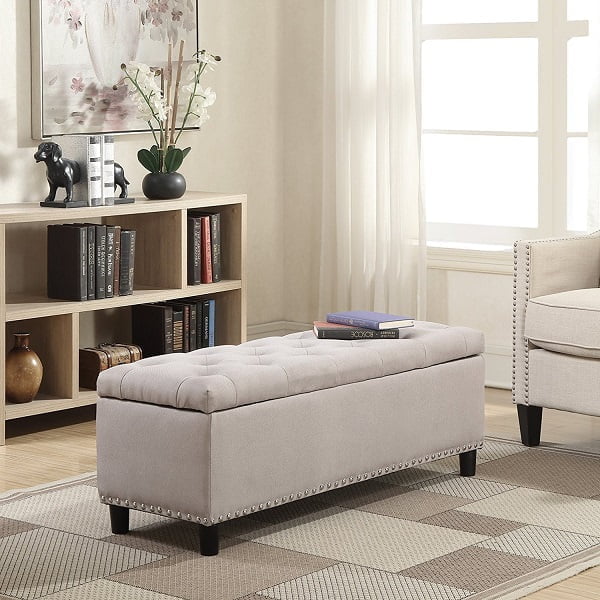 If you are looking for something that is, frankly, not square, you will love this fine quality coffee table sized rectangular ottoman bench. There is plenty of room for both of you to put your feet up in comfy togetherness, plus you get that big, deep storage cavity underneath it that will put all of your essential clutter in a place that is close at hand yet out of sight.
This tufted top ottoman comes in natural and gray fabric, or else you can get it in easy-to-care-for brown leatherette as well. As an extra seat in the room, as an extra closet, or as a footrest, this ottoman can do it all.
Lift-top Ottoman Bench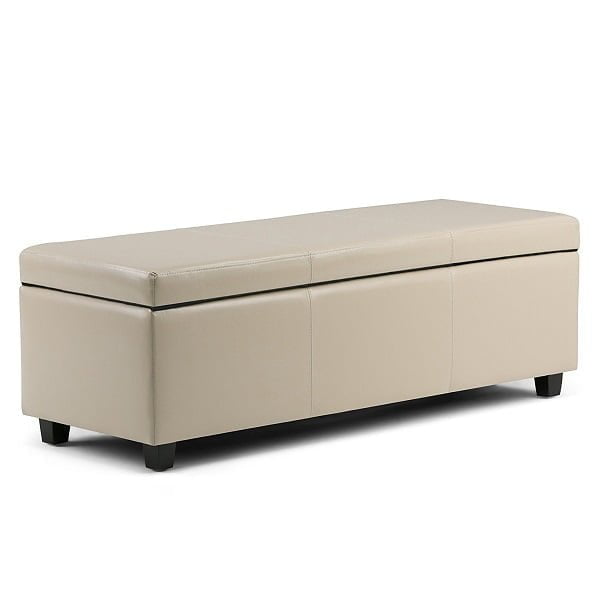 So, if you're searching for a large size storage ottoman but aren't quite sure what color would go best with your furniture, you are in luck with this fashionably understated item. It comes in seven different colors. You may choose from black, blue, brown, cream, or red faux leather or, if you prefer a fabric ottoman, it also is available in fawn brown and slate grey.
Regardless of which color or covering you are partial to, every variant of this ottoman offers the same generous storage capacity, timeless design, and durable construction that will keep going strong for many years to come.
Rustic Wood Ottoman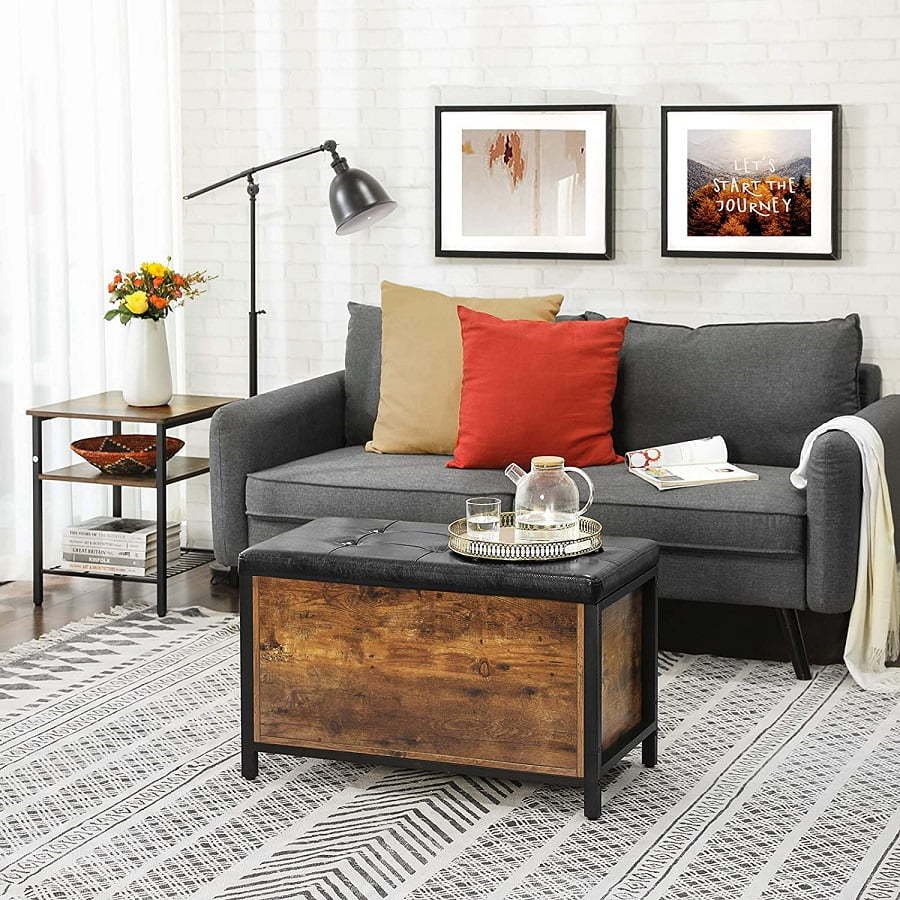 Perhaps you have your own idea as to what constitutes the perfect frame for your new storage ottoman. If that is the case, this ottoman is built on the framework of a delightful and original wooden frame to serve as a smart storage solution and a unique conversation piece. It comes with a top covered in well-padded faux leather.
Use this chest to store pillows and blankets next to your sofa. It looks so good, and it is effortless to put together (in about 20 minutes.) It comes with all the equipment and hardware required and a few extras if you drop a screw. It is sturdy. However, it's rated for 200 lbs so don't let big people sit on the ottoman.
Colorful Ottoman Bench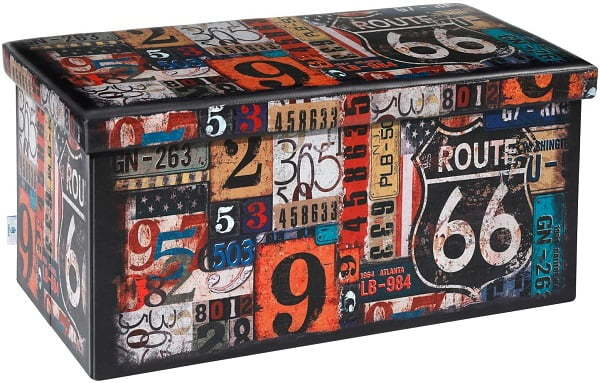 Ready for something cute and whimsical? This adorable ottoman bench has a sturdy wooden frame, and its generously-padded faux leather covered top. It is a unique looking item.
Use it as a coffee table and footrest, put blankets in it, and use it for sitting a few times too! You wouldn't think it would be stable enough to sit on, but it is. You can easily place it in the closet if you're not interested in it when you have guests over.
This creation shows how the sedate functionality of a timeless favorite can be updated into something that is not just for your parents' living room but instead fits your own quirky personality and lifestyle.
Oversize Padded Ottoman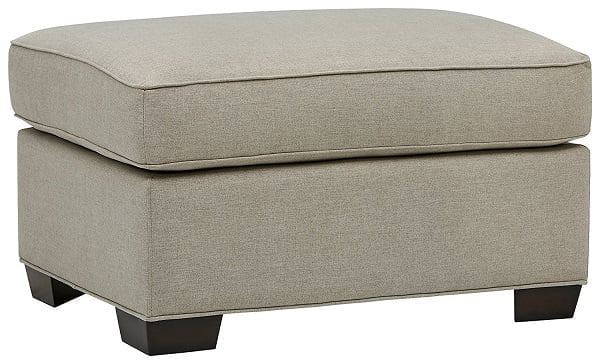 Go for this one if you want a huge multifunctional ottoman in a classic casual style. The piece is wide enough to serve as a snack tray or as a coffee table. There is large storage space as well, however, the piece is craftily designed so that the lid and the storage division are not as visible as in most other ottomans — something the buyers will surely appreciate.
What is more, the nylon/polyester performance fabric is amazingly resilient and cleans very well. Even if you accidentally spill some liquid over it, you can simply use a soft cloth to wipe the liquid off and no stain will be left behind.
FAQ
What should I put in my storage ottoman?
What you put in your ottoman depends on the room where it is located. It also depends on the size. In the living room, you can keep magazines, books, blankets, even pillows. In the bedroom, you can keep extra bedding or your clothes. Meanwhile, in the entryway, it can store shoes, raincoats, tote bags, and so on.
How do I organize my ottoman?
To organize a storage ottoman, you can use the same ideas as organizing a deep drawer or a shelf. That means you can use dividers and even containers and baskets to organize a larger ottoman.

How much weight can an ottoman hold?
How much weight an ottoman can hold depends on its frame. Usually, this is indicated in the description. However, if you fill a storage ottoman fully with things like books that can provide additional support, it can hold a lot more weight. Still, it's not recommended to be used as regular seating.
Liked this article? Here's what you can read next:
---
Disclosure: As an Amazon Associate we earn from qualifying purchases.