Last updated on July 27, 2020
For your standing workspace to be complete you need a mat to your standing desk. Here's our round-up of the best and top-rated standing desk mat choices. Read on!
► Our top choice: Topo Mat
If you've used the best standing desk converter from our previous list, you will want to get a good standing desk mat for it. You know why you need it. It's like getting the best hiking shoes for a long walk – it makes all the difference. Standing on bare floor just won't cut it.
What to look for in a mat and what to choose from? This is where we aim to help. Rounded up from top-rated products, this is a list to cut your search short.
Here are some things that you need to check:
Is it easy to clean? You will use it a lot. It will need to be cleaned.
The longevity of the product so you can use it for years to come. It's worth the investment.
Floor friendliness as some mats might damage your floors which is not a good investment.
The size is also important – will it fit your workspace?
And of course, the design style because you want it to look good.
But wait just a minute, there are some caveats:
It slips! You bought a mat for safety and health reasons so you must make sure it won't give you injuries as you move around.
The thickness of the fabric might be a problem too because it might not be comfortable if it's too thin (or too thick.)
The price needs to be double-checked because there are some affordable mats that provide the same features as their expensive counterparts. You don't want to overpay.
To be transparent, let it be known that if you purchase anything from our links tagged #ad we might get a commission.
Ready? Which one of the following mats feels like you want to stand on it all day?
What's Inside?
Anti Fatigue Mat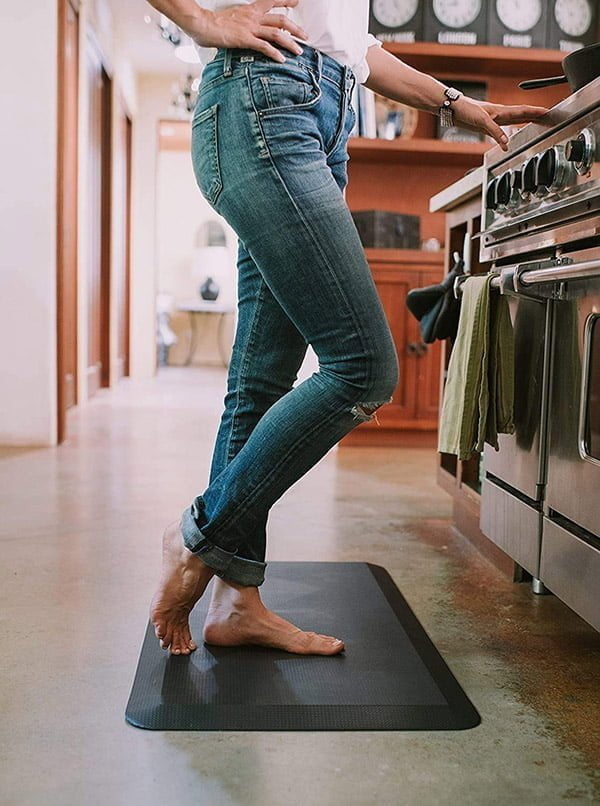 This anti fatigue mat is best for busy workers. It's main purpose is to reduce stress and pain as you use it while remaining comfortable. It also prevents slipping to avoid accidents and cleaning is a breeze. It's not recommended for long term use though and has a smell that might be not good for some users.
Pros: Comfortable; safe to use; stain resistant, waterproof; anti fatigue.
Cons: Not long lasting; expensive; toxic smell.
Strata Mat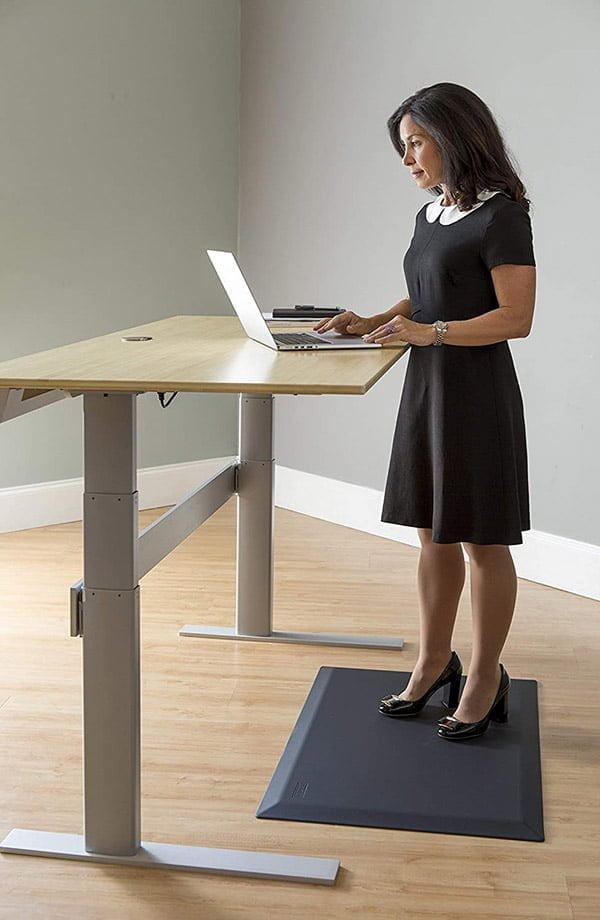 A big anti-fatigue mat that can even accommodate two people? Yes, you got it right as that is what this unit can do. It has plenty of room to move, doesn't get scratches easily and can last a really long time. It might be just too rough for some because it is thick and can even trip you easily if you're not careful.
Pros: Anti fatigue; big; durable; easy to clean; long lasting.
Cons: Not firm; can trip easily; not soft.
Comfort Mat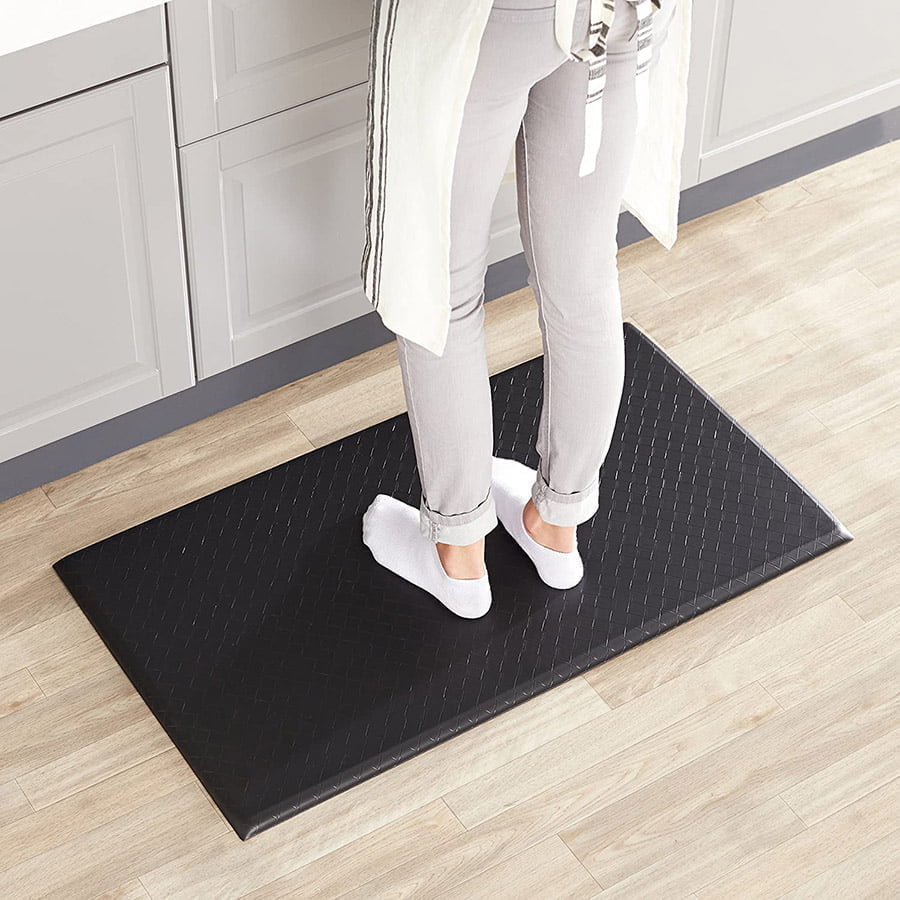 This comfortable mat lives up to its name as it can provide great comfort upon using. It is floor friendly as it doesn't scratch or damage even hardwood floors. It does have an odor upon opening so you might want to air it out for a bit and it doesn't stick to the floor that much.
Pros: Anti-fatigue; scrape and stain-resistant; easy cleaning; beautiful looking; floor-friendly.
Cons: Has chemical odor; tripping hazard, not durable; moves around.
Topo Mat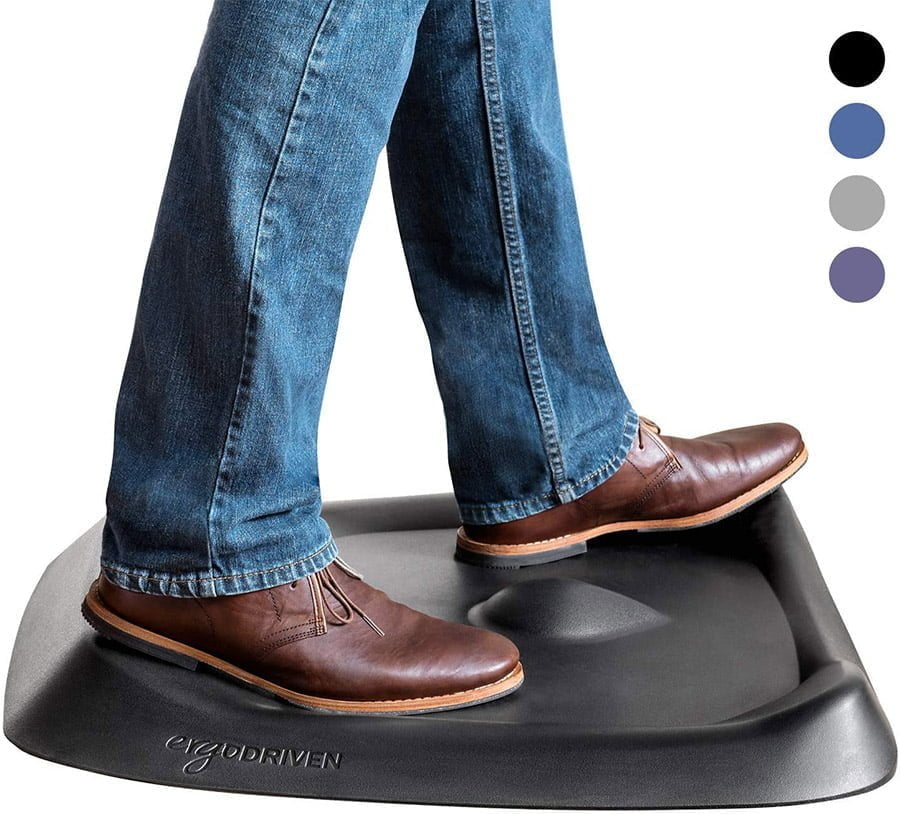 Topo Mat is our editor's pick as the best standing desk mat. This is a high-quality mat with raving reviews. It's not cheap but isn't that expensive either (well worth the investment). Its most important feature is the design that allows you to stand in several different positions (you can find the most comfortable one for you.)
If we had to mention the negatives, yes, it isn't cheap and it might not be that soft for everyone's liking, but the benefits far outweigh the drawbacks. It is for long term use, provides comfort in any kind of standing position, the mat is easy to drag, and the more you move, the more your stress goes away.
Pros: Best anti-fatigue mat; improved movements; easy to reposition; value for money; multiple options when standing.
Cons: Expensive; might be too hard; might be too big.
Standing Pad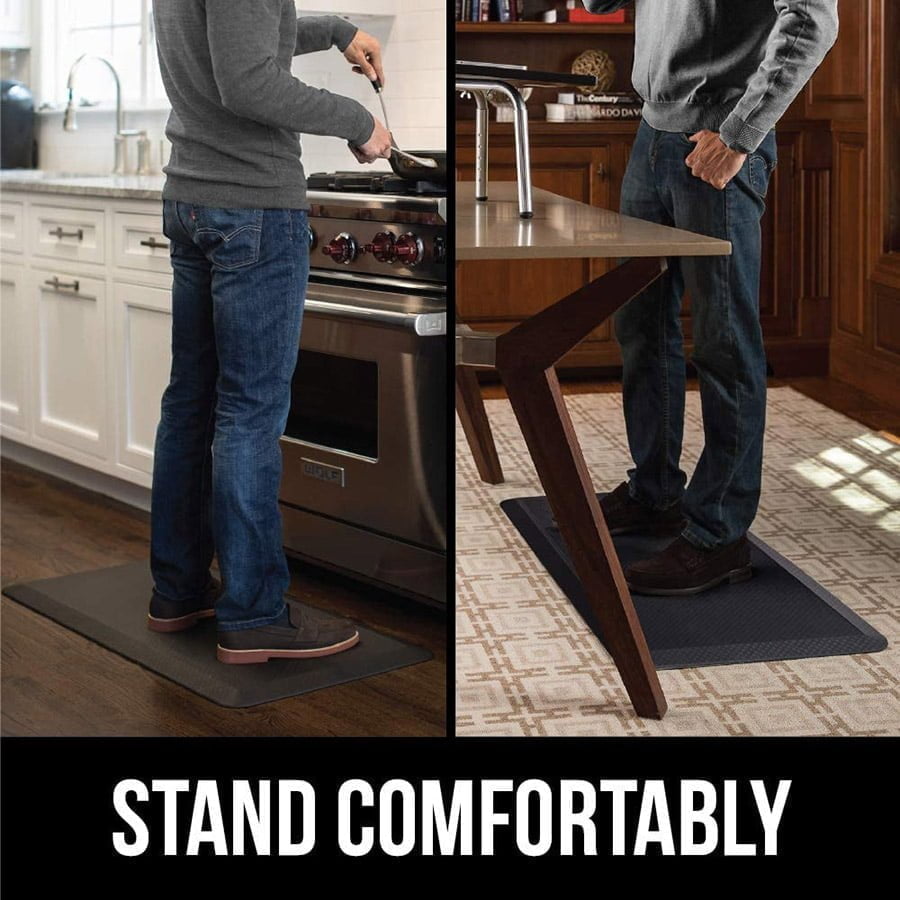 If you're looking for a mat that improves overall health upon using, then this product will do the job. It focuses on the user's health, it's safe for everyone as it's non-toxic and won't damage any type of floors. It might not last long if not given the utmost care.
Pros: Soft; stain-resistant; non-toxic; easy to clean; improves overall health; floor safe.
Cons: Easy to trip; not firm on the floor; pricey; not that long lasting.
Gel Floor Mats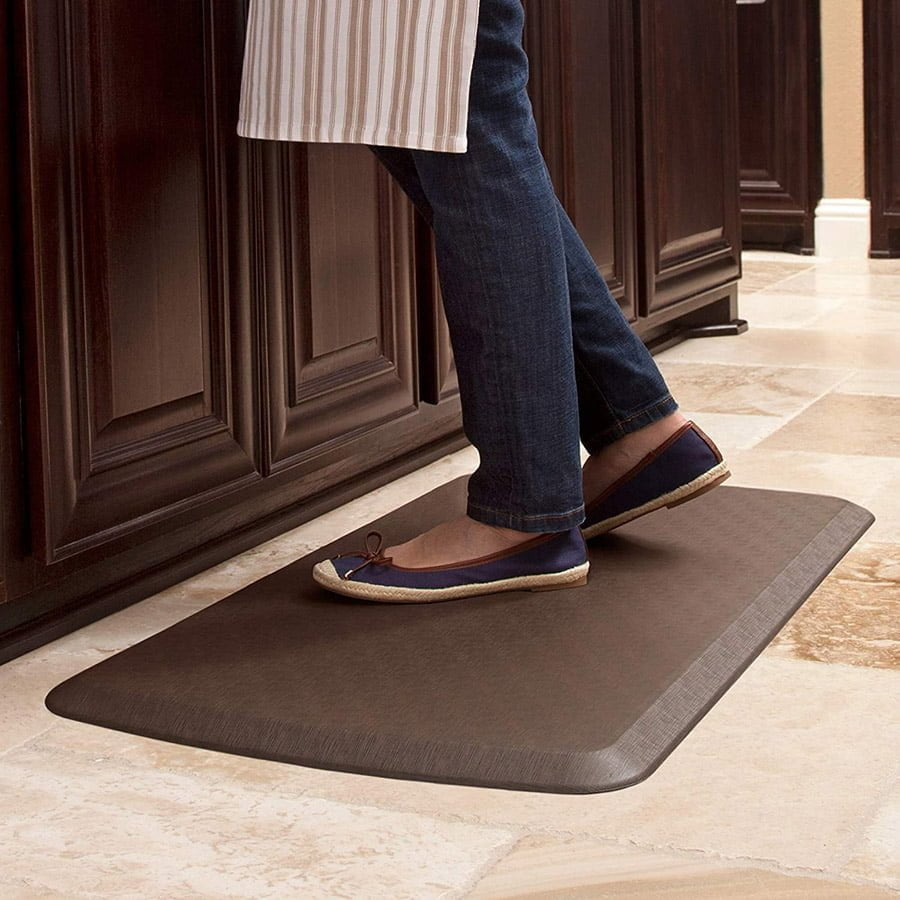 This mat is made of soothing gel plus energy return foam to exponentially reduce stress, fatigue and discomfort. It also absorbs impact so it's safe on floors plus cleaning is a breeze. It is a bit pricey though and some might find it uncomfortable to use.
Pros: Therapeutic gel; absorbs impact; easy to clean; waterproof; non-skid; trip protection.
Cons: Not that long lasting; expensive; not that comfortable.
Gorilla Grip Mat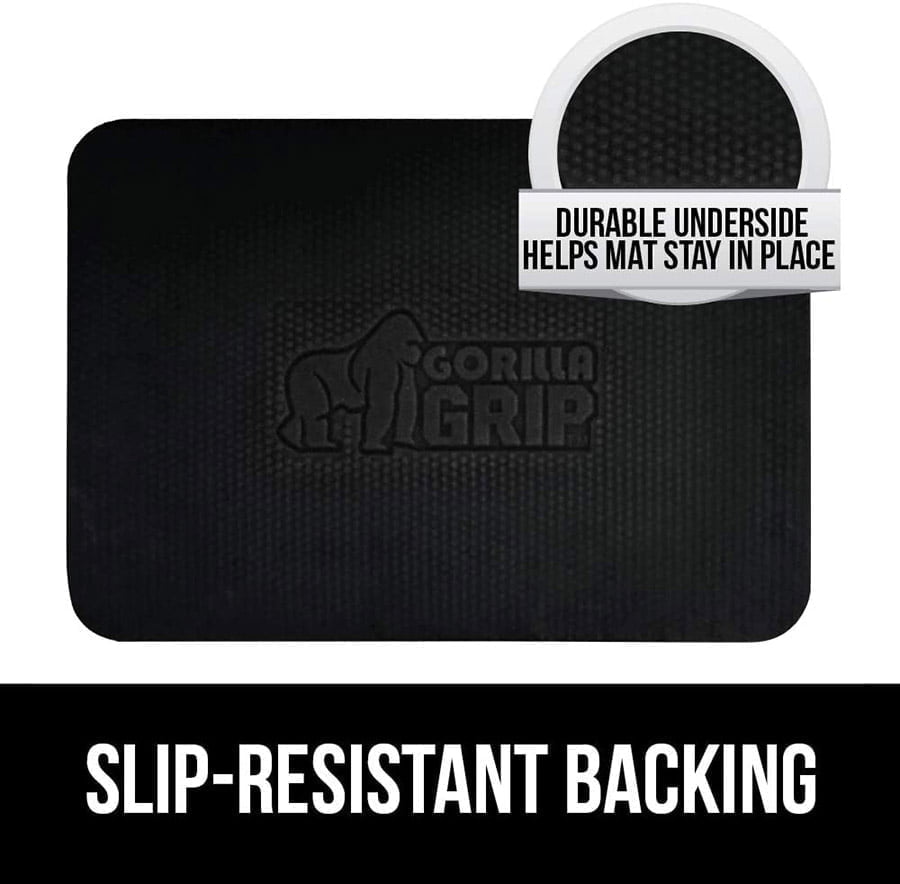 It's really a long-lasting mat because of its toughness and superior support it provides to the user. However, this mat isn't as good to use in wet workplaces because it tends to easily move.
Pros: Really durable; superior support; eliminates pressure; stain resistant; long lasting.
Cons: Not firm in wet work places; strong chemical smell; not that comfortable to use.
Terramat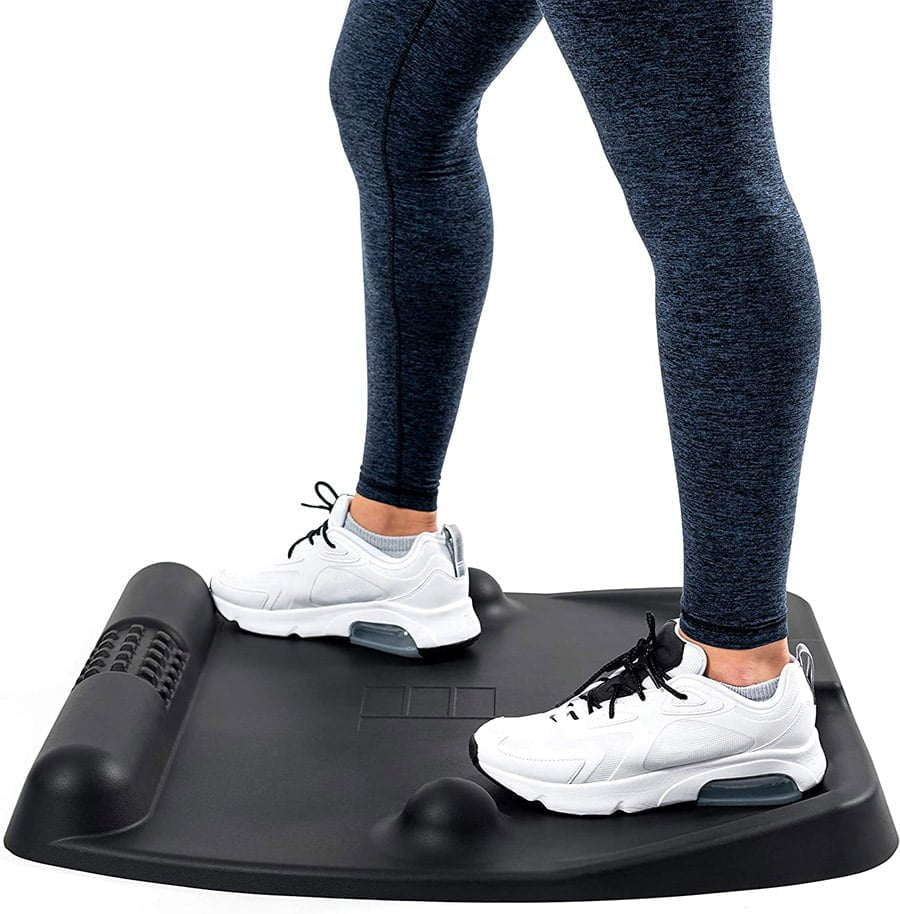 This mat is intended for longer standing hours as it is designed to provide plenty of standing positions that can relax or exercise the feet, legs and body. It can even massage the feet due to its unique design. It is quite expensive though given that it's not made of high quality materials.
Pros: Unique design; plenty of positions to do; burns calories; massaging; easy repositioning.
Cons: Weak grip; expensive; low quality materials.
Work Mat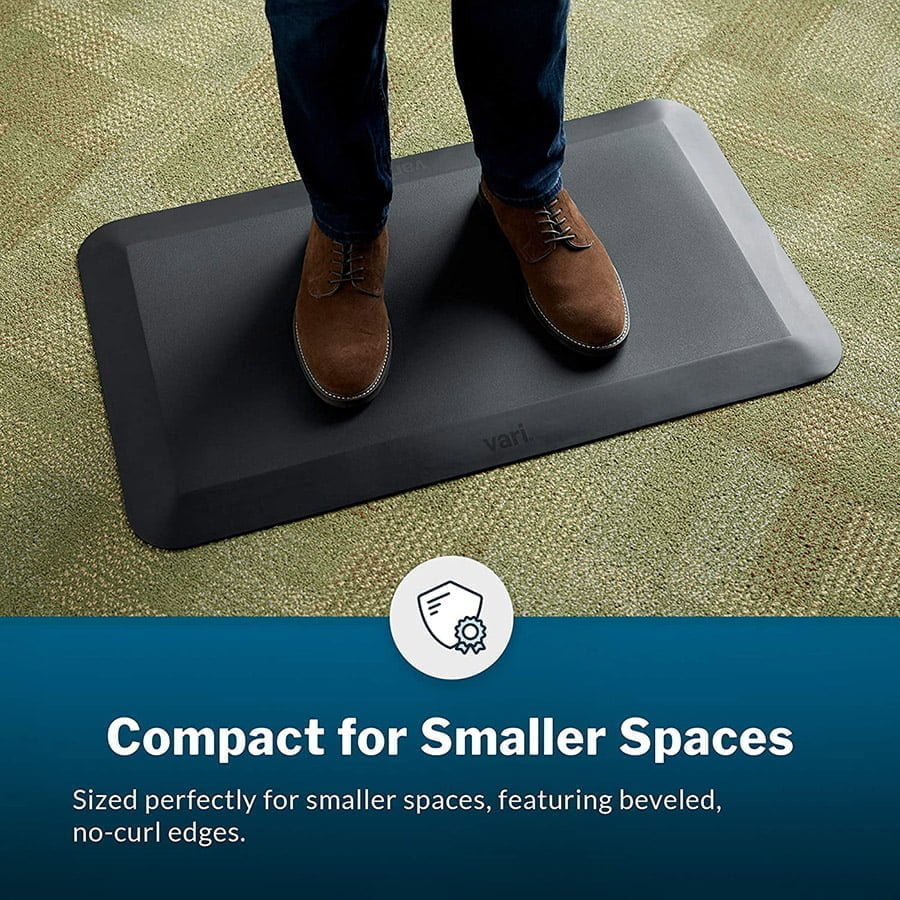 This might be a bit pricey but it is non toxic and the mat is easy to move to different places. It fits almost any type of space because of its size. Some people might find it not that soft and the fabric is thin.
Pros: Sturdy; cushion support; easy to clean; fits to most places; no chemical smell; easy to move.
Cons: Not soft; too thin; expensive.
Ergo Mat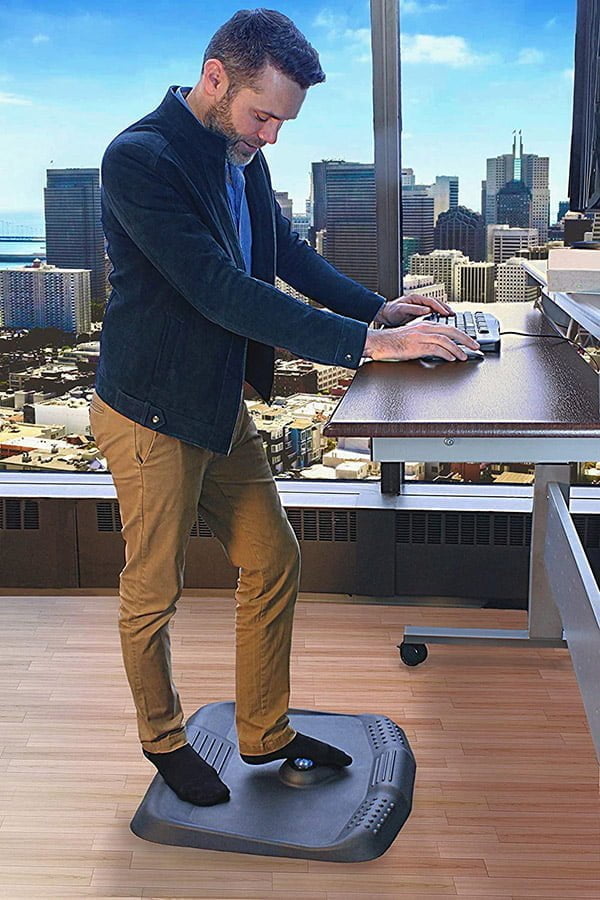 With one of a kind design, this anti-fatigue mat reduces pain and stress and improves your focus at the same time. It is easy to clean and can support up to 200 lbs. It does make noise when moving around so it might irritate some.
Pros: Supportive; reduces pain and improves focus; lets you stretch; easy to clean.
Cons: Slippery; noisy; hard.
Liked this article? Here's what you can read next:
---
Disclosure: As an Amazon Associate we earn from qualifying purchases.