Last updated on August 13, 2020
Looking for the best rated solar rope lights or string lights to decorate your outside (or inside) space? These are the top options in 2020.
Solar rope lights make lighting easy. They are energy efficient (they don't need electricity at all) and they are very low-maintenance. Most of the best options are easy to install and very flexible in their use. You can choose from different lighting colors and patterns. And you can use them inside or outside (depending on the model).
There are many options available for solar rope and string lights, and it may be difficult to choose. You have to consider many different aspects. That's why we've made it easier for you by examining many options available on the market. We've made sure these are only the best options available in 2020.
What's Inside?
Aluvee Solar Rope Lights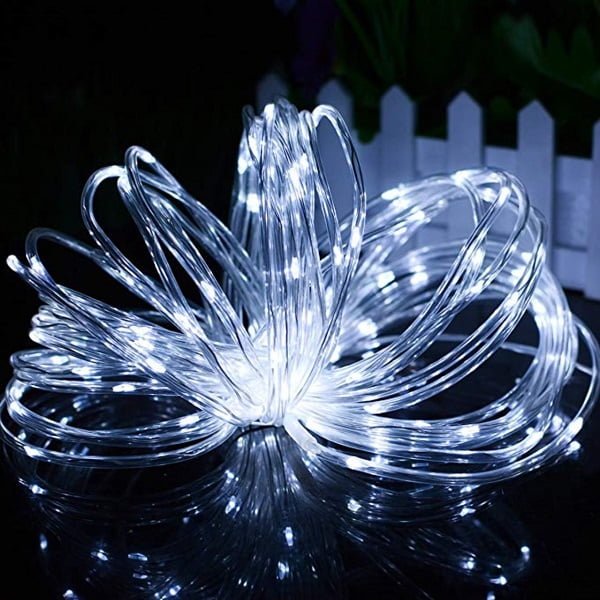 These are functional and waterproof solar rope lights that you can easily mold into any shape you like. Thus, you can use them for any purpose and occasion. You can hang them for ambient night lighting or party and holiday decorations. Because they're versatile and waterproof, you can set them up on trees or the roof; the weather is not a threat.
The 39 feet and 100 LED Aluvee solar rope lights are entirely powered by a solar rechargeable battery that lasts all night and more. The lights turn on automatically at dawn and turn off at dusk which makes them very efficient. There are eight lighting patterns too, so these rope lights are anything but boring.
Why it's our pick? These affordable solar rope lights are very functional, versatile and durable. You'll be able to use them for any occasion, from late night BBQs to Christmas decoration, and you will never get bored.
Dimmable Blue Solar Rope Lights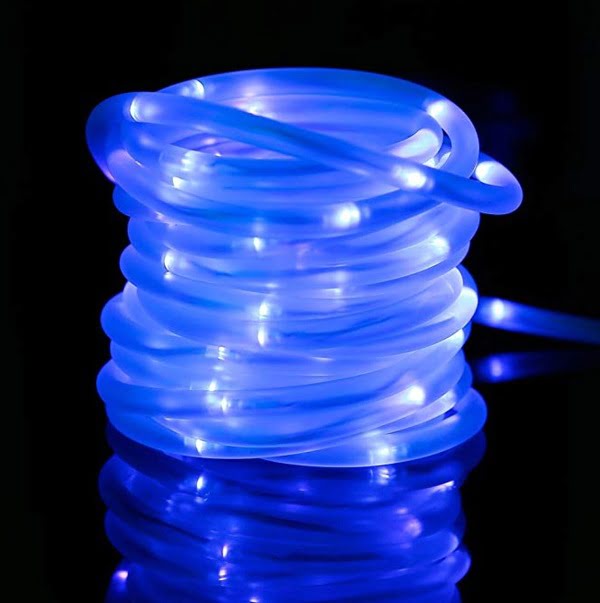 If you want to light up something in your garden or backyard (such as a pool), these blue solar rope lights will do the trick. They are waterproof, weather resistant, and fully powered by a rechargeable battery with a solar panel. The lights are dimmable, and they have eight pattern modes as well.
Why it's our pick? It's a solid solar power light option to light up your outdoors in mood lighting at night.
Purple Copper Tube Wire Solar Rope Lights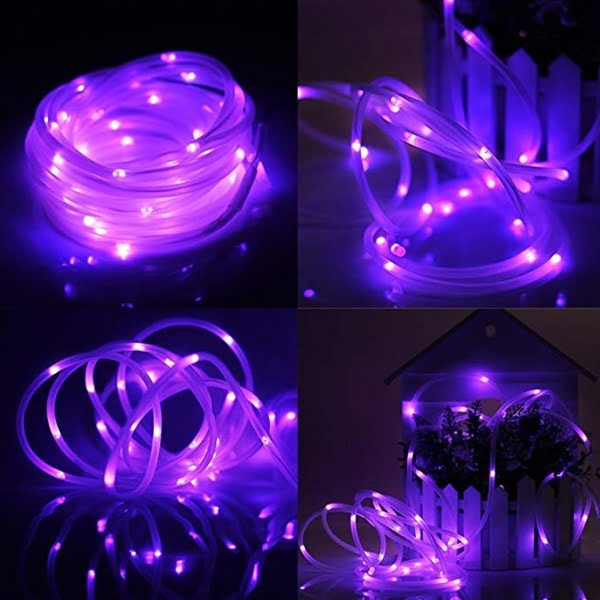 Looking for purple lighting to decorate your home (outside or inside). Purple is difficult to get as a lighting color, but these solar rope lights get the effect. And while they are not that bright, they're enough to light up an object to be seen at night (such as stairs).
As other solar lights, these are solar powered as well. You can leave them outside all day, and they will light up at night. There are two lighting modes – steady and flashing.
Why it's our choice? Get these flexible copper tube solar rope lights for the purple light effect.
Multi-Color Solar Rope Lights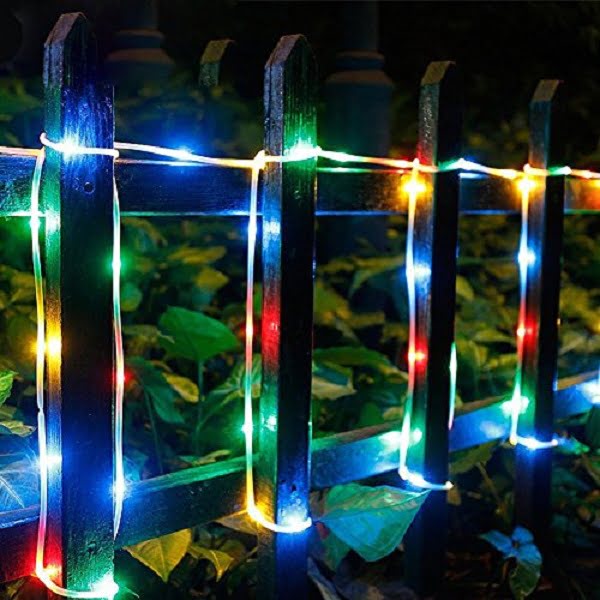 Want solar rope lights that will set apart? These multi-color (RGB) lights will make great decorations. They will light up your backyard with a dim light just enough to be seen but without bothering anyone. The lights are operated automatically and turn on and off with daylight.
Why it's our pick? You'll decorate your house or backyard for any occasion in a festive mood with these multi-color solar rope lights.
Bright Solar Strip Lights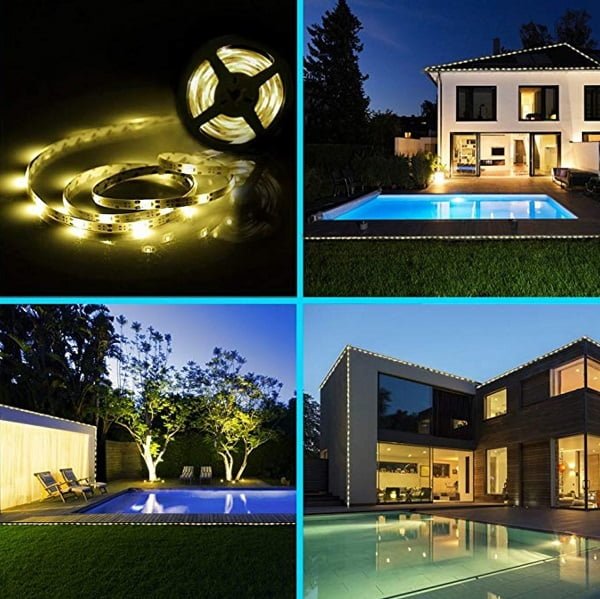 These adhesive solar strip lights make it easy to install ambient lighting just about anywhere, outside or inside. You can add lighting in places you've never thought possible before. The LED lights are also very bright making them an ideal lighting option.
Why it's our choice? If you need strip lights to add it to any surface easily, choose these solar strip lights.
Oak Leaf Solar Rope Lights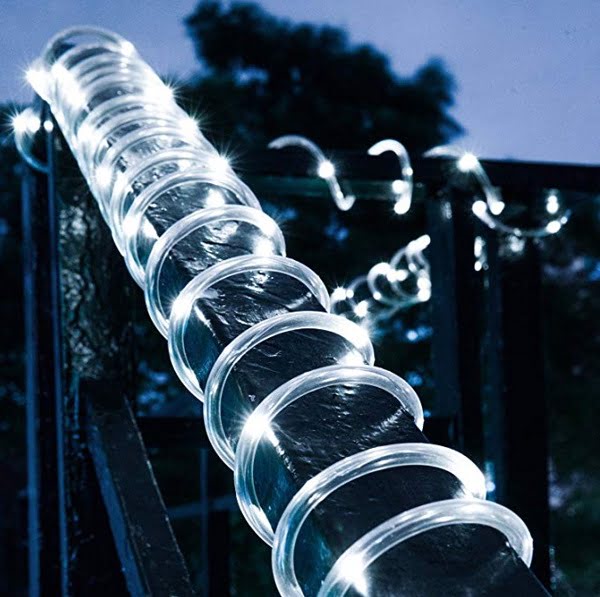 Oak Leaf solar rope lights are one of the best options. These are functional and flexible rope lights coming in bendable PVC tube. The 41 ft rope is extra long, suitable for small to mid-sized backyards. It's an elegant option for some ambient lighting or decorations.
Why it's our choice? Oak Leaf is a trusted brand for great solar rope lights, and they deliver.
Copper Wire String Rope Lights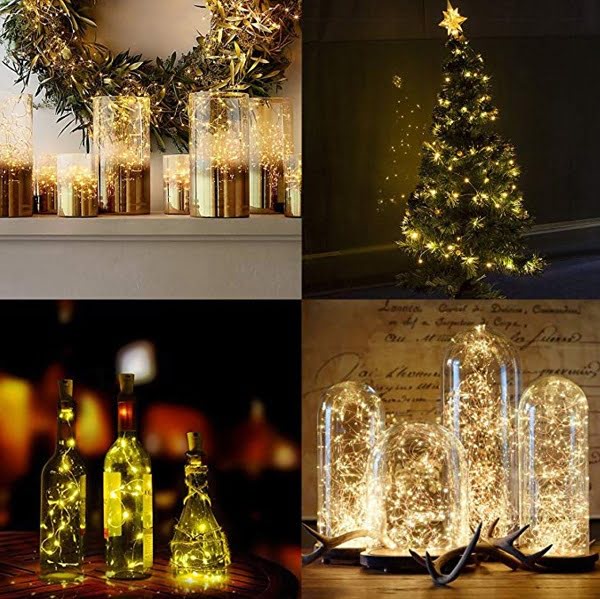 These copper wire solar string lights with miniature LEDs are flexible enough to be used outside as well as inside. You can hardly argue the decorative value of these lights. The thin wire allows you to mold it into high detail shapes and hang it anywhere.
If you're looking to decorate your home for any occasion, you'll find these strings useful. You can use them in every room of the house. And you can just as well use them outside, to decorate your porch, backyard or trees.
Why it's our pick? These are very flexible and reliable string rope lights to light up anything you might want.
Solar Powered Flower LED String Lights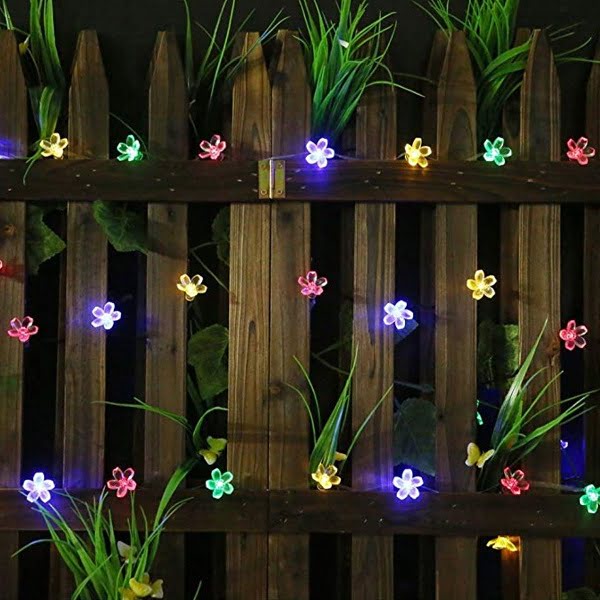 This is an excellent option if you're looking for more decorative value than simple rope or string lights can give. These multi-color flower bulbs will make your backyard a spectacle at night. And as all solar powered lights, they are hassle-free. These string lights are very durable, and they can last all night after a day's solar charge.
Why it's our pick? It's a great option for accent lighting in your backyard. The slower bulbs will make a great conversation piece.
Light Bulb Solar String Lights
Want to decorate with string lights in rustic style? These string light bulbs will do the trick. You'll benefit from the solar-powered lights, and at the same time, you'll enjoy the rustic look of the bulbs. It's an excellent option for anyone looking for a stylish solution.
Why it's our choice? These are unique rustic solar string lights with a lot of decor value.
Honey Bee Solar String Lights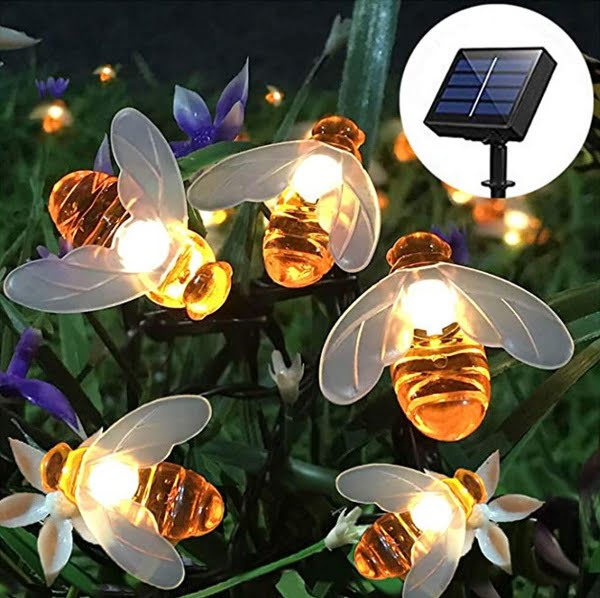 These solar string lights are another creative option for your garden lighting. You can decorate your space with them without having to worry about the installation. They're fully powered by the solar rechargeable battery and are pretty much set and forget.
Why it's our pick? These are lovely high quality solar string lights and a great decor option.
Liked this article? Here's what you can read next:
---
Disclosure: As an Amazon Associate we earn from qualifying purchases.