Last updated on March 1, 2021
Forget the light switch and control the lights of your home with your voice. These are the best smart lights for Google Home.
"Hey Google, but which one is the best of them all?" We choose this Smart Wifi Light Bulb.
"Hey Google, make the bedroom light blue." That's just one of the voice commands you can use to get the lighting you want in any room where a smart light bulb is installed. Granted, you don't even need a voice assistant to control smart lights; your smartphone with an app is all you need.
Most smart LED bulbs support a wi-fi connection, and that means they can be controlled with any smart device. So they don't just support Google Home, but Alexa Echo, or Microsoft Cortana, too (we heard Siri has something to say about it too.)
What about the installation? Do you need a special socket or wiring to add smart LED lights? No, you don't. smart bulbs are just like regular bulbs with the same base type. They have the smart controller built-in and you don't need anything else for them to function (other than your phone or assistant hub.)
What's so great about smart LEDs is that you have full control of lighting with them. That includes the color, temperature, and brightness. You will find them in any bulb type, including LED strips and even string lights (your next Holiday season will not be the same.)
Find the top picks and shopping links below (we earn a commission at no expense to you.)
What's Inside?
Smart Wifi Light Bulb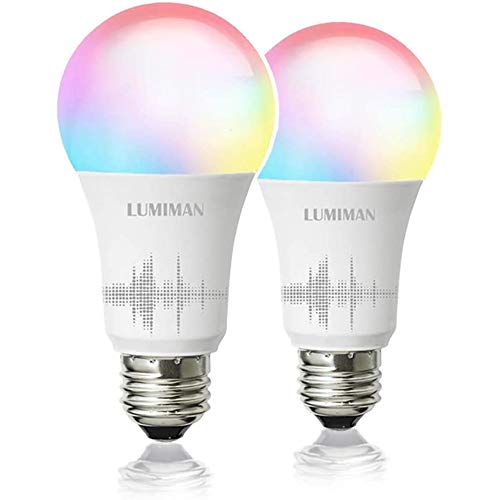 This is our editor's choice.
The color temperature of this smart bulb is 6500K. The smart bulb supports the control via wi-fi connectivity. The bulb features voice control, so you can say, "Alexa, set the bedroom to purple." With the free PlusMinus App on your smartphone or tablet, you can turn on/off the smart light bulbs whether you are at home or away. Though it supports assistants, there is no hub needed for it to work.
Quick facts:
7.5 watts.
Type A19 E26 bulb.
6500K color temperature.
Color control.
Support for Alexa Echo and Google Home.
Smart Color Changing Light Bulb for Google Home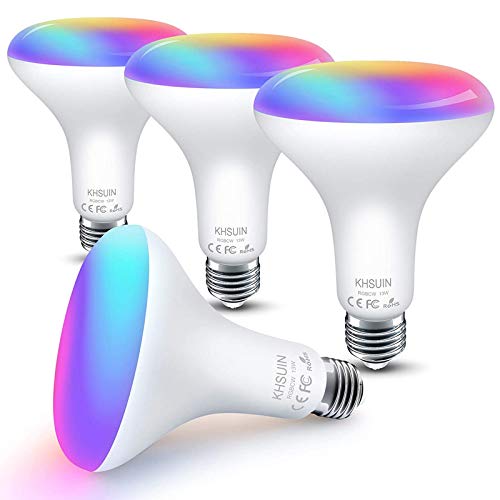 The color temperature is warm white or cold white, and it supports 16 million colors. You can control these smart light bulbs using any 2.4G Wi-Fi network-enabled voice assistant device. You can also control these smart light bulbs remotely through your smartphone application whenever you want to.
Quick facts:
13 watts.
Type BR30 LED bulb.
Color and temperature control.
Alexa Echo and Google Home support via wi-fi.
Ohlux Smart Wifi LED Light Bulbs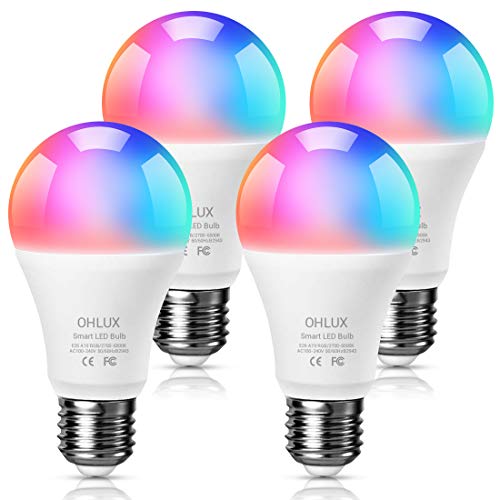 These LED light bulbs bring convenience and cost savings to your home with their voice control, easy installation, and ability to turn on or off remotely from anywhere. They support color-changing capabilities, features a dusk-to-dawn mechanism for timers and lighting schedules, are versatile enough for use in living room lamps or bedroom lamps. The LEDs also offer calendar reminders for future events each time it turns 8:00 pm. With the easy control setup.
Quick facts:
Type E26 A19 LED bulb.
7W and 600lm.
6500K color temperature.
Supports Alexa Echo and Google Home.
Dimmable.
Ohlux Smart Ceiling Light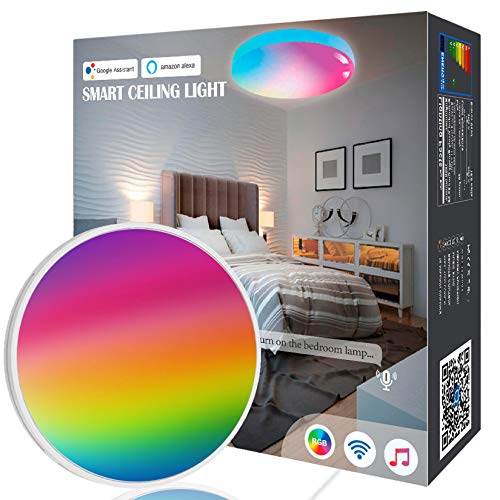 This smart light bulb's color temperature is cool white. You can do voice control with Alexa and Google Home. No hub or bridge is required. You can reach its remote with your smartphone remotely. It supports Wi-Fi 2.4Ghz band and has a color-changing capability of 16 million colors. The smart light bulb in RGB color supports timer, group control, and color temperature control to set the mood.
Quick facts:
18W 12-inch ceiling light.
App and remote control.
Voice assistant support.
Nitebird Smart Light Bulb
NiteBird contains a cool visible light with a 905 lumens. Voice control, meaning you can use your voice to activate your smart led bulbs via Alexa and Google Assistant. No wi-fi support for now. No color changing capability at this time- only a warm white light that gradually dims when it reaches 1%.
Quick facts:
2700K color temperature (warm white).
800lm and 8W.
A19 E26 bult type.
Supports wi-fi and voice assistants.
Dogain Smart Light Bulbs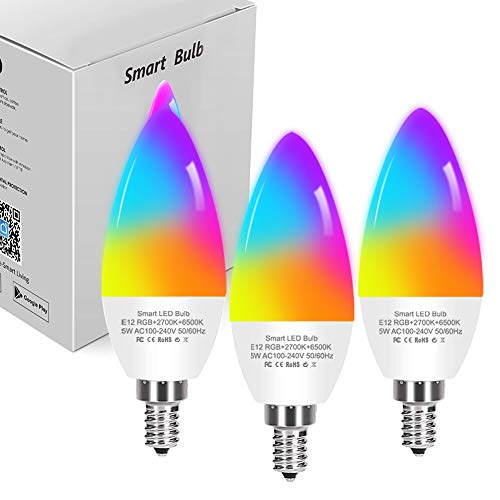 Color temperature for the bulb is available in cool white and warm white. Its RGBCW helps improve your mood and feels of the room with 16 million colors. It supports voice control, so you can give a command to turn on/off or dim/brighten the light via your voice or through the smartphone app remotely.
Quick facts:
5W, 320lm.
E12 Base.
Assistant support for voice control.
Control via phone app.
Cozylady Smart LED Strip Lights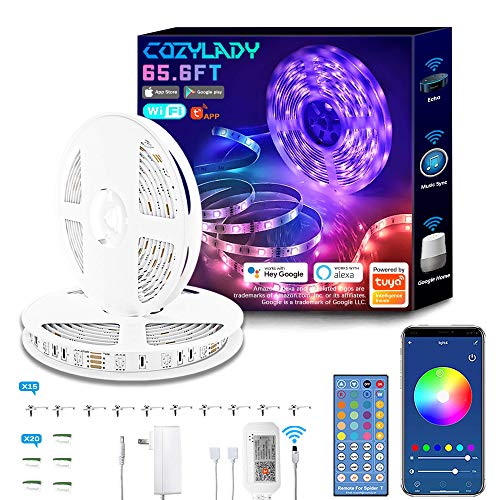 The color temperature is 5500k. Voice control can only be done with the Philips Hue app and WiFi needs an internet connection which is provided by a router if in a home. When connected to the Philips Hue app, lights can be controlled from within five hundred kilometers. Lights can also change color with 12 million light colors.
Quick facts:
65.6 feet LED strip.
360 bulbs.
Full wi-fi control support (including assistants.)
Geeni Prisma Plus Wi-fi LED Smart Light Bulb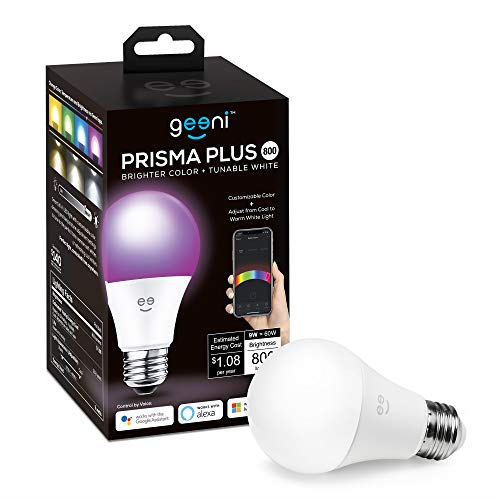 The light bulb comes in three different color temperatures, warm soft whites, fair cool white, and pure daylight. There is voice control available with the Ge have app. The smart lights have support for Wi-fi networks and can be controlled without the need for a hub or gateway. There are more than 10 million colors to choose from which operates just like your everyday light switch.
Depending on the time of the day, a person can change the light from more reddish tones to bluer. The voice control option allows you to say commands into the speaker like "Alexa, turn on all lights." The wi-fi support allows you to connect by downloading an app from a device and pairing it with the RGB smart lightbulb. Lastly, the color-changing capability can be controlled through the app and will respond with different colors at your command.
Quick facts:
2700K color temperature.
8W 800lm.
A19 bulb type.
Supports Alexa, Google, Cortana.
LED Indoor Smart String Lights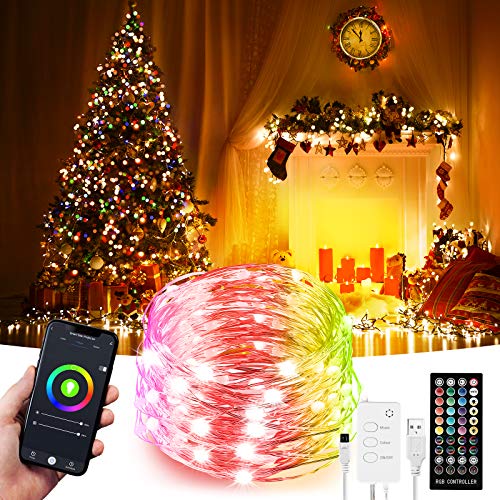 How about fairy lights with voice control? this allows you to set any color for these string lights with your phone (via wi-fi) or control them with your voice via Alexa or Google Home hub. The string is 32.8 feet long and bends easily. It's for indoor use only.
Quick facts:
32.8 feet string lights.
Full color control via wi-fi.
Control via app or voice assistant.
Smart Table Lamp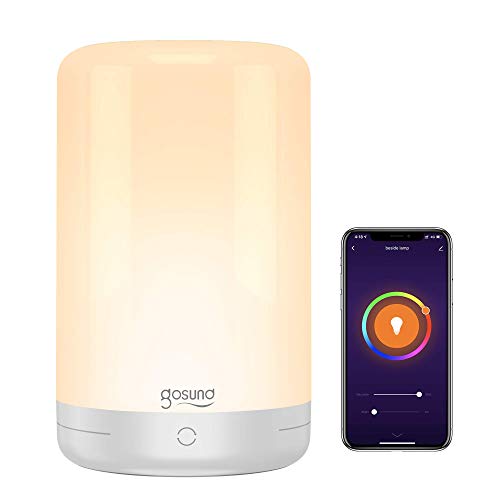 A smart bedside lamp is compatible with Amazon Alexa and Google Home. You can control light switch, brightness adjustment, and color change with voice commands. Free up your hands and light your smart home by simply saying a voice command. The light's color can be adjusted and can be separated into cool white, natural white, red, green. You can use your voice to control this lamp's brightness or mood with Google Assistant or Amazon Alexa by saying one command.
Quick facts:
Voice control bedside table lamp.
Full-color control (set up scenes).
Wi-fi connectivity.
Works from an AC/DC adapter.
FAQ
What smart lights work with Google home?
Most smart lights with wi-fi connection support Google Home and other voice assistants.
Can Google Nest control lights?
Yes, Google Nest can control all supported smart lights (via wf-fi).
Liked this article? Here's what you can read next:
---
Disclosure: As an Amazon Associate we earn from qualifying purchases.