Last updated on March 15, 2021
Whether you want to have hot water on a trip, camping, outdoors, or as a backup at home, use one of the best portable water heaters. This is our top list.
Which one is the best? We pick this portable heater.
These are the best portable water heaters for several uses:
Take it with you when you go camping.
Add one to your RV.
Take it with you in a car.
Use a portable heater at home as a backup in case of a HVAC or power failure.
What makes portable tankless heaters great?
They can be powered by multiple power sources — gas (natural or propane), battery (including solar), electricity.
They don't have a tank to boil water, thus they are lightweight and more secure.
They have great output for their size.
Different sizes and features are available (such as a shower system).
All of them are safe to use.
Pick any water heater off this list and it will work great. We have our favorite too.
Check these out to pick yours.
The shopping links earn us a commission and it costs you nothing extra.
What's Inside?
Gasland Outdoor Portable Tankless Water Heater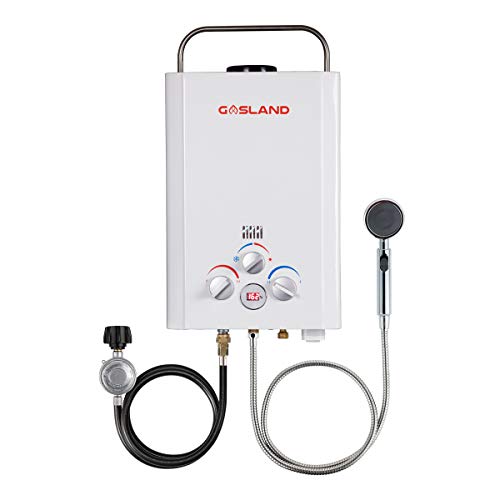 This is our editor's choice.
This portable tankless water heater is powered by an 11.5% energy-saving propane heating system with heat recovery and combustion technology. Not only does it have a maximum power output of 41,000 BTU/hr that provides innovative features for adjustment based on your own preferences for temperature and flow rates, but it is also lightweight and durable because of its CSA approved steel construction with safety features including Flame Failure Device (FFD) and Anti-Freezing Protection (AFP).
It works great for applications like outdoor showers, washing pets outdoors, and camping. Equipped with a thermal safety sensor to prevent overheating, it will automatically shut off the gas supply when needed. The operating temperature is 167 degrees Fahrenheit – there is no need to pre-heat the shower before use. Run it with just 2 PSI of water pressure and averaging 1.58 gallons per minute for on-demand hot water.
The device only takes a few minutes to install and is lightweight, making it perfect for carrying with you for those spontaneous trips where one may need hot water. You may keep it at home as a backup as well.
Quick facts:
Propane-powered heater.
Tankless.
Up to 167 degrees F hot water.
14,000 BTU/hr power output.
Heats 1.58 gallons of water per minute.
Vevor Portable Propane Water Heater
This portable water heater, which uses LPG liquid propane gas for energy, is designed to generate just the right amount of hot water needed for any situation. It can provide summer and winter modes in order to select the right temperature desired. Reflecting on safety precautions present in the water heater, this one has an incomplete combustion safety device and an over-heat temperature protection device among others. The product's most unique attributes revolve around how easy it is to transport from place to place.
Anti-rust steel case, high-temperature resistant copper water devices, ensure that the tank would last long time. Furthermore, it is lightweight and good at conserving space. A common use for the heater is to provide hot water in outdoor showers.
Quick facts:
Propane gas powered.
The output of 6 liters per minute.
12kW tankless heater.
Portable Tankless Water Heater Propane Shower System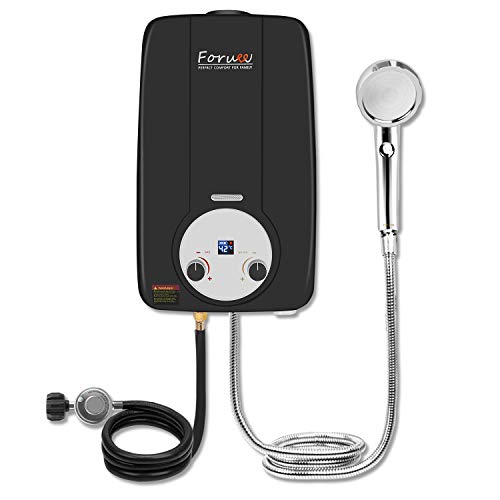 This portable water heater is powered by gas and is also very lightweight. This device has many uses as it can be used as a shower for someone to use after swimming in the pool or a hot water dish to wash your pet, or even a way to take hot showers outside when camping. There are six protections that this portable heater has, which include wind protection, flameout protection, thermal protection, anti-freezing temperature logic system, strong storm resistance protection.
The portable water heater is ideal for the shower, car washing pets outdoors, camping, beach showers, boat washes. The system has a gas-controlled 40 kilowatts system and a quick low-pressure startup. The device is entirely free of combustion, which assures that toxic fumes are not emitted into the air surrounding it.
Quick facts:
Propane powered.
Shower system.
Output of 7 liters per minute.
Water pressure needed – 3 PSI.
Hottoby Natural Gas Tankless Water Heater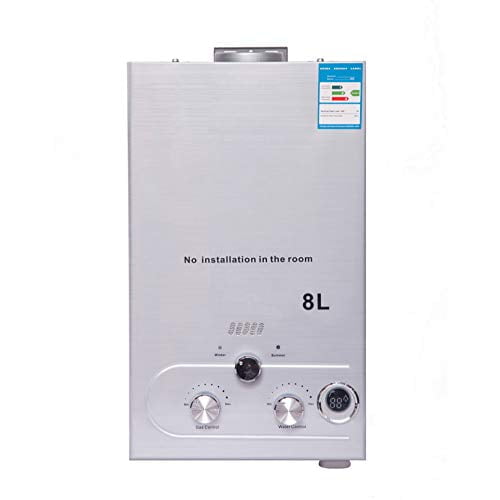 This Hottoby Water Heater is powered by natural gas. It grants 8L of heated water per minute under a 2.1 GPM stream. The entire body is made out of rust-proof stainless steel, with the interior made of copper to prevent oxidation. Multiple safety features make this portable water heater convenient and easy to use, such as an LED display, an adjustable control knob, automatically powering off when left open for more than 20 minutes, no installation required.
The outdoor shower heater propane hot water generator is useful for families at campsites, hiking trips, or wherever you are. It allows you to have a shower without needing an electrical connection nearby. You can also use it to refill water containers. Usage examples include pets and people's backyards where the garden hose and your pool aren't close yet when you need a nice cool, clean rinse off.
This product features in-house approval, is complete with a tankless design and rust-resistant stainless steel. Its dimensions are 22 inches x 12 inches x 6 inches, and you can comfortably handle it with one hand weighing 13lbs.
Quick facts:
Powered by natural gas.
Output of 8 liters per minute.
Connects to RV.
Gesail Electric Immersion Heater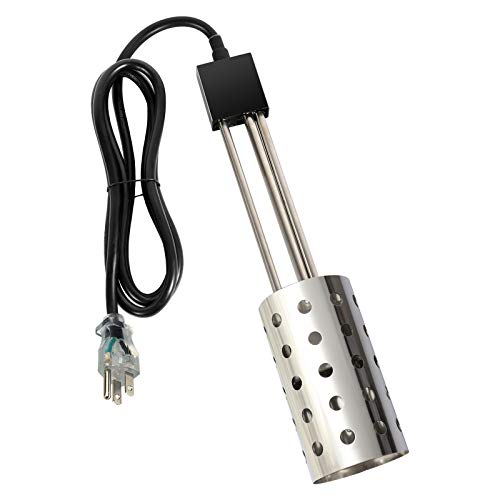 This electric immersion heater is designed to heat 5 gallons of water in minutes. It heats water above the recommended boiling temperature and periodically cuts off its power-on signal of a certain temperature. The electric immersion heater is powered by standard 120 volts of power with an outlet that can handle 15 amps.
The safety features of the portable immersion heater, are easy-to-read display lights on top so you're never too careful, auto shut off system if it heats past the temperature limit of 194 degree Fahrenheit automatically goes into thermal overload to avoid overheating the appliance.
Made with heavy-duty 304 stainless steel, it will not overheat despite the temperature alterations in some heater areas.
Quick facts:
Stainless steel immersible heater.
Heats 5 gallons of water in minutes.
1500W power.
Camplux Outdoor Portable Propane Gas Tankless Heater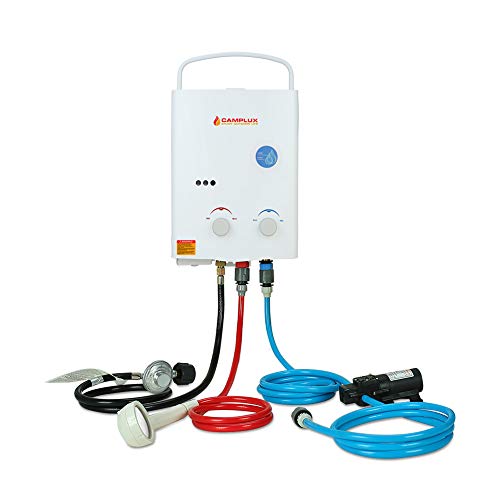 A CSA (Canadian Standards Association) approved portable tankless water heater that can also work with a hydro-pump used for off-grid applications or behind columns of an RV. It has its own safety features such as oxygen depletion and flame failure. There are no cords, making this water heating unit lightweight and portable.
Quick facts:
Output of 5 liters per minute.
3 PSI water pressure needed.
Propane gas powered.
Temperature control (46.4 F – 114.8 F)
Mr. Heater Basecamp Battery Powered Shower System
A 12,000 BTU heater that has a predetermined steepness. It operates at a rate of 6 gallons of water per minute. Scald protection to keep hot water scalding and tip switch to decrease the risk and single outlet with a quick connect shower head. Powered by D-cell battery-operated pump for 40 minutes. This portable heater is best suited for individuals and small groups or those who want to use less energy.
Quick facts:
Output of 6 gallons per minute (heating 12,000 BTU).
Battery powered.
Shower system.
Hike Crew Portable Propane Water Heater with Shower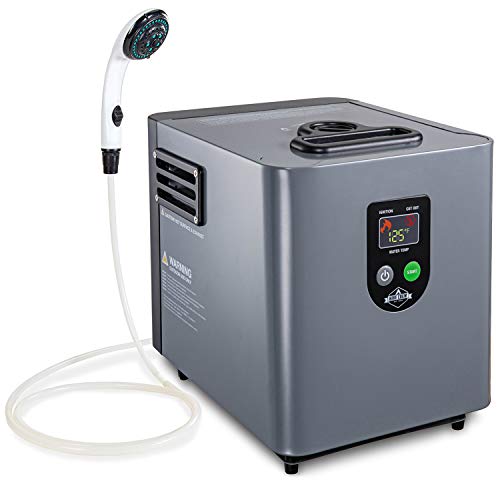 A portable water heater functions by hooking up to propane and fuel sources and often electricity. You can use this water heater for many purposes, such as washing dishes by heating the running water before putting them in the sink or cleaning hands with hot running water with a lower amount of pressure. The device is also equipped with safety features, including an automatic safety shut-off unit that will stop the gas burners if it detects that the water temperature has risen to 125 degrees Fahrenheit (although it may burn hotter depending on individual temperatures).
This product is for people who camp and need water heaters. A propane gas tank powers it (although it might run on other alternatives). The portable water heater also has an easy-to-transport and store design coming equipped with attached hoses.
Quick facts:
Output of 2.2 liters per minute.
5.4 kWh power consumption.
Propane or DC powered.
Propane Tankless Water Heater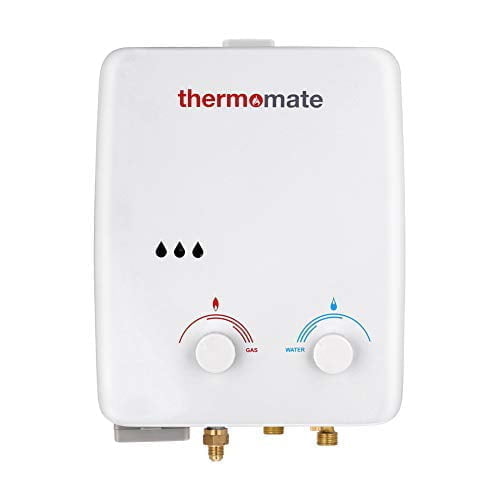 This tiny but powerful water heater is very lightweight and convenient. It connects to a standard WELS water connection which makes it easy to install. This product's residential capacity is equaled at 1.32 gallons per minute that the company says will increase hot water on demand and save you $200 on yearly energy consumption. Another great thing about this product is its safety features; it will shut off the gas supply without notice if you experience flameout or high water temperature over 185 degrees Fahrenheit.
Quick facts:
Output of 1.32 gallons per minute.
Power output of 34,000 BTU/hr.
Needs 2.5 PSI water pressure.
Submersible Water Heater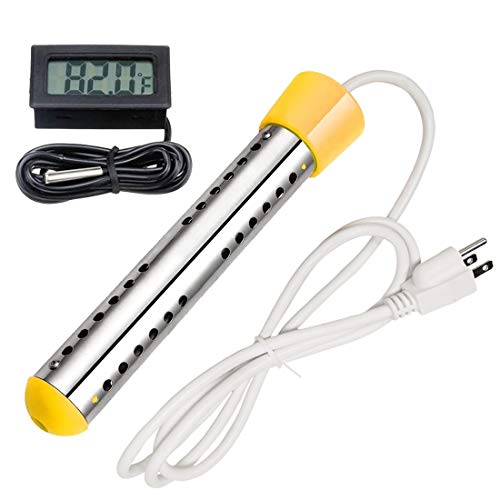 This small-sized portable water heater is power by an electric socket and heats 5 gallons of water to 104 degrees Fahrenheit within 30 minutes. The portable and lightweight design allows the appliance to be used by campers, people who work outside in the cold like concrete workers or farmers, or for basic freeze management needs during any season. Warning: exposure of this appliance to flaming gases could cause a fire, so it is not recommended that somebody use more than one water heating device near each other.
The body is composed of copper wires that can carry the extra power, with an ABS material housing to assist with protecting the body and its stainless steel shell. All components are rigorously tested for electrical resistance. It shouldn't be used for over 1.5 hours every time because of the excessive power, that may lead to fire.
Quick facts:
Immersion stainless steel heater.
Heats 5 gallons of water in 30 minutes.
Liked this article? Here's what you can read next:
---
Disclosure: As an Amazon Associate we earn from qualifying purchases.