Last updated on July 27, 2020
Looking for the best pop up canopy for your outdoor activities? Our top-rated picks will save your day wherever you decide to put up a canopy. Read on to find out what we've chosen.
► Our top choice: Hartin Screen Tent
Outdoor activities are fun but there are the elements to deal with (bad weather, sun, and bugs), especially if you go farther away from home. So whether you go camping, on a picnic, or just chilling in your backyard, you might want to consider a well-rounded (but not necessarily round) pop up canopy.
But that's not all that you can use it for. Pop up shelters can be used to hide a vehicle or outdoor equipment. Screen tents can be used for privacy and shade. You can take a beach canopy with you to, you guessed it, the beach. And the list goes on.
We recognize that choosing one product as the best for all purposes is impossible. That's why we've made a list of the top 10 where we tried to cover a diverse range of uses.
The best way to use this list is to consider the features for your needs.
Features such as:
Protection should be the number one feature to look at so you'll know what elements it can defend you from.
Portability – canopies can be really big and bulky with transportation being an issue.
But the size is also important depending on the number of people the tent needs to accommodate.
Longevity – especially for commercial purpose pop up tents.
Flexibility – some tents have walls that you can customize however you want for different purposes.
And while considering the features, keep these common caveats in mind:
Value for the money – make sure it meets your needs regardless of the price tag.
Height options – some canopies have fewer adjustments than others.
Firmness – especially for light tents as they can be blown away easily.
Finally, please be aware that we've included links to products that we might be compensated for recommending. This doesn't influence our choice and doesn't involve any extra cost to you.
Which pop up canopy will you put up?
What's Inside?
10×10 Canopy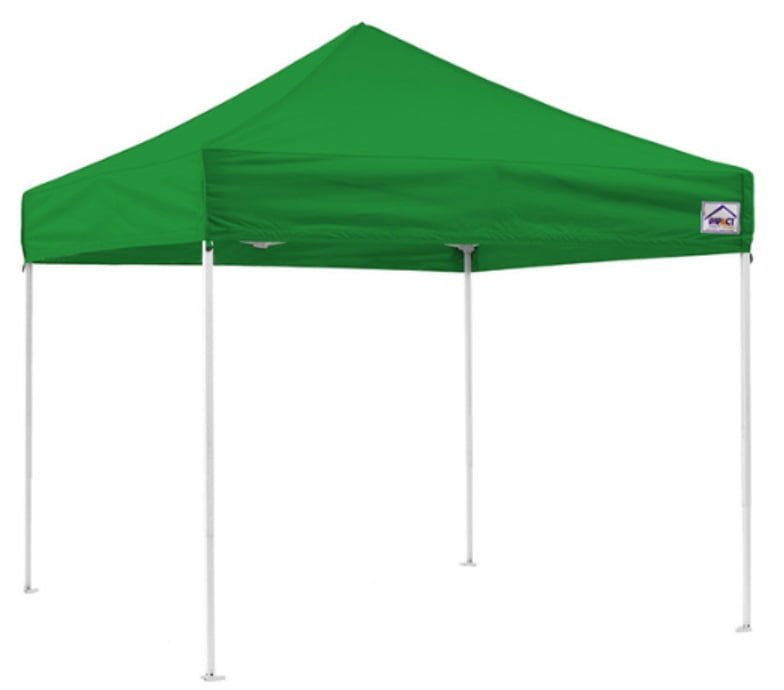 This 10 by 10 pop up tent's main feature is aside from fitting in more than 2 people, it is easy to use and really portable because of its light steel frames. It is a bit costly though compared to other canopies and people can still get wet when the rain comes and no protection from insects.
Pros: Light steel frames, portable; big coverage area; easy to use.
Cons: A bit expensive; no protection from insects; few height options.
Screen Tent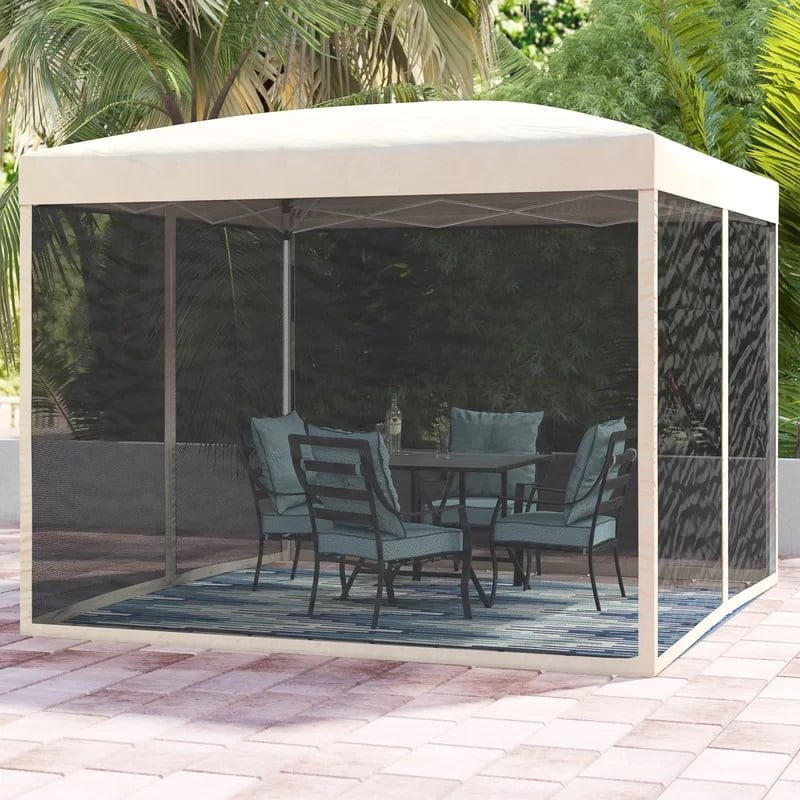 This screen tent is our choice for the best overall pop-up canopy. It ticks all the boxes. The tent is portable, easy to set up, and it will protect you during your outdoor activities from all three elements (weather, sun, and bugs).
This enclosed tent is perfect for families as it's quick to assemble with adjustable heights and the best feature is it has screens to protect parents and kids from insect bites. It also blocks harmful sun rays though it needs extra care for it too last long.
Pros: Enclosed; portable; quick to assemble; adjustable heights; elegant looking; blocks UV rays.
Cons: Not usable on harsh weather conditions; not durable; weak steel frames.
Beach Canopy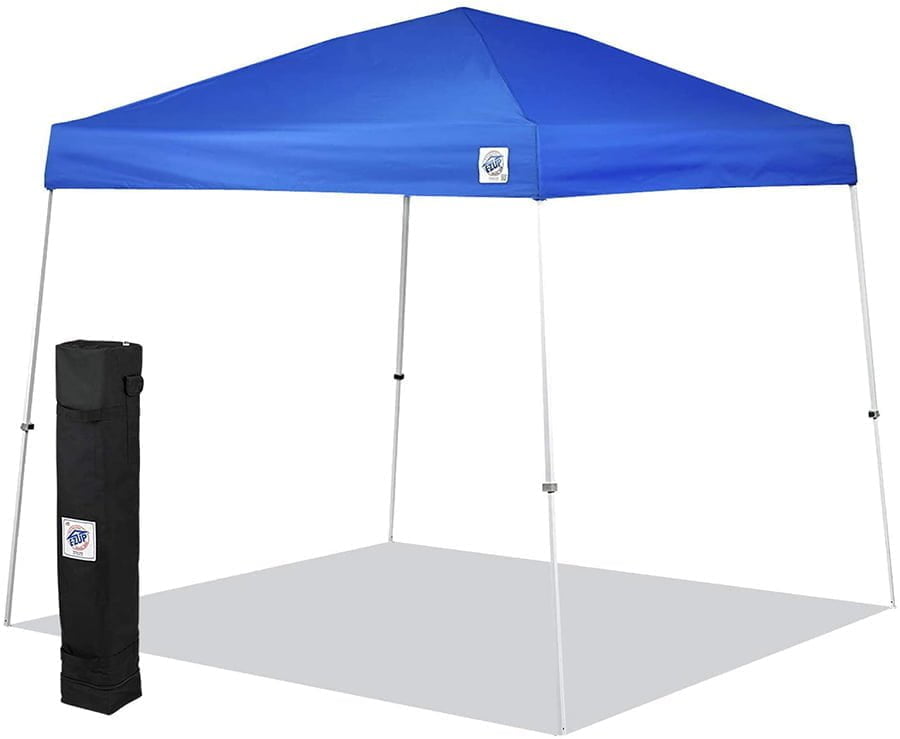 When going down the beach, this canopy is best suited for it. It is lightweight and assembles in just a minute, the frames are rust and fire resistant while the top is water-resistant and provides UV protection. It might be a tad smaller compared to other beach canopies.
Pros: Lightweight; so quick to set up; fire and water-resistant; rust-resistant frames; UV protection.
Cons: Few height settings; smaller than it looks; gets broken easily by wind.
Outdoor Canopy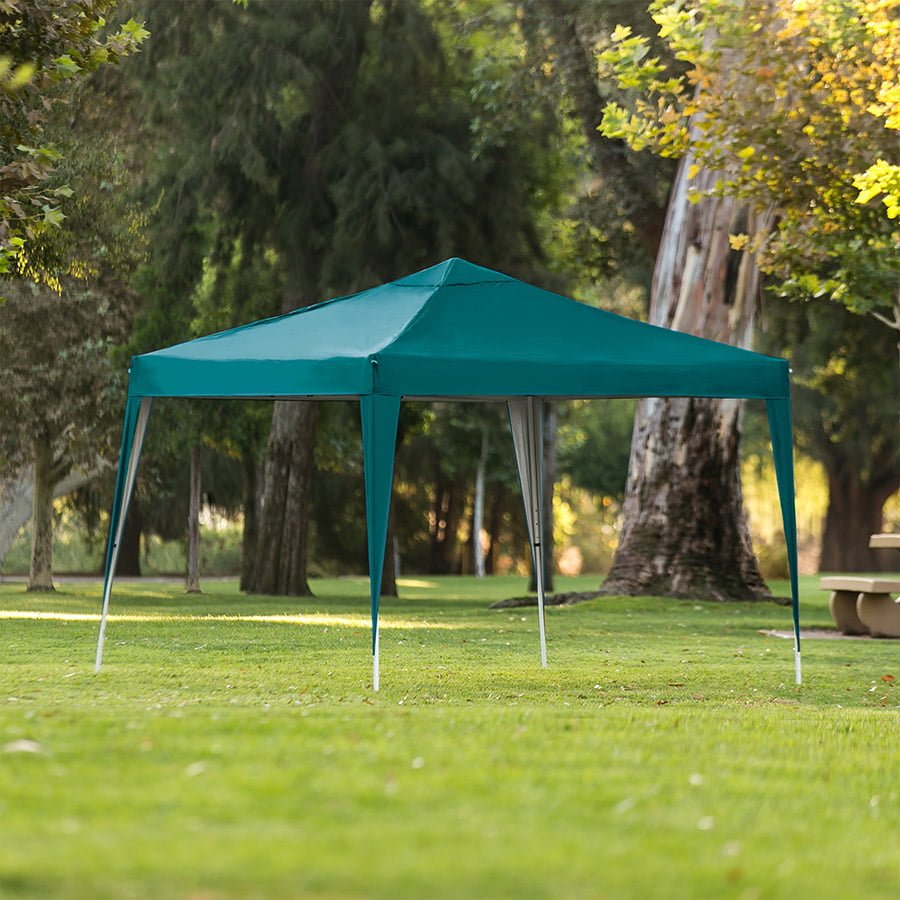 When doing outdoor activities, strong winds will surely be there. In this scenario, this outdoor tent is recommended as it has a wind vent on top that helps maintain stability. It is portable too with height settings but since it's affordable, the material ain't that really good and the frames can easily break.
Pros: Really portable; adjustable heights; wind vent; harmful UV protection; affordable.
Cons: Flimsy; low quality materials; not easy to set up.
Camping Canopy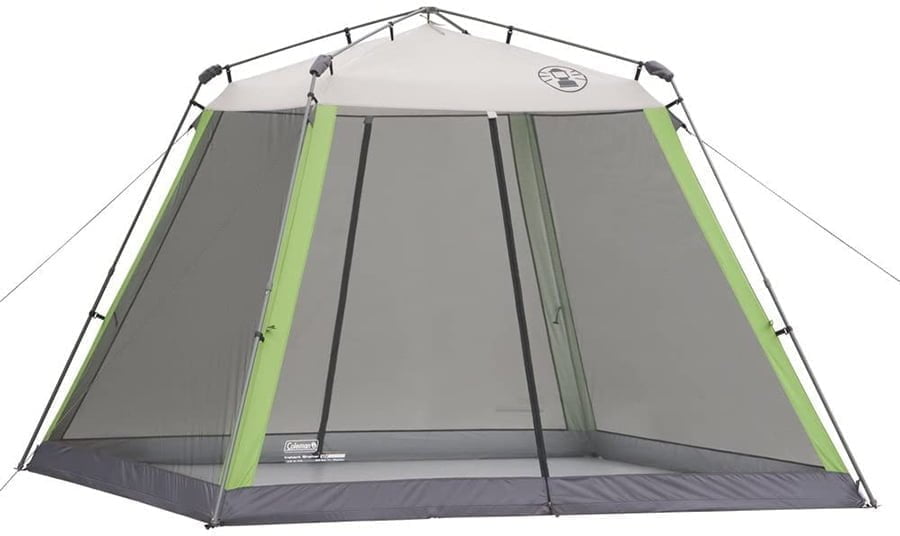 A really portable tent that includes screens that can be opened in front and back. It is spacious inside and includes telescoping poles. It is a bit difficult to set up though and the fabric is thin so it doesn't provide much shade.
Pros: Portable shelter; 2 doors; sun protection; plenty of room; telescoping poles.
Cons: Takes time to set up; flimsy; doesn't give much shade.
Shade Canopy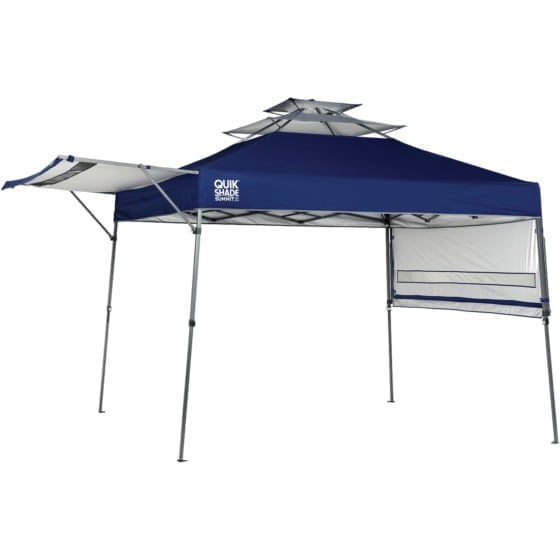 When it comes to value for money, this expensive and heavy tent is recommended. It is made of high-quality materials and can last for years. Aside from UV protection, it has superb air vents for great airflow and quick pins for height adjustments.
Pros: 3 height settings; sturdy frame system; super vents; long lasting; sliders.
Cons: Expensive; smaller than it looks; heavy.
Waterproof Canopy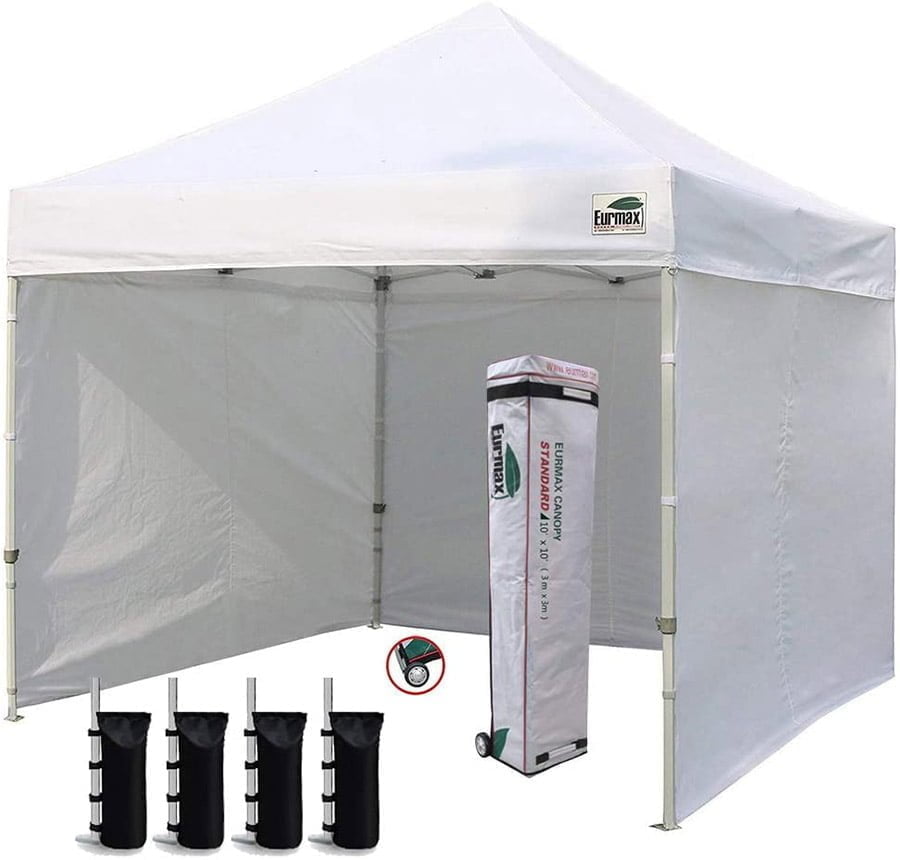 Best suited for commercial use, this canopy is fire and water resistant and protects you from UV rays. It has plenty of height options and has removable side walls with windows that you can set up however you want. Whether it's 1 wall or 4 walls, this unit can get the job done.
Pros: Portable, water, fire and sun protection; convertible; 4 height options; banner sleeve; quick to set up.
Cons: A bit expensive; leaks easily; needs a lot of room when folded; flimsy legs.
Pop Up Shelter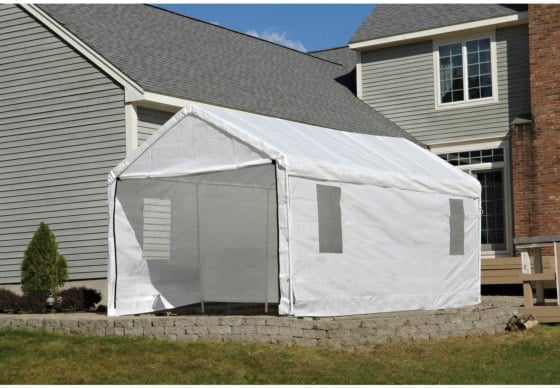 If you have a boat or vehicles, this can be used to protect them as it is really durable and element resistant, it even has anti aging and anti bacterial capabilities. It shields off UV rays inside out for all around protection. It is not beginner friendly though and to maximize it, you need to purchase additional accessories or tools.
Pros: Versatile; durable; water and fire-resistant; antibacterial; UV protection inside and out; long term use.
Cons: Not beginner-friendly; not good against strong winds and snow; need extra accessories for full benefits.
Pop Up Canopy with Sides
These side walls for canopies have plenty of usage. They can be used at the beach, at the booth and camping or picnic. It provides sun wall or full tent cover depending on how use it. It is not very firm though and has low quality materials because of the price.
Pros: 100% waterproof; UV protection; versatile, easy installation; tear proof.
Cons: Cheap materials; affordable; doesn't hold up tight.
Heavy Duty Canopy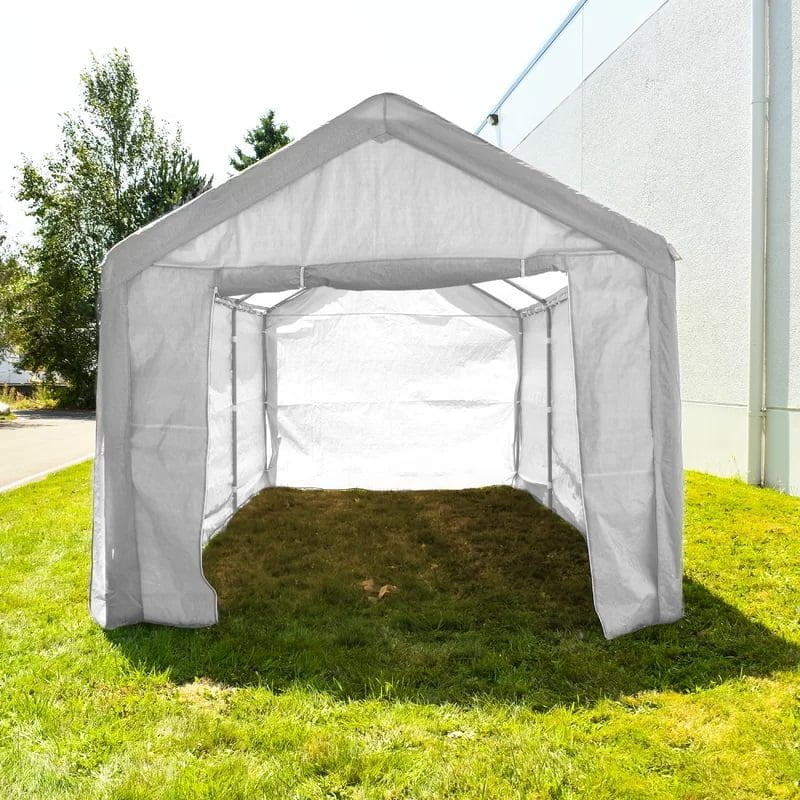 For recreational or commercial purposes, this is recommended as it offers and sun and rain protection for your vehicles or belongings. It is spacious inside and the front and back door has locks to secure valuables. It is a bit overpriced though as there are affordable canopies that offer the same features.
Pros: Plenty of room; UV protection; weather proof; secured door; easy to set up.
Cons: Not long lasting; easy to be blown away; overpriced.
Liked this article? Here's what you can read next:
---
Disclosure: As an Amazon Associate we earn from qualifying purchases.