Last updated on February 20, 2021
So you want to renovate your kitchen by re-painting your kitchen cabinets. That's a popular and easy way to do it. Here are the best paint sprayers for kitchen cabinets that you can use.
Which one is the best option that you can use right away? We choose this HomeRight Paint Sprayer for the job.
You don't want to use a brush or roller on your kitchen cabinets unless they are flat-panel (and then it's easier to use a paint sprayer). A paint spray gun will spread the paint evenly and get to even the most intricate beveled edges.
For indoor painting projects like the kitchen cabinets, a low-pressure (HVLP or LVLP) sprayer is the most sensible option because it produces the least overspray and splatter. Airless sprayers can be used too and it's a good option if you're also looking forward to other painting projects in the future (including outdoors.)
If you're a casual DIYer, you will benefit from a paint spray gun that's easy to use and without much preparation. At an affordable price, it's also possible to get a sprayer that you can consider one-time-use (and don't bother to clean it) if you don't plan on painting anything anytime soon.
Most sprayers will give you an option to control the flow of the paint (in volume and spray pattern). Depending on the type, you can control the pressure too.
We have included shopping links for each pick. These links earn us a commission at no expense to you.
Let's explore the best options and what they have to offer.
What's Inside?
HomeRight Paint Sprayer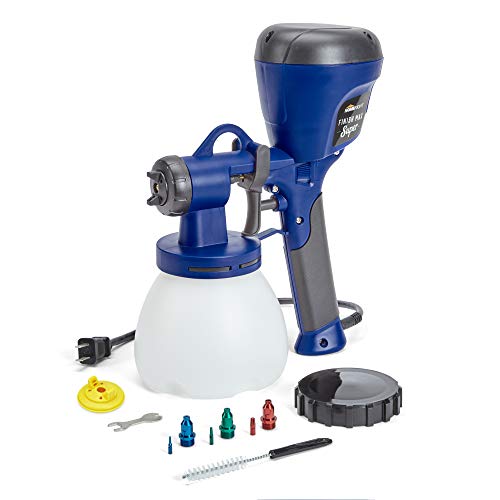 This is our editor's choice.
The paint sprayer is a great DIY option. It's easy to use and supports a full range of spray options, including horizontal, vertical, and round spray. It also provides adjustable material flow controls.
The paint spray gun is great for applying a professional-like finish on countless small to large-sized DIY projects.
It is straightforward to use. To help avoid clogging, thin the paint as the manufacturer advises. Once the paint is adequately thinned, plug in the machine and paint away. In addition to the two knobs on the handle that controls the amount of paint sprayed every second, the unit features a twistable nozzle on the nozzle attachment that enables the user to change the paint pattern (3 patterns). When dealing with spray paint, you can first spray a piece of cardboard to assess the results you're looking for. It takes approximately five seconds per cabinet door and little overspray.
It takes a little bit of time to clean the gun, but it's well worth it, when you think about how easily you can handle jobs. Additional caution is needed because you need to be vigilant of overspray. Taping and draping would be required in order to avoid any extra clean-up.
Quick facts:
450-watt electric HVLP sprayer.
Built-in turbine (no air compressor).
3 brass spray tips and 3 spray patterns.
Flow rate control.
NEU MASTER Electric Spray Gun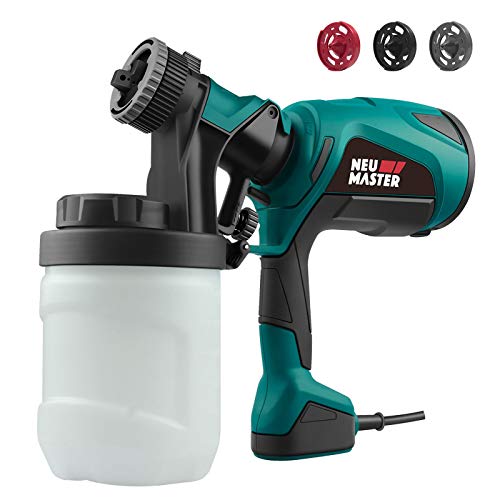 The NSG0070 has three nozzles that are specifically designed to tackle different projects. The electric handheld paint gun has HVLP (High Volume, Low Pressure) technology and an incredibly powerful motor to give you complete coverage with minimal overspray. You can use it to spray horizontally, vertically, or in a round pattern. Common paint materials can be used.
You should bear in mind that any media you use would have to be of the right viscosity to achieve outstanding results. To monitor for this, you'll get a drip cup to use. This form of sprayer often allows the media to be clean. All that will go into the holding cup goes through a filtering process. Adjusting the spray pattern and line on the gun is intuitively easy, enabling you to monitor it effectively.
Quick facts:
Electric HVLP sprayer.
Has flow rate control.
Three spray patterns.
Three nozzles.
Dicfeos HVLP Paint Sprayer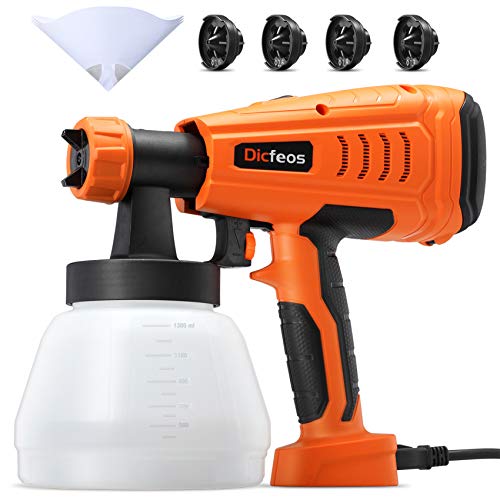 The Dicfeos paint sprayer provides you with a powerful 700-watt motor that will cover your home or furniture project with minimal fill. Different nozzles will help you tackle a range of tasks, inclusing kitchen cabinets. The detachable design means you can change parts easily and clean it quickly.
Using the sprayer is easy. The distribution of paint is even, and the numerous nozzles allow for even application of paint over doors. It is surprisingly simple to break down into bits, making it simple to clean up. You won't have to think about scrubbing and the cleanup is a breeze when you use water-based paint.
Quick facts:
Electric HVLP paint sprayer (700W).
4 nozzles for different projects.
Adjustable air cap for spray patterns.
Flow control for the paint.
Easy cleaning process.
REXBETI Ultimate-750 Paint Sprayer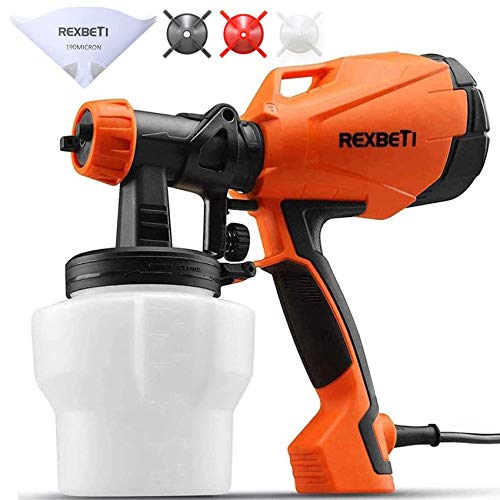 The powerful paint sprayer will create a smooth and superior finish. The 1000 ml container is a high capacity, allowing you to paint for a long period of time and cover a large surface. You can adjust the spray pattern precisely using the flow control knob, and the amount of paint that comes out can be regulated based on your preference. For edges, corners, and surfaces such as kitchen cabinets, choose the appropriate amount of spray output with the adjustable control knob.
It's going to take a lot of time and resources to take care of this. Clean it thoroughly after each use, and you should have no problems. Soapy water performs incredible feats. As a novice, be wary because often the first spray will dislodge built-up splatter. The majority of the time, though, it can be avoided by simply wiping the nozzle clean.
Quick facts:
Electric HVLP spray gun.
4 nozzles to use.
3 spray patterns for your needs.
6.6 feet cord.
NEU MASTER High Power HVLP Paint Spray Gun
Powerful turbofans and motors help the Max 600W spray painter paint cabinets smooth as silk. A lighter hand-held spray gun is a great assistant for painting. The special separation between motor and gun body makes this paint sprayer lighter than a single-unit gun. The electric spray gun can be adjusted to three different spray patterns and has flow control.
This item comes with a viscosity measuring system with an extra lid included. It would be best if you got the viscosity right to use all of these self-contained air sprayers. It would help if you also used a strainer because the paint can go in streaks, and tolerances are minimal. As a split unit, it is simple and reasonably easy to clean. To work, the mixture needs to be very thin, so prepare to add another coat. If you like it this thin, the paint lasts twice as long and dries twice as easily.
Quick facts:
Electric 600 watt HVLP spray gun.
Three spray patterns with flow control.
Split-unit design.
Built-in turbo fans provide strong airflow.
Ddtohan HVLP Home Spray Gun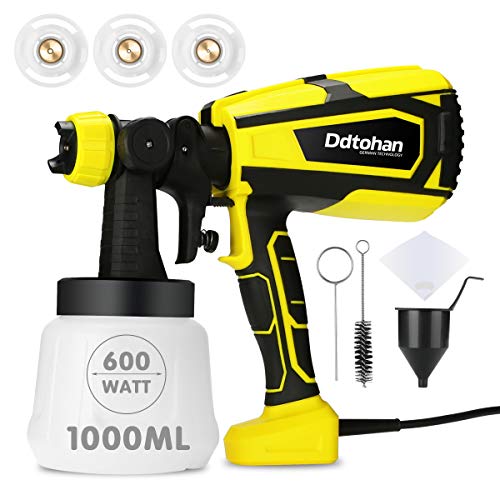 This powerful motor allows you to paint with minimal filling, but also provides you with a precise spray pattern for creating a smooth finish. The 1000 ml detachable container allows you to paint for longer without refilling. The HVLP technology improves efficiency, and we suggest that you try spraying water first before painting with it.
Setting it up is simple: there are a number of paint sprayer bits for you to choose from. You can monitor how much paint comes out and the angle of the paint you are spraying. Painting projects with this sprayer are highly recommended for people who do their own DIY jobs.
Quick facts:
600-watt electric HVLP sprayer.
4 copper nozzles and 3 spray patterns.
It has an adjustable paint flow rate control too (0 to 1200 ml/min).
FixKit HVLP Paint Sprayer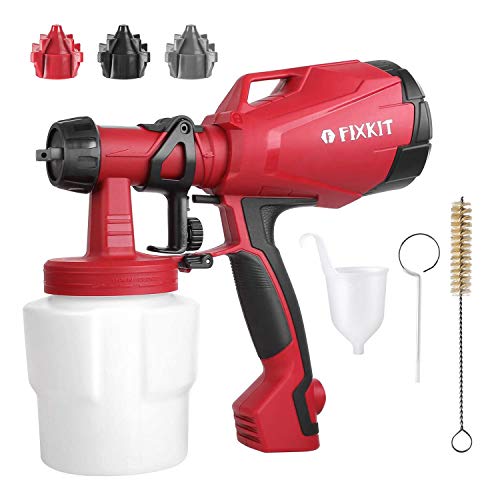 To update your kitchen cabinets, you need a product that will deliver professional-grade results. A paint sprayer power painter uses HVLP (High Volume Low Pressure) air power technology, making it excellent for spraying thin materials such as stains, sealers, urethanes, and lacquers. It features a two-stage indoor/outdoor rated air turbine for a continuous flow of material and air, producing a professional finish for painting your cabinets.
It's an outstanding value for the price for a paint sprayer. This really does a good job of shielding as well as being very quiet. Fill up the jug with warm water, then ran it for a few minutes and the cleaning is a breeze. The spray coverage is broad and it's very heavy, which means some drips can happen on your target.
Quick facts:
500-watt electric HVLP electric paint sprayer.
3 spray patterns and 4 nozzles.
Two-stage turbine.
Cleaning kit.
Scuddles 1200 Watt Paint Sprayer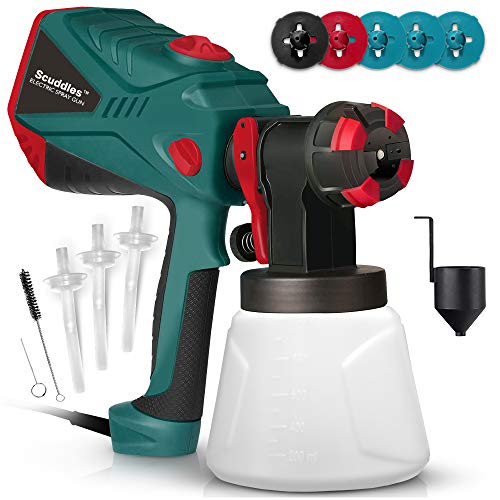 Scuddles Electric Paint Sprayer offers 3 unique spray patterns: vertical, horizontal, and circular. The paint sprayer is a no-tools-needed assembly and can be used straight out of the box. It also features a long power cord so that you can work on a larger area.The sprayer is designed to be lightweight and fits in your hand so you can do your spray-paint job.
You can see excellent results when painting kitchen cabinets. Approximately 10-15% paint thinning is needed. This gets clean in a moment. If you try practicing on a piece of cardboard first, you'll have an easier time.
Quick facts:
1200-watt electric sprayer.
5 replacement nozzles (with adjusted flow rate) and 3 spray patterns.
Includes a cleaning kit.
Graco TrueCoat 360 Airless Paint Sprayer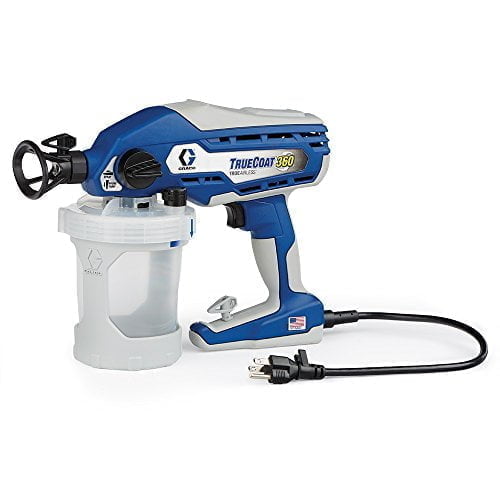 This paint sprayer is reversible, allowing you to keep spraying even when the tip is clogged. The stainless steel piston pump allows you to spray unthinned paint at high pressure. Airtight VacuValve technology means you can spray in any direction, even upside down. The FlexLiner bag replaces traditional paint cups, making it easy to clean and recycle.
One of the most valuable aspects of any sprayer you buy is that it is rebuildable. In this model, the FlexLiner bag (instead of a siphon-based pickup) is built into the machine, making for a notable difference in spray output.
It's very important to choose the right tip when spray painting cabinets with an airless sprayer. Choose a smaller tip, such as 311 for the project.
Quick facts:
Airless high-pressure paint sprayer.
Maximum pressure of 1500 lbs per square inch.
2 spray tips.
Ginour 600W HVLP Spray Gun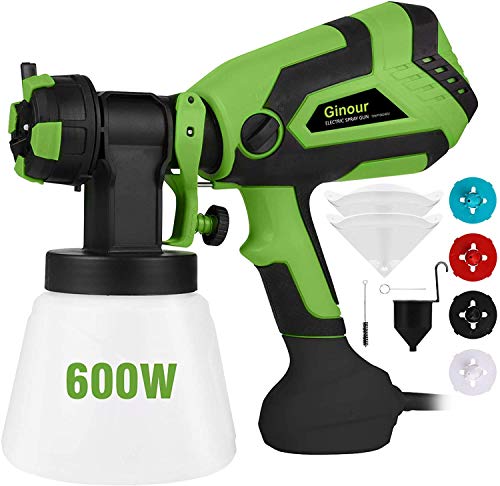 This Ginour sprayer is a good choice for those who want to do light-medium painting jobs regularly and don't have a lot of time to spend getting ready. The spray painter can load up paint and start spraying without first extracting all the air or going through a complicated startup process—quick and easy cleanup. The front spray head assembly actually pops completely off with a simple switch and can be quickly taken to a sink for cleanout—fully reusable Quarts-sized hard-plastic paint container.
Quick facts:
600 W HVLP paint sprayer.
4 nozzles and three patterns.
10 to 30 cm spraying distance.
FAQ
Is it better to spray or brush paint kitchen cabinets?
Spray painting is the best option for kitchen cabinets. You can get away with a brush on flat-panel cabinets if you're good at painting, but a spray painter will get to the most intricate beveled edges and paint the cabinets most evenly.
Can you use a paint sprayer on kitchen cabinets?
Definitely, yes, you can use a paint sprayer on the kitchen cabinets. It's the easiest way to paint them and get the professional look.
What do professional painters use to paint kitchen cabinets?
Paint spraying is the most common technique to paint kitchen cabinets professionally. It's a fast and cost-efficient way to get the look you want in the least number of coats.
What tip should I use to spray cabinets?
The size of the tip depends on the thickness of the paint. Thinner paints will need a smaller tip and vice versa. Airless sprayers that work with high pressure, will need a smaller tip, such as 311. HVLP sprayers will use tips 1.3 mm to 3 mm depending on the viscocity.
Can you spray paint laminate cabinets?
You can spray paint laminate cabinets by cleaning and preparing them properly. Make sure the paint you use is fit for laminate surfaces.
How hard is it to repaint kitchen cabinets?
Most DIYers using a spray painter for the first time report that it's easier than they think. Preparation is key to success when painting. Make sure you get to know the process first and practice on cardboard. The rest is a matter of practice.
Liked this article? Here's what you can read next:
---
Disclosure: As an Amazon Associate we earn from qualifying purchases.