Last updated on May 31, 2022
These are the best mops to clean your gorgeous hardwood floor swiftly and safely. Check out our top picks.
And the best is… this microfiber spray mop.
Cleaning the precious hardwood floor much like the alternatives isn't difficult. You take a mop, wet it, and scrub the dirt out. If you do it often enough, you don't need to scrub it that intensively. The question is, what mop is the best for it?
If there's one answer to that, it's the microfiber mop. Whatever the type of the mop itself, if it uses a microfiber pad or string head, it will clean hardwood nicely. The reason? Microfiber is the best material for cleaning overall. It has great properties to collect dirt and dust thanks to the many fibers that it consists of.
What makes a microfiber mop even better for hardwood floors is the spraying or wringing mechanism. You see, wood isn't friends with water, especially if it's not sealed (or the seal is worn). That's why you need to clean it with a mildly wet floor avoiding excess water from seeping into the floor.
And of course, you can have upgraded features such as electric polishers and LED headlights, if you prefer. But even a simple mop with a good wringing mechanism will do just fine.
We've picked all kinds of mops in this top 10 (exciting, isn't it?) One of them stood out the most, but feel free to prove us wrong.
We have included shopping links for you (we earn a commission) and they cost you nothing to use.
Let's clean that floor!
What's Inside?
O-Cedar Promist Max Microfiber Spray Mop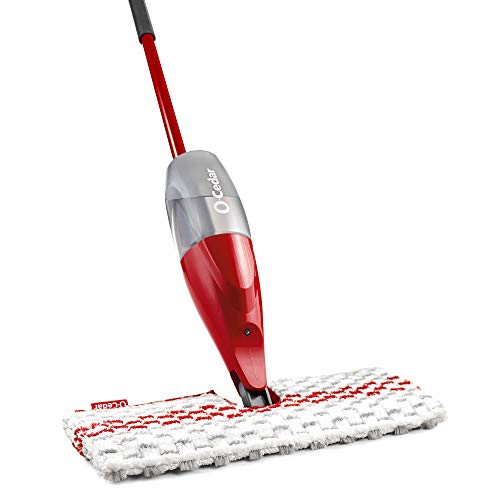 This is our editor's choice.
This powerful spray mop can clean your hardwood floors by soaking up dirt and dust on the floor using a microfiber pad. It has an easy-to-use design with one trigger function to clean stubborn spots. It can also release water by pressing its handle and pulling down, or it can automatically come out of the spout with a quick push of a button.
The spray operates without electricity, but it can be adjusted with the height-adjusted handle/trigger and features a durable, reusable cloth pad that is machine washable up to 100 times before needing replacement (every 3-6 months).
Quick facts:
Dual-sided mop head.
Microfiber pad.
Weighs 2.01 lbs.
Sprayer.
O-Cedar Easywring Microfiber Spin Mop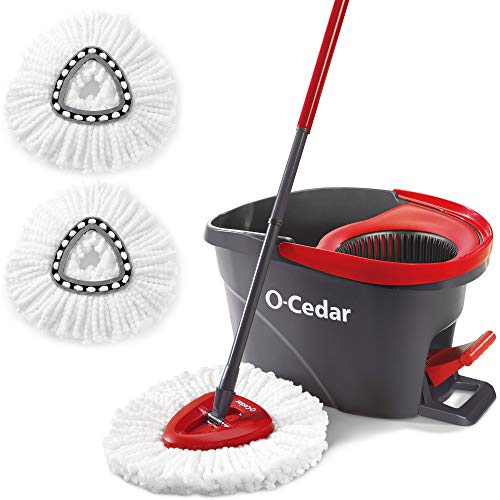 This microfiber mop is a top-performing mop, which cleans with just water. The bucket has a built-in wringer, allowing you to clean your floors hands-free wringing. The pedal has been designed to activate spin wringing for the mixture of water and detergent. Splash Guard keeps both splashes and bounces out from the bucket when wringing is activated by foot. You should not use it with fabric softeners or bleach.
Quick facts:
Made of microfiber.
Built-in wringer.
Weights 5.3 pounds.
Sized 20x12x12 inches.
Eyliden Twist Mop with 2 Replacement Heads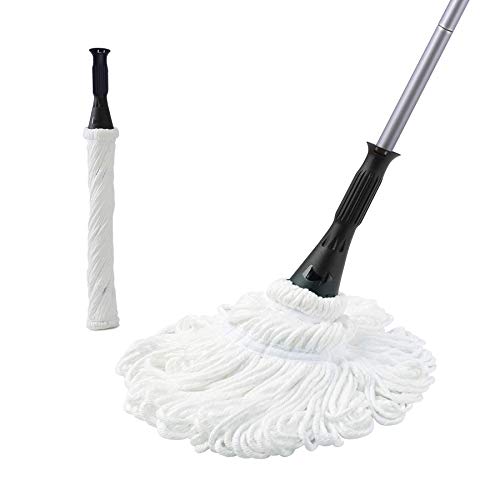 This self-wringing twist mop head uses a ratchet in the handle to twist and wring water out of the mop head. Wet mops for floor cleaning with wringer, make your hands will never touch the water. If you are floor cleaning with a mop and do not want to touch dirty water, Eyliden Twist Mop will be your best choice. It is made
This mop can clean hardwood floors by scrubbing and drying the floor. The pad on top can help with scrubbing stubborn stains that are easier to remove. It is lightweight and comfortable to use because of its telescopic handle.
Quick facts:
Made of microfiber.
Twisting self-wringing design.
Telescopic 57.5-inch handle.
Comes with 2 extra heads.
Turbo Microfiber Mop Floor Cleaning System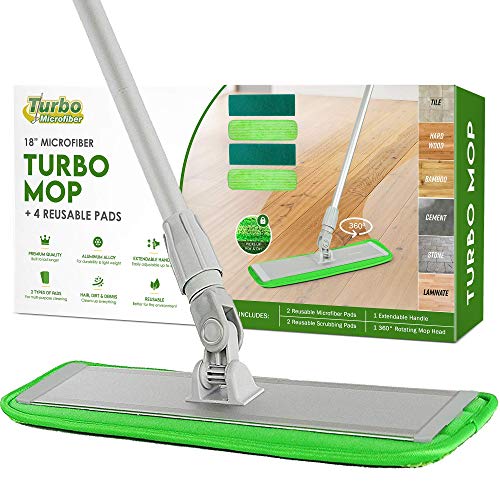 The mop head is covered with a soft high-grade microfiber material that protects people during use. It features a rotating 360 degree head that swivels without being heavy. The machined aluminum alloy metal construction makes it strong yet lightweight to use in hard to get places and more efficient than plastic or steel mops.
This is a microfiber mop system that features both dry and wet cleaning modes with a lightweight design. Each purchase comes with the synthetic mop head and pole, two reusable microfiber refill pads, two scrubbing pads, and an easy-use 360-degree rotating head. The telescoping handle makes it suitable for those of any height and works well on hardwood flooring.
Quick facts:
Handle made of aluminum alloy (35" to 60").
Uses microfiber pads.
No wringing needed.
Machine washable.
Mop Microfiber Floor Mop for Cleaning Hardwood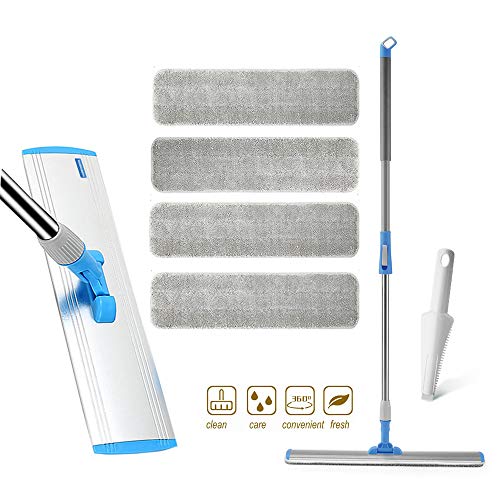 Here is a mop that is well used to clean hardwood floors. This mop can adjust from 31" to 54" to save your time, and it's very helpful for cleaning the home or office. Drop the pad on the floor and stick it to the mop with its easy locking, which keeps the mops pads in place, leaving your hands free.
The microfiber is machine washable and durable, so the dirt or grime does not stick to the fabric. It comes with a set of four pads and can also be purchased separately if you want more than one.
This professional-grade mop will surely get your hardwood floors to shine without an effort on your part. The Velcro attachment allows you just to place this pad on the floor and stick it to the bottom of the mop, making sure the pads stick.
Quick facts:
Microfiber pads (velcro replaceable).
Adjustable handle from 31 to 54 inches.
360 rotation.
Mr. Siga Professional Microfiber Mop for Hardwood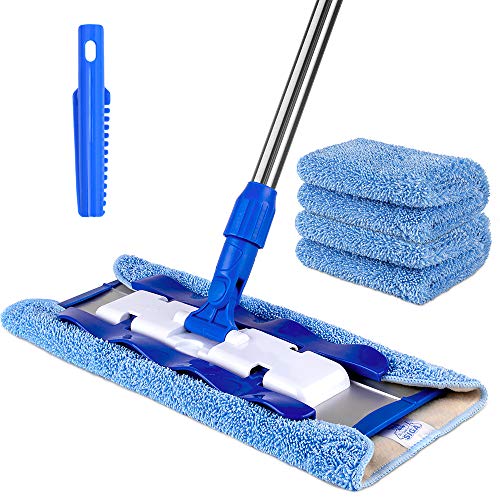 This mop has a detachable plate of fabric, it can be locked onto the rotating pole. The microfiber cloth can be washed and twisted so they keep their shape. The cloths have deep pockets for dust and dirt that get caught in but these rinses out by simply wiping with water or any other running liquid. When cleaning, simply spray the liquid.
Refillable cleaning cloth mops offer the convenience of changing the cloth when one becomes dirty–simply pull the pin through and replace it with a new clean pad. The 360-degree swiveling telescoping pole provides faster results and means free-flowing motion. This microfiber mop can clean hardwood floors, get in all the corners with ease, remove different types of dirt from different surfaces.
Quick facts:
Made of microfiber.
Adjustable handle.
Pad sized 16.5" by 9".
Cordless Electric Spin Mop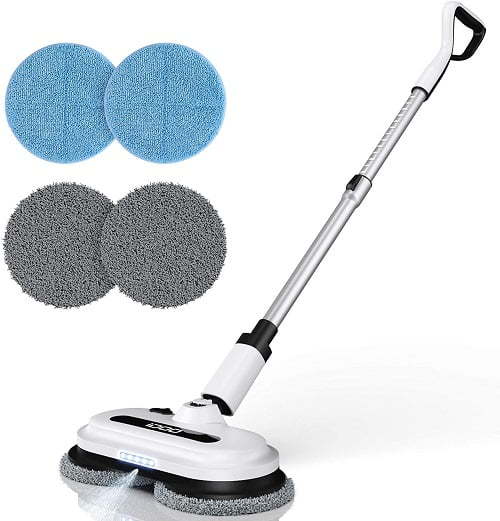 This polisher mop contains two rotating brushes with synthetic microfibers. The cordless electric spin mop has power dual motors on it which allow the electric brush pad to automatically push forward while under contact when cleaning hardwood floors. The pedal spinner spins up to a top speed of 220 rpm when cleaning the floor, removing dirt stains much more easily then an ordinary mops.
Quick facts:
Dual motor spin mop.
Built-in sprayer.
LED headlight.
Rechargeable battery.
Spray Mop for Floor Cleaning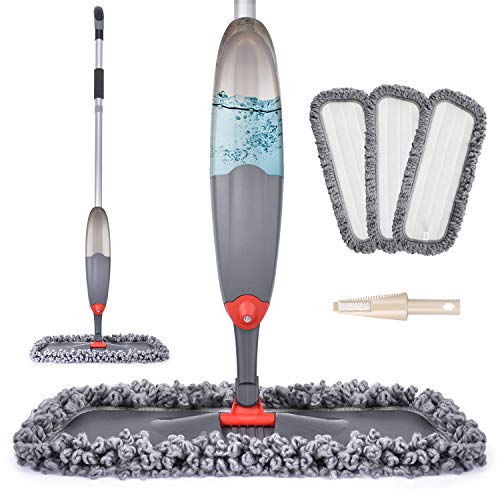 This mop smoothly glides on hardwood floors and can clean deep into cracks to remove the most grime. It also has the ability to reach corners because they are in a circular shape instead of folded flat. Cleaning is fairly easy since this mop only needs water instead of cleaning soap or detergent, which saves time. This mop's microfiber spray head includes a refillable 635ml bottle.
Quick facts:
Microfiber pad.
Sprayer with 635 ml container.
360-degree movement.
Includes a scraper.
Rubbermaid Reveal Spray Mop Kit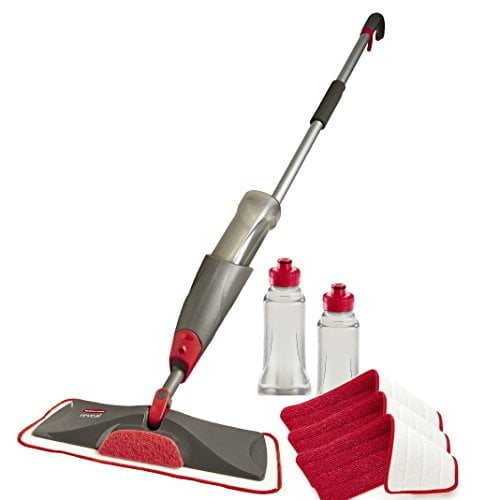 This mop is a good choice for cleaning hardwood floors because it is safe and can really pick up dirt. To use, simply fill the bottle with hot water, scoop out two tablespoons of dish soap, and mix the solution in well, so it fully dissolves. Once the pads are put on, pour a small amount of the solution into the hose head, spray onto the floor or surface that needs to be cleaned until dirt starts to come off.
Quick facts:
Microfiber pads (machine washable).
Weighs 22 ounces.
650 ml spray container.
Mexerris Microfiber Spray Mop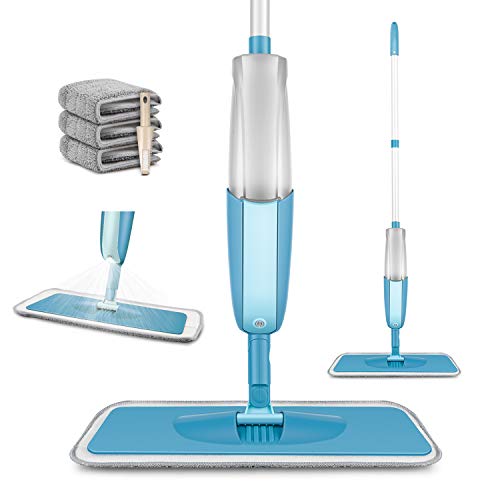 The MexicanMop is ideal for cleaning hardwood floors as well as other types of floors. This mop can also work for both wet and dry surfaces, which is ideal for removing dirt and dust in hard-to-reach places like under sections of furniture when the floor. Additionally, this microfiber variant of the mop has a spray tank that needs a refill with water before continuing with clean-up. Once ready, just simply pull the trigger on its handle to bring an even spray on the floor.
This product's advantages are that it is easy to use, its features are interesting, and it can clean hardwood floors well. The device has a 360-degree rotating head that helps clean every corner of your room, so there is no spot leftover. This mop also has a water cleaning system where water becomes cleaner because of the gaseous state changes, and they mist evenly because of the spray.
Quick facts:
Microfiber pad.
410 ml sprayer tank.
360 degree rotation.
FAQ
What type of mop is best for wood floors?
The best type of mop for wood floors is microfiber because due to its fibers it can cover the most area and remove dirt well. It's the best mop for any type of floor, in fact.
Are steam mops good for hardwood floors?
Steam mops are fine for hardwood floors but you have to make sure they are sealed well and the seal is not worn out.
Is mopping wood floors bad?
In general mopping is not bad for floors. When mopping wet you have to make sure to avoid excessive water. If you're using a cleaner solution, make sure it's suitable for wood.
Liked this article? Here's what you can read next:
---
Disclosure: As an Amazon Associate we earn from qualifying purchases.