Last updated on October 1, 2023
What are the best materials to choose for outdoor furniture? What does your choice depend on? Here are the top 5 best materials.
Do you enjoy evening snacks with friends and family gatherings by the poolside? You might be a fan of good-looking outdoor furniture.
But planning to buy outdoor furniture is not as simple as choosing indoor tables, chairs, and accessories. However, you don't need to worry.
We are sharing some amazing ideas for outdoor furniture that last for a long time. Keep reading to make profitable decisions.
Things You Should Consider Before Deciding on the Material for Outdoor Furniture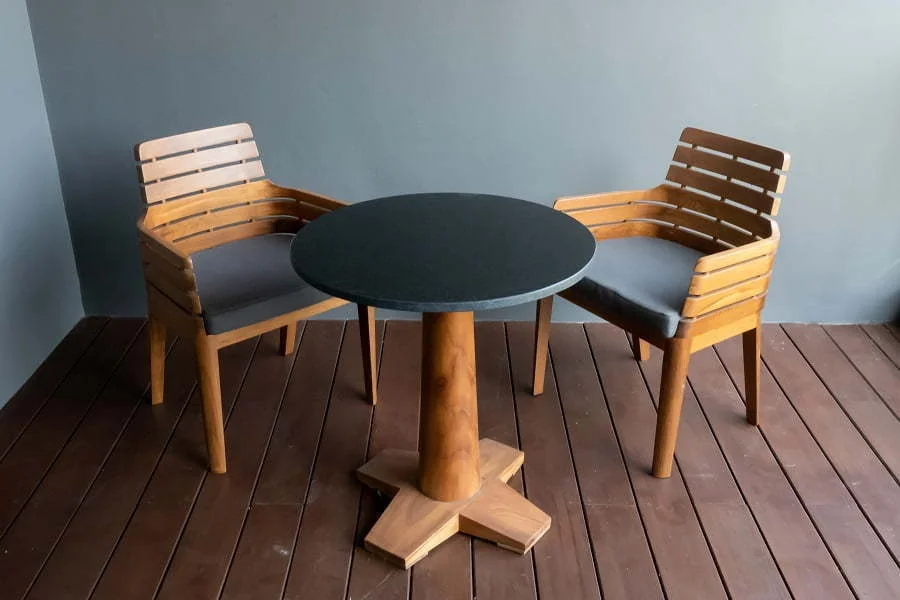 When we talk about outdoor furniture, we think about investing in something durable, beautiful, and strong. It has to face various seasonal changes and uncertain weather conditions.
Consider these factors before you rush to find something for your patio or pool area:
Weather Effect
If you live in a region where there is frequent rainfall, you need to be careful while buying furniture. If your house is located in an area with high moisture content, the smart choice is to go for water-resistant materials. Remember, water and moisture doesn't only spoil furniture but poses several health hazards as well.
Mold, Mildew, and Rot
Furniture is susceptible to get mold, mildew, or rot. This type of fungus grows in humid and moist conditions. The sad part is that it causes respiratory issues and irritation. These fungi can be cleaned if you follow a nice cleaning routine. However, rot spoils the furniture and damages its look.
Rust and Corrosion with Time
Rust is a common problem with iron or steel furniture. Whether it's your favorite table or chair, rust takes away its luster and elegant look. Rusting is a common complaint in homes in the coastal regions. So, if you live in such an area, it is best to refrain from metal stuff and opt for other materials.
Warping and Continuous Moisture Effect
Have you ever witnessed a chair that has lost its original shape? This condition is known as warping. Warping happens because of the water that seeps into the material. It loosens the screws and fixtures, which results in an unusual shape that looks unpleasant.
Excessive Sun Exposure
Most furniture, carpets, and other home accessories come with a warning like "keep it away from direct sunlight. Why is that so?
The UV rays from the sunlight damage the fabric and fade away colors. Therefore, if you are looking for patio furniture, avoid fabrics for chairs and go for solid and durable materials if it is exposed to sunlight.
Consider Your Budget
Finally, yet importantly, determine your budget before you buy something. There are many options, which will come within your budget.
You can create a patio inspired by Pinterest if you have the passion and creative approach.
The Best Materials for Outdoor Furniture
If we talk about favorites, these materials are always preferred by interior decorators for outdoor furniture. Have a look at these. 
Resin and Plastic Ideal for Chairs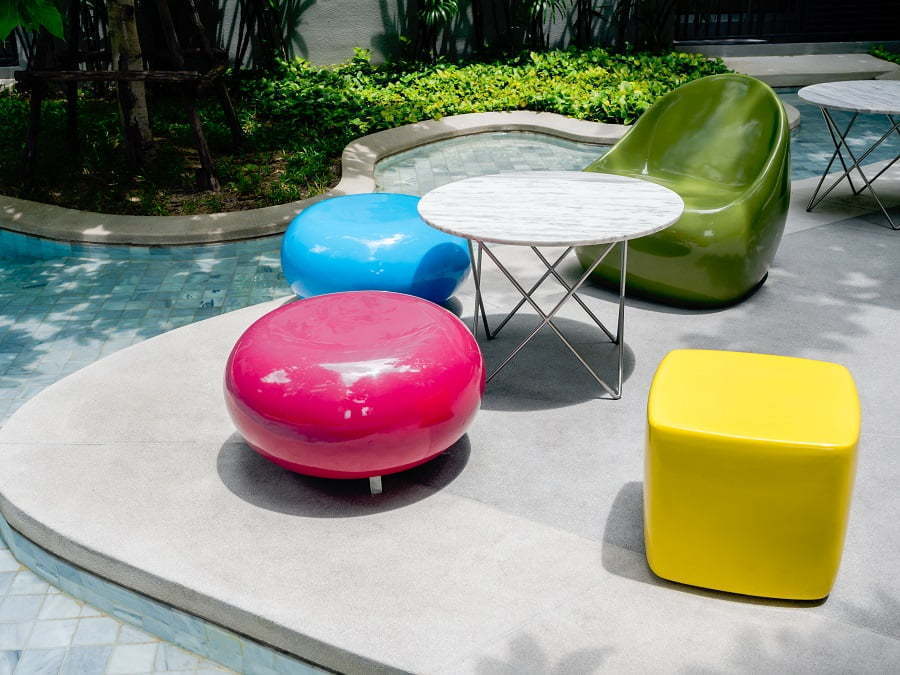 Chairs are the most used items when placed outside. Whether it's by the poolside or in the middle of the lawn, chairs always take the center spot. Plastic chairs are affordable, durable, and easy to clean. On top of that, they are not affected by unfavorable weather.
So, if you are looking for something evergreen and classy, opt for modern chairs available in plastic or resin.
Teak For Outdoor Sofa
Teak is solid hardwood with natural water resistance and superior durability, making this material ideal for any outdoor furniture, such as a modular outdoor teak sofa. The natural oils that make teak water-resistant also help prevent pest infestation, repelling termites.
Because teak is already beautiful in itself and has natural oils for protection, this material is low-maintenance. You don't have to stain it anymore. Just simply apply teak oil to your modular outdoor teak sofa or any teak outdoor furniture to restore its shine.
Teak wood boasts of the longest life expectancy among all types of solid wood. Unlike others, teak doesn't crack or splinter over time. Because of its immense strength, teak wood is hard to break.
For a new outdoor teak sofa, choose one that you can configure to fit any space, such as a modular system. Choose a modular outdoor teak sofa with a solid frame, a quick-drying foam, a life-proof fabric, and clean-lined cushioned armrests as much as possible.
Of course, make sure to source your modular outdoor teak sofa from a reputable seller or supplier who can offer three to five years of warranty. If you're ordering online, make sure that you check the testimonials and rating of verified buyers. Check the photos of the sofa they bought, along with their ratings.
Wood is Ideal for Patio Enclosure Framing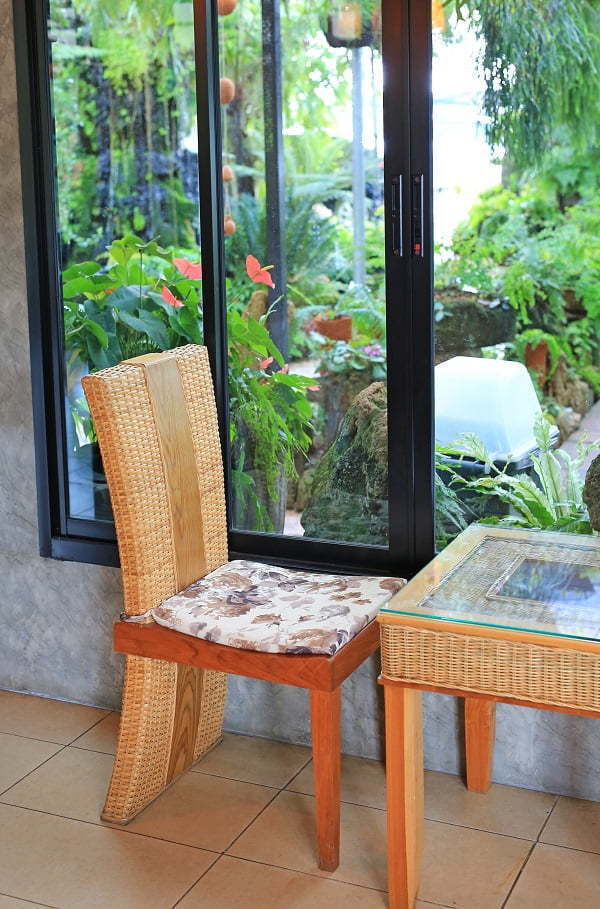 Do you plan for a Hollywood inspired patio enclosure? You must have noticed the wooden framing that supports the glass. Wood offers a fine look and gives stable support to the glass sheet.
Well, tempered glass is used for the enclosure, but you can go for different wood shades for framing like oak, dark brown, white, or black.
Round Tempered Glass for Patio Table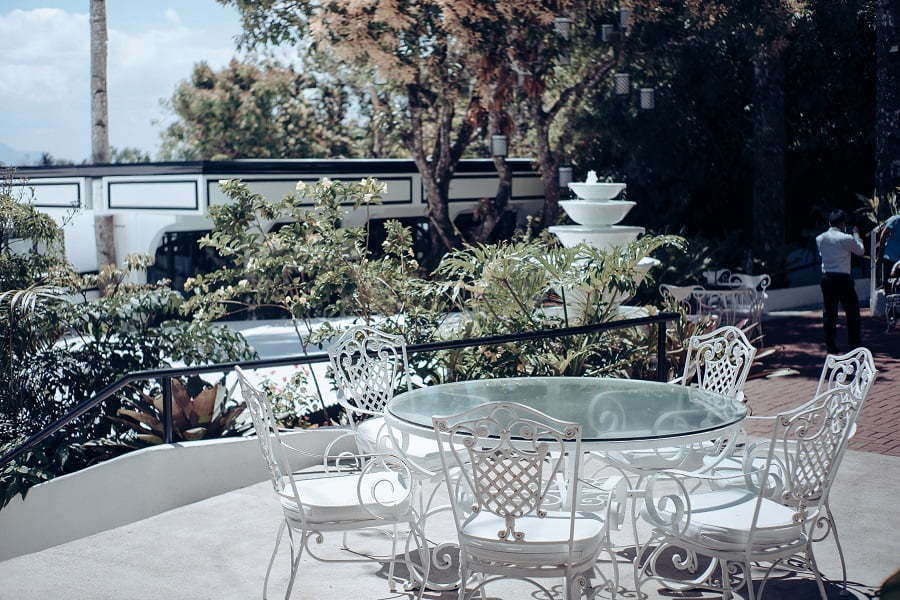 Do you know what material works best for a patio tabletop? It's none other than tempered glass. The round tabletop exudes an elegant feel while the durability of tempered glass for the patio table makes it last longer.
There are various design patterns available in tempered glass. You can choose aquatic, clear, or frosted glass for the patio table.
Concrete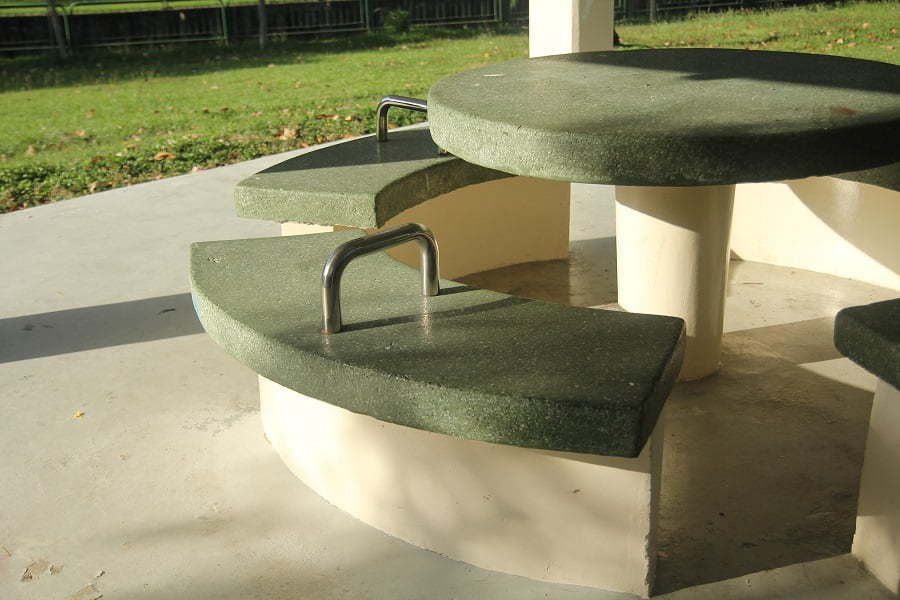 If you are a modern house owner, concrete is a cool option for you. It is best for table bases, benches and can be used with other materials. It offers a rustic charm to the outdoor area.
Concrete is durable, strong, and can be molded into different shapes.
Aluminum
Aluminum is another material choice for outdoor furniture. The lightweight nature and affordable range make it available for everyone. Moreover, aluminum has easy maintenance and care features.
It complements deck or poolside areas. You can complete the look with fabric cushions or paint the furniture in inviting colors for a brand new look.
That's how you choose outdoor furniture. You can choose different materials including glass for the patio table. However, you should consider all other factors before making a decision.
Recap
Liked this article? Here's what you can read next: