Last updated on December 20, 2020
Looking for a desk lamp for your workspace? Can't skim on that. Here are the best LED desk lamps in 2020. Read on!
If you spend a lot of time in your workspace (be it at home or in your office), especially if your work hours go late into the night, you do need a proper desk lighting. There's just no way around that. Luckily there are many great modern desk lamps that can do the job. In fact, there are so many that it's really a hard thing to choose one that works the best.
And we wouldn't be a decor blog if we didn't talk about the design and style as well. You don't want an ugly lamp on your desk to look at all day. It has to make a statement or at the very least blend into your decor seamlessly. We will talk about that too.
Let us also establish that we're looking at LED lamps because they are the most efficient. While there are desk lamps with other types of lightbulbs, it's only LED that is sustainable and eco-friendly.
So, how do you choose the right LED desk lamp?
Answer these questions:
What's your main area of work at the desk – reading, writing, the computer?
How bright should it be?
How big is your desk and how much space do you have for a lamp?
Do you have a spare power outlet for it (or a battery-operated lamp is a consideration?)
What's your decor style and what is the lamp going to do to it (accent, statement, blend in?)
Does it need to have extra USB ports for your phone and other gadgets?
Answering these questions will certainly help you narrow down the choices. And the following list will make it even easier. We've used all research data available to use to make our picks. Do note that we are compensated by Amazon for qualified purchases at no expense to you (tagged #ad). This will pay for our coffee.
Here are our top picks.
What's Inside?
LED Desk Lamp
This lamp provides a relaxing, gentle and warm background or a bright and focused illumination. It is dimmable and keeps your eyes from getting tired, as such, it is ideal for extended use.
Pros: Great value for money; provides relaxing seating; very flexible.
Con: the bulbs cannot be changed, which renders the lamp useless when the light stops working.
Reading Lamp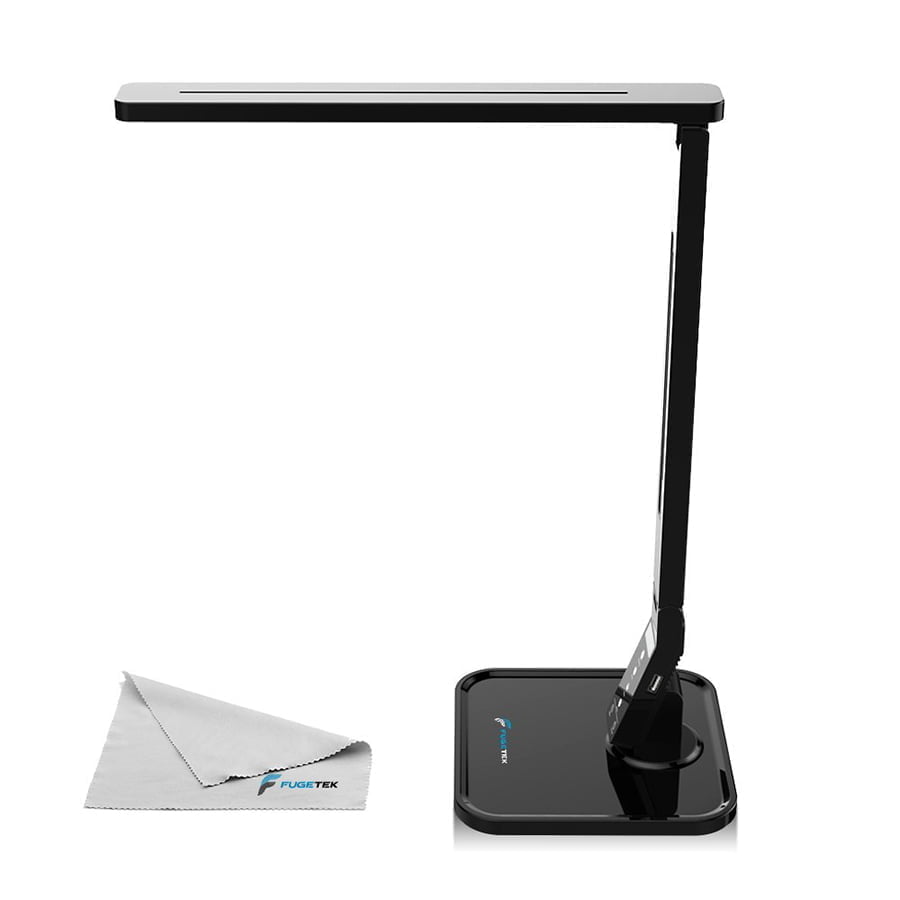 The LED bulb in this lamp will last as long as 50,000 hours when used normally. It is energy-efficient, economical and reliable; it has power consumption at 14 watts. It provides 5 levels of brightness and 4 lighting modes.
Pros: easy to assemble; it has 2 colors and 4 levels; it has a USB port to charge a phone.
Con: cannot charge an iPhone.
Modern Lamp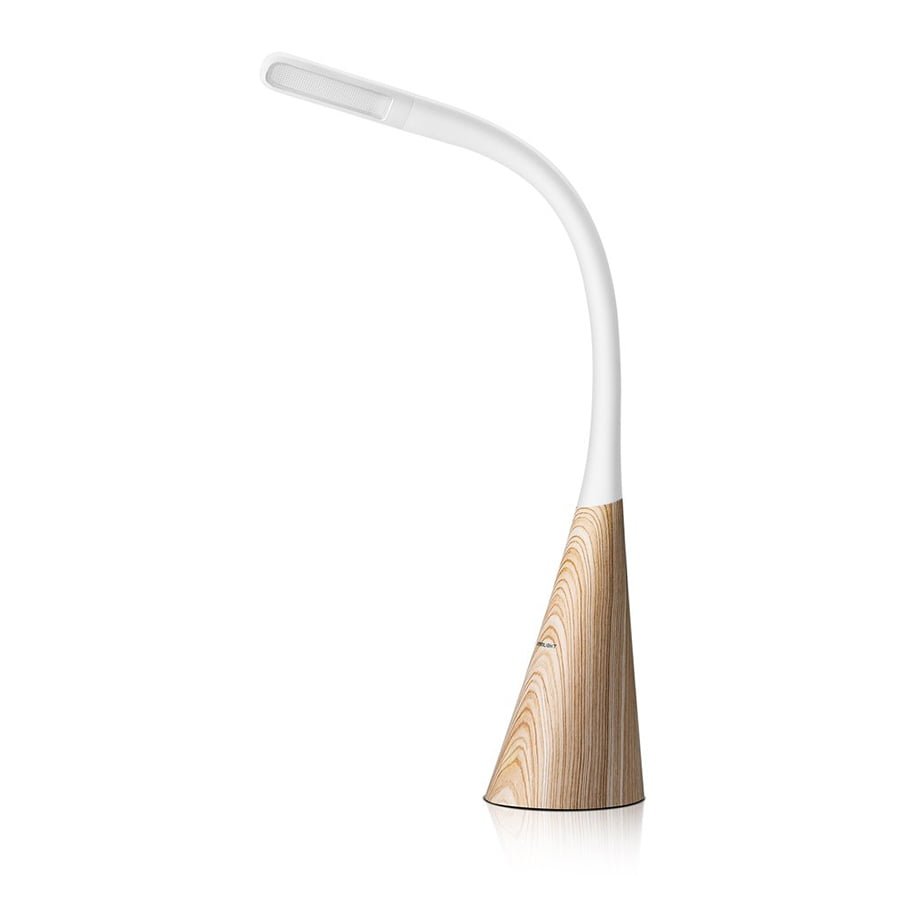 This lamp is elegant, mature and is reminiscent of artwork. It has a wooden color, swan-like shape, and its base is shaped like a pyramid. It has a 360-degree gooseneck design, with an arm that permits you to freely adjust its height and angle.
Pros: the light is bright but not glaring; it is both functional and visual appealing; the lamp is lightweight and easily adjustable.
Cons: the on/off switch is tiny and can be difficult to find.
Sunbeam LED Desk Lamp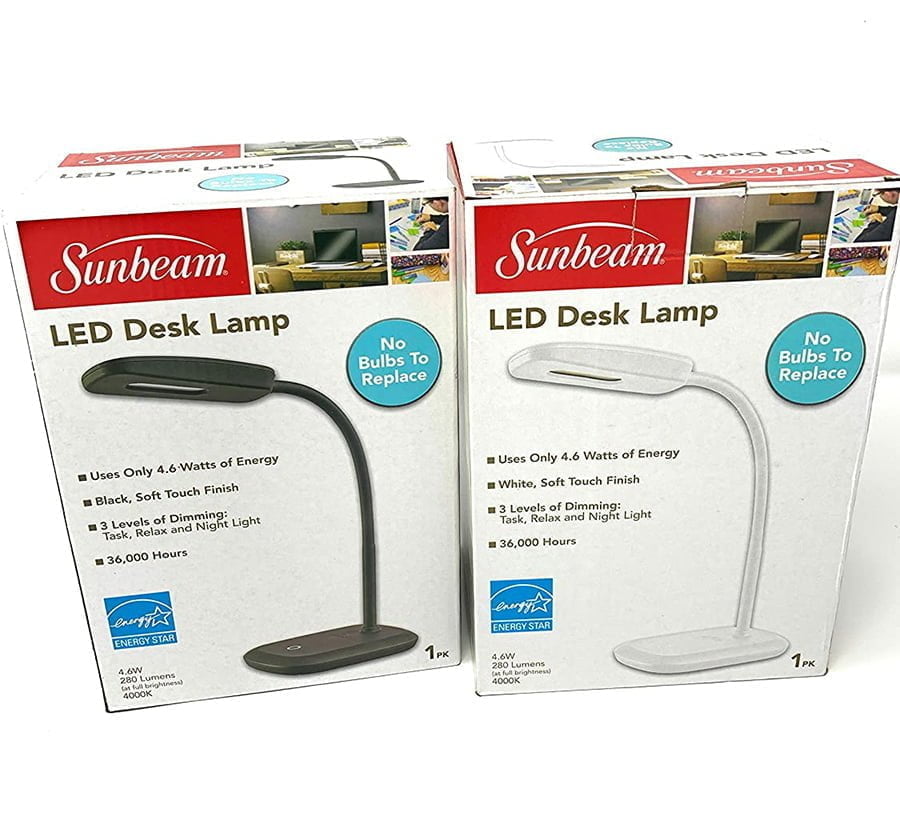 This handy lamp offers three dimming levels that only uses 4.6 watts of energy. It is multi-functional and can be used in various settings to provide the right amount of light as required. It a handy accessory for the home, dorm room and any work area.
Pros: the lamp is sturdy and durable; it is versatile and multi-functional.
Con: the bulb cannot be changed, which renders the lamp useless when the light stops working.
Architect Lamp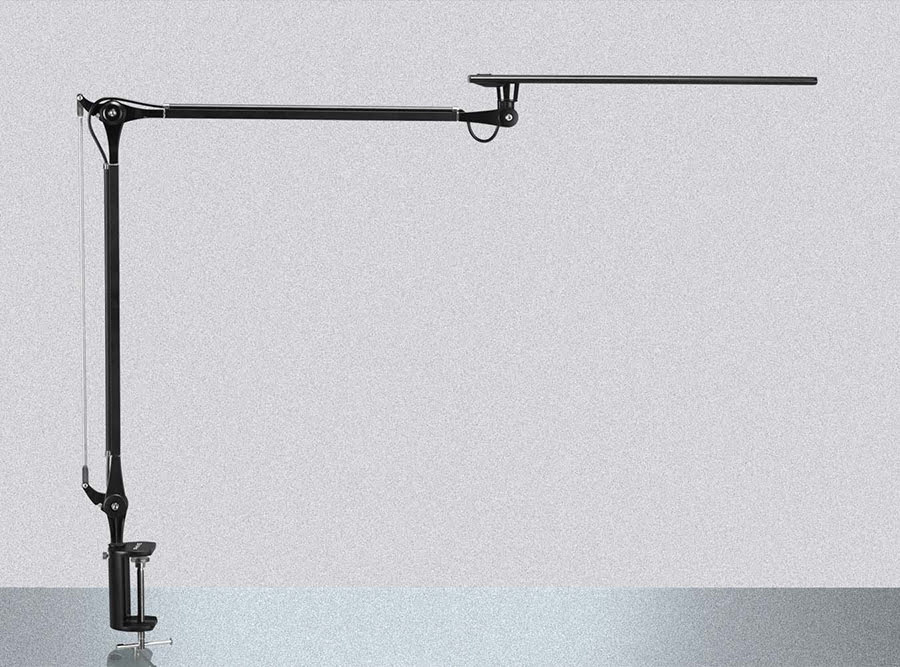 This lamp emits close to daylight illumination and its diffusion panel emits soft light without glare, flicker or ghost-like emission. It keeps the memory of brightness and easily recalls a personal setting. It is energy-saving and durable, with a 50000-hour lifespan.
Pros: it has an impressive memory function; it is environmentally friendly and energy-saving.
Con: adjusting the lamp is not very smooth.
Taotronics LED Desk Lamp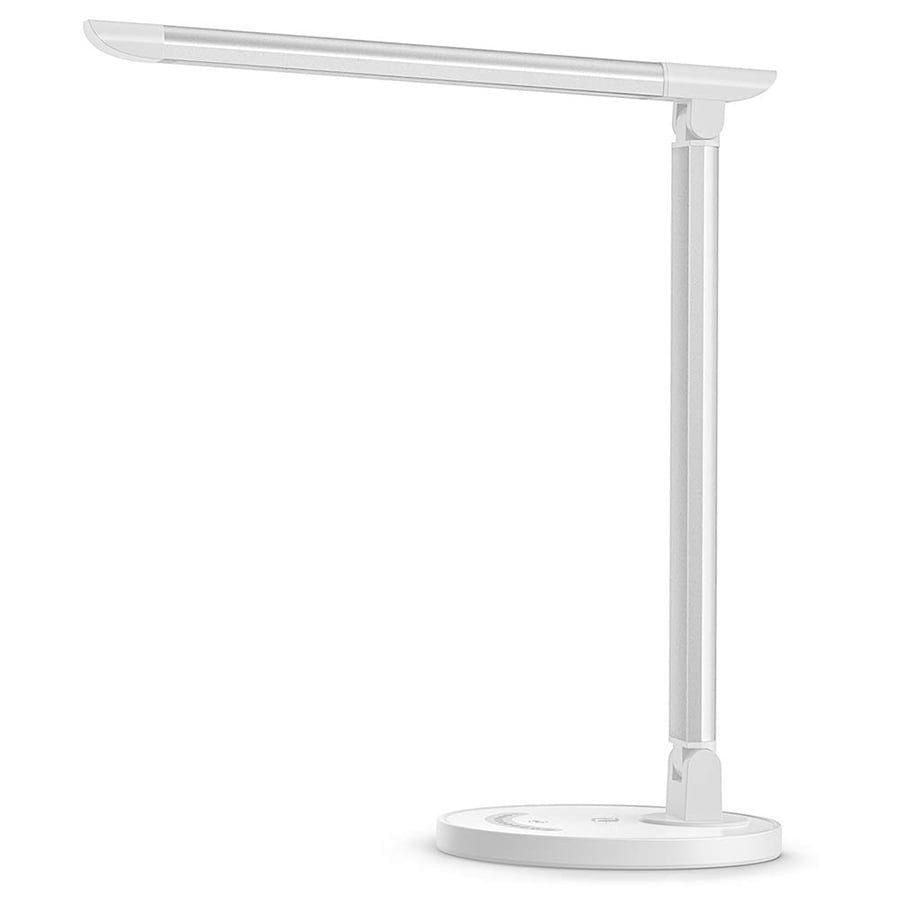 This lamp is gentle on the eyes and emits a flicker-free light that illuminates the space without being harmful to the eyes. It is ideal for working, studying or reading and provides endless lighting possibilities. Its unique combination of 7 brightness levels and 5 color modes can create the perfect ambiance.
Pros: the lamp has 5 color modes and 7 brightness settings; it is flexible and versatile.
Con: the switch controls malfunctions.
Clip-On Desk Lamp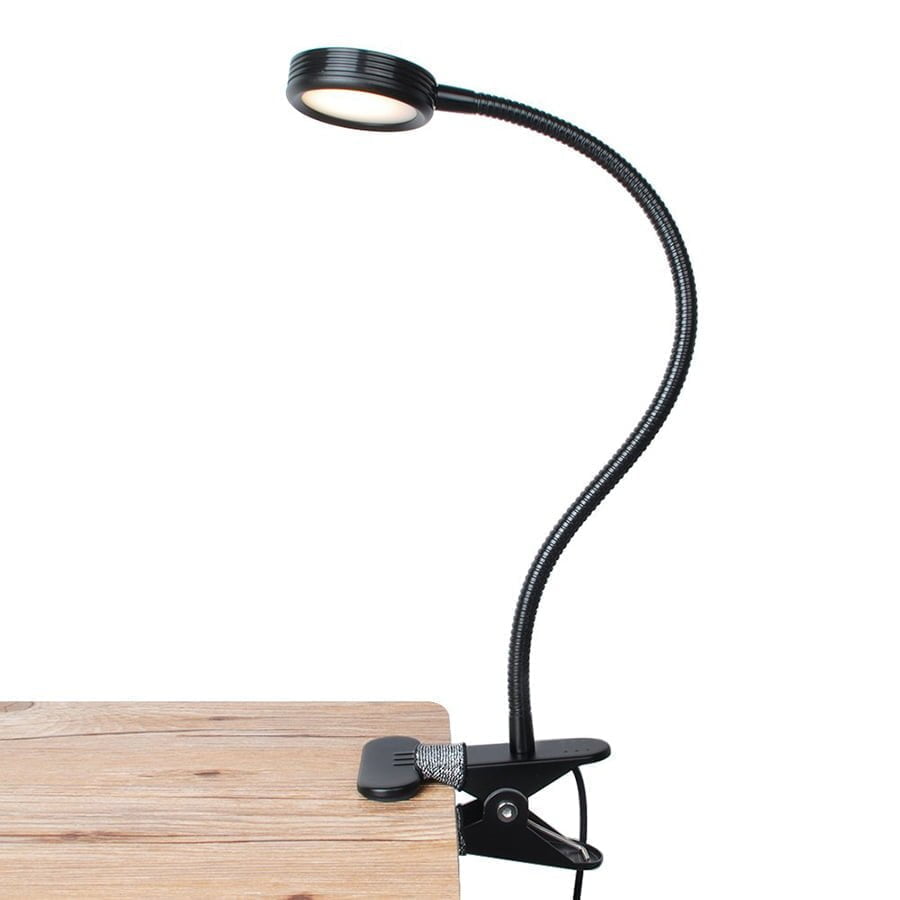 This clip-on LED desk lamp brightens up space with just a click of a switch. It is ideal for computers, headboards, desks, and tables. It has a free angle adjustable arm that can be ideally placed for optimal viewing.
Pros: this lighting is quite friendly to the eyes; its arm can be adjusted 360 degrees.
Con: USB power adapter has some issues.
Small Desk Lamp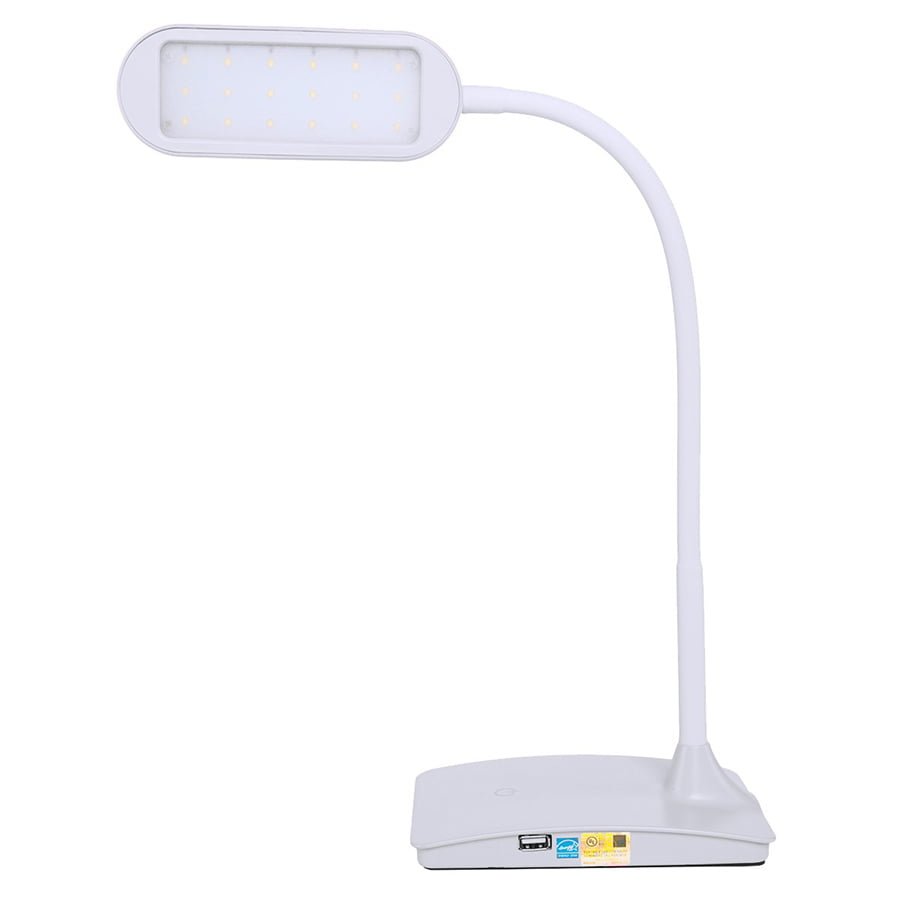 This basic, yet stylish desk lamp is ideal for women, men, kids, teens, students and others who would like to use an environmentally-friendly, star energy rated product. It is equipped with a three-level dimmer that suitably provides task and ambient lighting.
Pros: this lamp is eco-friendly and energy-saving; it uses high efficiency LED.
Con: there is no informational paper included in the package.
Table Lamp with USB Port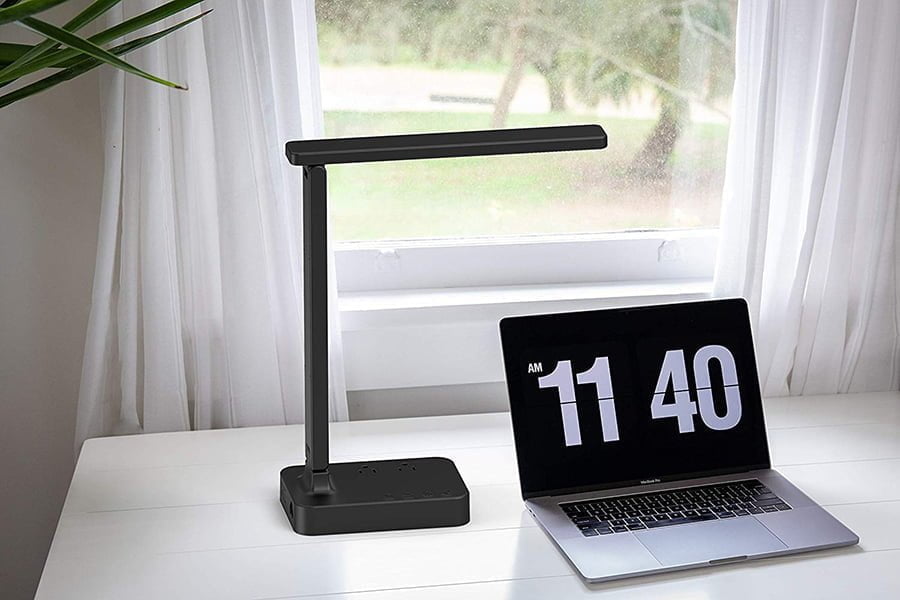 This multi-functional lamp is dimmable and has 3 brightness levels. It provides a comfortable environment that effortlessly allows for relaxing, studying, working or preparing for sleep.
Pros: this lighting system provides great value for your money; it has an eye-friendly design.
Con: the light arm could be a bit bigger.
Battery Operated Desk Lamp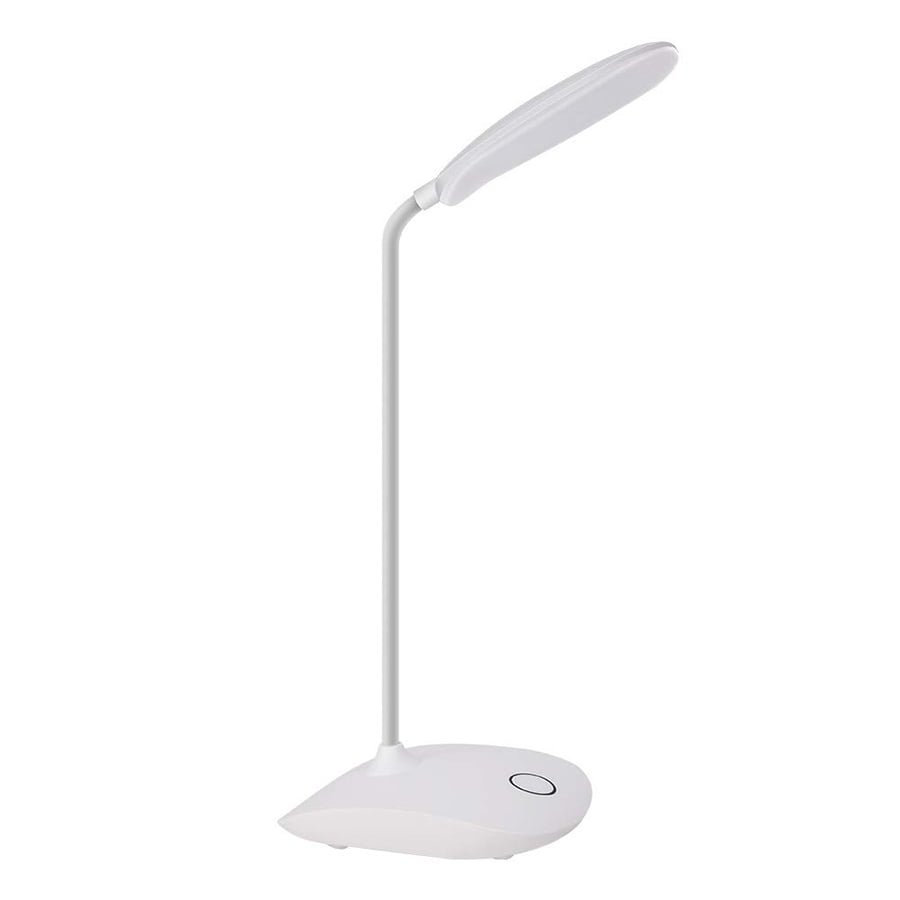 This flexible gooseneck lamp allows you to illuminate where required. When traveling it can be bent into a small size to save space.
Pros: it provides an energy-saving LED glow; it is quite easy on the eyes.
Con: gets dull quickly when unplugged.
Liked this article? Here's what you can read next:
---
Disclosure: As an Amazon Associate we earn from qualifying purchases.