Last updated on August 31, 2022
Your installation of the driveway gate is only as good as the hinges. Here are the best driveway gate hinges you can choose from.
Which one is The Best? We pick these Safetech Self Closing Gate Hinges.
If you're installing a driveway gate yourself, you can use hinges that are as simple as a J-bolt. It will do the job as long as it can hold the weight of the gate. But there are more options to explore. And we encourage you not to stop at the easiest and most obvious solution.
For example, the hinges we've chosen from Safetech are a durable option with a self-closing mechanism, and it's easy to install on most types of swing gates (wooden or metal). Depending on your project, you can choose other options as well. In some cases, even spring-loaded door hinges will work.
Here's what you need to know when choosing the right gate hinges:
These are all for swing gates (sliding gates use rail).
Measure the gate leaf width and be aware of its weight so you can pick the hinges that can support it.
Driveway gates are exposed to the weather, so they must be durable and heavy-duty.
Consider the self-closing mechanism.
Choose hinges that are low-maintenance and self-lubricating.
There are two main options for installation — nuts and bolts or weld-on.
All shopping links on this list earn us a commission at no cost to you and all the convenience.
What's Inside?
Safetech TopKlik Self Closing Gate Hinge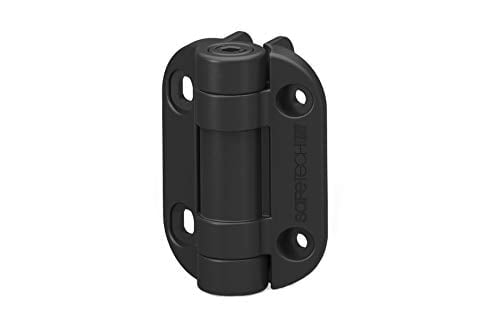 These hinges work with non-traditional gates and are built without rusting using polymers and stainless steel. The weight-bearing capacity of these hinges is 154 lbs. Silver seal UV protectors make the resurface last longer on home types in light areas, shadows, and shaded spaces. The hinges self-close and can be easily adjusted.
Quick facts:
Made of rust-proof polymer and stainless steel.
Works with gates up to 154 lbs.
Adjustable self-closing mechanism.
D&D Technologies TruClose Heavy Duty Gate Hinge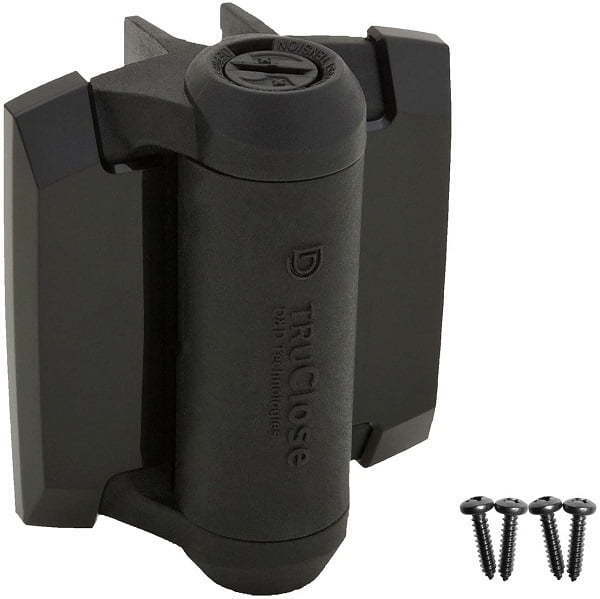 These hinge pieces are made of metal replacement polymer and stainless steel components. They cannot rust because of their industrial strength. The hinges are used for gates weighing up to 66 pounds. There should be a 13/16″ gap between the gate frame and fence post. It has two hinges, mounting brackets, and stainless steel screws to put the hinge in position. They provide a tension adjustable system as well as are self-lubricated. They can also be used for safety fences near pools and other daycare equipment or pet barriers.
Quick facts:
Tensions adjusted self-closing mechanism.
Made of steel and polymer.
Works with gates of up to 66 pounds.
Barrette Heavy-Duty Wrap Hinge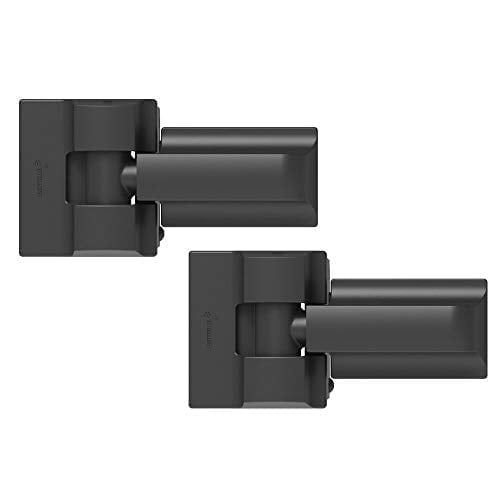 The recommended screws with these hinges are 24 1 ½" Phillips. Gates that can use these hinges are wooden gates and vinyl gates. This hinge's max angle is 180 degrees, and it holds gates up to 96-inches wide and 150lbs. One pair of gate wrap hinges comes with the kit, a pair of nylon coverings for easy installation on the posts 4 inches or wider, and four nylon coverings for post uprights 18 inches or wider.
These hinges are made of zinc powder-coated steel. The hinges are adjustable in 3 different ways for easy installation, and they can close automatically with self-closing or manual operation. They work best on gates larger than 4×6 inches and have wood or vinyl posts. The hinges also have covers for decoration that try to hide the screws.
Quick facts:
Made of zinc powdered steel.
Works with gates up to 96-inch wide and weighing 150 lbs.
Door-mount installation.
Barrel Style Gate Hinges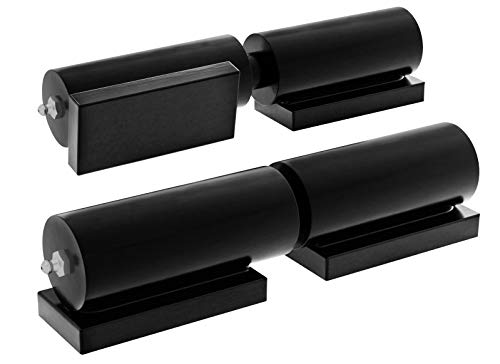 These gate hinges are made of steel. Installing them requires a welding job and usually takes time – you cannot install these hinges without welding. The capacity makes this product useful for gates up to 450 pounds. They fold gorgeously when opened or closed and operate smoothly due to their ball bearings. Gate hinges come in the universal color black; they can easily blend into most gates.
Quick facts:
Made of cold rolled steel.
Works with gates up to 450 lbs.
Weld-on installation.
D&D Technologies TruClose Round Post Gate Hinges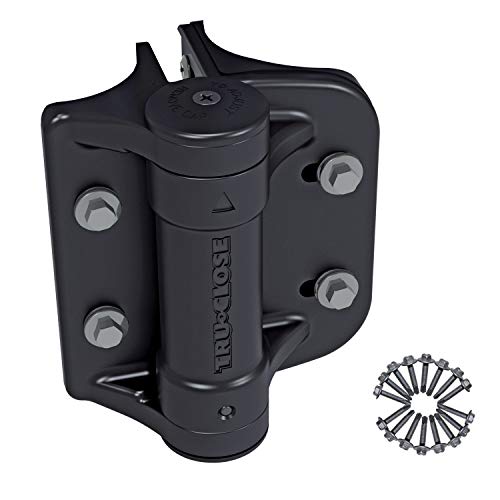 These gate hinges are industrial-strength "metal replacement" polymer and stainless steel components. They're used on chain-link gates, weighing up to 154 pounds with a 1 3/8"- 1 5/8" gap between the rails. They come with two hinges, mounting brackets, and stainless steel screws. Gate brackets should be installed at a minimum of 48 inches on either side of the gate post for swinging gates or an upright rail for sliding gates.
Quick facts:
Made of industrial strength polymer and stainless steel.
Works with chain link gates up to 154 lbs.
Self-lubricating components.
Safetech MegaKlik Self Closing Gate Hinge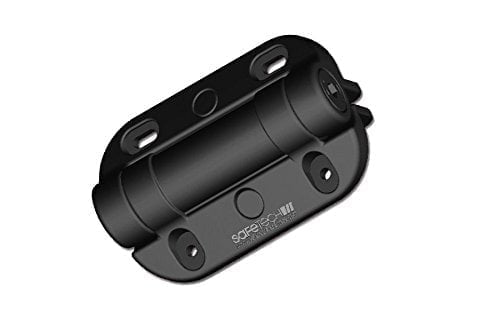 These hinges are made out of a non-rusting polymer and stainless steel. You can install them easily in any gate by drilling holes, measuring them, and holding them in place with lag screws. You can push the button to close it or pull it open to use the gate. The weight-bearing capacity for these hinges is 1128 lbs, and the closing weight of 187 pounds.
Toggle hinges are self-closing, meaning when lifted away from the wall or other piece that they're fastened to, they will swing closed on their own weight. These hinges can be adjusted vertically and horizontally for maximum flexibility and ease of installation.
Quick facts:
Made of rust-proof polymer and stainless steel.
Self-closing mechanism.
Weight capacity of 1128 lbs.
Ranbo Spring Loaded Hinge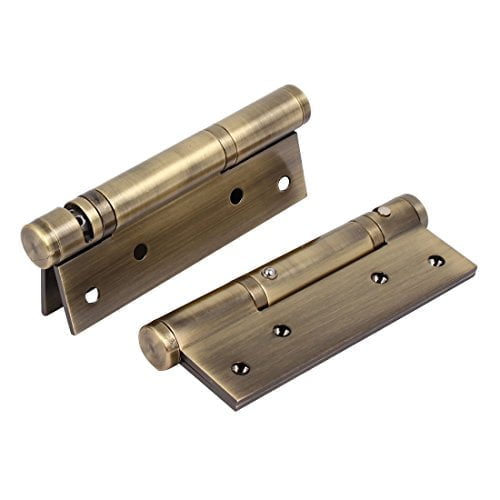 Due to the durability and installation process, these hinges can be used on most residential or commercial gates. The hinges are installed so that they face downward. There are some disadvantages to this hinge type. However, they do look good and have an easily detectable safety mechanism. They are durable too.
These hinges are made of solid steel. It is easy to install them; all you have to do is drill a hole the pin's size, which is located on the inside surface of the hinge, and secure it using a nail. The length is 32mm/1.3 in (folding hinge: closing plate folded together three times high).
Quick facts:
Made of stainless steel in bronze finish.
Weight capacity of 132lbs.
Spring-loaded mechanism.
ALEKO Small J-Bolt Hinge for Driveway Gates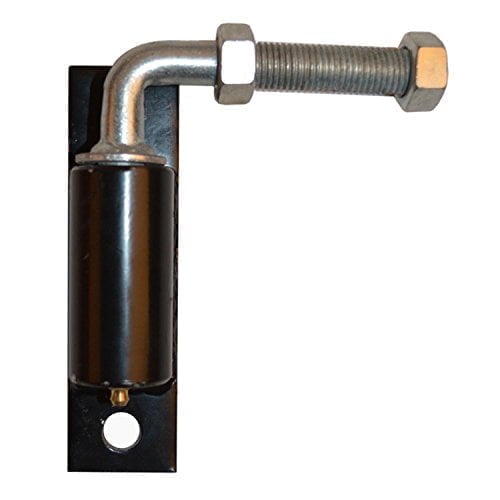 These gate hinges are made of steel. The gate would be set in the appropriate place, then the holes for the bolt and washer would be drilled next to where the hinge should sit. Afterward, they could be matched up together, with a nut on one side and a washer on both other sides, so they can tighten or release easily. These are meant for ALEKO products but will be compatible anywhere needed to keep a gate shut tight.
Quick facts:
Made of stainless steel.
J-bolt hinge for swing gate doors.
Installation with nuts and bolts.
Aluminum J-BOLT Driveway Gate Hinges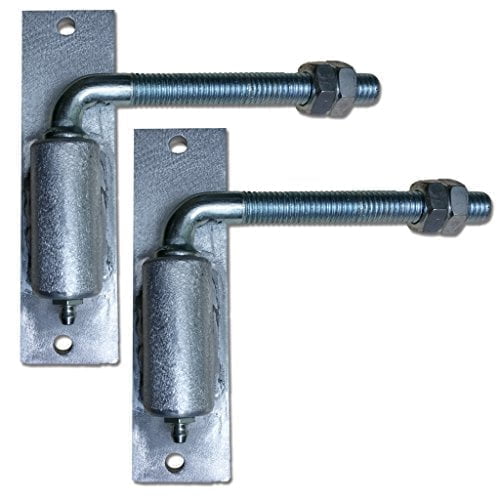 This product consists of 1 steel ball bearing, two steel bolts, and two nuts. The four stainless steel balls inside the hinge allow the gate to swing horizontally without friction. Depending on which side of the existing construction you install a hinge, it will dictate whether you need to screw screws or use a bolt and nut.
The knobs, screws, and nuts are made out of steel. Installing the hardware involves using two bolts for each gate hinge to a structure with an opening for the hinge. Depending on the gate's construction type, you may need extra hardware since variations in gate designs exist. Gate hinges attach to the top and bottom joints on your gate support and are used for gates with openings between 33 and 140 inches wide.
Quick facts:
Made of galvanized steel.
Moves on a lubricated bearing.
J-bolt hinge for swing doors.
Steel J-Bolt Welded Hinge for Iron or Steel Gates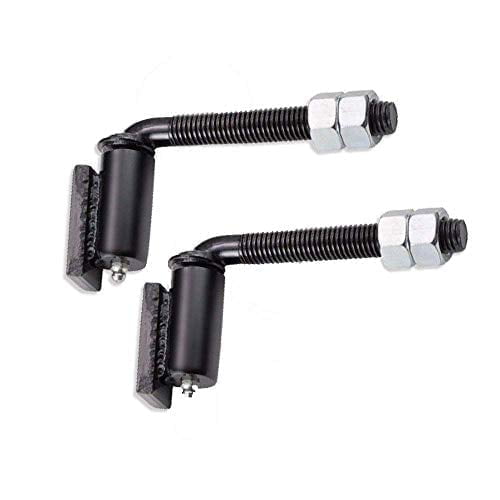 The hinges are made of welded metal and were designed as a breakaway hinge to prevent an object such as a car from crushing them. They can be mounted straight atop the gate's posts or hooked onto the galvanized steel guards away from the gate post. The installation process is to measure off half of that distance for mounting, drill a hole, and bolt each socket using screws or bolts.
The hinges allow gates to swing full circle and include a lubricant inside the hinge for easy movement as metal grinds together. These hinges would best be used on top-mounting installations.
Quick facts:
Made of steel.
Installation by welding on a steel plate.
Pivots on a greased bearing.
Liked this article? Here's what you can read next: