Last updated on January 21, 2021
Looking for the best desk fan for your workspace? These are the top 10 options you can consider. Choosing one from our list is a breeze!
With the hot season around the corner, you have to get ready to keep yourself cool in your workspace. The last thing you want is to sweat away at your desk literally. So a small (or not so small) desk fan blowing a refreshing breeze to your face is a very welcome gadget.
From miniature fans that plug into your computer's USB to powerful oscillating fans. Your desk can handle it all. The question is which option do you need? And then, what is the best fan to serve you well? We will try to answer these questions in this post.
How to choose the best desk fan?
Answering these questions first will help:
How much space on your desk do you have for a fan?
Do you have a spare power outlet near enough?
Will you need to move the fan around or take it with you?
How much airflow do you expect you will need?
Do you care about statement design?
Once you answer these questions you will have a better idea of which of the top picks is right for you. The following top-rated fans are chosen by their type and popularity. We've gone through a lot of gadgets using our research method to find them. Note that we get compensated by qualifying purchases by Amazon at no expense to you (tagged #ad).
Which fan will you choose for your desk to keep you cool?
What's Inside?
Personal Fan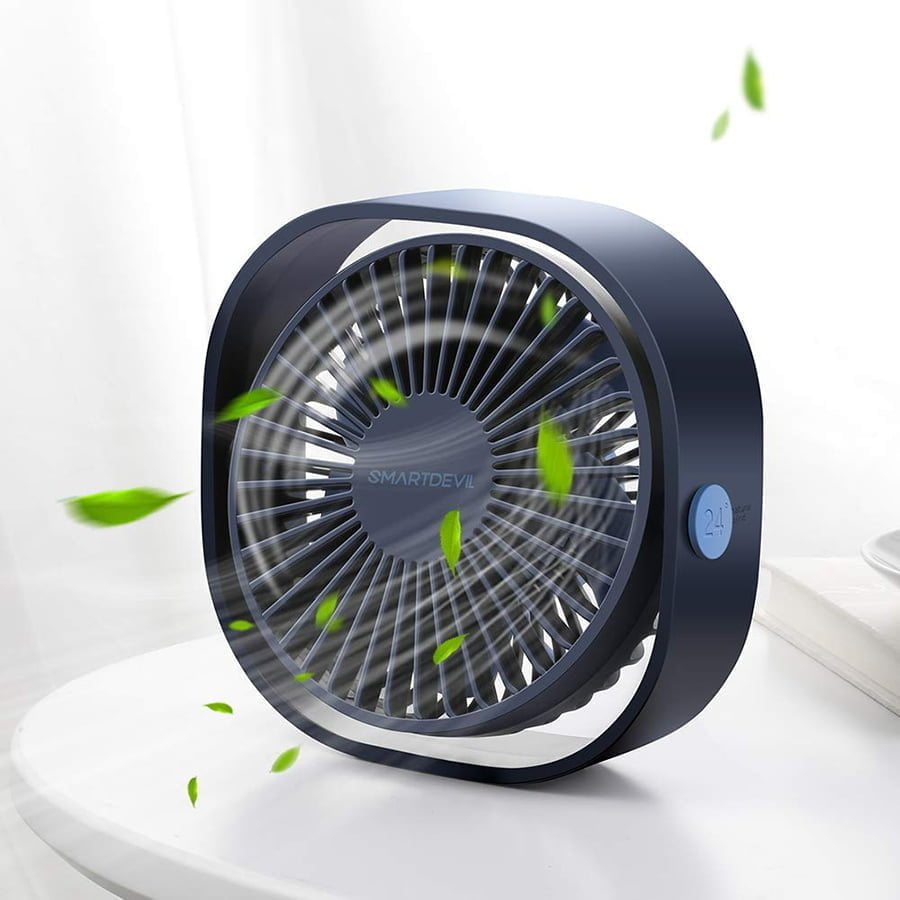 Just when you need something small on your desk to keep the air flowing to your face. It's a mini gadget that will plug into USB easily.
Pros: has a compact lightweight design; 360-degree tilt rotation; small body but is powerful; energy and space-saving; USB rechargeable which is compatible with PC/laptop, power bank, AC adapter, car charger, and other USB-enabled power supply; operates quietly.
Cons: the cord is not that long.
Table Fan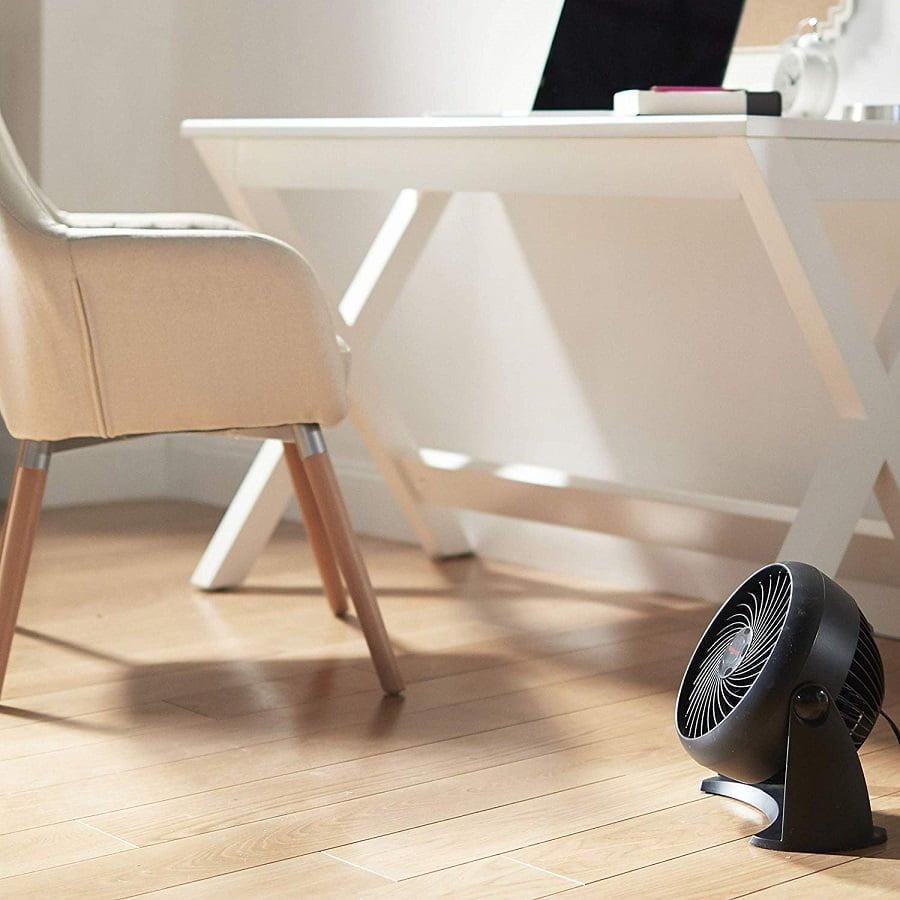 It's more than just a fan that can be placed on any surface you need. Be it on your desk or on the floor next to it. You will be able to adjust it to blow air exactly where you need it.
Pros: it provides a quiet and efficient means of cooling; capable of pivoting and reaching a 90° angle; it has unique blade design that creates less noise; can be mounted to save space, and it is compact enough for a table or wall mount; powerful enough in small to medium rooms.
Cons: the range of motion for this is limited, only adjusts around a single axis.
Silent Fan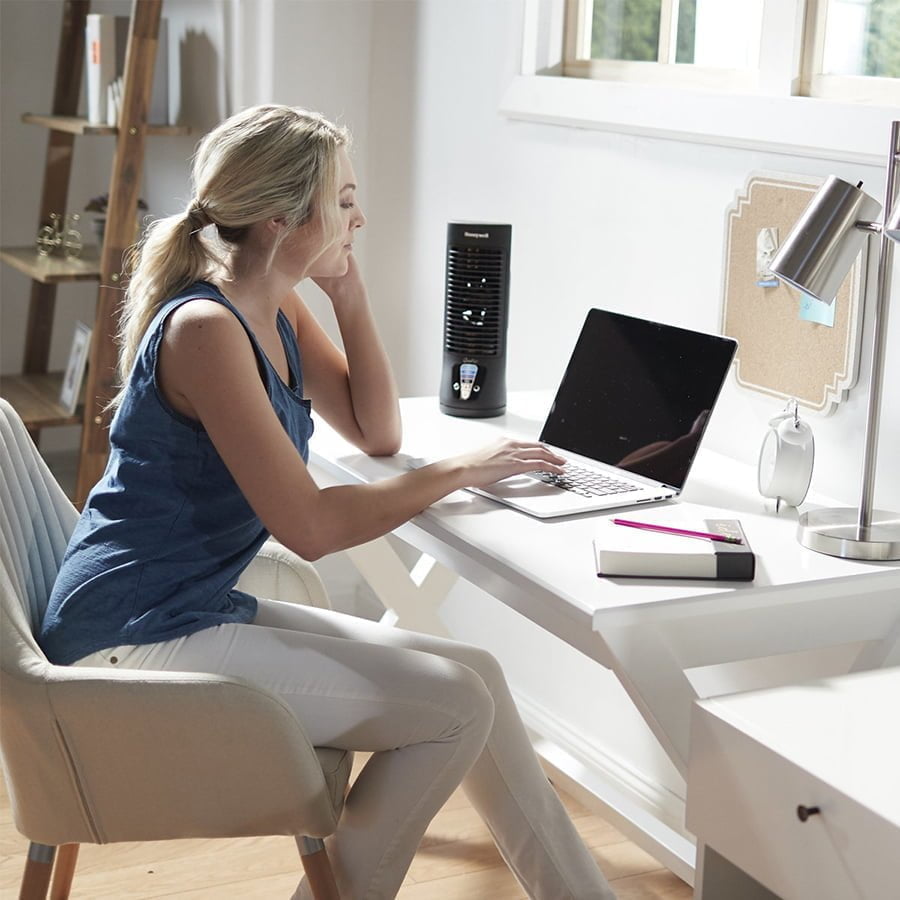 When at your desk, the last thing you want to for something to be humming into your face. So the fan has to be silent, really silent. You will forget it is even there.
Pros: this fan allows you to control both sound and power levels; energy saving; slim space and compact saving design; it has an automatic shut off timer.
Cons: tower does not have a blower and only has a small bladed fan; it does not include a power cord.
USB Powered Fan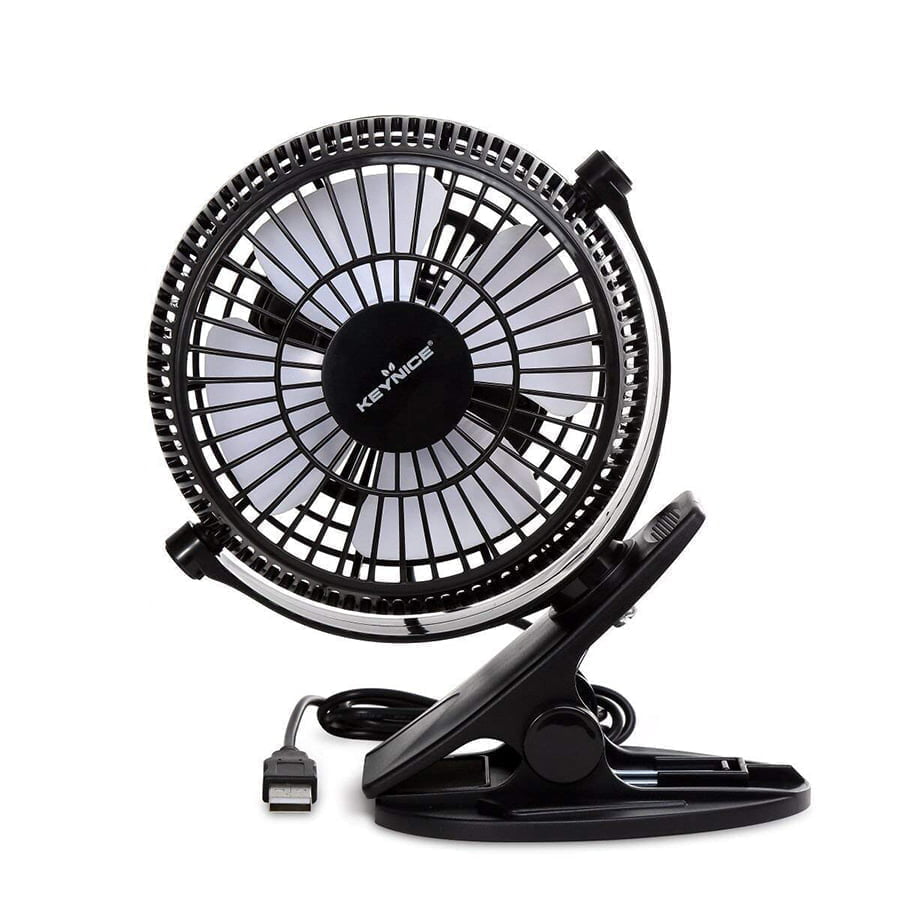 When all you have is a USB port to plug into your computer for a fan this little thingy comes to aid. It's a mini fan but it will provide air circulation at close proximity.
Pros: clip-on table desk type of fan; this fan is designed for personal space use; lightweight and has a compact design; can be powered by any USB power source; a 360-degree rotation fan;
Cons: not cordless or chargeable; the USB cable must be plugged in for it to function.
Small Oscillating Fan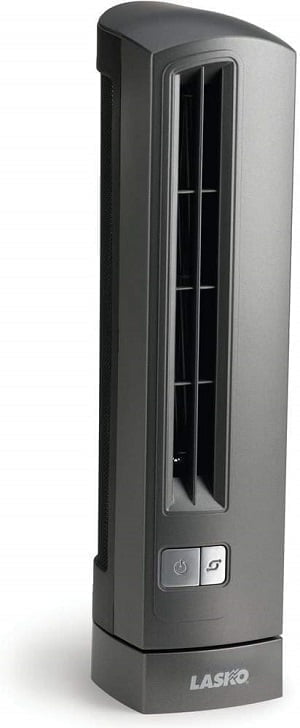 An oscillating function is ideal to provide more air circulation around you. But it doesn't have to be a big fan. This slim tower saves space and does what you need it to do.
Pros: it delivers a refreshing breeze with 2 speeds to select from; it is great for fitting into small spaces; excellent fan power; easy to clean the blades.
Cons: the base is not that strong enough to hold the fan horizontally; quite loud in at the highest setting.
Small Desk Fan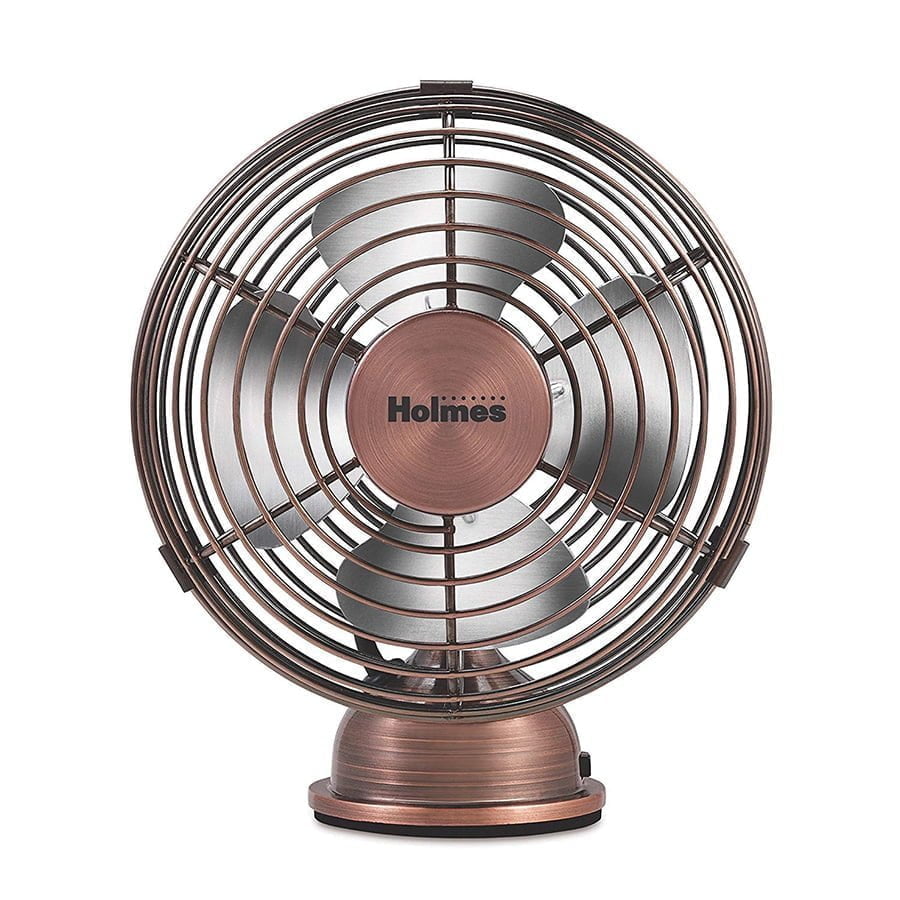 This desk fan is small, really small. It's a mini fan that plugs into USB and proves air circulation for your only, and no one else. The little devil looks good too.
Pros: small but powerful fan; this 4-inch blades cast a powerful cool breeze; powered by a USB cable for extreme convenience; and it gives an antique look that is perfect for classic office spaces.
Cons: it has only one speed setting.
Best Portable Fan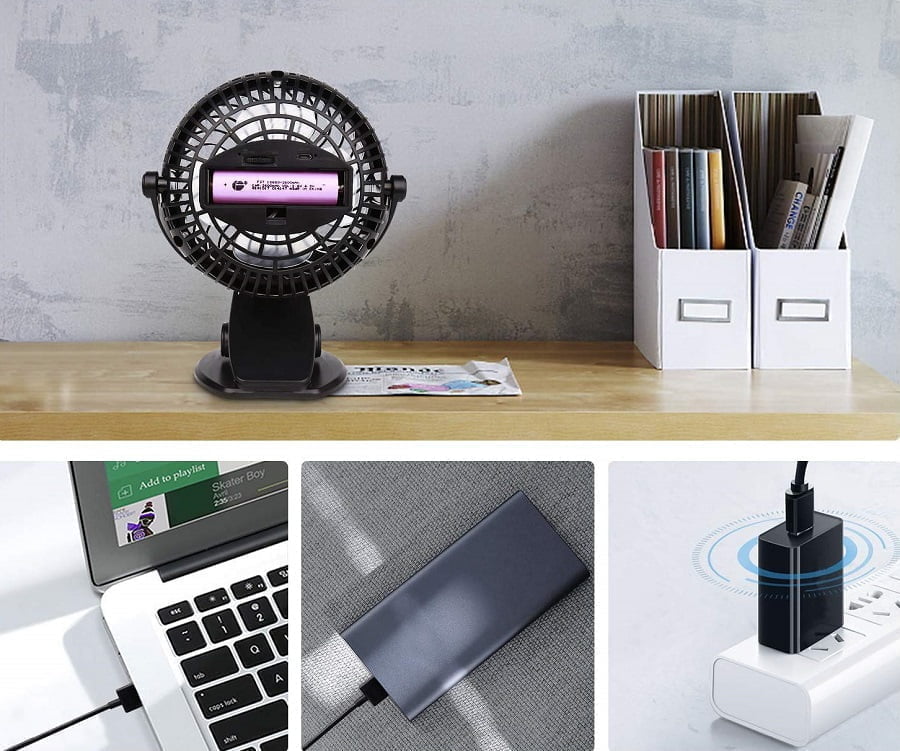 For something really portable you need a fan that is battery-operated. It helps that this fan is free-standing and clip-on as well.
Pros: this rechargeable battery-powered fan has a portable handheld design, so you can easily carry it anywhere; it has a 360 degree vertical and horizontal rotation which makes it more flexible; has a strong clamp and high versatility.
Cons: there is only one speed when it is USB powered.
Retro Table Fan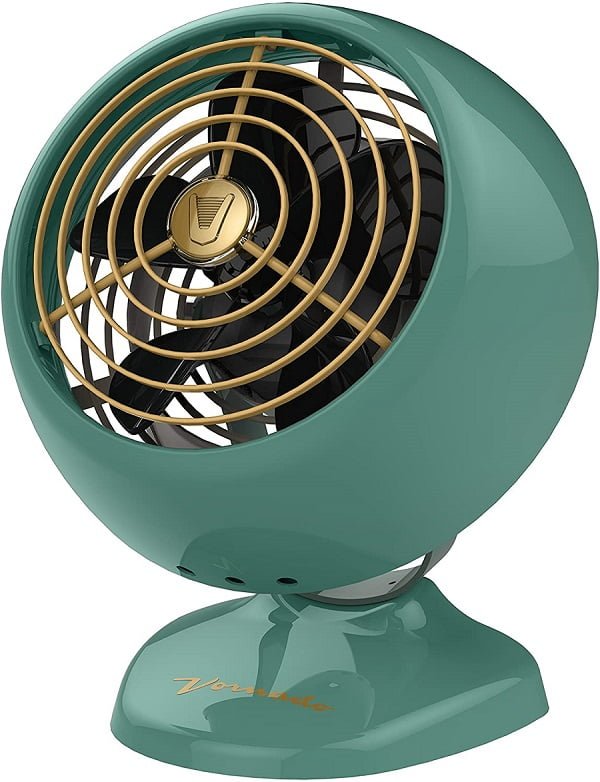 The fan that has the looks and function. Add some retro to your desk space. It's like you've brought it from a thrift store only it's fully functional and works really well.
Pros: it has 2-speed manual control which is easy and allows you to dial in your comfort; full action pivot head for multi-directional airflow; timeless design and iconic performance.
Cons: a bit underpowered and too small; a bit too loud.
Powerful Fan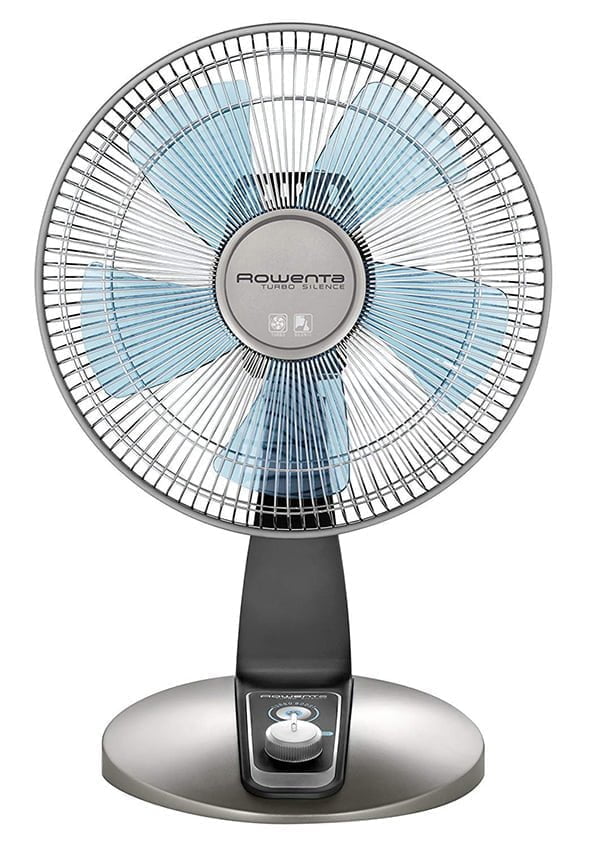 Sometimes you just need something so powerful that it can ventilate the entire room. This fan will do it.
Pros: it has powerful airflow; most powerful and silent desk fan by Rowenta; it has four speed settings; uniquely engineered blades for extra-powerful, ultra-quiet performance with high power quality.
Cons: for downward movement, it only tilts about 20 degrees.
Vornado Desk Fan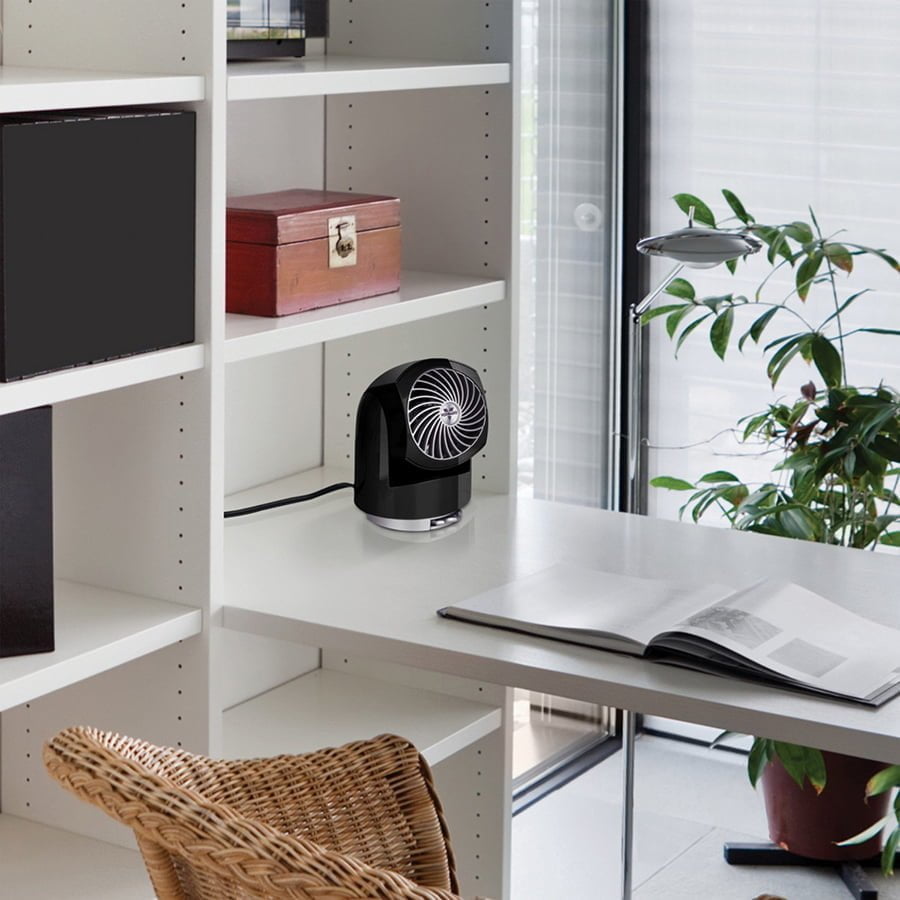 Vornado fans are really popular. They come in a sleek modern design and are very compact. For the size, the desk fan provides decent airflow.
Pros: This chic style design provides multi-directional airflow and circulates all the air around you; when not in use, it can fold down to conceal the grill; very compact and excellent in portability.
Cons: the high setting is too loud; limited airflow.
FAQ
How to clean a desk fan?
Unplug the fan. You will need to remove the front protecting the blades so you can access them. Use a moist cloth to brush the dust off the blades. Let it dry completely and put the front back on.
Liked this article? Here's what you can read next:
---
Disclosure: As an Amazon Associate we earn from qualifying purchases.