Last updated on February 10, 2022
Looking to efficiently and safely store your unused items for the long term. These boxes for long-term storage will do the trick. Read on!
If you're looking for high-capacity, durable, moisture-proof containers for storing those items that need to be kept dust-free and in top condition, then consider the stackable long-term storage container. Keep your ever-growing hoard of items in the order and only add more when necessary.
The best boxes for long-term storage should be high-capacity to store many items, durable and last a long time, withstand moisture, easy to store when unused. If you're like most people and you're just looking for extra storage room – these boxes are what you need – and they convert into shelving!
What to look for:
Large boxes.
Plastic boxes (moisture-proof) or water-resistant fabric.
Collapsible boxes to store them away when unused.
Clear plastic to see what's inside.
Make sure to add oxygen absorber pads into sealable containers.
Our recommendations earn us a commission but don't influence our objective choices.
What's Inside?
Fabric Storage Boxes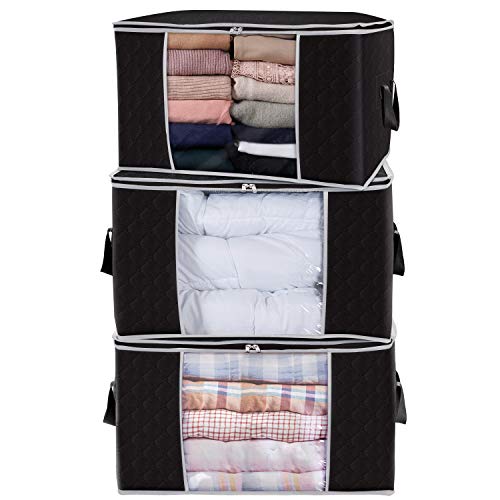 Great for storing clothes and linen.
This storage bag is durable and tough. It is well-made and has five stainless steel zippers and reinforced seams for flexible storage. The boxes for long-term storage can hold up to 90L of items, which can also be used to store bedding such as blankets, pillows, or comforters.
The fabric is made from high-quality non-woven material, promoting ventilation while protecting stored things inside the container. This box includes stainless steel zippers that are hard to break under most conditions; two-way closure either down or across the zipper allows the closure to fit different fullness levels.
Rubbermaid Plastic Storage Boxes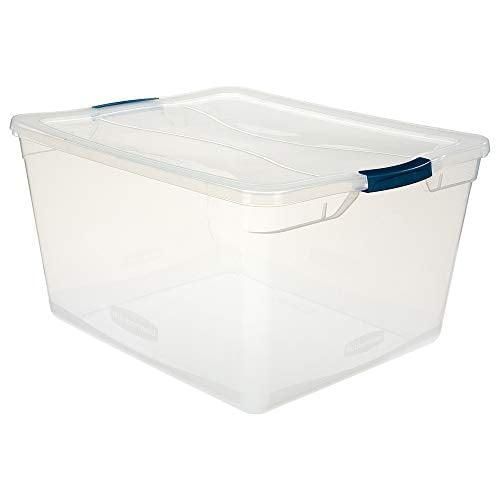 Great for storing hard items.
The Rubbermaid Plastic Storage Box is durable (polypropylene material) — it's shatter-resistant and waterproof. It is made in America, built to last years. This box can fit all your items without worry for safety because it features a tight locking lid design.
The famous brand has a stacking feature. These boxes are lighter than containers of similar size and have indented lids that allow room for air circulation underneath, also enabling them to be stacked. They come in various sizes from 6-quart (1.5 gallons of storage capacity) up to 71-quart (17.75 gallons) capacity, perfect for any occasion like home organization, office supplies, etc.
Ziploc Storage Boxes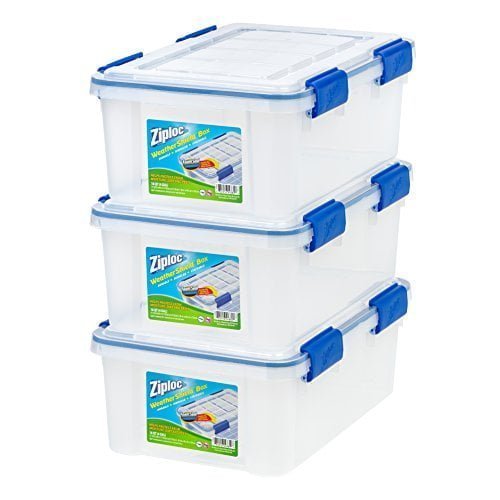 Great for storing small items.
The Ziploc Storage Boxes make organizing easy and keep contents safe. This product consists of containers that are both durable (made of polyethylene) and stackable. The case these come in is large enough to hold however many you want with a total capacity of 16 quarts. Ideally, they should be stored away from UV, oils, fumes from paints, or lacquer thinner as these may deteriorate the plastics in the long term.
The Ziploc Storage Boxes have good reviews where reviewers have noted it is great for storing documents, clothes storage, or keeping spices organized. They let little air circulate, which could reduce insects or pests that might rip through your belongings.
Collapsible Storage Boxes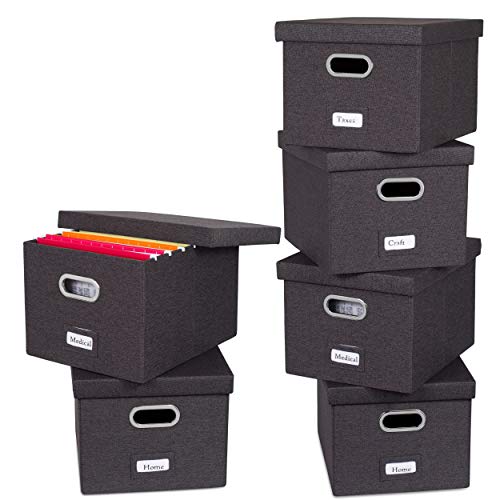 Great for storing documents and books.
Several features should be considered before purchase. Long-term storage of items requires a high-quality product resistant to moisture. The collapsible storage bins have adequate height to collect the commonly stored items but do not exceed 10″ in height so they can be conveniently stored when not in use.
The boxes are made with easy access carrying side handles, supporting the strength and durability for several pounds. You can label every box on the white stickers it has on its side, or you could customize your own personal stickers to make the organizational system more efficient. Their sharp edges, however, can be a problem.
Clear Plastic Storage Boxes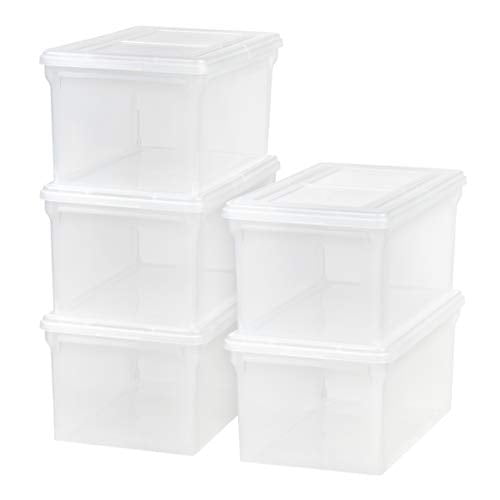 Great for storing all types of items.
This product has a clear and large design to easily find what you want without opening up each box. It is made in the USA for great quality (polypropylene material), is legal size, and can resist moisture without cracking.
The cons include the stacking because it could topple over if there is too much weight near the top of the shelf. The boxes have no dividers, so they may not be well suited for small items.
Lucid Plastic Storage Boxes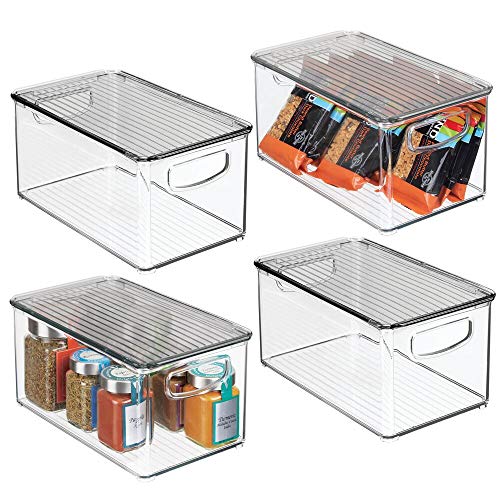 Great for storing items you need to access often.
We recommend this lucid product to maximize space and access to items within reach (good for short-term storage too). These high-quality bins are stackable and allow easy accessibility to many items stored inside. They also have handles on the sides, making them portable, ideal for taking it places where you know you will need certain items available all at once, whether when entertaining guests, working on projects, or in a different room altogether. The fact that these bins are water-tight is what sets these pods apart from other containers.
Linen Fabric Foldable Storage Boxes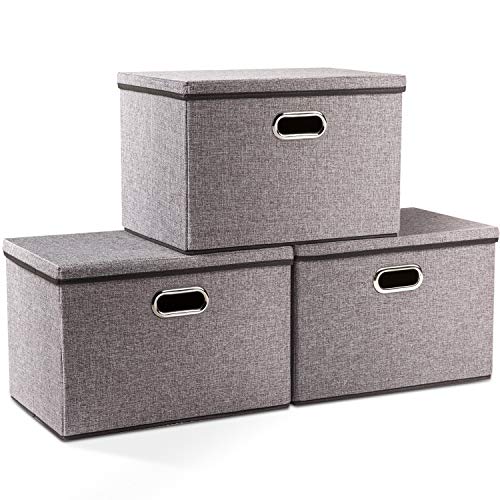 Great for storing items on open shelves.
These boxes for long-term storage are made of high-quality linen have good space-saving features. They come with handles constructed from stainless steel that never rusts. The handle also helps the organizer bins fold flat to save space when not in use. This product is easy to carry, and there is no odor of the material.
This storage organizer bin has all the necessary features but falls short of warranty. It only provides moderate organizational measures with limited stability because of its collapsible design. It doesn't have compartments which would allow more efficient organization over time.
Wheeled Latching Storage Box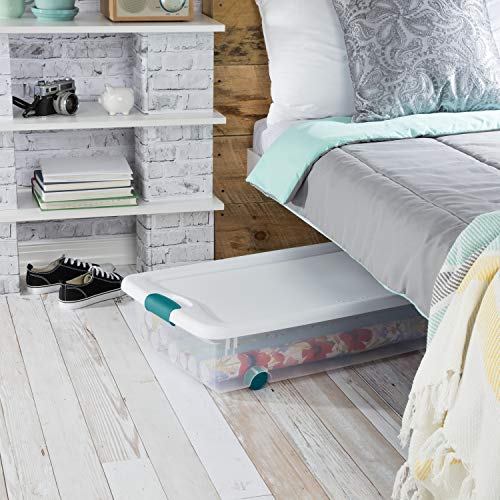 Great for under-the-bed storage.
This is an excellent quality product that can store various items for a long time without fear of them getting damaged. It has many useful features to make it more convenient to use and has spacious dimensions, and its contents are easily visible due to the clear base and recessed lid. It has wheels, so you can easily put away the box under a bed and draw it out when needed.
It is made in the United States, is durable, and well built to last longer than others with poor quality. This box could be used for storing tools, linen, clothing, or any other household items you need nearby yet out of sight at all times.
Collapsible Storage Bins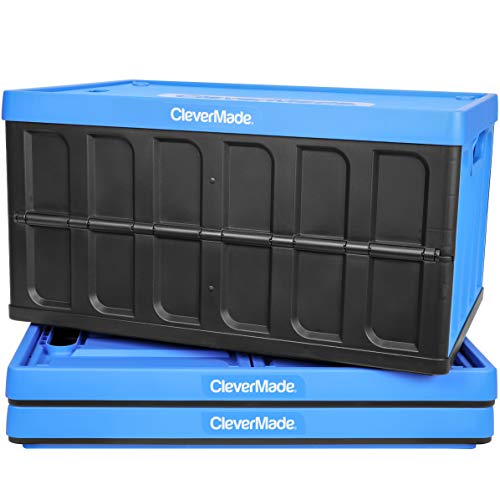 Great for storing tools — these are heavy-duty storage bins.
The case measures 23.5″ by 15.3″ by 12.4″ and comes with a lid that can be closed from the bottom or top of the crate for increased safety protection against contamination. The unit will hold 62 liters (65 quarts) which is enough room to carry 100 pounds worth of goods! There are even ergonomic side-grip handles that offer convenient weight lifting.
Portable Cube Storage Boxes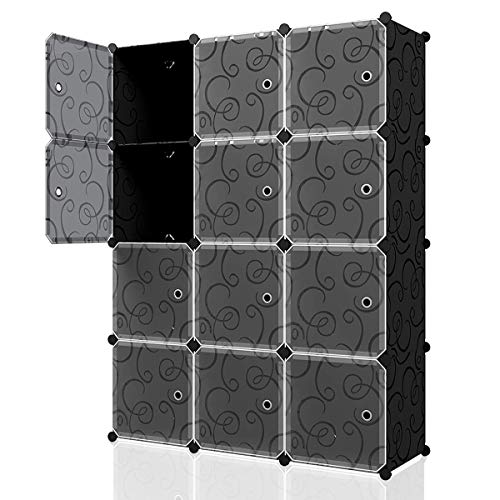 Great for storage with decor value.
Our favorite part of this product would be its portability and durability. It can handle up to 40 pounds, making it great for storing the many supplies you don't use often but need quick access when needed. The simple and elegant design is made for easy storage, fitting any room with any decoration style, no matter how small or big your space may be.
FAQ
Are cardboard boxes bad for storage?
Cardboard boxes are for moving but not long-term storage. They are prone to damage and moisture, so they cannot be trusted to store items for a long time.
What is considered long-term storage?
Long-term is considered storage of items you aren't actively using, such as seasonal clothes, Holiday decorations, old stuff you don't want to throw away, etc.
Liked this article? Here's what you can read next:
---
Disclosure: As an Amazon Associate we earn from qualifying purchases.