Last updated on January 10, 2021
Looking for the best-rated bathtub trays that will help you create a spa-like experience? Check out these top 10 best options available in 2020.
These days the bathroom is not just the place to take a shower and get yourself ready. It's also a place where you can relax and unwind after a tough day. Who doesn't like soaking in a warm bath and reading their favorite book or watching a movie with a glass of wine? Making a spa of your bathroom, so to speak, is one of the big hits in bathroom design trends.
Getting the perfect bathroom tray or caddy is the number one thing you have to do to turn your bathroom into a spa. The right tray will give you enough surface space to conveniently enjoy your bath time. It should also be visually pleasing to blend in with your decor or create a statement accent. These are precisely the criteria we've used to pick the top 10 best bathroom trays. Check it out!
What's Inside?
Bamboo Wood Bathtub Tray with Extending Sides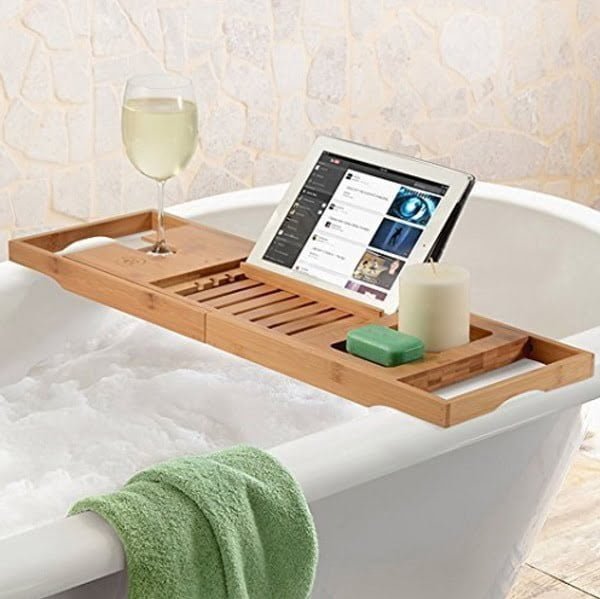 If you're looking to create a spa-like experience in your bathroom, this bathtub will help you do that. It doesn't matter what your tub size is, this tray will extend to fit even wide dimensions. It's made of quality bamboo so there's no worry the wood will warp or get water damage.
The bamboo tray is designed with a tablet or laptop holder, a phone tray and a glass holder. You can put candles or small bath accessories on it too. The bamboo wood look will make a beautiful bathroom decor accent also?
Why it's our pick? This bamboo wood bathroom tray is as functional as it is stylish. It's a good addition to your bathroom decor too.
Acrylic Bathtub Tray with Stainless Steel Handles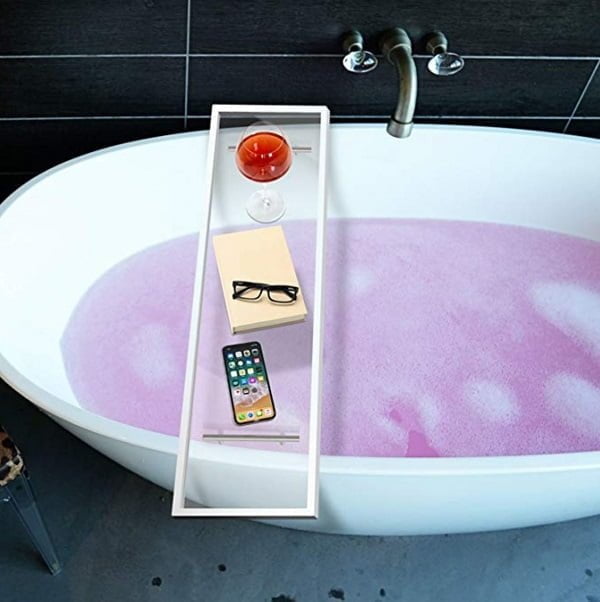 Looking for a bathtub tray that blends in your bathroom decor? Acrylic is the way to go in this case. This caddy tray with stainless steel handles will also add a subtle accent without intruding your decor.
The acrylic tray provides enough space to keep your book, tablet, phone, or bathroom accessories. The design fits any size of the tub seamlessly. The material is waterproof and scratch free, so it will work well and look nice for a long time.
Why it's our choice? The acrylic bathroom tray is perfect if you want to keep your bathroom decor clean. It's a durable tray with enough space for your bath time.
Compact Bamboo Bathtub Tray in Walnut Finish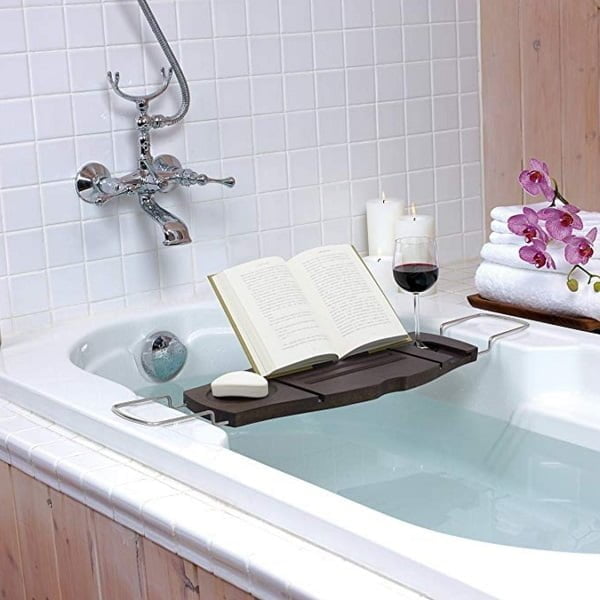 This compact bamboo bathroom tray is the best fit for a small bathroom. If your bathtub is small, you don't need a big tray either. This tray has extendable arms to fit any tub, and it doesn't occupy too much space at the same time.
The caddy has an adjustable book and tablet holder, a glass holder and a small compartment for accessories. It's very functional for its size.
Why it's a great bathtub tray choice? There's no other caddy this compact and stylish at the same time. It's a great addition to your bathroom decor.
Long Wood Bathtub Tray in Teak Finish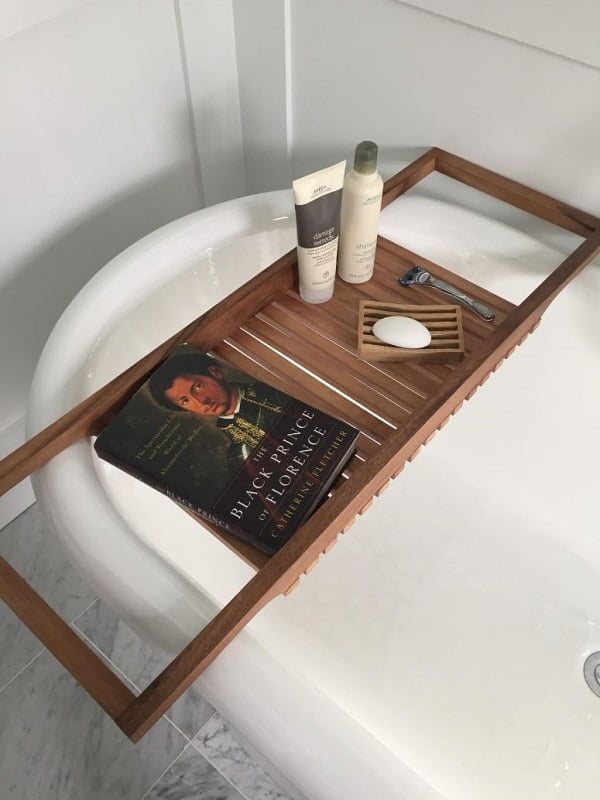 This handcrafted wood bathroom tray and caddy is large enough to hold even bigger laptops or a dinner place. So if you're looking for more space on your tray, this is your choice.
There are no compartments on this tray so you can use the space however you want. After using it, the caddy can hold your bathroom products. The teak wooden finish makes a lovely looking accent that will fit your decor.
Why it's our pick? This long wood bathroom tray and caddy is a great fit for anyone who needs more surface space.
Adjustable Bamboo Bathtub Tray and Caddy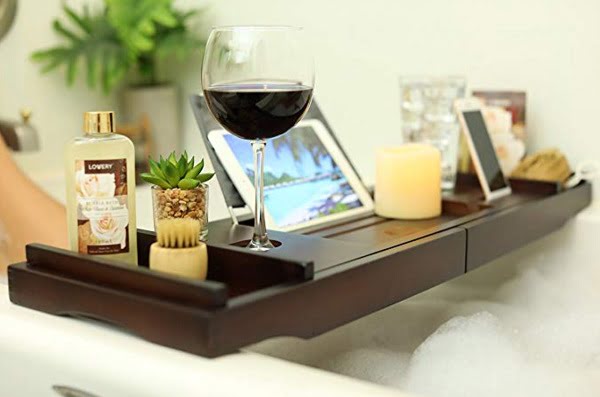 If you need a functional solution for a bathtub tray and caddy that you can adjust to any size of a tub, this product may be just right for you. The bamboo in mahogany finish is stylish and durable; it will last a long time.
The tray has a tablet holder and slots for bathroom products and accessories. It even has a detachable shelf for your convenience. This tray will provide you with all the space you need to create a real spa experience.
Why it's our pick? It's a functional bathtub tray that looks luxurious but is affordable.
Satin Wire Bathtub Tray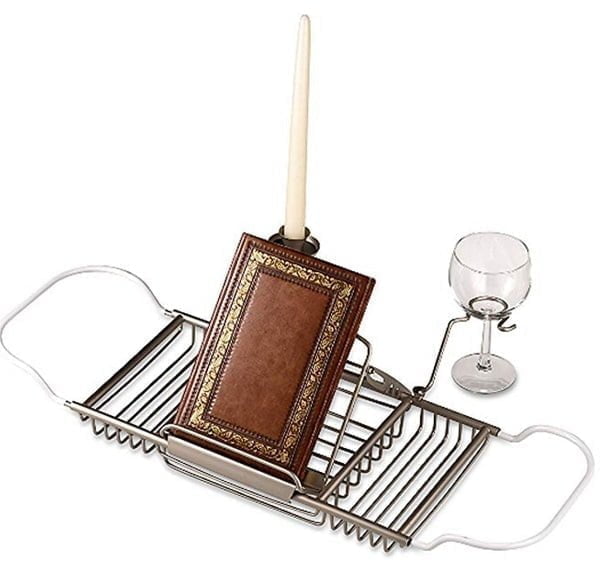 Don't want a wooden tray that needs cleaning and may be subject to water damage after long use? A wire option might be a better choice for you. And it can be stylish and decor-friendly as well!
This wire bathtub tray will provide you with a glass holder, a candle holder and a holder for your book or tablet. That's everything you need to create a romantic atmosphere for a relaxing bath.
Why it's our choice? It's a compact wire bathtub tray that will give you a carefree bath experience.
Luxury Style White Bathroom Tray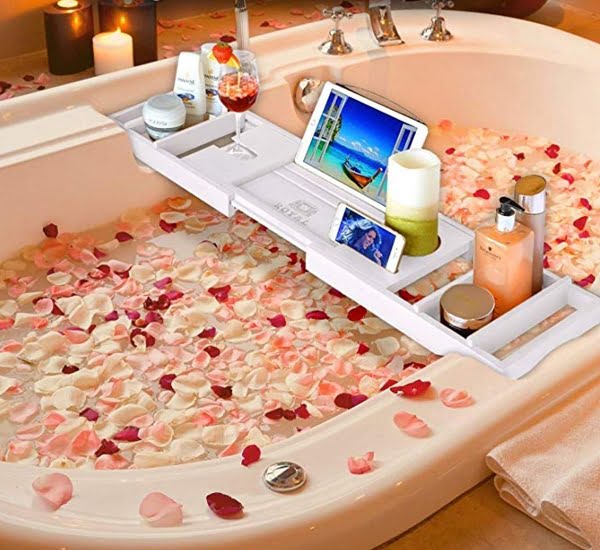 If you want a bathroom tray that looks luxurious or want to get one as a gift, this is a great option. It has trays and holders for just about anything you can think of to use during a bath. It's large enough too.
The product is made of bamboo which is the top choice for wooden bathroom trays. The white finish ensures it will blend in the bathroom decor seamlessly.
Why it's a great choice? It's a luxury style bathroom tray that can be a great gift to someone. Yet it's still an affordable option.
Polished Iron Bathroom Tray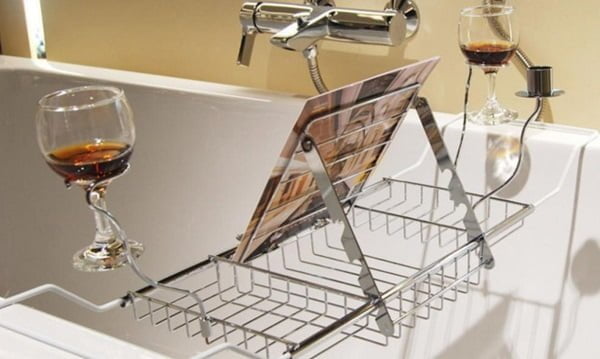 This expandable bathroom tray is made of polished iron and adds a subtle metallic accent to your bathroom decor. At the same time, it's a functional caddy that will give you enough compartment space for all your bathroom products and accessories.
It will hold your tablet or a book, two glasses, as well as soaps and other small things. Polished iron makes an affordable and easy to clean material.
Why it's our pick? This wire bathroom tray is very versatile, stylish and easy to use option.
Rustic Stained Wood Bathtub Tray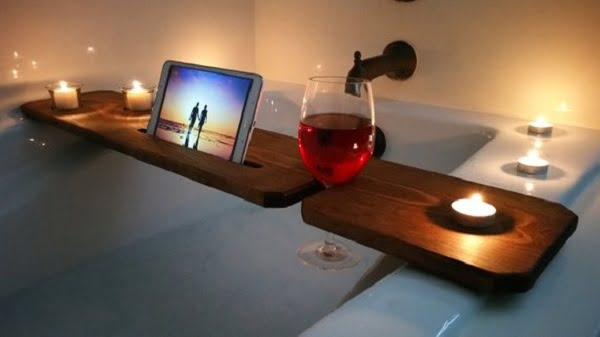 If you're looking for a handmade bathtub tray that will give your SPA bathroom a cozy, rustic accent, you have to look for it on Etsy. And this is one of the best options on it. This wooden tray is simple but charming as a rustic item.
It will hold anything you need during your baths. It also has a convenient tablet or book holder and a glass holder. The product comes in three sizes so you can choose the one that fits your tub.
Why it's our pick? This rustic stained wood bathtub tray is simple and easy to use. The rustic accent is what your home decor needs. Available on Etsy.
Bathroom Decor Tray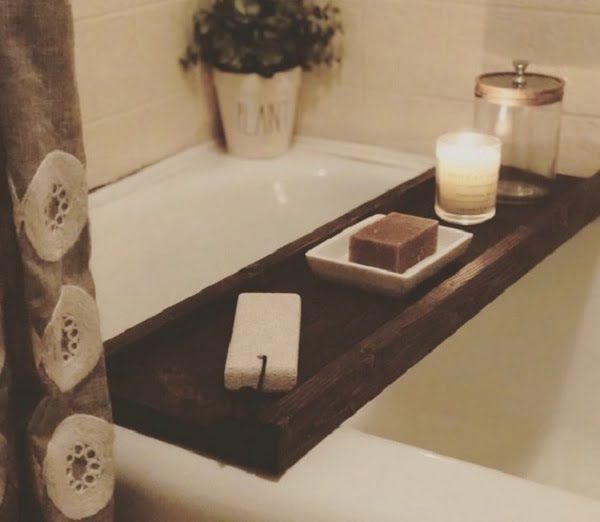 This bathtub tray is more decorative than functional, but you can still use it if you don't need to use your tablet or read during your bath time. It will hold your bathroom products and candles easily, though.
If you need just minimal surface space but want to create a rustic accent in your bathroom decor, this tray is a great choice.
Why should you choose this tray? It's rustic and minimal, but enough to hold bathroom products.
Make Your Own Rustic Bathtub Tray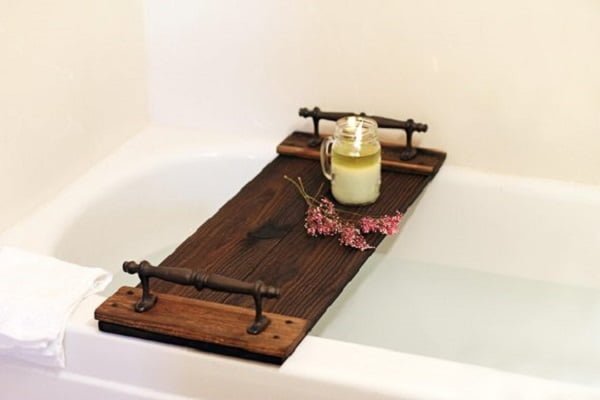 If you can't find the right bathtub tray that would fit your usage and decor needs, you might want to create one. No, you don't have to DIY, but you can order one by choosing your components in this Etsy shop.
The overall look of the tray will be rustic, but there's a wide choice of handles and wood styles. It's a great way to get a unique decor accent.
Why it's our pick? You can customize this rustic bathtub tray to your liking. It's simple but enough to keep your bathroom accessories.
Liked this article? Here's what you can read next:
---
Disclosure: As an Amazon Associate we earn from qualifying purchases.