Last updated on February 28, 2021
So you have a nice gate for your driveway. One caveat — you have to open and close it manually. Ouch! Time to get the best automatic driveway gate opener for your lovely gate.
What are the best? MightyMule smart gate opener for swing gates, and Topens DKC1000 gate opener for sliding gates.
A gate that doesn't automatically open might as well not exist at all. The last thing you want is to waste your time running up and down the driveway to open and close the thing. That ends here. Whether you install it the DIY way or get a pro do it, it will not set your wallet back that much for great convenience. We're well into the 21st century, after all.
So what do you need about getting an automatic opener? First of all, it's the type of gate — swing (single or dual) or sliding. That determines the type of the opener as they are very different. That's why we've picked two products as the best.
You'll also need to know the capacity of the opener motor. After all, there's a big difference between a 40 feet wrought iron gate and a 20 feet wooden one. The weight needs to be accounted for.
And then there's the question of the power source. As gates tend to be remote from the house, AC power isn't always readily available. That's why battery-powered devices are the most popular. In recent years, sustainable solar-powered (they solve the problem of charging the battery) controllers have become prevalent (although the motors aren't as powerful).
We've picked all the best quality automatic gate openers from popular brands to include in our top list. High quality is perhaps the one thing in common among them. Whichever product you choose according to your requirements, you will not go wrong.
We have included shopping links for all gate openers, so you can access them easily. We receive a commission for this at no extra cost for you.
What's Inside?
Mighty Mule MM371W Smart Gate Opener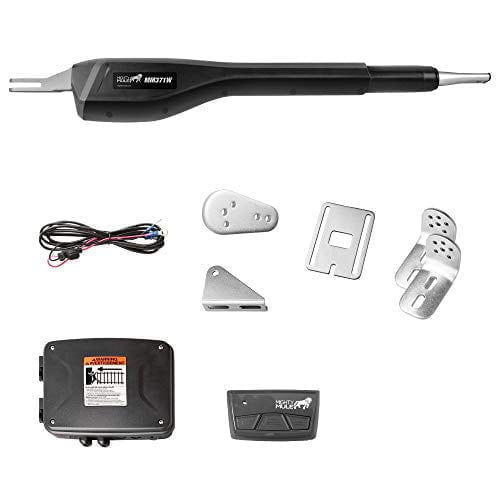 This is our editor's choice for the best automatic opener for swing gates. This gate opener has smart features, meaning you can connect and control as well as monitor it with your phone.
This is a fantastic product with excellent technical support. It is a DIY project if you have any experience at all. If you have problems with the gate opening, the support team will help you troubleshoot.
With the Mighty Mule single swing gate opener, you will no longer have to think about how to open your gate, and it is easy and convenient to use. The M371W is for medium duty single leaf swinging gates (dual option is available too) up to a maximum of 16 feet long or with a maximum of 550 pounds.
It's perfect for the Do It Yourself property owner with ample resources and helpful online how-to videos, and access to 24-hour technical support by telephone. Mighty Mule Openers have durability, nice working experience with faster gate opening and closing speed than the competitors.
Quick facts:
Fast opening and closing.
550 lbs 16 feet long gate support.
Supports solar power panels.
Smart gate control system.
Single and dual gate options available.
Topens DKC1000 Automatic Sliding Gate Opener Kit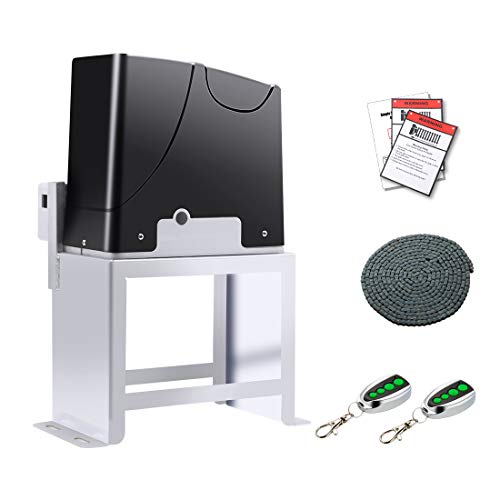 This is our editor's choice for the best automatic opener for sliding gates.
This opener has the capability to switch between open and close modes very quickly. You can choose to open your gate in the direction you need. It has a manual release switch in case of a power failure. The soft-start and stop mechanism ensures the long-lasting performance of the product. The selected stop time is variable. Turn around in case of obstruction during the gate closing. Built-in automatic shut-off timer and door sensitivity are fantastic (stall force). It's simple to install and low maintenance.
Quick facts:
Chain opener.
Supports different chain lengths.
Soft open and close.
Multiple power sources (battery, AC, solar).
Supports multiple remote controls.
Maximum gate weight up to 1800 lbs.
CO-Z Electric Dual Swing Gate Opener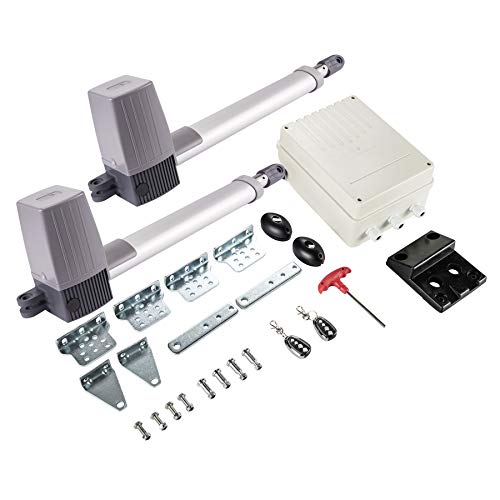 Control your dual swing gate via a remote wireless keypad. The connecting joints are made of aluminum alloy for increased strength and overall durability. You can open the gate using the manual release method if you did not carry your remote control. The wireless remotes will allow access to your property within 98 feet. Additional remotes are supported.
In the closed position, the bottom of the gate will make contact with the catch. If the stopper is missing or is not in the proper position due to lack of installation or gate shifting, the machine can be damaged. The sensor will cease movement when one door gets obstructed.
Quick facts:
Water and rustproof.
Aluminum alloy reinforced joints.
Multiple remote controls supported.
Supports 660 lbs and 98" wide gate.
Ability to connect to a solar power source.
Topens A3 Automatic Gate Opener Kit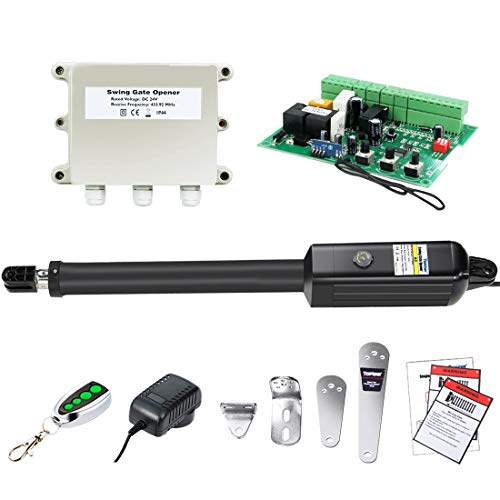 Topens A3 is an advanced automatic gate opener that features a DC 24V motor with improved performance, lower power consumption, and better security. The single swing gate opener is designed to be a cost-effective way of handling gates or gateways. The extendable and robust aluminum swing arms give superior performance and long life.
A3 Gate Opener is operated by a 24V 12Ah battery (battery is not included). It's possible to use a solar panel and solar controller to charge the battery. It is designed for use with 220-240 volt electricity by using the AC-DC power supply.
This is useful for all kinds of traditional single swing gates and suitable for garage doors. Examples of land use are residential, courtyard, farm, and ranch. Instructions are straightforward to follow. Installing the entire system would take only a few hours.
Our only criticism is that the included brackets are for larger post sizes, so you are going to have to custom build something so it firmly connects to smaller posts. It works very well, only a little unstable.
Quick facts:
Maximum gate capacity is 300 lbs.
Aluminum alloy joints.
Light duty single gate opener.
Furgle Automatic Sliding Door Opener with Remote Controls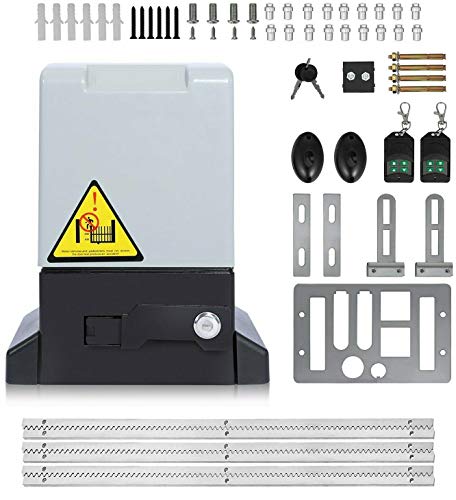 This rail sliding gate opener features a stronger and powerful steel gear. The sliding gate opener is strong enough to easily open sliding gates up to 4,000 lbs in weight and 40 ft in length. There's nothing more irritating than getting a power outage in your own home. This opener has two manual keys that help you to unlock and lock the gate and force it open by hand.
The benefits of rail drives compared to chain drives is that they are quieter. Chain drives need more maintenance because they involve many connections.
With two infrared sensors, the door will automatically stop when it is closed, and a human is going through or when the door is opening. It includes 2 remote controls with a 100-foot operating range. You can quickly open the gates if it is raining. Only click the button on the door to unlock it for you. It is easy to install and can be hooked up to a maximum of 25 remote controls.
Suitable for all types of sliding doors and garden gates with materials like steel, wood, and others.
Quick facts:
Rail sliding gate opener.
Supports up to 4,000 lbs and 40 feet gate length.
Steel gears.
750W AC motor.
Ghost Controls DTP1XP Automatic Gate Opener Kit for Swing Gates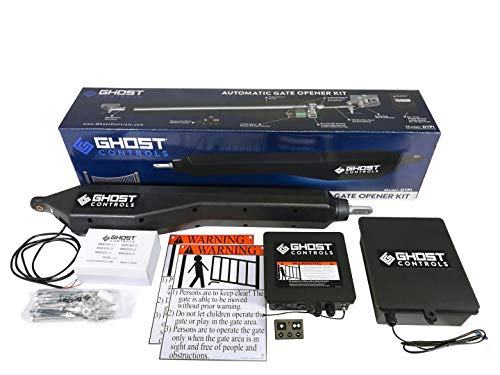 A swing gate opener from a popular brand that promises quality. The controller supports swing gates up to 1000 lbs and 20 feet. It's a complete kit that you can install yourself — everything is included for a complete setup. A battery is included as well.
It includes 5 remotes with 1000 feet operating range that can operate two separate fence gates. Solar panels are supported as well.
Your control box houses all the wires as well as lets you set different settings such as auto close, sleep mode, and gate alarm. Safe to make sure unauthorized remote transmitters and keypads do not reach your gate system.
Quick facts:
Gates up to 1000 lbs and 20 feet.
Quiet and fast opener.
Options for single and dual gates.
Automatic Sliding Gate Opener Security Kit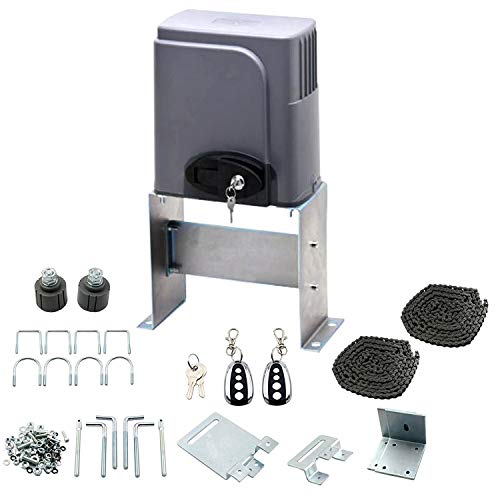 Due to the heavy-duty sliding gate's complicated nature, you will spend a long time trying to open the door by yourself and get frustrated. All you have to do is click the red button on the remote control if you want to oper to close the gate. Besides, this product offers so many useful functions such as RF hopping code technology, infrared sensor, keyless operation, and automatic closing. If you have any trouble during the installation, you can contact our customer service for assistance. This product provides consistency but also reliability and security.
Quick facts:
ABS and stainless steel construction.
Supports gates of up to 1400 lbs and 40 feet.
Chain operated and includes a 20 feet chain.
Specstar Automatic Sliding Gate Opener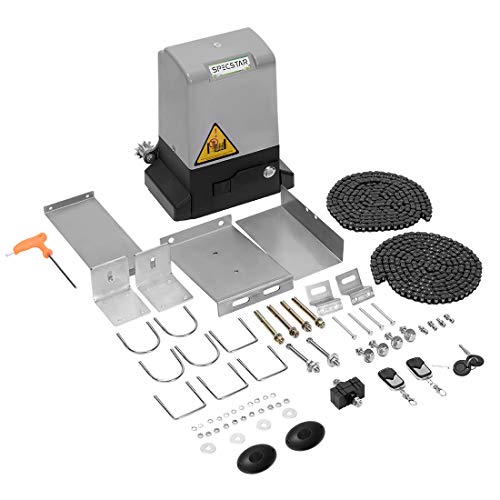 Using Specstar opener, you can have a more comfortable lifestyle with a smart feature that allows for remote controlling. This gate is built for medium-duty gates up to 40 ft long or weighing 1400 lbs.
This opener also includes two remotes, which allow two vehicles to open and close their gates within 300 feet of the opening. There are sensors installed to detect any obstructions which prevent the gate from hurting people or accidentally hitting items. This opener can achieve speeds of 40 feet per minute.
The installation instructions are very straightforward and simple to follow. The motor has built-in security that serves as a precaution against overheating.
Quick facts:
Chain operated sliding gate opener.
Supports gates of up to 40 feet and 1400 lbs.
370W AC motor.
Fisters Solar Powered Automatic Dual Gate Opener Kit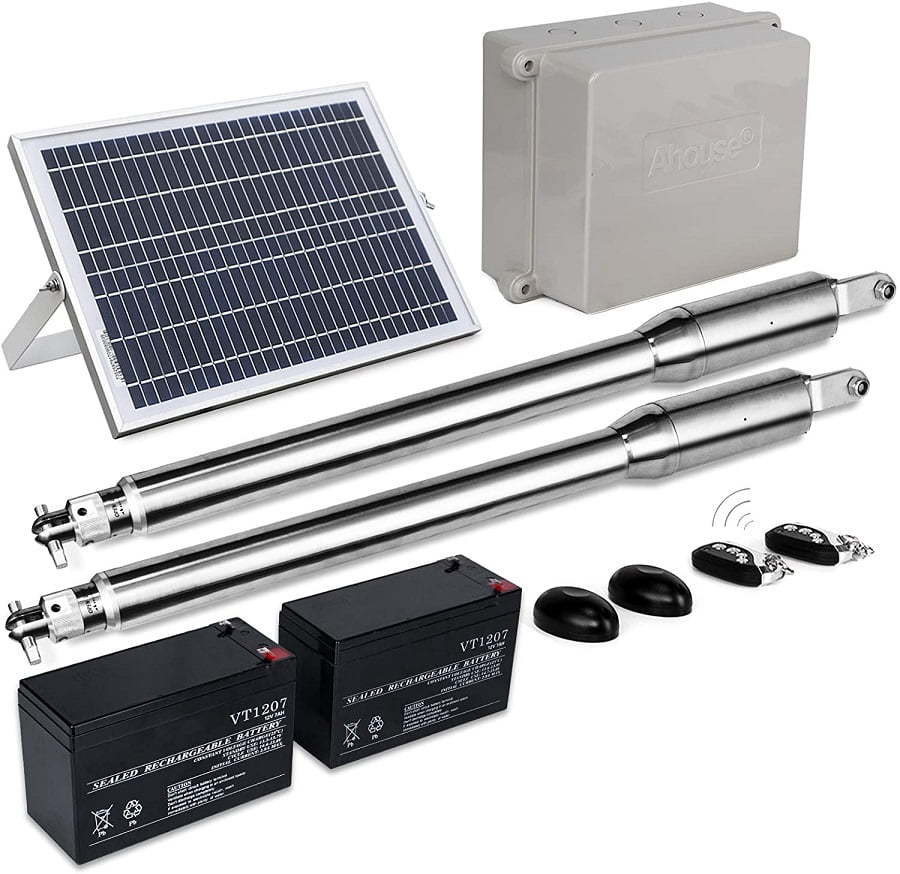 The opener comes with solar power and batteries, full system of gate openers, no additional purchase required. Effective motors and high-quality components, brackets, and mounting hardware have high-quality output. Soft start and soft stop mechanisms make these gates more robust.
Reliable limit switch that causes the system to stop automatically when the lid is in place. This helps users to operate the door themselves and there is a manual release option in case of failure. You can use commercial power and renewable energy at the same time.
This drill press has a maximum load-bearing capacity of 1320 pounds and can accommodate gates up to 8.2 feet per leaf. Fast and simple self-learning functionality. Use up to 50 sets of remote controllers.
Quick facts:
Two solar panels included.
Gates up to 1320 lbs and 8.2 feet.
Dual and single gate options.
Ghost Controls Heavy-Duty Solar Single Gate Opener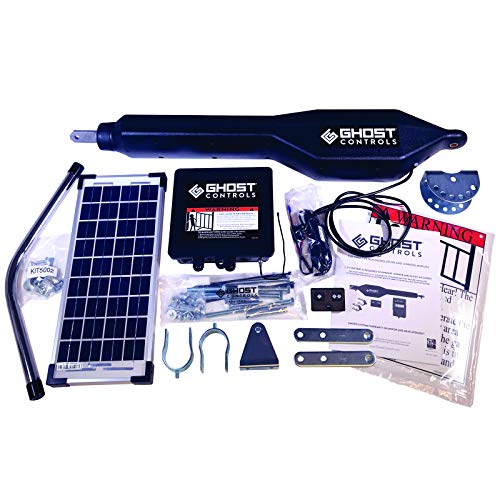 This product can withstand the test of the elements, it operates in the sun and rain. If you live in a very stormy region and suffer power interruptions, the weather will not easily harm the system. You will get this contraption up and running within an hour.
If you approach Ghost Controls for some aid and you will be very impressed with their swift response. So you must read carefully the directions and follow them. If you are searching for a reliable tool to manage all weather conditions, this is the gate control system for you.
Quick facts:
Supports gates of up to 900 lbs and 2 feet.
Solar powered.
Heavy duty use.
FAQ
Are automatic gate openers secure?
Automatic gate openers are more secure than manual counterparts. Anyone can open a manual gate (even if they have to pick a lock). And automatic opening mechanism is more secure as it is not easy to work manually.
How much does it cost to install automatic gate opener?
The starting cost to install an automatic gate is about $3,000. But if you choose to install it the DIY way, you will only pay for the opener itself which can cost you around $500 or less.
Can electric gates be forced open?
Typically, there's a key switch on the controller box that can be switched for manual operation in case of electric failure.
Can I open my electric gate with my phone?
Smart gate openers can be controlled and monitored with your phone. More and more modern automatic gate openers include this feature.
Are electric gates worth it?
Automatic gates are worth it even if for the convenience of not having to run up and down the driveway to open and close them. They increase your property value as well.
How do you open an automatic gate without power?
To open an automatic gate when the power is out, you simply use the manual switch key and open the gate manually.
Are electric gates expensive to run?
A typical gate opener motor is 300 to 700W and it takes maximum 1 minute to open or close it. So if you open and close it 2 times per day on average, that's 4 minutes of running the motor per day. At 300W and electricity price of 13 cents per kWh (national average), it amounts to slightly less than 1 cent per day.

If the gate opener is solar powered, it costs you nothing to run.
Liked this article? Here's what you can read next:
---
Disclosure: As an Amazon Associate we earn from qualifying purchases.