Last updated on January 14, 2021
It's been 3 months since you've changed your home furnace air filter, so it's time to find a new one. Choose from the best air filters out there.
In a hurry? Get this Filtrete MERV 11 air filter.
What's this MERV thing we just mentioned? You may or may not know what it stands for, so we'll go over it quickly. It stands for Minimum Efficiency Reporting Values as a number to rate air filter efficiency. It tells us what a filter can filter out and what it cannot (in terms of the size of particles.) The rating goes from 1 to 16. A typical household can use a MERV 8 to 11 rating furnace air filter.
Why not the highest rating? Because the higher the number, the denser the filter material is, making the furnace work harder. In most cases, you don't need more than a rating of 8-11 anyway. Higher rating filters are more expensive too.
What else is important is choosing the right size to fit your furnace vent. If you're not buying the filter from the same manufacturer (they can be expensive), it may not fit ideally. A little craftiness may be necessary (such as using double-sided tape.) But if you get the dimensions right, you won't have any trouble replacing the filter.
We've chosen from the best-rated filters for the furnace, so you're free to choose any of our top picks.
As we've included shopping links as well, these may result in a commission for us. It doesn't cost you anything extra.
What's Inside?
Filtrete Micro Allergen Defense Air Filter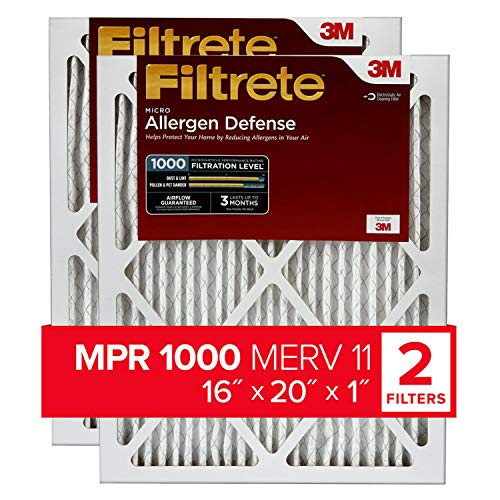 The perfect filter. It will enable the furnace to function properly and offer clean air movement and the correct amount of air conditioning. It's available in a wide variety of sizes so you can find the right one. A fiberglass MERV11 filter can filter most particles, including microparticles like bacteria and virus-carrying particles. Use this filter to eliminate dust particles, odors and keep the viruses away from your home.
As a drawback, we could only point out the fact that individual filters aren't packed separately. They're bundled up, so storing them after installing one from the pack will leave the remaining units susceptible to dust.
All in all, it's a great filter product for a bargain price. HVAC experts seem to agree.
Quick facts:
MERV11 rating.
Fiberglass material.
A wide array of sizes.
Optimal for 3 months.
Come in packs of 2-6 units.
MERV 8 Pleated AC Furnace Air Filter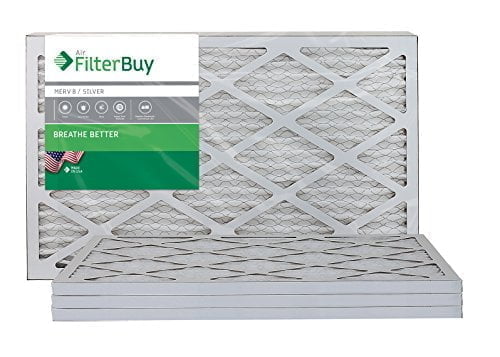 These filters are of high quality and can work for all three months. The MERV8 rating is enough for home use, and it's a bargain. More than 75% – 85% of the particles in your air will be caught in the filter. Although you can expect more from higher MERV rating filters, the real question is do you need a denser filter that would tax your furnace more.
Installation can be tricky because the filter's edge is easy to bend — you need to be careful. If the right size filter is ordered, it should be simple, fast, and without damage to the actual filter itself.
Quick facts:
MERV8 rating.
Cotton based.
Last 3 months.
AIRx Allergy Pleated Air Filter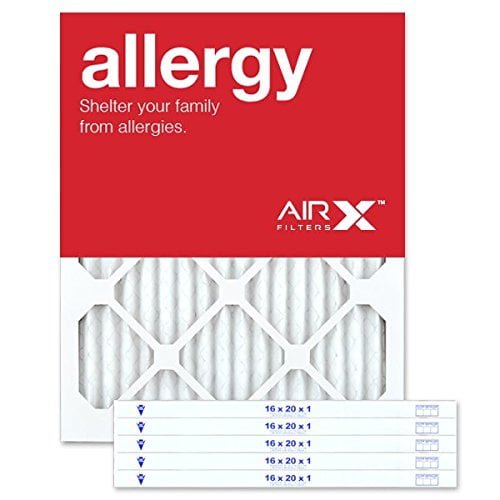 The MERV rating is really easy to overlook on this product, but it is there (MERV11). The brand and size of the filter can be found on the exterior of the shipping box, which also serves as a storage box for the filters. The package also includes a sticker on the side where you can record the days on which you've changed your filters.
These are inexpensive filters because they are so easy to get and so simple to work with. You may appreciate the fact that the product is made in the USA. The filter frame on the non-airflow side is thicker than most other filters. Finally, the fact that these come in a non-fancy packaging makes it even a better bargain.
Quick facts:
MERV11 rating.
Filter material includes metal wires.
Made in the USA.
A decent number of sizes.
Aerostar Home Max Pleated Virus Particle Air Filter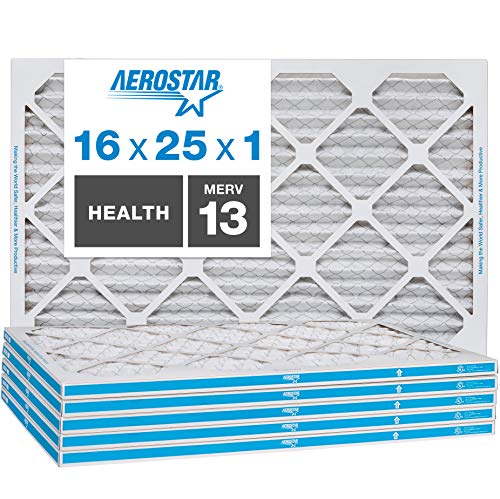 The filter is clearly marked as to its nominal dimensions, actual dimensions, and MERV score. The filter has more pleats than most other filters. Aerostar products last a longer time than most filters, as less air passes through. In principle, we're expecting the Aerostar filters to work better without considering the difference between the filter media.
Regardless of the size specified, the Aerostar filters are often between 1 and 3mm smaller in each dimension. This may be a good thing as it makes it easier to install. Should it not stay in place firmly enough, you can use double-sided tape.
Quick facts:
MERV 13 rating.
Traps mold, smoke particles, viruses, bacteria.
Made in the USA.
Filtrete Ultra Allergen Furnace Air Filter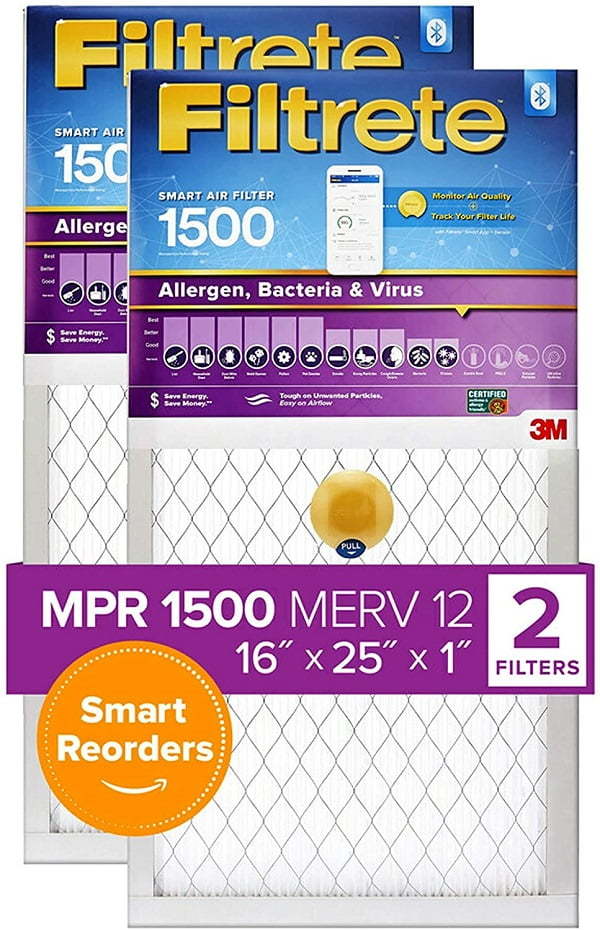 The Filtrete 1500 works as well as the Filtrete 1900 and Filtrete 1200 in a typical home. The smart filter has is an SMD micro piezoelectric absolute pressure sensor which enables it to monitor its use. That means your filter can last longer than 3 months based on the air quality of your home and its use. You will always know when to change it.
Quick facts:
MERV 12.
Smart filter with a sensor.
Fiberglass material.
Huge list of sizes.
Can last over 3 months.
Flanders NaturalAire with Baking Soda Media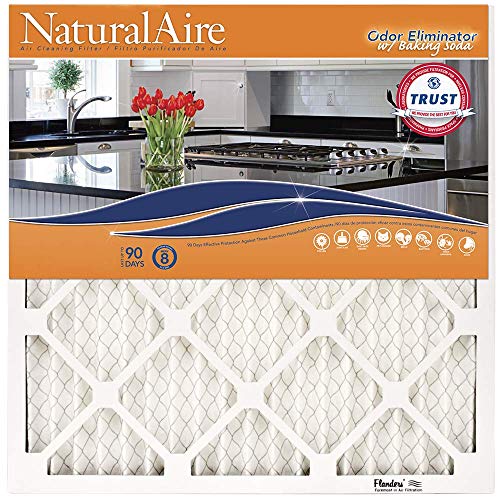 The main purpose of the NuralAire filter is to remove odors (using baking soda media). And it works. But it's also your regular MERV 8 filter, so it will eliminate dust particles, lint, mold spores just as effectively.
Quick facts:
MERV 8 rating.
A good range of sizes.
Fiberglass material.
Baking soda media to eliminate odors.
Aprilaire Clean Air Dust Replacemt Filter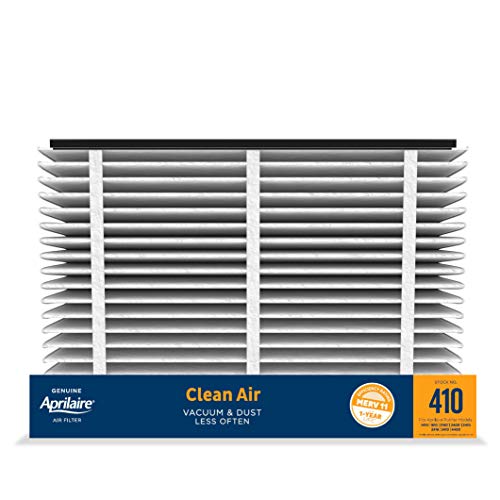 Aprilaire furnaces are among the most popular so a replacement filter that fits exactly takes a lot of variables out of the equation. It's great MERV 11 filter (higher rating are available too.)
Quick facts:
Replacement filter for Aprilaire devices.
Electrostatically charged filter media.
Made in the USA.
Nordic Pure Pleated Furnace Air Filter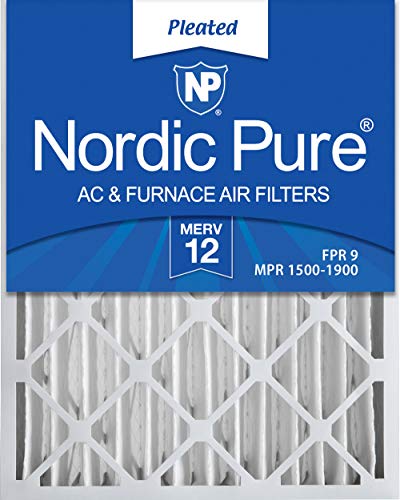 A filter for a reasonable price that fits perfectly. Most people seem to be upset that these are not as large as they planned, as this needs to fit into a furnace vent that is 15x24x4 inches. Be aware of this if choosing this filter.
Quick facts:
MERV 12
Cotton material.
Made in the USA.
Honeywell Pleated Air Filter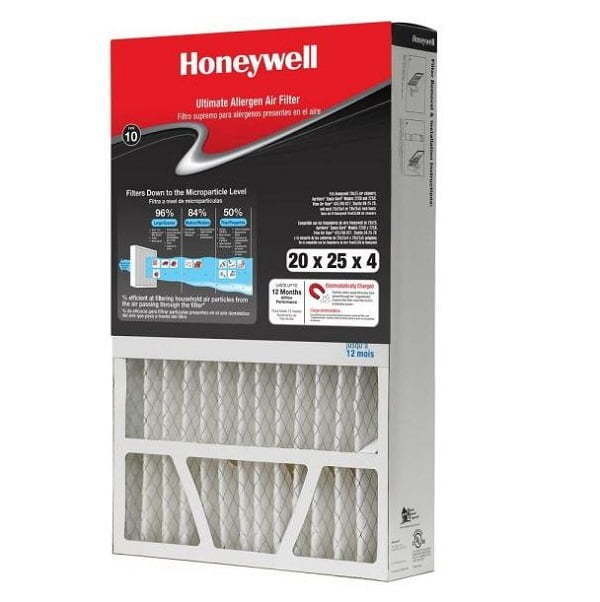 This Honeywell pleated air filter captures a high percentage of small particle matter in the air that cause various health issues. The filter will filter out lint, dust, bacteria, pollen, smoke, and viruses for up to a year. In pleated form, the surface is larger than the hole and thus collects more air particles.
Quick facts:
MERV 12 rating.
Several sizes available.
Arm & Hammer Air Filter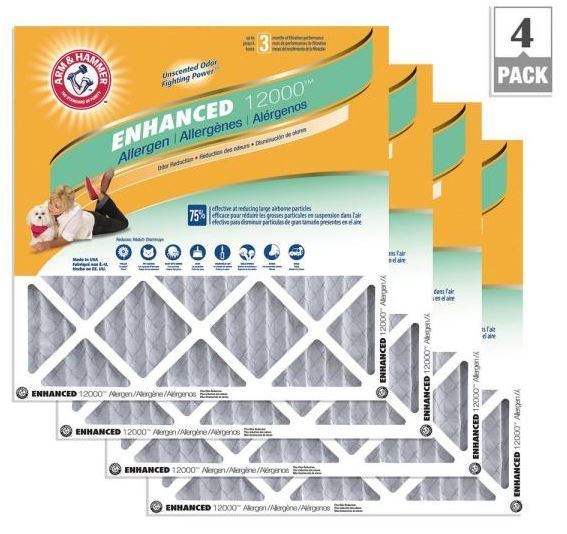 The filter takes away the smell and disinfect the air. It's a high quality product made of electrostatically charged material. The rating is MERV 8 that's good enough for most households.
Quick facts:
MERV 8 rating.
Electrostatically charged pleated material.
Lasts up to 3 months.
What MERV rating is best for home use?
A MERV 8 filter will filter out over 80% of particles, typically enough in a residential household.
Are expensive furnace filters worth the money?
Typically, it's best not to go overboard with the filter's density (more expensive) because your home air isn't that badly polluted, and a dense filter puts more strain on the furnace.
Is a 2 inch filter better than a 1 inch?
If your furnace vent can fit a thicket filter, it will last longer than the 1 inch option.
How often should you change the air filter in your furnace?
The recommended time span is 3 months (90 days). However, in some cases, filters such as smart units with sensors can give you better usage monitoring and thus last longer.
Liked this article? Here's what you can read next:
---
Disclosure: As an Amazon Associate we earn from qualifying purchases.