Last Updated on
Looking for new ways to decorate your walls and create a decor accent? You have to see these brilliant ideas.
By introducing the elements of texture as well as color into the equation, interior design becomes much more three-dimensional. This allows the creator of an accent wall the luxury of greater expression and exhibits much more of a unique personality in the same sized space as it was before. Here are ten examples of imaginative ways of using walls as design elements in their own right.
What's Inside?
Reclaimed Wood Pallet Wall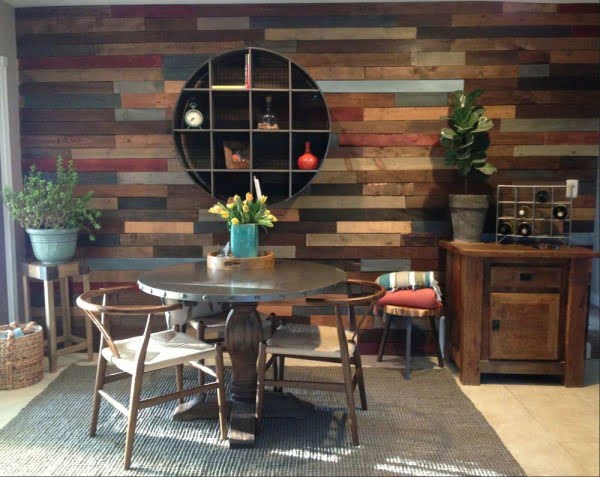 One of the glories of the DIY accent wall is that you are empowered to bring out the hidden beauty inherent in otherwise mundane items that are taken for granted in their original setting. By looking at them in a different light, hidden truths are revealed about both them and you.
Stone Accent Wall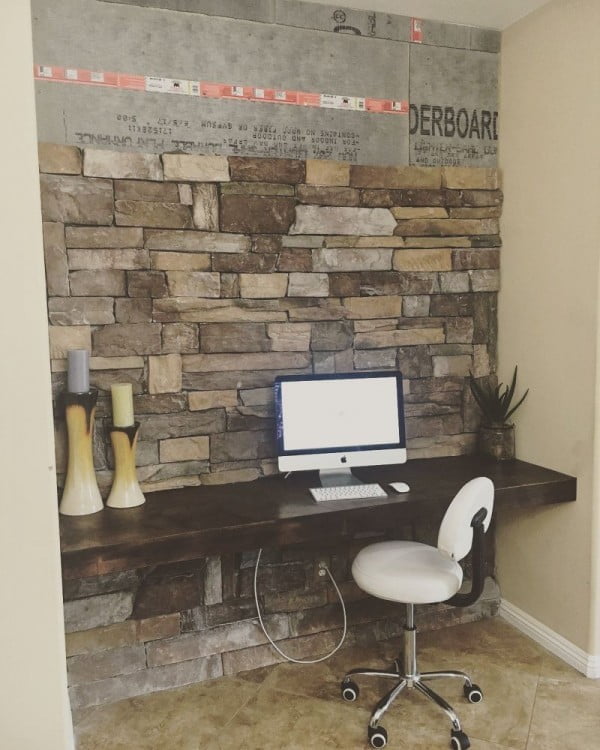 There was a time when almost everyone lived in a house that had stone walls on the inside. Perhaps it is some vestige of ancestral memory that makes this comfy nook so appealing. Or it could just be beautiful in its own right.
Vintage Mailbox Accent Wall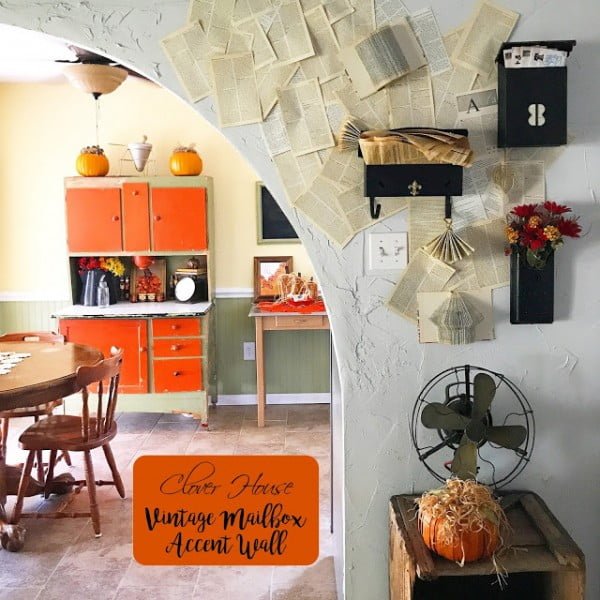 One of the great things about accent walls is that you can recycle so many items and give them a new life far beyond what they were originally envisaged for. Additionally, this is one that offers modular flexibility which allows it to be tailored to the various seasons of your life.
Stamp Wall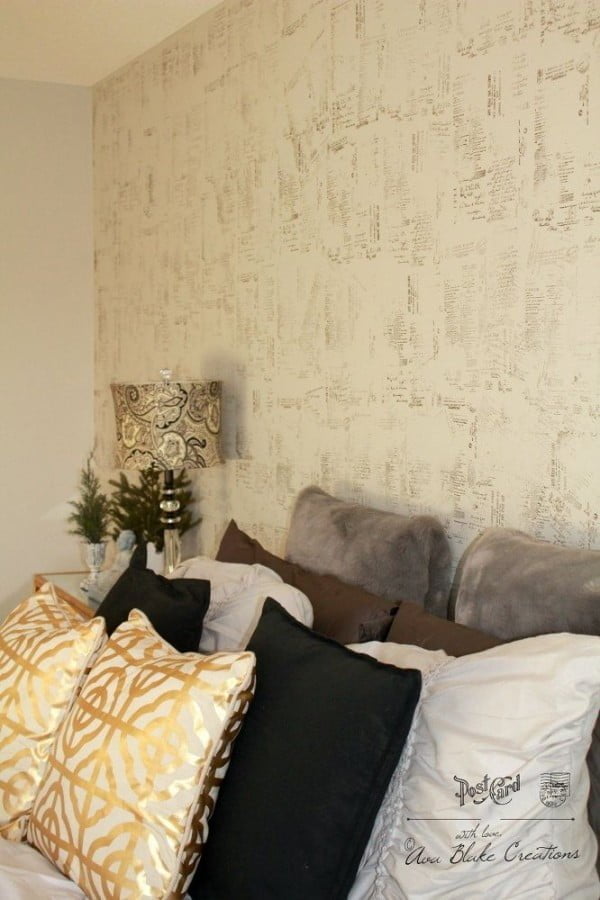 Ink is for writing, right? Well, not always. Sometimes it can provide a super fast way to turn a plain Vanilla wall into something more akin to Jamocha Almond Fudge.
Mountain Mirage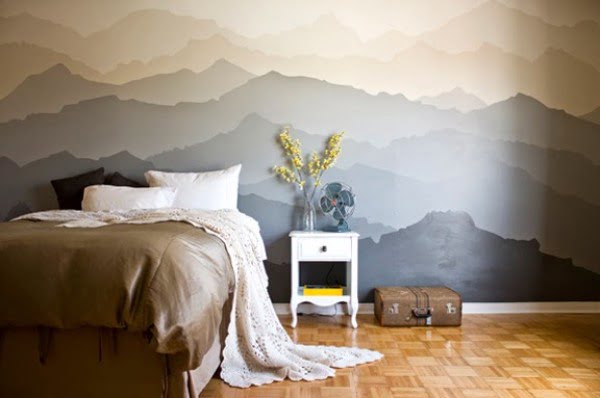 Using any sort of superlatives to describe a calm, serene and effective accent wall such as this one is to miss the point entirely. It brings literal miles of depth into the room, yet is nothing more than a flat surface covered with paint.
Geometric Back Lit Wood Accent Wall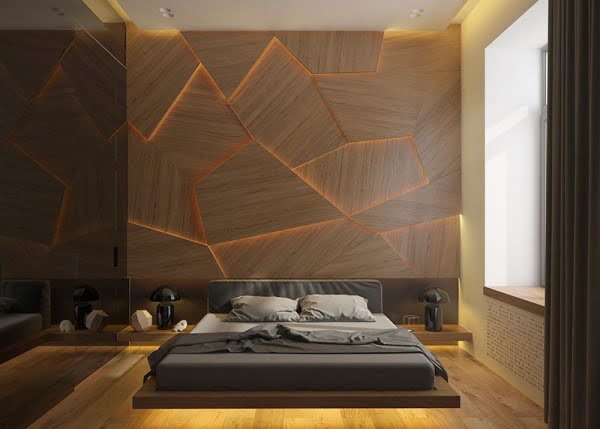 New materials often lead to a fresh explosion of ideas that weren't truly practical before they came into widespread usage. Such is the case with this magnificent collage of random shapes ingeniously backlit by safe LED lighting that makes you think the wall is about to explode out at you like some angry volcano. Truly brilliant.
Gallery Wall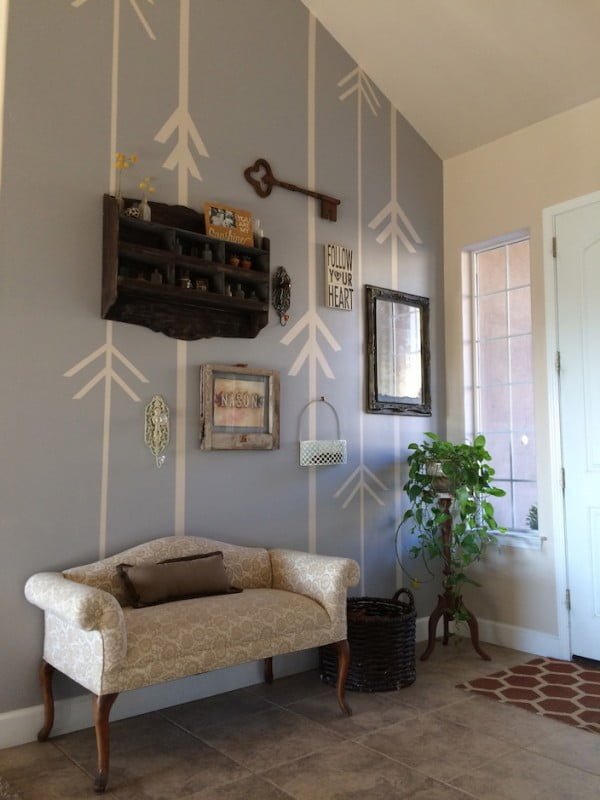 Not every accent wall project has to take months of strenuous effort to create. Sometimes you don't need anything more than a little contrast and some revolutionary ideas about a world where everything is a 90-degree shape or forget it.
3D Sculptural Wall Art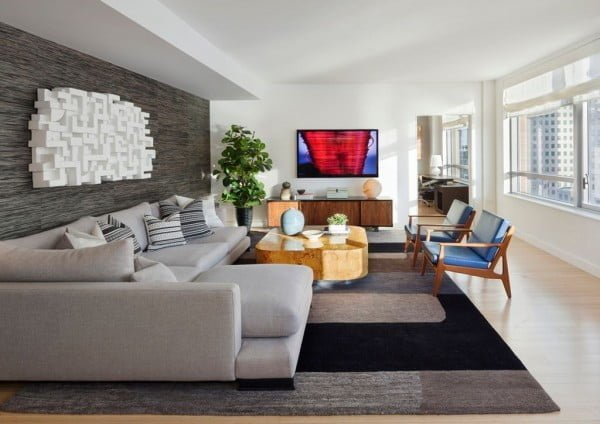 Supreme use of texture can bring a fantastic amount of pop even to deliberately monochromatic palettes. The bright white plaster sculpture on the wall stands out in vivid, austere beauty from its gray surroundings. A marvelous example where adding color would detract from its incredible impact.
Pink and Red Honeycomb Wall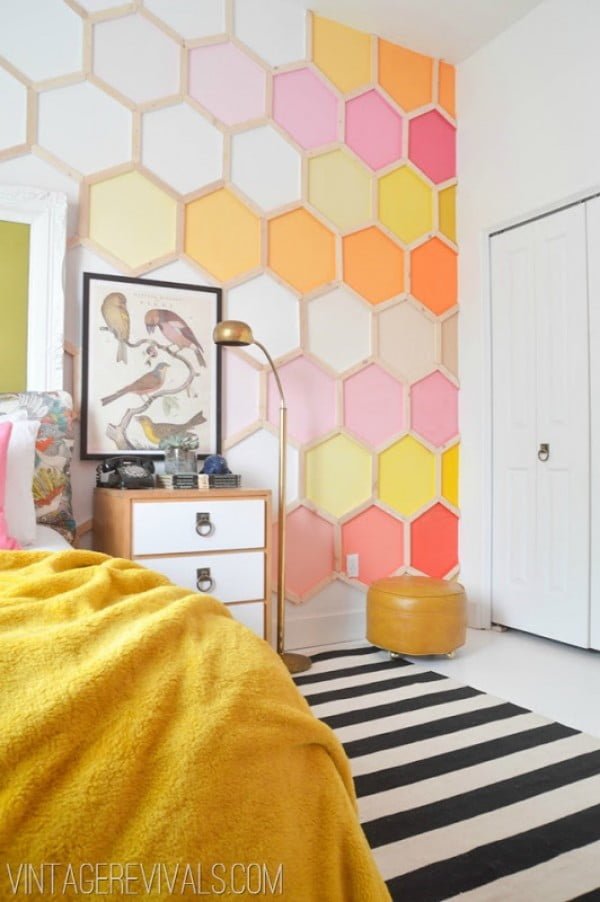 What can you say about a wall-length honeycomb done in decreasing intensities of color except "wow"? How about matching this with a massive puppy dog's head made partially out of corkboard so it offers functionality as well as tremendous design appeal? Every little girl on the planet is pointing at it and saying that she wants one too.
Wood Covered Walls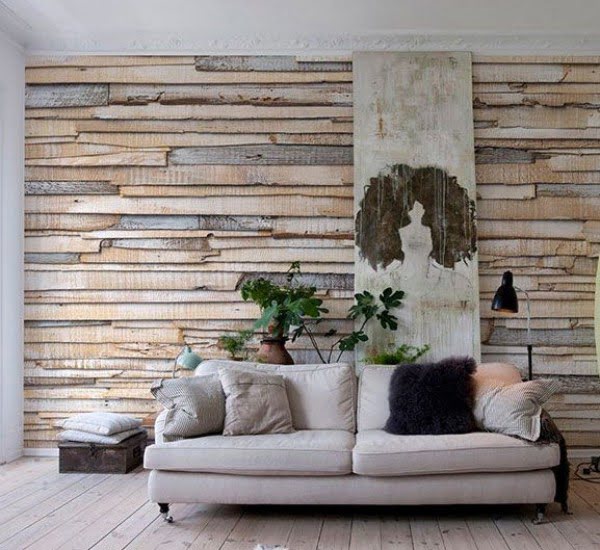 Great ideas are not just the property of the English-speaking world, as is shown by this glorious essay into the benefits of using old lumber, particularly old exterior lumber, to bring light and life to a wide range of interior spaces.
Chic Shelving
Chic shelving is all about blending the shelves into the background (usually painting the shelves the same color as the walls) and focusing on the display decor pieces to create the style. Consider small suspended shelves to be used for display on the walls.
Bar Cart Vignette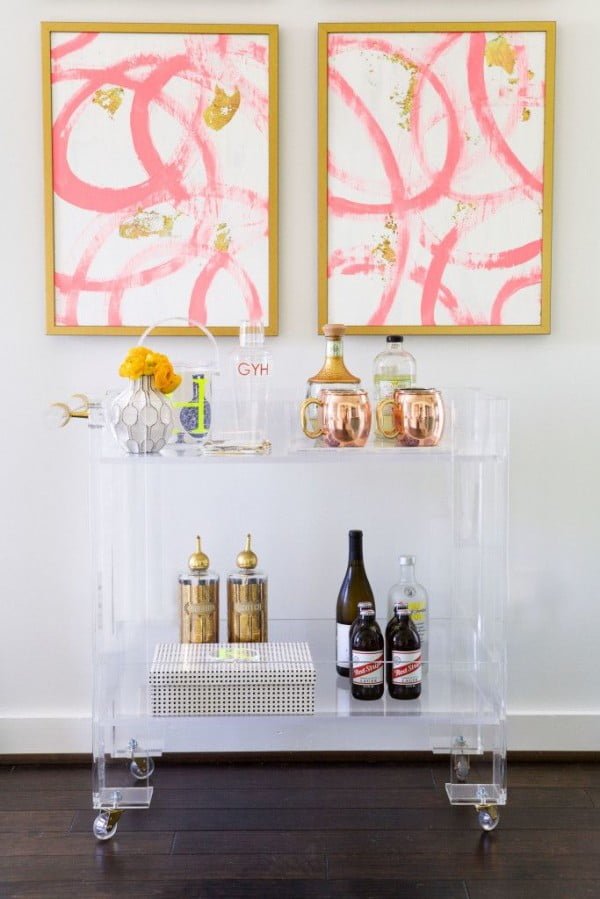 Making a bar cart as part of the wall decor vignette is a chic style choice. Decorate the cart with pretty bottles and glasses, add some flowers and art to create the vignette. You can go as far as using an acrylic cart and focusing entirely on the accessories.
Mirror Layering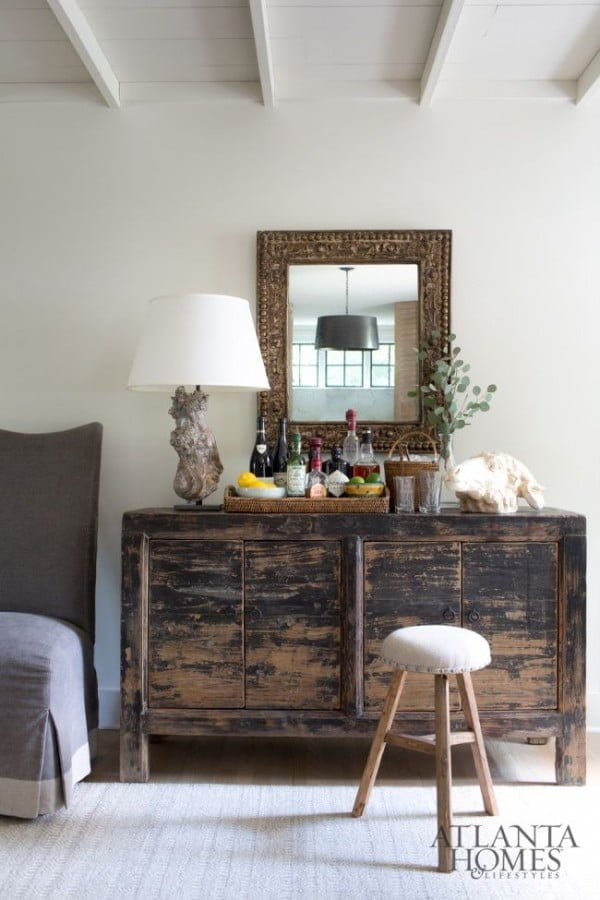 Using a mirror as a backdrop for a vignette is a very chic way to style the wall space above a display cabinet. Use an accent mirror frame and stack flowers, bottles, art, and other accessories in front of it for an in-depth look.
Accent Mirrors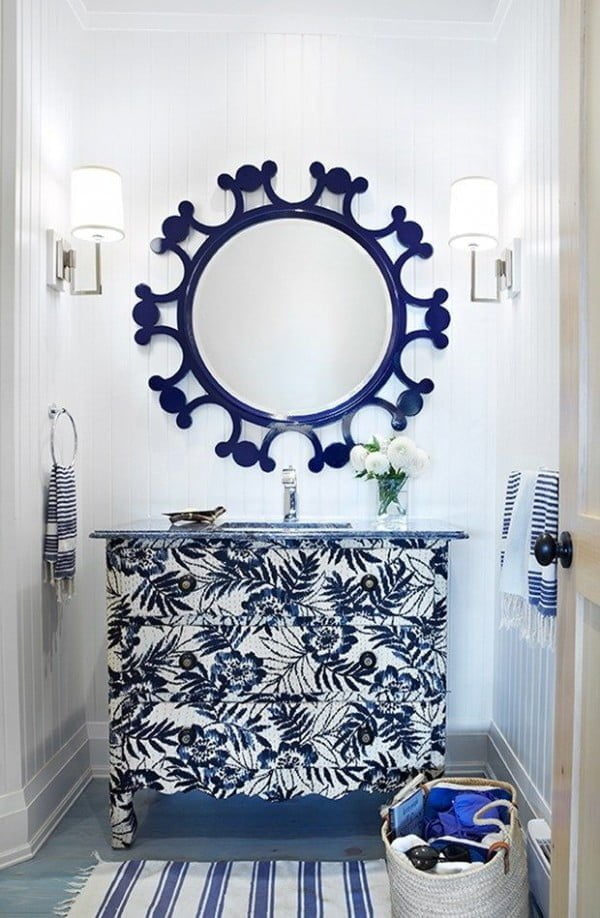 An accent mirror in a chic frame can be enough to get chic wall styling, especially if it comes along with a complementing cabinet.
Pops of Color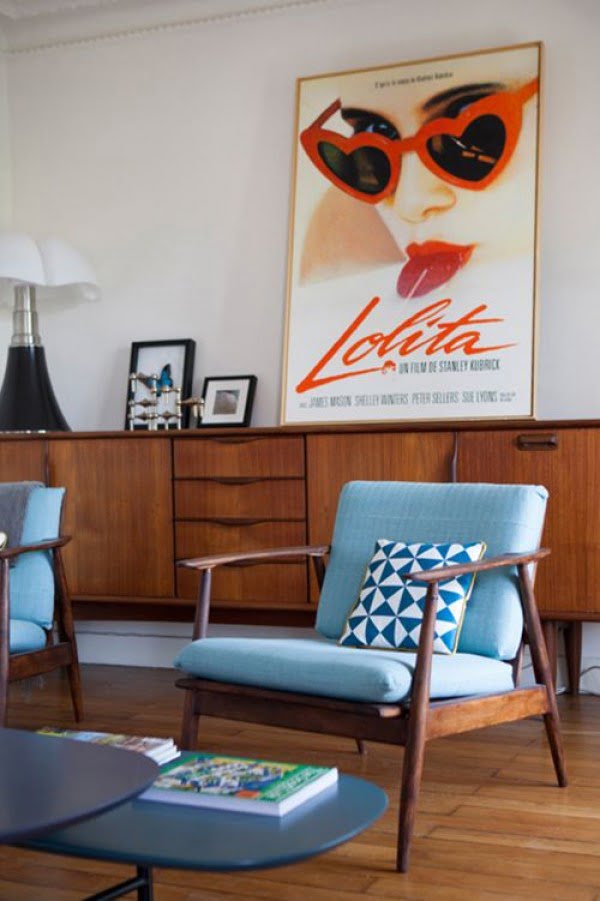 Add contrasting pops of color with DIY wall art to bring it all together. Retro posters work great with their pastel colors to create a fashionably sophisticated accent.
Chic Antlers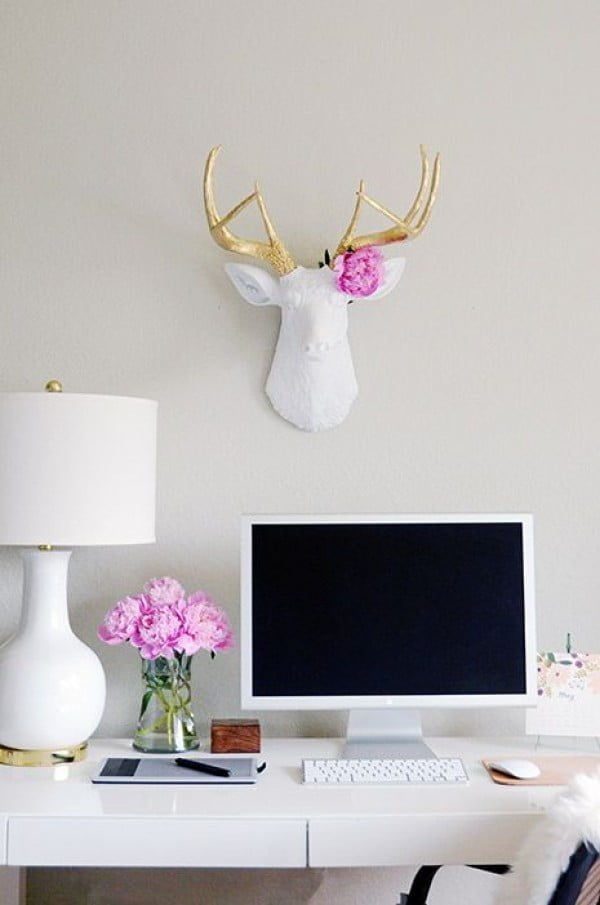 Antlers bring rustic warmth to wall decor. Stylized antlers (gilded in this example) can make a gorgeous chic focal point.
Chic Entryway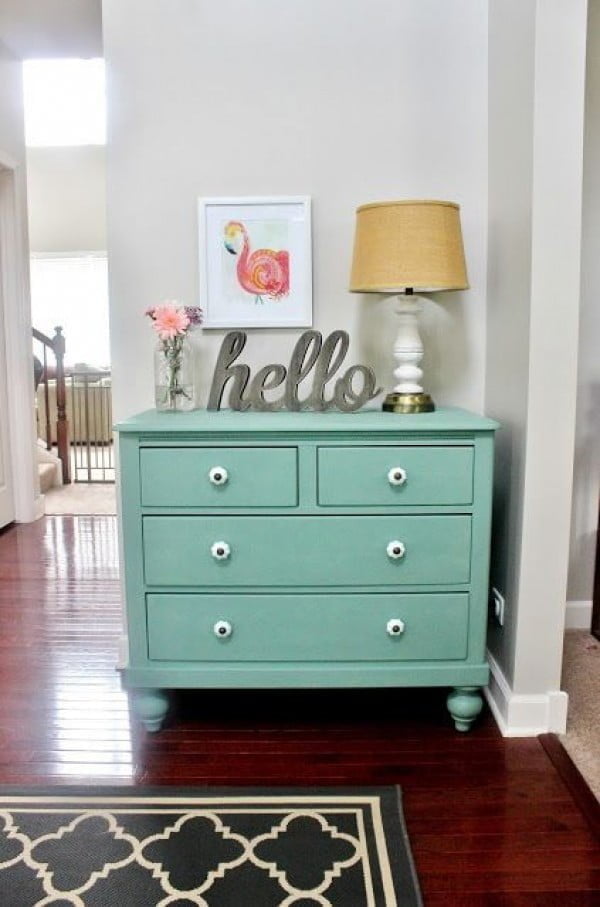 As soon as guests enter your home, the first thing they see should set the mood and give a glimpse of what's to come in your home. Make the first impression count. This chic "Hello" sign does a great job.
Decorate with Your Fashion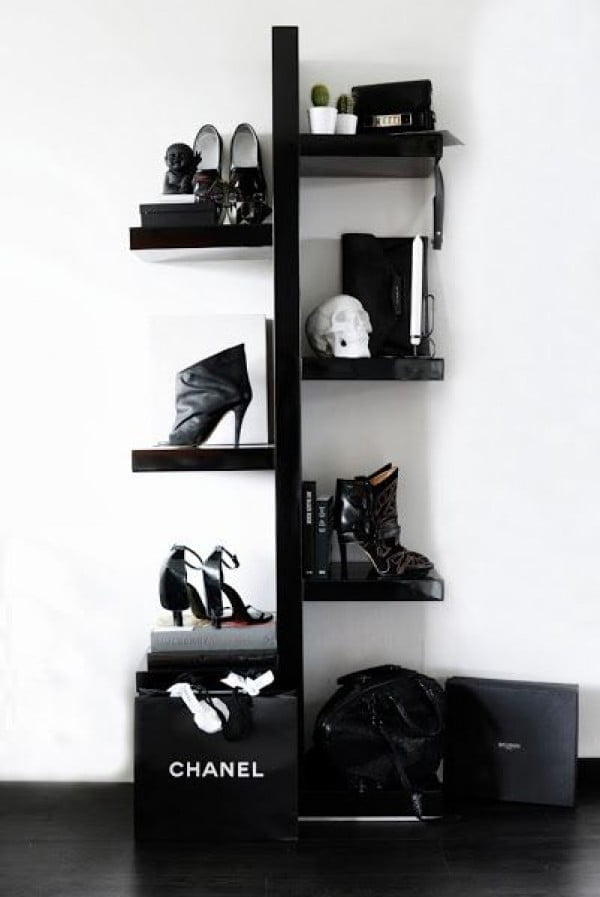 Your bags and shoes didn't just look good on the shelves in stores, you can decorate your home by putting them on display too.
Chic DIY Wall Art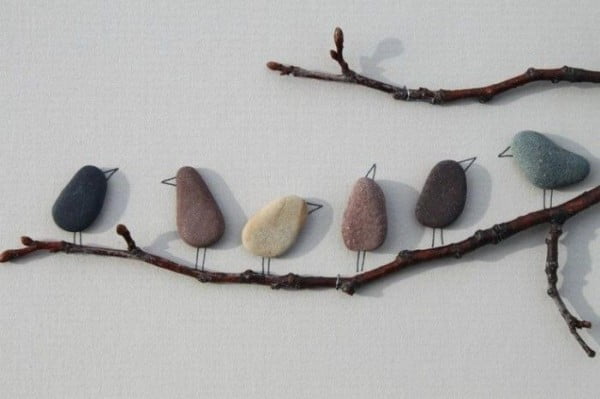 If you care to commit to decorating your walls a bit more, try creating chic wall art. These pebble birds on a real tree branch make a great chic accent, but you can use vinyl decals too.
Decorate with Plates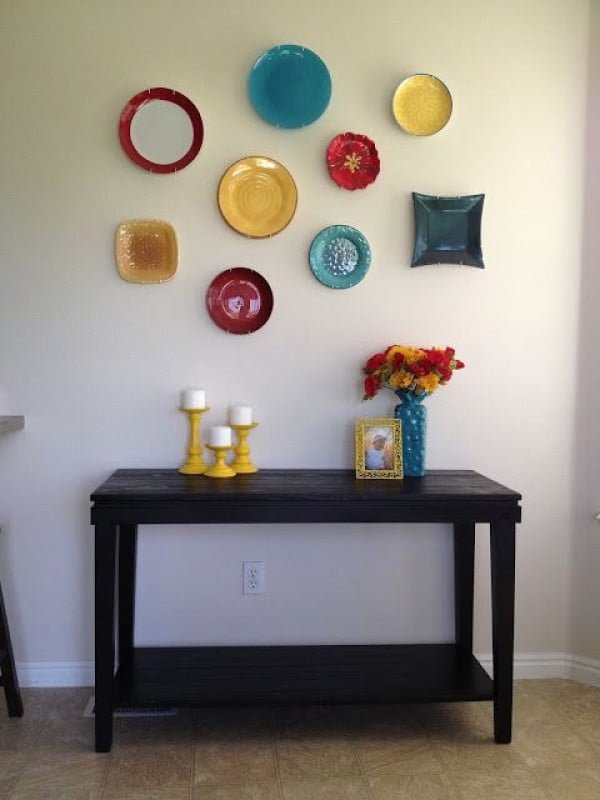 You can decorate your walls with plates, and you don't even need fancy vintage plates – you can use some spray paint to add pops of color for a chic style.
Classic Gallery Wall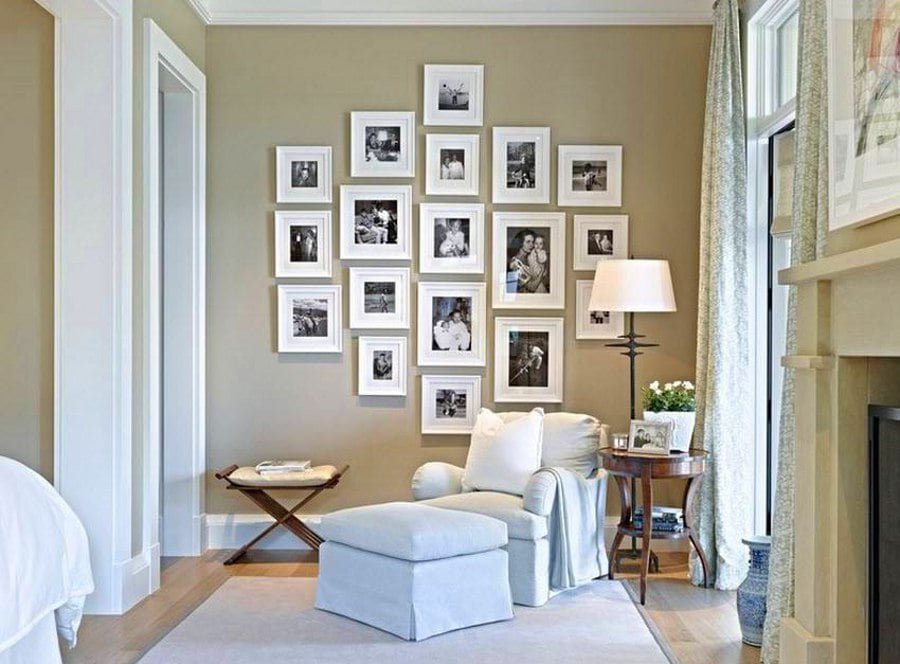 This picture wall is classic – neatly organized pictures with identical frames ensure the perfect order and harmony in the overall interior design.
Bedroom Gallery Wall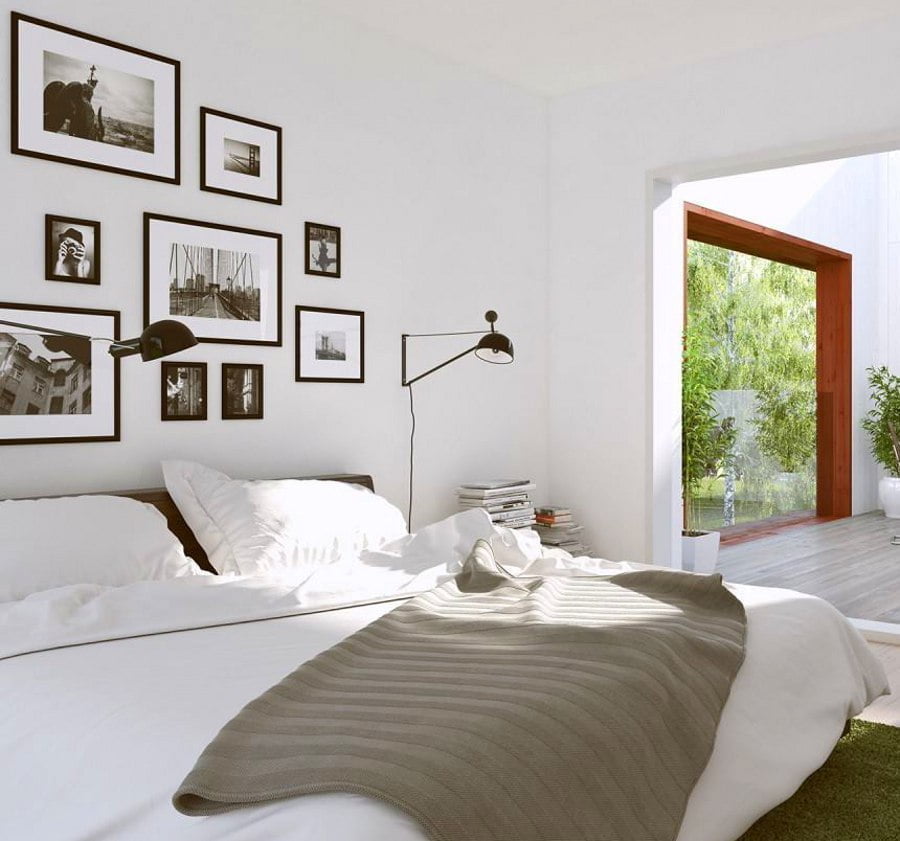 Your bedroom wall leaves the perfect space for a picture wall if it's just plain empty. Such a big space allows for some play of position and shapes of the picture frames.
Artistic Gallery Wall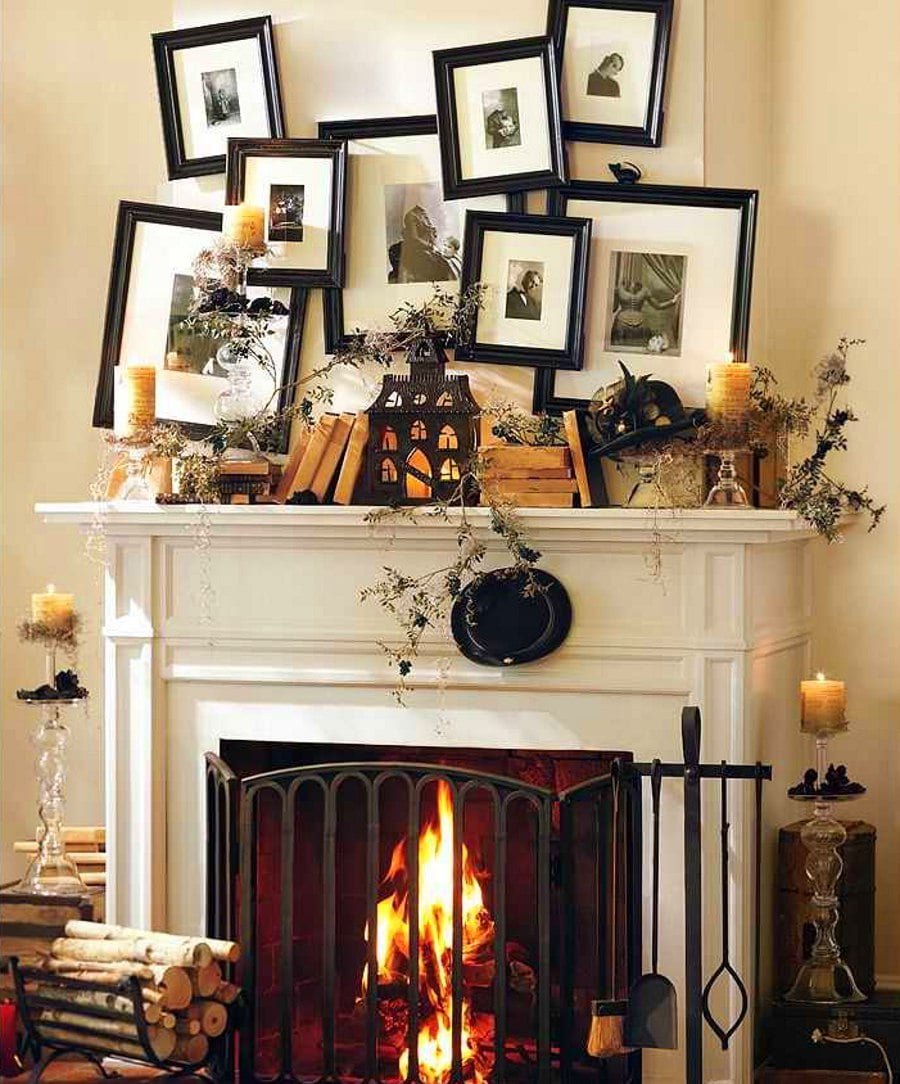 This picture wall is a DIY Halloween decoration and shows a great example of how you can use it to get your home ready for holidays too.
Shelved Gallery Wall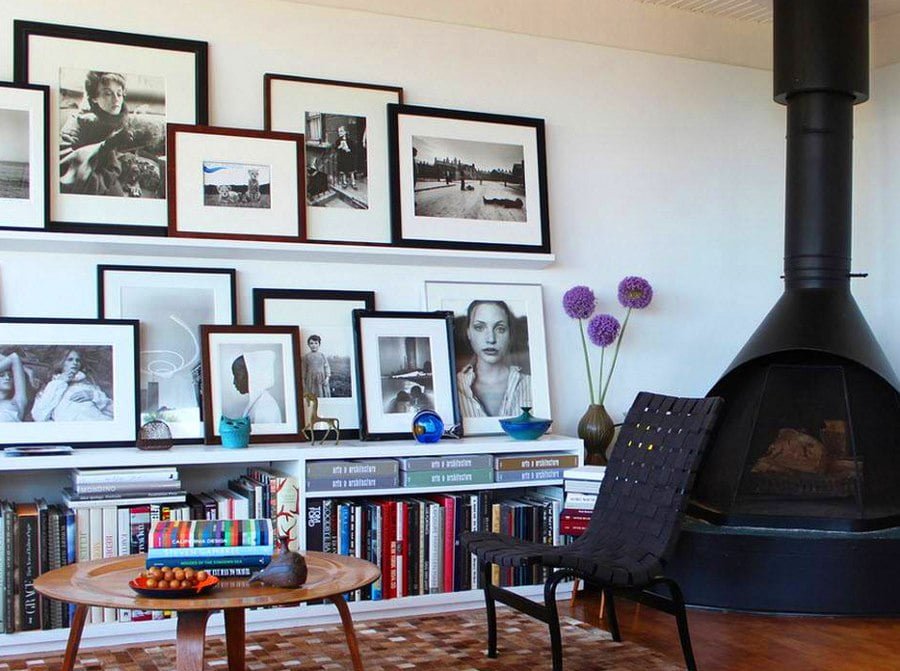 Neat order in limited space makes it all come together.
Photo Wall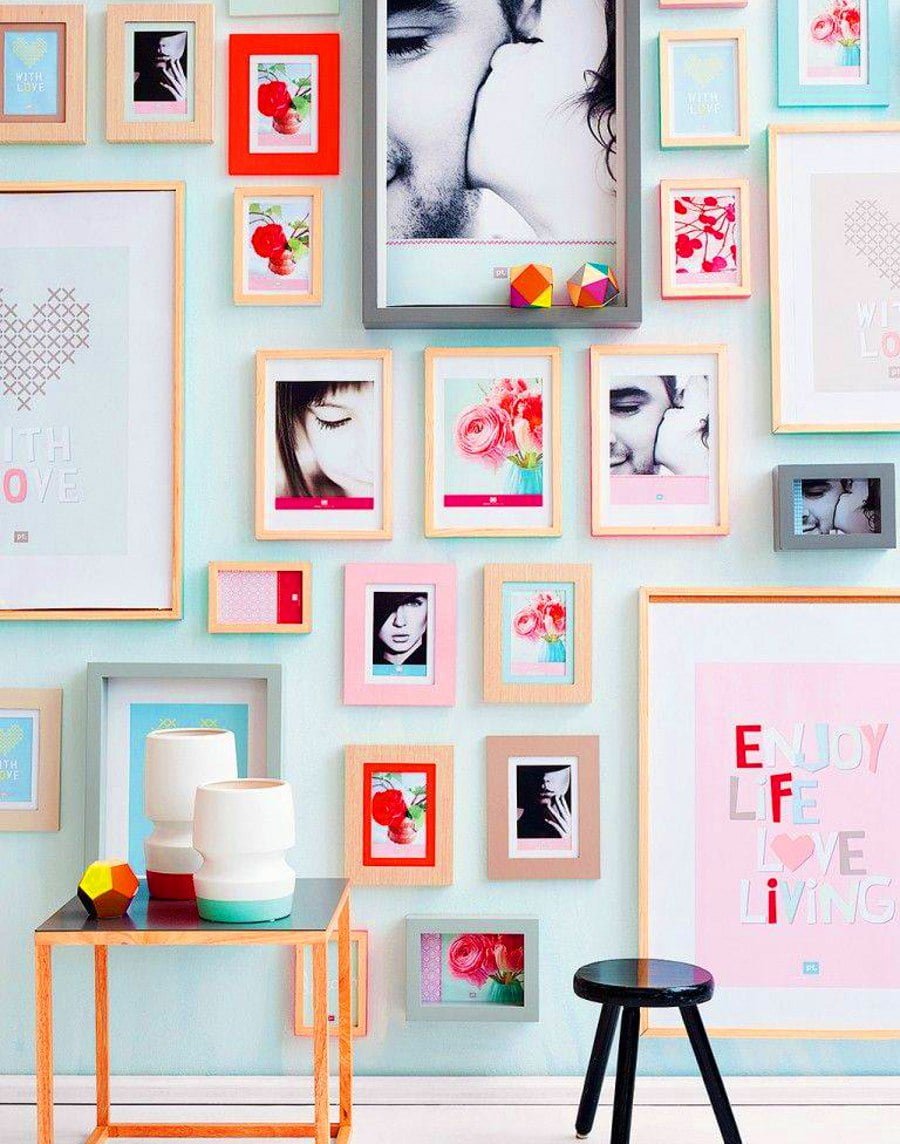 You can intermix your photos with art pictures to create a full picture wall out of a few personal photos.
Mirrors and Pictures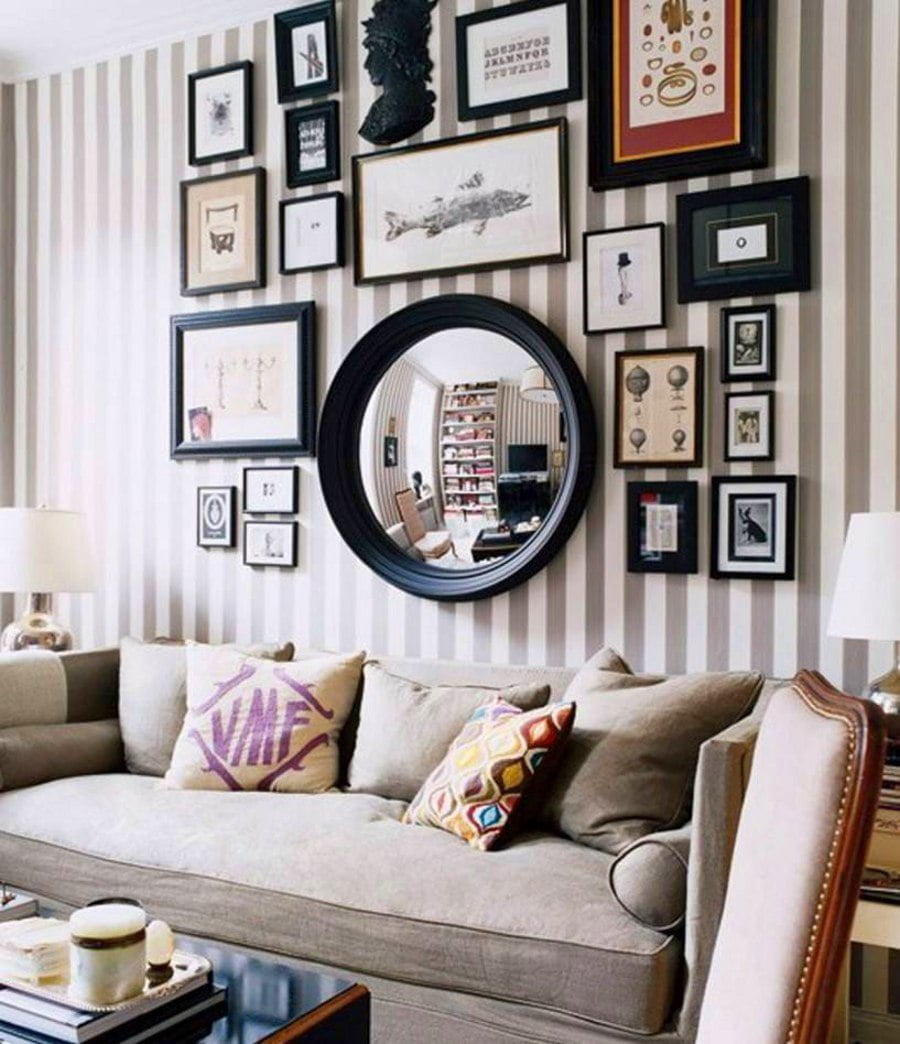 The use of a mirror works as the center around which the rest of the pictures gravitate.
Wall Stencils and Pictures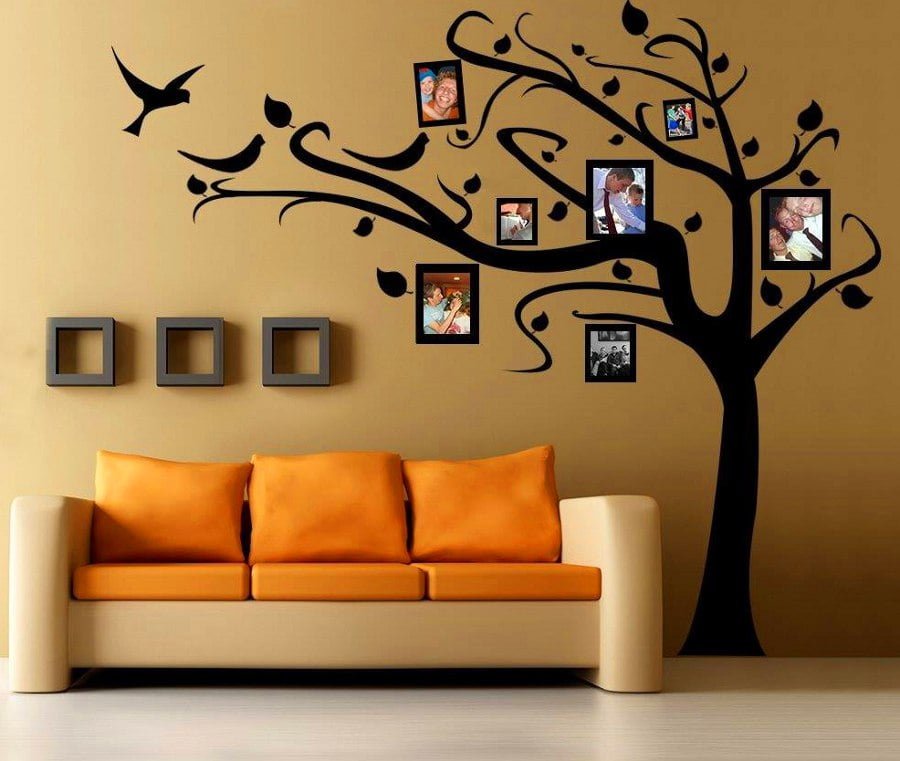 And finally, you can break all borders and use wonderful DIY wall art to serve as the frame for your picture wall.
Oversized Art Deco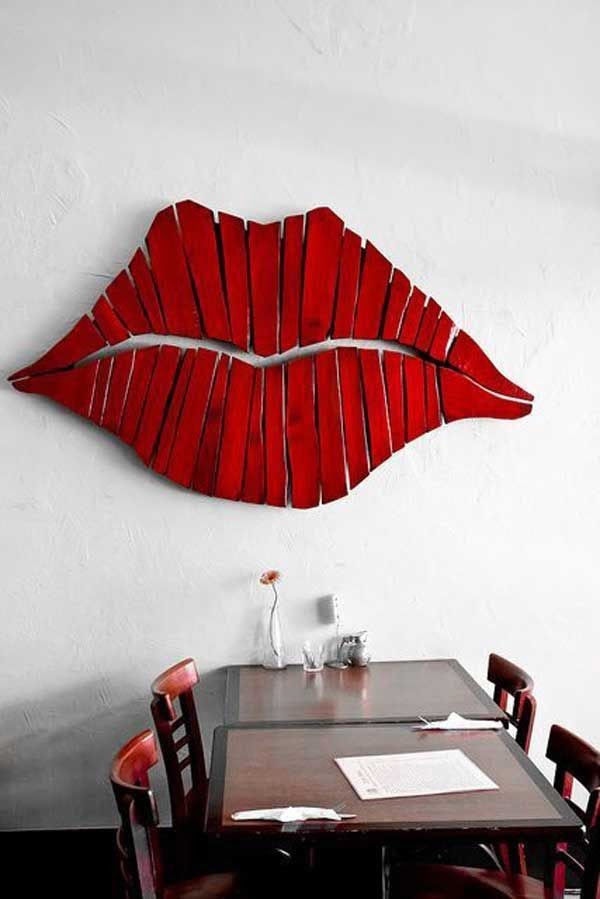 A lovely art deco accent of a wooden lips wall decoration. The red is a strong accent in a soft and neutral color scheme.
Rustic Vignette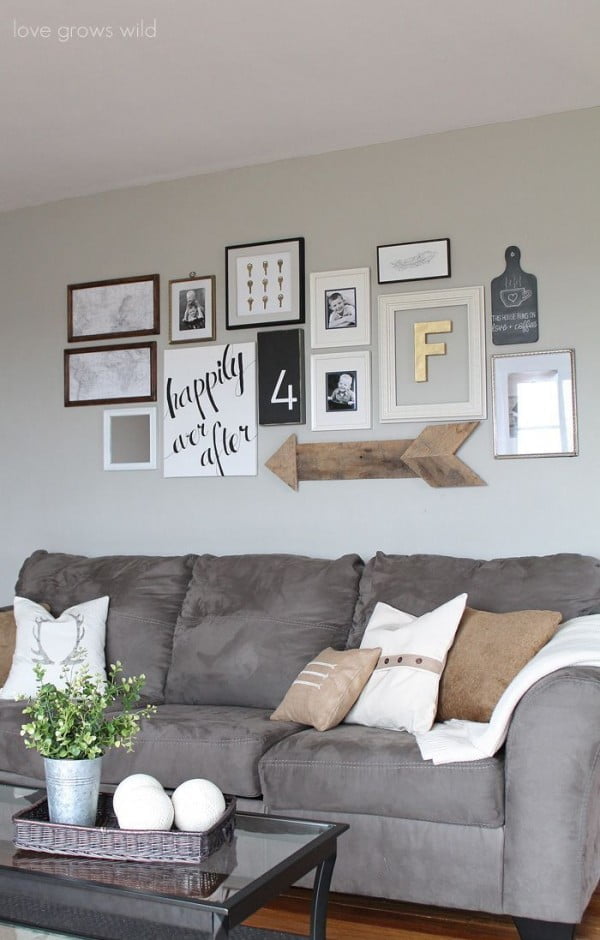 There are many ways of arranging pictures and wall decoration for display walls. This is one idea, but don't be afraid to venture deeper.
Wooden Map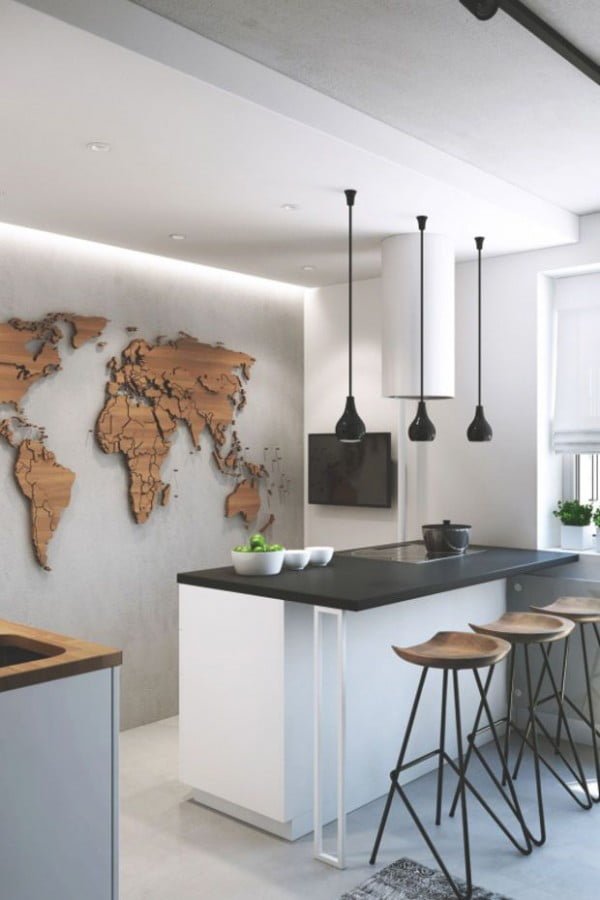 Map forms are attractive in their familiar detail and universal "at home" feel. Look for art deco elements in the shape of maps for this accent.
Oversized Photo Wall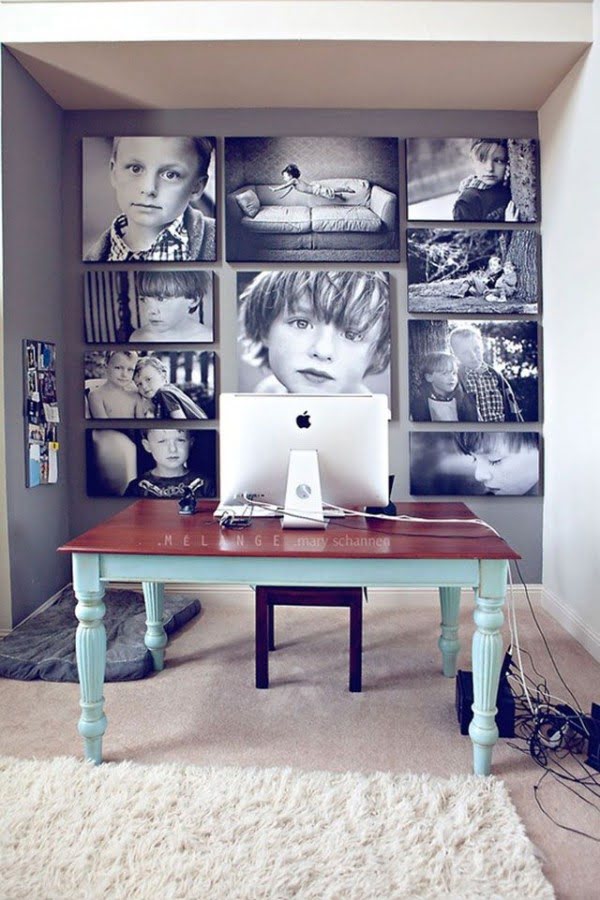 Big pictures that cover the entire wall make a very visual, almost mural-like, accent.
Art with Paint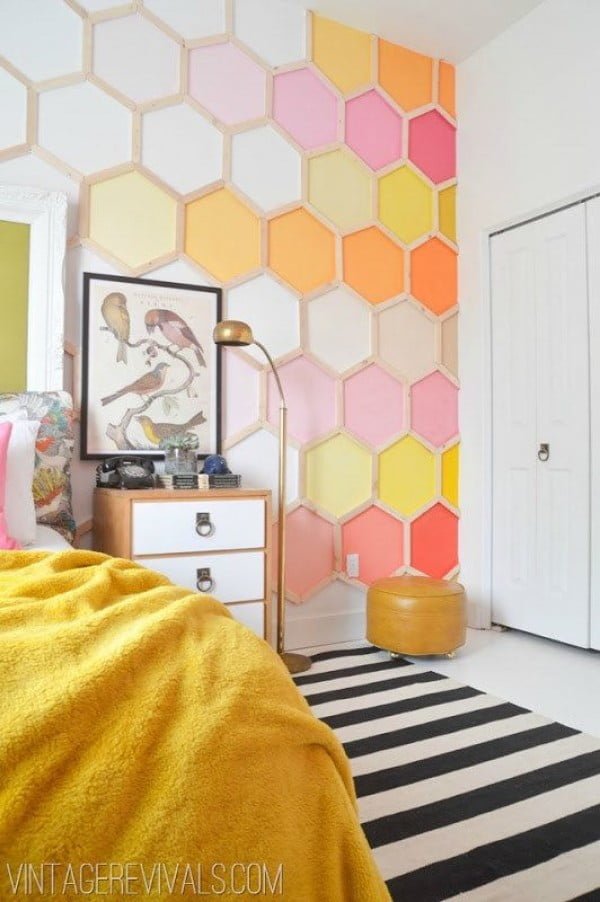 I like this honeycomb design because it introduces a wider palette to the room's color scheme.
Ombre Mural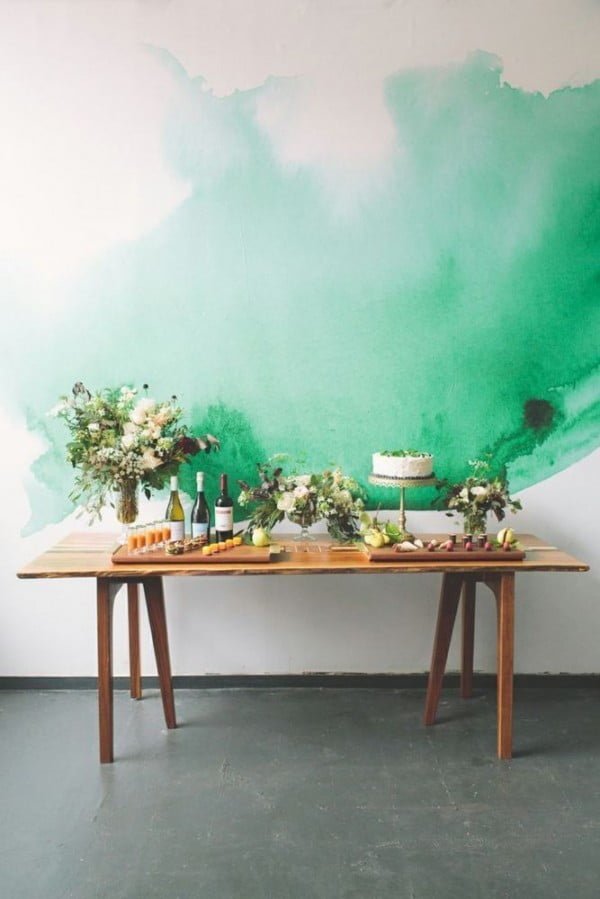 Ombre colors are attractive in their natural progression. Playing with ombre variations can get a vast number of effects. This particular design makes quite a bohemian accent.
Oversized Decals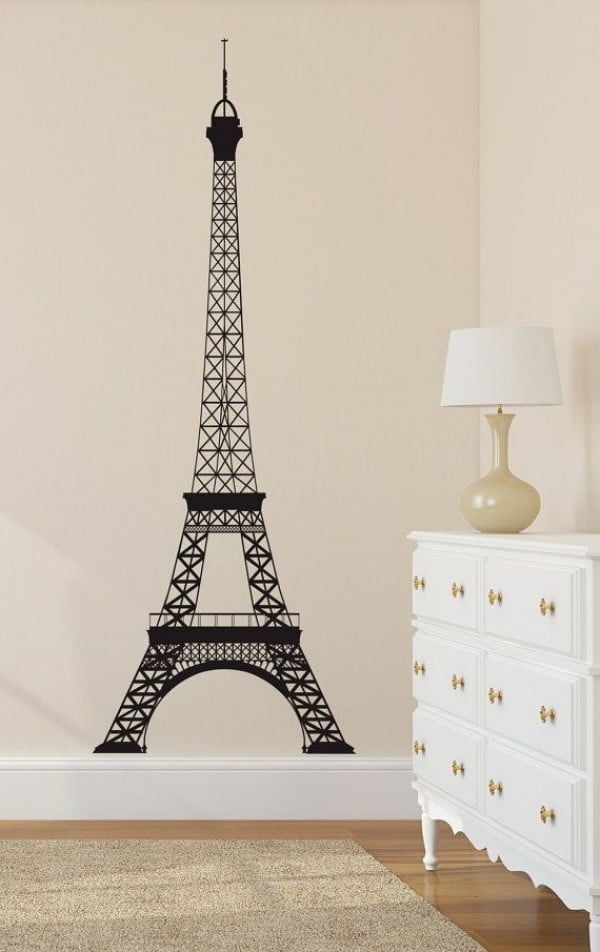 Using wall decals is a cheap and easy way to add an accent to your walls. It can set a theme and style for your decor, such as this Eiffel tower decal instantly creates an expectation for Parisian or French country decor.
Fairy Light Art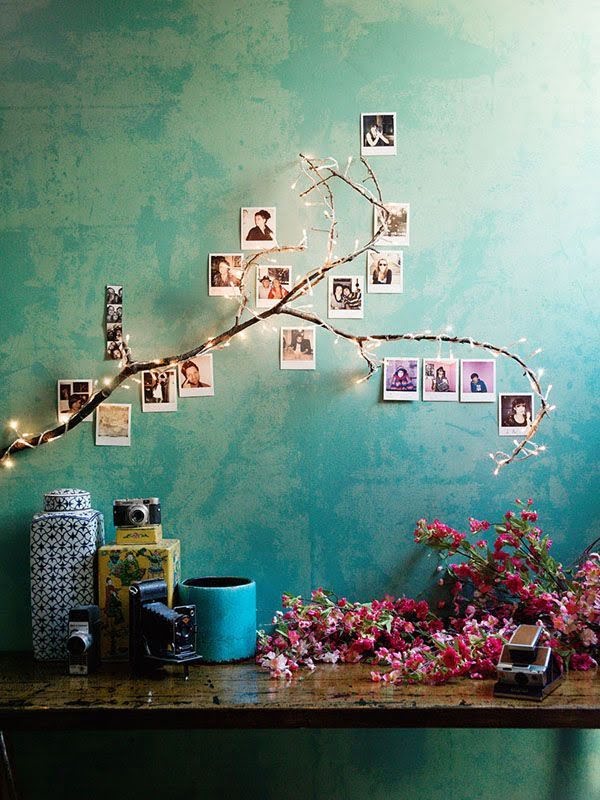 One of the more creative ideas to decorate with polaroids. I also appreciate the washed out paint wall.
Industrial Mural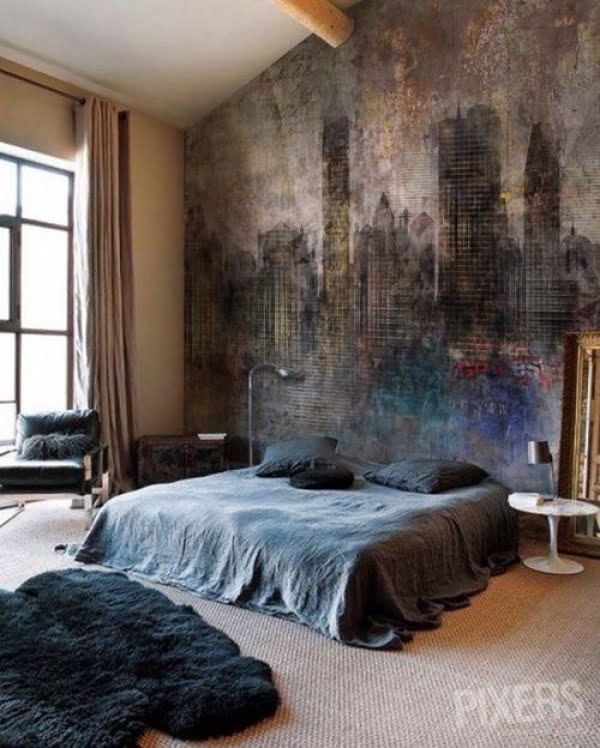 Murals provide a lot of visual effects.
Rustic Display Wall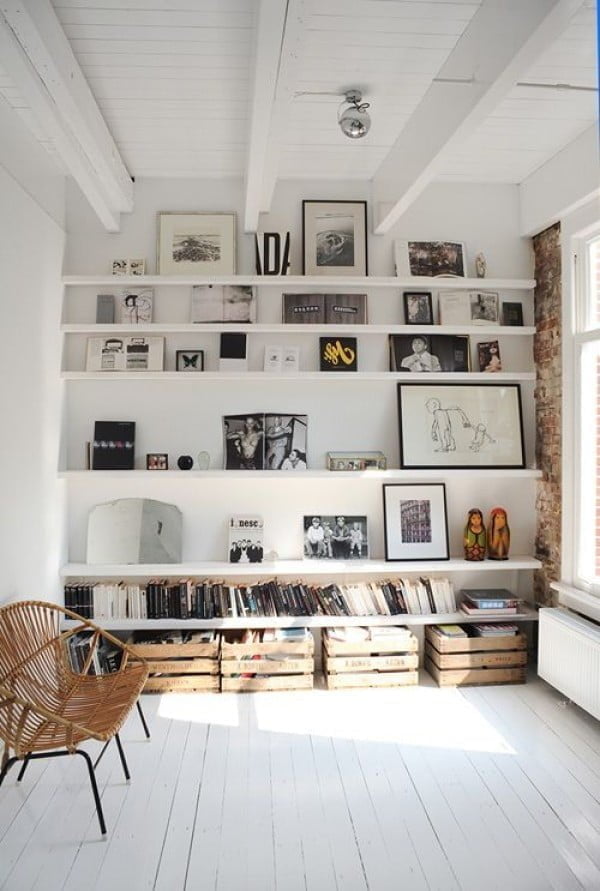 When we think about shelves, we usually think of storage. Sometimes we choose to accessorize them. But rarely do we see a full out picture display. I have to admit – this works beautifully.
Chalkboard Wall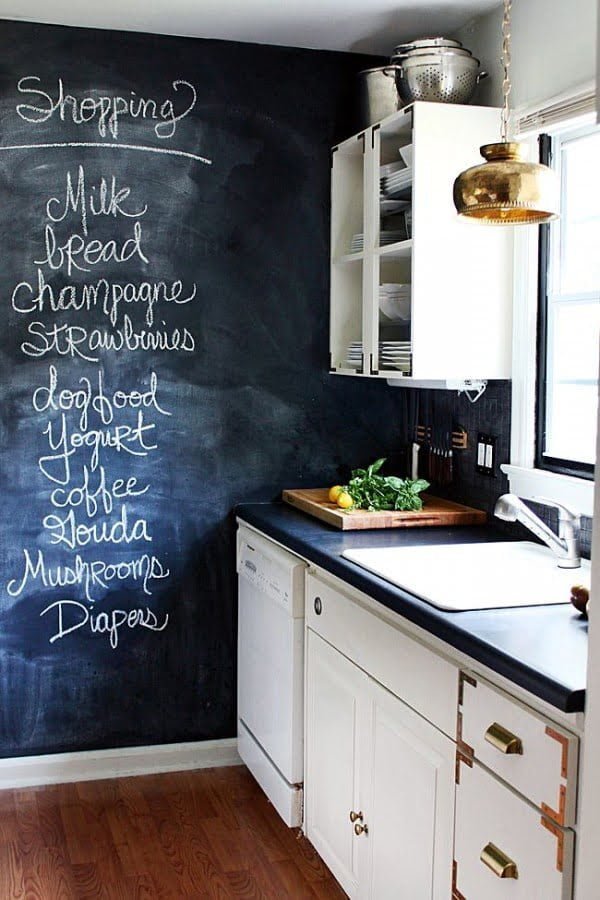 Chalk paint allows you to have an ever-changing design accent wall. It has practical uses, such as shopping lists and notes too.
Small Wall Decals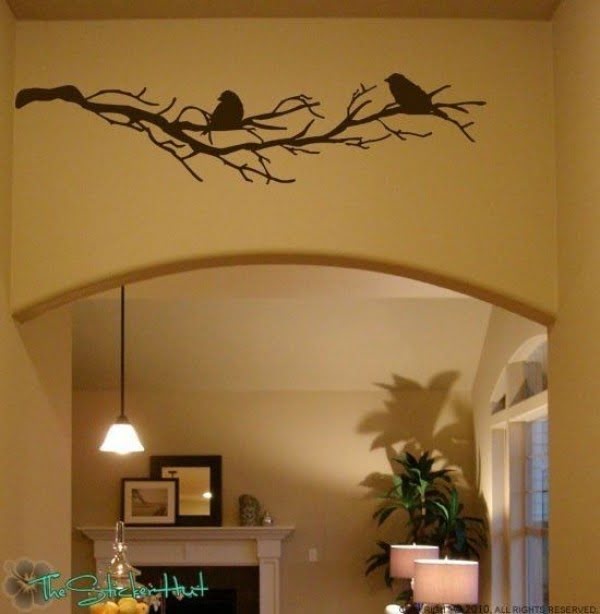 Small wall decals can fill in that small space where little else can go, such as doorways.
Clothespin Gallery Wall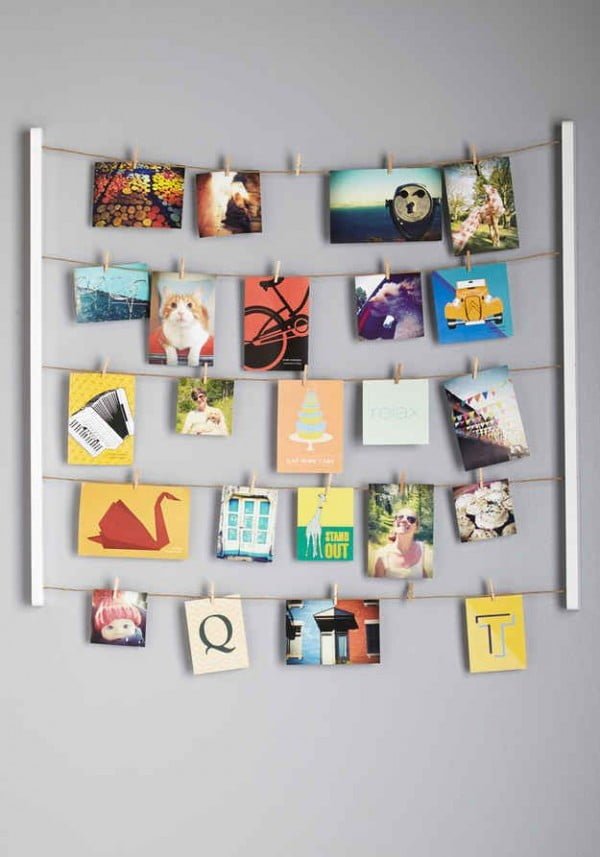 Here's another crafty way to decorate with small pictures.
Paint Patterns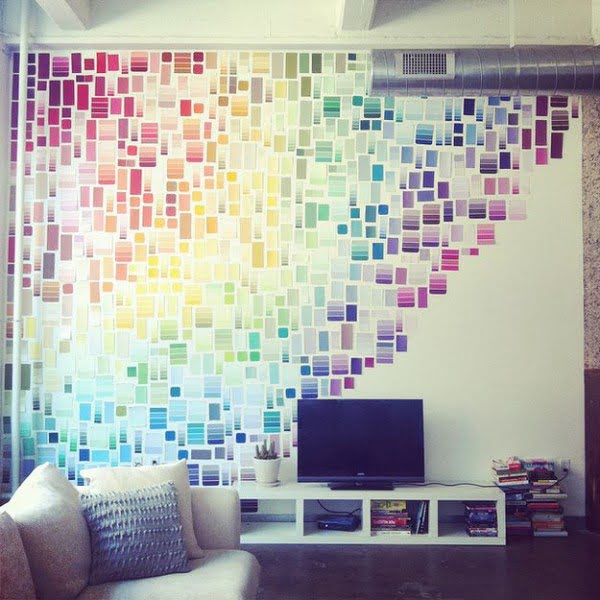 This final design is a beautiful use of the full-color palette for a striking accent.
Themed Wall Decals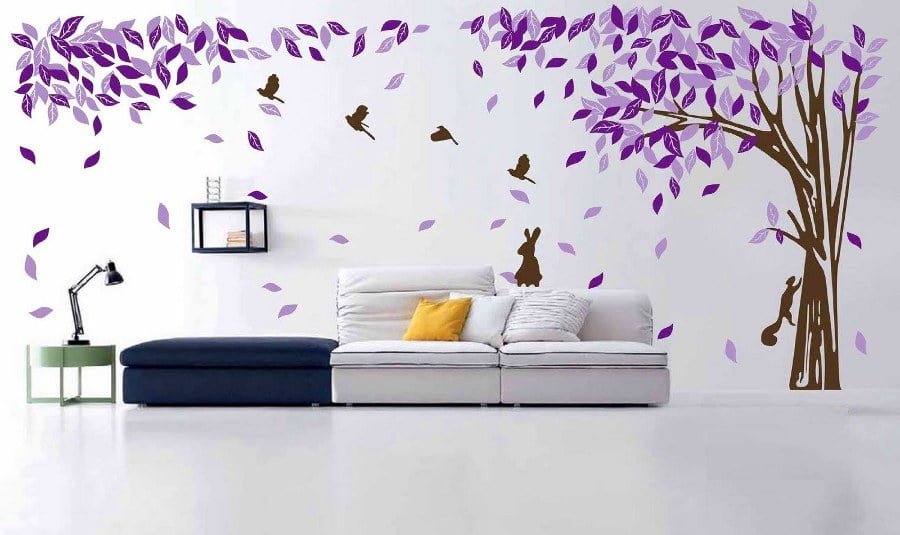 Nature gets it right every time, so if you copy it, you'll never go wrong. Falling leaves in the autumn wind can decorate the entire wall and not only during the fall season.
Wallpaper Stencils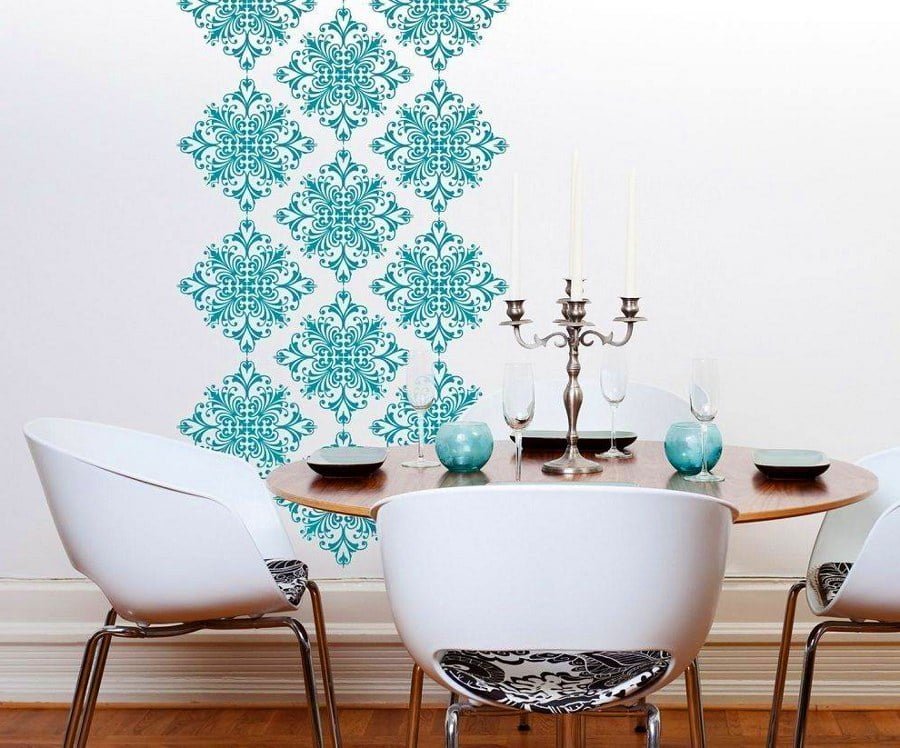 Intricate patterns can match very well with your home decor colors.
Cuckoo Clock Art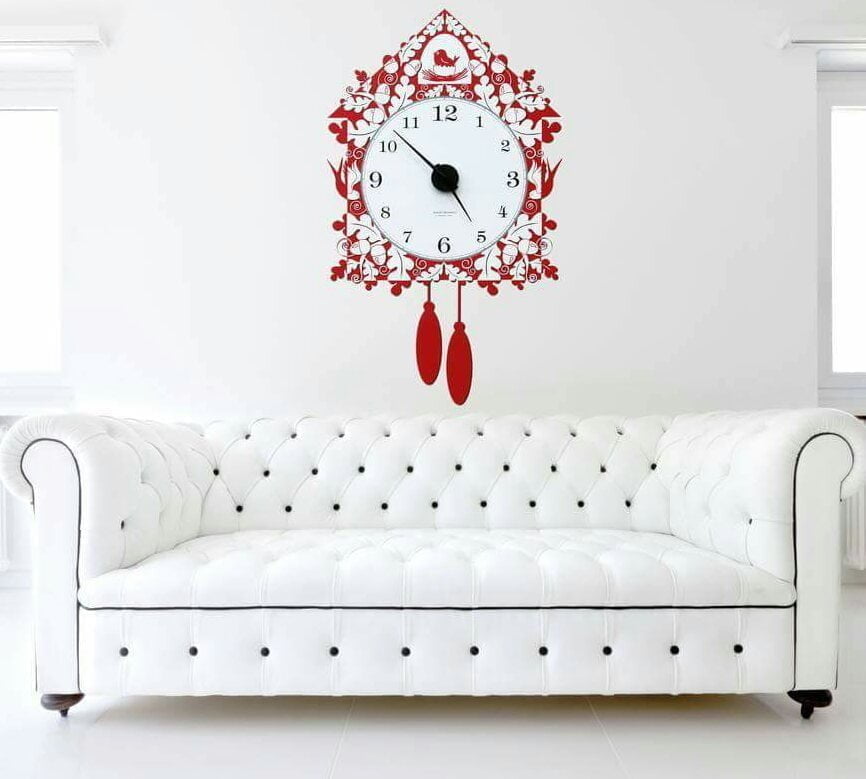 A cuckoo clock must not always be real to create a vintage effect.
Clock Tower Art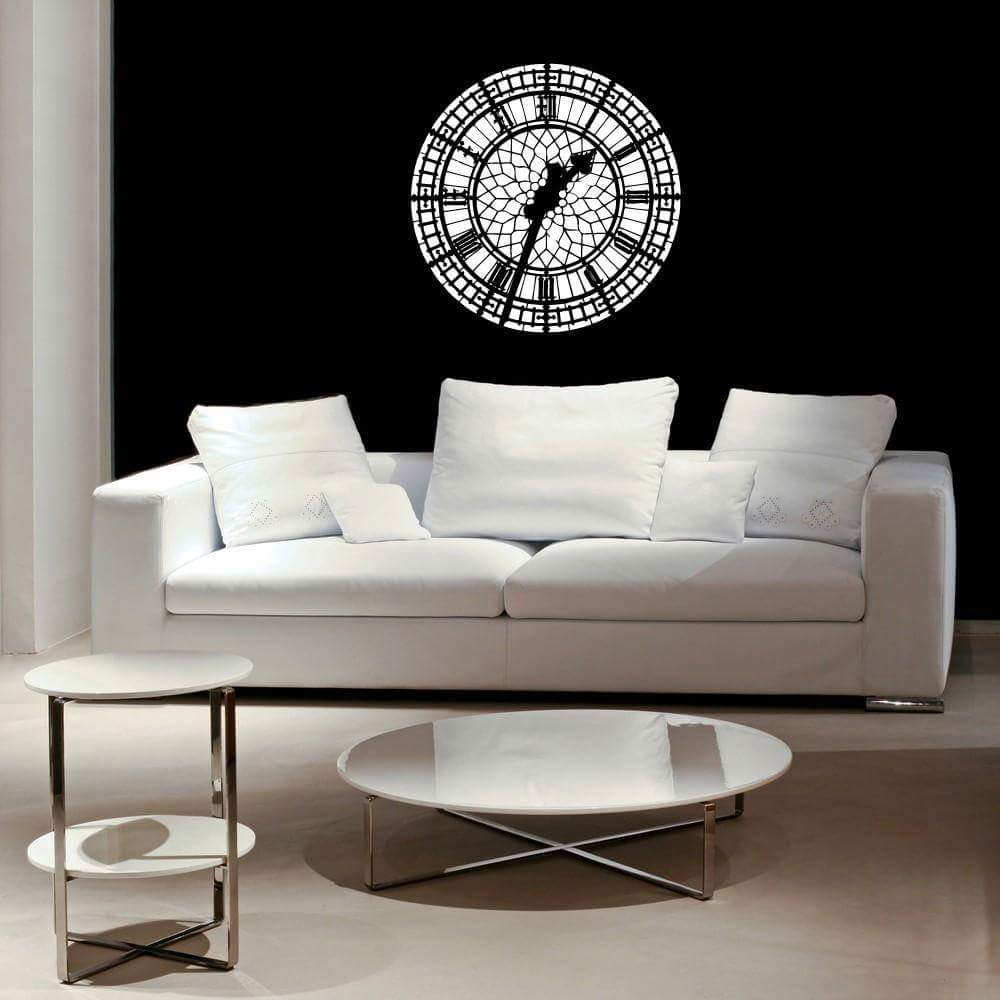 A great option to decorate a black wall is to create a vintage clock design.
Oversized Wall Clock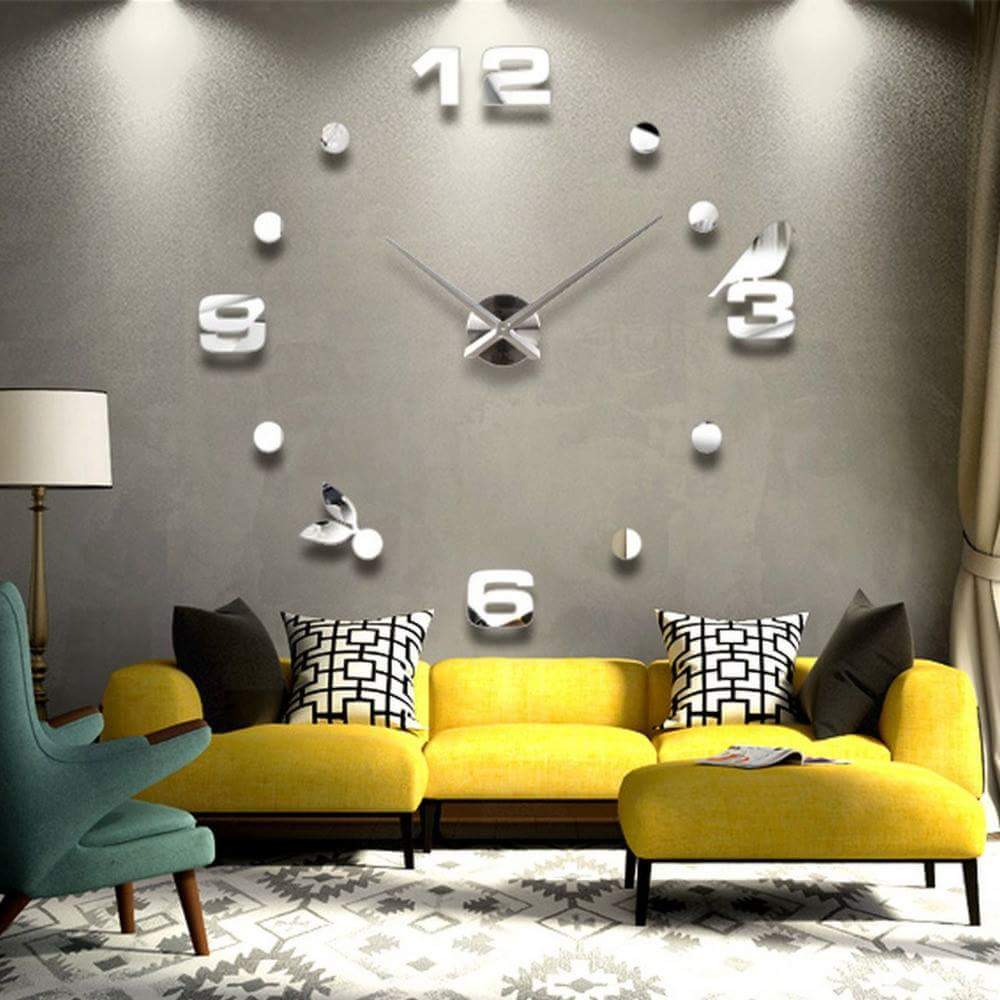 Metallic gloss of this wall clock works great to create a modern look.
Vintage Clock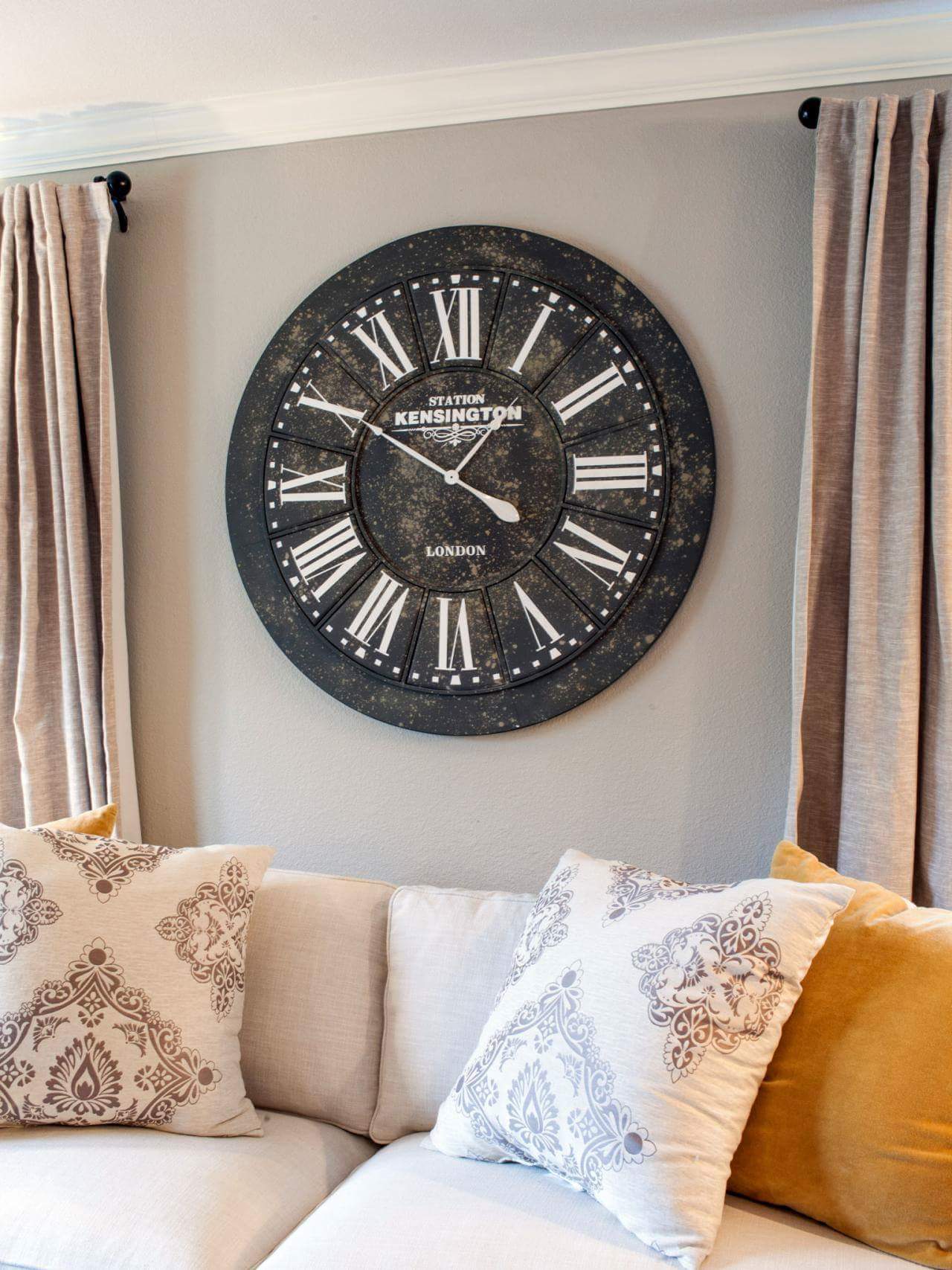 Vintage station clocks are go-to when trying to create a hip design.
Rustic Wall Clock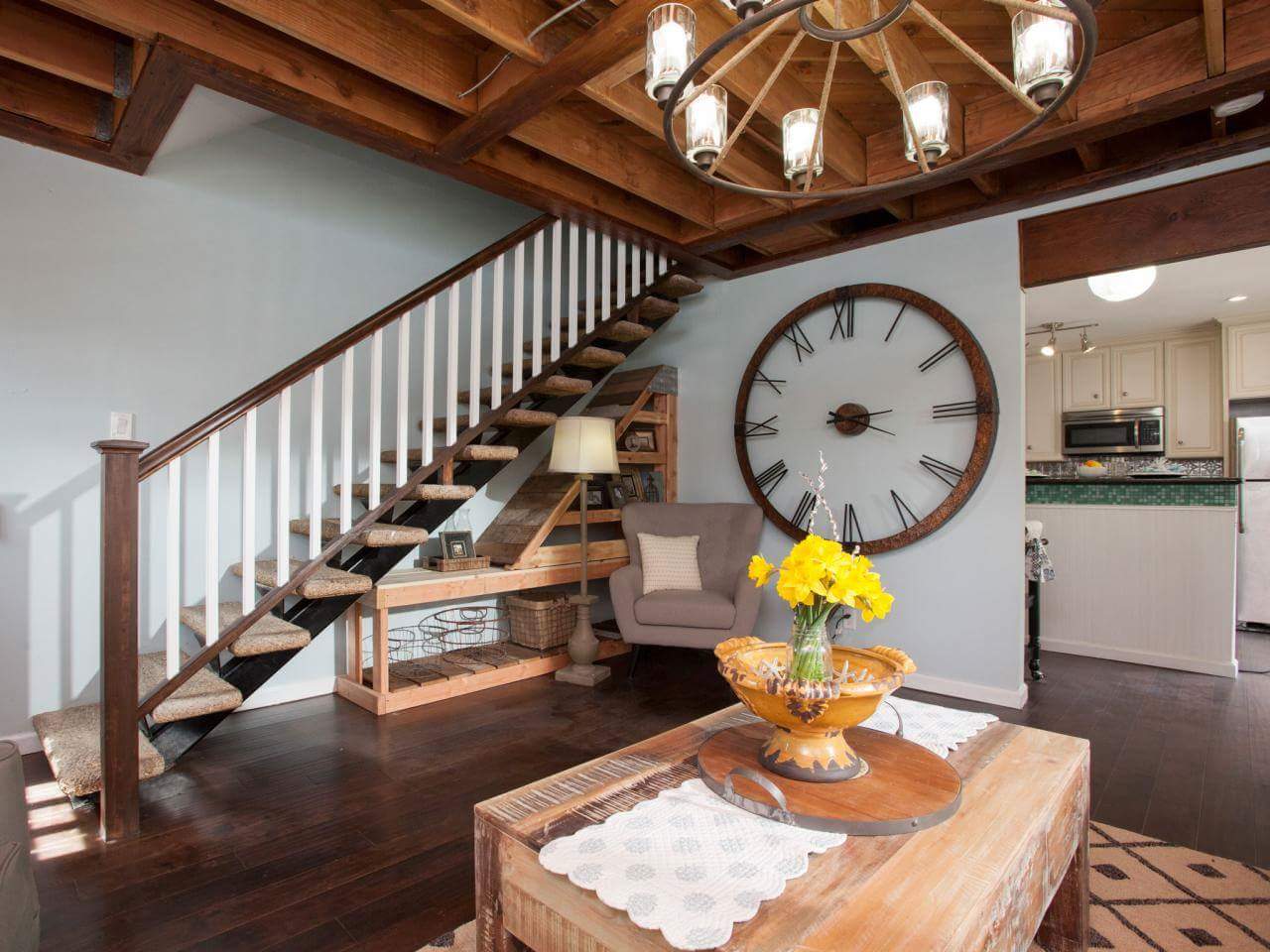 The wooden frame of this clock integrates well with the rest of the interior design.
Minimalist Wall Clock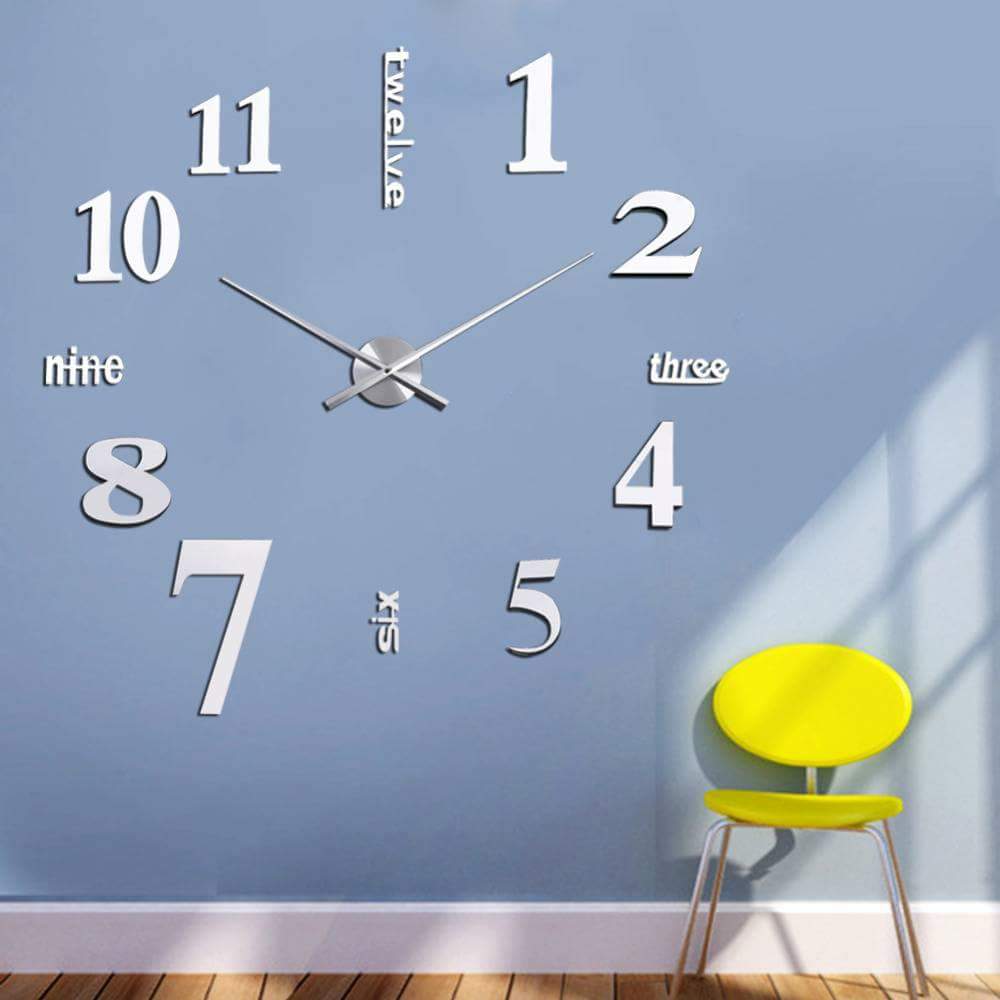 The minimalist design turns the entire wall into a clock.
Functional Wall Clock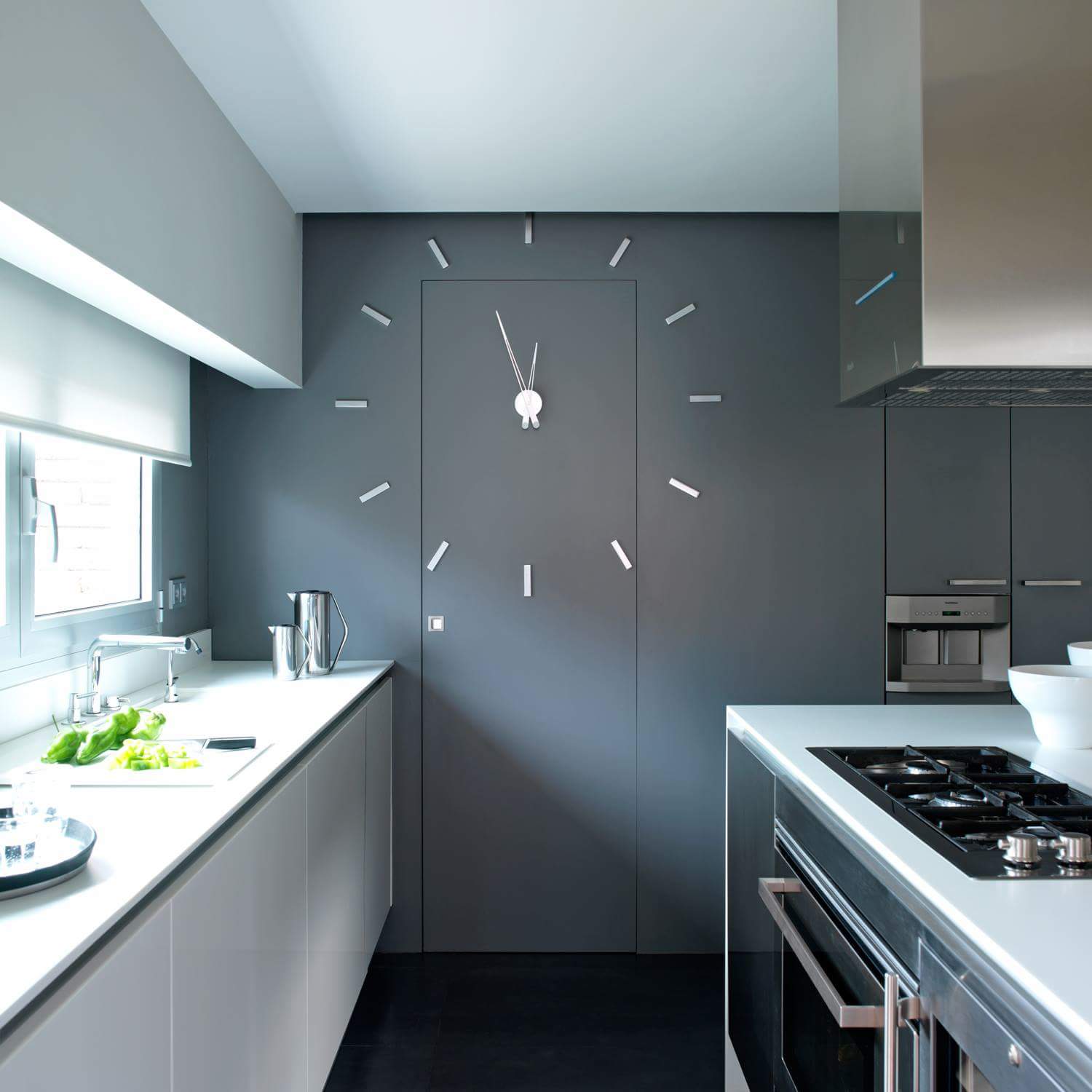 A truly unique way to solve the small space problem.
Related reading: