Last Updated on
Close your eyes and think back of all the significant decisions you took with your family that shaped your life. From choosing which universities to apply for your bachelors' degree to figuring out whether one job offer is better than the other – most of these life-changing decisions probably happened in the kitchen over dinner or a cup of tea with your parents and siblings.
What's Inside?
Your kitchen is more than just the area where you prepare your food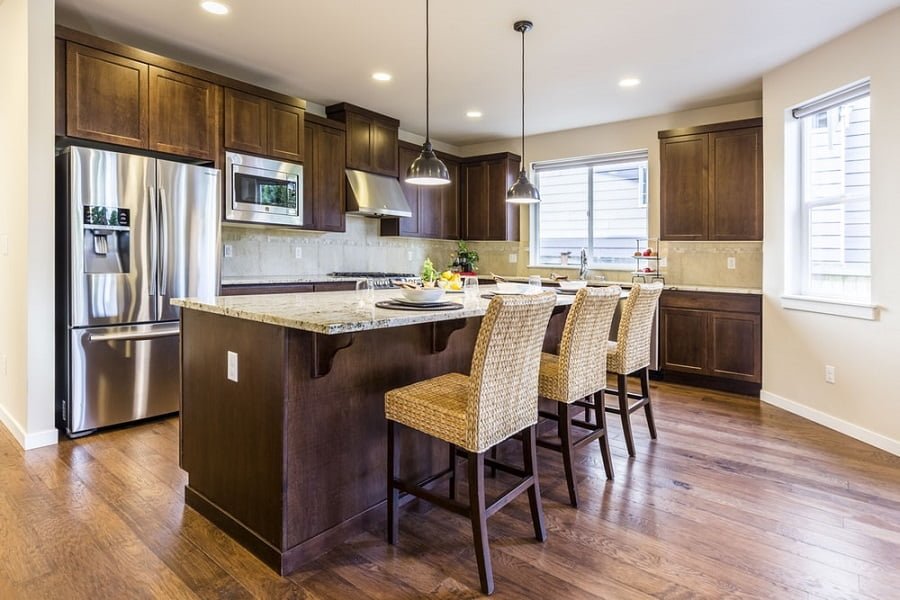 Your kitchen is perhaps the most frequently used space of your house. From dining to grabbing a glass of water to helping your kids with their math homework – the kitchen is the area where most middle-class families hang out together to spend some quality time. Not only this, but it is also one of the first areas that any guests you have over may see.
With the kitchen being as important in our lives as it is, and being one of the most noticeable areas of the house (especially if it is an open one), it deserves special attention when it comes to interior decoration. Renovating just the kitchen area has the potential of giving your entire home a chipper look!
Change your kitchen flooring to achieve a brand new look while spending less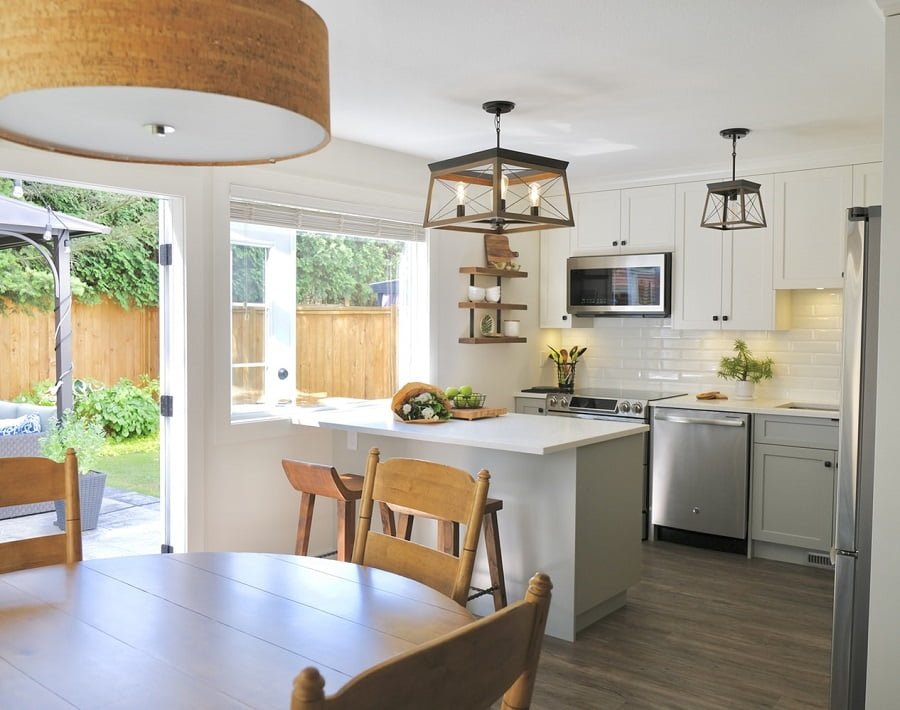 So, what tips and tricks can you use to enhance the functionality as well as the appearance of your kitchen while on a budget? When you have limited funds but wish for a unique and fresh look, then we recommend investing in suitable flooring.
What you decide to put underfoot can make a world of difference in kitchen aesthetics and give your kitchen a brand new feel! In the following paragraphs, we will discuss some of the most popular kitchen flooring styles that are trending in 2019. These styles vary from more expensive, luxury floorings to bargain deals, so you can opt for the one that suits you and your budget best. Let's begin.
A simple yet rich hardwood flooring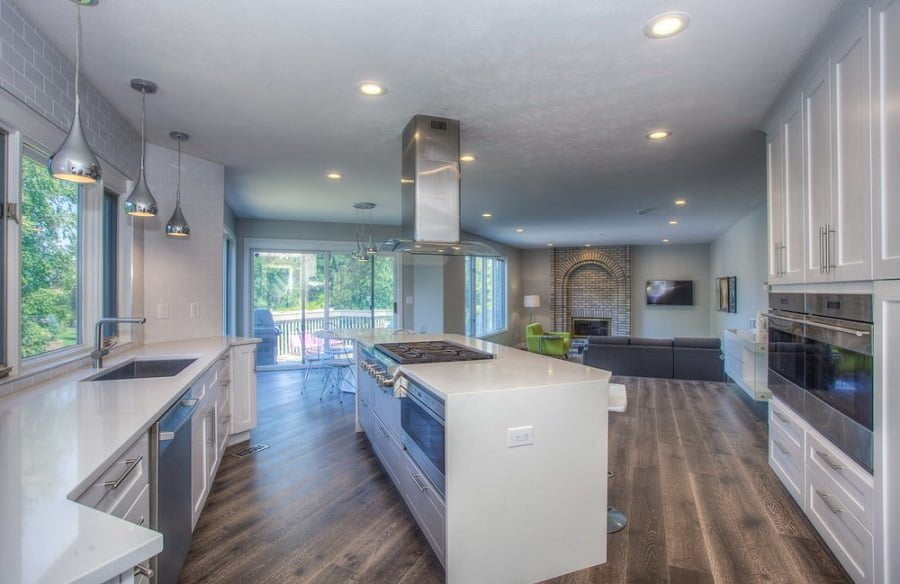 Wooden flooring can add loads of warmth to an otherwise pale kitchen. Being a raging trend since forever, many interior decorators extensively use hardwood flooring and in the rest of the USA for a contemporary kitchen.
Available in both – plain and simple wooden planks and a more interesting patterned or painted wood flooring, hardwood allows you to choose from a large variety. While natural wood radiates a more likely and vintage, retro look; a painted wood flooring is installed to achieve a more modern appearance. Using the style you like best, you can make your kitchen as sober or as bold and bright as you please.
Pet and children friendly – dark stone kitchen flooring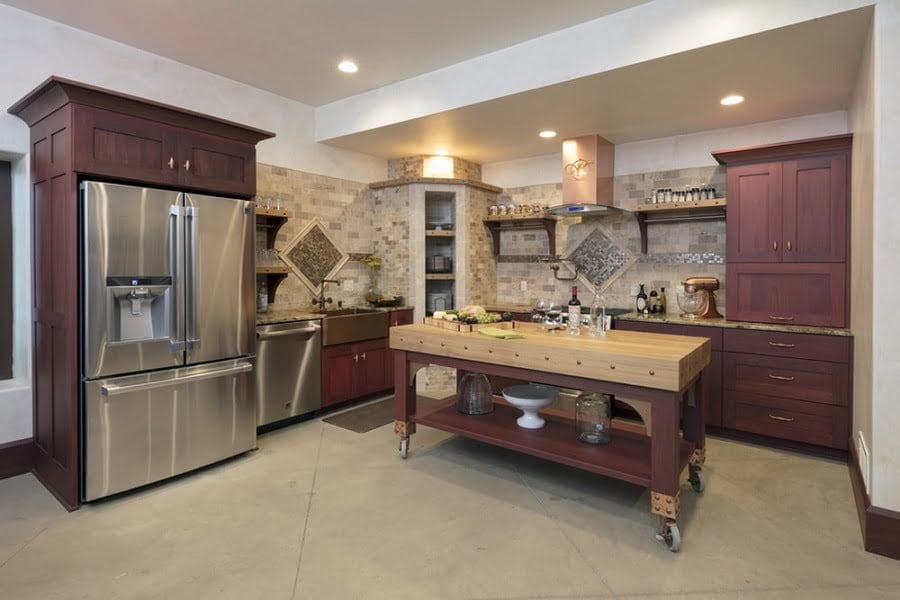 When you have toddlers and/or pets running around the house, it is always wise to invest in a dark-colored floor for the kitchen. A deep color can mask accidental spills perfectly, giving you a long time in between replacements.
Add a strategic, dark color to a robust, stone kitchen floor, and you have the perfect combination for a flooring that is extremely pet and children friendly. The sturdy stone is resistant to scratches and is not easily damaged by chairs dragged across it, or bulky pots and pans falling down. Moreover, the addition of a stone flooring can give a polished look to your kitchen, and totally transform your cooking area.
Rustic and natural – bamboo kitchen flooring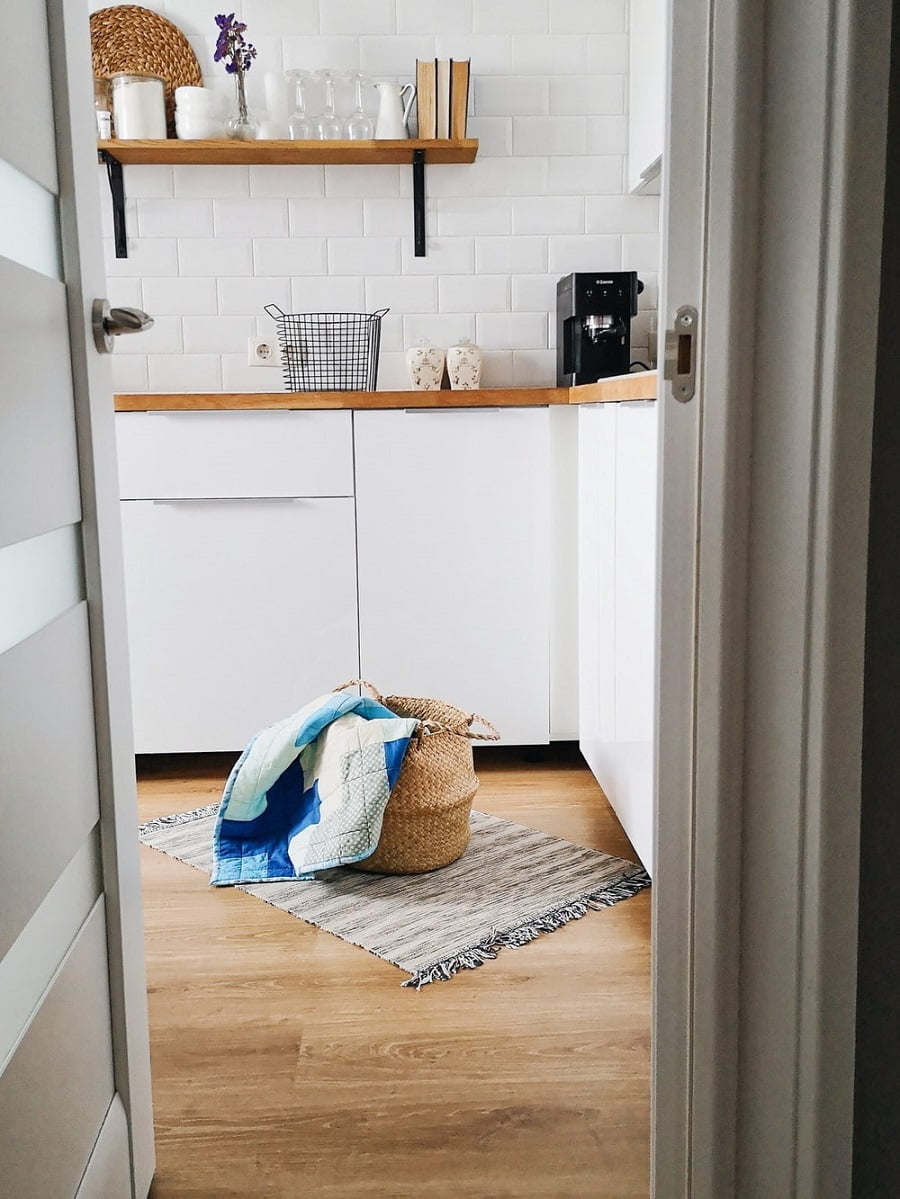 Bamboo kitchen floorings are not only eco-friendly but also have a high visual appeal. With people becoming more aware of the carbon footprint home décor leaves on the planet, these bamboo floorings have gained immense popularity in recent years.
In addition to the above characteristics of bamboo, it is known for its immense strength and resistance to dents (given that it is bought from a quality brand). This makes bamboo floorings durable for a long time, saving you the cost of replacement every few years.
Modernistic, fresh, and minimalistic – white tiled kitchen flooring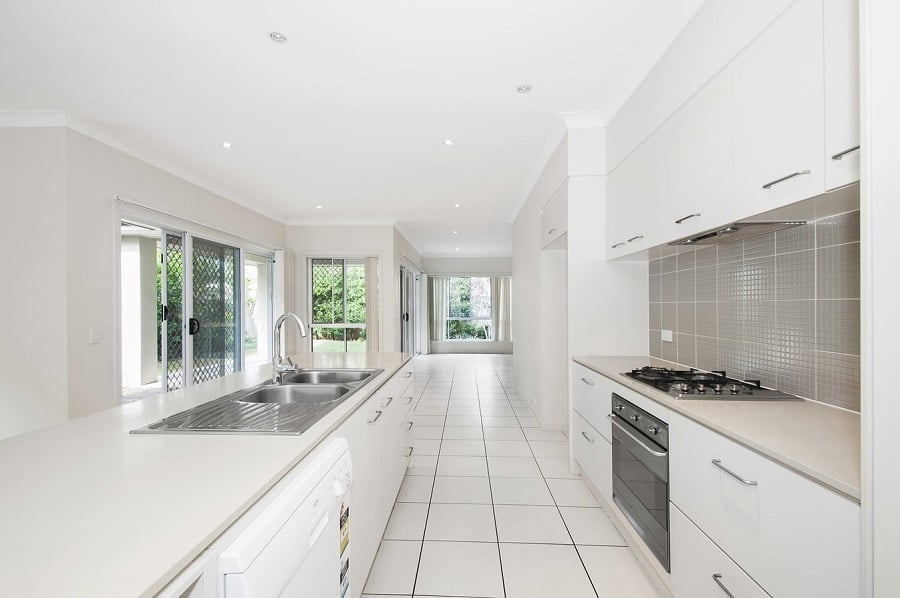 Today, white has taken the world of home décor by storm. Emanating purity, class, and grandeur, a white-tiled kitchen floor leaves you refreshed as soon as you step in your cooking area.
White tiles are extremely popular with home decorators and interior designers when they are working with a small, cramped up space. As they reflect natural light and give the illusion that an area is more significant than it actually is, using white in your kitchen can "open up" the place.
In addition to being fresh and minimalistic, white kitchen floor tiles are also very futuristic. Coupled with the fact that tiles are a dream to clean up if you accidentally spill some sauce, it is understandable why white-tiled kitchen floors are such a hit today.
Exciting and bold – patterned vinyl kitchen floorings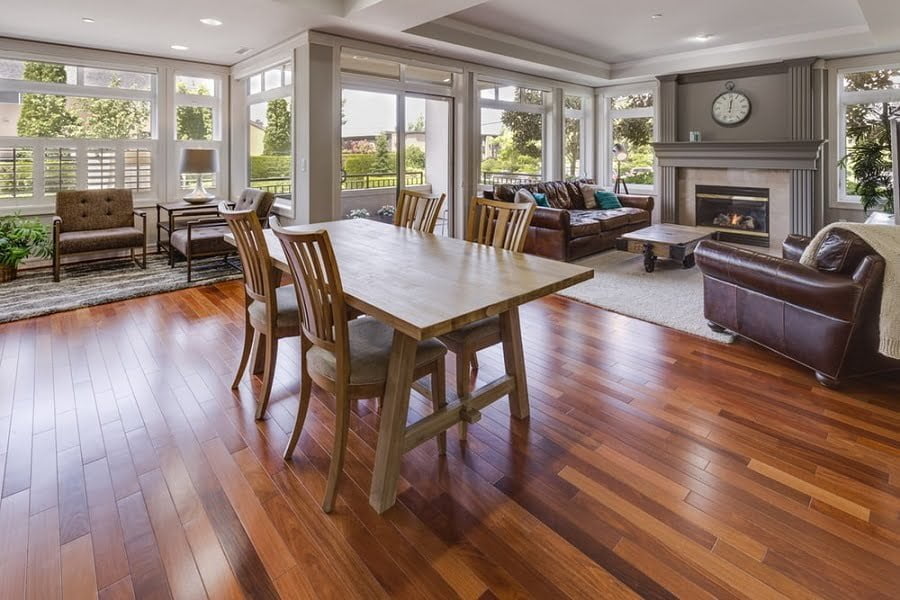 When you are feeling adventurous and want to play with a bold look, patterns are your answer. A patterned vinyl floor can add a lot of personality to your favorite part of the house.
If an unusual, contemporary kitchen is what you are looking for, this is the perfect choice for you. However, when opting for interesting patterns, it is essential to take care that your floor does not clash with your cabinets, countertop, or the dining table.
Inexpensive and super practical – laminate kitchen floor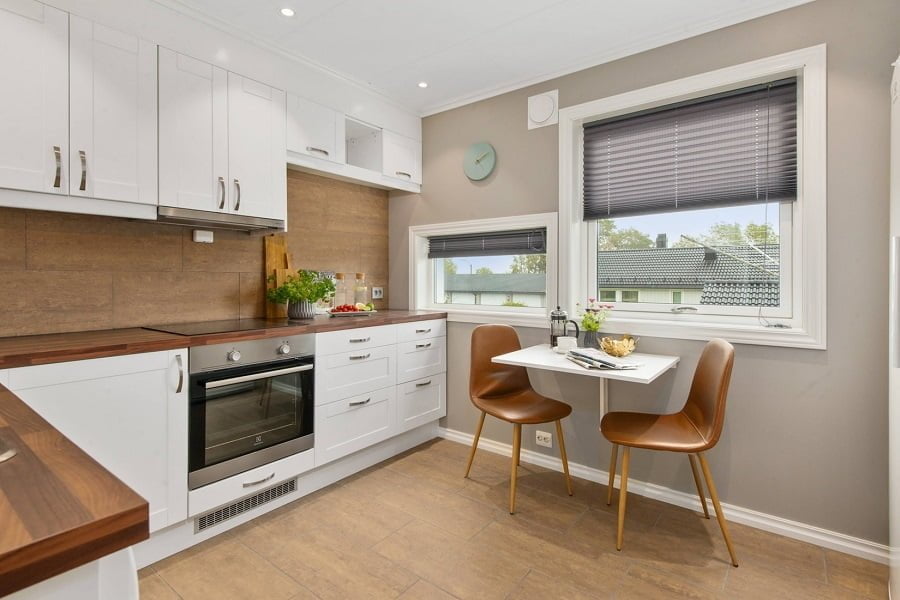 If your kitchen flooring hunt revolves around something budget-friendly as well as sensible, then you should opt for a more traditional, laminate kitchen floor. Easy on the pocket, long-wearing, and readily available in a large variety of designs, laminate kitchen floorings are as popular in 2019 as ever.
In addition to being an inexpensive option, they are super easy to clean up too (except the tiny seems in between the planks where grime may deposit). However, the most fantastic thing about laminate floorings is that they can mimic the more expensive hardwood floor so well that nobody will ever be able to tell the difference.
A contemporary look with concrete flooring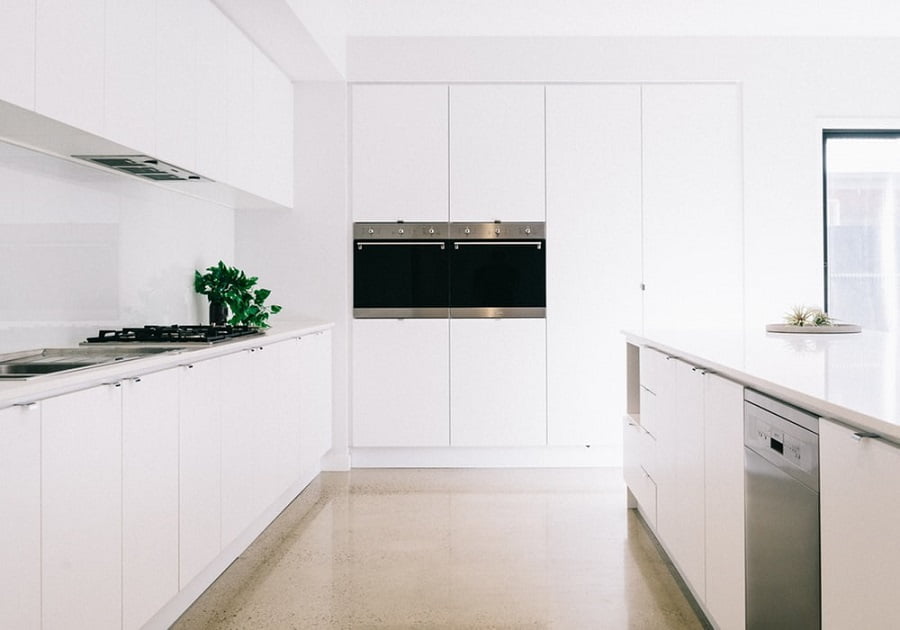 For an iconic contemporary look, we recommend you to go with a concrete floor for the kitchen. Easy to clean and resistant to damage over the years, it is not only aesthetically pleasing but is also a convenient pick when it comes to lining your kitchen floor. Using a dark, deep black or gray can also have the added ability to effectively hide stains and spills over the years.
The final word
If you are looking to change your kitchen flooring, or install attention grabbing design in your new house, we recommend that you pay special attention to both – the aesthetics and the practicality. Since a kitchen is susceptible to numerous spills, choosing a floor that is a challenge to clean is not a great idea. Instead, pick something that will not only stand the test of time but is also a dream to clean up messes off.
Related reading: