Last Updated on
It's that time of the year when we do our best to decorate our home for the holidays to impress our every guest, as well as to create a festive mood for our entire family from classic wreaths and Christmas trees to vintage signs, ornaments, and garlands with string lights. There's no shortage of ideas for stunningly beautiful displays that we all want to create. And it all starts with the front porch of your home.
You're probably well underway on your journey to creating the most beautiful Christmas display at your home. But there are always some additions to be made, something special to be included. So here are 35 more stunning Christmas porch decoration ideas that you are free to copy and make it yours too.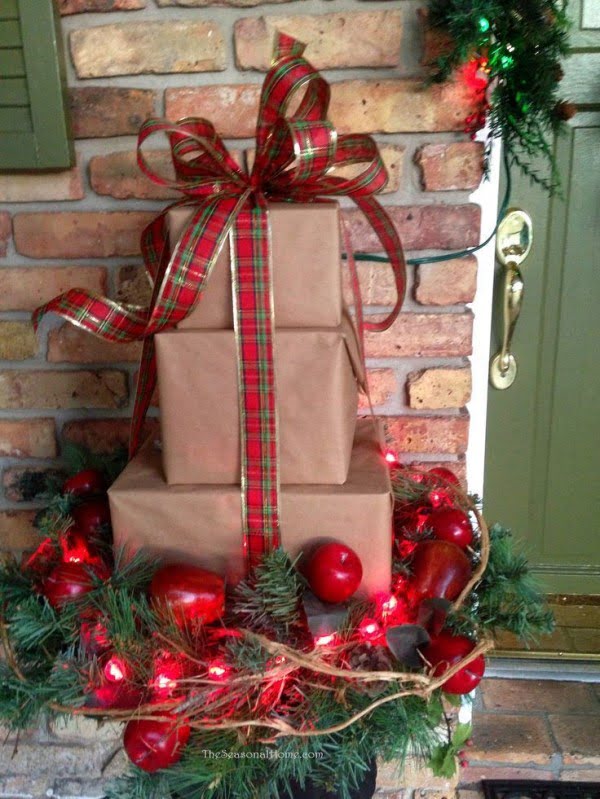 Add some gift packages embellished with ribbons and other ornaments to instantly create a festive and inviting mood.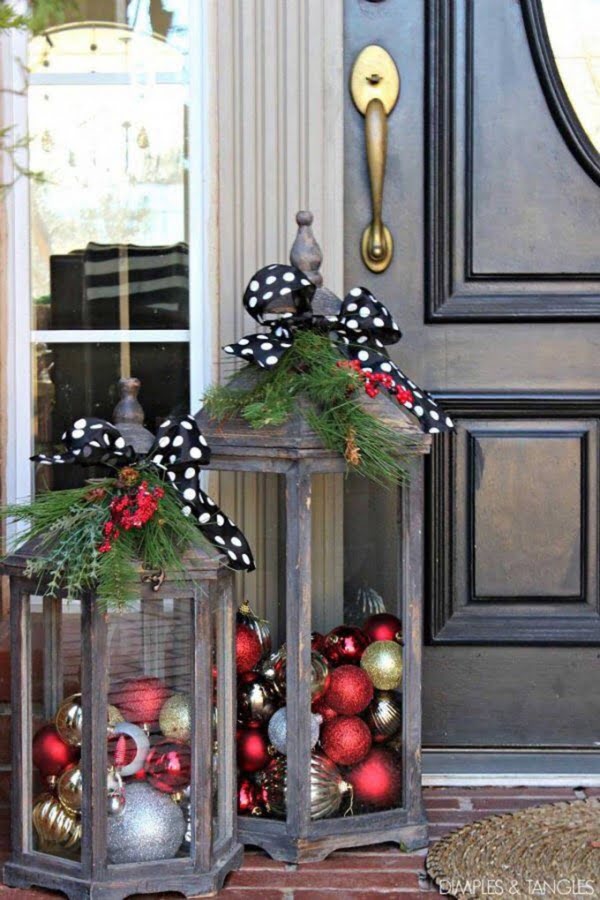 It's such a wonderfully simple idea to create a beautiful display of Christmas tree ornaments in rustic lanterns.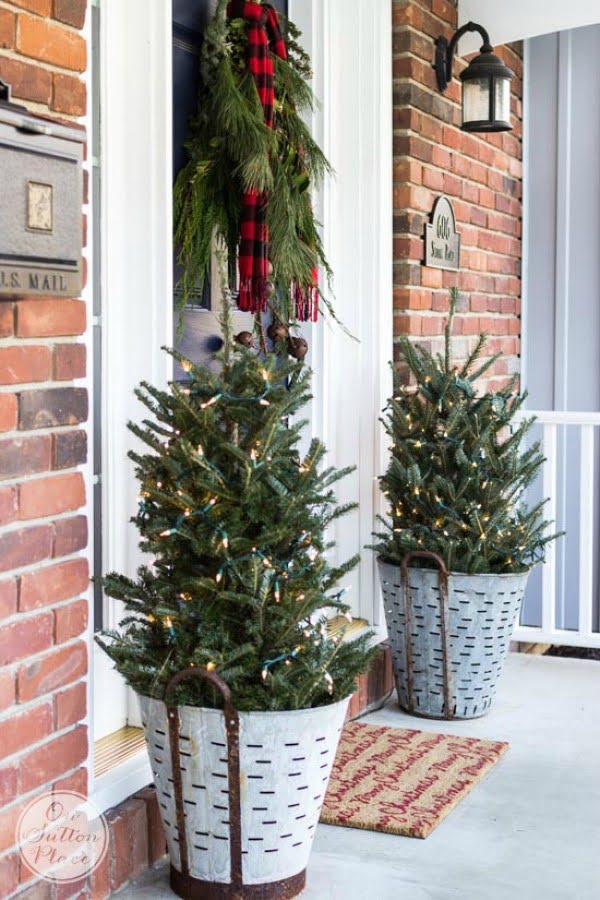 Galvanized buckets create a warm rustic style, and they make the perfect pods for Christmas trees. It's a frugal but attractive way to decorate your porch.
Classic simplicity always works, and an addition of a few gift packages on a wagon adds that warm and festive accent.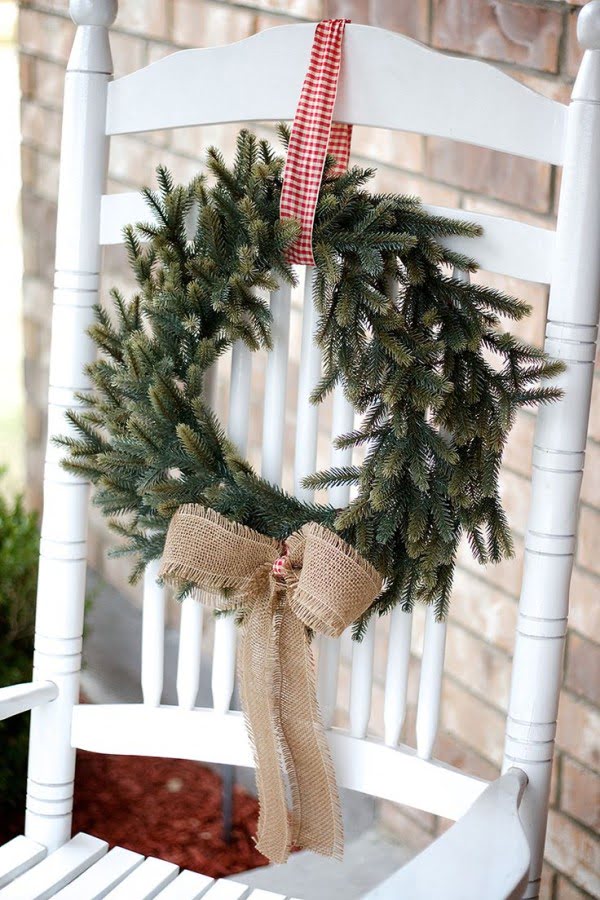 A white rocking chair is such a nostalgic Christmas attribute which makes a great display item for the porch embellished with a small wreath.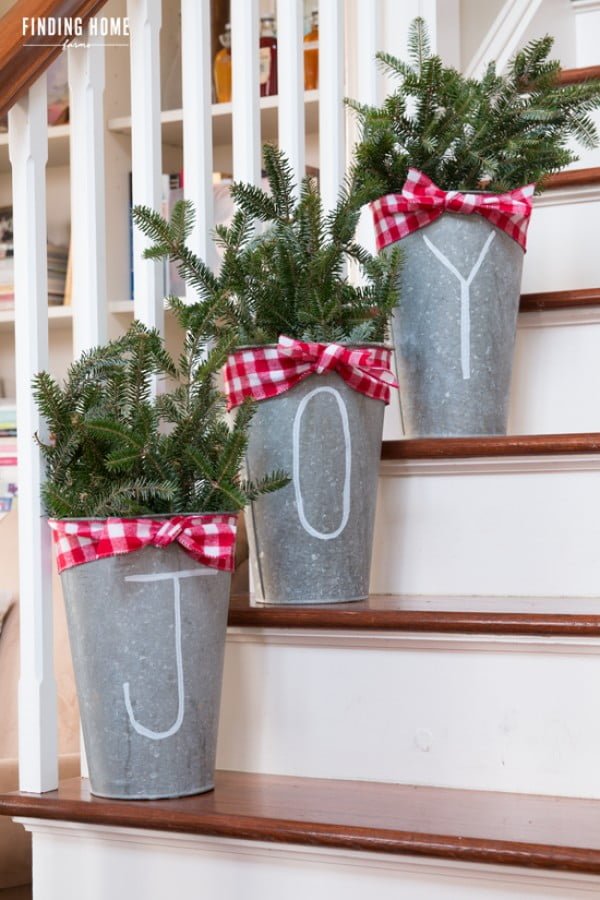 Galvanized buckets that spell JOY is a great way to decorate the steps of your porch.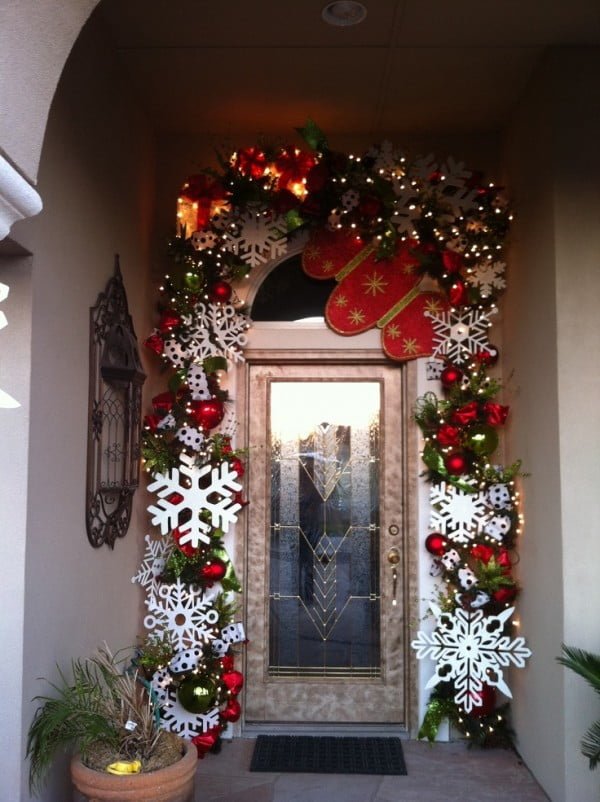 Doorway garland is a classic way to decorate your front door and what a brilliant display it is.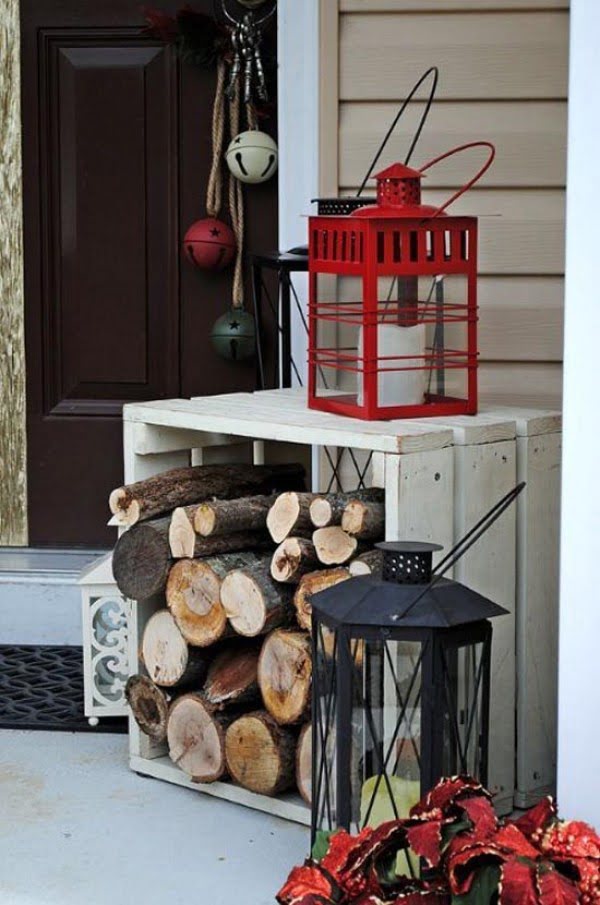 Some firewood used as a decor item adds that cozy little touch to your Christmas porch display and what a simple yet brilliant way to go it is.
Strip painted galvanized buckets aren't just a way to add rustic style to your Christmas decor, the classic red amplifies the festive mood.
If you like the rustic style and you want to add it to your Christmas porch decor, an old wagon and old utensils embellished with holiday ornaments is a great way to do it.
Rocking chairs and plaids – it's such a simple yet very effective way to create a festive mood.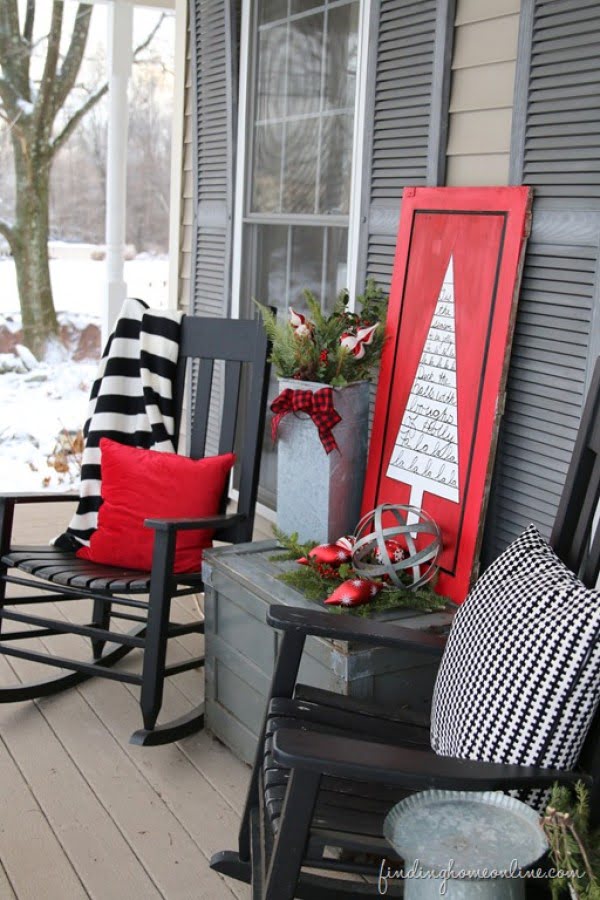 Wooden signs can go a long way as far as porch Christmas decor goes. Create one for a big holiday message.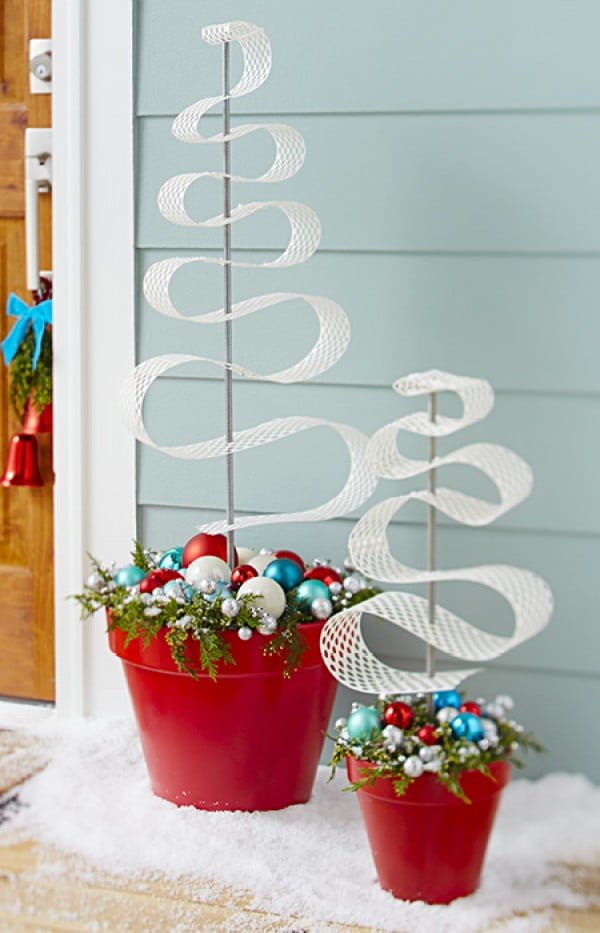 Simple planter pods decorated for Christmas can make that small but significant addition to your porch.
A big planter box decorated for Christmas is an excellent introduction to your holiday decor.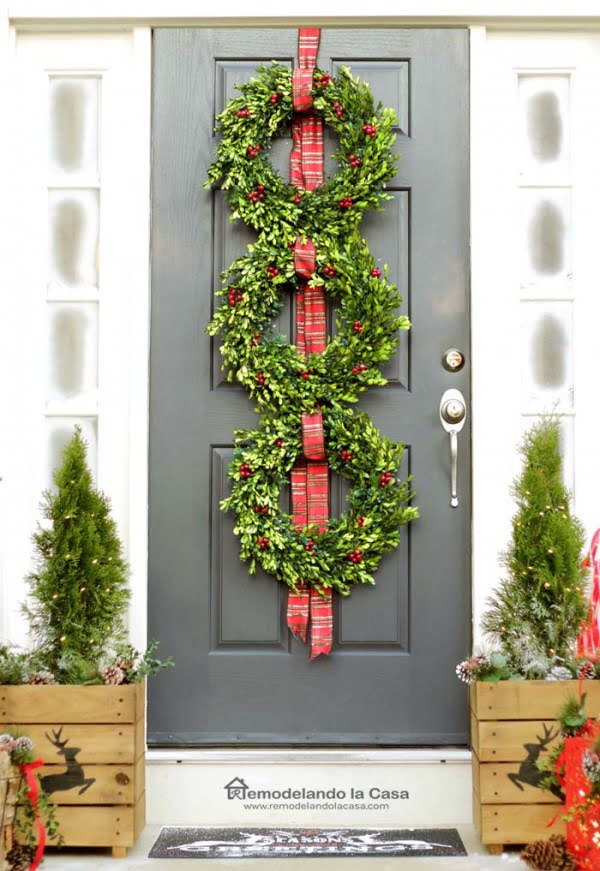 We like classic and simple decor, so three wreaths on the front door and an addition of a couple of wooden planter boxes for decorations are all to love.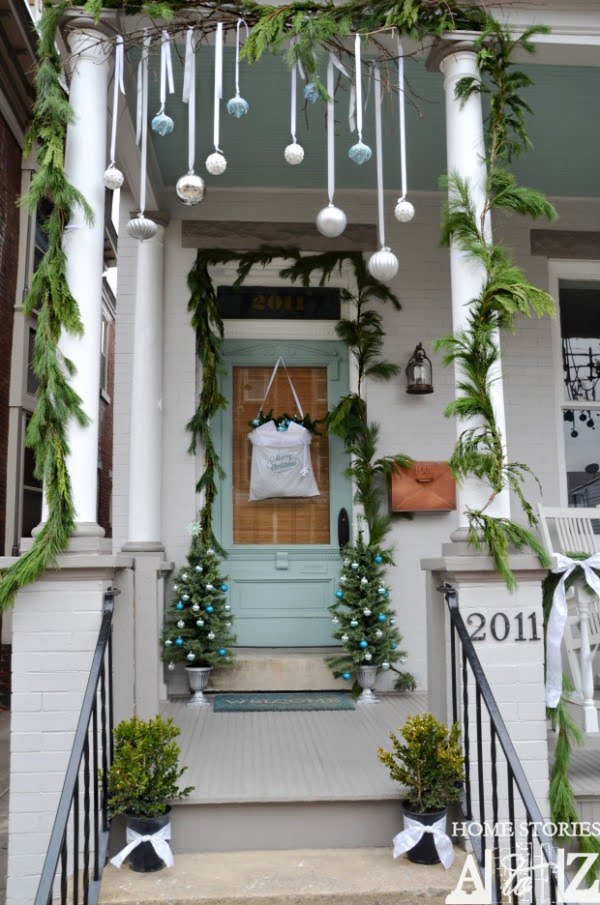 There are many Christmas color schemes to choose from, and it doesn't have to be all red, green, white. The green with silver tones in this display is attractively minimalist.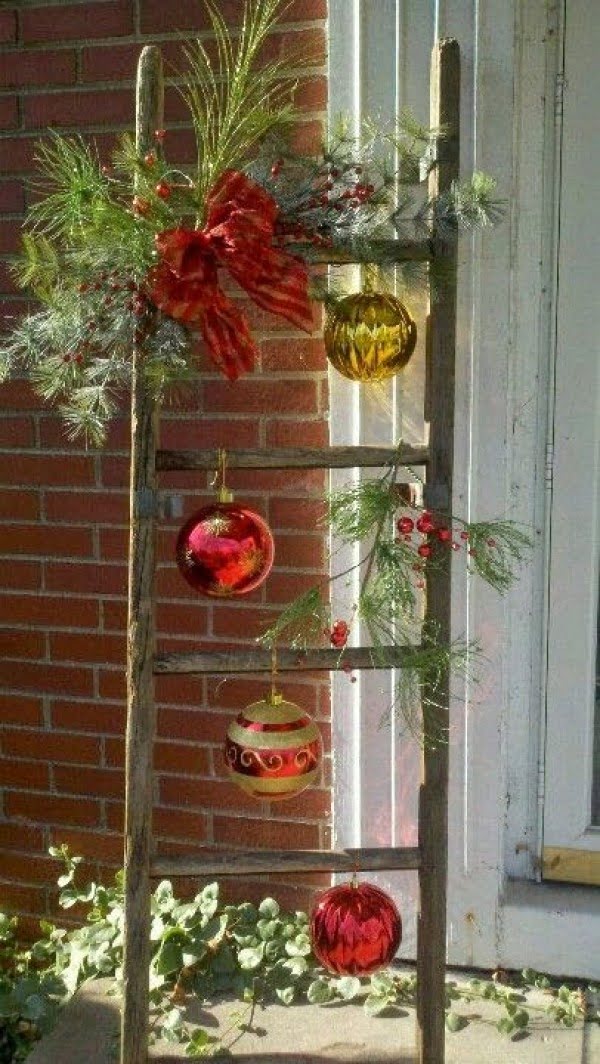 If you like simplicity, decorate a rustic ladder on your front porch for a quick boost in the holiday mood.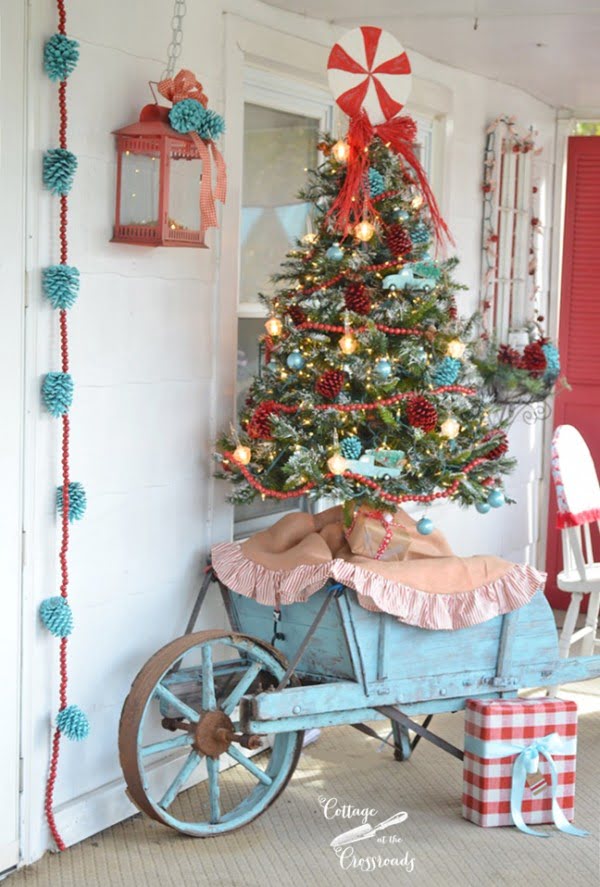 Vintage decor is all the rage and if you can get such an adorable retro wheelbarrow, use pastel colors to emphasize the effect.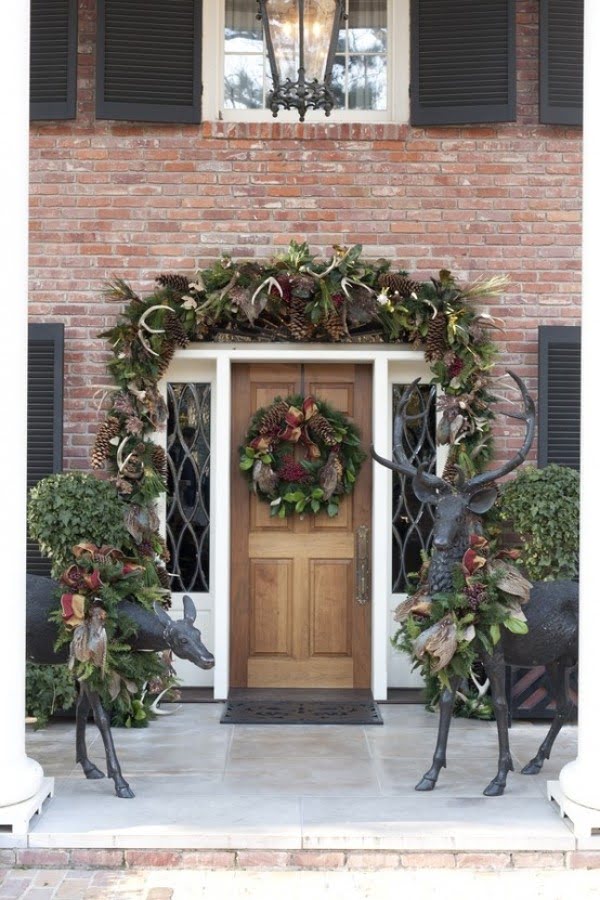 Classic Christmas decor in subdued tones is very powerful in this porch holiday display.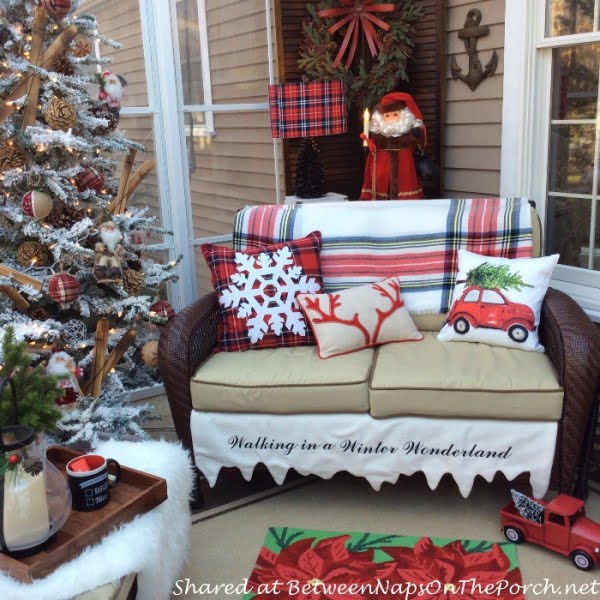 There's something about tartans and plaids that work so well in this Christmas porch decor display.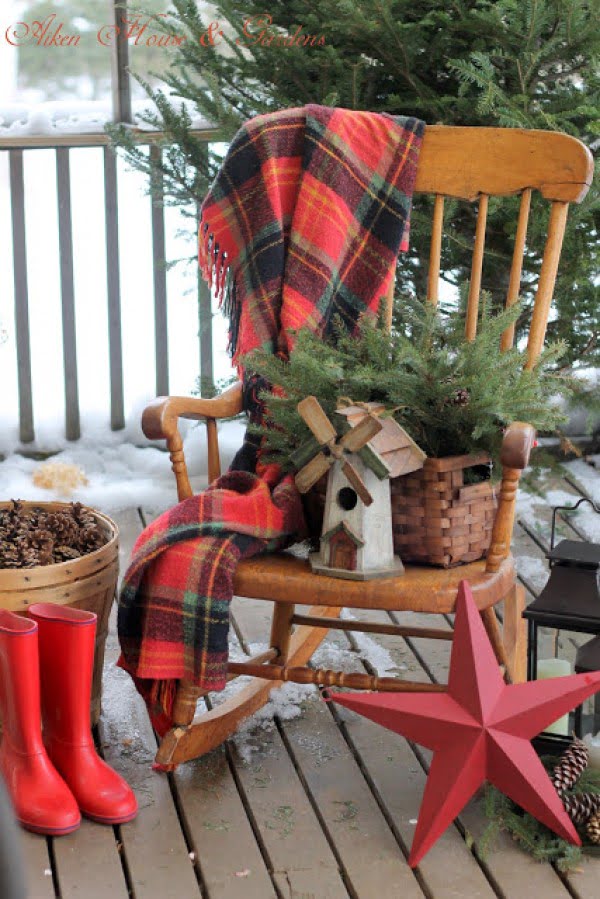 Create a vignette with an old rocking chair, and some Christmas attributes like a star ornament and red boots.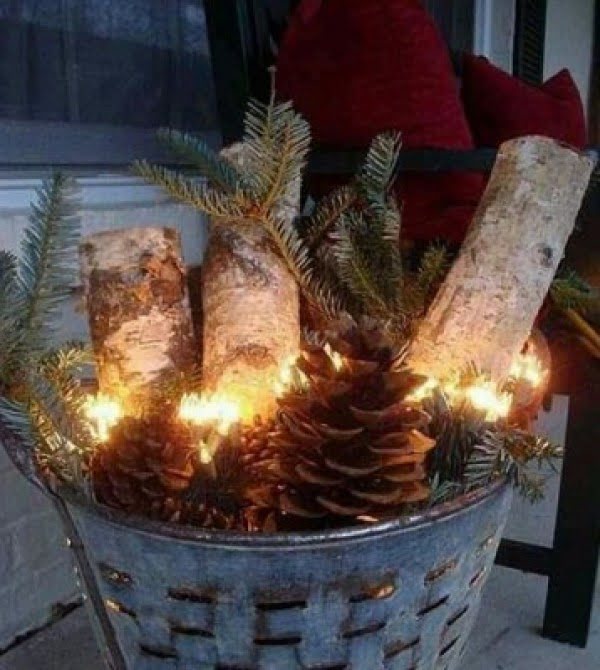 A galvanized bucket filled with firewood, pine cones, fir tree branches, and fairy lights is a simple decoration but one that has lots of Christmas spirit.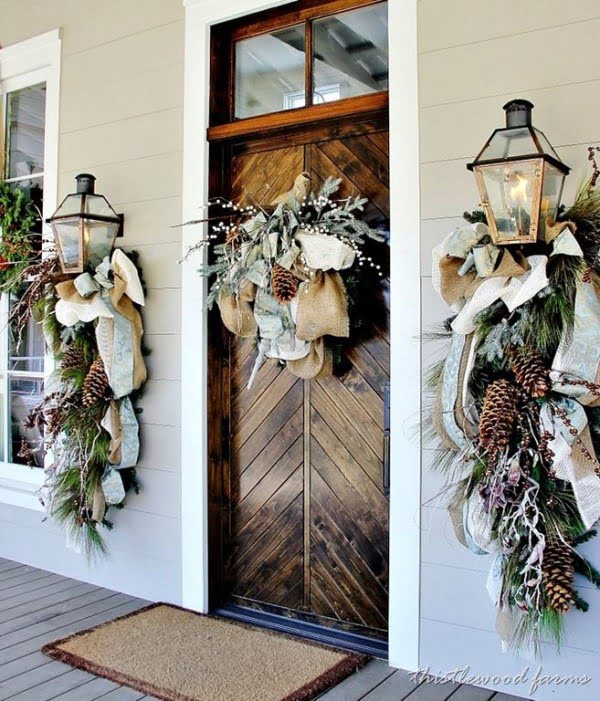 Use a lot of burlaps to create your Christmas wreaths for a more rustic feel and more warmth.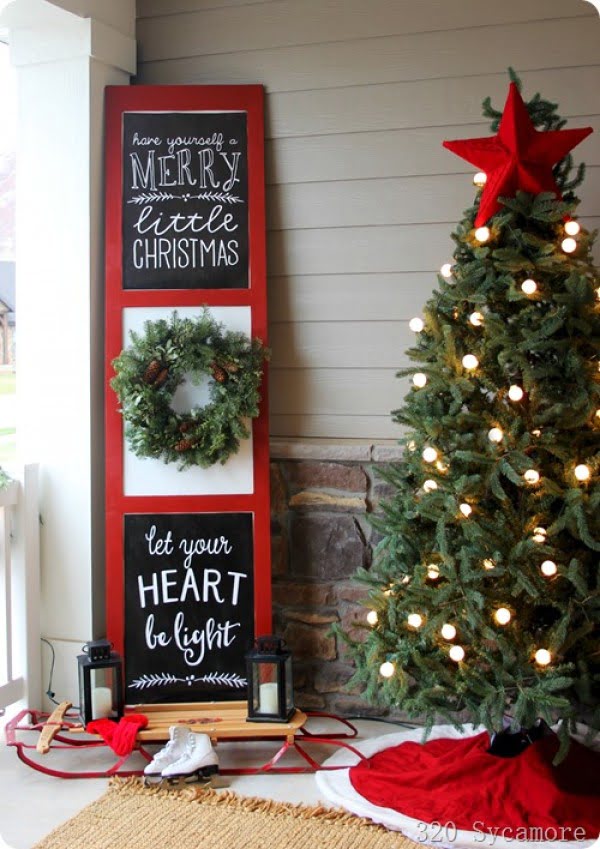 Use the chalkboard to create beautiful Christmas signs and add a touch of chic style at the same time.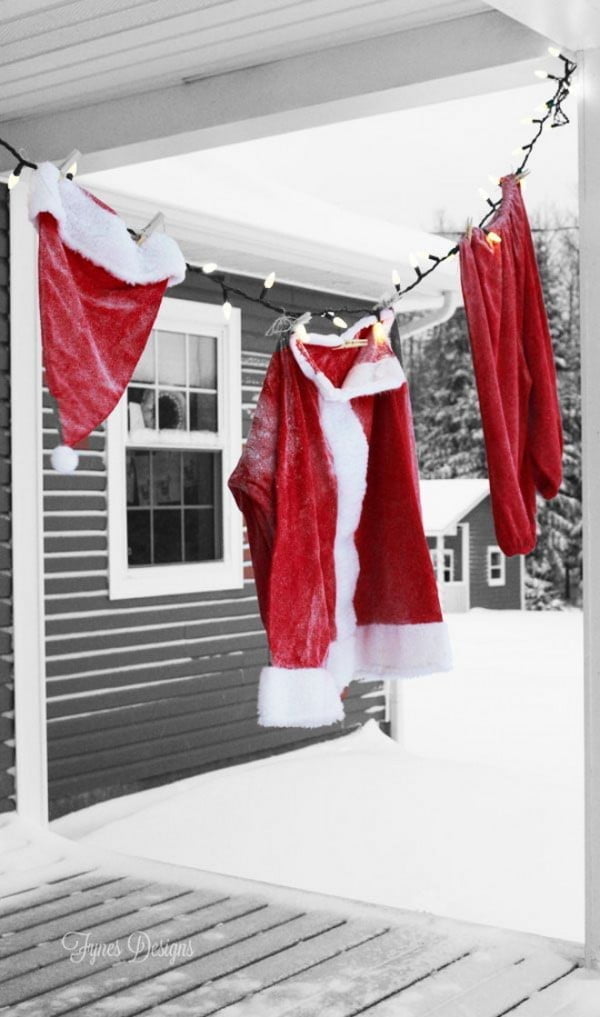 And here's a unique way to decorate your porch. Hang Santa's clothes out on string lights.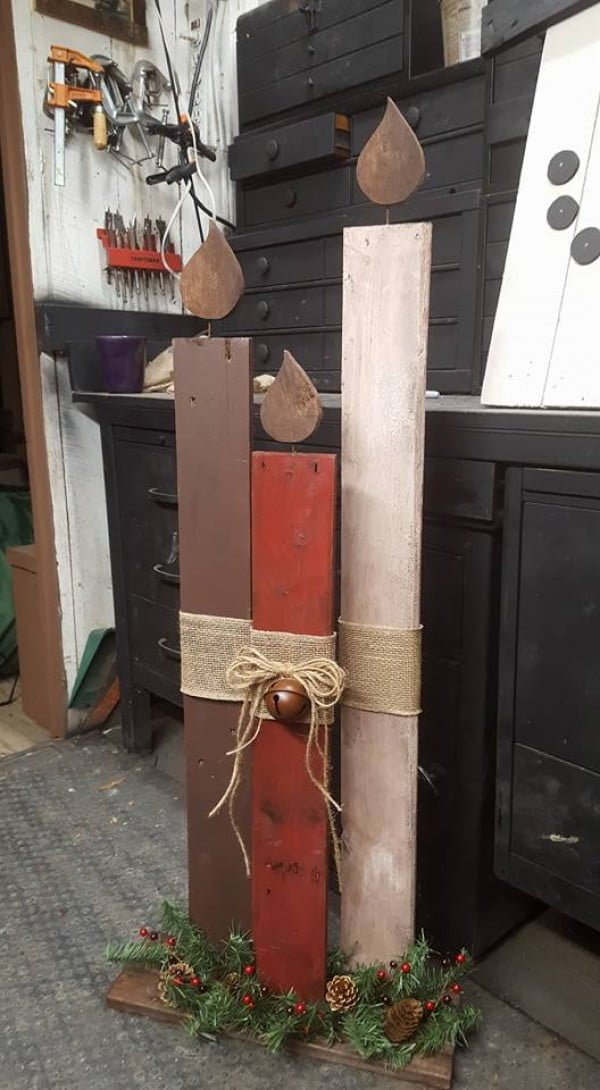 Pallet wood can make great decorations and introduce a lot of rustic charm to your front porch.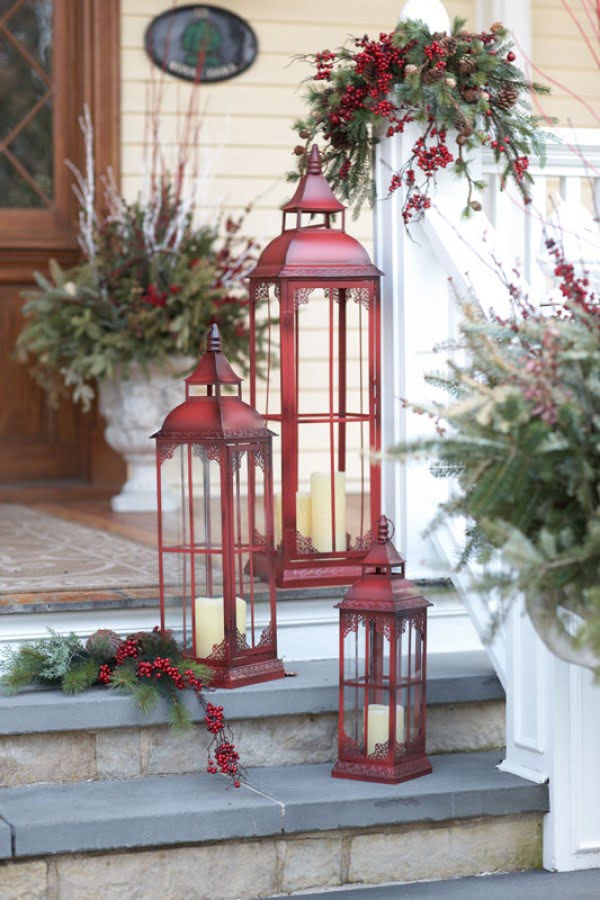 Red lanterns will add some festive charm with little effort.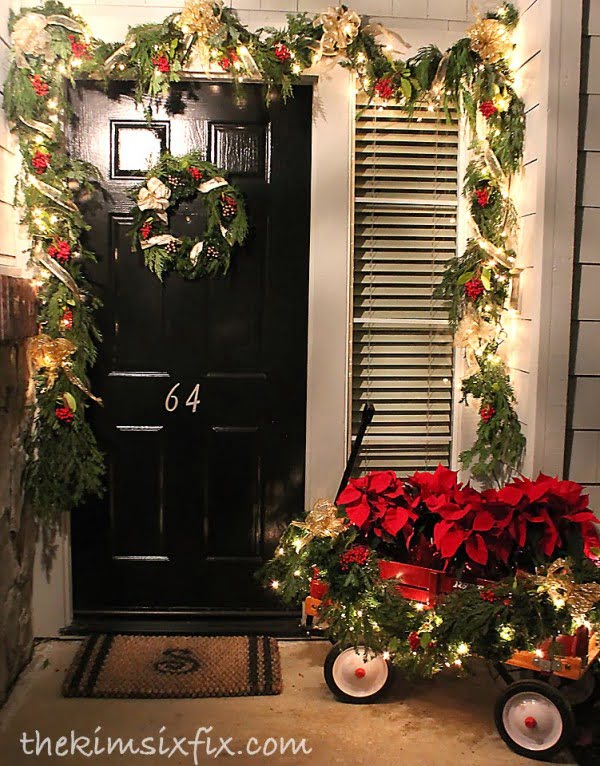 A small wagon decorated for Christmas is a nice little addition to your porch, and it's not committing at all.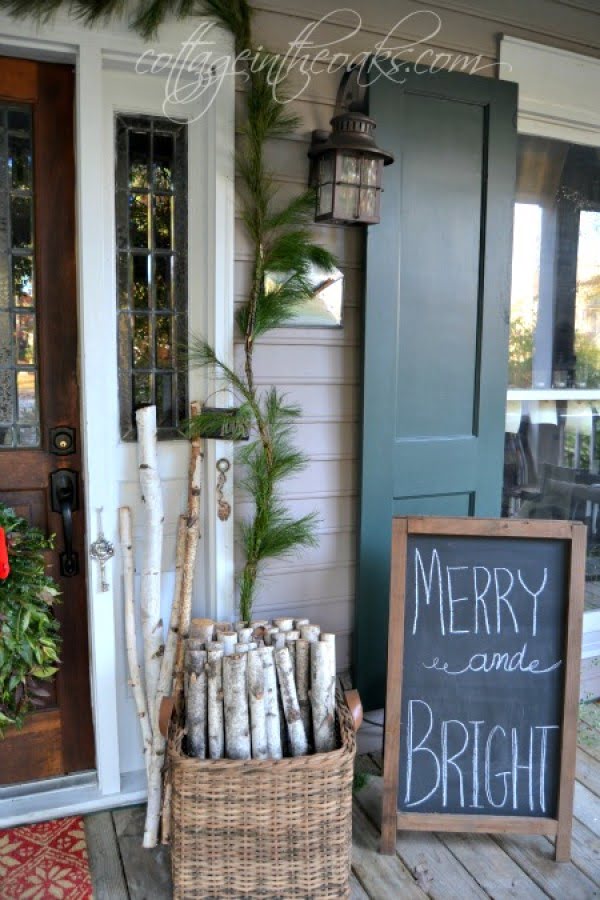 Use a cafe chalkboard as a Christmas sign as a quick way to turn your porch into a holiday display.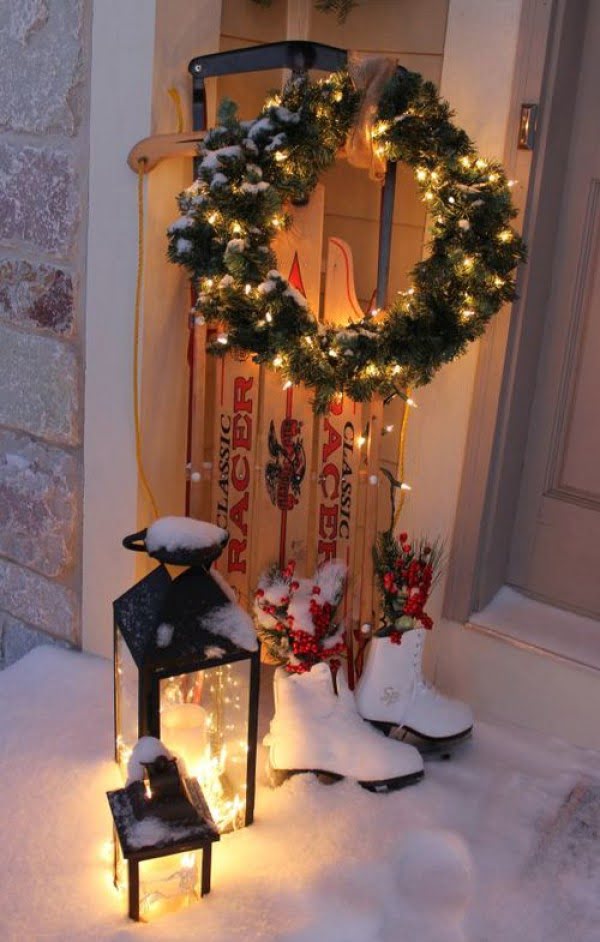 All winter attributes in one display make great Christmas porch decoration.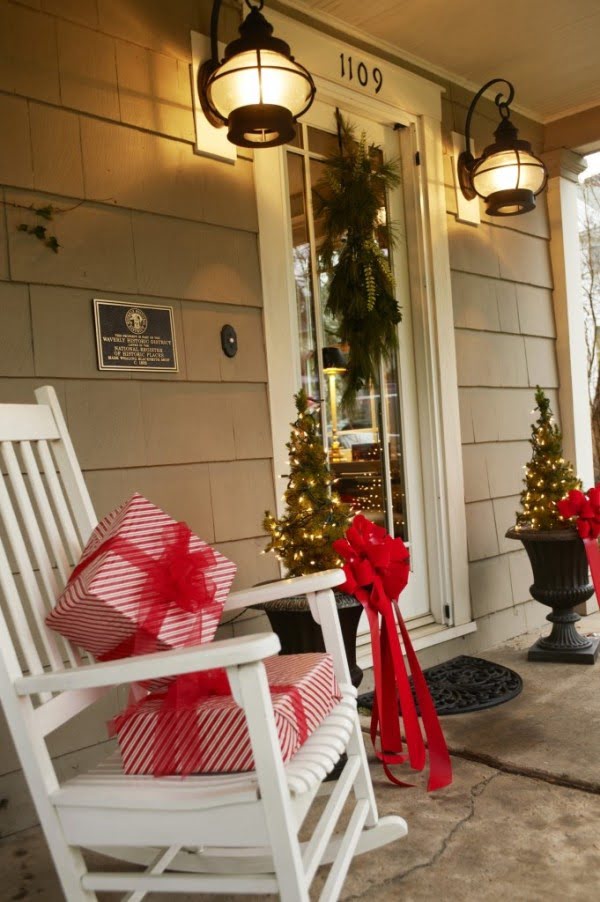 It's beautiful how such a simple display of a single rocking chair with present boxes make such a strong impression.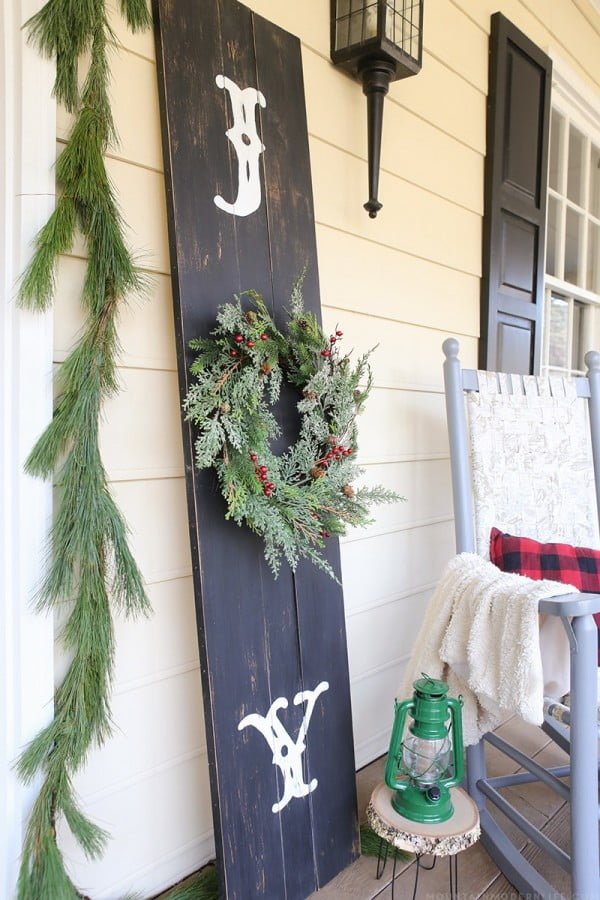 A lovely rustic wooden sign with a Christmas wreath brings the festive message across really well.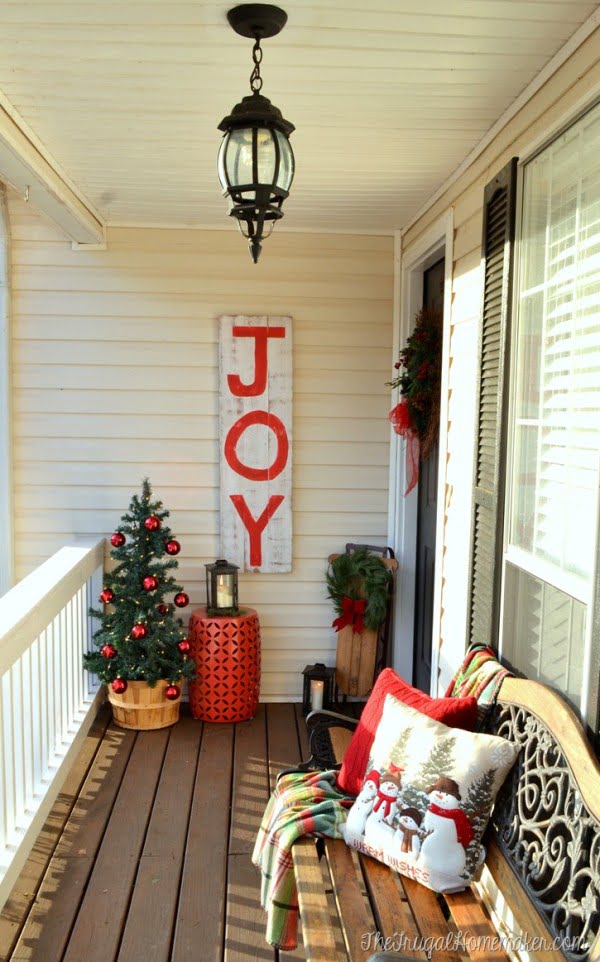 Decorating your porch as you would decorate a room with decorative pillows, wooden sign and Christmas tree is the way to go if you have a patio fit for it.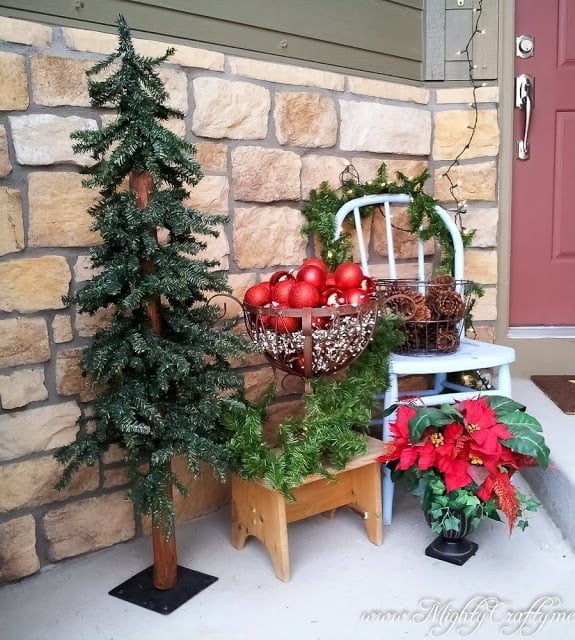 This beautiful Christmas vignette shows how easy it is to decorate your porch with simple things, such as a chair, a stool and a Christmas tree with decorations.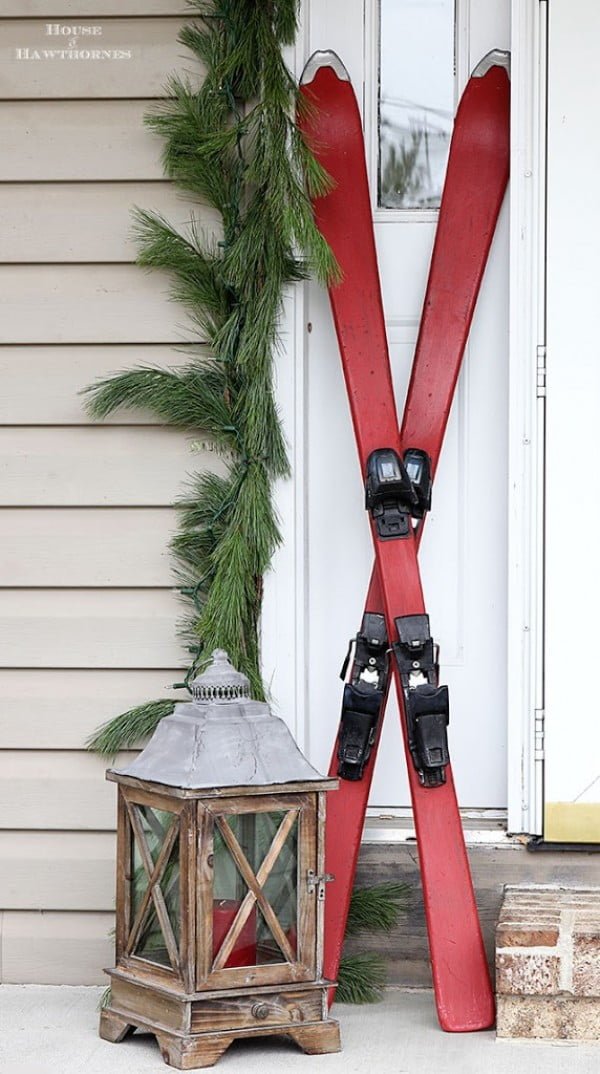 Decorating your porch for Christmas can be as simple as putting up a pair of skis painted in chalk paint and a beautiful rustic lantern.
Related reading: