Last Updated on
When you want to protect your walls from mishaps like cooking splatters, messy spills, and dishwashing soaps, a classy-looking backsplash is just the thing. Fortunately, this new trend in kitchen design can use all sorts of materials like stone, various types of wood, a wide range of metals, and great-looking glass.
To get started, review a wide range of kitchen backsplash ideas that catch your eye. Don't feel the need to limit yourself to the most common materials and designs; put a little bit of your own personality and style into your backsplash. It's not just about efficiency and function. Today's backsplashes are an integral part of this most important room's style. Not only does it elevate the kitchen's overall eye appeal, it has the potential to completely transform the space. Consider the following kitchen backsplash ideas for your next project.
What's Inside?
Why Do You Need a Kitchen Backsplash?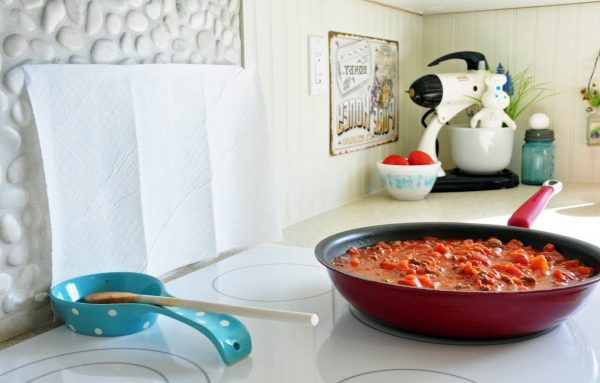 Reason #1
One reason to add a backsplash is it will increase the overall beauty of your kitchen. If you are looking for a way to include a bit of classic elegance, a backsplash is a simple approach to make your kitchen warm, inviting, and attractive.
Reason #2
There is a kitchen backsplash that is perfect for every kitchen. Not only can you find a wide variety of styles, colors, and patterns from which to choose, backsplashes are also available in many different materials. Some of the most popular examples include tile, mirror, marble, and others. This means it is easy to find one that is ideally suited to your home.
Reason #3
A kitchen backsplash is practical. As the name implies, it is much easier to keep clean than traditional wallpaper or paint. When you place one above your kitchen sink or stove, your home will always be fresh and clean. It will not be affected by water, moisture, grease from cooking, or other minor spills. All you need to do to keep it beautiful is to wipe it clean.
Unique Kitchen Backsplash Ideas
Consider the following kitchen backsplash ideas for your next project.
Laura Ashley Glass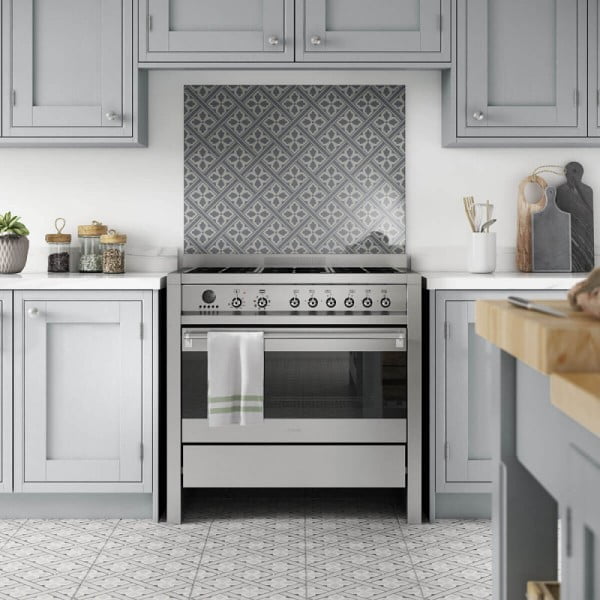 The incredibly glossy surface of real glass is a top choice among home designers for a reason: Its reflective ability makes the area appear larger, and reflects both natural and artificial light.
Exposed Brick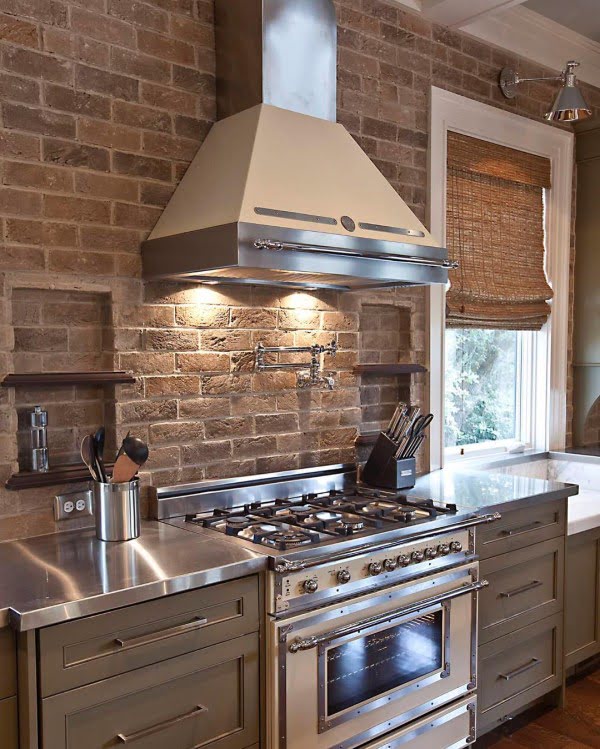 The natural, earthy look of exposed brick has the power to change an ordinary kitchen into a rustic, welcoming area. Not only does brick capture light in a unique way, it can also be painted white (or other colors) to create an Early Americana look.
Triangle Tiling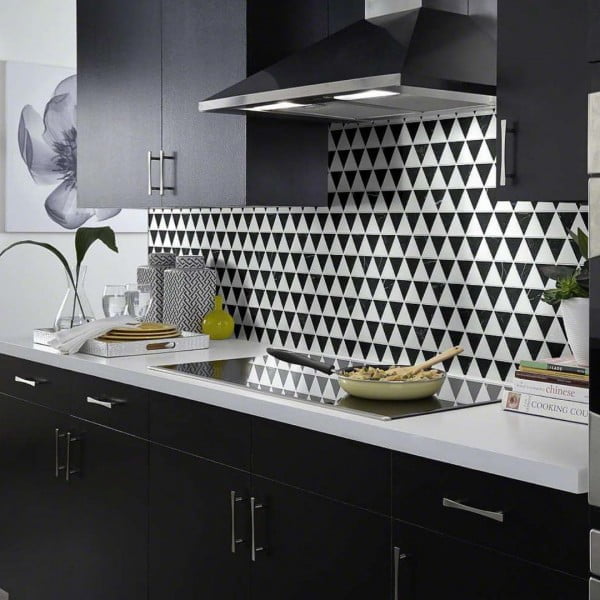 One of the hottest kitchen design trends of 2018 is the simple triangle. Tiles in marble or other materials do the job nicely.
White Mosaic Marble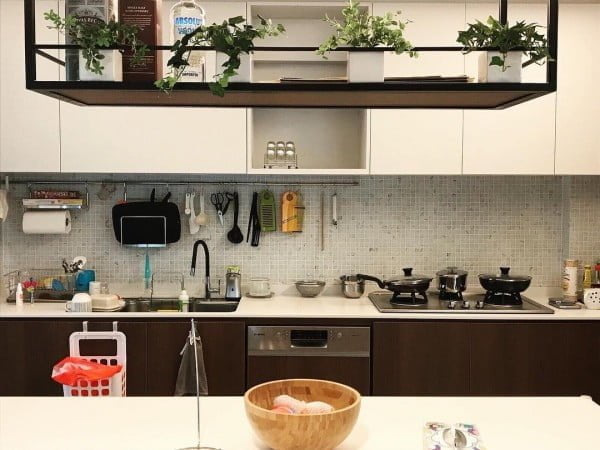 Go tiny or large. It doesn't matter when you use mosaic tiling to pump up the luster and personality of even the most mundane kitchen. Mini-tiles are a favorite because they're easy to clean and look fantastic.
Multi-colored Backsplash Tiling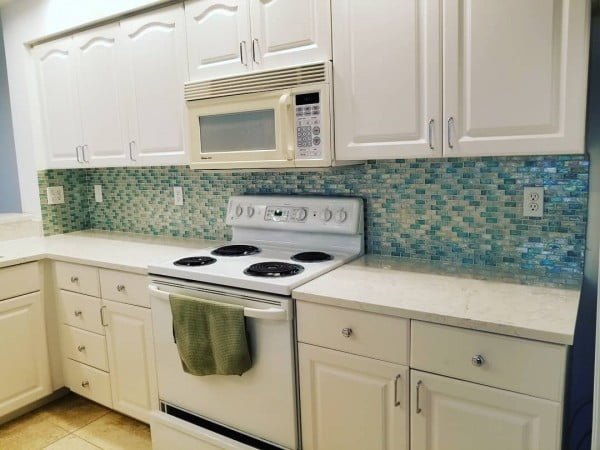 Blue and silver are popular choices for this trendy design concept. Consider rectangular tiles with two or three alternating colors. Including reflective silver doubles the "wow" factor.
Porcelain Adds a Modern Flair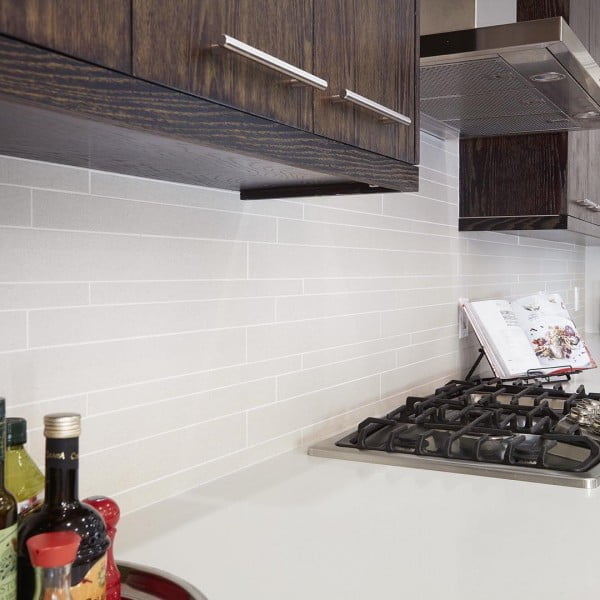 This stacked Basaltina porcelain cleans up any space and imparts a modern impression that livens up even on older kitchen, large or small.
Herringbone is What the Doctor Ordered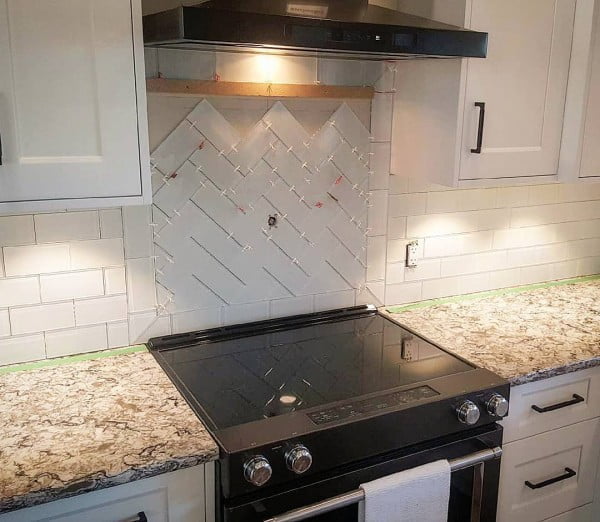 Classy-looking herringbone is always a smart choice, but an added border makes the look all the more daring and memorable. There's no better way to totally transform a backsplash.
Carrara Marble to the Rescue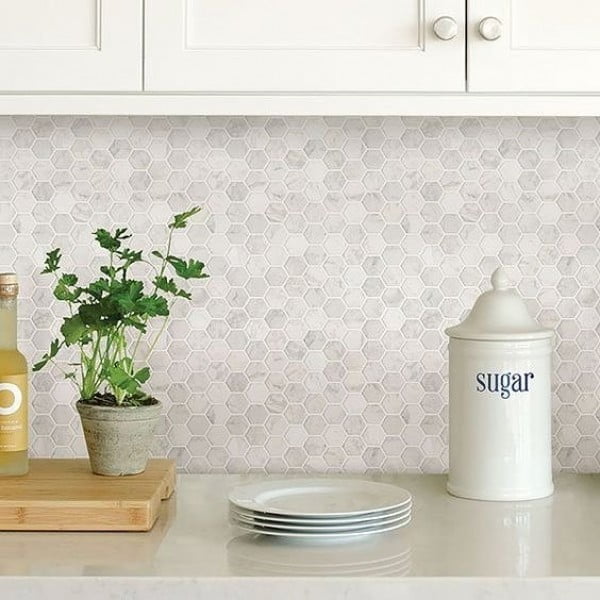 There's a little bit of Italy in one of this year's top choices for backsplashes: white Carrara marble in a mosaic hexagon arrangement. Once a staple in the flooring trade, these cute hexes adorn kitchens the world over.
Two Tones Double the Power
A simple, two-tone brown and grey backsplash, with alternating, horizontal rectangles makes any room appear wider and more inviting.
Medina for a Moroccan Touch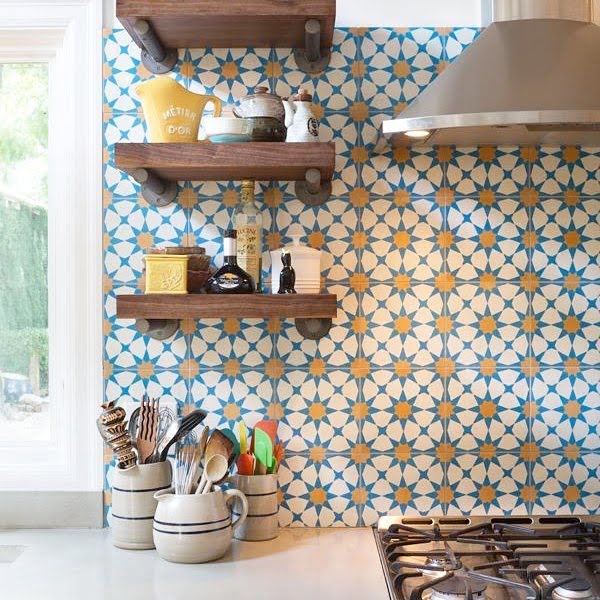 Unify and brighten with Medina cement tiling that comes in clever, eye-catching designs. Noting says "Welcome" better than the pure look of this lively and upbeat tile.
Mix and Match for Maximum Effect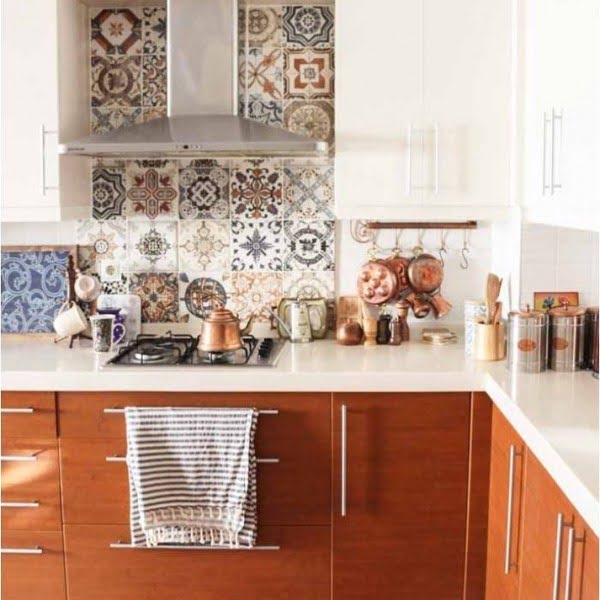 Showcase your personality with a lively collection of diverse tiles, each of which has its own form of style and artistry. The so-called "random look" is ideal for small kitchens.
Pickets Add Warmth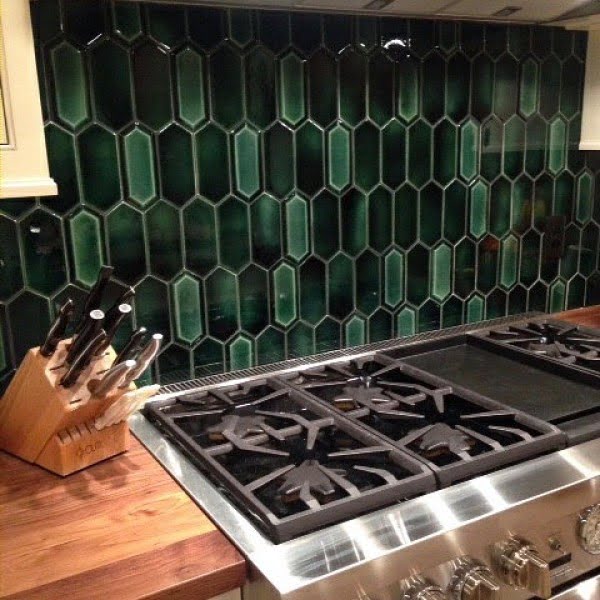 Brazil-green is the color of choice (but you might like another) for beveled pickets that lengthen a room and impart a warm, inviting feel. Easy to clean, these miniature mirrors are elegant and classy.
Gold Marble is Always a Win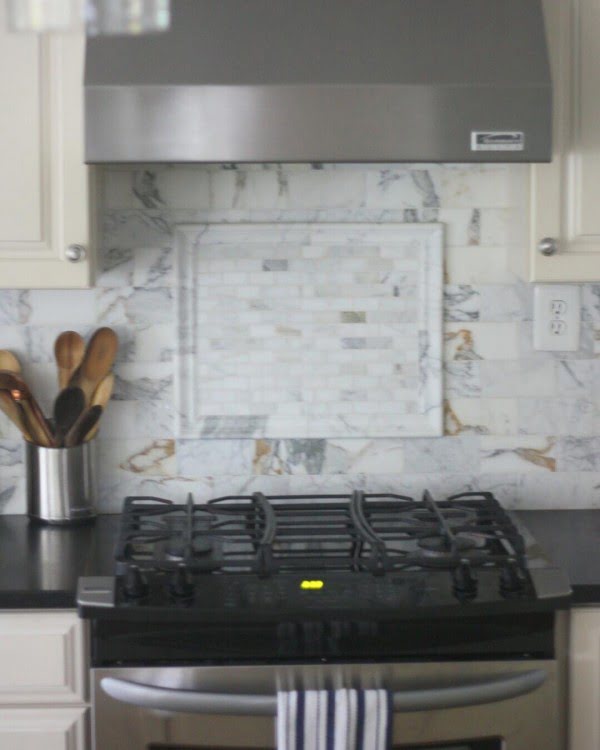 Calcutta marble in gold or off-white has a power all its own. This upscale look is ageless.
Geometry Can Be Beautiful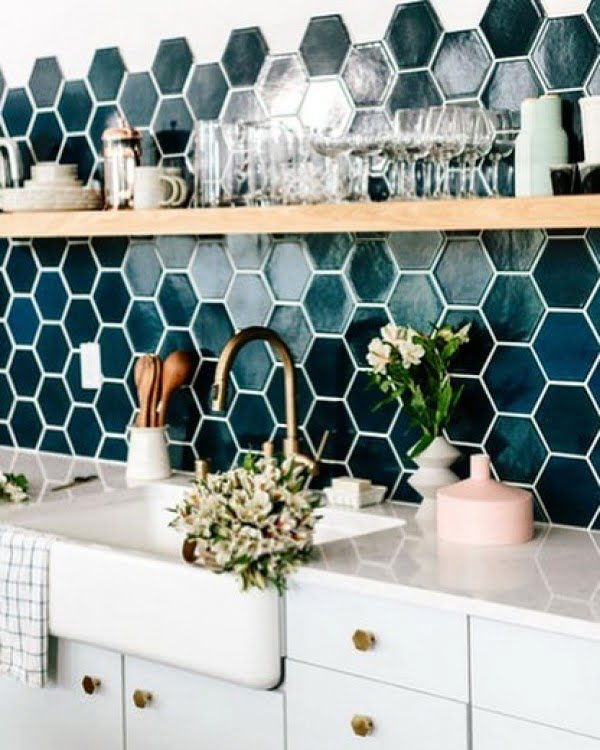 Geometric shapes in tile of any color can enhance a kitchen and show off a walled area that often goes unnoticed.
Lines and Shapes for a Fun Look
The best thing about tile is its versatility. Here, a simple lined geo-pattern offers beauty and elegance.
Eye-Popping Style With Steel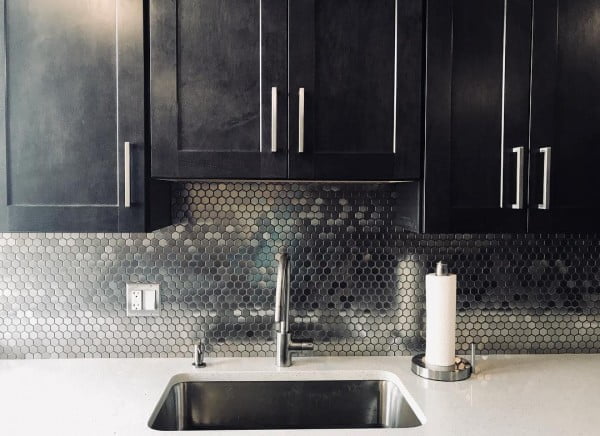 A hexed stainless steel backsplash not only pumps up the reflective factor, it's easy to clean and has its own personality. Just look at that shine!
Murals in Tile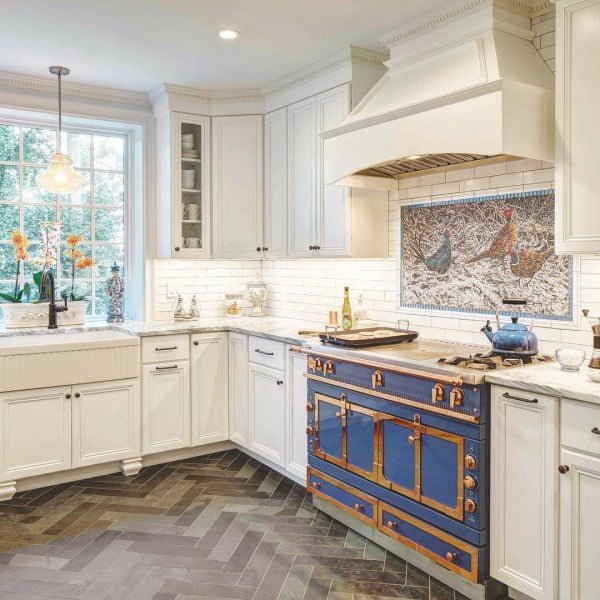 Consider making your own mural from small tiles of any color or shape for a one-of-a-kind backsplash.
Natural Marble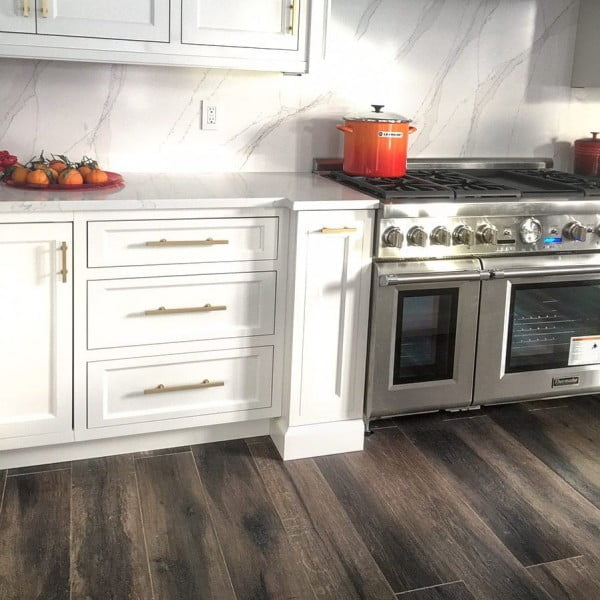 Nothing boosts the classy look of a kitchen like natural marble tile. White with black or grey streaks is a popular selection for 2018.
Geo Art in Tile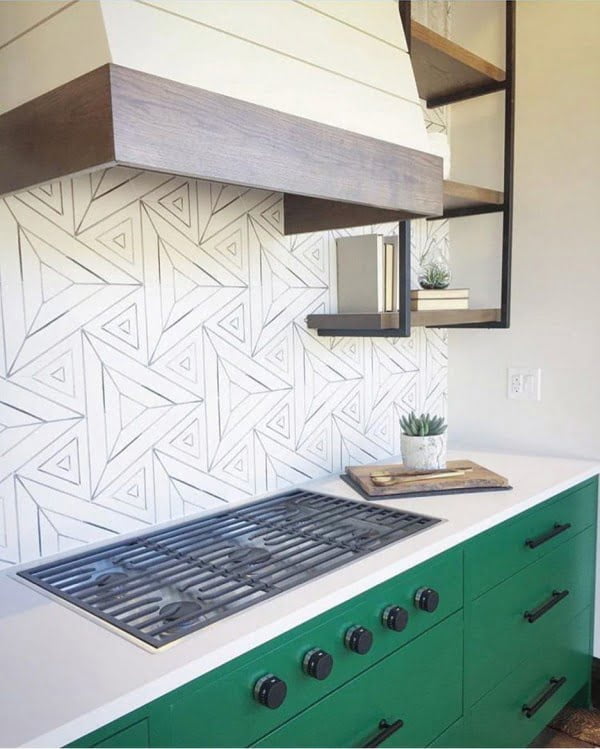 It always pays to be innovative with artistic tiling in any material. This geometric pattern is inviting and clever.
White. Shiny. Classy.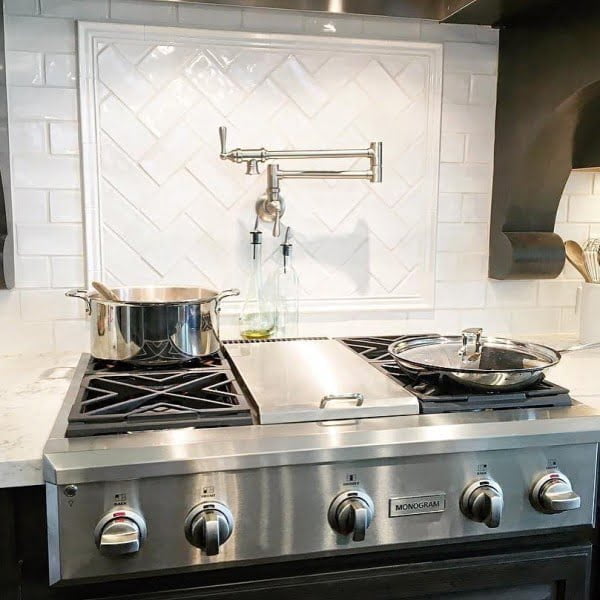 Reflective squares of white marble, glass or tile can really bring out the natural feel of a kitchen.
A Simple Centerpiece Tile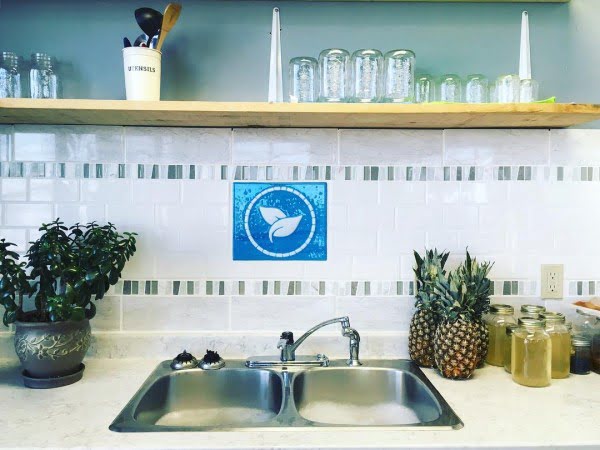 An ancient design strategy is the inclusion of a single "artistic" tile among a field of others that are of one color. Consider alternating large and small tiles within the remaining design.
Pre-cut Tile Can Save Time and Trouble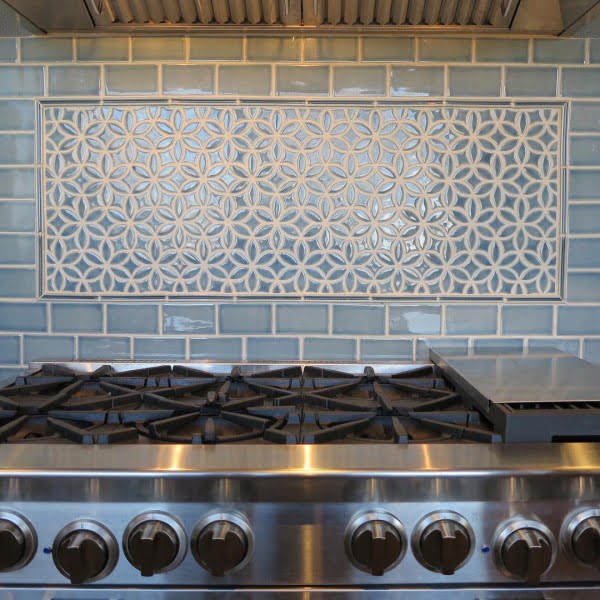 Here, the pre-cut tile is the focal point of the backsplash, as it should be. Using pre-cut pieces like these are a cinch for DIY enthusiasts to make a backsplash.
The Americana Look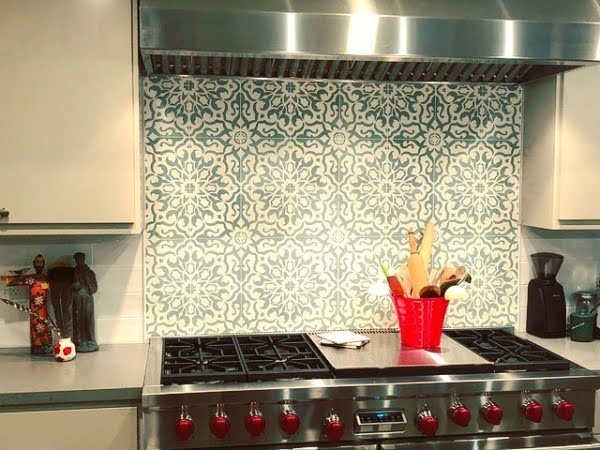 Pink on white, square tiles impart an Old America look to any kitchen backsplash, are easy to clean, and tie a room together.
Morocco Mosaic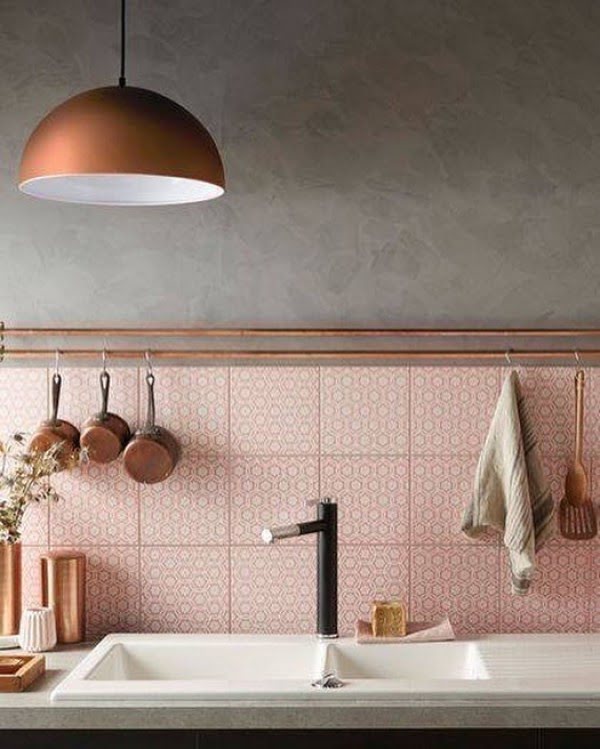 Large square tiles with a Moroccan flavor liven up a small backsplash behind a stove, and make the small space look huge.
Bold Can Be Fun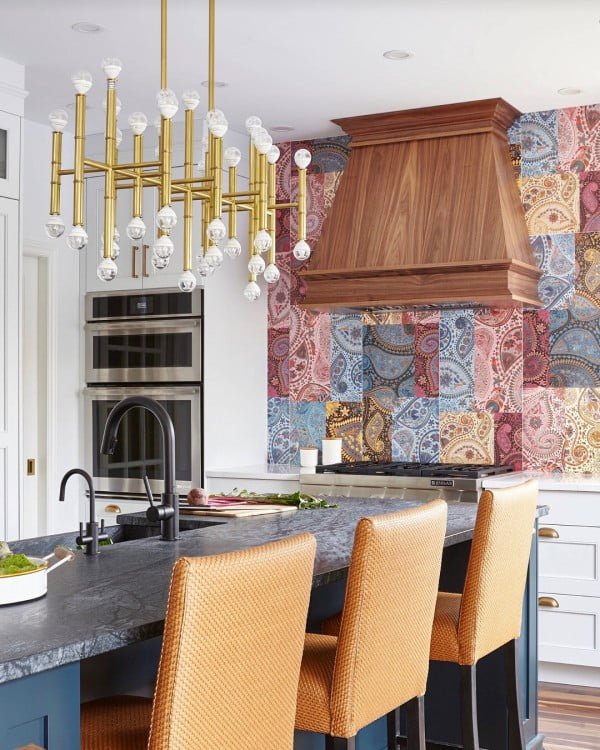 From Art Deco to Sixties Chic, boldness is in for 2018 as homeowners strike up their inner artist and dare to be different, and colorful.
Etched-look in 3-D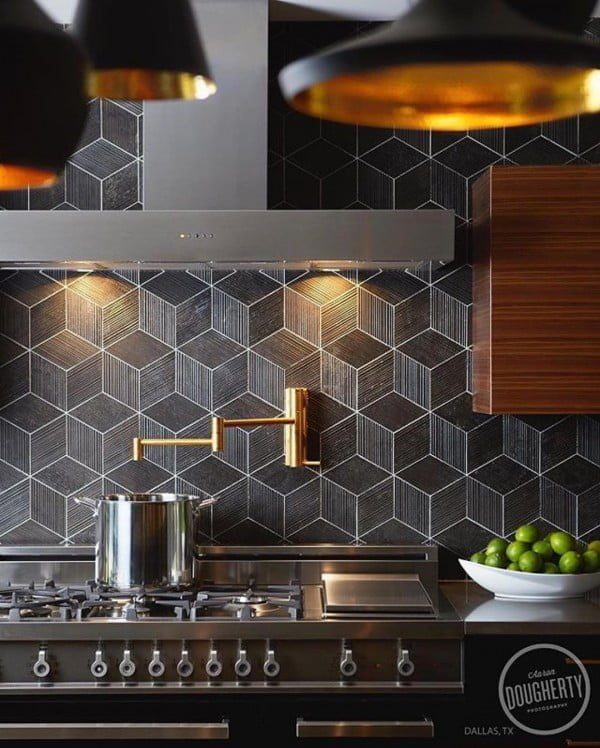 The wonderful thing about backsplashes is that they double as artwork if you want them to. This 3-D effect in dark grey and black is a stunner.
Snowflakes Year-Round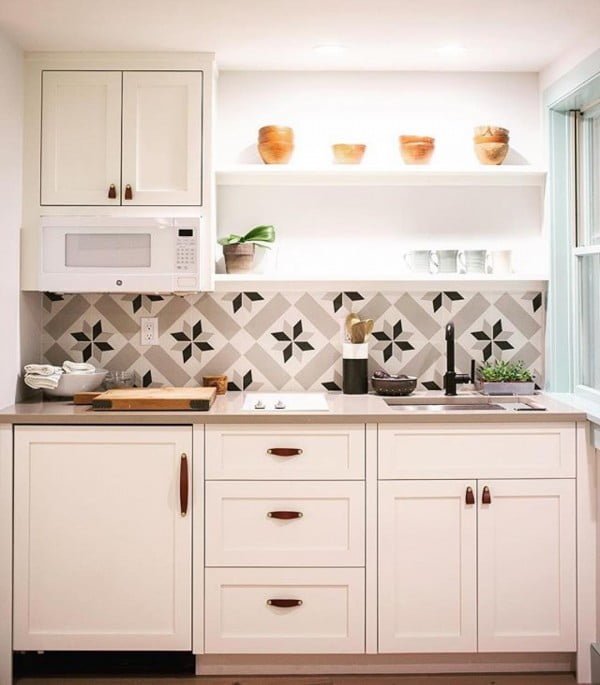 These huge "snowflakes" are a simple idea in black, grey and off-white, and impart a happy, outdoor flavor.
The "Big Art" Effect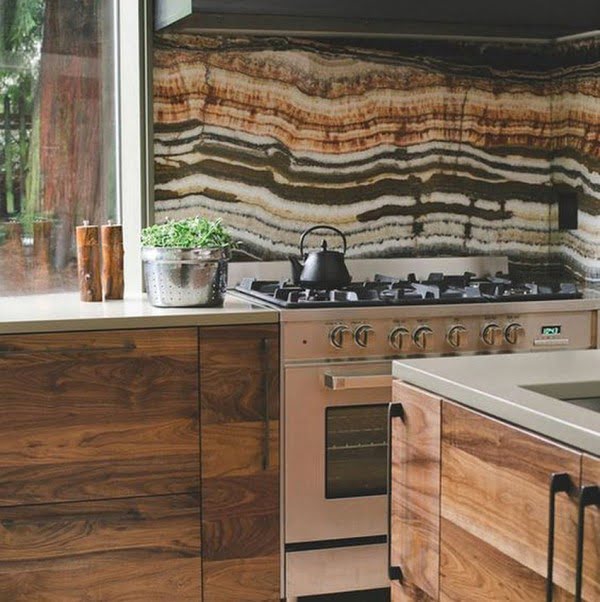 Here is a study in what a large design piece can add to a backsplash, for the "rug on the wall" look or whatever you want to achieve. The final look is up to you.
Mission Style for the Ages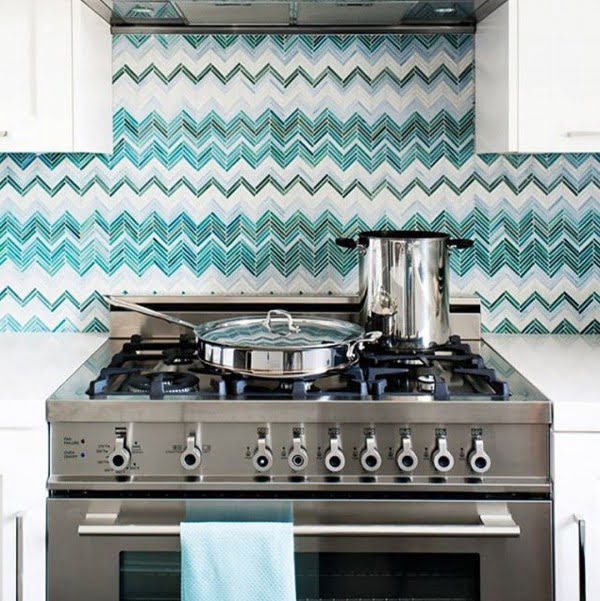 A jazzed up Mission style can impart a number of moods, from Happy Holiday "sound waves" to new-age geometric artistry. Either way, there's more to repeating lines than meets the eye.
A Waterfall in the Kitchen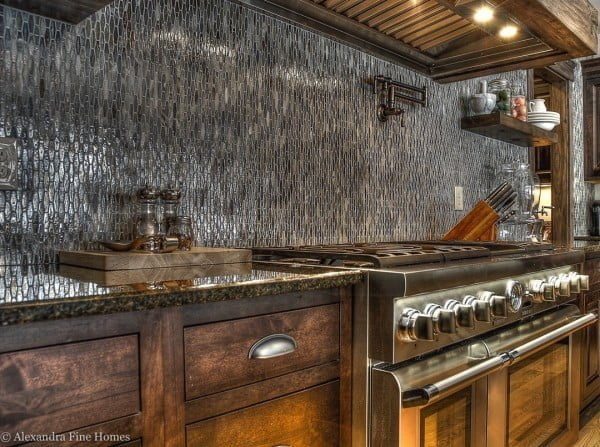 Shimmering geometric silver tiling, arranged to appear as flowing water, is just one of the many ways that small, glossy tiles can work wonders by recreating a natural setting.
Related reading: