Last updated on April 9, 2020
A complete bedroom makeover may not be in your budget or your plans. But if you still want to make some subtle yet meaningful changes you can do a mini decor facelift. How do you go about that? There are many ways, of course, but today we'll talk about nightstands.
While a nightstand is a small piece of furniture, it plays a big part in bedroom decor. It's one of the most functional pieces in the room as well – it's where you keep your most used belongings during the night. So getting a new nightstand (or doing a makeover of an old one) will always improve the look of your bedroom. To give you some ideas, we have 23 nightstand ideas for a small but meaningful decor improvement.
What's Inside?
Rustic Crate Nightstand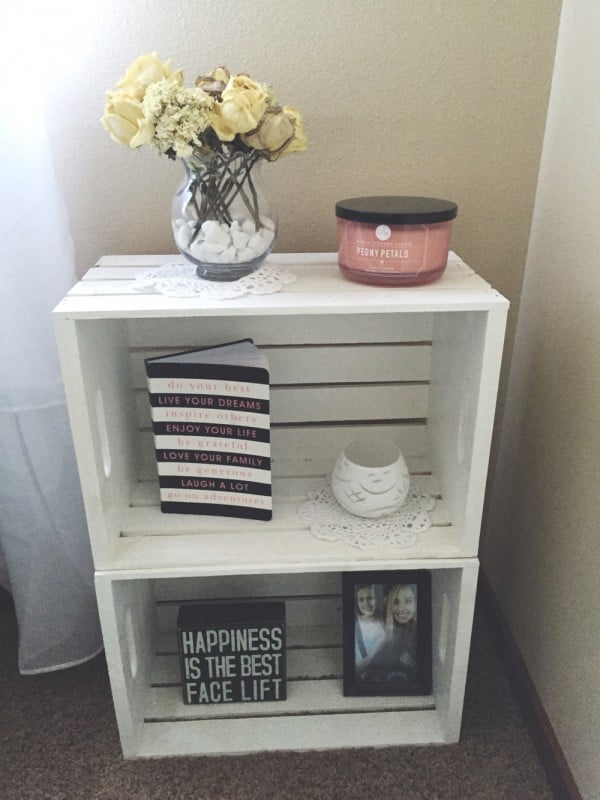 Painted wooden crates have a lot of rustic appeal and when stacked and fixed together they make an attractive nightstand with shelving space. Use the idea for a touch of shabby chic in your bedroom decor.
Rustic Shelf Nightstand with Lighting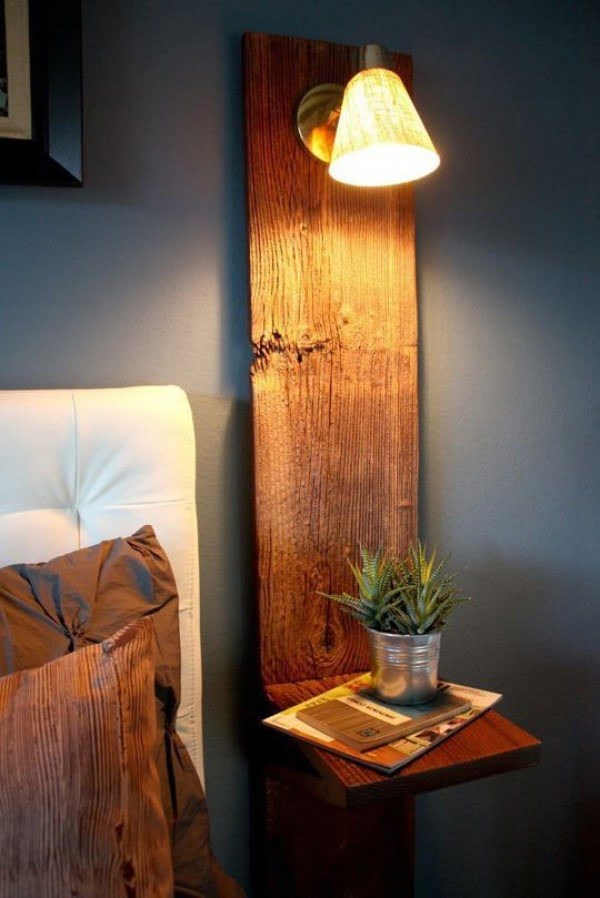 This DIY project shows us how a simple idea can add a lot of interest to bedroom decor. This nightstand with lighting is really high impact although being an affordable decor option. It's all you need in a small bedroom with limited space.
Bookcase Nightstand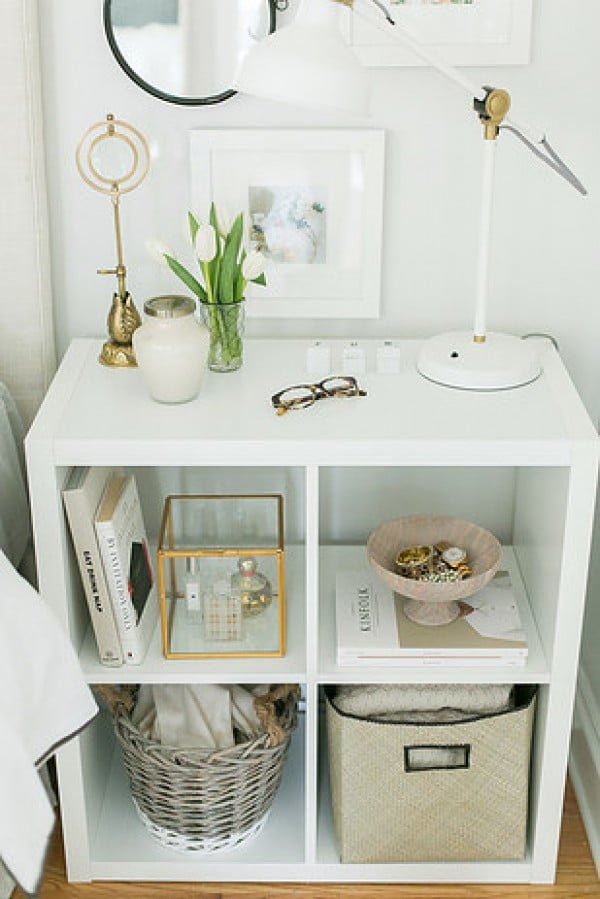 Having a lot of storage room in a nightstand is a trending idea, especially in smaller bedrooms. And using a small bookcase for this is just a brilliant option. It's so affordable too as you can pick one up in Ikea.
Stool Nightstand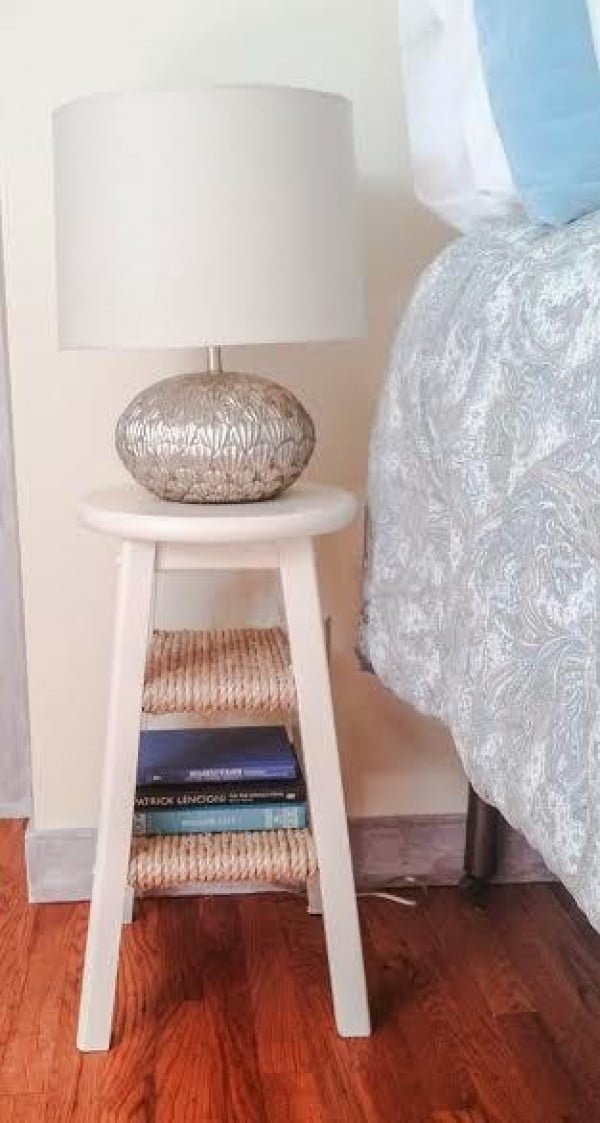 A nightstand doesn't have to be a table at all. This stool makeover shows how such a small piece of furniture can fit a lamp and still have storage room for your books and other items.
Ladder Shelf Nightstand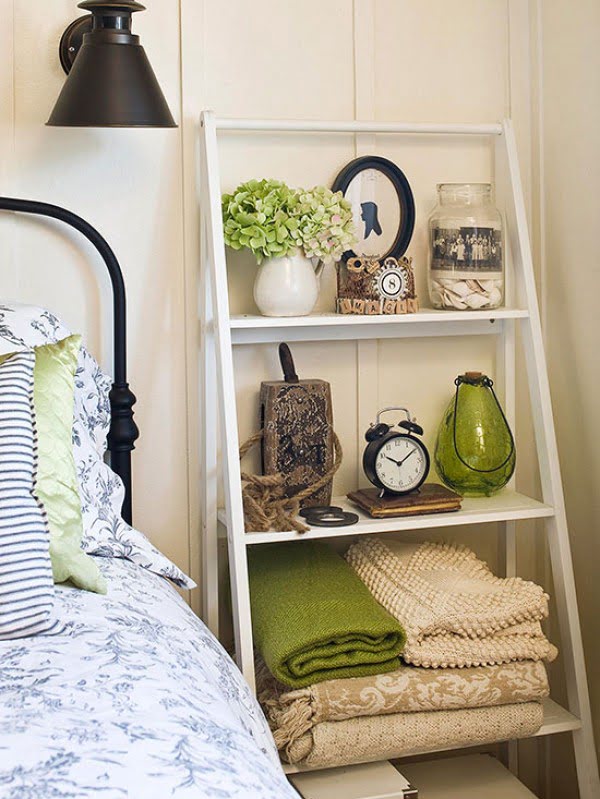 If you really want to ramp up the multi purpose use of a nightstand in a small bedroom, use a ladder shelf. It's tall enough to give you plenty of room for blanket storage, display shelf and a shelf to keep your belongings at just the right height.
Box Shelves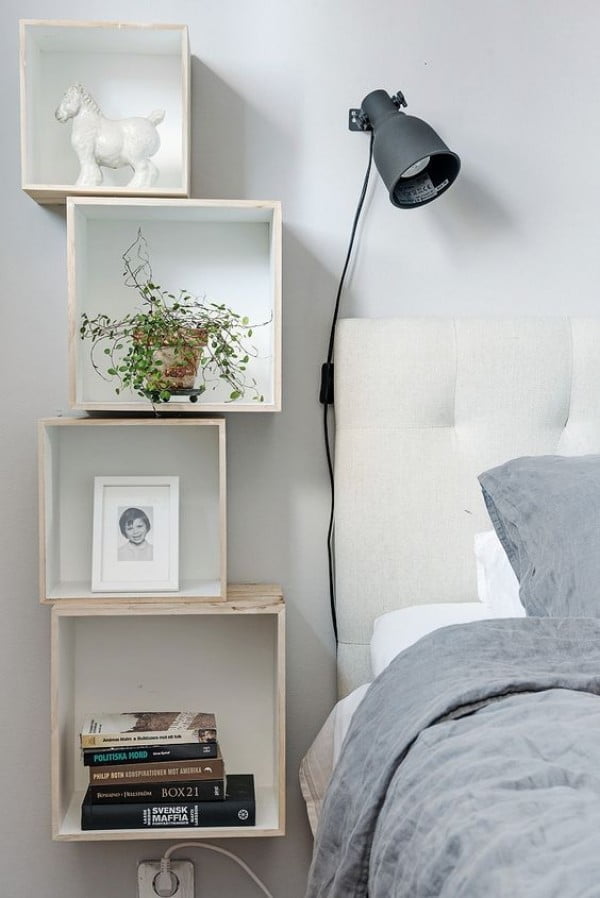 Nightstand styling is an excellent option to create an accent in your decor. This clever use of box shelves is such an adorable example. It gives you space mostly for display, but it's just so attractive and totally worth sacrificing some storage space.
DIY Upcycle Trash Can Nightstand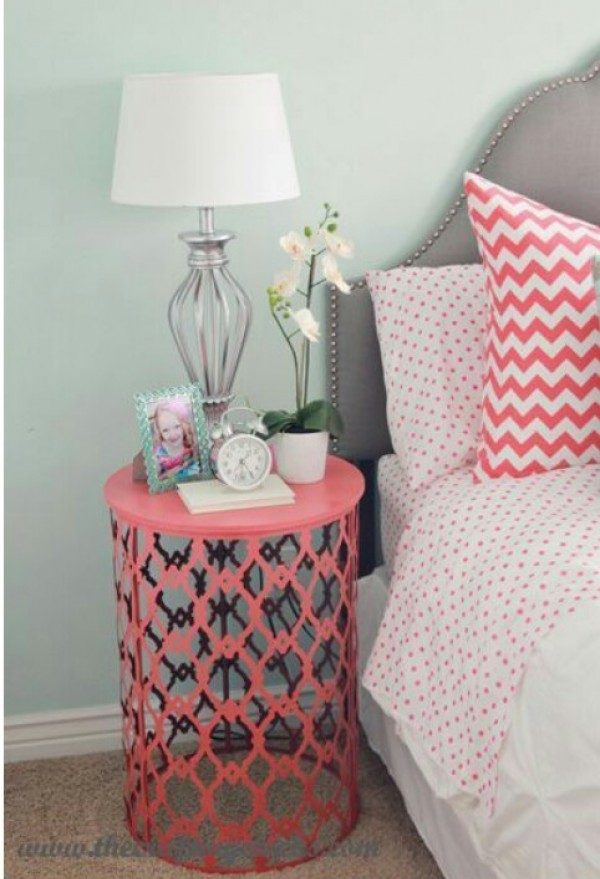 This DIY project is so brilliant because it uses a cheap trashcan to create an attractive nightstand. All you need is a trash can in a somewhat interesting design. Paint it and you have a cute nightstand when placed upside down.
Corner Shelf Nightstand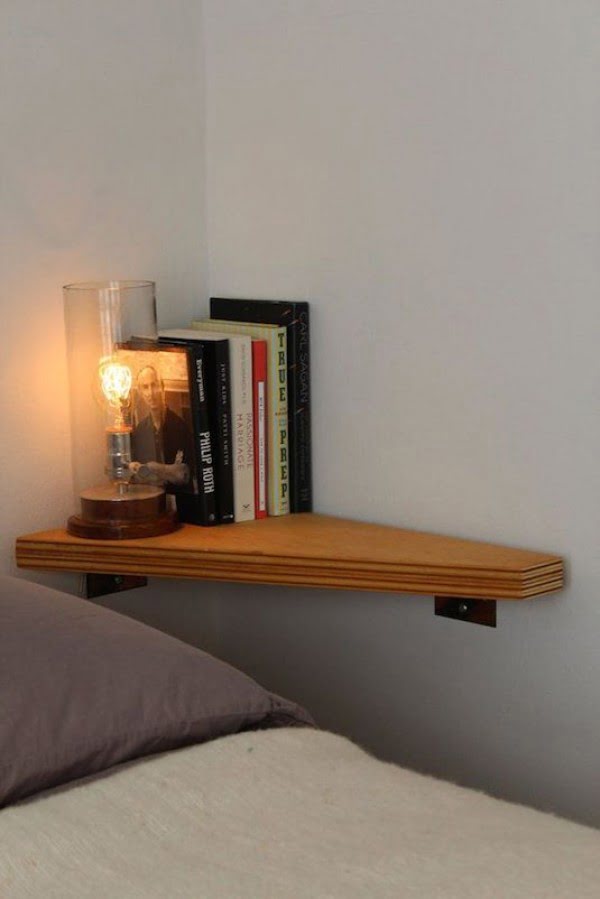 If you're dealing with extremely small spaces and there's simply no room for a nightstand this corner wall shelf idea is the perfect solution. It won't give you much storage space but it will give you a surface to keep a book, your phone and even a small lamp.
Pipe Shelf Nightstand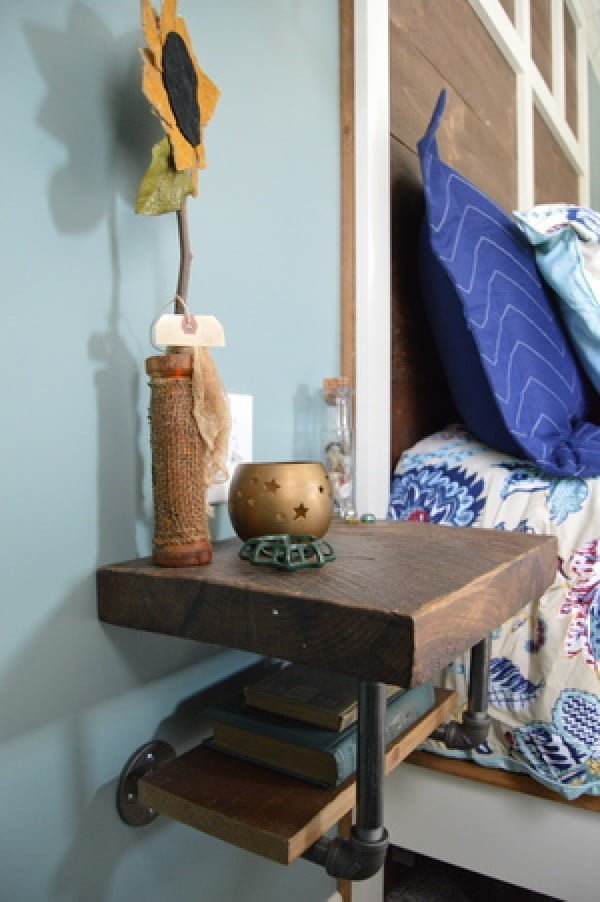 For a stronger decor accent, create a nightstand in a style that pops in your decor. This industrial style pipe shelf is a great example of the idea. For such a small piece of furniture it creates a big impact.
Planter Stand Nightstand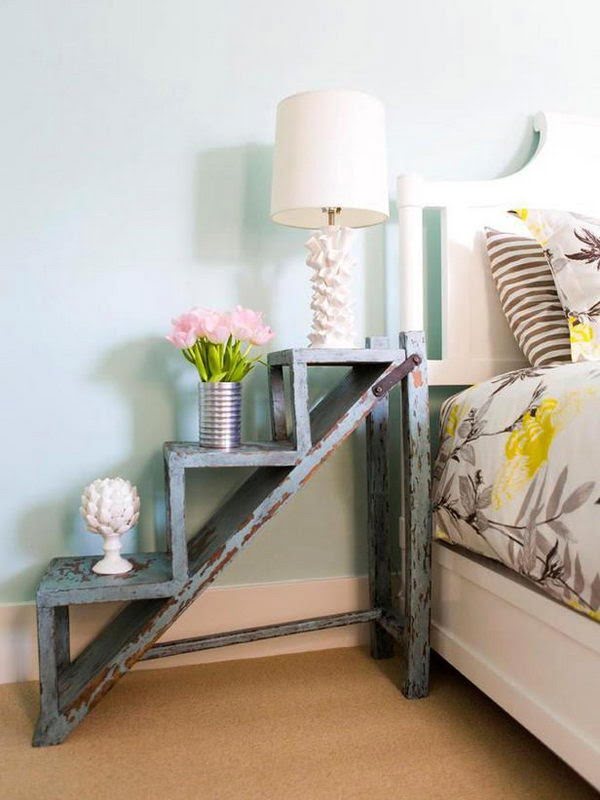 Of all the things that aren't a table you can even use a planter stand as a nightstand. It will give you a surface for a lamp at the right height, display items and some space to keep your belongings. It's very shabby chic too.
Mirror Nightstand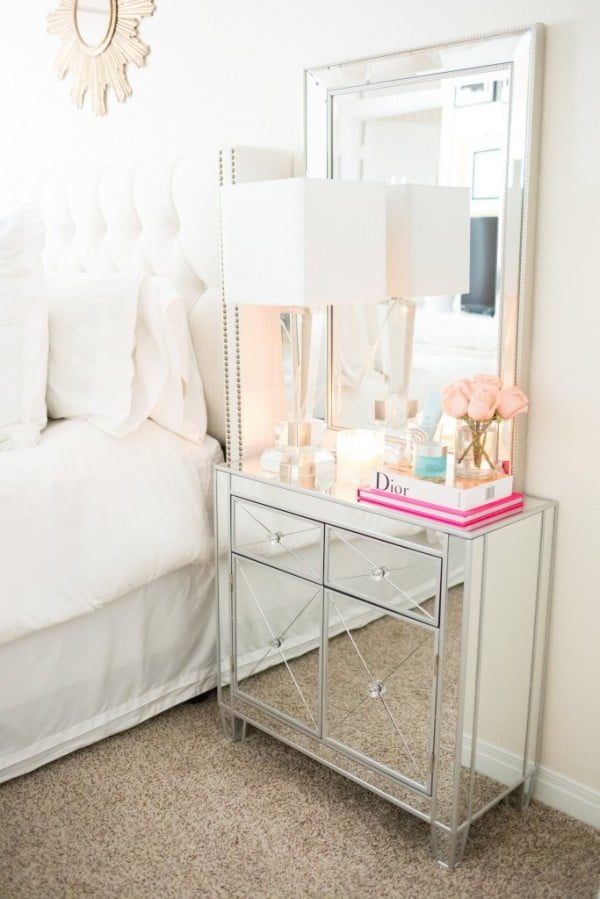 If you like glamorous decor with a touch of luxe, get a mirror surface nightstand. It will make your bedroom look instantly luxurious.
Suitcase Nightstand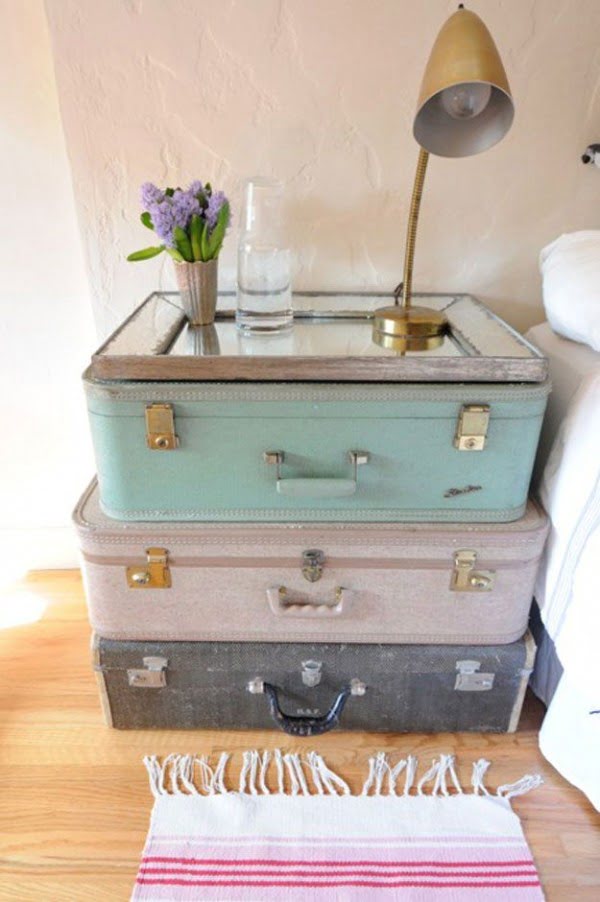 Quirky and whimsical accents can make all the difference in room decor. Stacking old suitcases gives you exactly that. You get a cool vintage accent and it's simple to build.
Brass Ladder Shelf Nightstand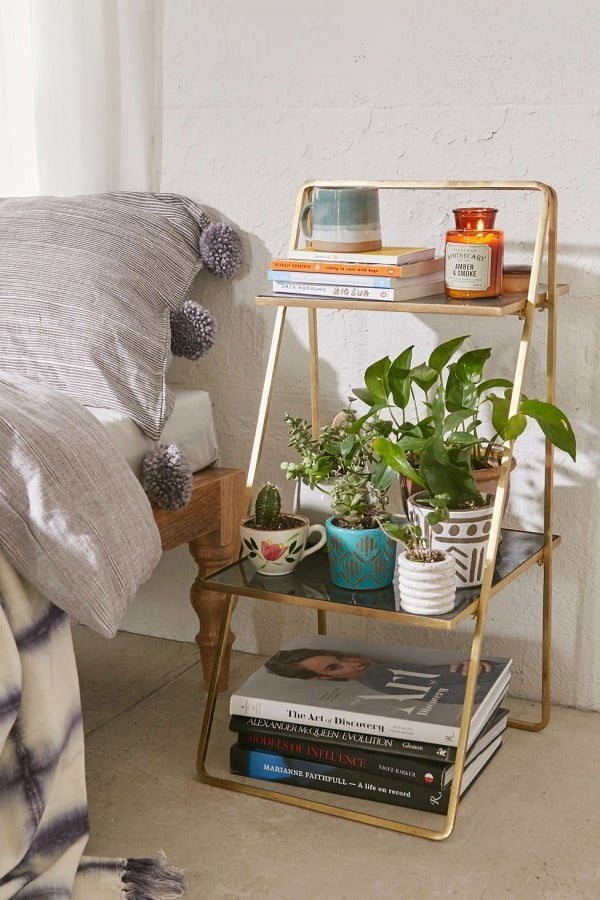 Metallic, brass or copper elements give your bedroom a subtle modern look. Adding a small rack like this will go a long way if you're looking for this style.
Rustic X-Base Nightstand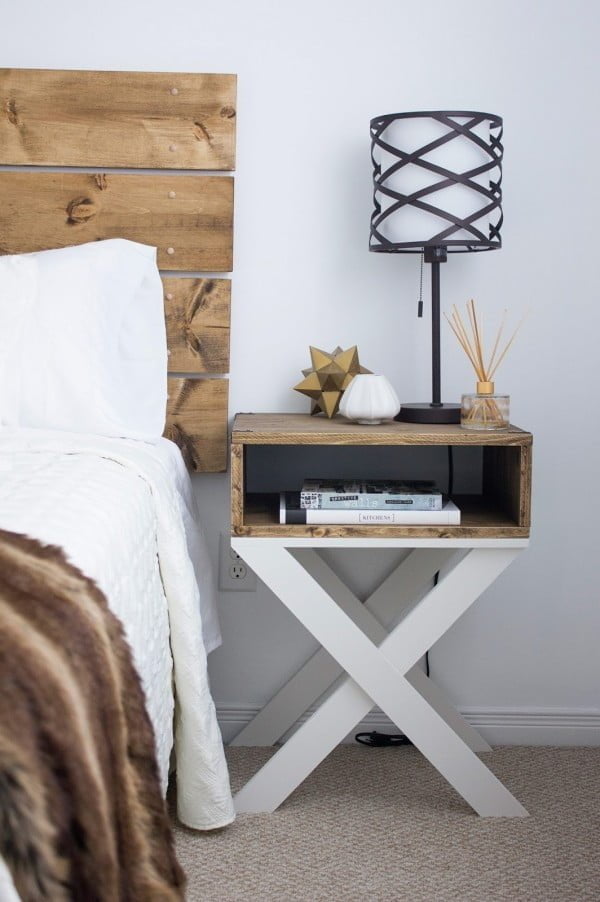 We love rustic decor and especially furniture that we can DIY. This rustic nightstand is attractive in its simple design and it will definitely give your bedroom that facelift.
Repurposed Old Drawer Nightstand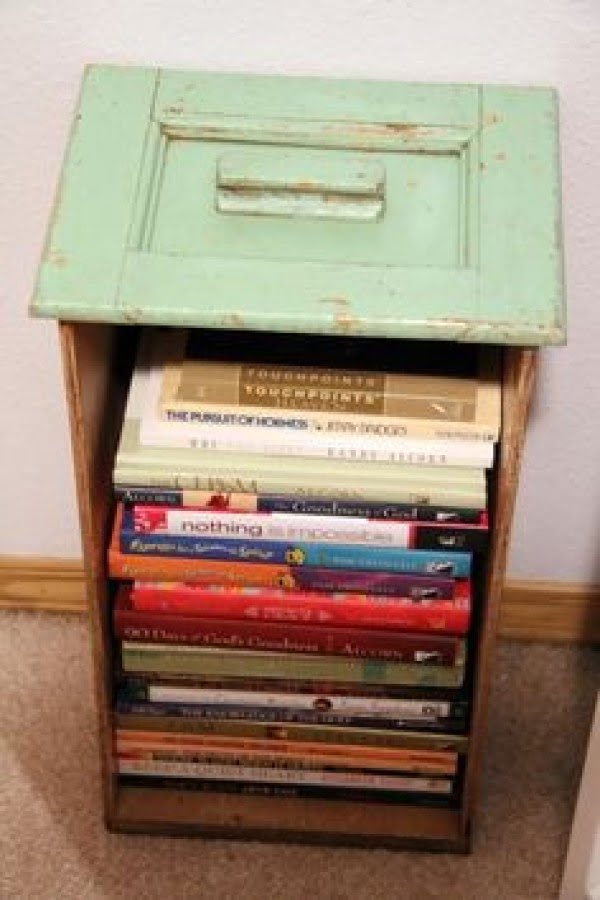 And if you're looking for something really simple, try repurposing old things. And old drawer will work as a nightstand and it will give your room that vintage shabby chic look.
Cinder Block Nightstand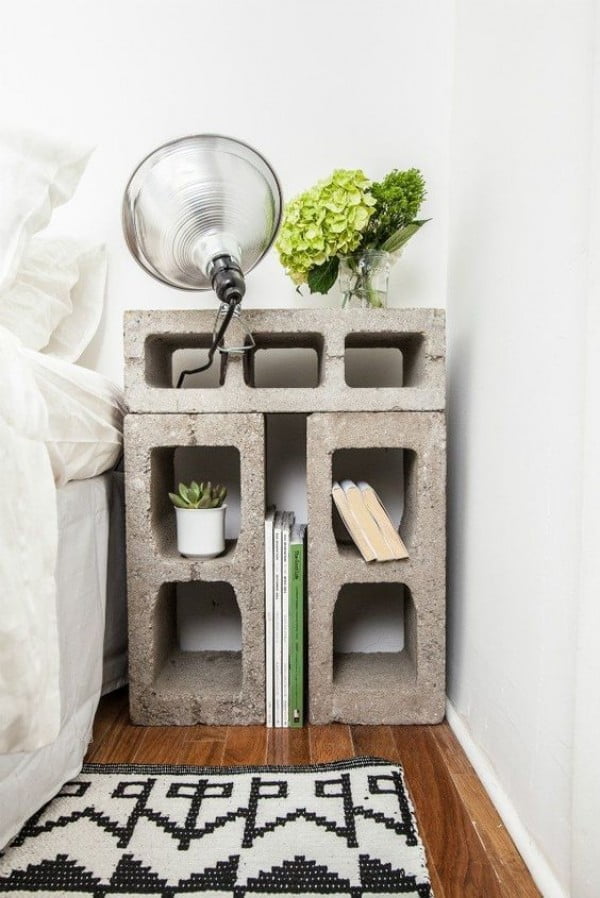 On the same note, you can create a truly unique nightstand by stacking three cinder blocks. It's that simple and a unique decor accent is guaranteed.
DIY Floating Nightstand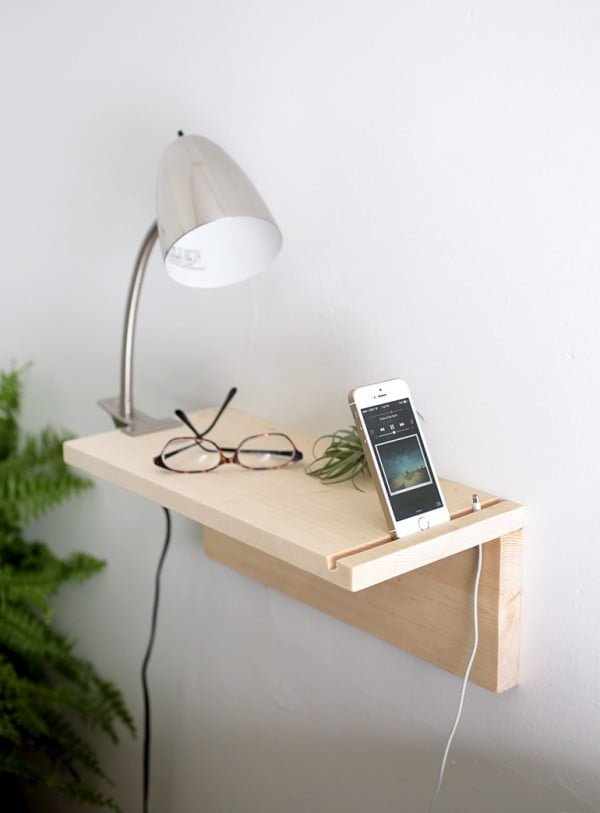 A very small bedroom will really benefit from a small floating shelf nightstand. This clever functional design features a smartphone holder and a lamp fixture. Truly brilliant and there's even a tutorial for it.
Box Shelf Nightstand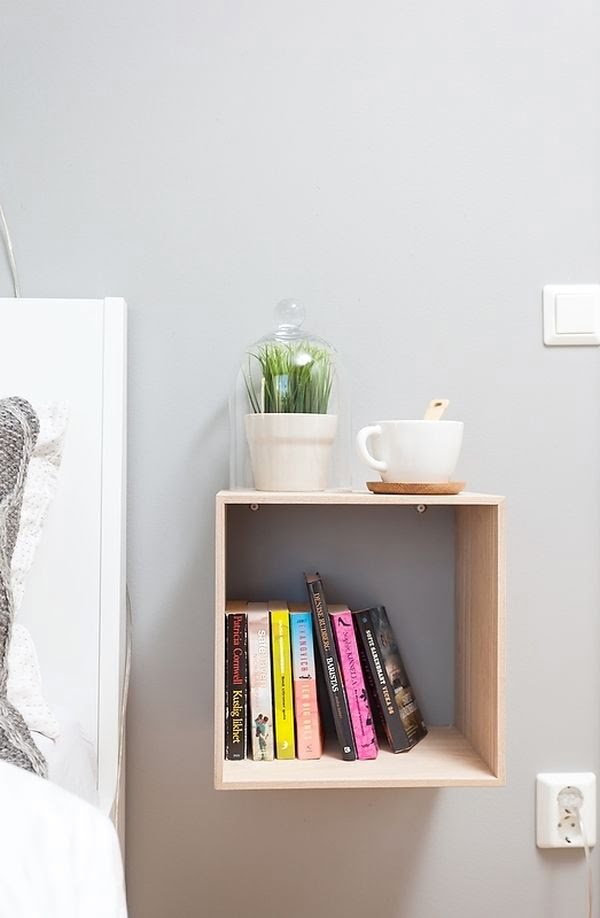 Similarly a wall mounted box shelf does well as a mini nightstand as well. Albeit so small, it gives you two surface for storage and display.
Translucent Nightstand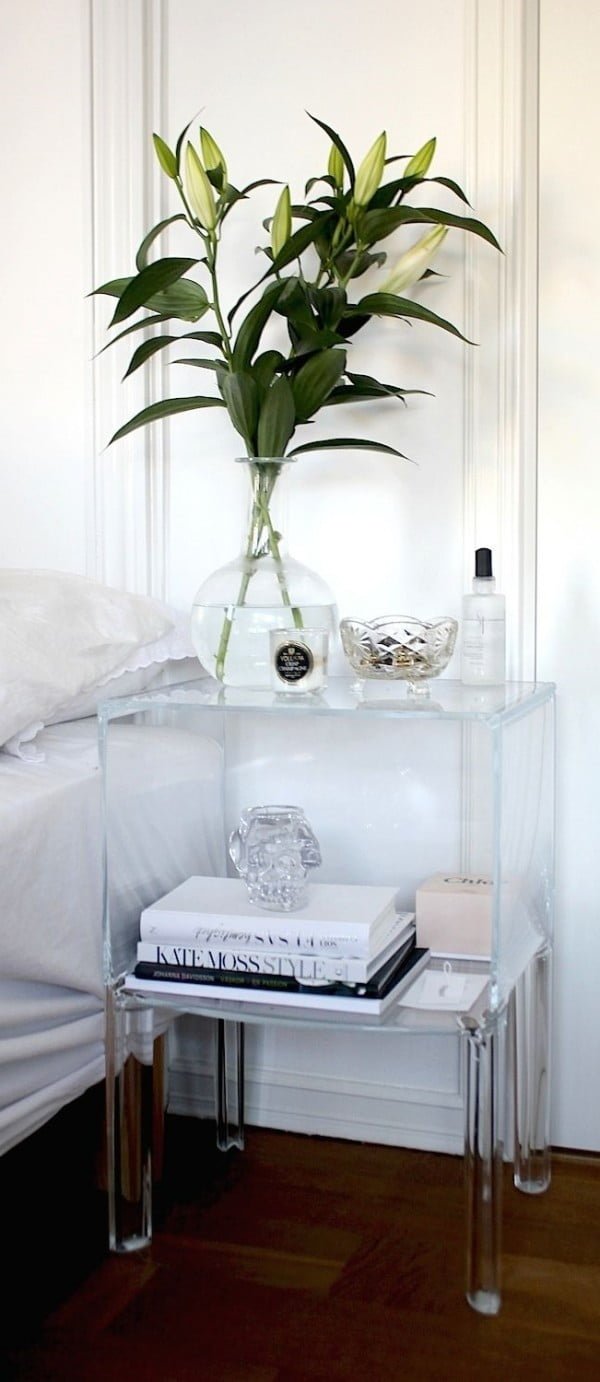 Translucent furniture works great in small spaces because it doesn't occupy visual space. That helps you keep the clutter away and it looks classy and even a bit luxurious.
Upcycle Suitcase Nightstand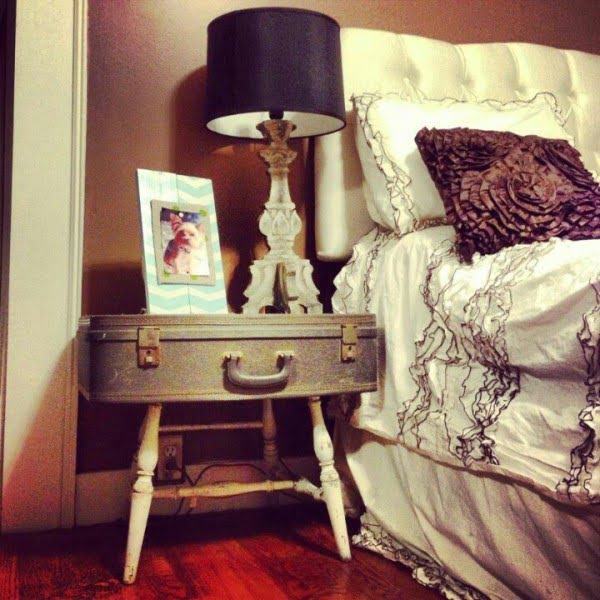 If you like the idea of suitcases upcycled to a nightstand, here's an idea to take it even further. Attach vintage table or chair legs to build a real side table.
Vanity Nightstand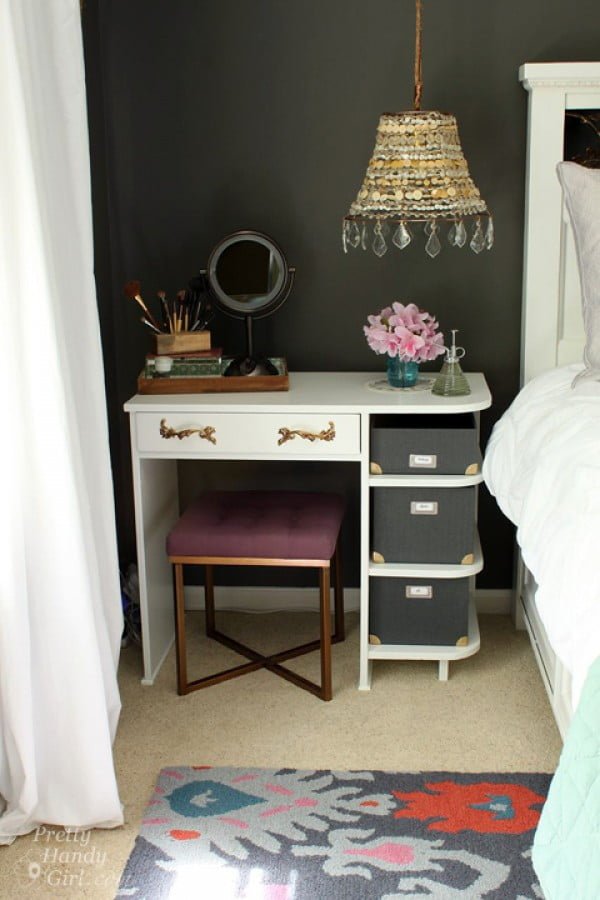 Show some character in your decor and add a small vanity nightstand if you have room for it. It's an addition that will greatly improve the bedroom visually and functionally.
Vibrant Painted Nightstand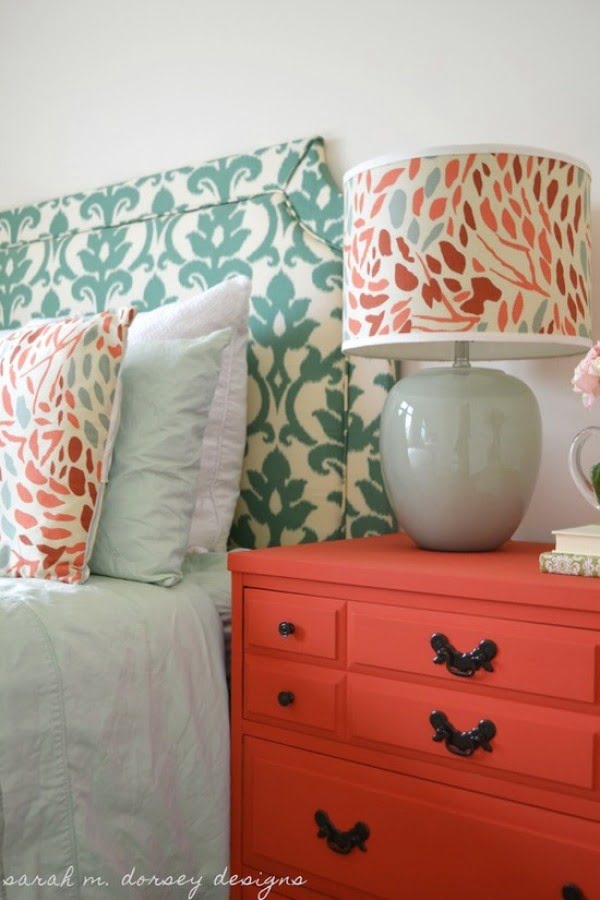 It doesn't have to be about a unique design, a cleverly chosen paint color will do the trick as well. For example, you can paint your nightstand in a vibrant contrasting color.
Floating Nightstand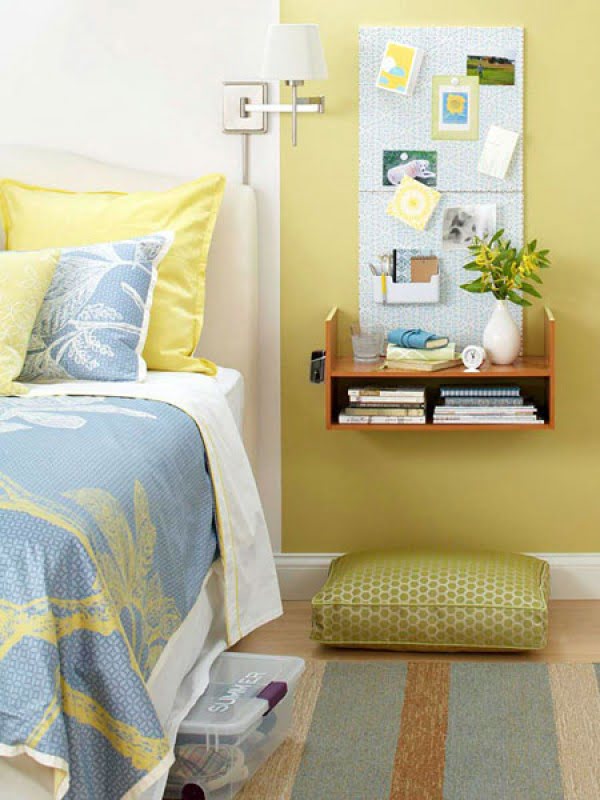 Having a wall mounted nightstand means free space on the floor which you can make use of as well. Even if you just place there an extra cushion.
Liked this article? Here's what you can read next: