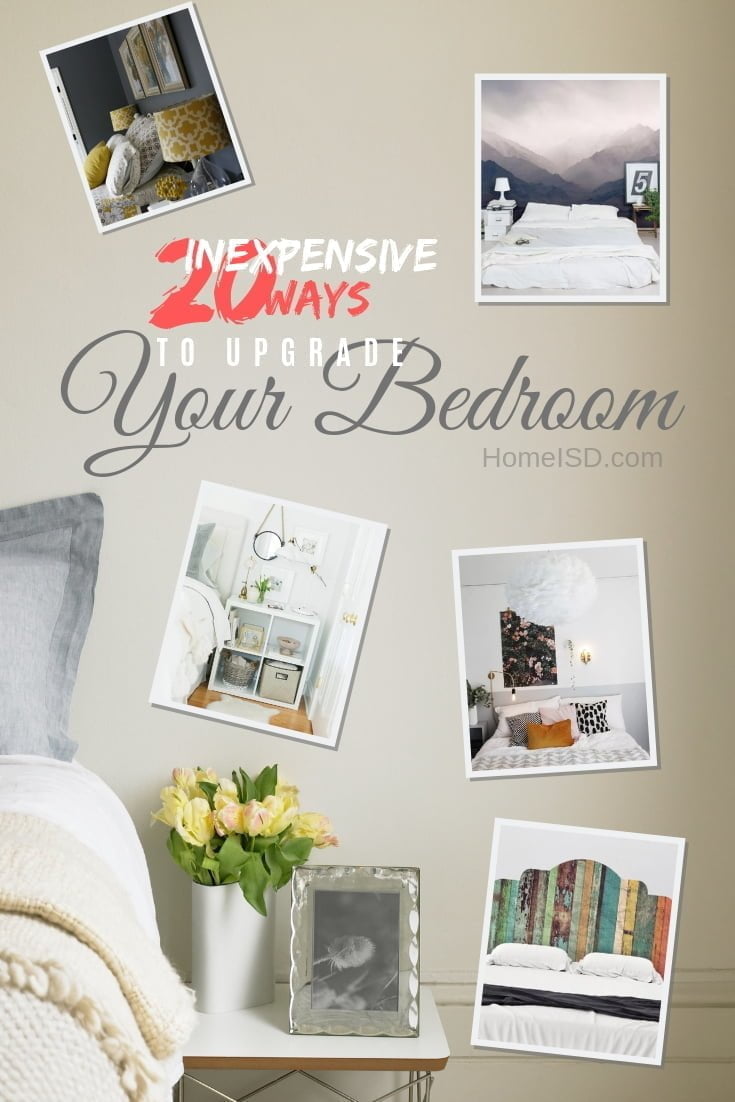 Last Updated on
Does your bedroom require upgrading? If its decor consists of just a bed, a nightstand, and a closet, it might use some makeover and it doesn't have to be expensive.
Here are 20 ways how you can upgrade your DIY bedroom decor without breaking the bank.
DIY Wall Art
This fake headboard wall art shows us how simple and inexpensive it is to create a striking accent in the room. If you have an empty wall over the bed, you have an empty canvas to experiment with. Try wall decals, paint patterns, tapestry, or even just hanging pictures.
Reposition the Bed
If you have enough room space, you might find surprising new ways to position the bed that will work much better then pushed to the corner. Try positioning it against the window, or leaving some space between the bed the walls to move it closer to the center of the room.
Remove Unnecessary Furniture
Reassess how you use your furniture and see if there's anything that you haven't used for a while. Perhaps that work desk in the corner doesn't live up to what you thought it would be.
Put Patterns to Work
Patterns make the room come alive so experiment with bedding, pillows, and art to create matches that work. It's not an easy task and it takes time to get it right, but it's worth it in the end.
Cover Lampshades in Prints
Adding accents doesn't have to be expensive or complicated, you can use simple wallpaper to re-cover the DIY lampshades and choose any pattern you like.
Hide or Camouflage the Cords
Random cords are unsightly and you would do well to hide or camouflage them. Here are 11 tricks how you can do that.
Add Your Personality
When decorating your home it comes a time when you have to stop and forget all the rules for a minute. Do something unique, personal and whimsical, add something you love without regard to style.
Be Consistent
A mood board would help you keep the theme of the room in check and be consistent. A room that doesn't look like a mash up of ten different styles always looks more sophisticated and complete.
Use a Fancy Throw Blanket
Have you had an eye on that fancy sheepskin throw blanket? Now is the time to get it and make your bedroom look cozy and a tad classier.
Consider a Wall Mural
A wall mural is committing but boy does it look great.
Choose a Focal Point
A focal point can be a piece of furniture or wall art. Whatever it is, choose one and make it count.
Select Furniture of Different Purpose
You don't always need to have a nightstand by the side of the bed. A bookcase can double as a storage and display unit and serve as a side table at the same time.
Mind the Scale
Pay attention to the scale of the furniture and accessories. If you have a big bulky bed, choose bigger table lamps, on the other hand, choose smaller lamps or sconces to go with a smaller low bed.
Change the Drawer Handles
Changing the dresser or nightstand drawer handles for a different hardware finish can play a big part in your decor if you match it with metallic lamps or other accessories.
Use Wall Mounted Sconces
Wall mounted sconces will save you nightstand space which is especially useful in small spaces.
Add Pops of Color
If you don't want to commit to a makeover, simply add pops of color with accent accessories or small furniture.
Mix Up the Furniture
Don't be afraid to use a char or a stool for a nightstand and elevate its surface with books. That's a great way to add some chic style to your bedroom.
Add Accents in Unlikely Places
Add wallpaper patterns to the sides of drawers or backboards of the shelves for extra accent.
Create a DIY Canopy
If you're up for something romantic and dreamy, create a DIY canopy by using sheer drapes.
Elevate the Bed
Get bed raisers to elevate the bed and you can even add under the bed storage.