Last Updated on
The fall is here and as the cooler days beckon, something spontaneously tells you that it's time for fall wreaths, too – to hang on your front door and walls, to adorn your porch and to place on your mantle.
Of course, you can always buy your favorite ones from craft stores. But this is what we say – why buy when you can design a pretty good variety of awesome fall wreaths all by yourself and without losing too much sweat either? So, here's a list of great DIY fall wreath ideas. Read on and decide for yourself! And apart from the money saved, do count in the satisfaction, too, that you will get from crafting gorgeous fall wreaths all on your own.
Other DIY wreaths: spring wreaths, Halloween wreaths, Christmas wreaths.
What's Inside?
Pinecone Wreath In One Hour

As the title describes, this lovely fall wreath takes no more than an hour to make and if you enjoy a walk into the pines now and then, you can make it at zero cost, too! Wouldn't that be awesome? Follow the tutorial to find out how.
Halloween Ribbon Wreath

As the author of this tutorial herself puts down: '"easy" doesn't even BEGIN to describe the level of difficulty here," and yet this DIY Halloween decoration wreath made with ribbons of differing patterns, textures, colors, and width does look stunning. And the best part is that you can use this wreath idea for any festive occasion by changing around the ribbons to fit that particular occasion.
Wood & Burlap Natural Fall Wreath

This is a great idea if you want to go all natural with your fall wreath this season. Made with thin slices of wooden discs carefully sawed off from a black birch log; a piece of burlap ribbon; and dried sprigs, brunches and flowers bought from craft store, this natural wreath looks gorgeous and as simple and easy to make as you can imagine.
Indian Corn Wreath

This one is a fall wreath that you can use at all seasons! Made with multicolored Indian corns, this wreath has nothing shy or bashful about itself. On the contrary, hanging on your front door, it appears to shout out a hearty welcome to all and sundry. Do check out the tutorial for detailed instructions on how to prepare this beauty!
Fall Leaf Wreath

How about using real oak leaves for your fall wreath? This fall leaf wreath does just that with preserved oak leaves (available at craft stores) and a grapevine wreath form and the result is stunning. And you can finish the job in 15 minutes top! Check out this great tutorial to find how.
Modern Fall Wreath

Minimalist designs are just as good an idea as any for fall wreaths. Again, if you believe muted colors used in right combinations reflect the fall appeal just as much as bright reds or yellows, this wreath idea will hook you. Follow the tutorial to find how to make this modern hoop wreath with yarn and faux florals attached to a metal macramé ring.
Flower Deco Mesh Wreath

How about an exquisite deco mesh flower wreath for this fall? This one is not as easy to make as the others but it will be worth your time and patience if you can pull it off. This deco mesh fall wreath with a central glass gems design looks simply stunning. Follow the detailed tutorial carefully along each step to make sure that you get it right.
Cotton Wreath For Only $10

Cotton wreaths are another great idea for the fall season. In fact, owing to their rustic charm, they have become quite popular of late and you can buy a great variety of them online. But the snag is they charge you $50-$60 for a wreath. Well, you will forget them as soon as you read this tutorial on how to make a great looking wreath made with cotton balls and pine cones. And apart from the DIY satisfaction, you won't have to fork out no more than ten bucks for this awesome wreath.
Monogrammed Burlap Wreath

Want some farmhouse feel to your wreath? Then check out this tutorial to find how to make a wonderful looking monogrammed polka-dot burlap wreath. We find this one particularly inspiring since it neither treads the novelty path nor that of the more conventional floral fall wreaths.
Bohemian Feather Wreath

Do you nurture a preference for things boho? Then this fall you will simply love to hang a grapevine wreath decorated with feathers such as guinea fowl wing feathers and duck pointer feathers on your door. Follow this awesome tutorial to find where you can get these feathers and how to make this stunning bohemian wreath.
Burlap Fall Wreath

If you don't exactly like the hot glues or fasteners, well you don't need them! You can still make a fairly attractive and easy-to-make fall wreath without any kind of fasteners whatsoever. How? Check out this great tutorial to find.
Fall Wreath from Natural Coffee Filters

The flowery patterns of the natural coffee filters coupled with their natural tan color (suitable for fall) make them ideal for a novelty coffee wreath. Use a straw or any other base of your choice and once covered with filters, place a ribbon and bow and you have your beautiful fall wreath all ready for display.
DIY Fall Wreath

Another innovative idea for a DIY fall wreath is to use a combination of burlap fall leaves and pine cones. Wrap the form with burlap, glue the cones on the inner side of the form and paste fall-colored burlap leaves over the form. Cap it all with a letter 'S' carved out of a textured cardboard and your wreath is all ready to hang on the door with a message of welcome to the sweet autumnal season!
Fall Wreath Using Wooden Frame

Another out-of-box and fun idea for creating DIY fall wreaths in less than 20 minutes. Use a spray-painted decorative wooden frame as base and decorate it with seasonal floral picks, burlap ribbon, decorative ribbons, chalkboard ornament as well as a wooden monogram letter! Not the most conventional fall wreath you will come across, but fun and attractive all the same!
Gold Hoop Inspired Wreath

If grapevine, wire or foam wreath forms appear too traditional to you, try gold metal ring hoops for wreaths that exude a quiet elegance. And with the gold rings, it is best to not use the glowing red, purple or oranges – colors most commonly associated with autumn. Instead, go for quiet and muted colors (such as tan, soft greens or rusty pink) for the (faux) flower stems, moss sprigs and gold leaves.
Fall Wreath From Egg Shells

Create some beautiful fall wreaths using dried and waxed egg gourds. Even shaped gourds will help you make a wreath attaching the gourds in the form of a hoop with an iron wire and add some flower sprigs for decoration. Or you can use a grapevine wreath form and attach a couple of pear-shaped gourds for another attractive wreath. And as the tutorial shows – easy to make and in no time, too!
Easy Floral Wreath

Wreaths always increase your curb appeal and it's time to make one for the fall season. This tutorial shows a very easy way to make one yourself. Be creative and surprise everyone!
Wreath Window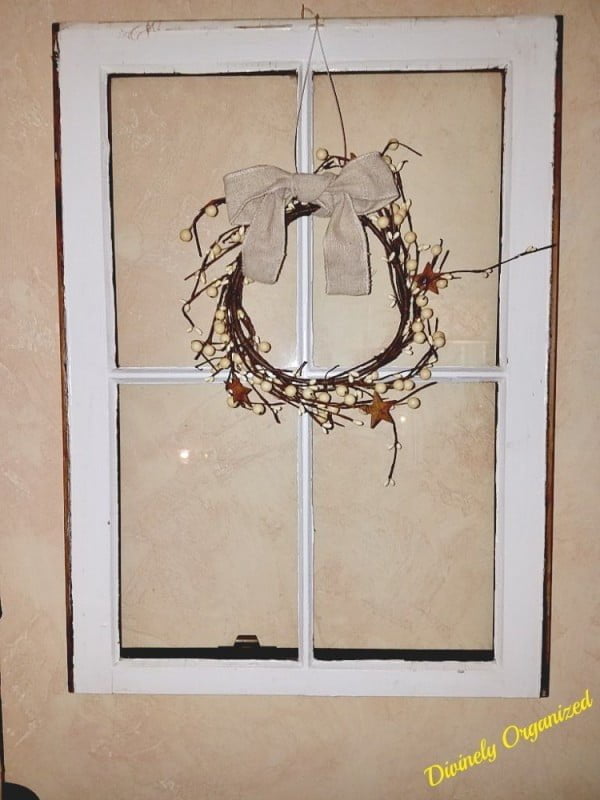 Do you love flower or leaf wreaths? You could put up one in the center of an old window to bring some cheer to the room. This project is easy to make – all you need is a clean (preferably varnished) window, some fishing wire, a wreath, and a picture hanger.
Picture Frame Wreath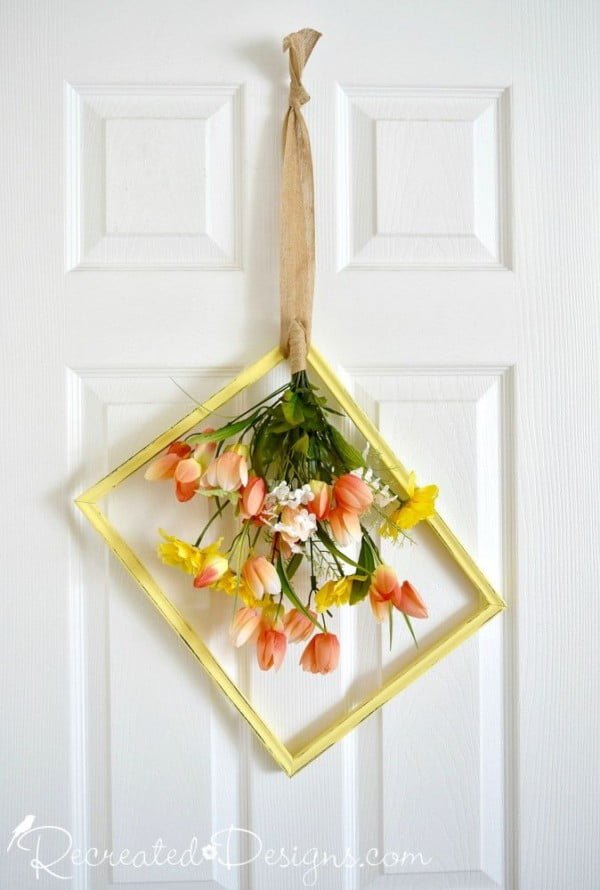 Here's another creative way to use an old picture frame that you can always find in thrift stores and flea markets. This wreath looks lively and whimsical – a truly unique piece of home decor. Check out the tutorial to see how it was done.
Rustic DIY Fall Wreath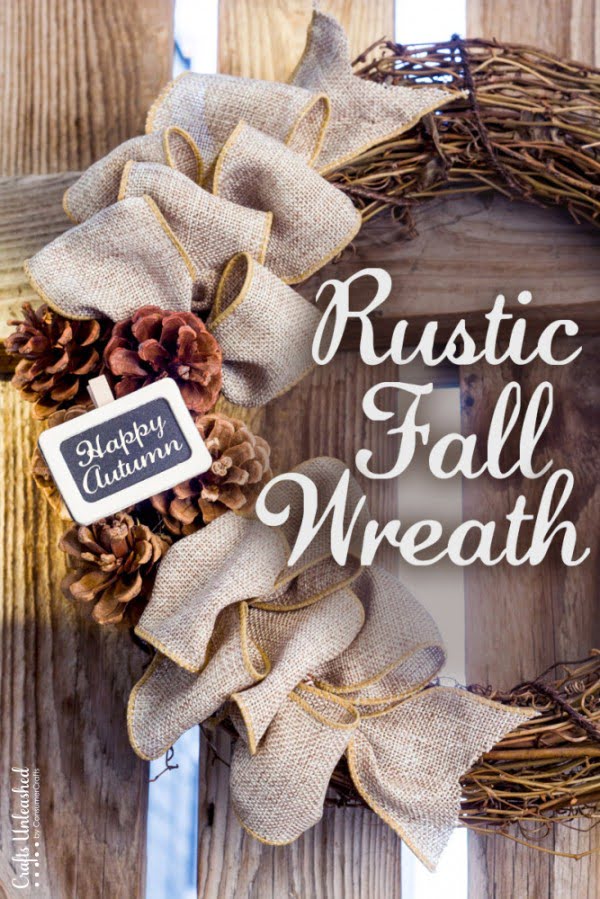 This wreath idea uses pinecones, too, in order to attain a rustic charm. But you will also need some wired sisal vine, decorative burlap ribbons and baker's twine which only serve to increase the rustic appeal of the wreath. And the chalkboard with its 'Happy Autumn' message is really the cherry on the pie.
Halloween Wreath

This cupcake wrapper wreath tutorial is shown working with orange and black wrappers to make it a perfect Halloween wreath. However, the best thing about this idea is that you can follow it to make wreaths for any festive occasion simply by changing the wrapper colors. The dense wiggly patterns on this wreath look gorgeous!
Fall Floral Wreath

To come back to floral wreaths, this faux hydrangea wreath would appeal to many since it is so easy to make and can be finished in no time at all. The tutorial details the steps on how to make the wreath and tells where you can find the materials. And as you find in the post, for all its simplicity, the wreath still comes with a stunning autumnal look.
Faux Hydrangea Fall Wreath

We will end with another variant of a hydrangea fall wreath if only because they look so gorgeous all the time. The method is pretty much the same as that of the preceding one but this wreath, unlike the former which uses a straw wreath form, is worked over a grapevine form. It also includes some other blooms beside hydrangea to jazz it up a bit. Check out the finely written tutorial for details.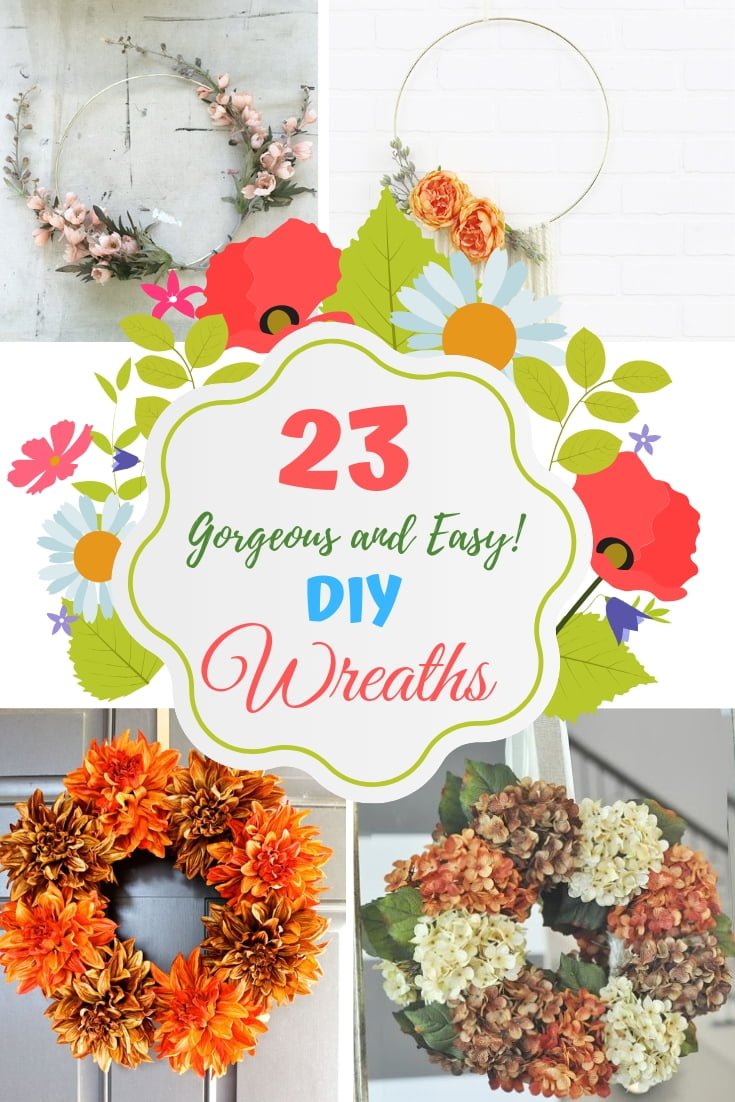 Related reading: