We often talk about saving money when decorating your home so let's take it a step further and find ways how to do it without spending a single penny. Having imposed yourself with limits isn't just about budgeting, it can really get your creative juices flow.
Creative use of things you already own and decor pieces you can craft yourself improves your home decor in an original way. And if you're looking just to make it a little bit more personal, this can be a great way to do it.
Improvised Curtain Tiebacks
Curtain tiebacks add style and elegance to window dressing, and you don't have to go shopping for them. Instead, look into your closet and choose scarves or belts that you can use as improvised tiebacks.
Easy Chair Dressing
If you have pretty pattern textiles around, use them to dress the dining chairs for an accent. It's easy, simple and adds a very personal touch.
Decorate Walls with Your Jewelry
Instead of keeping them in jewelry box where they get all tangled, you can use your accessories to decorate the walls in a unique way, especially if you have old or unused picture frames around.
Stack Books for a Unique Side Table
Having too many books to fit on a bookshelf can be a blessing in disguise. Stack the up for a quick and easy chic side table.
Decorate with Fruit
Instead of stashing fruit in the kitchen, use glass jars to put them on display. The vibrant colors of fresh fruit will make great pops of accent in any vignette.
Group to Create a Focal Point
Does your room lack a focal point? Group a few pictures and other accessories together for a bigger impact then they would have alone.
Move the Furniture Away from the Walls into Groups
Having the furniture sitting against the walls is the worst layout you can have because it makes the room look like a warehouse more than anything. Move them away from the walls if just a few inches and group them together to make the layout more inviting.
Color Code the Books
Bookshelves make a bigger accent if you organize your books by cover color.
Style the Couch with Throw Blankets
There's more to couch styling than accent pillows. Use throw blankets to add a pattern or color and separate visual space for a better impression.
Put the String Lights to Use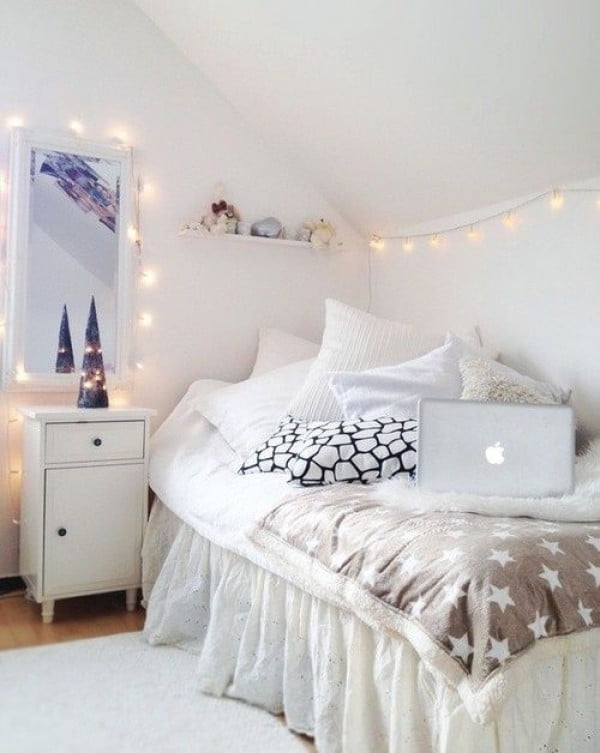 String lights aren't just for holidays, you can use them to create a romantic lighting if you put your mind to it.
Layer Your Rugs
If you own multiple rugs, try layering them for a change. You may be surprised at the extra depth it adds to the room and you might just fall in love with the new look.
Decorate with Your Fashion
Your bags and shoes didn't just look good on the shelves in stores, you can decorate your home by putting them on display too.
Group Pictures into a Gallery Wall
A small gallery wall is a lot more visually attractive than lone pictures scarcely hung around empty walls. Consider grouping them all together for a greater effect.
Free Wall Art with Magazine Covers and Pages
Looking for interesting ideas for wall art? Instead of buying prints, why not take pretty covers and pages from old magazines?
Hide the Cables
Hiding home decor eyesores is a great way to start decorating and sometimes it will cost you nothing to do it. Using a piece of rope to camouflage this lamp cable is a great example.