Last Updated on
Some people just have the knack for it and some others, or actually, a lot of others don't know where or how to start designing a home. Yet with a little guidance, ideas and inspiration, even if you have no idea of how to beautify your home, you can learn to.
While it might seem like a daunting task, actually it is nothing less than fun and a channel for your creativity to take over. Anything can be done as long as you plan it right and have the ability to envision the final result.
You might have an idea of the general theme you want your house to have, and you're quite certain that you want your home to show your personality, but you still have to be more specific for each room and consider the needs and functions of that room. Maybe you want a bright and lively living room, but when it comes to the bedroom, you might want a more subtle, calmer look that lulls you to bed. This would imply that the technique used in the living room, might not work in the bedroom.
These are some of the kinds of factors were going to uncover with you now so that you can beautify your home and each room with confidence. We'll take a look at basic techniques that you can use as a guideline and break it down for you so it's not overwhelming.
It's time to get a detailed understanding of some techniques you can use for a look that you thought would be impossible to achieve.
What's Inside?
Focal piece
Every room in the house has a focal piece; the first piece which the eyes are naturally drawn to. In the bedroom, for example, it's probably the bed. In the living room, it could be a fireplace or a large window, which are built-in focal points. But if you don't have any built-in focal point, you can easily create one. It could be a bookshelf, for example, or a large piece of furniture or a mirror. The reason you should have a focal point is that it's a good start to decorating your room when you don't know where to begin. Use the focal point to start decorating around it, using its main color in other elements in the room.
The art of measurement
When it comes to measurements, most of us don't use them. We tend to eyeball things out, but using precise measurements puts everything in a better perspective. Any room will have big, small, short and tall items. So this needs a scalable measurement in bulk furniture as well as in small items. When you measure the height and width of a room, you will know what will fit and what you might not be able to use because the room is too small. In the end, measuring will help you avoid making mistakes. For instance, measuring the size of windows and doors will guide you in furniture location. There are other points in a measurement that again we tend to eyeball, but using precise measurements will make all the difference in something that fits the room to a T, as opposed to something that seems oddly out. Here's a simple guide to use:
The distance between a center or coffee table and a sofa should be within the range of 15 to 18 inches.

Hanging wall art is an area many of us go off target, usually by hanging the art too high. A rule of thumb says that 56 to 60 inches from the floor is the best measurement as that meets eye level. If you're hanging several framed pictures, it's the center frame that should meet eye level.

Curtain rods should be around 4 inches atop the window and 1 to 3 inches extra on the side. But you can go over these measurements when you want to create the illusion that the window is longer or wider, but don't go overboard.
The odds have it
Three is the magic number to focus on. When you design and group items in threes, it creates a more interesting visual effect. The trick is to have a common element in three different items. That might sound confusing, even contradictory, but we can use vases as an example. You can group three vases together, each of different height, but all of them crystal. The opposite could also work, with three vases of the same height, but each one is a different texture or of a different color. The idea of this is to avoid a uniform look. If anything screams boring in a house, it's the uniform look, especially in the smaller items you add as décor, such as vases, picture frames, or small statuettes. These items aren't glued to a table or wall, so if something just doesn't look right to you, switch around and experiment. You have nothing to lose except a stagnant look.
Paint
It's generally known that light colors make a room seem bigger, airy and brighter, while dark colors tend to absorb the light, making the room look smaller. For smaller rooms, at least some of the furniture should be the same color as the walls. Bigger items will begin to blend in, expanding the room. Larger rooms might look better with a neutral palette. While white might really seem boring to you, when you pair it with a colorful floor, rich fabrics, an amazing rug, and bold art, it becomes anything but boring and creates an excellent backdrop for other colors used in your furniture and pieces.
Flower Power
Probably the easiest and least expensive way to beautify a home is with flowers. Many homes often have a very light color scheme or use earth colors. Modern homes might just go all white with a little color. Flowers are what gives a home natural color where color needs to be added to give life to a room, like contrasting near a blank, white wall.  Entryways are usually in dire need of something attractive to make your home not only beautiful but inviting. Flowers also tell a story. Violet's Florist, which is a well-known boutique that lives off of the reputation of creating unique and intriguing bouquets and designs that cater to their customers' requests individually, know that every single flower symbolizes a special meaning.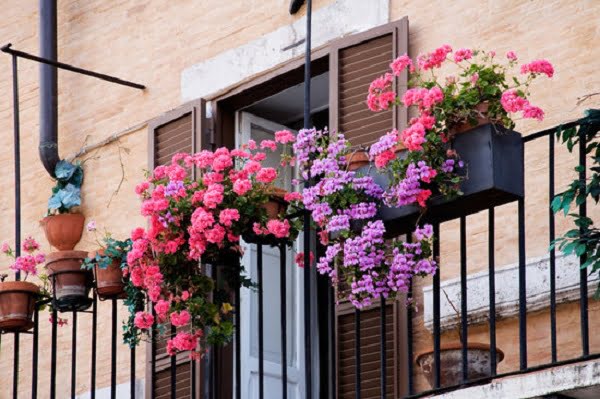 So red roses represent love, while yellow roses might be nice to place in your living room since they represent friendship. You can find dozens of videos and tutorials online on how to arrange flowers, whether in a vase or box to create the effect you want. Flowers are not just a sight for sore eyes but will make your entire house smell like a botanical garden. Flowers don't always have to be placed in a vase. Boxes and even dessert bowls make chic pots. Darker flowers, like black calla lilies, work nicely when the house is decorated in a neutral color. There are also a couple of hacks you can use to keep flowers fresh for a longer time. A few drops of vodka with a teaspoon of sugar into the water can work or try dropping a penny into the water because the copper in pennies works as an acidifier, which helps prevent fungus or bacteria from growing. No one can ever go wrong with flowers of any sort.
Lighting
Entire books are written about how to use lighting in your home, so we're just going to cover some basics. There are 3 types of lighting that we can use and the 3 of them could be used within the same room.
Ambient: This is what illuminates the entire room.

Task: You guessed it. We need task lights for certain tasks, like reading or sewing. We also use them in the kitchen for meal preparations on the counter, for example.

Accent: These lights are usually meant to shine on a showcased piece, like a painting.
All rooms would probably need ambient light, and from there you can start knowing where task and accent lights can be placed.
Flooring and rugs
You might already have beautiful flooring, whether it's real wood, engineered wood, polished concrete or any other type of flooring that is in good shape. Problems arise when our floors are stained or broken in areas. You might not have the money to fix these problems, but you can always depend on carpets and rugs. Depending on the room, size, and overall theme you want to create, there are many options to consider before buying a rug. Consider the use of your rug and its surroundings. Do you want to make a statement or looking more for function? Consider the fiber since Viscose is less durable, usually used to add a sheen finish to the overall look of the rug. It's blended with wool for a high-quality result, but not recommended for high traffic areas as it tends to be more delicate.
There are different ways to arrange your furniture when a rug is involved. A small rug disproportional to the size of the room and the furniture will look like an afterthought, which you don't want. You can either put all furniture legs on a rug, but leave around 12 to 18 inches of the floor surface. In a smaller space, choose a smaller rug and keep all furniture off the rug. A lot of designers might choose to put only the front two legs on the carpet, which tends to tie the overall look altogether.
Old and new mixing
Even the most ultra-modern home will have an item or two that is of antique nature. And even the most conservative of homes will have a streak of something more modern. Mixing something old with something new is always a successful combination in décor when done right. So a modern couch with an antique center table is a look that is easily achievable. You just need a traditional piece or two to add a new style and a different texture to a room. One piece of modern artwork, on an old oak desk or dresser, for example, is all you need to create an interesting look. The combinations are really endless and it needs some experimenting to see what works best.
Upholstery
The fabric to choose for couches and chairs is going to be one of your biggest investments, so it needs to be chosen right. Choose the wrong color or pattern, and you and your room will suffer from the mistake. So first decide how you live and how much wear and tear will be on your furniture, and this will help you to decide on the type of material. Some materials will definitely catch your eye, but they might not be durable enough for traffic areas in your home. Larger pieces, such as a sofa, can be in a rich solid color or classic neutral, so you won't tire of it over time. Smaller pieces like chairs can make a bold statement with a bright color or pattern. Upholstered chairs and sofa don't have to match, but they have to blend.
An investment a year
Don't keep buying and buying pieces just because it's a good bargain. You want items that are attractive, unusual and add to the room, not take away anything from it. Try to focus your spending by investing once a year in a really unique piece of art. Art doesn't have to be about purchasing an original Rembrandt, which you can count on the fingers of one hand who can afford that! Art is about what appeals to you.  
Clutter is the nemesis of any home. It's not possible to achieve the beautiful home you want with clutter everywhere to be seen. Before thinking of how to design your home, you have to de-clutter first. It will not just clear the room to see which areas need more and which areas need less, but more importantly, it will clear your mind. You need a clear mind to know how to go about any task. By using even just some of these techniques you can transform a run of the mill house into a dream home.